Hi everyone!
As you can see from the title of this post, I am jumping the gun a little! Ok, we are only in July and we're still getting maximum wear out of our summer wardrobe with the gorgeous weather we have been having this year. Let me explain more
I have attended a few winter fashion press events this year and I will be posting one every couple of weeks from now. Do Keep in mind that I started attending these back in May.
Who wants to look at winter wear in May? I have waited for the collections to start trickling into the shops until I shared them with you. Are you collecting for winter yet? Are you that organised and far ahead? I'm still eyeing up the summer sales!
But first, let's take a look at the Pantone forecast for winter and see what colours take our fancy the most.
Now. One thing I will explain about our colour forecast this year is that there are two Pantone charts.
The colours that you see above are actually the London colour palette. Really! We have one forecast and America has another! Why???
And here is New York's colour forecast. Completely different too! Here is their reasoning for this.
"There is a commonality between the colors we are seeing on the runway in New York and London." says Leatrice Eiseman, Executive Director of the Pantone Color Institute. "However, individuality is evident and we are seeing a distinct difference between the shows in the two cities in the way these same colors are being combined."
I think this will turn out to be very interesting! I'm loving a few of each of the colour palettes. Which are your favourites? I think It will also be interesting to see which colours show up in the events that I will be featuring. I will have to point them out. I have already chosen one outfit for winter and it's in the New York Tawney Port!
So finishing off there. I want to show you how adding one Key item can help you keep your wardrobe up to date.
Basket or the straw beach bags have been a big trend this summer. The "O" bag is going to be the winter trend. I have already seen these trickling into the shops and I really like them. Fold to use as a clutch bag or long to carry more of your stuff, I like that they are so versatile.
Phase Eight Velvet Burn Out Top
Velvet is still going to be a big hit this year. I'm still looking for the perfect Velvet blazer to wear in the daytime with my jeans, but I wanted to share this top with you that's on sale. I wore this for an article in the Daily Mail a while back (more on that later) and I loved it. I might just have to buy it at that price!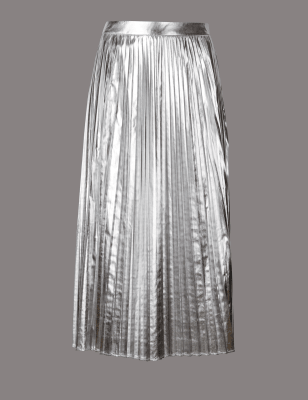 Metallics in Silver shades are going to be a big trend for daytime wear apparently. I found this pleated skirt on sale at M&S And I know these have already been a favourite from last year. Just swap for daytime wear.
Worn with a big slouchy jumper or sweat shirt. If this is too much silver for you, just go with silver accessories. I have just grabbed myself some silver shoes for a bargain price, and I will be posting them on my Instagram stories today. I think silver is going to be coming out to play a lot.
Statement sleeved jumpers are going to be a huge trend following this summer's floaty bell sleeved trend. So these are going to be slim at the top and puffy at the bottom. Best I find one in the petite section or I really will look like that girl pictured above! I do like the idea though!
Prince Of Wales Check Trousers
Gingham has been this summers on trend print for sure. But for winter it's going to be Prince of Wales Check. I like how smart looking it is, and wondering if I have any stashed away from years back. (terrible hoarder me!)
The bold stripe is back! I think you will be seeing this trend in many of the Pantone colours above. I'm also liking the Bold stripe dresses that are hitting the shops. Bold and bright is the way to go!
So. What do you think? A lot of these trends have been seen before I know.Which do you favour? Let me know in the comments! And don't forget to subscribe so you don't miss the press events!
I will leave you with my "Ten Under Twenty" early this week. I will be sharing a new brand with you on Saturday, so please pop by for that.
XO Laurie
Subscribe for the latest updates!