I'm showing this beautiful show-stopping Roman originals Navy and White striped maxi dress today that's a dream to wear.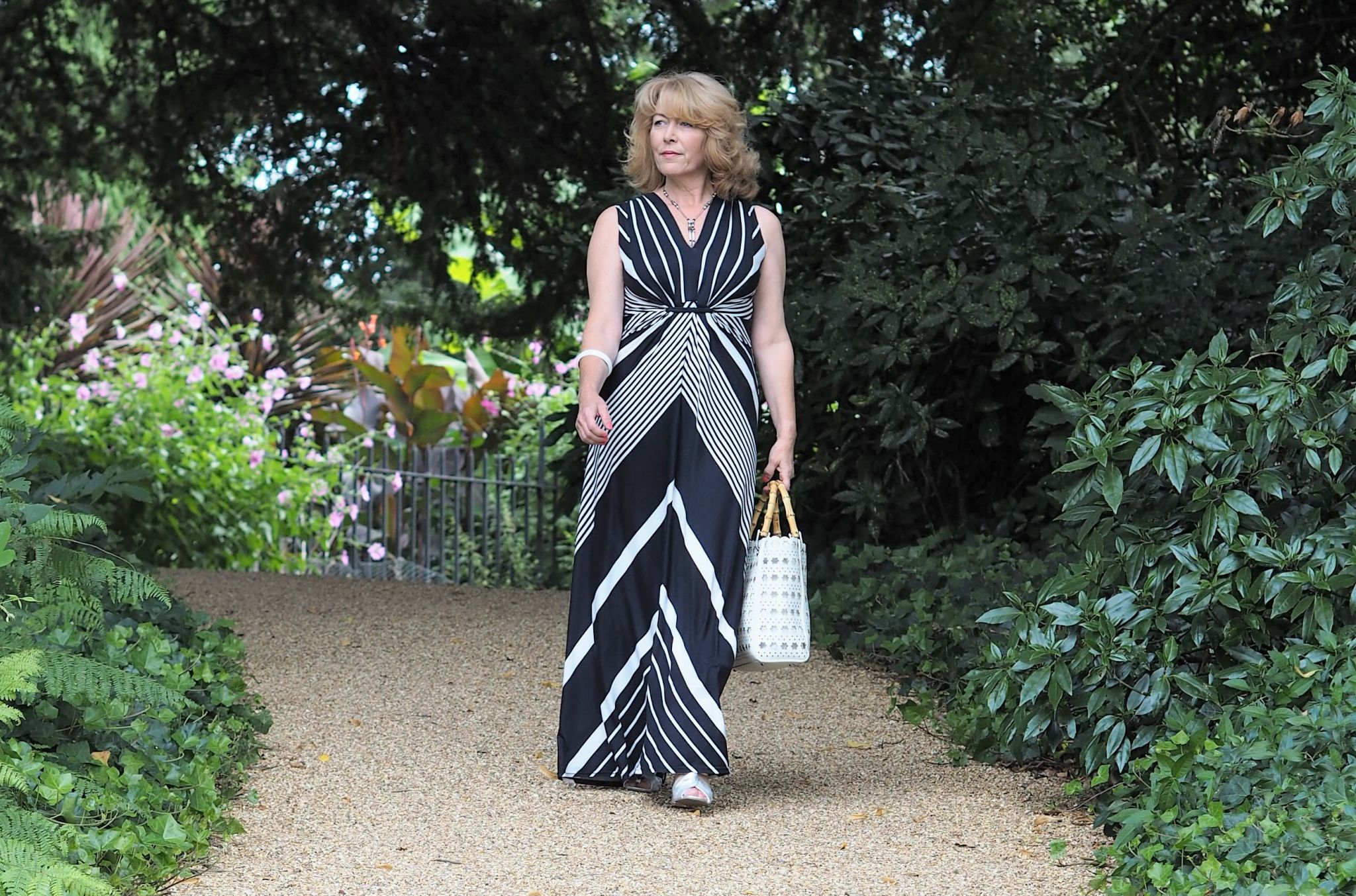 Luckily last week we had the perfect weather for taking photos too. Our weather here in the UK has been yuck! I have been dying to share this dress with you, but I wanted to wait for the right weather!
As soon as I spotted this dress online I knew it would be perfect. Roman Originals have a knack of designing outfits that are so easy to wear, look amazing on and my old favorite bonus point, of course, it's not going to date. This will stand the test of time and come out to play for years to come.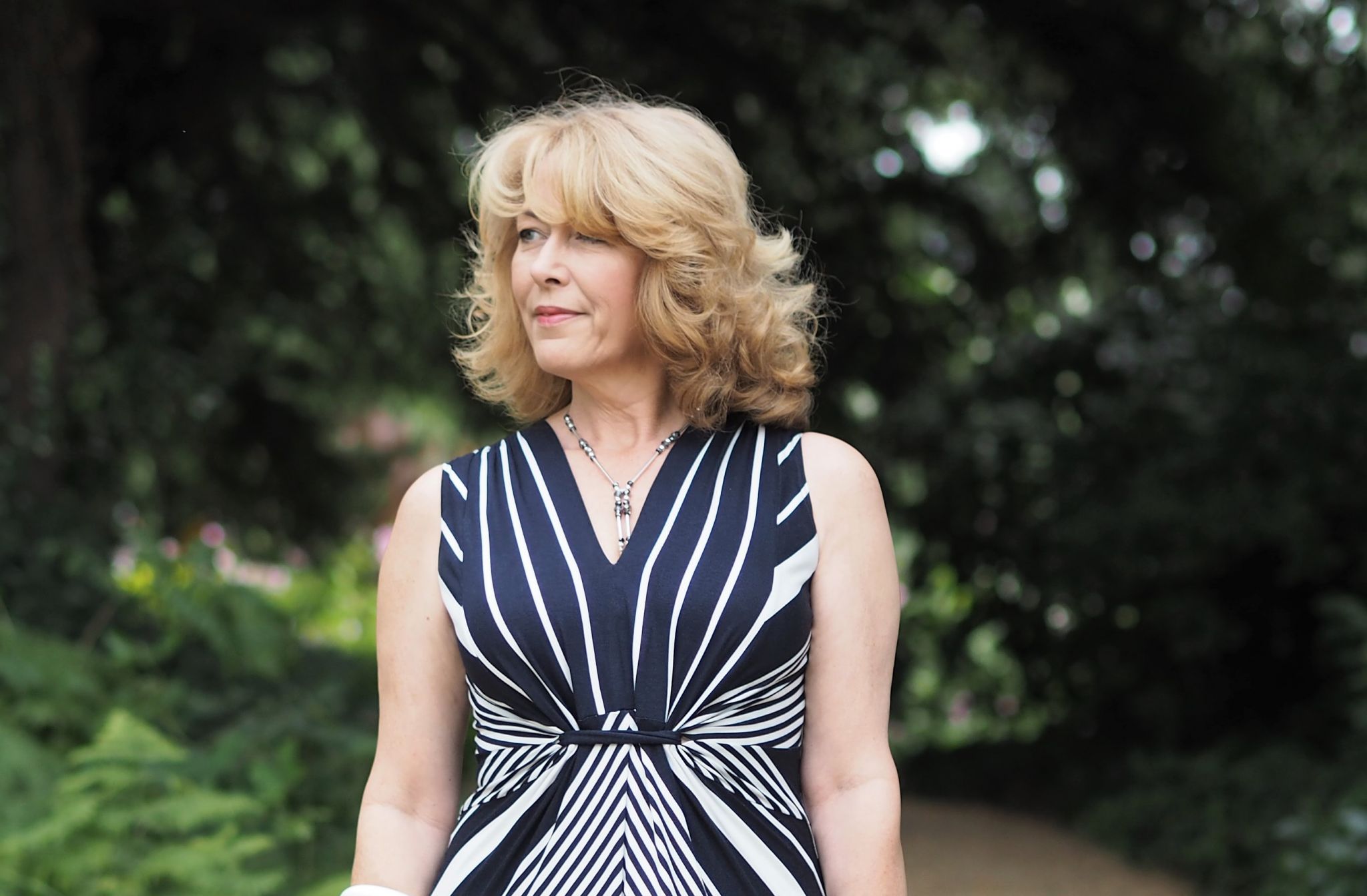 Navy and White always work well together and the difference in the width of the stripes is what I think makes this dress stand out.
All pulled together with a piece of material at the front is what makes this dress so special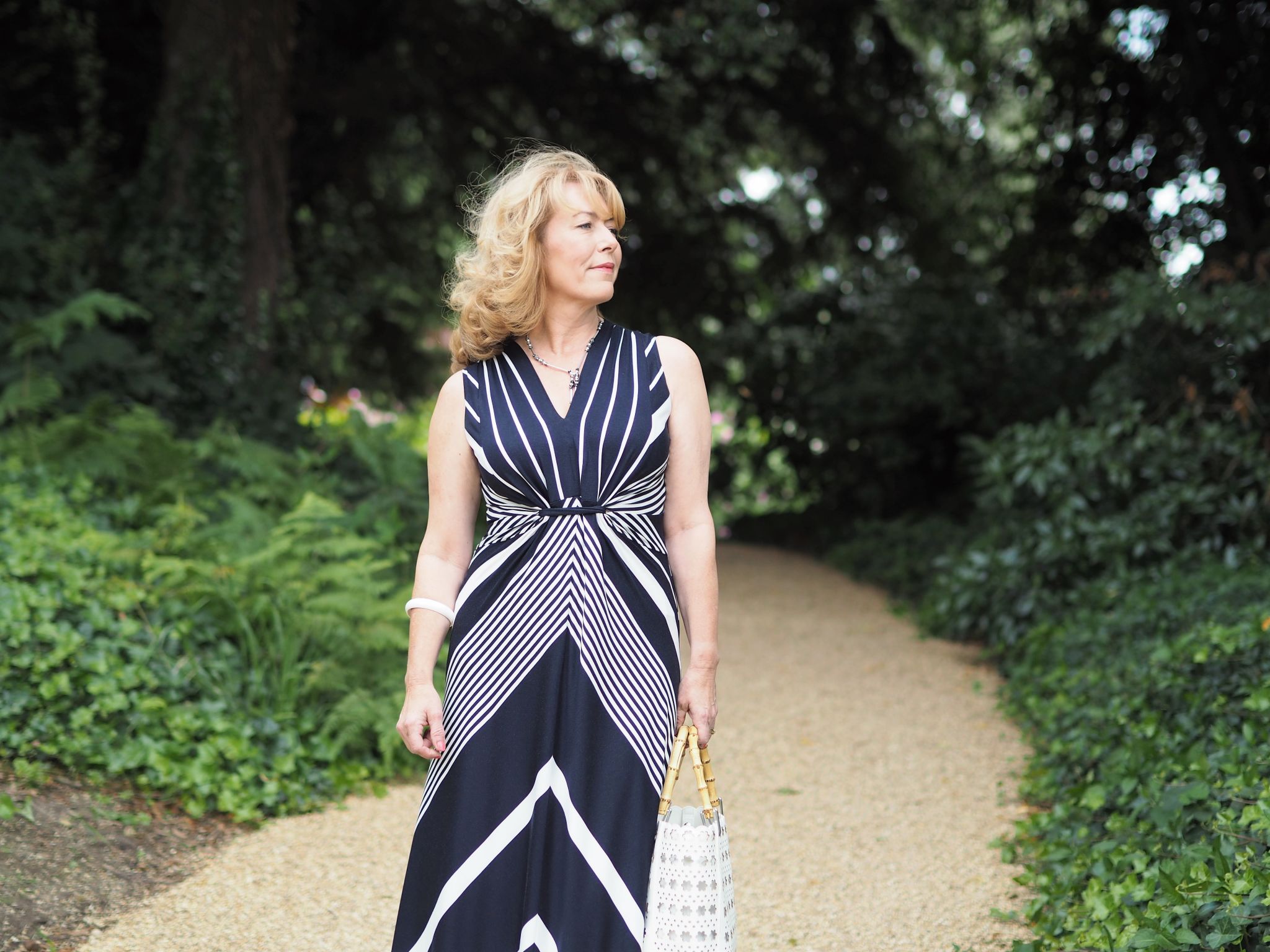 I think the material is playing a very clever part. Look at the direction of the stripes. All heading straight for the waist, clever trickery! All pulled together with a piece of material is what makes this dress so special. There is an allowance for movement even though it's fitted and doesn't feel restrictive at all.
Navy and White always work well together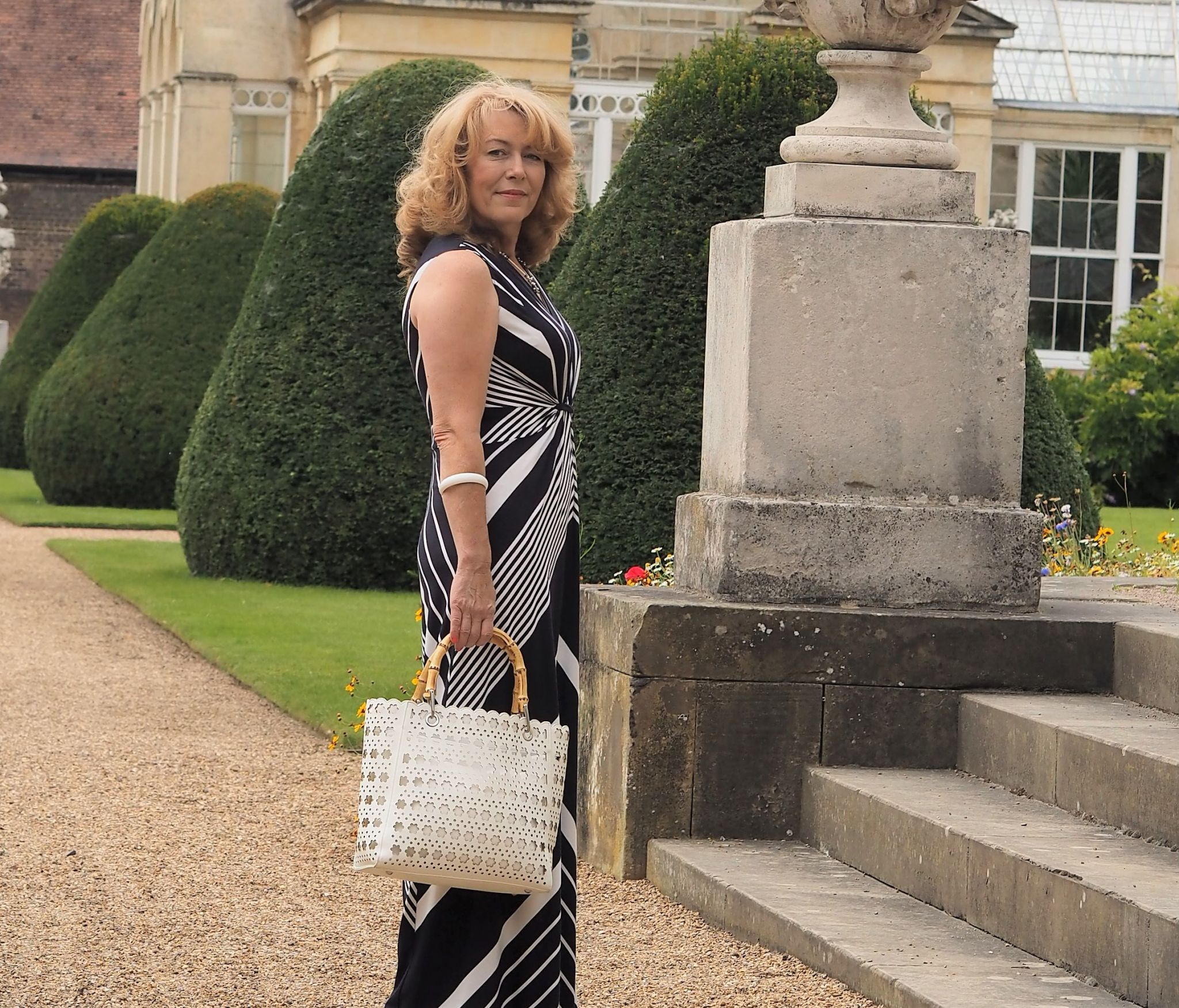 I'm at Syon Park Gardens today. If you're ever in London, do look it up. A perfect place for a picnic and the scenery is beautiful.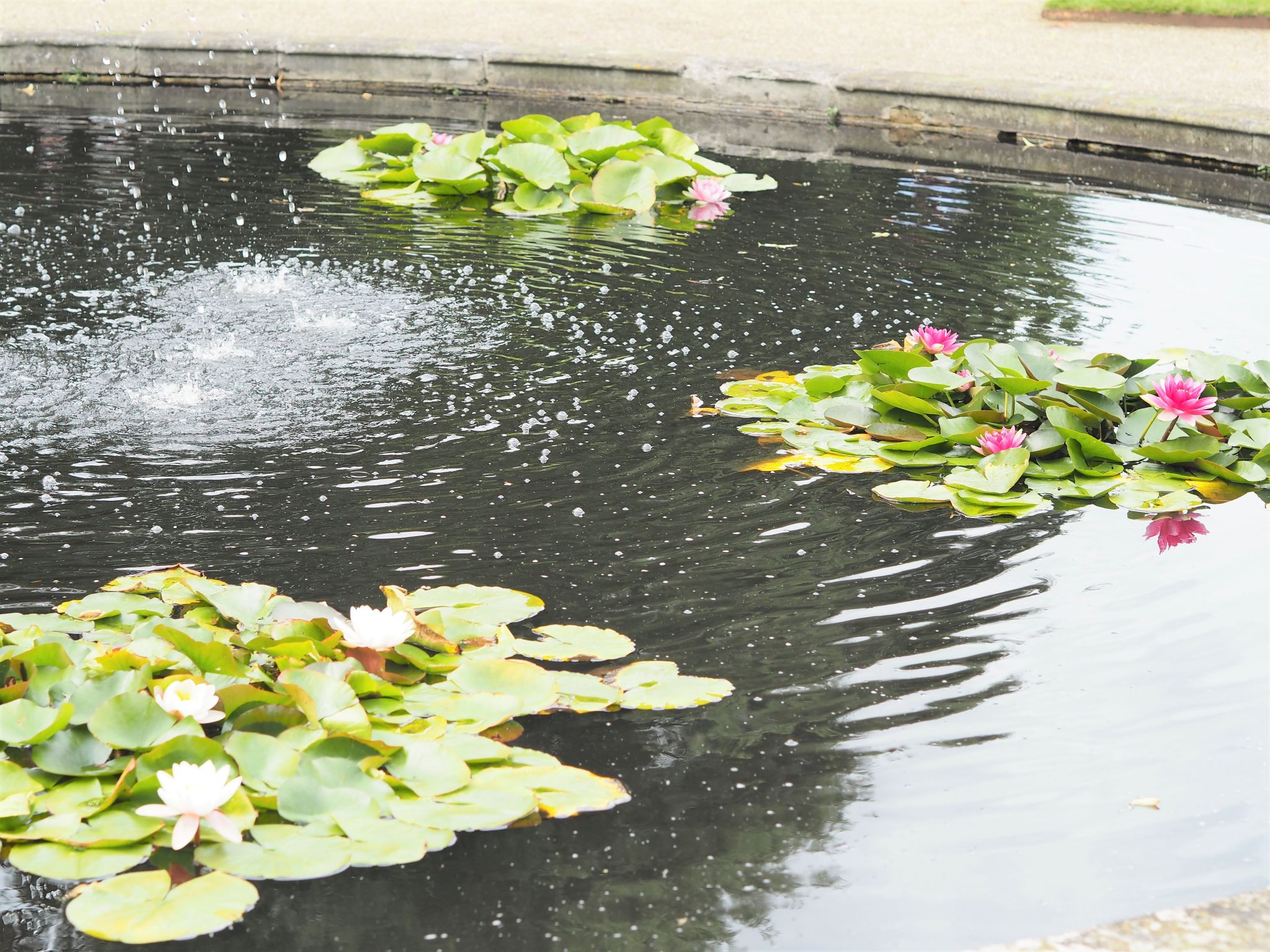 The beautiful Lilypond. It's a joy to sit around and hear the trickling water. It's a very peaceful place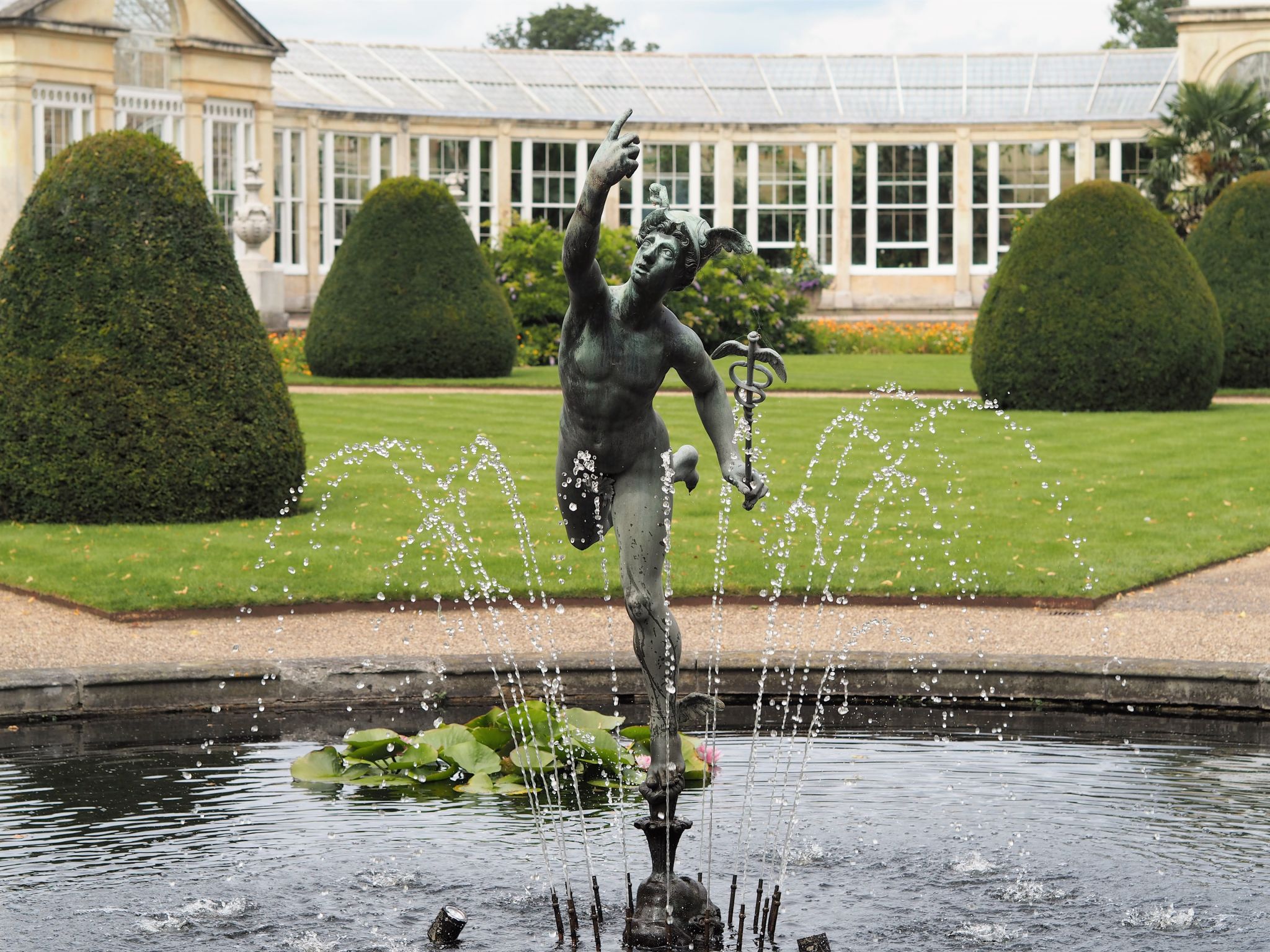 The water feature Statue is grand as are the buildings behind. Well worth a visit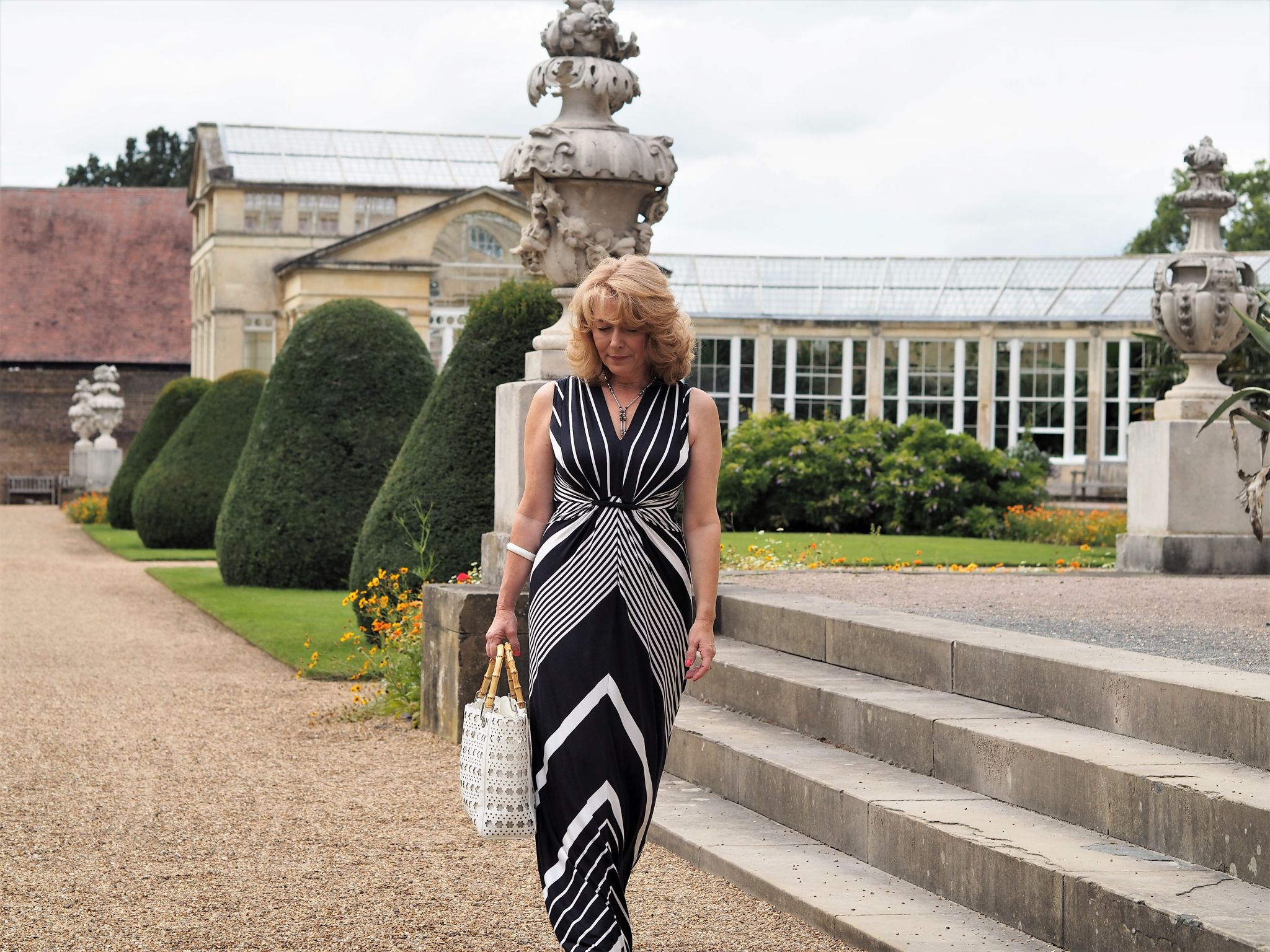 This Roman Originals striped maxi dress could be wedding-ready in an instant!
Thinking about how the dress can be worn. I think it would be great for a wedding. Just add the perfect accessories. That's all that would be needed. Imagine the dress with a hat, some white heels, and a more formal handbag and you're good to go. The dress is crease resistant, another favorite plus point to me. So it would definitely last the day into evening and it will still look like you've just slipped into it. A white or Navy jacket or wrap could be added in case it's chilly.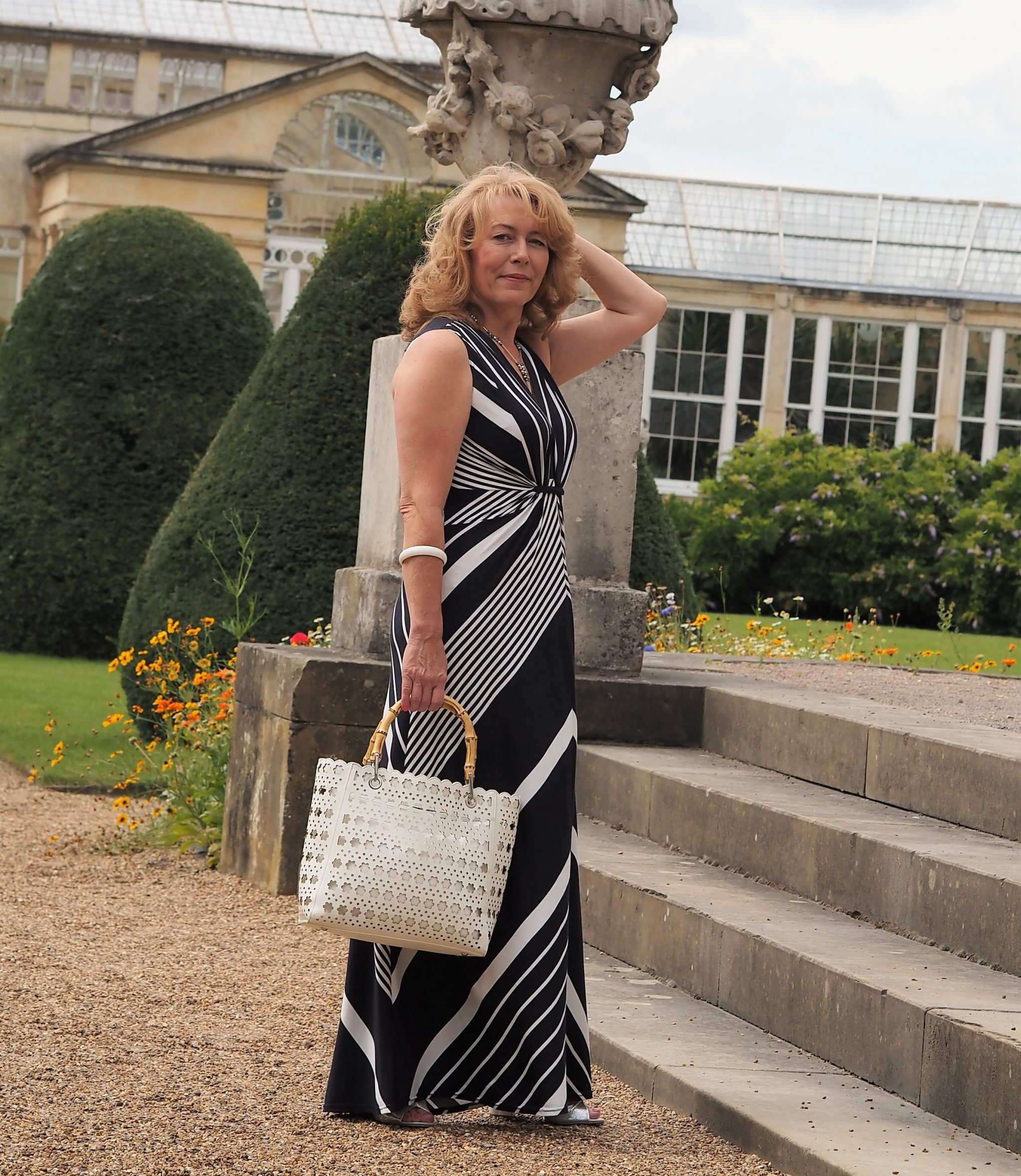 Today, I'm pairing the dress with my White tote bag and some very comfortable Silver sandals to walk in. A long Gunmetal necklace and White bangle to finish the look. Easy peasy dressing and it feels absolutely fabulous on. I wouldn't expect anything less from Roman Originals. My other two dresses from the brand have been just as good. If you didn't catch the posts before, you can catch them here and here
Actually, the Denim dress is still available and at bargain price of £25.00 here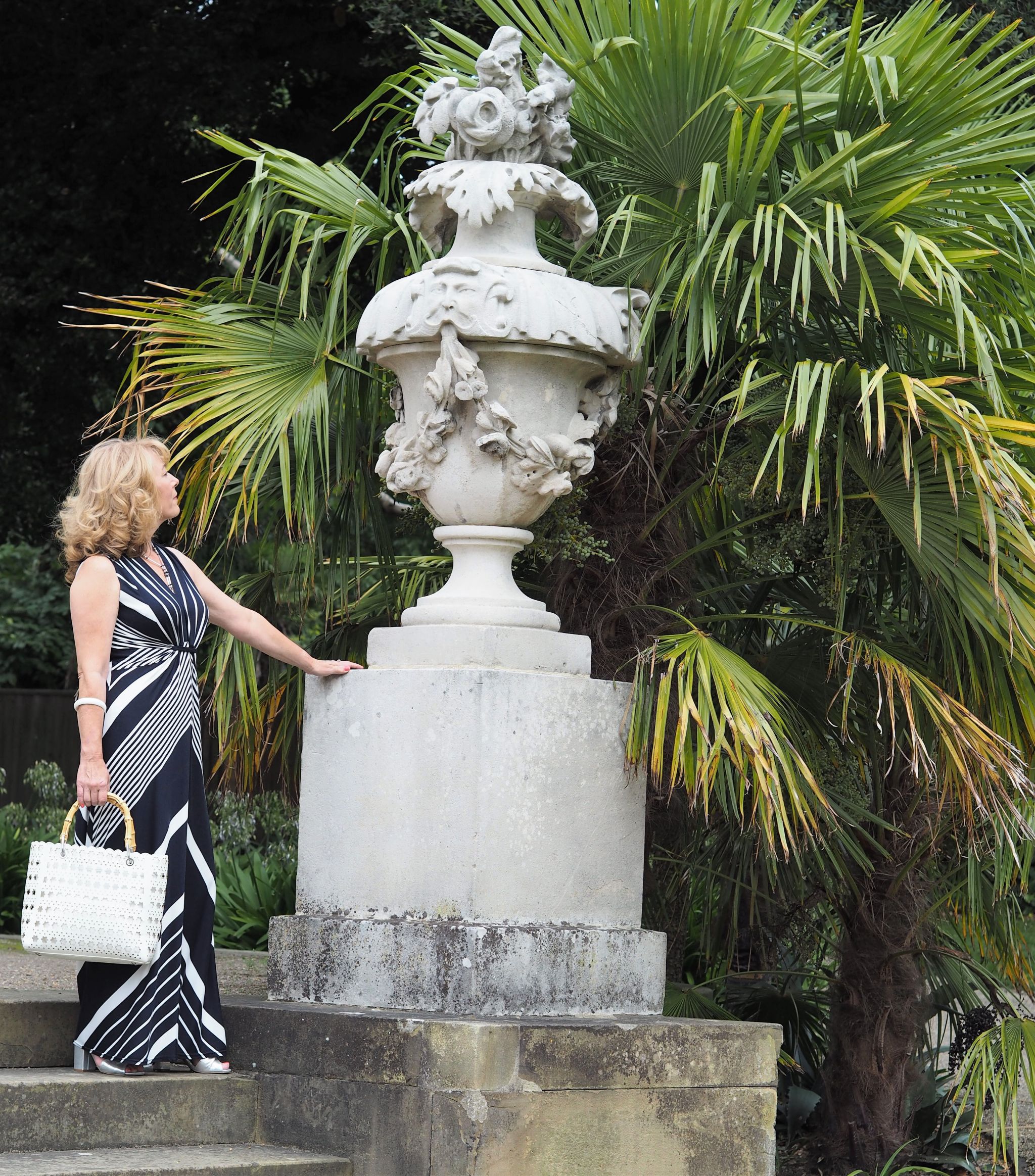 Are you a lover of a striped maxi dress? I have so many stripes in my wardrobe! I didn't realize that I was such a fan until I counted them all. I love how this striped maxi dress is different in the way that this is enhancing your figure and slimming, whereas you have to be more careful with stripes directing in other ways. Just floaty easy elegant style. I have three other striped dresses, but they don't come anywhere near as close to how gorgeous this one is. I totally recommend it.
Are you a lover of a striped maxi dress?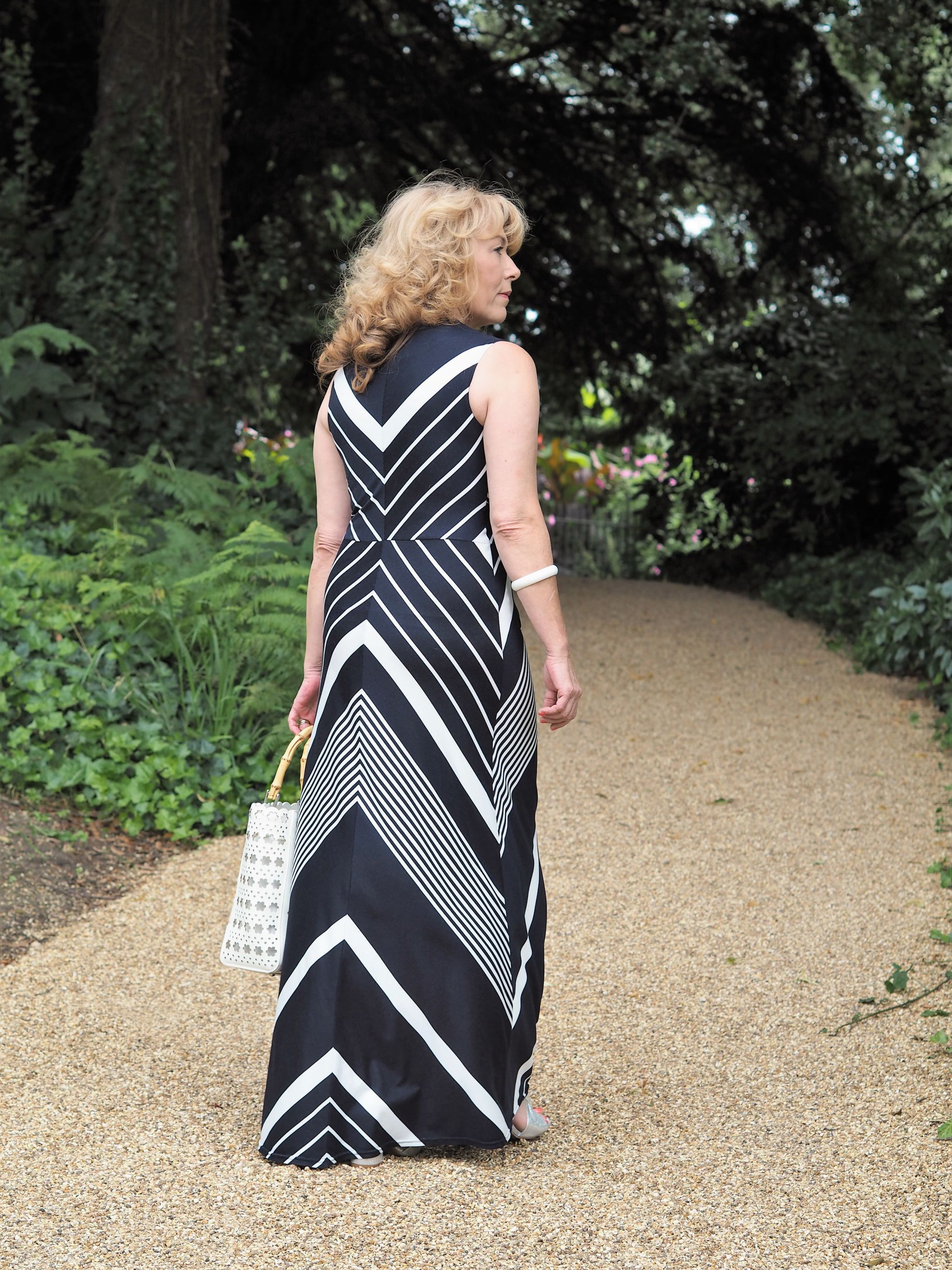 Stop by again to see my next look from Roman Originals. I can't wait to share it with you. Or you can catch all my posts by subscribing. Click on the box to the right-hand side.
Striped Maxi Dress CO/ Roman Originals
White Bag CO/Laura Ashley
Update! Roman Originals are offering 10% off to any first time customer with the code FIRST10
XO Laurie
Subscribe for the latest updates!