Hello, Autumn! One thing I love about getting the Autumn/Winter wardrobe together is new clothes! A fresh start with a few new items. Browsing in the Laura Ashley store, I fell in love with this Boiled Wool Biker Jacket.
"It's still sunny but damn cold, especially in the mornings!This Laura Ashley Biker Jacket is perfect"
The Biker Jacket trend isn't going to go away now, is it? How much nicer to be cosy in wool rather than leather. The weather is still bright but it's damn cold in the mornings! I fell in love with this jacket as soon as I saw it. Also available in Navy, Grey, and Green. I love the Gunmetal detailing with the Gunmetal poppers and zips. This isn't fitted like some Biker designs, it's boxy and roomy enough for another sweater/roll neck underneath for when it's really cold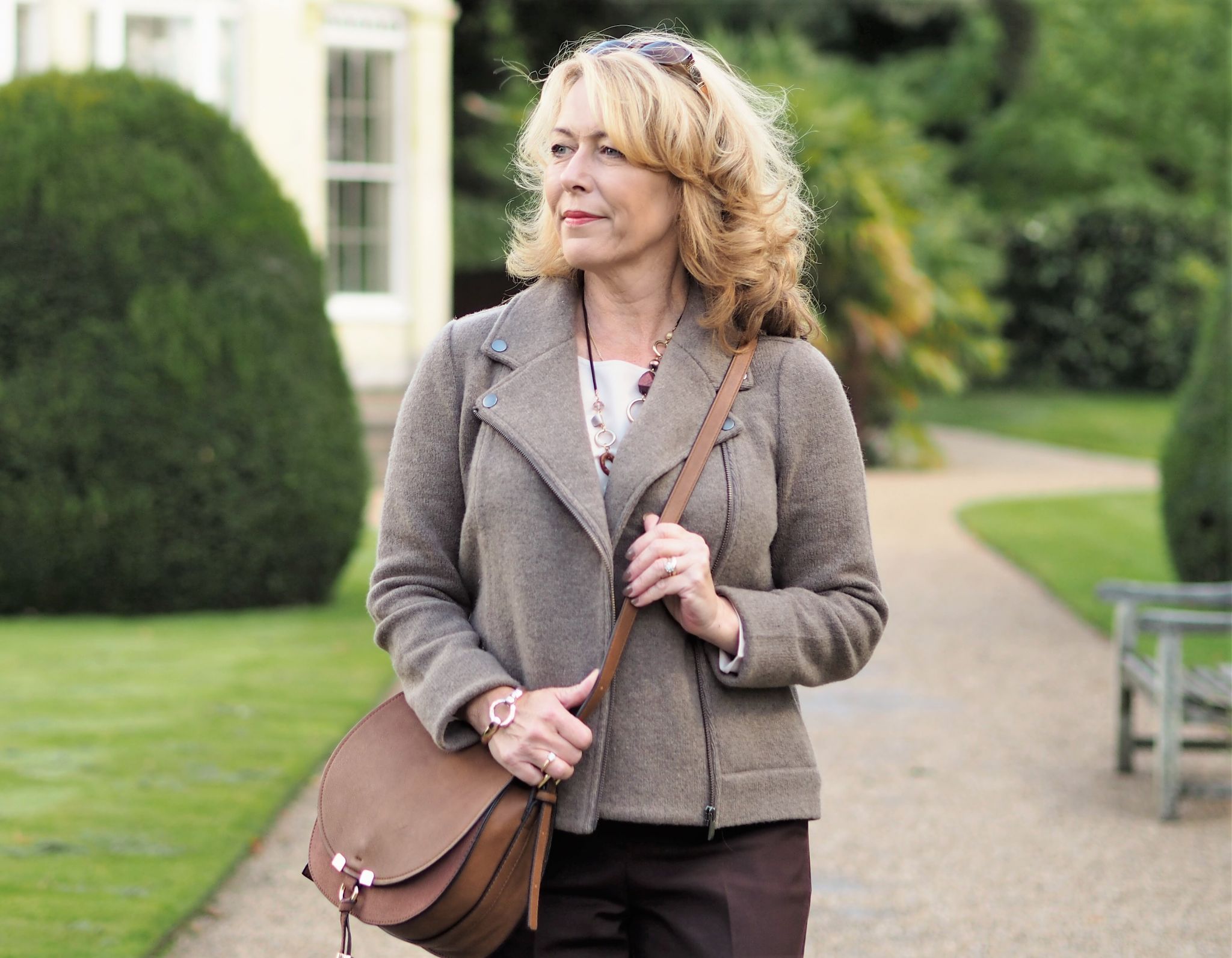 Walking around the gardens in Syon Park, I can't believe how quickly Autumn has arrived. All the greenery is starting to change to their rich winter tones. The Brown shades that I'm wearing today are one of my favourites from this year's Autumn/Winter Pantone shades called Otter. If you haven't chosen your favourite shades yet, take a look at them here Otter will work with a lot of items that I already have.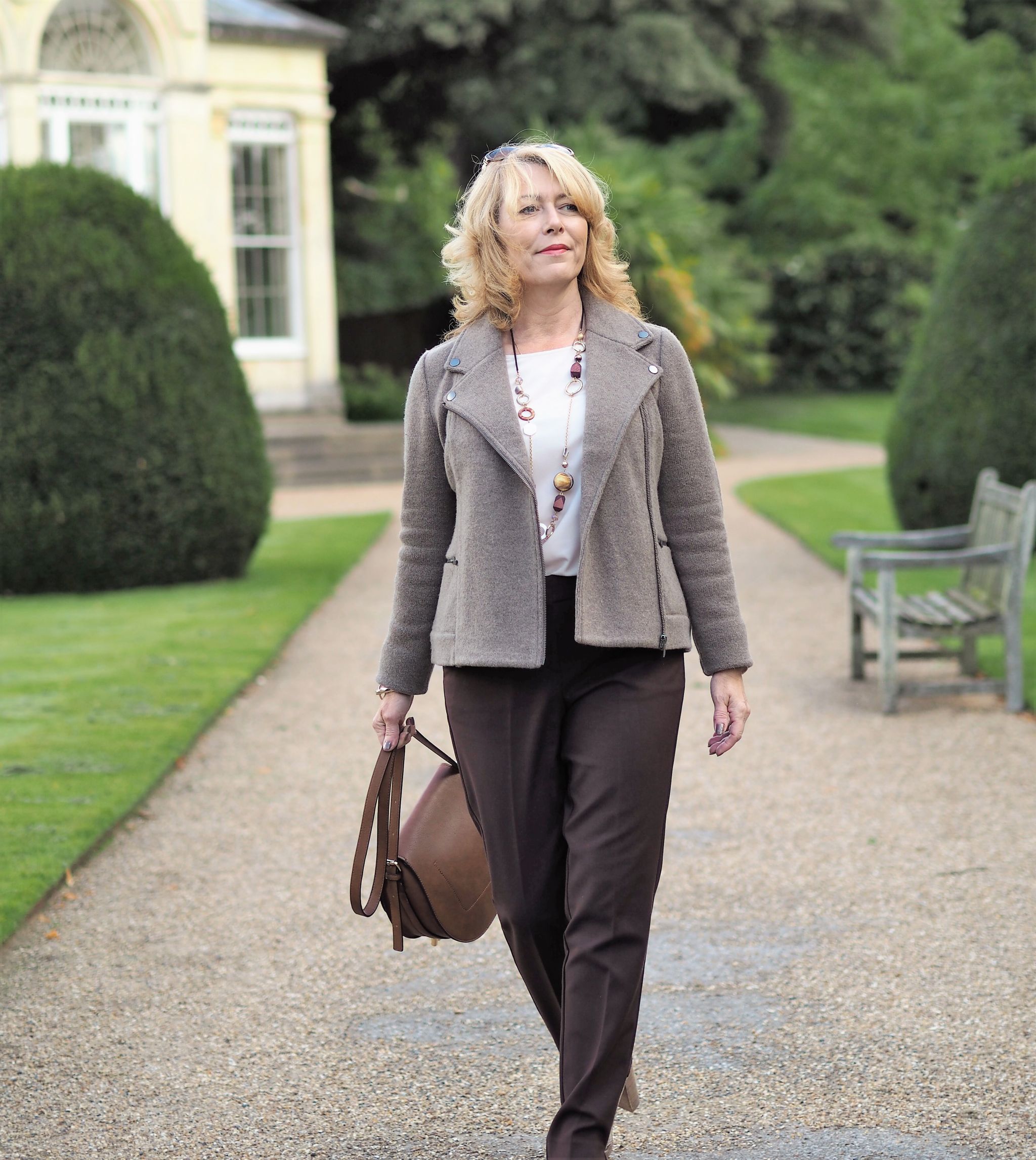 Smart Cafe trousers perfect for work or play
The trousers caught my eye in the shop too, but the first site of them was in Navy here But I just fell in love with these brown shades. I'm wearing a light silk top under the jacket in a mushroom tone but other colors like Orange, Pink and Rust shades will work well. That's what I like about neutral tones, you can literally add anything to them.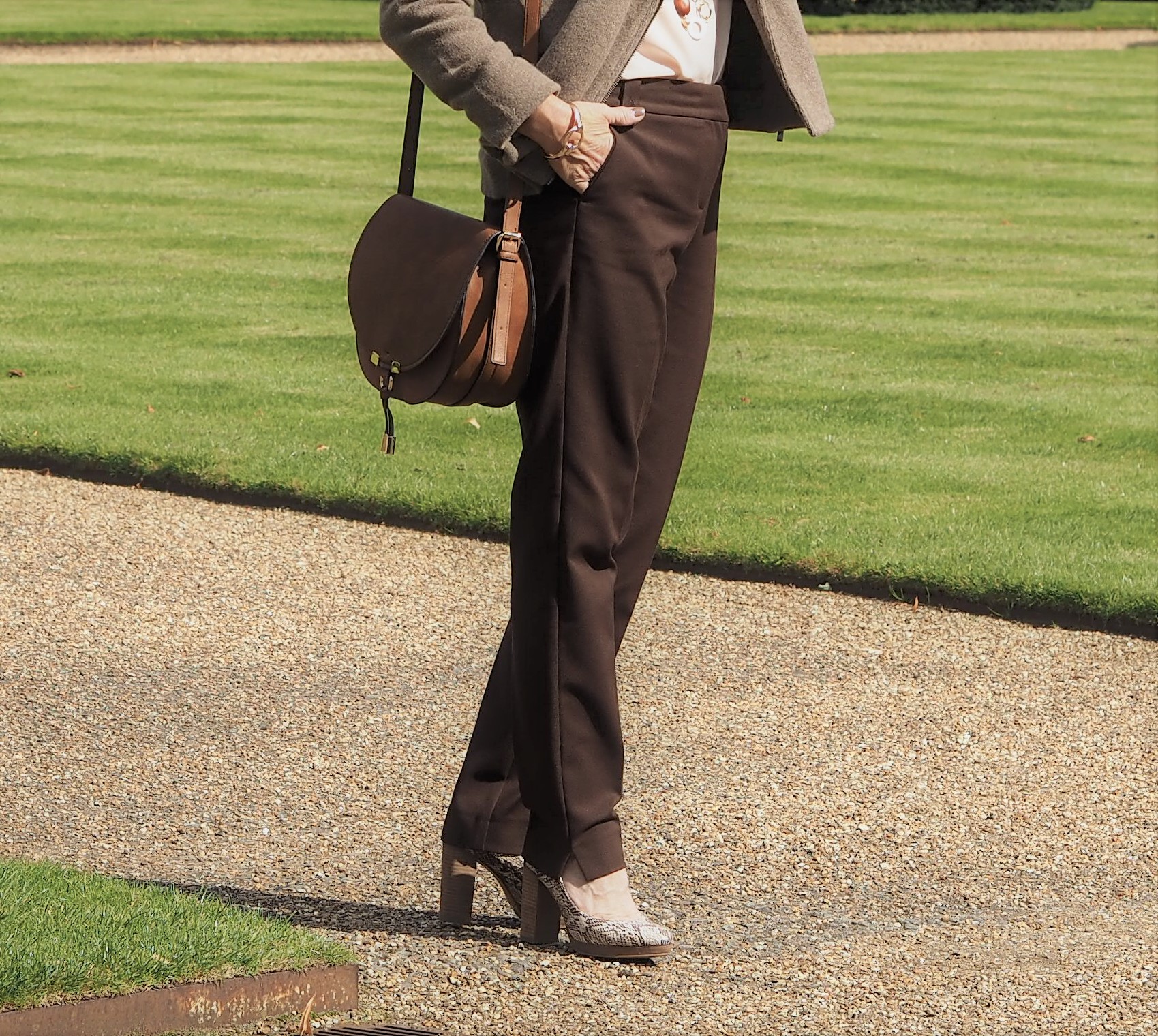 The quality of these trousers is evident as soon as you feel the material. Slim fitting and super smart with belt loops and side split at the bottom. These would be the perfect office trouser and I think they will work for play too. I'm going to dress them up with Gold heels and an embellished top for a night out. watch out for that post!
New Season = New Bag!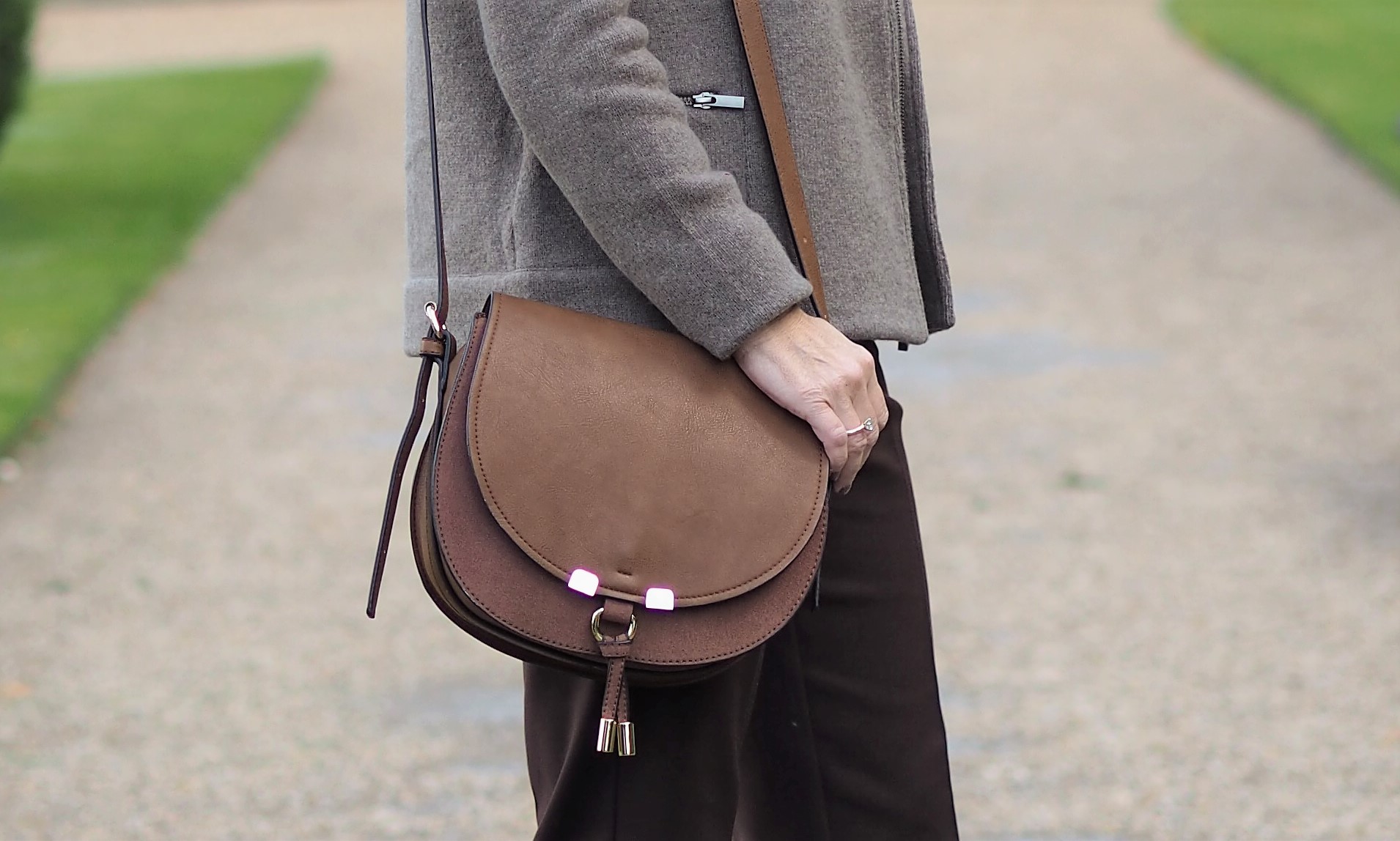 "I am that woman who doesn't have anywhere near enough bags!"
Well you have to update your bag collection, don't you?!! I'm actually not lying about not having enough bags! I only have one other brown one, so this was a desperately needed update to my wardrobe! As soon as I clapped eye's on this one it had to be mine! Laura Ashley has excelled this year in the accessories department. I want them all! And they are great value and not overly expensive either. An easy way to update your wardrobe. I love the added Gold detail on the flap and the toggle.
I've added this back view so that you can see how boxy the Biker Jacket is. Not fitted and not stiff like your average leather Biker. Just so much more comfortable!
Before I go, let me share this beautiful conservatory at the park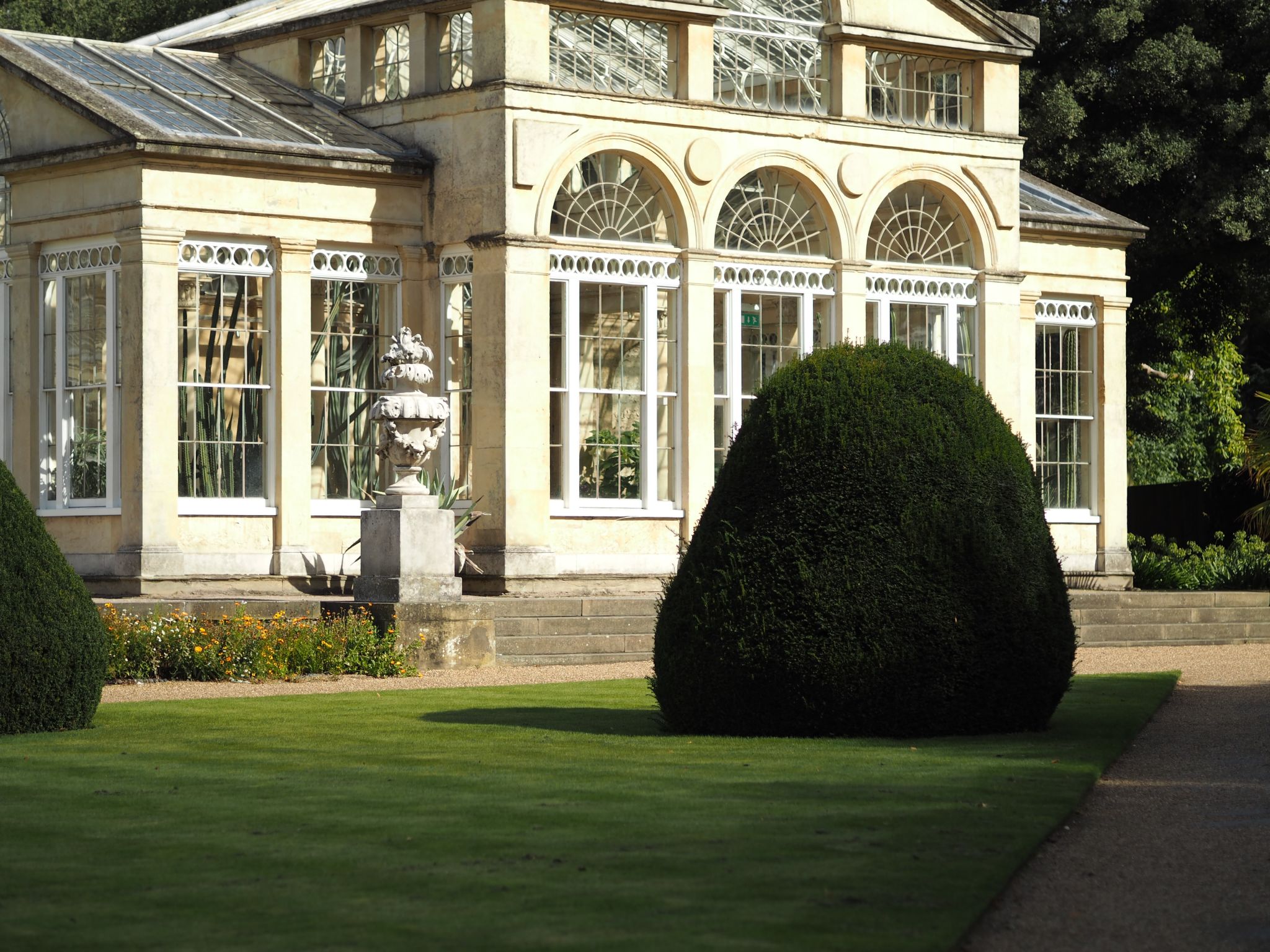 It's beautiful here and if your ever in the London area it's worth a visit. The conservatory is stunning. As is the gardens and the stately home.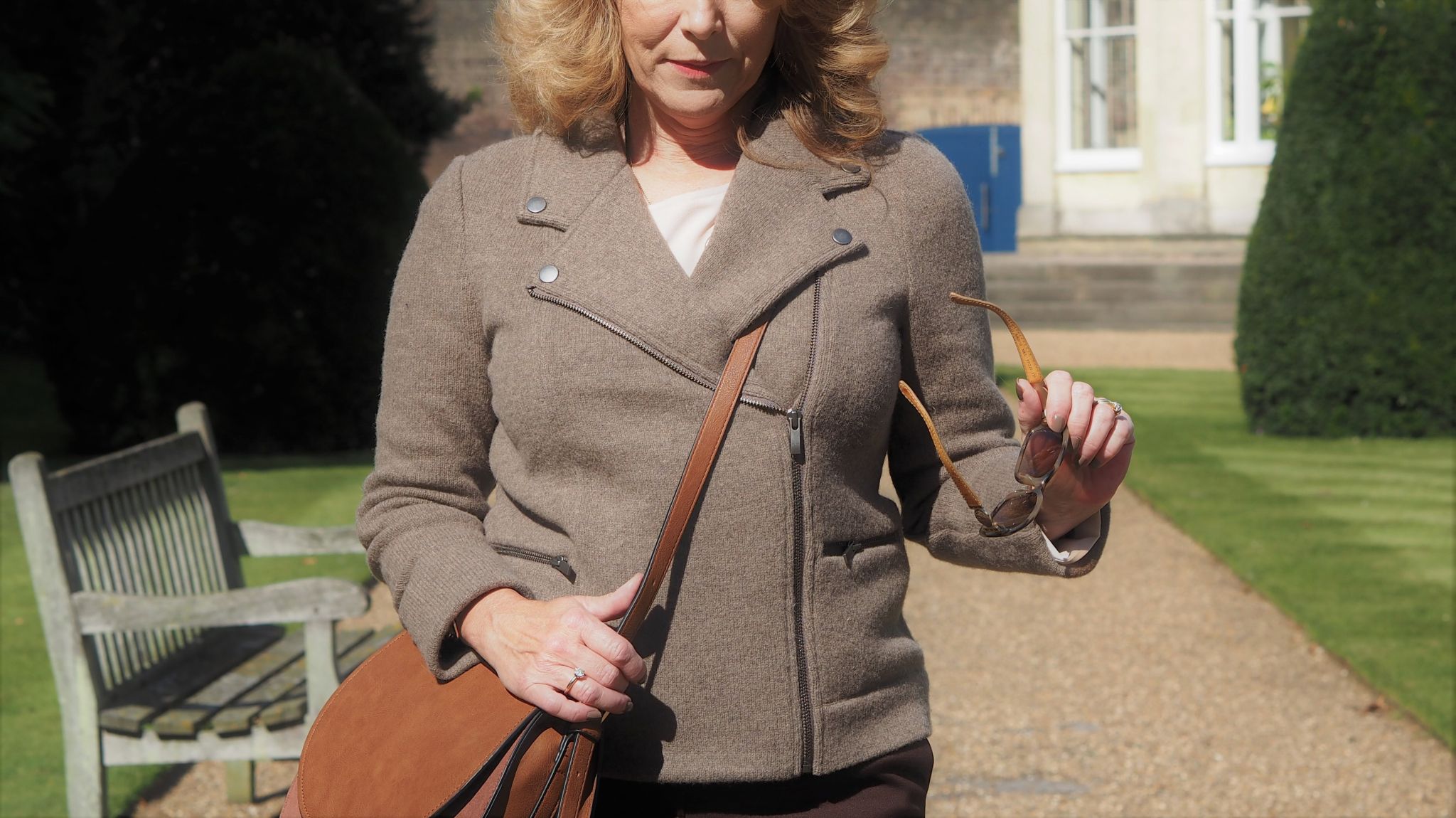 Boiled Wool Biker Jacke CO/ Laura Ashley
Brown Core Smart Cafe Trousers CO/Laura Ashley
Brown Toggle Saddle Bag CO/ Laura Ashley
Xo Laurie
Subscribe for the latest updates!