Hi Everyone. I don't know what it is, but I always feel more upbeat when I'm wearing silk. I'm sitting here wondering what the difference is and if you feel the same? How it feels on your skin? The lightness of it?
The Boyfriend Style Silk Shirt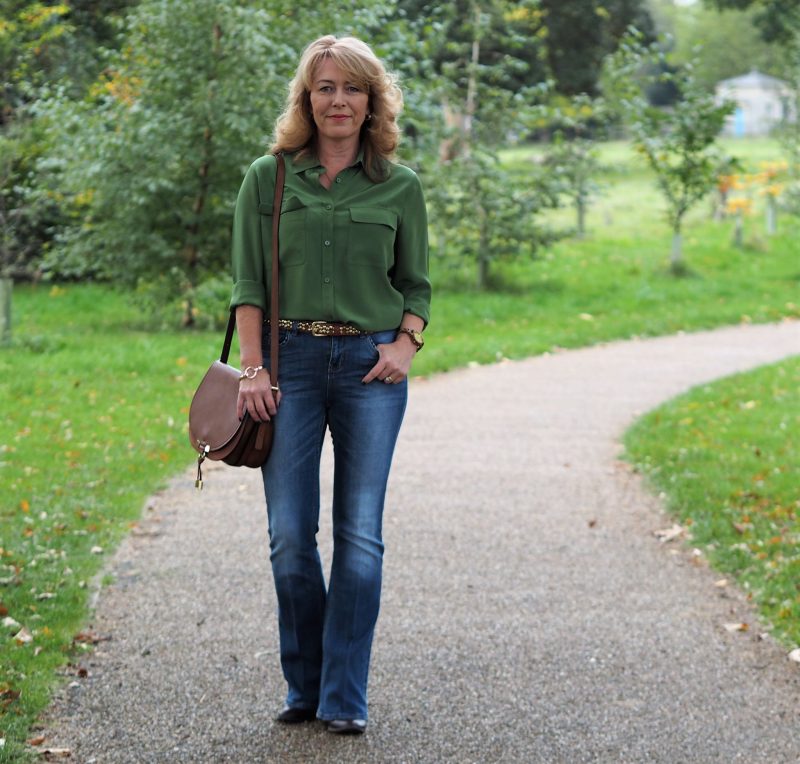 Lilysilk has special offers on their clothing range and I was asked to choose an item to share with you. I decided on this Kale Green Box Pleat Shirt. I have sized up here, this is a size 12 I'm wearing and if you remember the last silk shirt in a different style that I shared with you is more fitted and a size 10 here
What do you think of the colour? It's also available in black too, but I had casual styling in mind for this shirt and knew it would look great with jeans. I don't often wear black as you know, but I'm tempted to try silk in black for an evening look. I like the large pockets for detail and as I said it feels like a dream on. A whiff of wind makes the silk billow and I just love the lightness of it. Maybe because it's so light I get a feeling of being super slim!
It's machine washable. I can vouch for that!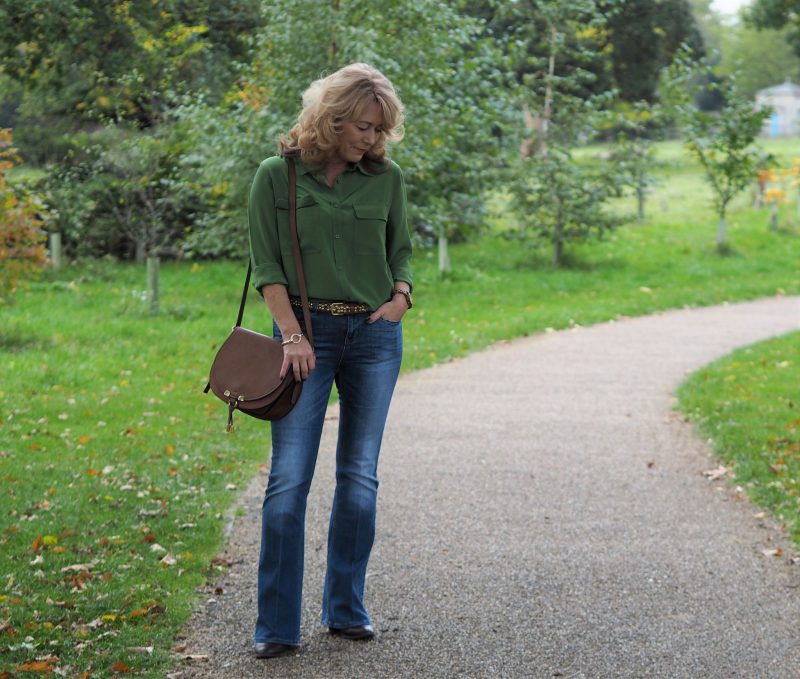 A lot of you asked on the last post that I shared about the cream silk shirt is "Is it washable?" I can tell you that I have washed that shirt many times on a 30-degree wash in my washing machine with Daz. (good ole Daz!) And I have not had any problems at all. No shrinking, easy to iron and no fading, but do keep in mind the shirt is cream. I'm going to try this in the machine the same way and hope it doesn't fade, otherwise, it will be a hand wash job. If I was wearing the black it would definitely be hand wash!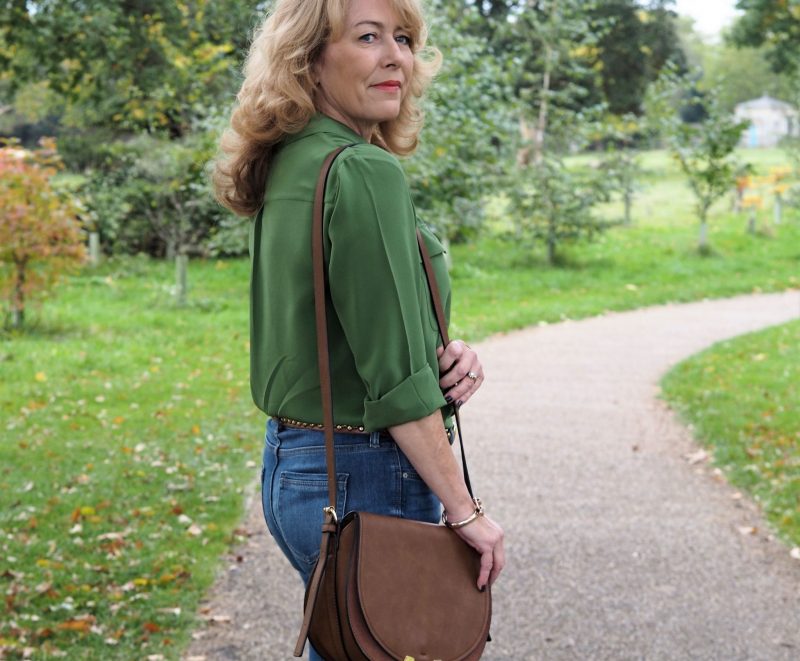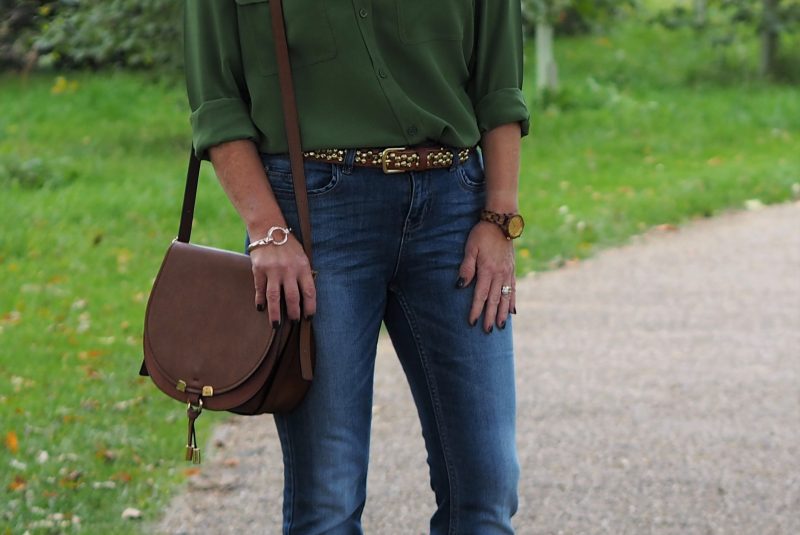 I've teamed the jeans and shirt with Tan and Brown accessories. I haven't stopped using this bag from Laura Ashley I absolutely love it and it's such a perfect size. The Wooden watch and tan belt all seem to tie in nicely together.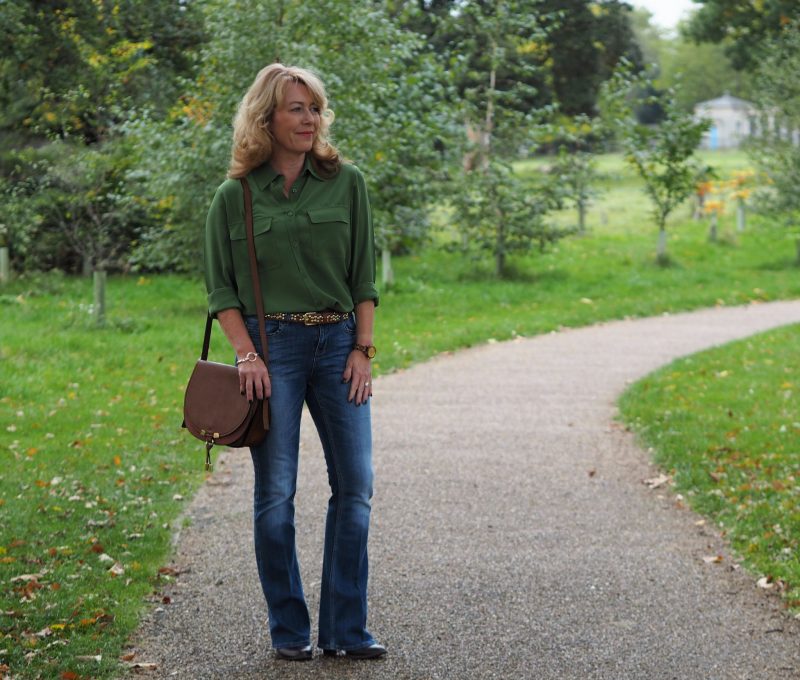 So. Do you like to wear silk? How does it make you feel? Any different? or does it give you that upbeat feeling? Would you wear it during the day, or would you reserve it for special occasion dressing?
Lily silk has given me a code for 16% off at the checkout – vanityandmestyle
there is also $5 off the silk shirt using the code vanity5off
Kale Green Mulberry Silk Box Pleated Silk Shirt Co/Lilysilk
Saddlebag – Co/ Laura Ashley (on offer) here
Wooden Watch – Co/Jord
Bootcut Jeans – similar here
Xo Laurie
Subscribe for the latest updates!