Hi Everyone. I'm sharing with you today this exciting little gadget that the Tria beauty company have gifted me to share with you. I have only been using this for a couple of weeks because I wanted to wait a while because of the radiotherapy treatments I have just finished. I have put my second Vlog up on Youtube this time an introduction about the Tria Age-Defying Laser and I can share more insight about this gadget there. Just click on the Youtube link in my sidebar to the right. Or at the bottom of this post. It's my first talking vlog! Be kind! And much more to come I hope.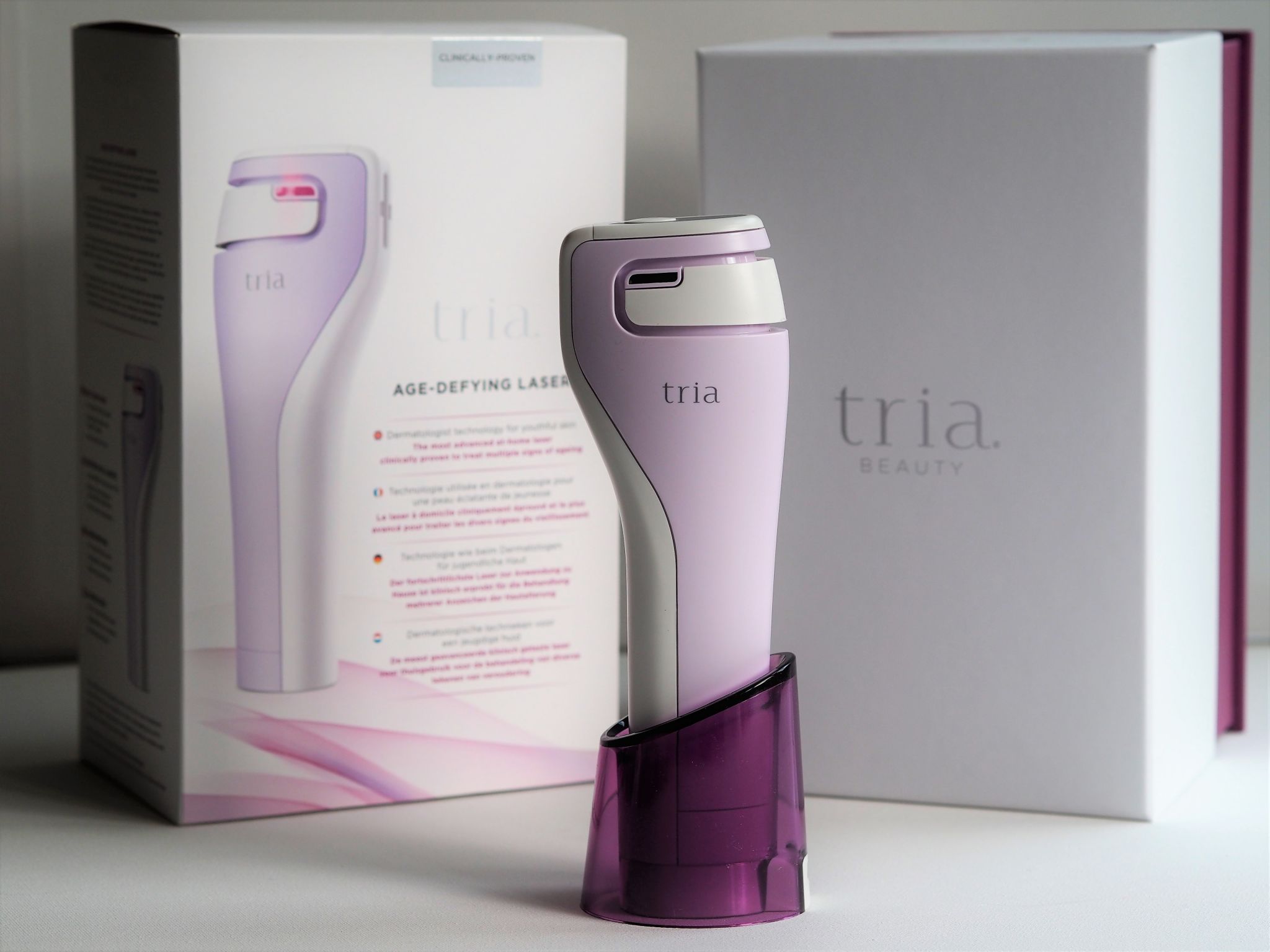 So here it is! The Tria Age-Defying Laser! How does it work?
The laser, which only turns itself on when in contact with the skin beams the laser light deep within the skin further than the Epidermis to accelerate collagen and elastin. I couldn't wait to charge it up and get to work on it and I wondered how it would feel.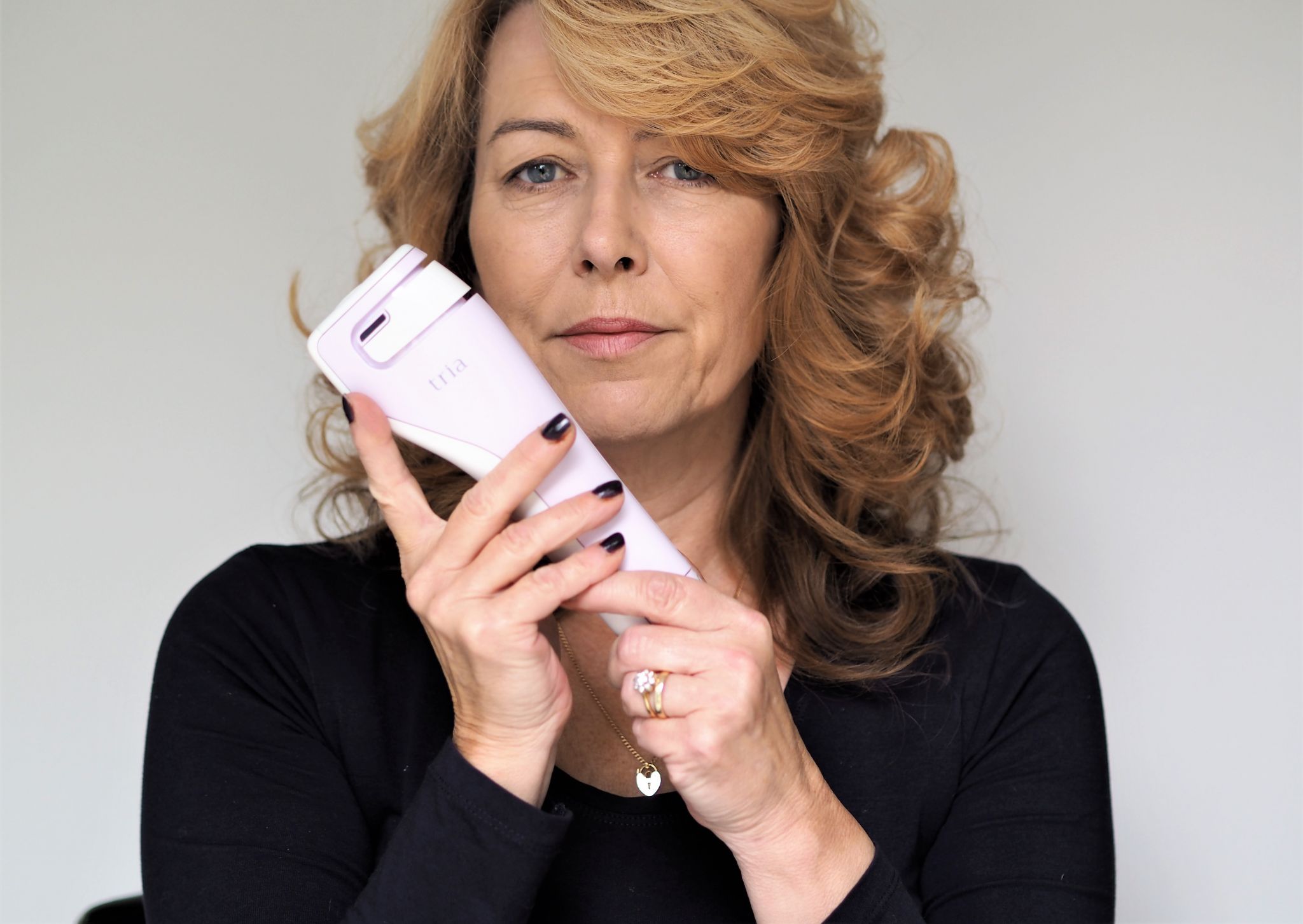 There are three choices of current, and at the moment I'm only using the lowest current and will most probably turn it up to the next phase next week. The machine beeps when it's turned on and it's suggested to use the machine in quarter parts of your face. Forehead, cheek, cheek, and chin. The machine beeps each time the quoted amount of time is used and then you move on to your next quarter. It's light and easy to use. It does state that although it's safe to use on your neck, there are no studies for it. I'm going to use this on my neck too. It's one of my worst features!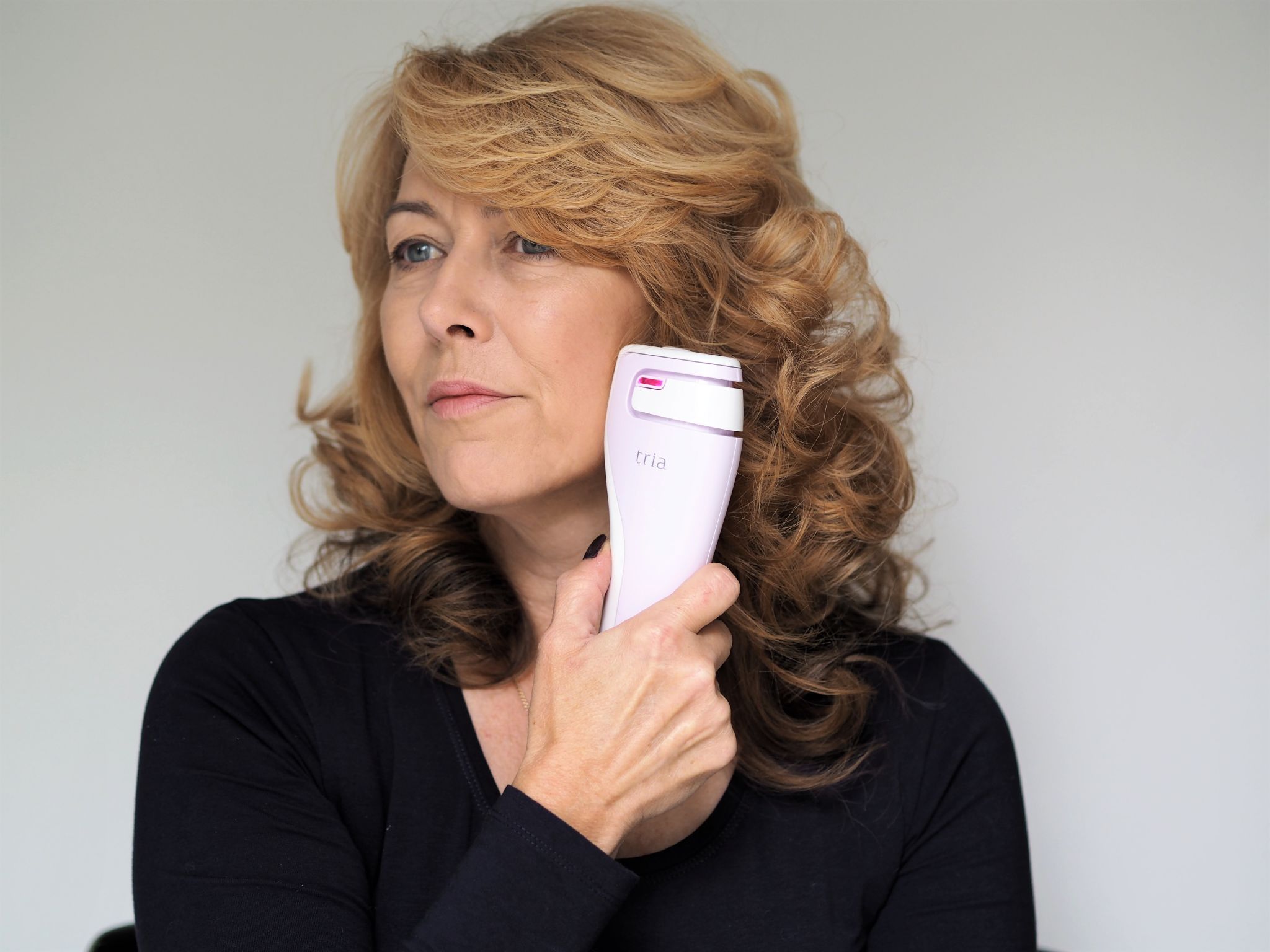 It's that simple to use! Just glide it over your skin
This age-defying laser promises with proven studies that it will reduce lines, reduce skin discolouration and plump up and restore your collagen. Very similar to the Radiofrequency that I have just had done at the beauty clinic. You can catch all about that here.
You can't use it on your eyelids which is a shame. As soon as I can afford it this will be one thing I'm prepared to go under the knife for. I hate my hooded eyes!
I'm keeping my Tria on my dressing table plugged in at the ready in its docking machine. All you have to do is turn it on from the button on the top and it will beep. As soon as it comes in contact with the skin the laser lights up. You just glide the machine over your cleansed skin. It's that simple to use!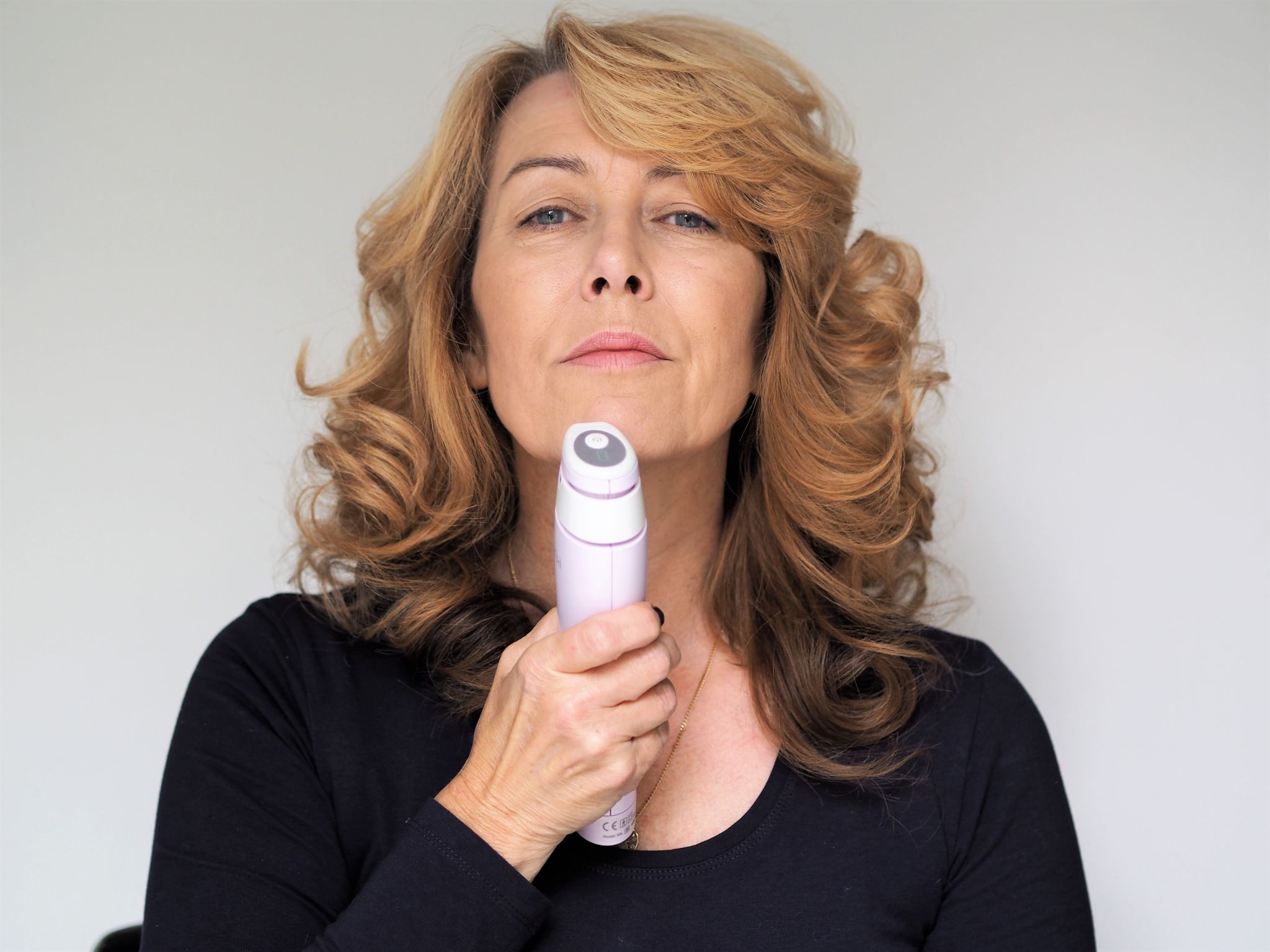 How does it feel?
Turning on the laser I put it to my skin in anticipation! what I can tell you though that it feels like an elastic band being pinged on your face! For me, it was a little bit "ouch" at first! But so long as you keep the Tria moving it's pretty minimal. I think I just rested it in one place too long. You have to keep it moving. The treatment lasts for around five minutes and I'm using it every night, just after I've cleansed and I moisturise after the treatment.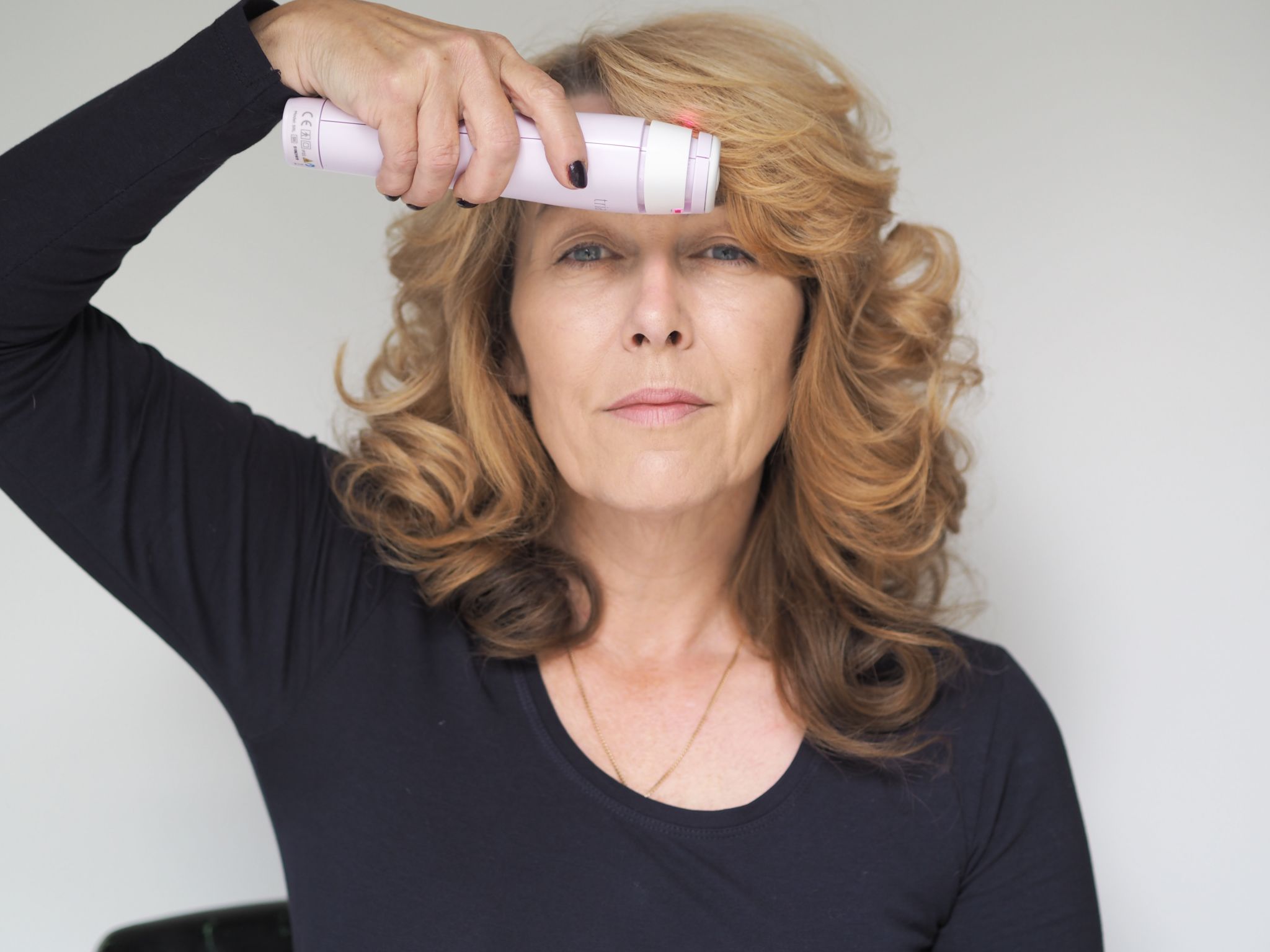 You can see the light from the laser shining on my hair. I found it easier to hold it this way concentrating on that deep line on my forehead, just gliding it up and down and then across. The deep line between my eyes was not worked on during the radiotherapy, so if the results are good and going to show up anywhere it will be on that deep line.
There is a slight redness to my skin after using the Tria but it disappears within around half an hour, so there is no downtime. The idea that I have for using it at night before bed is because this is when our skin gets to work, rejuvenating itself. I'm using it on my sad tired hands too! So that will be interesting!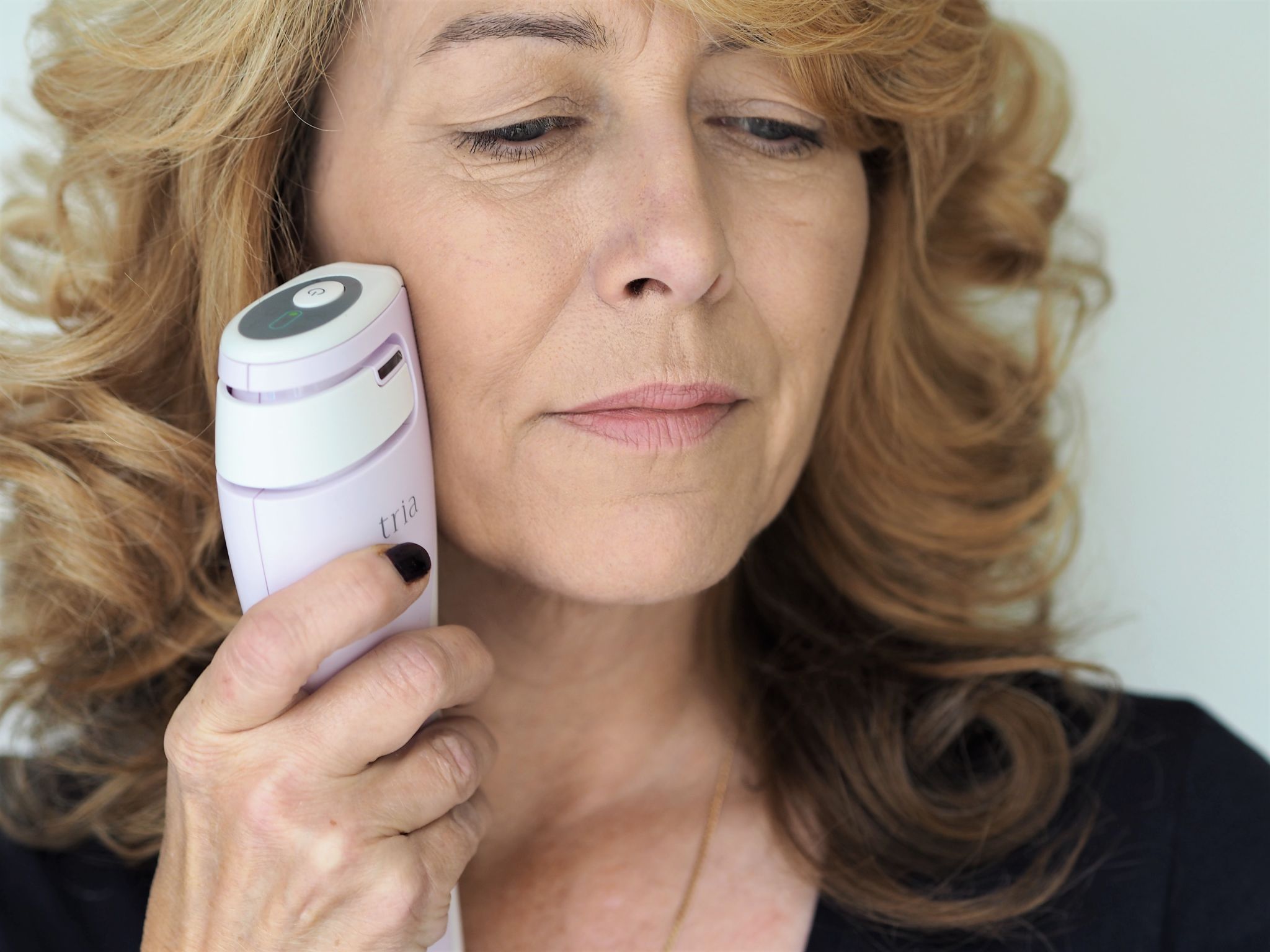 So. I look forward to sharing the second instalment all about this Tria machine with you. It will be interesting to see how the results are. I'm hoping to see the most improvement on the crease between my eyes. I will be one happy bunny if it makes a difference!
You can find out more about the Tria Age-Defying Laser Here
And my Youtube Chanel Here
Xo Laurie
Subscribe for the latest updates!