Have you tried Microdermabrasion before? It's an amazing facial treatment that doesn't take long and there is literally no downtime. Bodyvie Medi Clinic invited me to try the Caci Microdermabrasion LED light facial followed by a treatment mask to get my skin looking it's best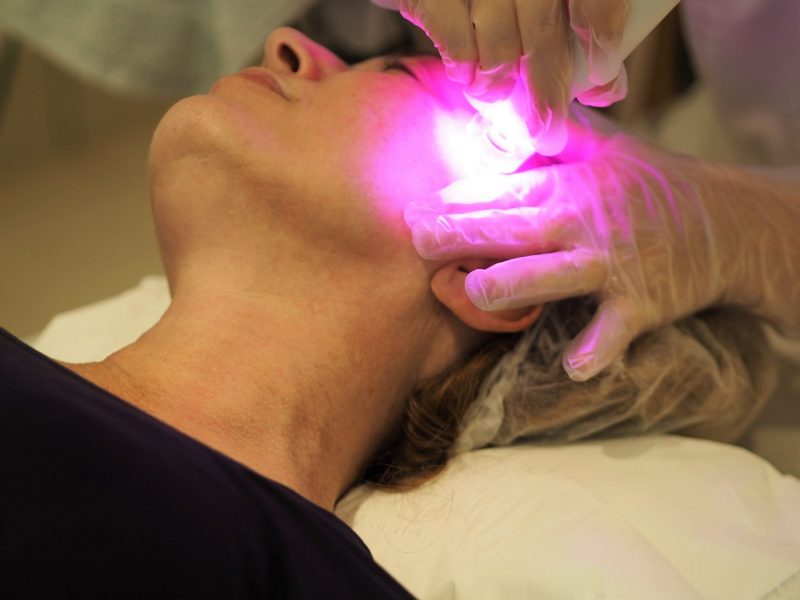 Microdermabrasion is a facial treatment that's just like exfoliating but far deeper than your average exfoliator in a tube you may use at home. As we age our new skin development time gets less and less. I learned at college that it takes one day for each year of your life for your new skin to regenerate. Well, I'm 54 so it takes 54 days for my skin to renew itself! Removing the old layer of skin via exfoliation promotes new skin to grow and that's why exfoliation is so important, especially for mature skin that needs extra anti ageing help. Using a good exfoliating cream/solution at home is also of course helpful. Keep your skin as active as possible via exfoliating to keep promoting that new growth!
Stimulate that collagen and elastin!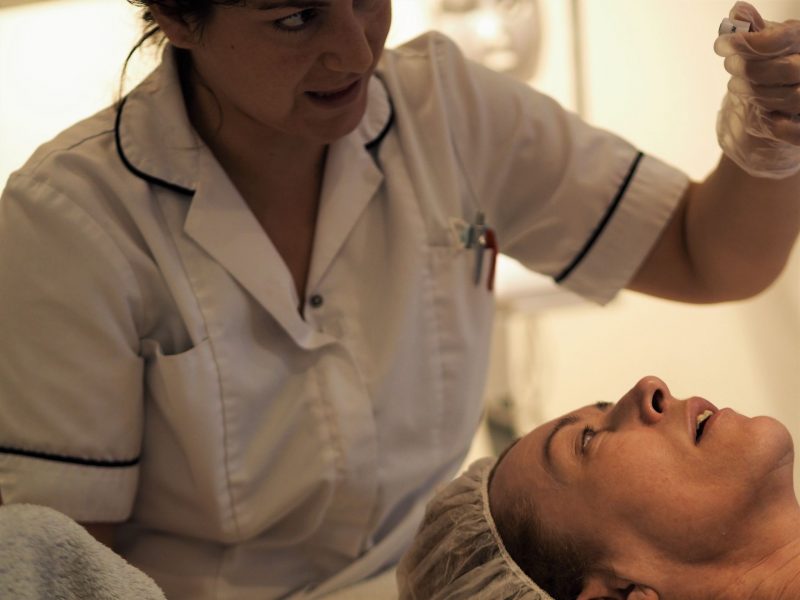 My beauty therapist is explaining the treatment to me. Look how tiny the tip of the exfoliator is. To touch it felt like one of those foot pumices, very smooth and not scratchy. Once attached to the machine the vibration and stroking of the attachment gets to work on the removal of those dead skin cells, improving circulation and stimulating collagen and elastin. This treatment also makes those fine lines on your face less noticeable too. I have very bad pigmentation on my face and neck and it's also helpful for that.
L.E.D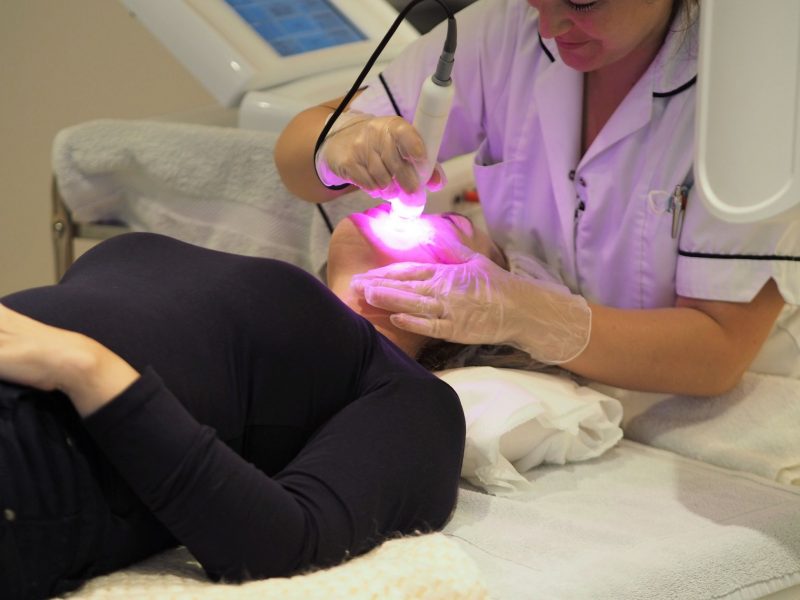 The LED light is working on my skin at the same time, this utilises light at specific wavelengths to penetrate the skin triggering an increase in natural collagen and blood circulation. LED is also good for sun damaged skin and Acne. I'm happy to get anything that boost's my collagen for antiageing!
This Microdermabrasion treatment only takes around 40 minutes to perform and It's completely painless, and my skin felt super smooth and clean after. A slight redness obviously is expected, but this soon disappears. You can apply your makeup literally straight away and you would never know the treatment has been done other than the fact that your skin will look so much better.
A relaxing facial mask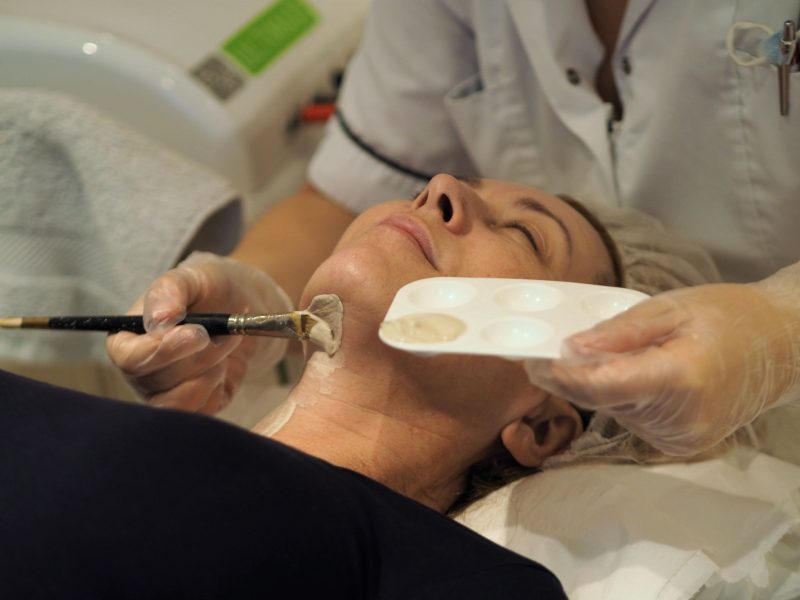 A "DMAE" mask was applied after the microdermabrasion. The main ingredient being Brazillian Mud Clay.
This is a signature facial mask specially formulated for bodyvie. The Brazillian Clay sucks out toxins and impurities from the skin. It's good for sensitive skin and more mature skin and it felt lovely on. It was very calming too.
Time to relax…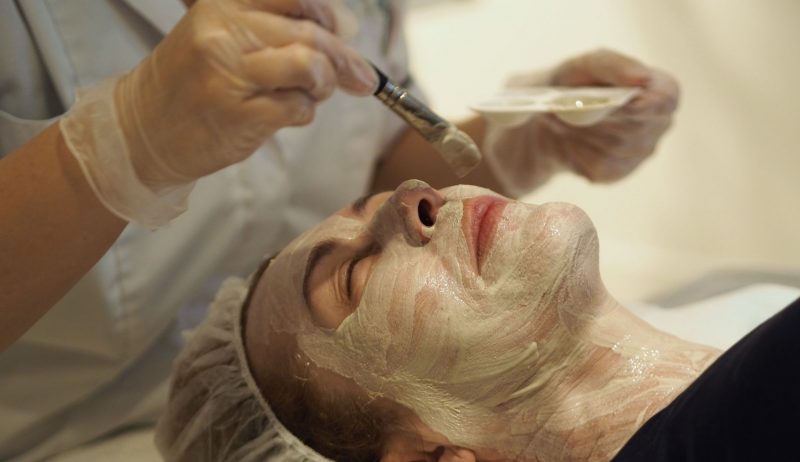 I love it when you have no other option other than to just lay there and relax! It's worth having the treatment just for that.
And the results…
My skin was so much more radiant after! The fine lines were definitely less visible. I would really recommend this treatment a couple of days before a special occasion too. Not only is my skin super deep cleansed, the treatment has given my skin a good chance to promote the new growth that I need to fight that antiageing. The whole treatment including the mask only took just under an hour and I would totally recommend it. It should be performed at least three times a year, but even if it's only performed on your face once a year it will be worth it. Go on and treat yourself and your skin! If I was to recommend one treatment a year it would be this.
Have a read of my other treatments at Bodyvie
If you have enjoyed reading this post, you may enjoy reading my other treatments that I have had at Bodyvie. You can read the other posts below.
Bodyvie Beauty Treatment Unveiled – Here
Bodyvie The results – Here
Please do take a look at all the other treatments that are available at Bodyvie Here. It's a really interesting website that will explain all the treatments and solutions available to help you look your utmost best.
XO Laurie
Subscribe for the latest updates!