I had a fantastic day a couple of weeks back, an invite to model some gorgeous clothes with friends and of course to meet the fabulous Jacynth from The-Bias-Cut.
But that wasn't all! I was able to meet part of my Five over Fifty clan and that made it even more special. getting our make-up done and having photos together was great fun.
You may remember a while back, Jacynth interviewed me for the website. You can read that here. Since The-Bias-cut's clothing brand, blog and Forum, and let's not forget the Facebook group was launched It has grown huge and is a one-stop place to chat to other women and make new friends plus of course, there are gorgeous brands to view that you don't find on the high street. Let me show you my favourite items from this years AW17 collection.
When you're looking for something a little different to wear, take a look at The-Bias-Cut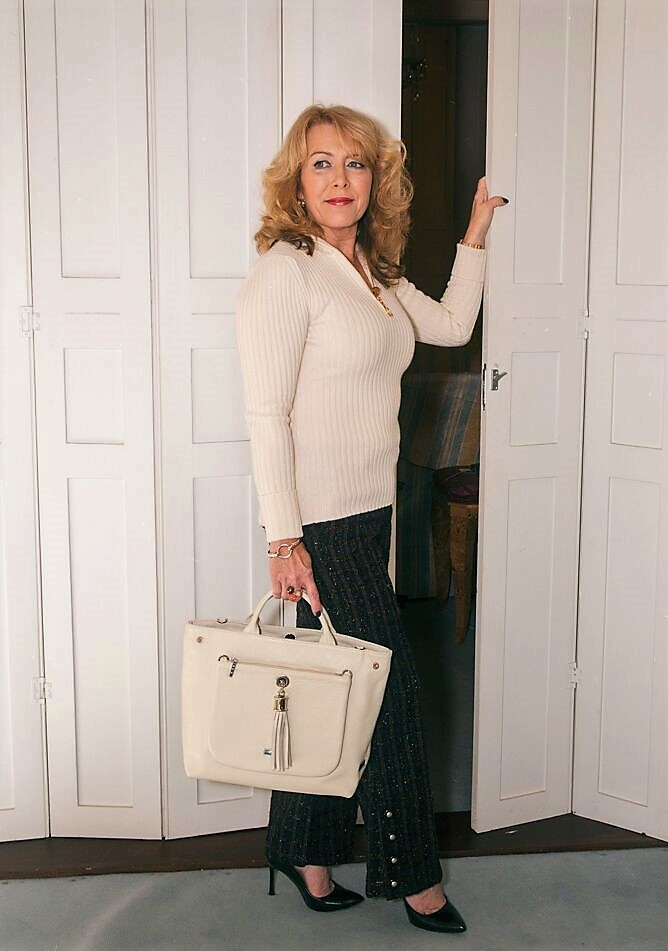 My first outfit choice was this super soft ribbed sweater with a zipped neckline. The trousers are absolutely gorgeous! A pair of 3/4 trousers that just hit around my ankles on my petite frame felt amazing on and I loved the pearl button detailing. The Boucle tweed with that little sparkly thread just made them that extra special. When you're looking for something a little different to wear, take a look at The-Bias-Cut and you will find something I'm sure.
The Dahlia bag in Off White caught my eye as soon as I walked into the room to pick my choices. It was actually the bag by VVA that I decided on what to wear and not the other way round! Believe me, ladies, these are special bags! You know you're carrying something Lux, and these bags actually come apart so you can just use the clutch on the front. It was love at first sight! I will list the links to the outfits below.
The Jay Feather Shirt has been added to my wishlist!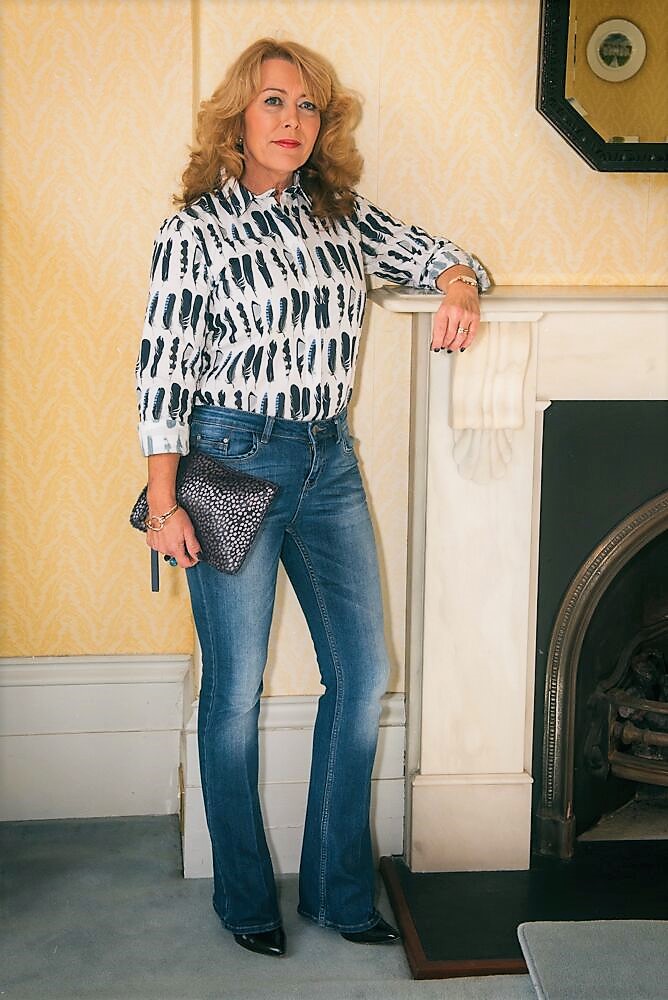 Ever since I have known about The-Bias-Cut, it's the shirts that drew my attention in the beginning. Fabulous unusual prints that can dress up a pair of jeans in an instant. I had been waiting patiently to try one of these Gibson & Birbeck shirts and it didn't fail to please! Do pop over and take a look at the different colourful designs Jacynth offers via this brand.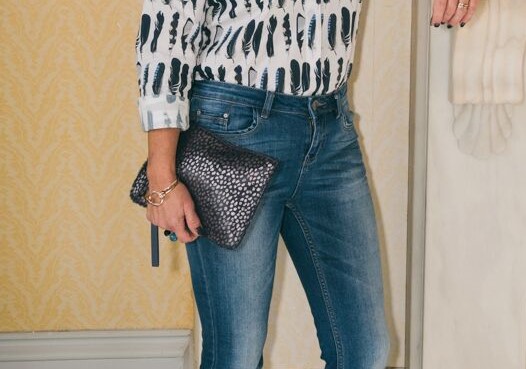 The Blue Slate Pony Clutch finished the look off perfectly. This added extra glamour to the outfit. Denim, Feathers and Sparkles!
The Joplin Gold & Red Skirt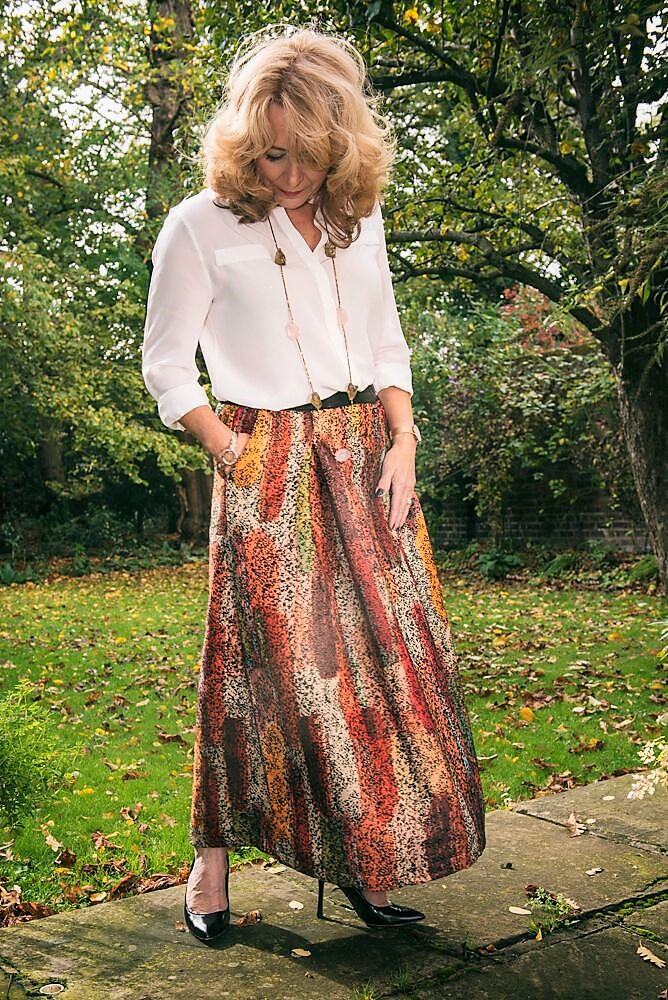 I have to say, I was a bit dubious of trying this skirt on because of the length but I think this is great! I would never have thought about an ankle length skirt, full length yes but ankle length? I actually really like it! I added one of the necklaces from the collection and this rough cut Citrine and Rose quartz is a beauty. I added my own shirt that I travelled in because I thought it looked great with something plain to showcase it.
Citrine and Rose quartz Long Necklace
Velvet In Jeweled Green tones And Bang On Trend Trousers
Are you loving the Velvet trend this year? Have you got your striped trousers yet? I am loving this trend! The velvet jacket edged in Gold is a great piece for updating your wardrobe this year as are the trousers. The jacket can be worn casual like this or would look great with a dress for a night out. The trousers are super comfortable with the drawstring waist and I think these would look great with a silky blouse and evening accessories or even with a sweater for the daytime.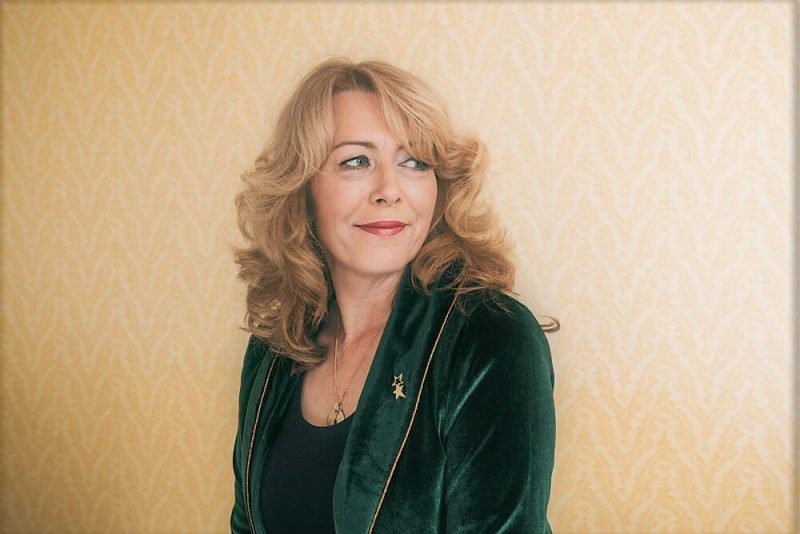 I like the Gold piping and the two little Gold stars broach that comes with the jacket
Jaice Striped Trousers
What do you think of my choices? Which is your favourite?
The day flew by so quickly and in between having photos done Gail Hilda and myself tried to fit in the excitement of us all meeting for the first time and having snippets of conversations. I had to rush off that day as I was heading off to Newcastle to visit friends and pick the new puppy up. ( Who is playing very nicely next to me as I write this!)
We did manage to get a couple of photos together though and it was lovely that Jacynth joined in.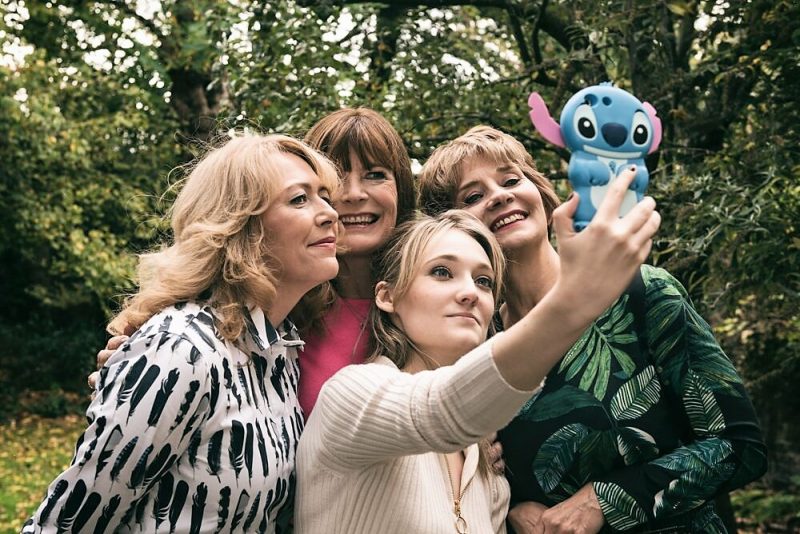 A special day always requires a selfie!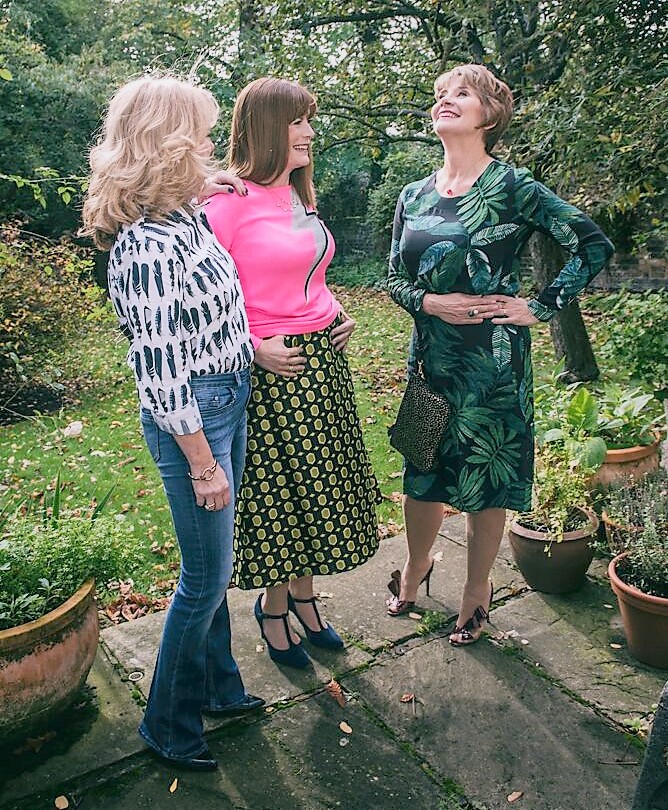 Myself, Hilda (Middle) And Gail
Do pop over to view Hildas Choices from the day and of course Gails. And if you haven't joined Jacynths Facebook group do! You will find it interesting and meet some great women there. I would like to thank Jacynth for such a fabulous day. *Jacynth has actually written about our day together on the website and I have to say I feel very humbled by her kind words. You can read it* here
There's also 10% off at The -Bias-Cut until Monday 13th November quote BLOGGERSPICK
I would also like to thank Our Make-up Artist of the day for showing me how to love false lashes! I have never liked them on me, but on this day they looked fab. You can view Joyce's Instagram profile here
Xo Laurie
Subscribe for the latest updates!