Hi Everyone. I'm sharing one of my Christmas sale purchases with you today. I've gone for a check mix, classic style and I have another gorgeous silk shirt to add to my collection
My heart goes out to all my sister bloggers out there in the cold, taking photos to share their looks!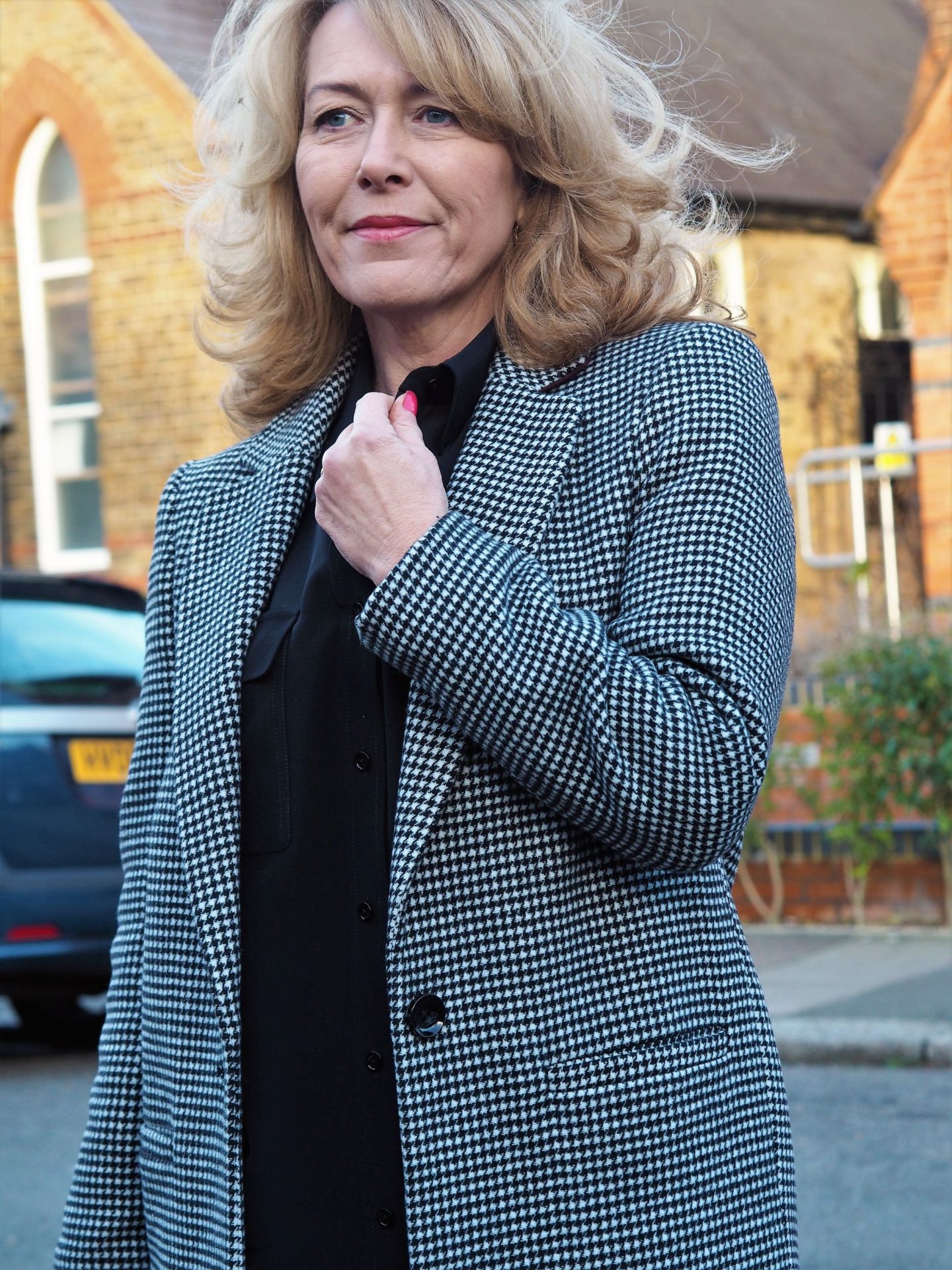 Let me tell you, these photos nearly didn't happen! Freezing temperatures, gale force winds, rain and our lower winter sun couldn't have made it any more difficult, and as I was posing for these photos, I was thinking about all the other bloggers that do this! Especially my American nearly snowed in buddies! I need to find some indoor spaces! But anything commercial is always so busy in London. My flat is tiny and it's just not possible to shoot there.
Enough moaning, let's get on with the ootd silk shirt & check mix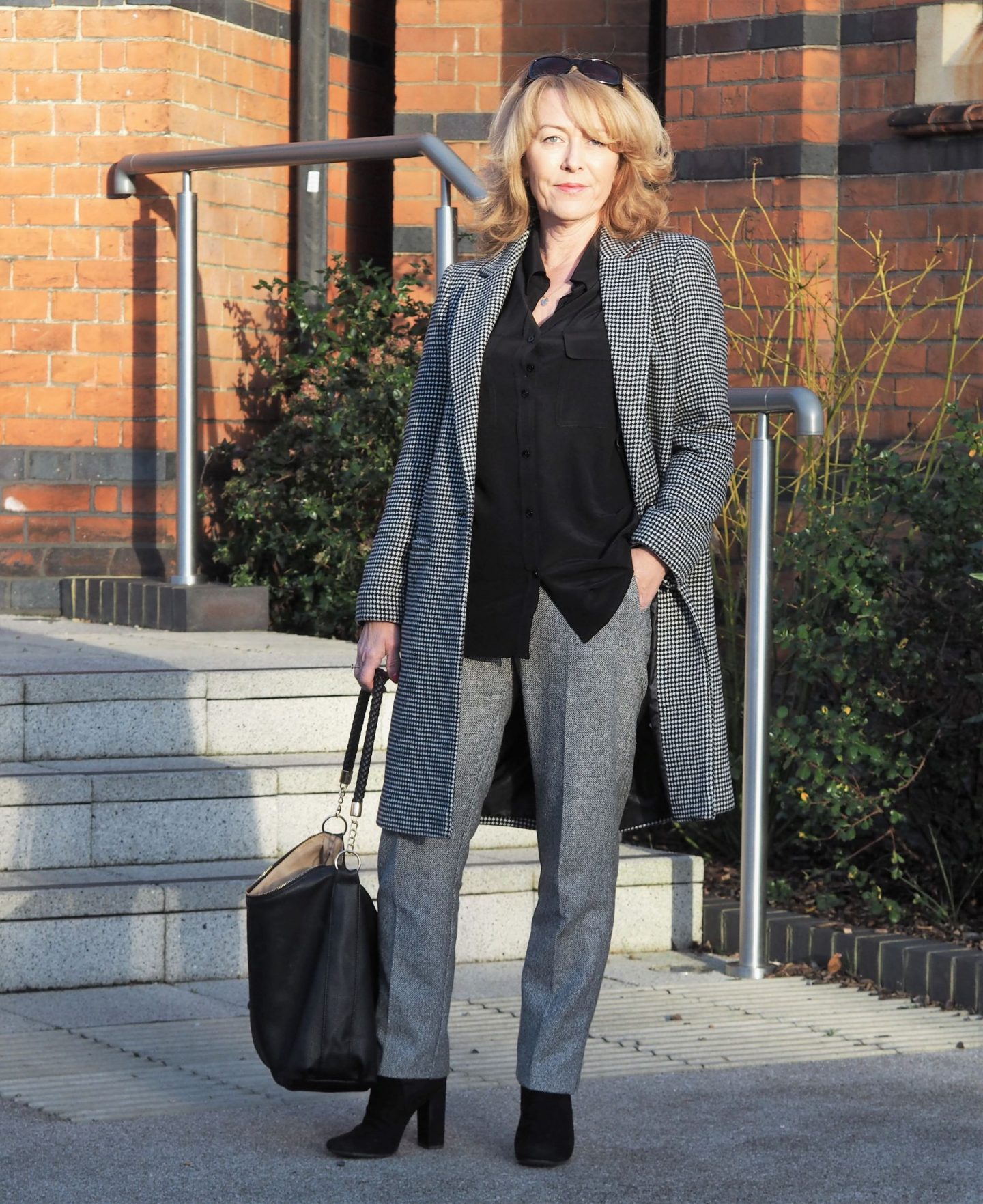 Lilysilk kindly sent me another silk shirt to share with you all and this time I've gone for Black. A colour that I don't wear too often. But I love the style of this shirt, boyfriend style, nice and loose ( I size up on this style) and I think it will work great with jeans, you may remember the last silk boyfriend shirt that I styled with jeans here. I wash my silk shirts on a 30 wash and haven't had any problems with fading or shrinking. They feel amazing on and I wear them a lot! A classic silk shirt will go with everything!
I've gone for a smart classic look today with this check mix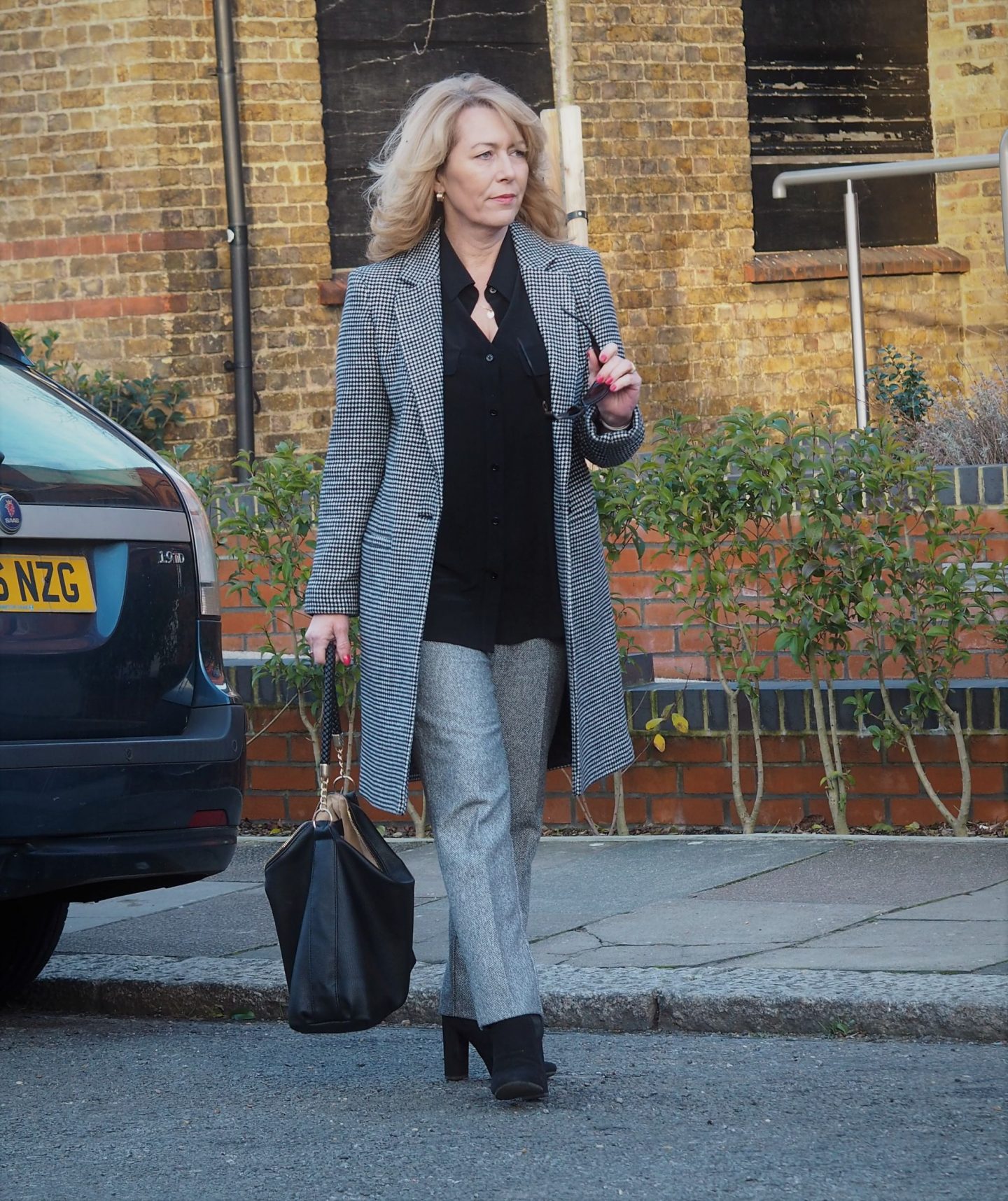 I've really enjoyed this coat from FandF it's on sale as I write this and there are a few sizes left. The trousers from Laura Ashley are also on sale and they are a tiny check. Not picked up in the photos very well. Sorry! They are a wool blend and the neutral colour is going to mix with so much.
Braving it in minus 3 winds!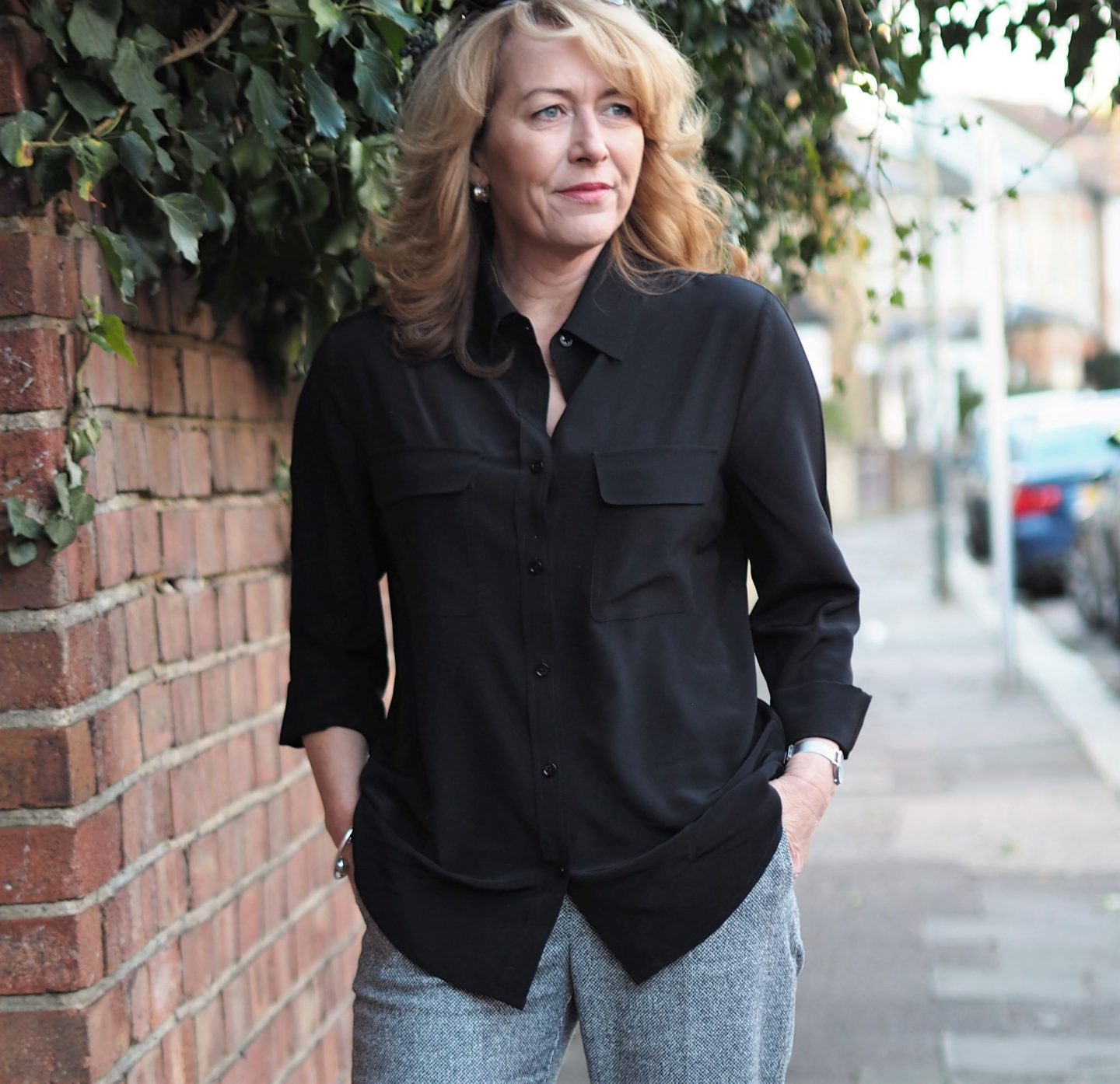 I braved it very briefly to show you the style of the silk shirt. Can you tell I'm freezing? !! I can't recommend these silk shirts enough though! They feel so lovely on! This boyfriend style comes in three colours. White, Black or Green. Lilysilk has lots of different style shirts available. I have a cream collarless one too and I wear it a lot! I featured it with my Christmas skirt a few weeks back.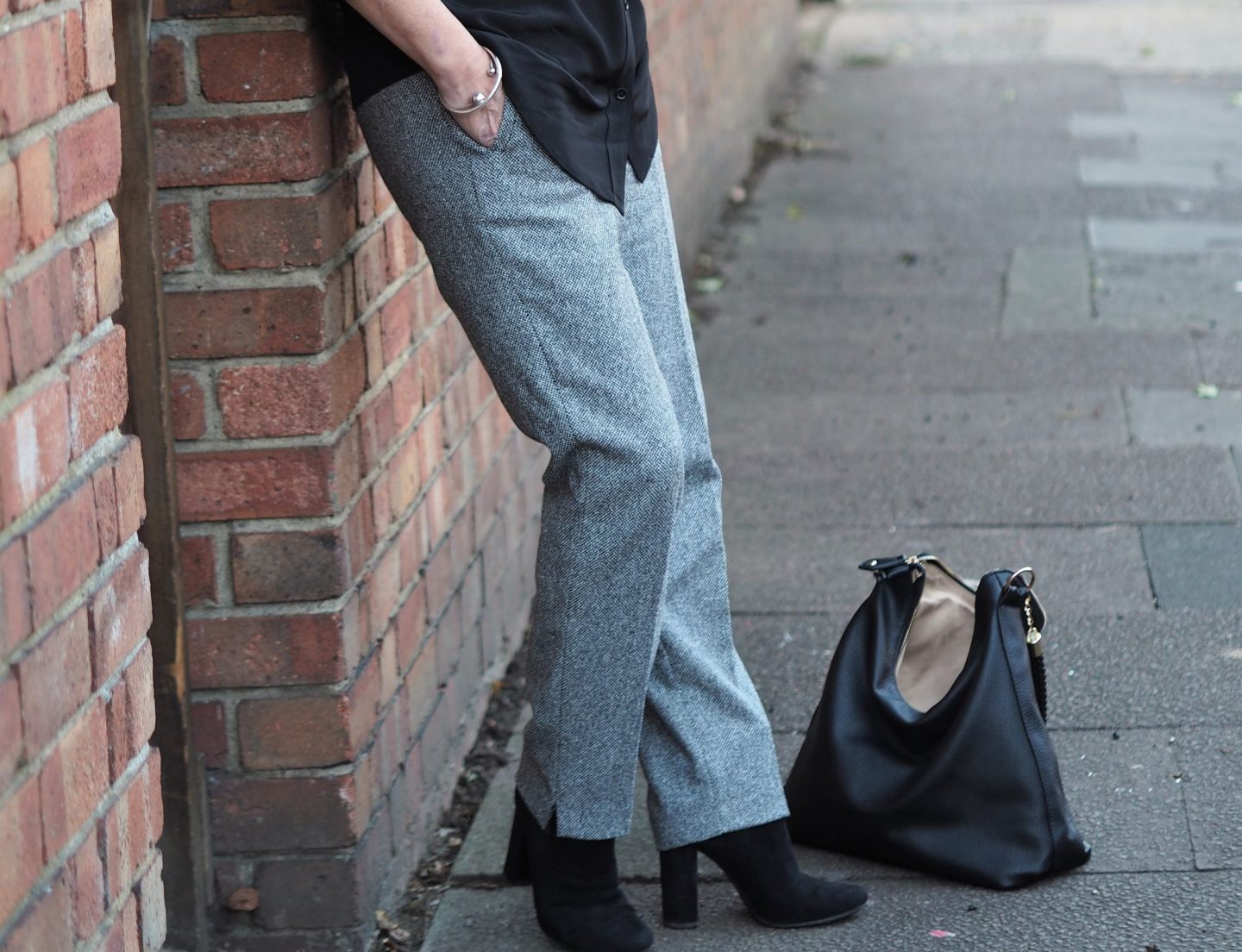 The Laura Ashley trousers are smart, I like the little split at the hem. These will look good with heels when the weather heats up a bit! I'm wearing my warmer bargain boots from Deichman for this outfit today. I wear these boots most days! Comfortable and on trend with the block heel.
You can find all the items I'm wearing in the shop windows below. Let's keep in touch! Click on the subscribe button to the right of the page. That would make my day!
Xo Laurie
Subscribe for the latest updates!