I always look forward to the new trend colour forecast from Pantone. I make a decision almost immediately which colours I will go for and they are usually chosen to go with items I already have stored away waiting to be unpacked when the weather starts to get better. This year Pantone SS18 have forecast some really unusual colours in the palette and I'm not keen on a lot of them!

magazines, bloggers, and any social media site are screaming about Ultra Violet!
I do like the UltraViolet that everyone seems to be so keen on. Will it suit me? No!
I am left wondering how many of you have already bought this colour? Have you? Are you going to? I like it, just not on me!
Which led me to thinking. What Pantone AW17 colours did I actually wear?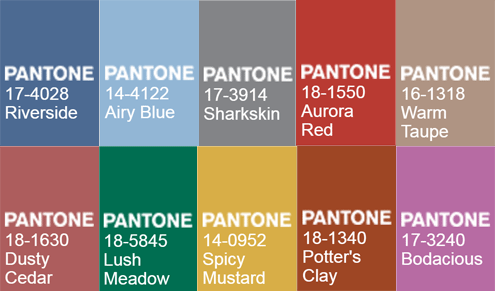 I remember very well that last year everyone was all over the Bodacious. Did you wear it?
I know I loved Warm Taupe, Sharkskin and Spicy Mustard. Airy Blue got a good airing! Pardon the pun! But that's my all-time favourite colour! And it will come to play huge parts in my wardrobe colour even if it's not in fashion.
I guess what I'm trying to get at..
So. I'm sitting here trying to remember what I did actually wear last summer and I know I wore Spicy Mustard by way of a lovely handbag that I have. You may remember it in my Daily Mail post. It's an accessory I know but I did wear it!
I know I wore Grey. It might not be Sharkskin dark grey, does that count?
I wonder how many of us pick the Pantone colours off the rails and purchase without giving Pantone a thought? Or how many of us go out shopping with the Pantone colour chart in mind?
I wonder how much influence the Pantone colour forecast has over us and how it seeps into our wardrobe without us even realising. According to my memory, I failed miserably on the AW17!
Will I fail Miserably this year?
This year, the favourites in the Pantone SS18 for me are Almost Mauve, Cherry Tomato and Meadowlark. I am loving the Almost Mauve. I know that lighter colours will suit me best.
I've been eyeing up a few items of this colour before I knew it was a Pantone colour! and maybe I could add an accessory of Ultraviolet. Just a hint of the colour I might get away with.
And that's the most important rule! If there wasn't one colour there that I know doesn't suit me, then yes I'm breaking the rules and I don't care!
I won't wear a colour that doesn't look right just because it's in fashion.
At a push, if I want to be on trend, then accessories are the way to go. Just a little here and there of an on-trend colour can make the statement of being in up to date fashion.
I'm going to leave you with some items that have caught my eye for Pantone SS18 – I will report back come winter to see if I broke the rules again!
Xo Laurie
Subscribe for the latest updates!