One of the great things about blogging is getting to know so many other knowledgeable women that blog about fashion, beauty, interiors, cooking, the list goes on and on. This week I've rounded up some blogger friends to share their beauty favourites and over the next coming months will be sharing other ideas such as interiors or recipes.
I feel so lucky to know so many online blogger friends, the tips that they share could be the gem that you need in your life.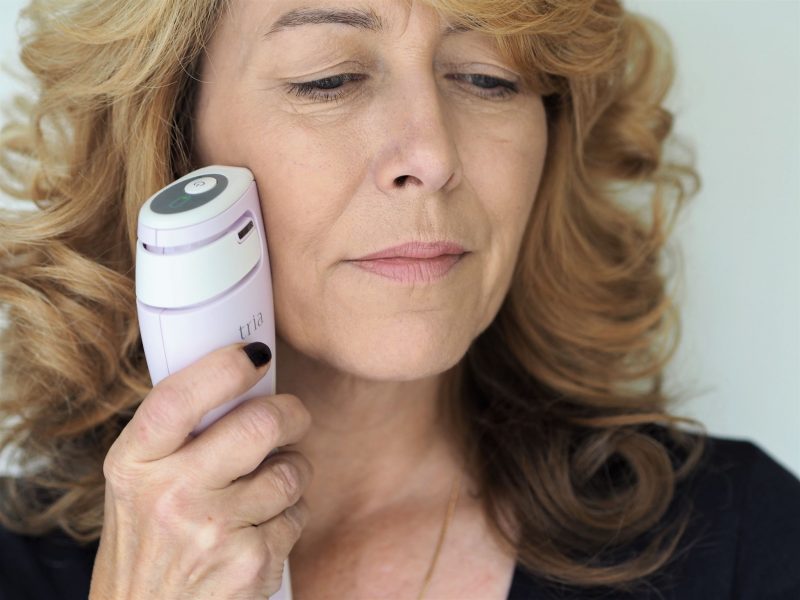 I'm going to share two items that I couldn't be without first, and one of them would be the Tria Age-Defying Laser. You may have seen the first post about it a while back, and I have to say I was a bit sceptical about this. I've been using it for a few months now and can say that it's definitely keeping those jowels that were sagging more lifted.
I will be writing a follow-up post soon and there will be another Vlog too. So I hope you stop by for that. The second item that I couldn't live without is my Elizabeth Arden Eight Hour Cream.
I swear this has kept the lips lines at bay using this morning and night. I never have dry or flaky lips but the power of this cream doesn't stop there. It's a real little miracle worker.
Beauty favourites shared by blogger friends
Ashley swears by Bobbi Brown Concealer for her dark circles under the eyes. "A not too thick but great coverage"
Another favourite item is Rimmel Insta Flawless " I use it as a light base or for no make days or with concealer for heavier coverage on I need lots of help days"
Lisa say's
I have so many favourite beauty products that I'm not sure where to start, but I'll give you my fav budget buys – one a skincare range and one is an everyday mascara. These are staples of mine that I always pick up whenever I'm in Boots/Superdrug and they're products that I always recommend without hesitation…
1. I am lucky enough to be sent some fabulous, top range skincare to try for review on my blog and sometimes I find a winner, other times they are nothing particularly special and that's why I return time and time again to Superdrug's B Skincare range. It has some really stellar skin-improving ingredients – that are often present in much more expensive brands – and they feel rather luxurious too. On my dressing table at the moment are B. Strong Day Cream and the Night Cream.
There's often a good offer on these products as well such as buy 1 get 1 free and I'm about to purchase the B. Confident Hyaluronic Acid Spritz which sounds divine for an added moisture boost to perk up tired skin during the day!
2. Max Factor 2000 Calorie Mascara
This has been around for about 20 years and I think I probably first received this when I was an assistant on the beauty desk at Cosmo (my first ever job out of college as a 19-year-old!) I've tried expensive mascaras that have been okay and budget brands that have done a good job but I always return to this one. It covers lashes well, never clumps and although it gives a perfectly natural look to lashes (I prefer a natural rather than heavy look)  you can build it up in the evening to make eyes look more glam and dramatic. Another plus with this is that it comes off easily with makeup remover so I never need to snag eyes. A brilliant budget buy that does a top quality job
Sharon has been using Elizabeth Arden Ceramide Capsules for around a year and says "they really put the bounce back into my skin. I get withdrawal symptoms when I run out!"
" I've just started using Boots Lift Dark Spot Cream. I also use it on the back of my hands where I've noticed the odd mark appear. I've only been using a week, so I'm interested to know how I look after the recommended 4-6 weeks"
Maria swears by the Charlotte Tilbury Lipsticks and her Dyson Hairdryer.
"I'd be half the woman I am without these"
 Suzi say's "I love Sarah Chapman products for my skin care. Not the cheapest but the most effective and natural treatments I have found for a 60+ and she never uses the word anti-ageing! My skin just hoovers up the Overnight Facial and just loves it."
Claire say's
"My favourite two beauty items are: a flat kabuki foundation brush: I have never had any quality make up brushes before so I asked for some off one of my Sons for Christmas. I was really surprised how little foundation you need with one and how evenly it puts your foundation on."
"My second is L'Oreal Glam Shine. 173 Sheer Framboise colour. Perfect for giving your lips a tint of colour and shine"
Emma say's "My favourite skincare product ever is Liz Earle Cleanse & Polish hot cloth cleanser. I've been using this cleanser for years, and even though I sometimes try others, I always come back to this one. I love how clean it leaves my skin without any hint of dryness. No wonder it's won so many awards".
"The one item of makeup I can't live without is mascara. Over the years I've tried many, from both ends of the price spectrum, but my favourite is Tarte Tarteist. It adds length and volume to my lashes, doesn't smudge, and it's vegan-friendly".
Sabina Say's "Mascara: Being not someone who likes putting on a lot of make-up I have always felt that mascara "makes or brakes" a look. I really love this one because it will give me the "J.Lo.-Look" – well-defined, soft like feathers and long. It has got a primer and that is what does the trick here, I suppose. Plus: the brushes work really well for me".
Foundation by Dr Hauschka. My skin tends to be a bit oily and to break out every now and then. So it has taken me forever to finally find the products my skin appreciates as well as developing the right beauty routine to calm it down. Ever since I started using Dr Hauschka my skin has taken a major turn for the better. So much that I have been sharing some beauty tips in my Instagram stories hoping it will help other women. The foundation is my favourite because it makes my skin look even without clogging the pores.
I hope you've enjoyed reading these tips. I've picked up a few that I'd like to try!
Xo Laurie