I'm sharing these denim bootcut jeans that are cut so well and tailored impeccably. By the famous designerJoseph Ribkoff who creates stunning occasion outfits and is celebrating being in the fashion industry for 60 years this year.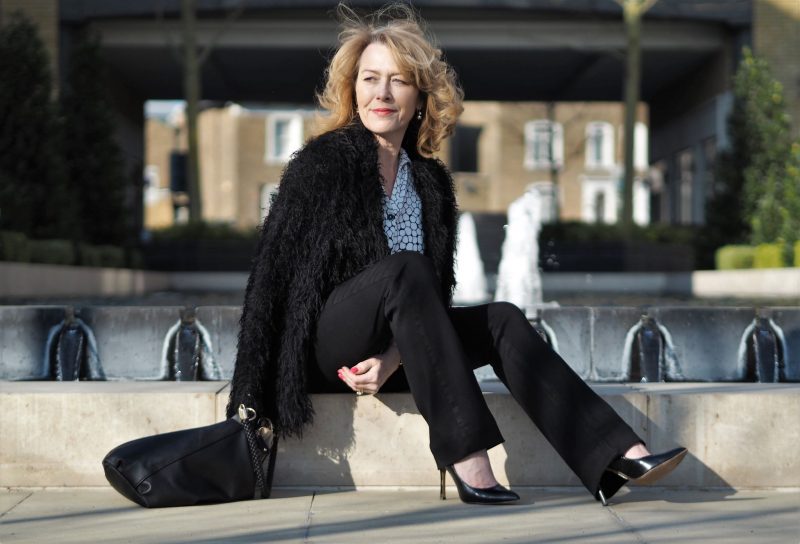 If you're a regular reader here, you will already know that my favourite style of jeans is bootcut over any other style jean.
I prefer this style because worn with heels they make my legs look longer! And the right cut can be oh so slimming, like trickery. The Joseph Ribkoff SS18 collection includes jeans in other styles too, so if your not a fan of bootcut style there are others to choose from.
These jeans suck your figure into a better shape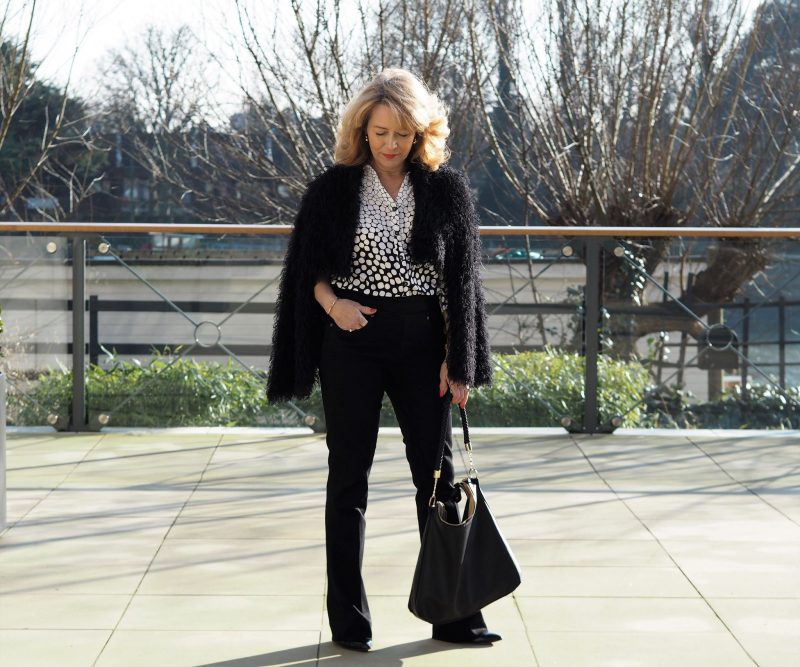 I've been a huge fan of Joseph Ribkoff for many years. Not a brand I would wear on a daily basis, this is your high-end label that's found in independent fashion boutiques and one department store – Fenwicks, so depending on where you are it's best to google location and the collection. I know it's available in America and Canada and I have seen a few of my bloggers friends that side of the pond showing their favourite Joseph Ribkoff styles.
Let me tell you, these jeans are like magic! They really hug you in and make you feel slimmer. A jegging style with a deep waistband and although they are sucking me in very well, there is no muffin top!
I've worn a couple of outfits by Joseph Ribkoff for weddings, one a dress and the other was a top and trousers and This label has the knack of making you feel special when you're wearing it. You can always tell good quality just by the smallest of detailing and the — fabric used.
It's the little details that make the difference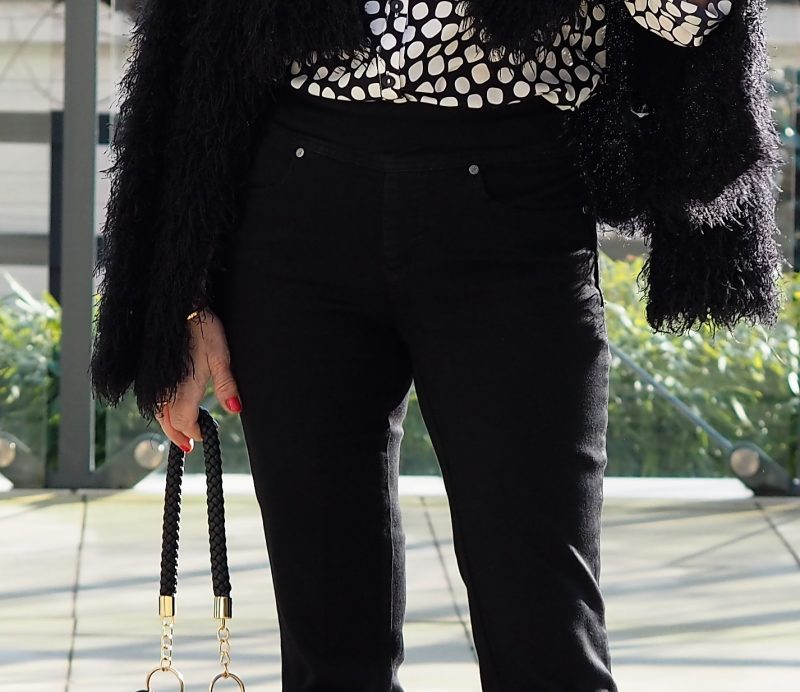 I like the waistband of the jeans, after sitting down in the car, you know that waistband crease that you get? Not with these! The Gunmetal rivets Have the JR logo embossed on them too. The Joseph Ribkoff brand badge is on the rear pocket and you can see the quality stitching.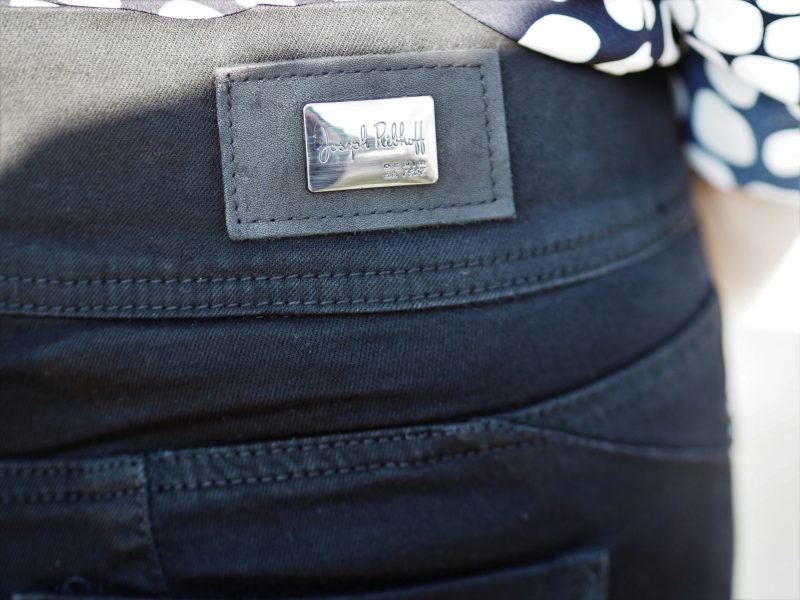 If your extra tall and have a problem finding jeans with extra leg length, these will be perfect for you too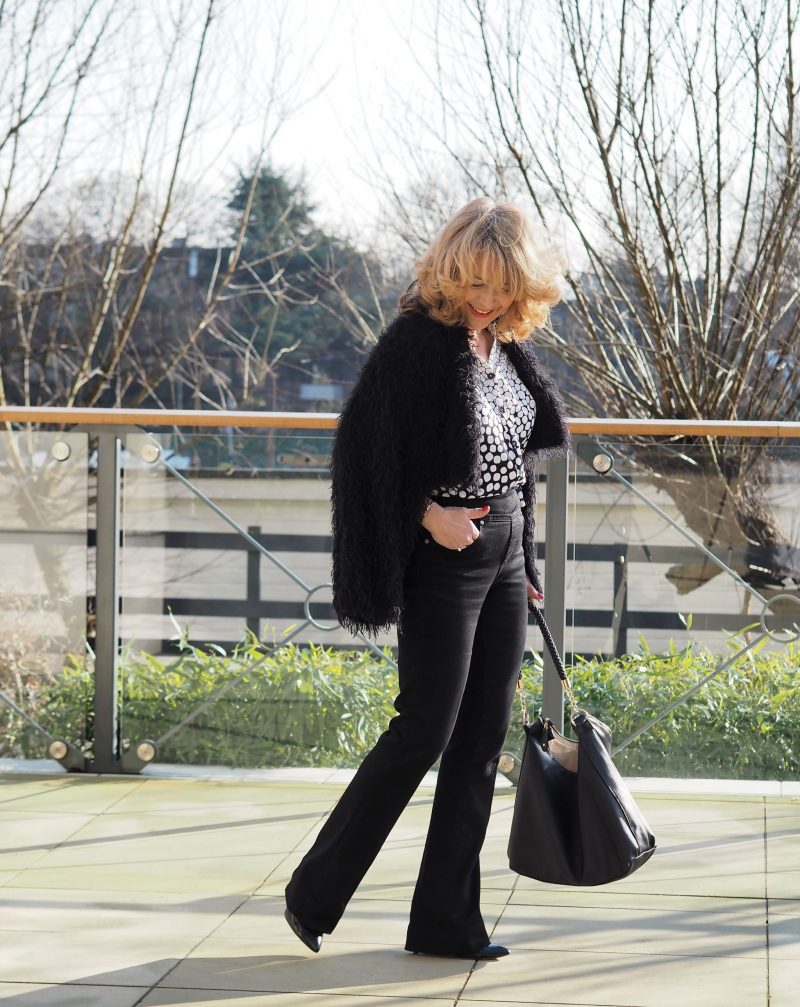 Although these photos have been taken on a beautiful sunny day, apparently the temperature is minus six in the wind and my word it's cold! The wind is absolutely biting!
I've tacked my jeans to my required length, just touching the tip of my shoe, but I will get them into my local dry cleaner/tailors once this post is out. But if you are tall and have lovely long legs unlike me then this brand will be perfect for you. I know how hard it is for women to find longer length trousers, just as it's hard for me to find my perfect shorter leg length. Petite fit is always too short, so nine times out of ten I prefer to have mine taken up to the perfect length for me.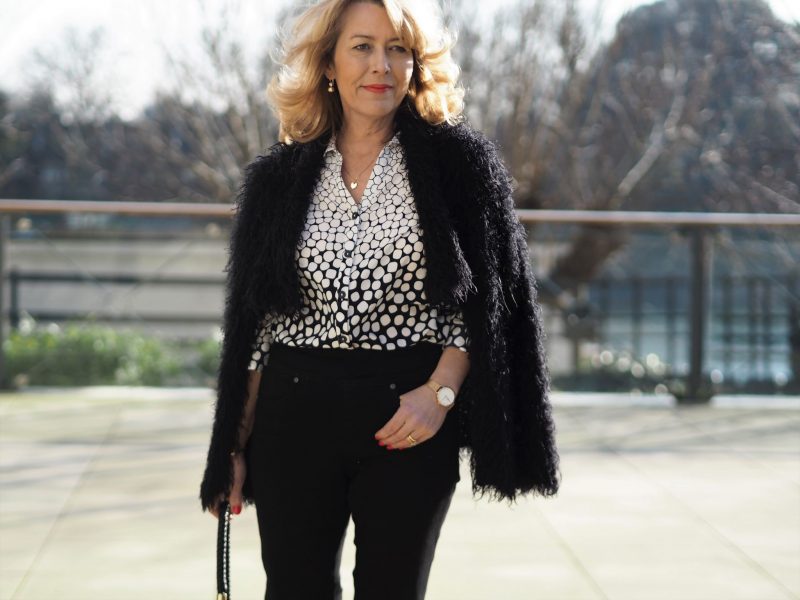 I've paired my Denim with a long-sleeved polka dot blouse and a fluffy knit cardigan that's surprisingly warm and very much needed! I look forward to sharing how I style them in the warmer months.
So a huge happy birthday to the man who has been designing classic and well-tailored collections for 60 years. The beauty of classic tailoring is that it will last in your wardrobe for years to come, add on-trend accessories and your good to go. That's why I like this brand so much.
Have you worn Joseph Ribkoff before? let me know in the comments! I will be sharing a gorgeous special occasion outfit with you soon. The quality can be felt in the wearing believe me and I want to thank Joseph Ribkoff for making me feel super slim!
Bootcut Denim Jeans – Co/Joseph Ribkoff
Xo Laurie
Subscribe for the latest updates!