This Reefer Jacket is in my favourite SS18 colour and I must say, Laura Ashley has got it spot on with their new season collection of gorgeous florals and stylish items.
This coat – Reefer Jacket, is super soft and I love the large collar/lapels and seam detail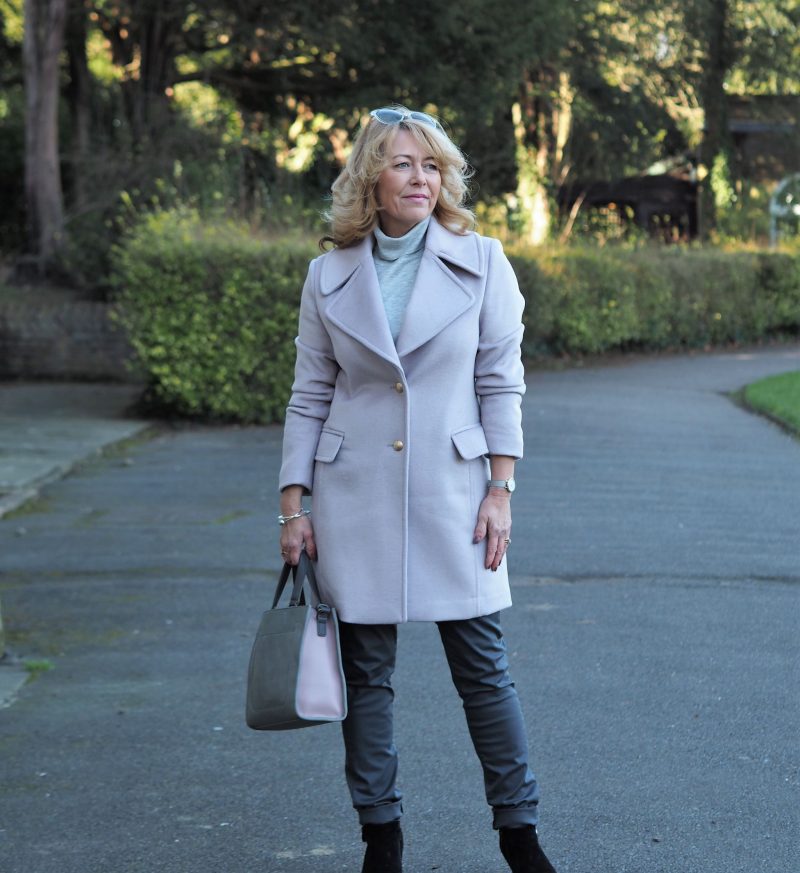 The new SS18 collection at Laura Ashley called Lilac Lush but as soon as I laid eyes on it I was reminded of this new colour trend that everyone is talking about. The Pantone SS18 shade called Pink Lavender
There are also several other collections called Meadow Flowers, Butterfly Blushes, Weekend Drive and Hint Of Mint. Each collection is created to mix and match, creating that perfect Spring wardrobe. The legwork has been done for you!
It's perfect timing to wear this coat, it's like a breath of fresh air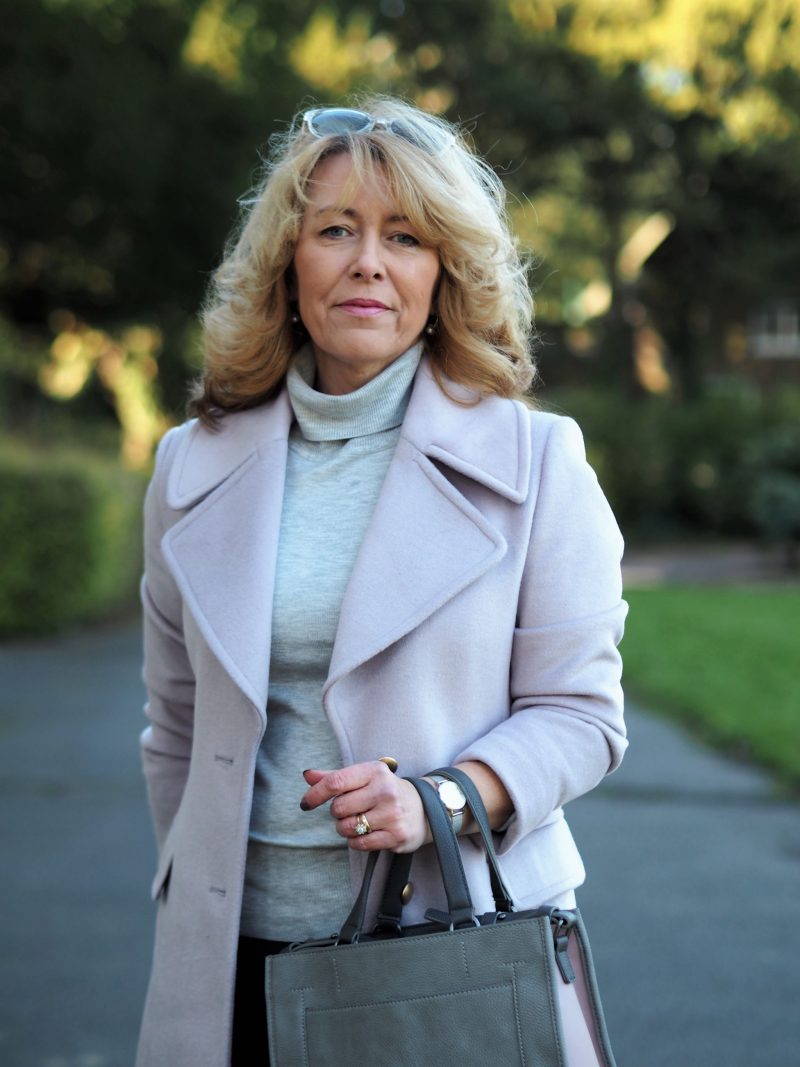 ,
This light colour is such a breath of fresh air to wear after all the wintery darkness. The days are staying lighter and Spring is in the air.
That's not to say that this coat isn't warm. I'm taking these shots on what could possibly be the coldest day of the year and I'm warm as toast. It has a good wool content, and that makes a huge difference.
Let's talk about the details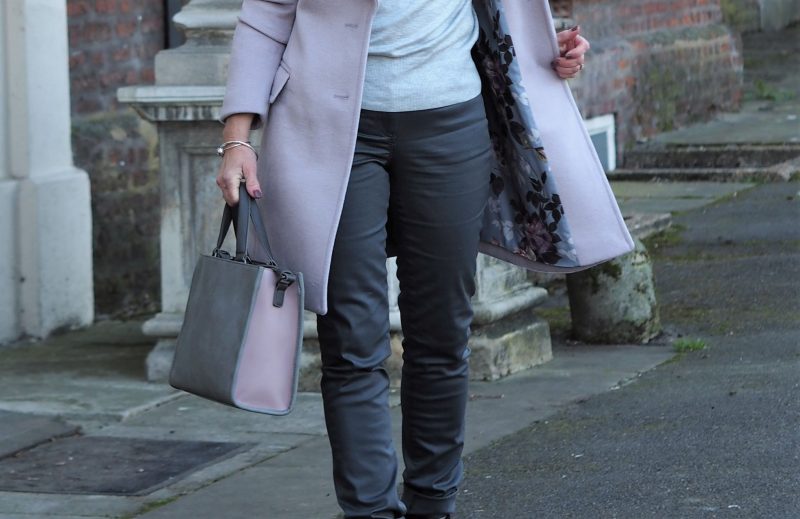 The lining is just so pretty! Undone, the little glimpses of this "Painterly Floral Hero" fabric that also forms part of this seasons collection really does look lovely. It feels great from the inside too.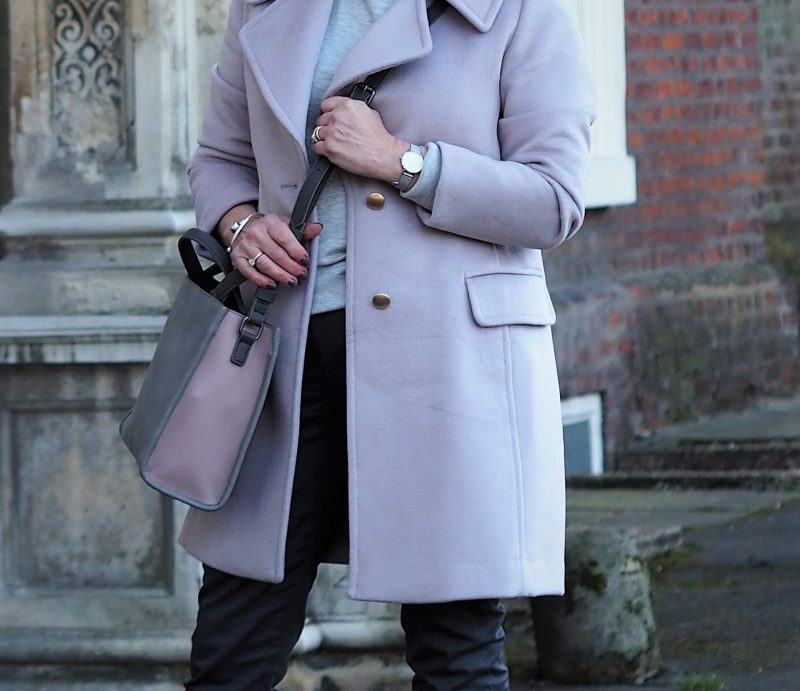 The Gold buttons add a nice touch to the design and the seam detailing and the fit of the coat is what makes this so special. It's a classic style coat but way on trend colourwise. I think this colour will be a huge choice for many this year.
The Grey Classic Grab Bag
As you can see from above, the Grey Classic Grab Bag if far from just Grey! I love the two-tone effect that matches in perfectly with the coat. I'm showing it here over the shoulder and as you will see, it can be worn without the strap too.
I'm wondering if this will be as popular as my White Laura Ashley bag that I shared with you last summer? I still get lot's of comments about that bag and it will be used a lot this summer to come because I love it so much.
The Daisy Flower Cut-work bag is still available in Yellow, and that's another key trend colour for this year and I'm so tempted to get this colour too.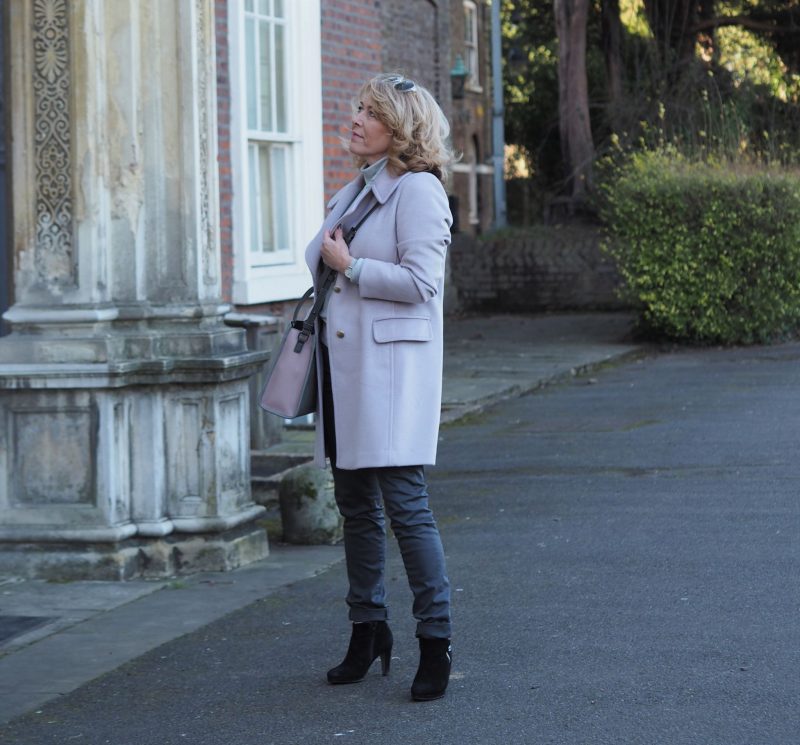 I'm taking these photos at Boston Manor Park today and I love looking at the architecture of these old buildings but feel that this could do with a lick of paint! It's such a shame to see these old buildings wasting away like this.
I want to add that this Reefer Jacket is classed as, well, a jacket! but It's more like a three quarter length coat in my eyes. I'm 5'2 and this reaches just on my knees. So on the average height, it will be just above the knee.
Taking a few shots for my Instagram stories!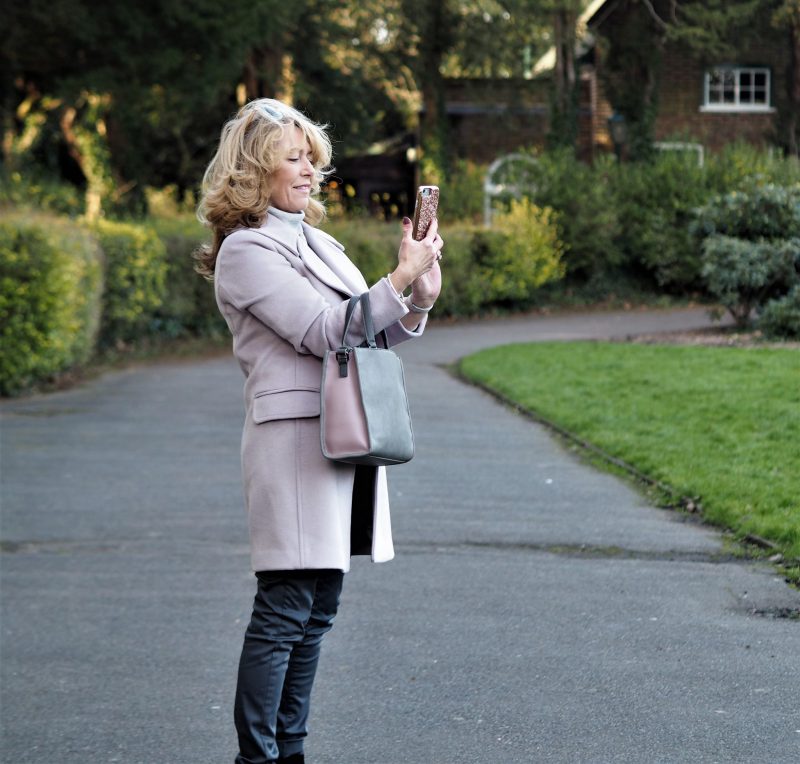 You can see here, the bag being worn just by the handles. It's a perfect size for me with an outside pocket and two pockets on the inside to keep everything neat and easy to find.
I haven't mentioned the super waxed Skinny jeans that I'm wearing under the coat. Relaxed style and comfortable to wear. They are keeping the chill out too! I've folded the bottoms and I like them this way.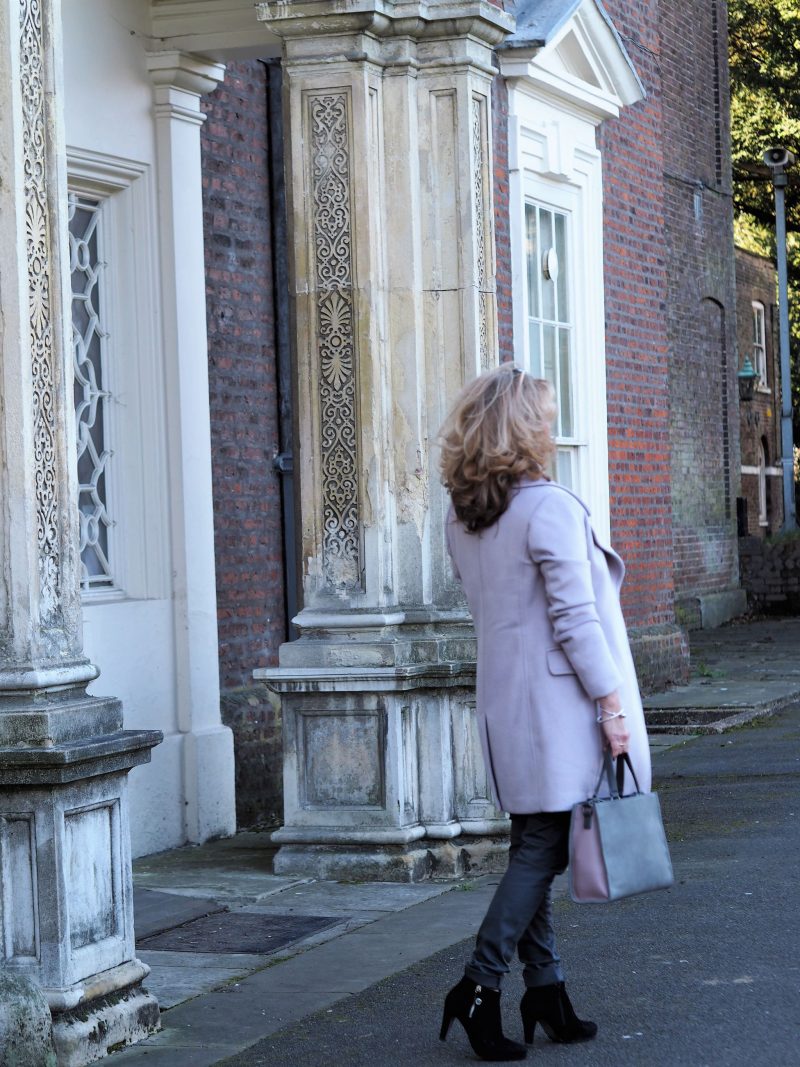 I've worn Black boots with the outfit, but I feel this is screaming out for some dark grey boots or court shoes. Watch this space! I wanted to add this shot to show the vent on the back of the Reefer jacket. Always a bonus for movability in my book!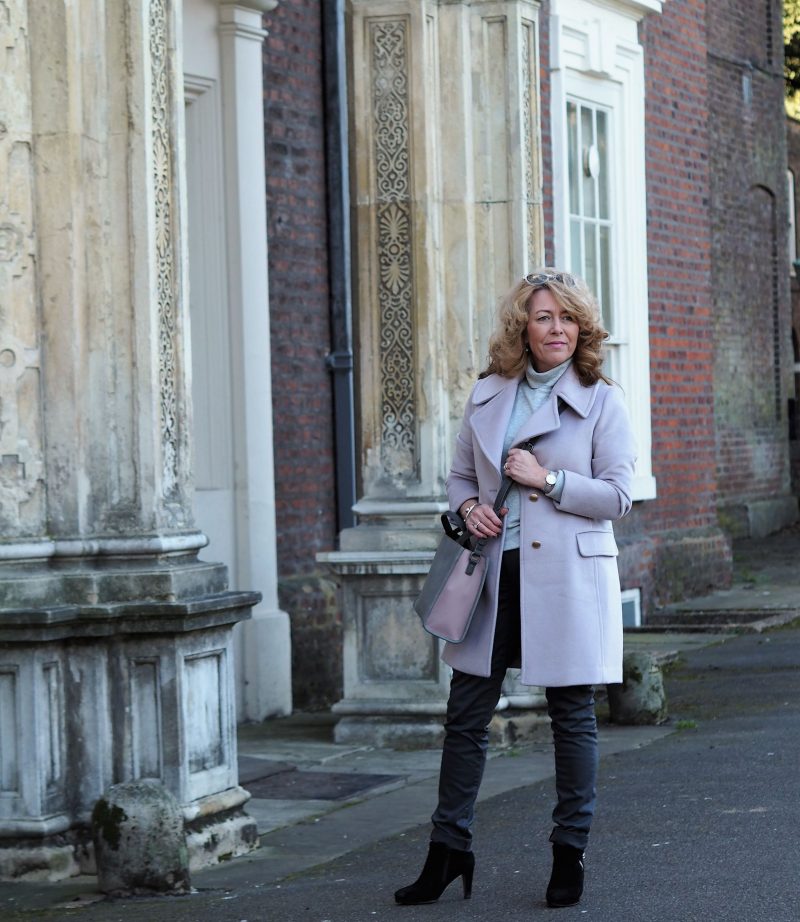 What do you think of this new colour trend? Are you wearing it already or will you be buying?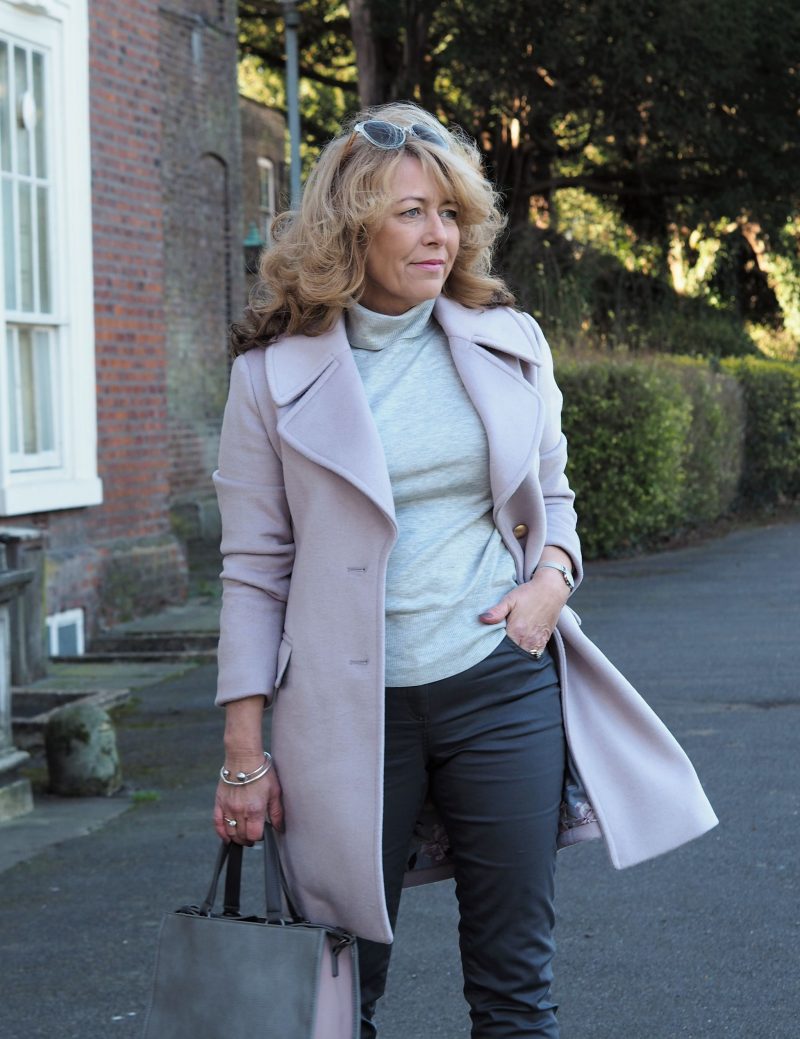 The Waxed Skinny Jeans are classic cut with back and side pockets. I love this neutral colour and they will mix with so much already in my wardrobe.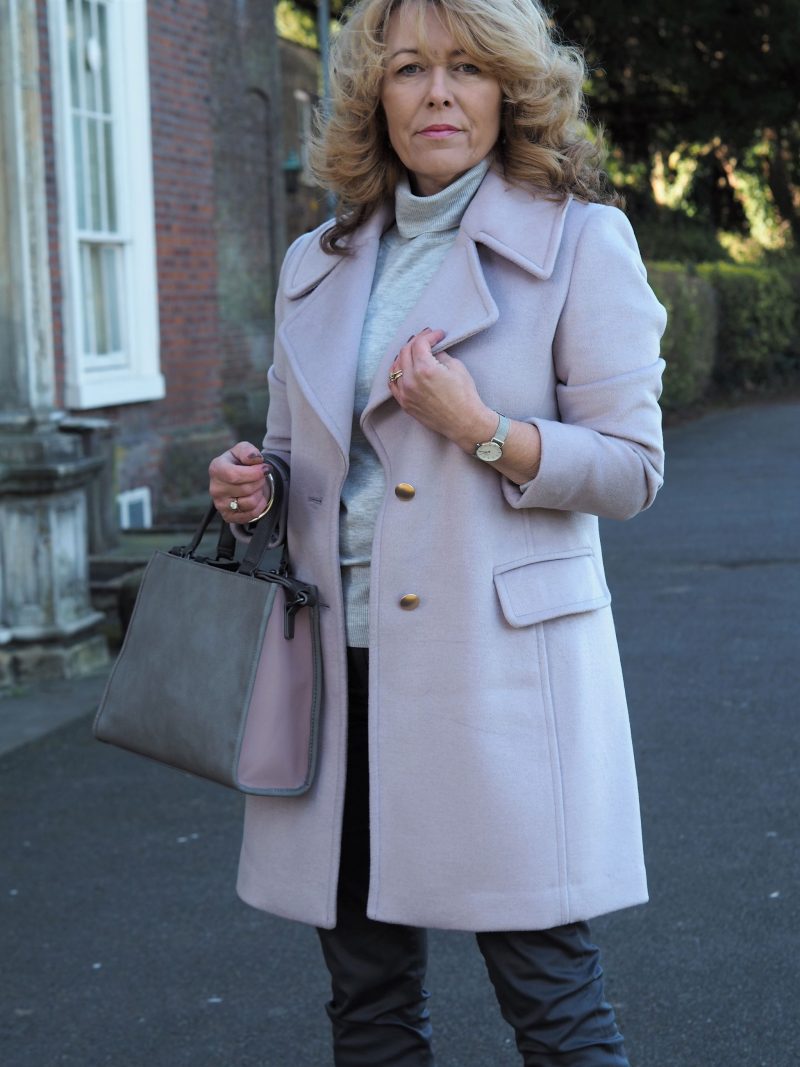 A huge thanks to Laura Ashley for gifting me this gorgeous outfit to share with you. They have smashed it again this season with such a great collection.
coat Co/Laura Ashley
Waxed Skinny Jeans Co/ Laura Ashley
Grey Classic Grab Bag Co/Laura Ashley
Xo Laurie
Subscribe for the latest updates!