I had a really memorable day a couple of weeks ago, you may have seen a snippet on my Instagram stories about meeting the Eastex fashion team. Everything just went so perfectly smooth and it was so enjoyable. The sun even came out to play!
An invite arrived to spend the day with the Eastex fashion team! Yes, please!
If your a regular reader here then you will already know what a huge Eastex fan I am. Last summer I shared some items from the ss17 collection and I loved it. I lived in the 7/8 Trousers last summer and I'm so pleased that they're available again this year. Obviously popular!
I was asked to meet up with the team and take some photos of the new collection. Plus Eastex has just launched a new website and I was asked if I would like to be featured on there too! (Would I? Too right I would!) There's a little interview on there talking a little about me and my favourite choices from the new season collection.
The girls that are the driving force behind the Eastex brand were so lovely and welcoming. I was asked what I liked and didn't like from the collections. I sat there thinking "wow they're interested in my thoughts" little ole me!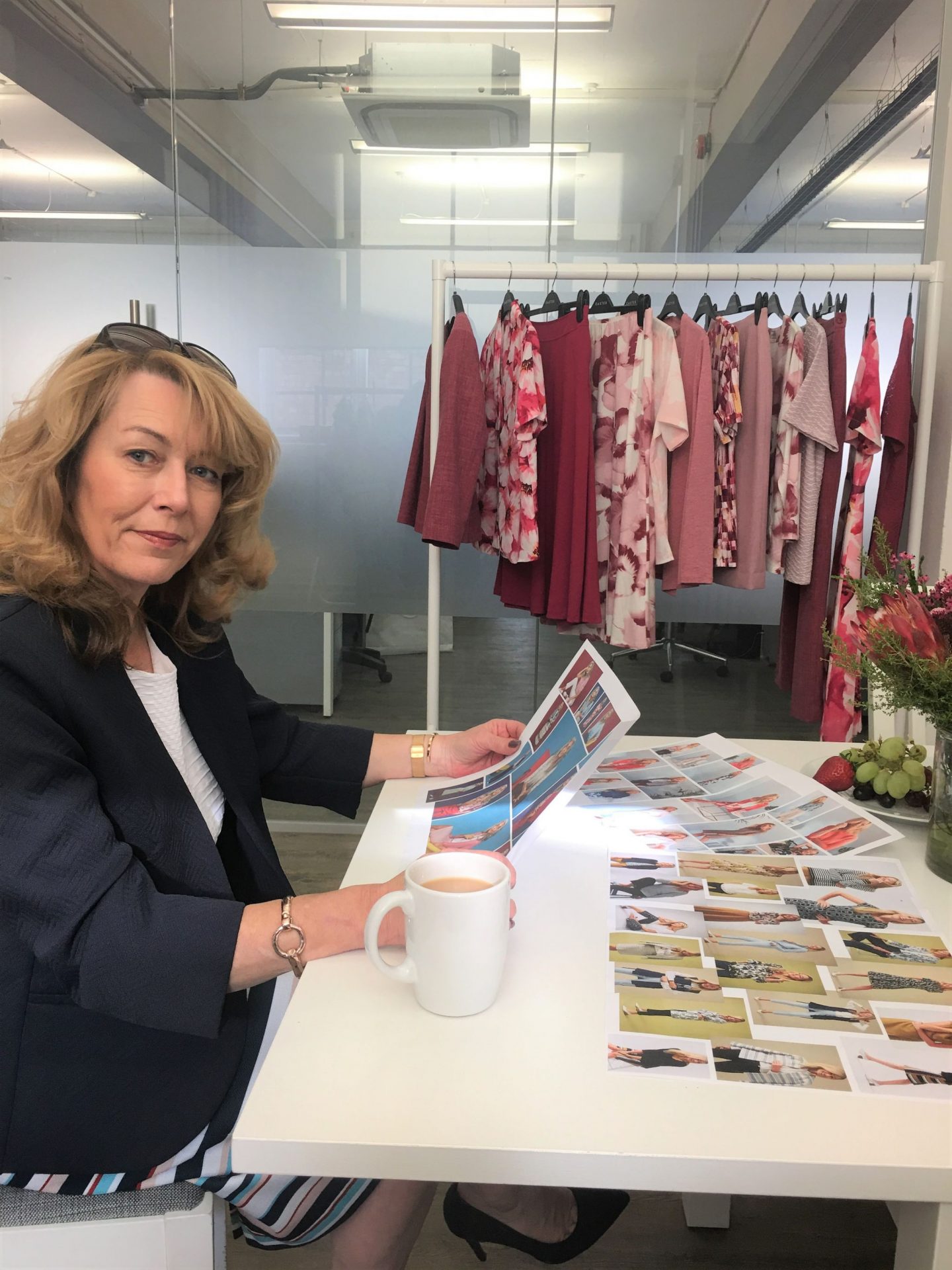 Arriving at the offices (believe me this place is huge!) I loved seeing all the behind scenes and all the hustle and bustle going on and what it actually involves to drive these brands to the top. Eastex is under the umbrella of brands that are Precis Petite, Jacques Vert and Dash. For me, it was the sort of place that I would love to be ultra nosey and find out what and how each worker did to bring each season's designs together and how it's all marketed.
There was one particular floaty floral number that had caught my eye on the website…
After I had chosen all my favourite items from the collection, I had a huge try on of all the items. There was a dress that I just couldn't wait to try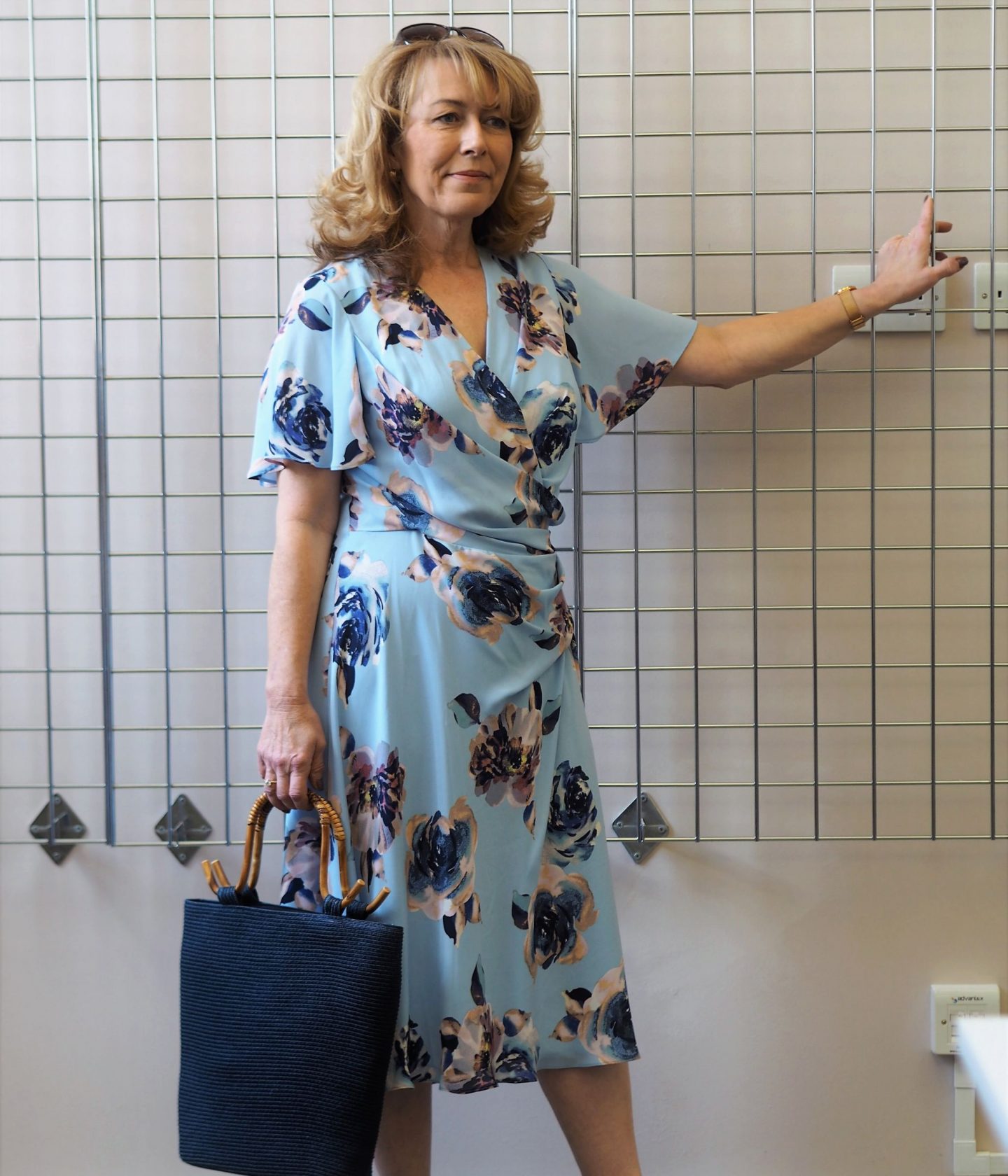 This Montauk Bloom floaty Dress felt gorgeous on and is light as a feather. Silky, perfect for a special occasion, dressed up with accessories or kept simple for a summers day, it delivered everything my thoughts had acquired about the dress when I spotted it online. Loved it.
We headed out into the busy streets of London to take some photos of my chosen outfits
After trying on all my choices, we headed out into the streets to take some photos. It was so busy, we were in the time of the busy lunchtime rush at this point and I have to say it did give me a bit of a wobble being photographed in front of so many people, all looking and wondering what was going on! We took short walks each time from the offices onto the busy high street each time for a change, lots of tea and some lunch.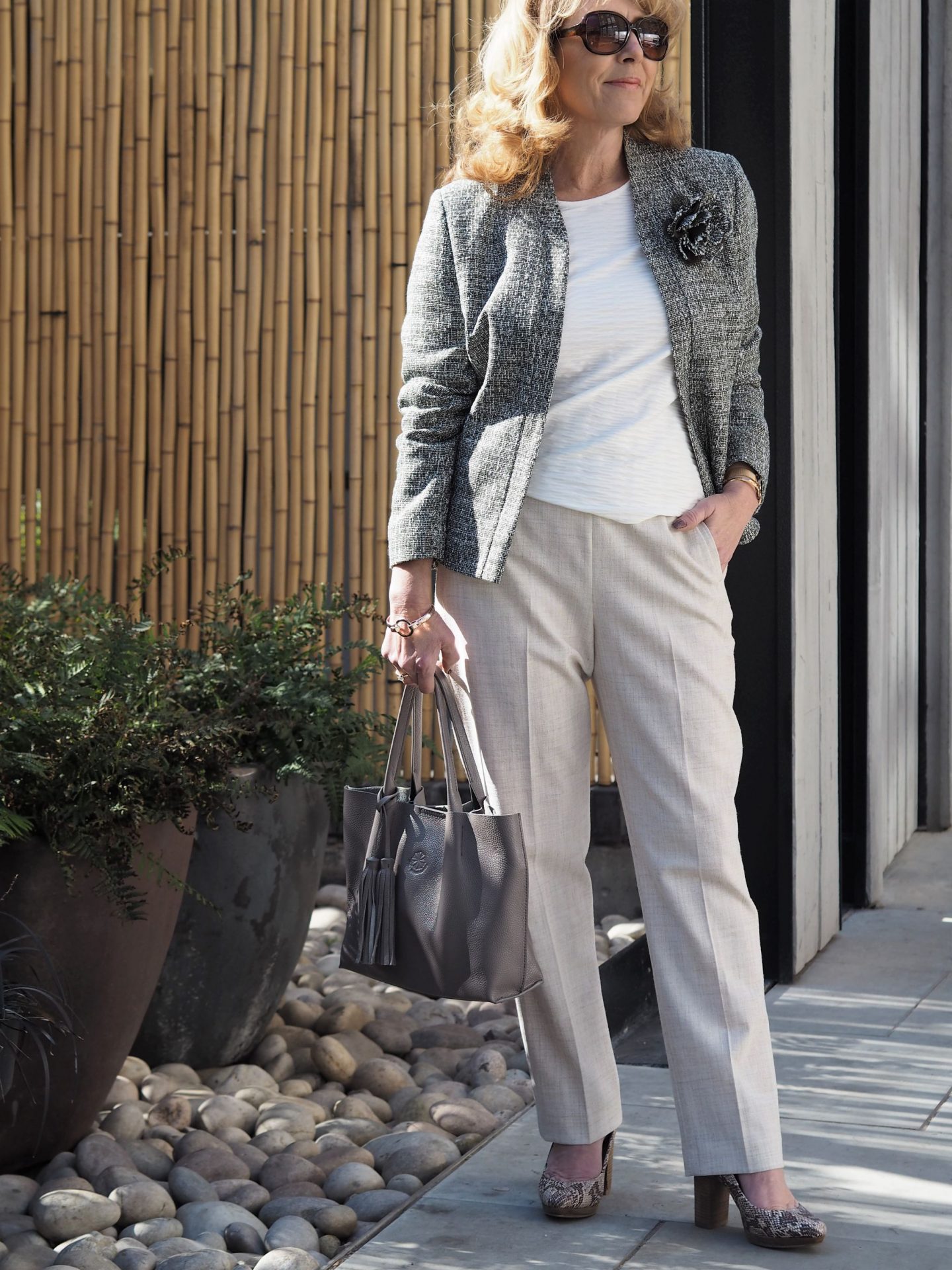 We were so lucky with the weather on the day. It was actually sunny, one of the few sunny days that the UK has had so far. This was my second choice of outfit. The Tweed CorsageJacket was to die for! You could wear this with everything! And I love the corsage that finished the design perfectly The 7/8 trousers here in a new colour for this year. Mine are Baby blue but this Neutral colour is so versatile and the side zip gives a good flattering effect in the tummy area!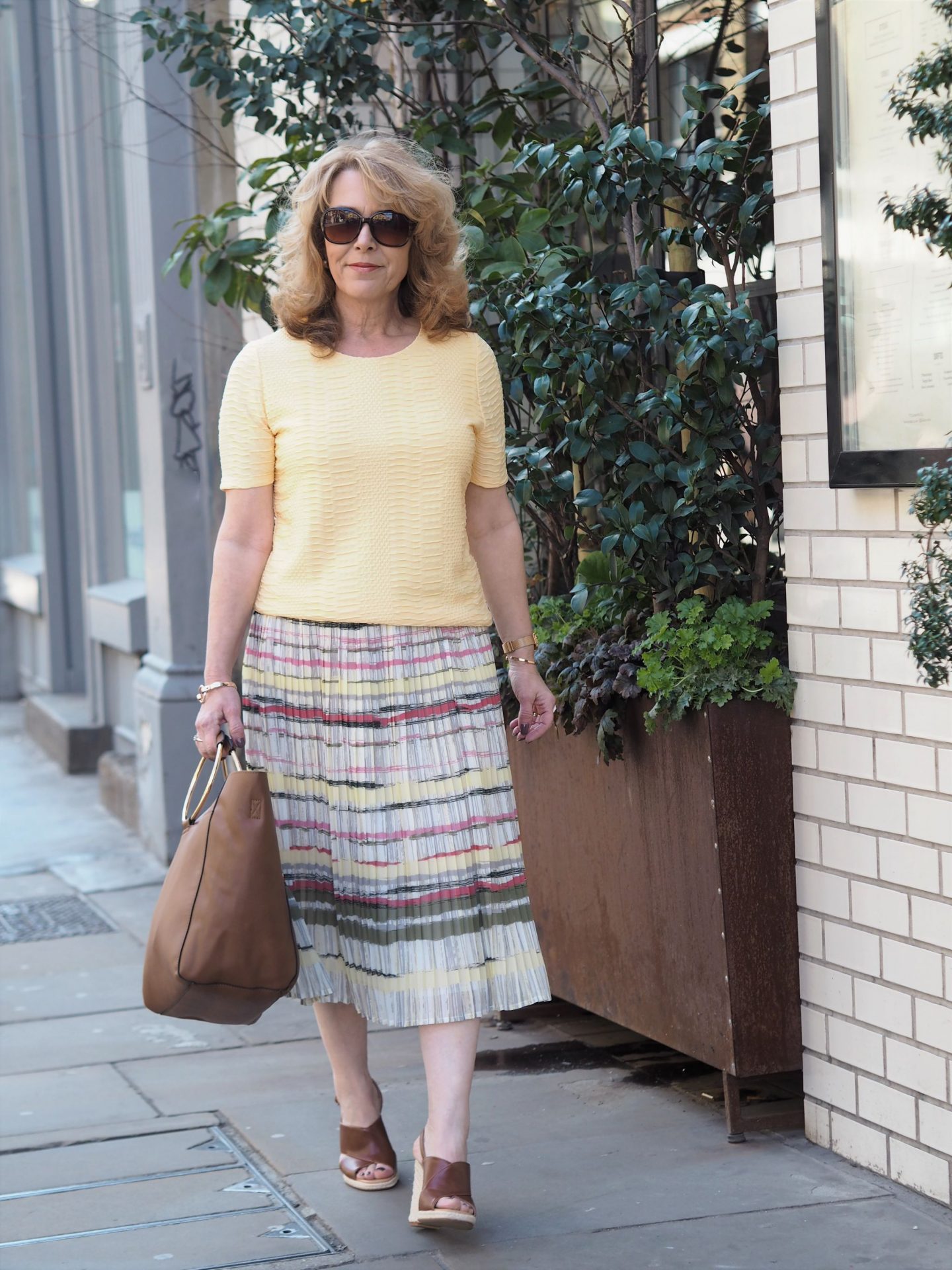 Lemon is a huge trend this year and this Solid Textured Top and the Summer Soft Pleat Skirt instantly grabbed my attention for my holiday. The silkiness and colours in the skirt have two key factors 1, It won't crease in the suitcase and 2) just look at all the colours to match it!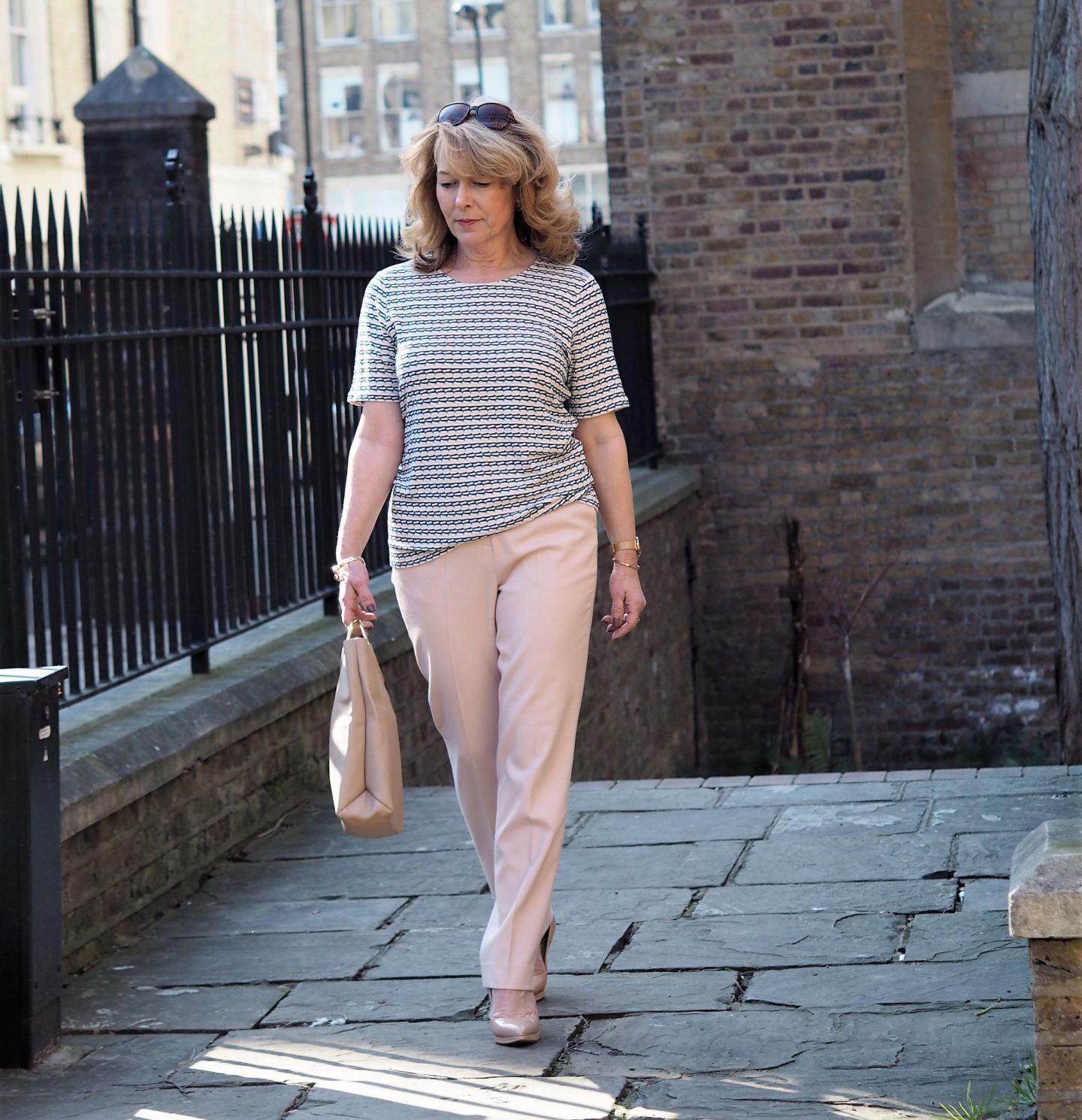 One thing I've noticed writing this post is how I've chosen the tops. They are all of the similar design! There are so many different varieties of tops on the website and they were all there available to try. I must have it built into my head " that will go with everything, I will get a lot of wear out of that"!!
These simply designed pieces are so useful to add to your wardrobe and the contemporary design allows lots of room to create different looks. I didn't even realise that I had chosen the similar designs until writing this!
The trousers here are not yet available but I would like you to look at the tops that you would have paired these with. I'm intrigued to know your thoughts and how you would have styled the trousers.
My last chosen look. It's been such a great day!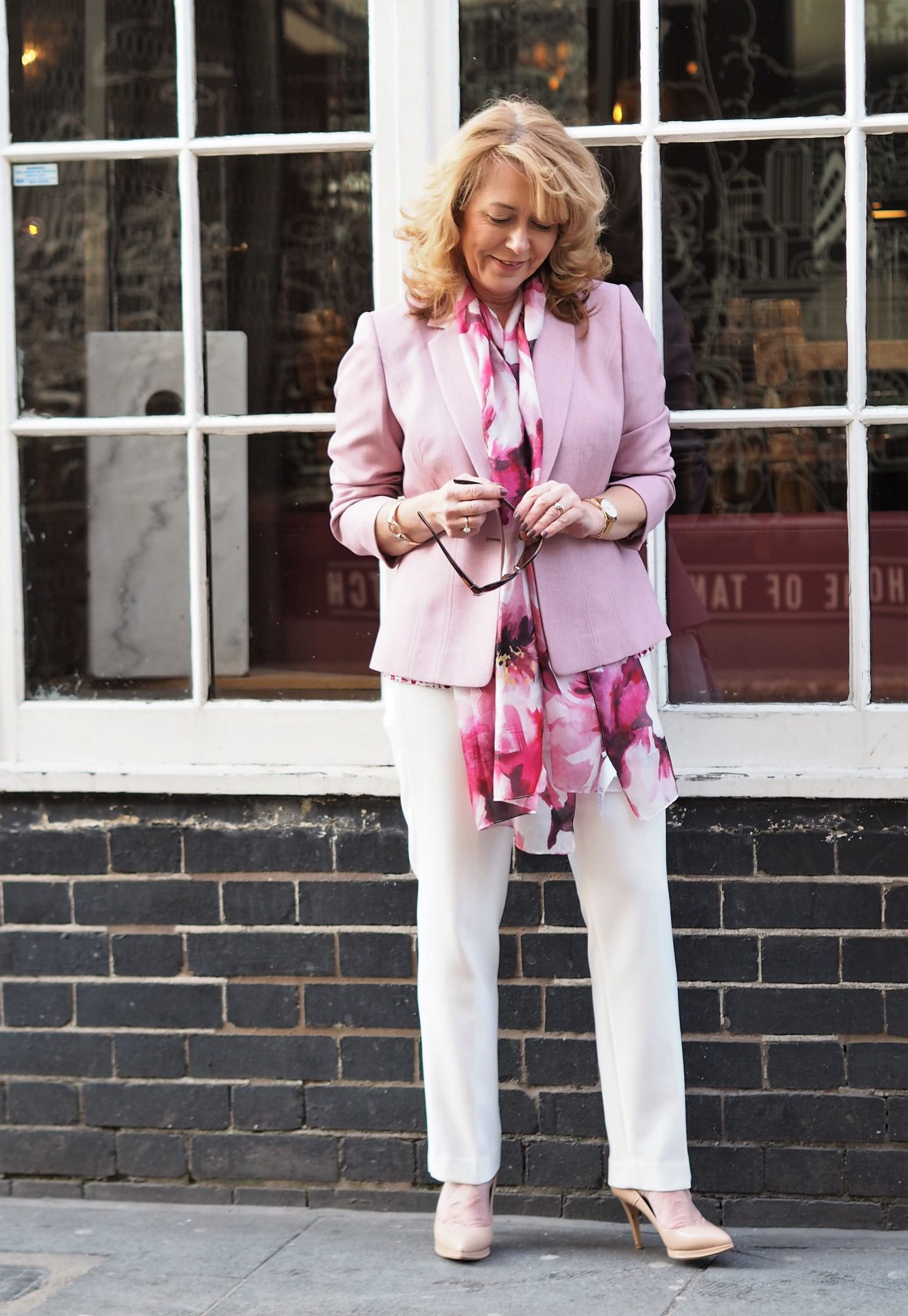 Here's the last chosen look. This time with a gorgeous floaty scarf. Eastex has some lovely scarfs this year. It was love at first sight for the trousers and I need to get my hands on a pair! The fit was perfect and they looked and felt so expensive on.
These will be my go-to smart trousers for this year. They're not available on the Eastex site yet so keep your eyes peeled! They are gorgeous!The jacket is also waiting to make it's debut online, however, the Marrakech Print Silk Scarf is available.
Take advantage of 20% off for 4 weeks!
The day was long and tiring with all the trips tooing and throwing to the office for the change of clothes. But I wouldn't change a thing about the day, it was just perfect. I felt like a real princess and the team were lovely. My head was swimming in the train home trying to decide on an item I liked most, I liked it all!
Let me know what your favourite look is, and don't forget to choose a different top for me! Oh and please take a look at the feature with the interview! And if you see something you like, there's 20% off for 4 weeks from the date of this post with the code
VANITY20
I want to say a huge thank you to the lovely girls that head the Eastex team for making my day special.
Xo Laurie
Sponsored post for Eastex Fashion – All thoughts are honest and my own
Subscribe for the latest updates!