A few weeks ago I had a very generous offer from Dove Uk to have an overnight stay at a very posh hotel/spa. This is all about tanning, and let me tell you things only get published on here if they make the grade. If I'm being paid for a post it's always an honest opinion.
I love most of my items that I choose to review, why wouldn't I? I chose them! But I'm not often "Wowed" by something, but let me tell you this could be the best £3.84 that you could spend this year. Let me tell you about the new Dove Visible Glow Gradual Tanning Lotion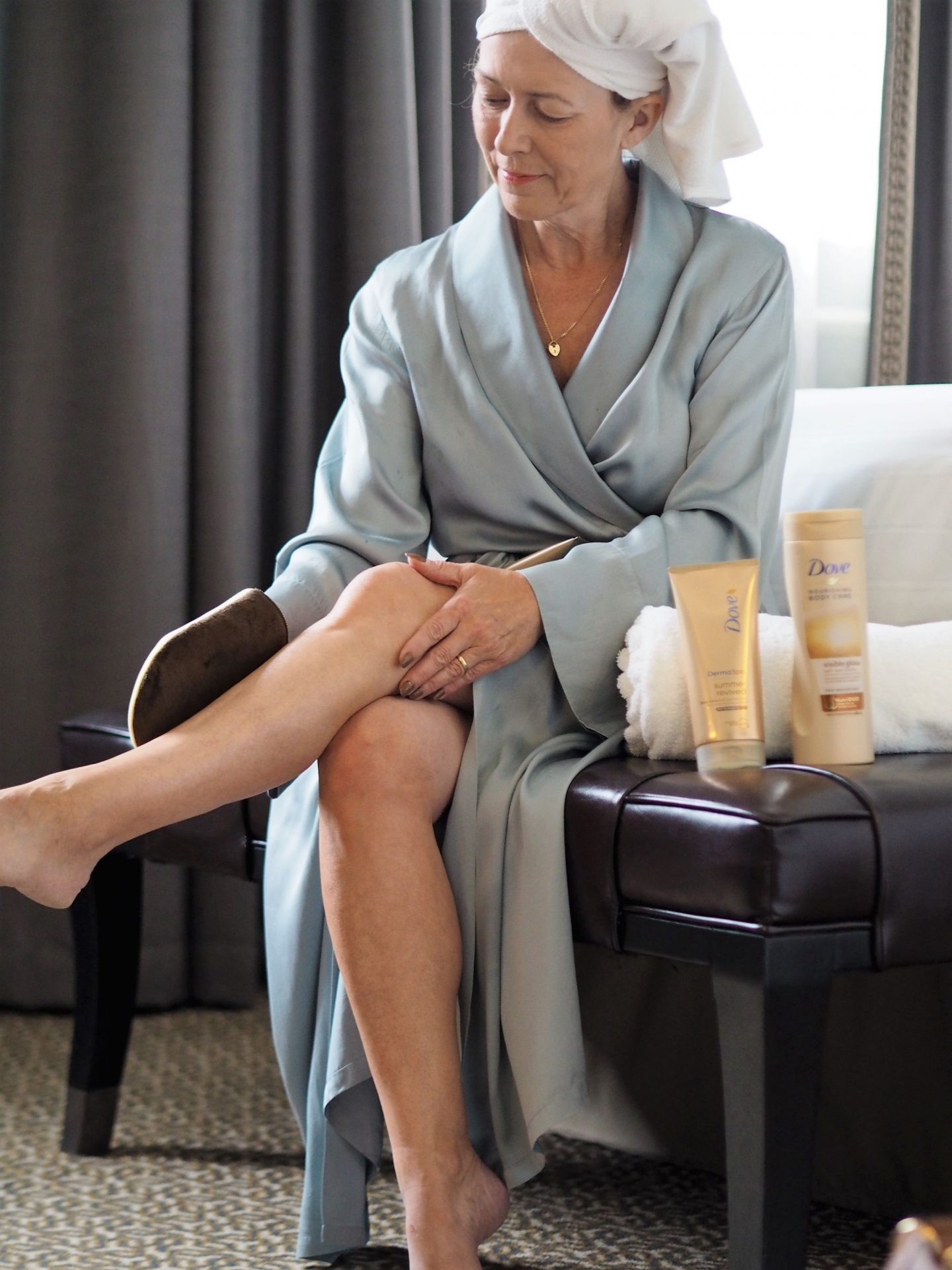 I want this tanner in bucket loads!
There are two items in the Visible Glow Collection. One is a body lotion called Summer revived with gradual tanning and the other is a self-tan lotion Called Visible Glow. Both are available in fair/medium or medium/dark. One thing worth mentioning is how it's good for us with sensitive skin. I'm so sensitive I've only ever found one spray tan that doesn't irritate me and one other in a tube and that's no longer available.
I have my own spray tan machine and tent, although I don't use it much anymore. I did use it just before my holiday to kick-start some colour. ( picture me being spray tanned in my tent on the patio by the other half!) I did take the fair /medium body lotion with me to try, and I think that kept it topped up. My legs didn't tan at all! They never do!
Just look at these beautiful flowers that were in my hotel room when I arrived!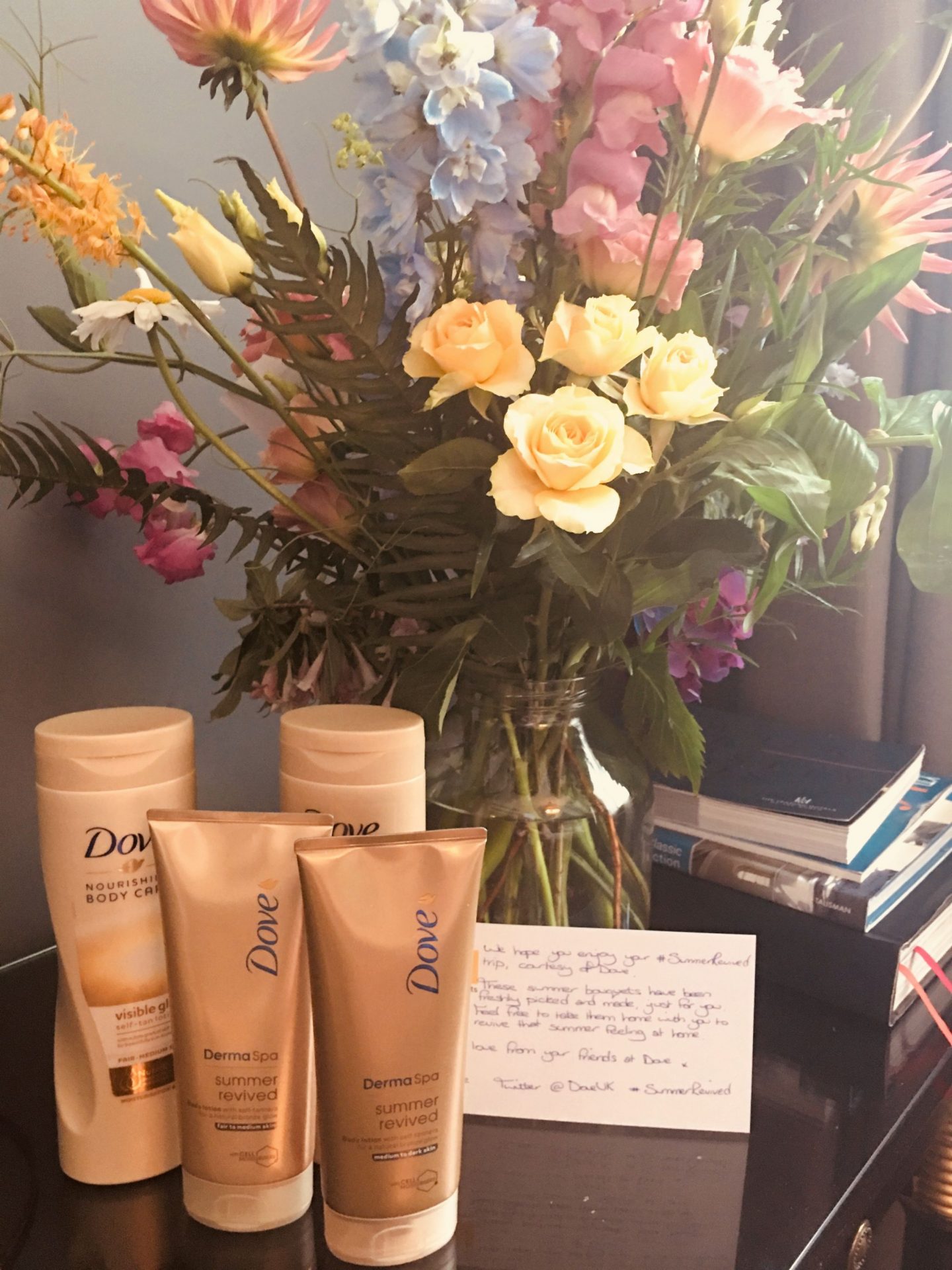 On arrival at the hotel, there were more goodies waiting for me from the Dove Invisible Glow range. The bottles are very generously sized containing 400ml in the self-tan and 200ml in the body lotion. Plus this gorgeous bunch of flowers in my beautiful hotel room!
Preparation is key before tanning!
If you're going to apply any kind of tan it's so important to exfoliate first. I always exfoliate once a week anyway. Good for keeping the cellulite at bay too! I use a simple solution of table salt and simple shower gel or I use the salt with a Molten Brown shower gel. It works a treat! You can find my exfoliating post here It's one of my first ever posts and I still use this method three years later
Applying this self-tanner is super easy, it's not runny and it doesn't have a nasty smell like a lot of tanners do. My spray tan doesn't smell that great but it's the only one I can use, so beggars can't be choosers. Or should I say now I can be choosy? Now I've used the Visible Glow I doubt that I will use the spray tan again now, It's that good and so much less faffing about!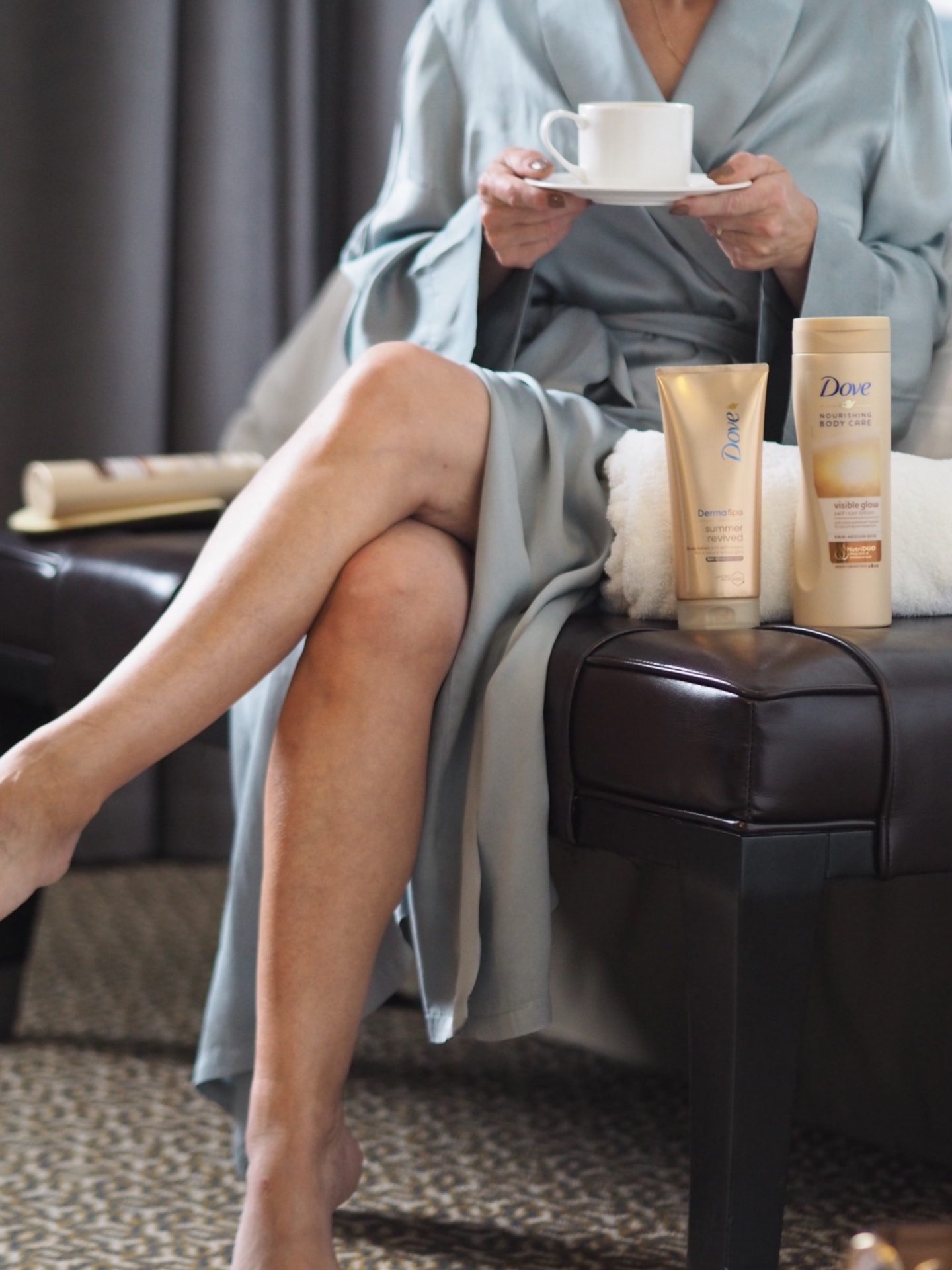 The cherry on the top!
You could use these tanners on a daily basis if you wish because of the moisturising ingredients. I'm mainly using the medium/dark Visible Glow and I don't feel the need to use it daily. The colour is perfect for me I rub in with my hands, making sure to massage well at the ankle and knee area. Then I leave it to sink in for a couple of minutes and use a tanning mitt just gliding over the skin to avoid any streaks.
The cherry on the top headline? You can use these creams on your face! I was amazed when told at the event and I've been using it on my face since. The creams have a new patented technology containing Cell moisturisers key moisturizing actives compressed from natural seed oils and it works like a dream for just a bit of sun kissed glow.
The verdict
The Medium/light will be fantastic for very fair skins. I find the medium/dark provides perfect colour for me and shows up great after the first application. The colour is very natural and not orange! I've not had any streakiness with this cream at all or sensitivity. The smell is a barely-there scent and does not smell like normal tanners.
The fact that you can use this on your face is a huge bonus. I find this works well too. I'm using the Fair/medium Derma Spa Summer Revived here for just an extra glow.
The price is so reasonable especially the amount that's in each bottle/tube you would be mad not to give it a go!
Thank you so much to Dove UK for a lovely stay at the Gainsborough Bath Spa Hotel and introducing me to the new gradual tanners. There will be another post on this glorious hotel soon!
Dove Visible Glow /Co Dove UK
Dove Derma Spa Summer Revived Co/ Dove UK
Xo Laurie
Subscribe for the latest updates!