Cooing over all the Kimono styles online, I finally took the plunge and chose this knitted version from Evatrends.
I've wanted a floaty Kimono for ages but wondered how I would get on with the length and the bulkiness on little old me at 5'2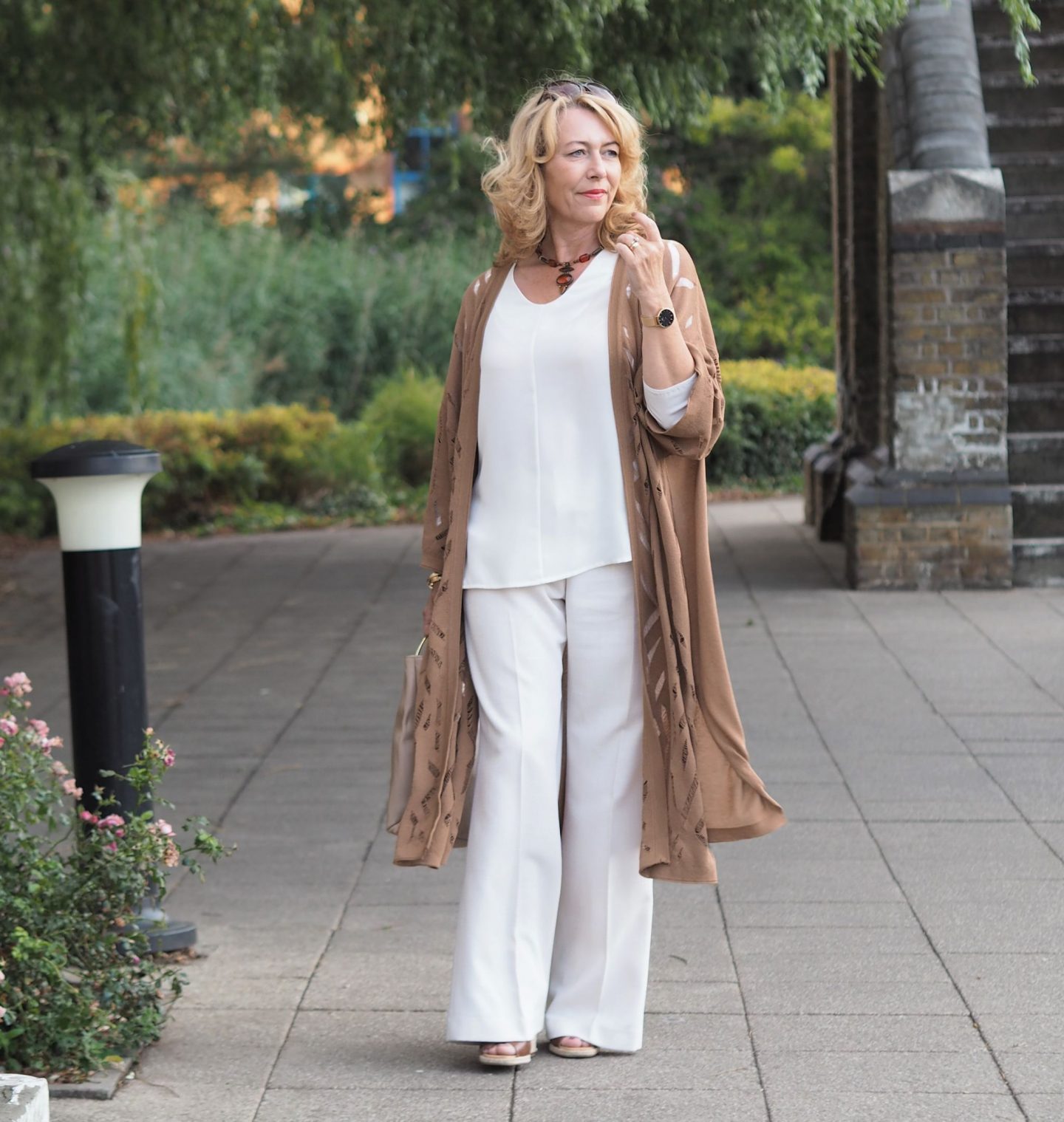 A couple of reasons that this Kimono knit captured my eye was the intricate lace knit, plus the fine light texture. Perfect for adding over the top of an outfit when the air is a little cooler.
You may have spotted my other choices from Evatrends here and here I have been happy with all three items. I've certainly got my wear out of the Kaftan! There's still a discount code available for you & I will leave a code at the bottom for a discount if you wish to shop.
Available in other colourways, this Kimono is perfect for slipping over an outfit when there's a slight chill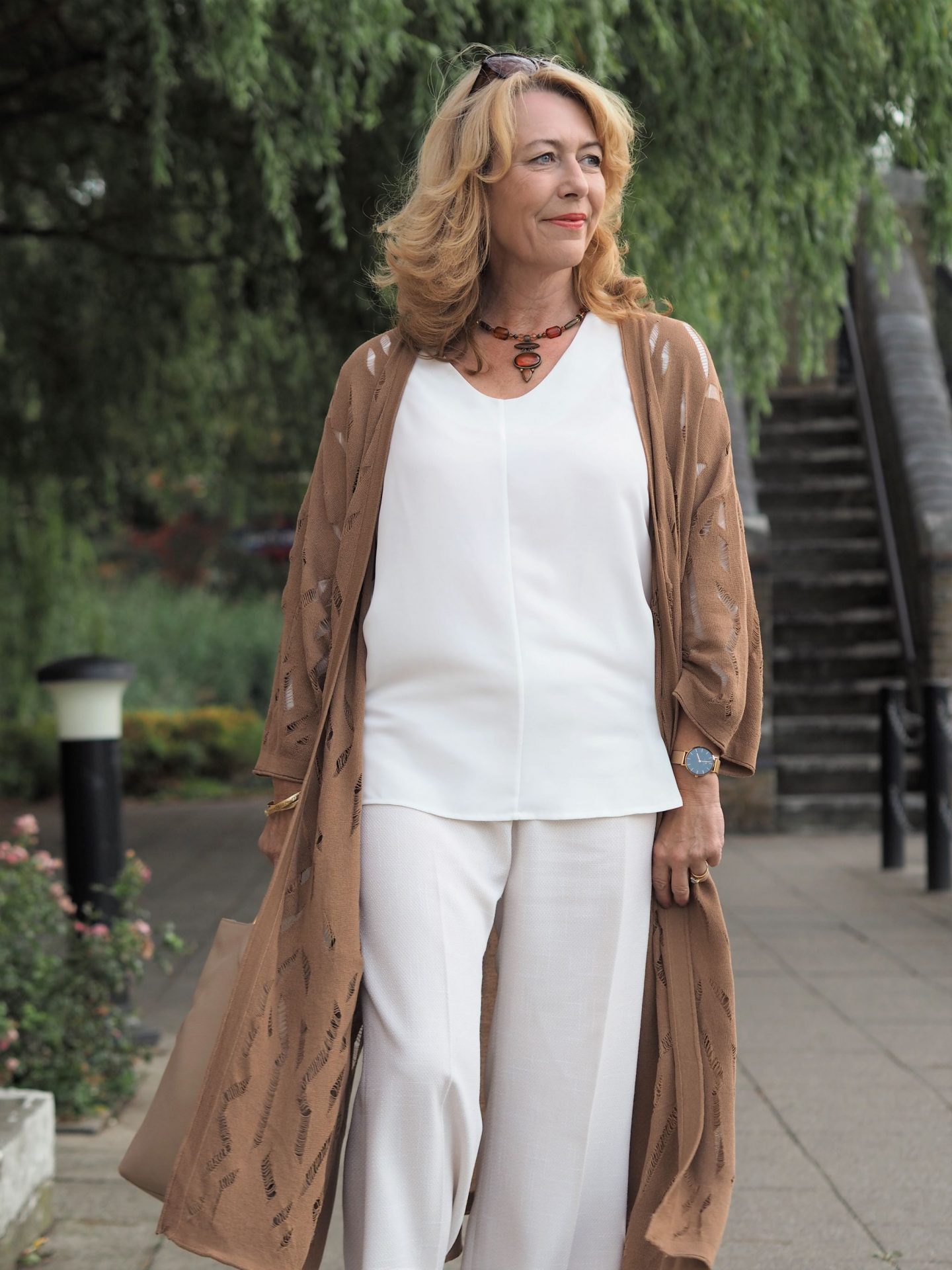 This Kimono is available in other colours Black, Light Green, Camel or Coffee I love the light and floatiness of it and the colour of the outfit underneath showing through, adding interest.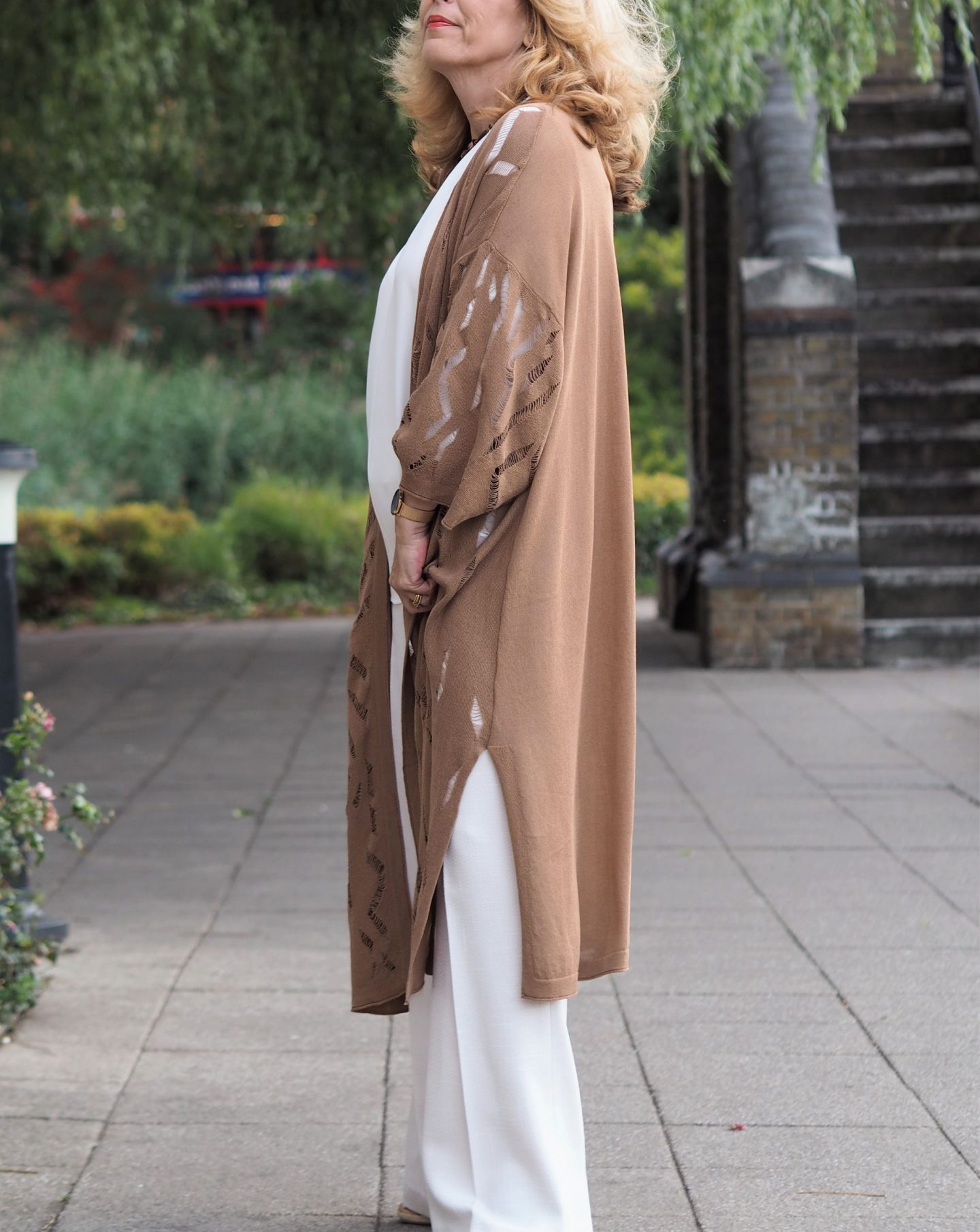 Two splits either side of the Kimono (it's listed as a cascade knit) it's very oversized, especially on the sleeves but I really like the style of it. The sleeves I guess are three-quarter length but of course, on little me, they just come above my wrist, so bear that in mind if you wish to purchase this.
I've streamlined the outfit by wearing one colour underneath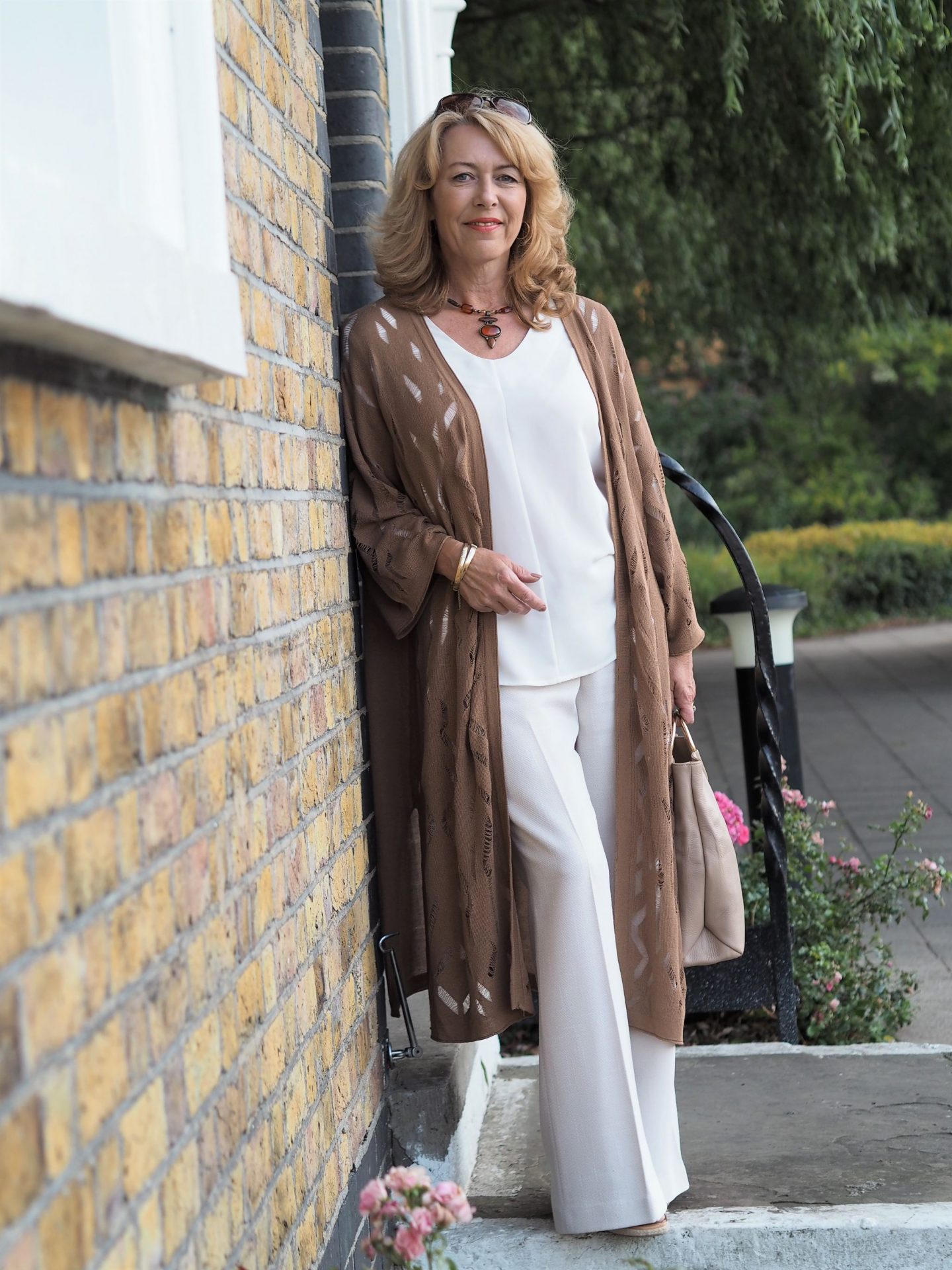 I chose to wear Cream wide leg trousers, yonks old from Next and a silk top from Jaeger, keeping it all one colour and streamlined by not tucking in the top. I nearly wore jeans, but it's still very warm here in London. I thought a sleeveless T-shirt dress or dress would also look good with this and I think it will create a good look with a roll neck and trousers or jeans later in the year.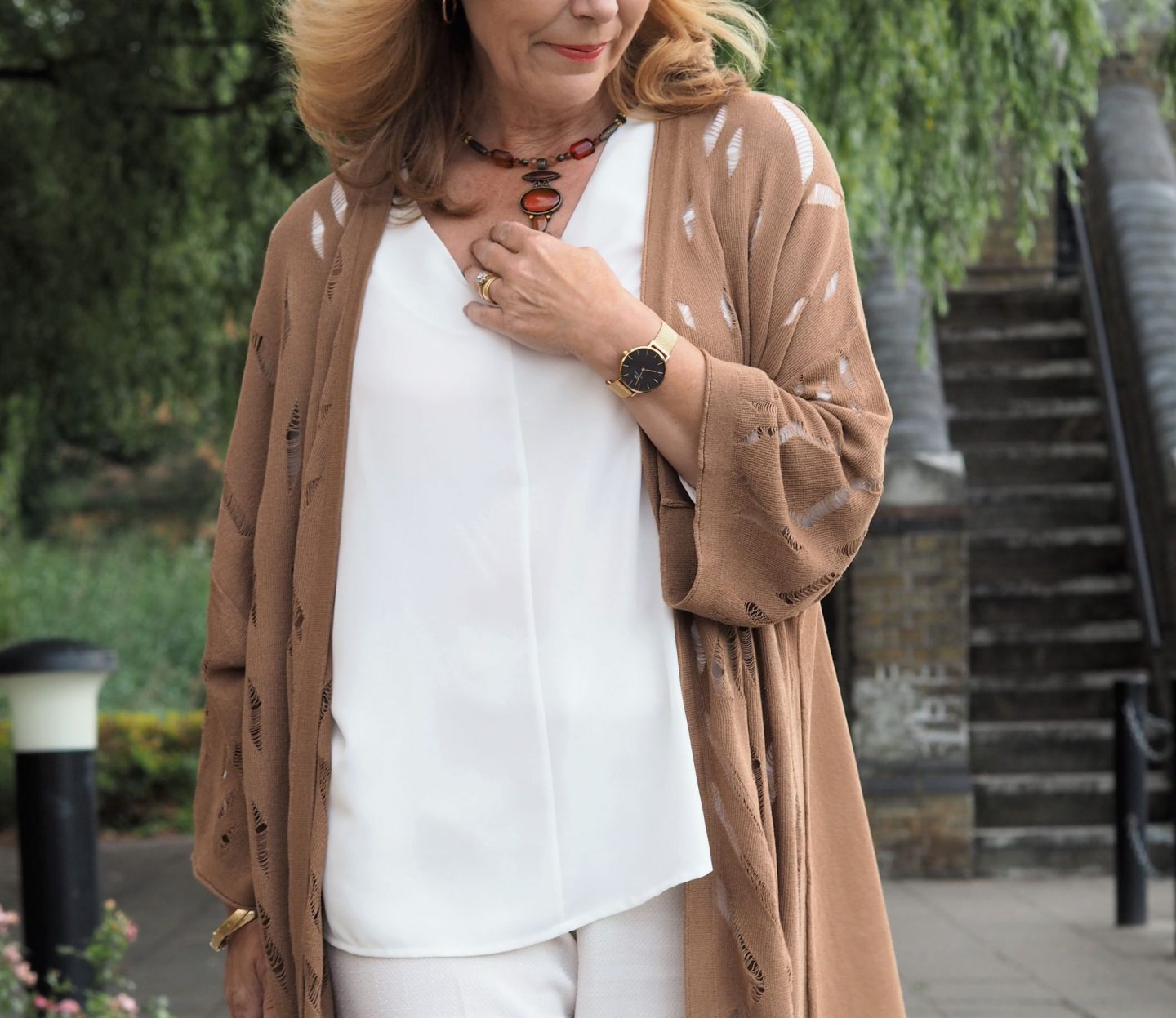 Accessories I've kept simple, wearing my daily gold bangles, Gold strapped watch and an Amber coloured necklace. A neutral/cream coloured bag to finish.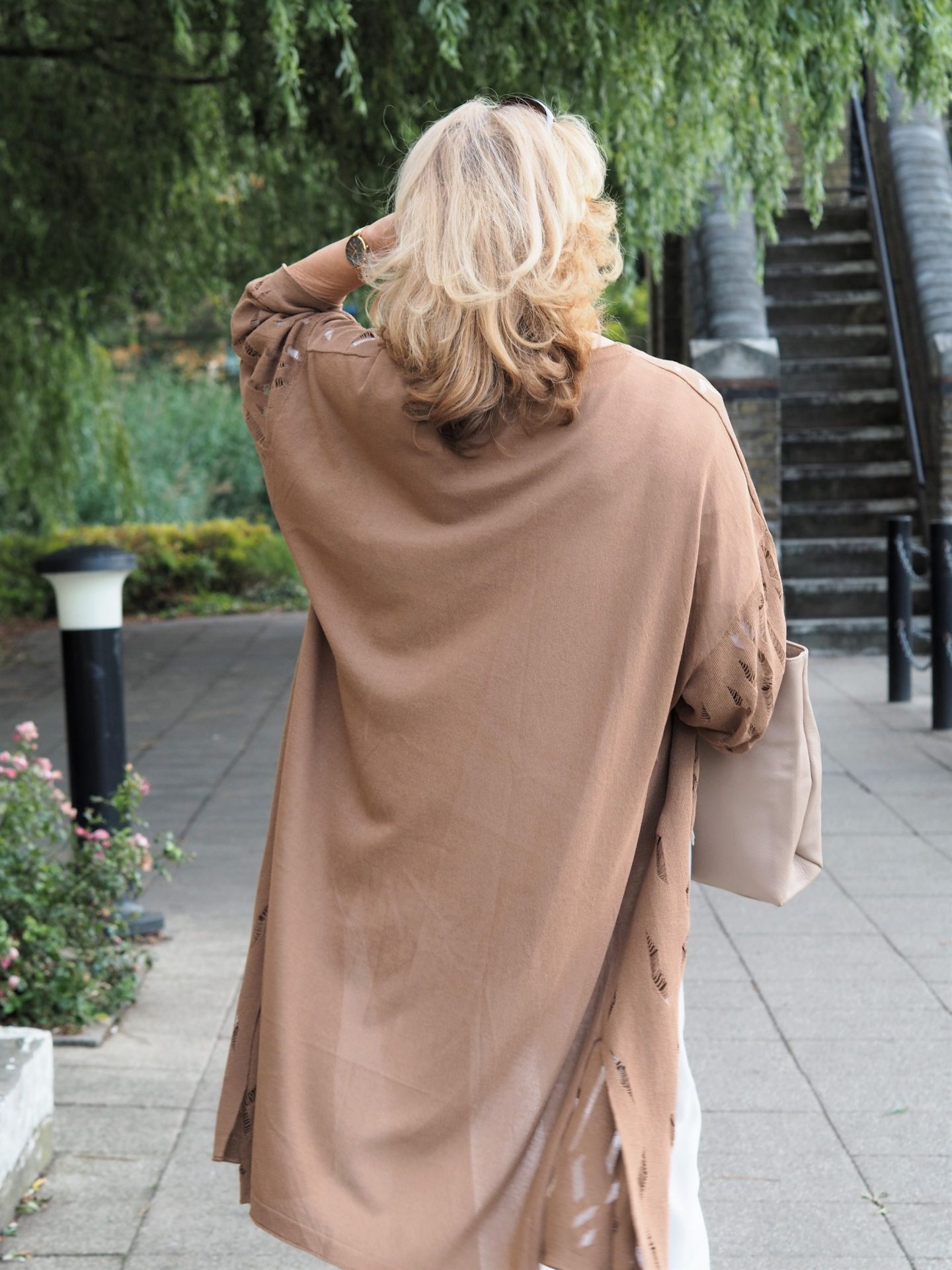 The back of the Kimono is a plain knit. lovely and floaty. I'm really pleased with it. Perfect for having tea in one of my favourite local places. I'm at Brentford Lock. Just down the road to my little London dwelling, I like to come here an feed the ducks, watch the boats and the world go by
Here's the 20% Discount code! VM15
Kimono Co/ Evatrends
Thank you for stopping by!
Receive every post by clicking subscribe on the right-hand side.
You May have a friend that's interested in this? Please use the share buttons
Xo Laurie
Subscribe for the latest updates!