I'm having a little play with satin this week. If you're a regular reader here, you will already know what a huge fan I am of the Hawes Curtis brand. But if you're quite new to visiting, let me tell you that Hawes Curtis is a shirt brand for men and women. Good quality shirts at reasonable prices.
What I like most about the brand are the quirky materials that the brand uses. You will always find something a little different.
I decided to have a play with satin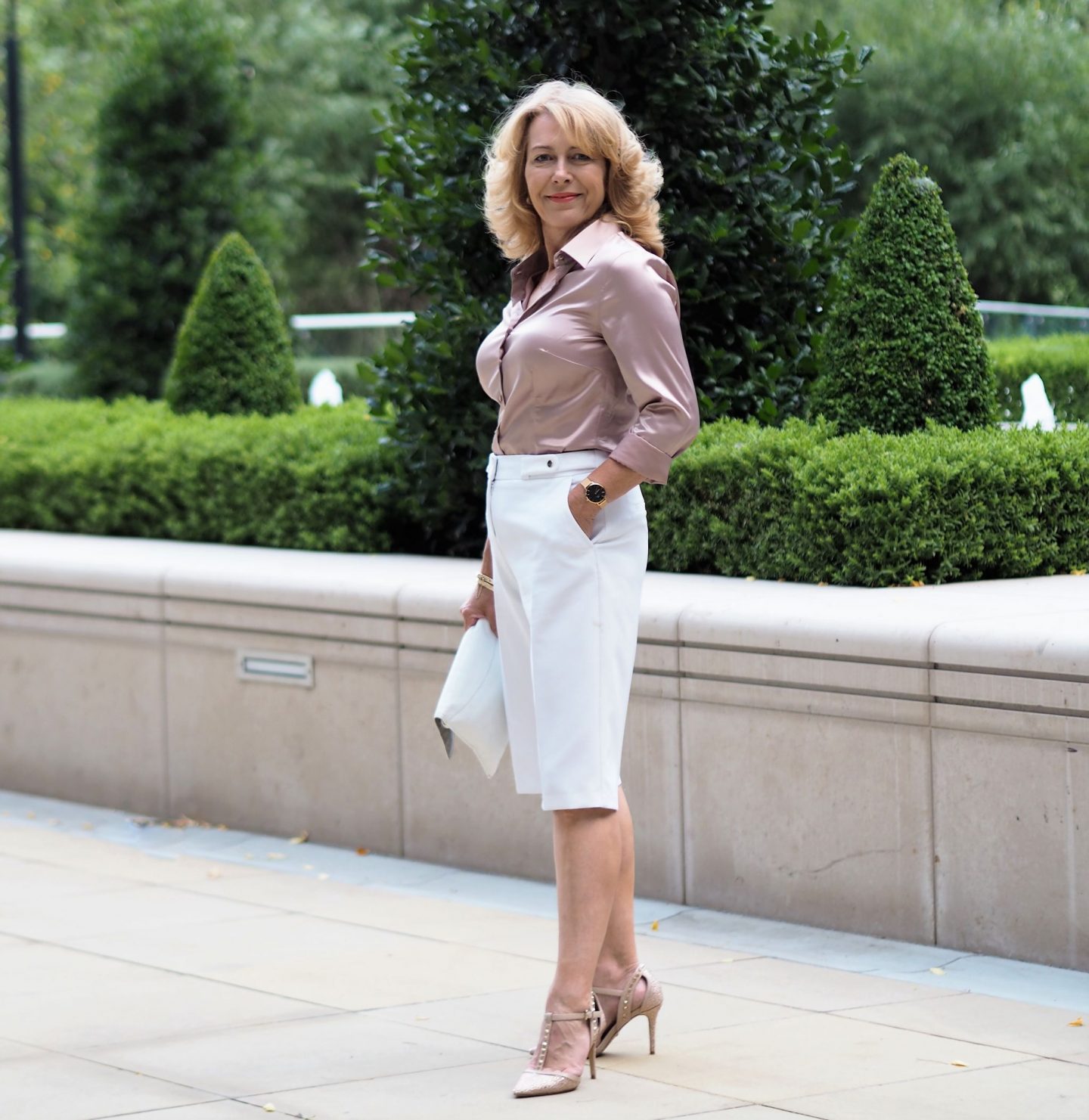 I normally tend to go with one of the new quirky cotton materials that Hawes Curtis launch each season, you can see my last cotton design here I wear the shirt endlessly with jeans.
I've been eyeing the satin shirts up for some time now, they also have gorgeous "pussy bow" shirts too. Very miss Moneypenny!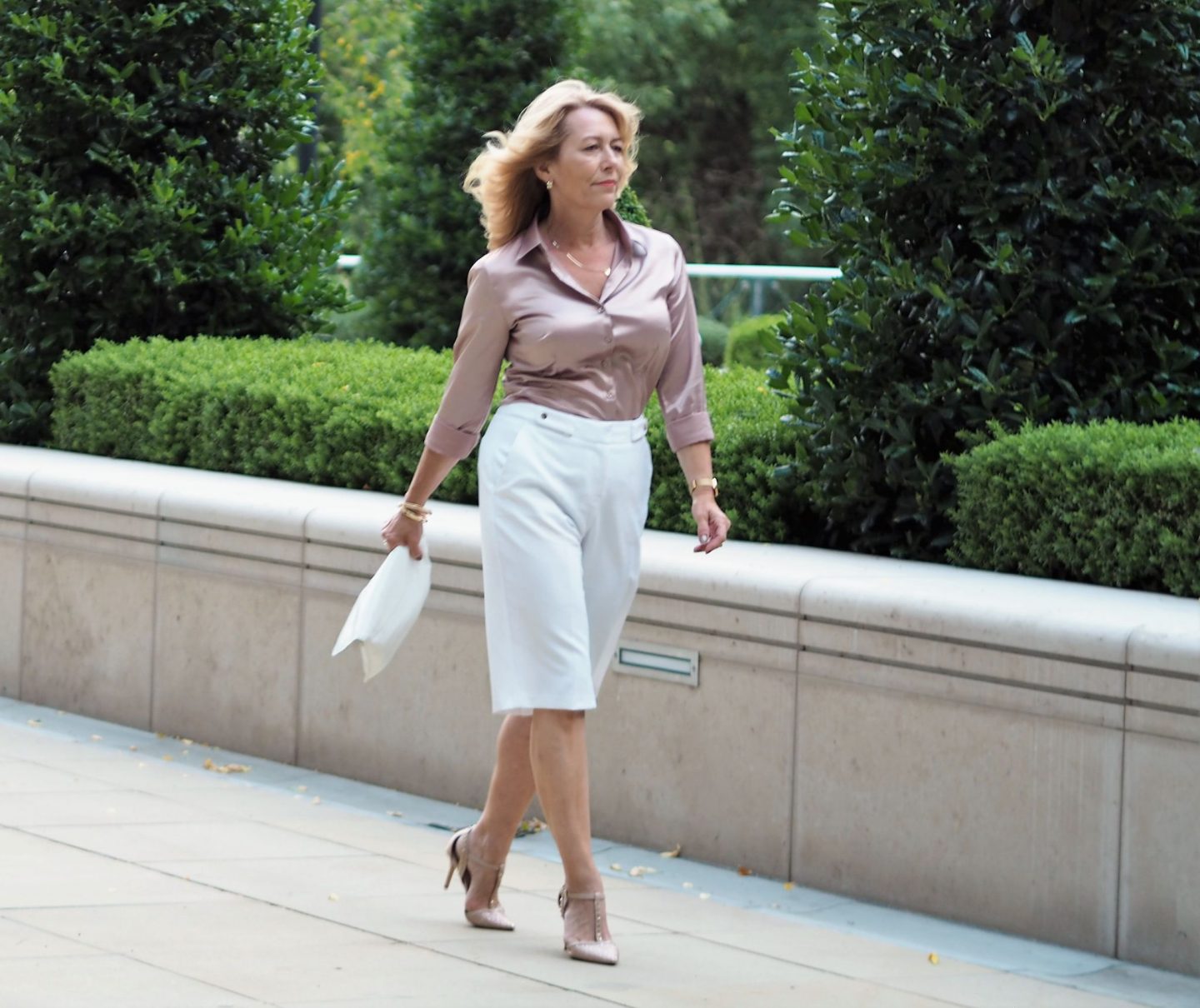 I had made the decision to wear the satin shirt with some new White jeans that I've recently purchased but it's just too hot! So I decided to wear these three-quarter shorts to help stay a bit cooler. I don't think I've ever worn shorts as much ever as this year!
I've sized up one on this Taupe fitted single cuff shirt. I didn't want the shirt to be too clingy. I'm wearing a size 12 but in the cotton, I wear a size 10 and it's really fitted. There is fitted or semi-fitted to choose from.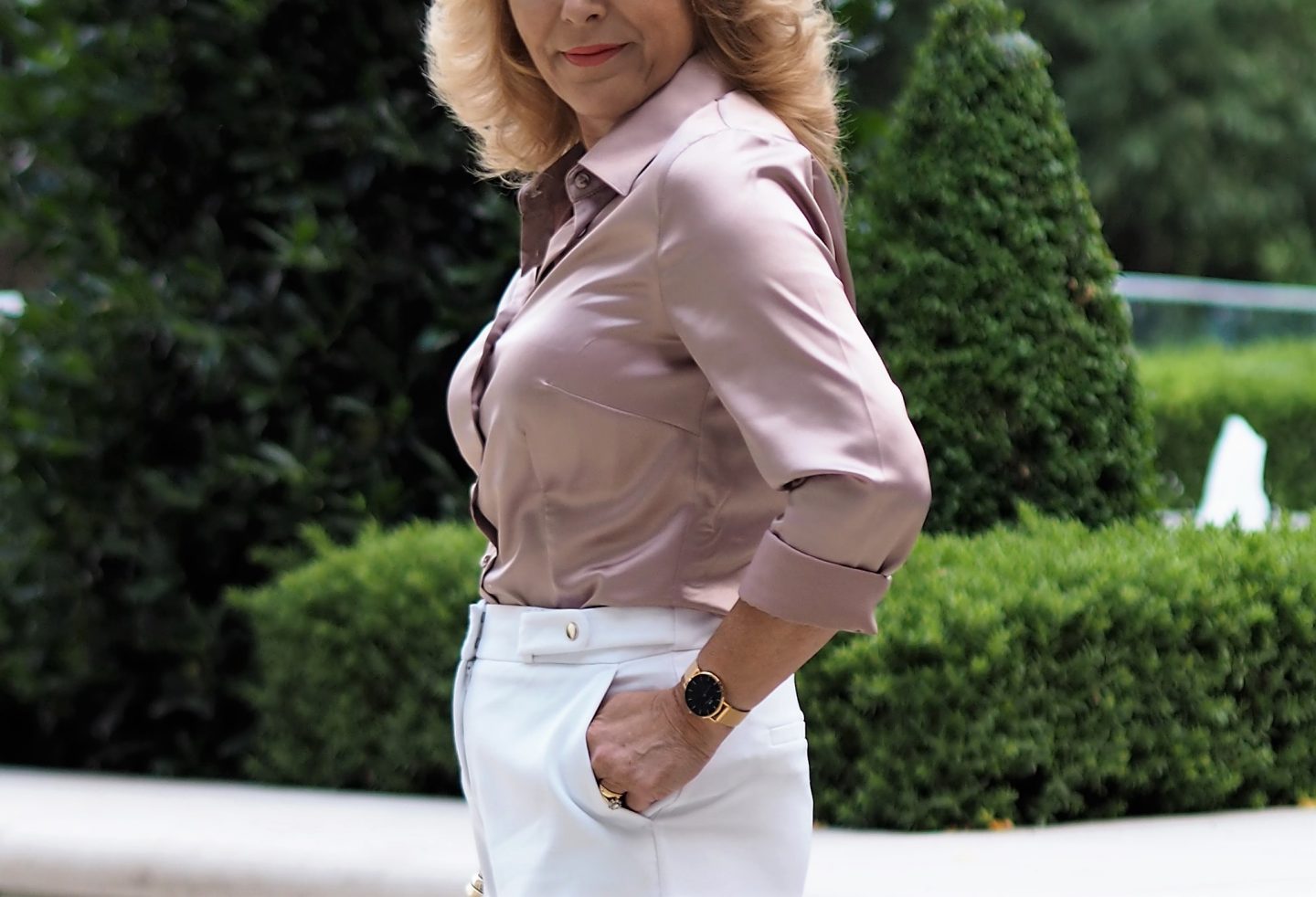 Both the cuff and collar of the shirt is finished off to perfection (no puckering) but I decided to roll the sleeves so the look didn't look too formal. I love this Taupe colour, I think this neutral colour works with anything.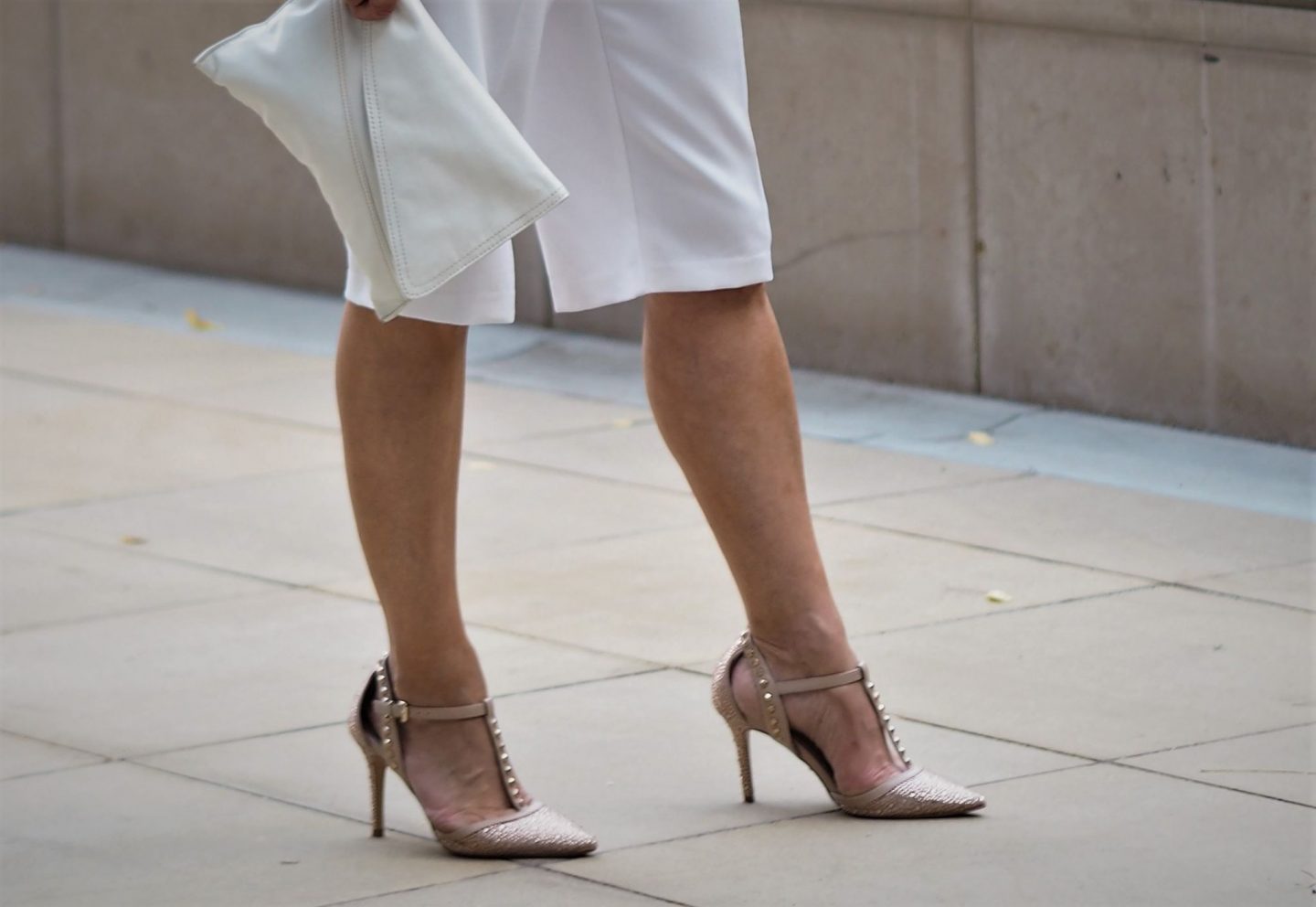 I slipped into my sparkly Carvela Kankan shoes to finish the look. I couldn't decide on the bag? Gold or White? I didn't want to look too dressy. So I've gone for a simple White envelope clutch.
How would you wear this satin shirt?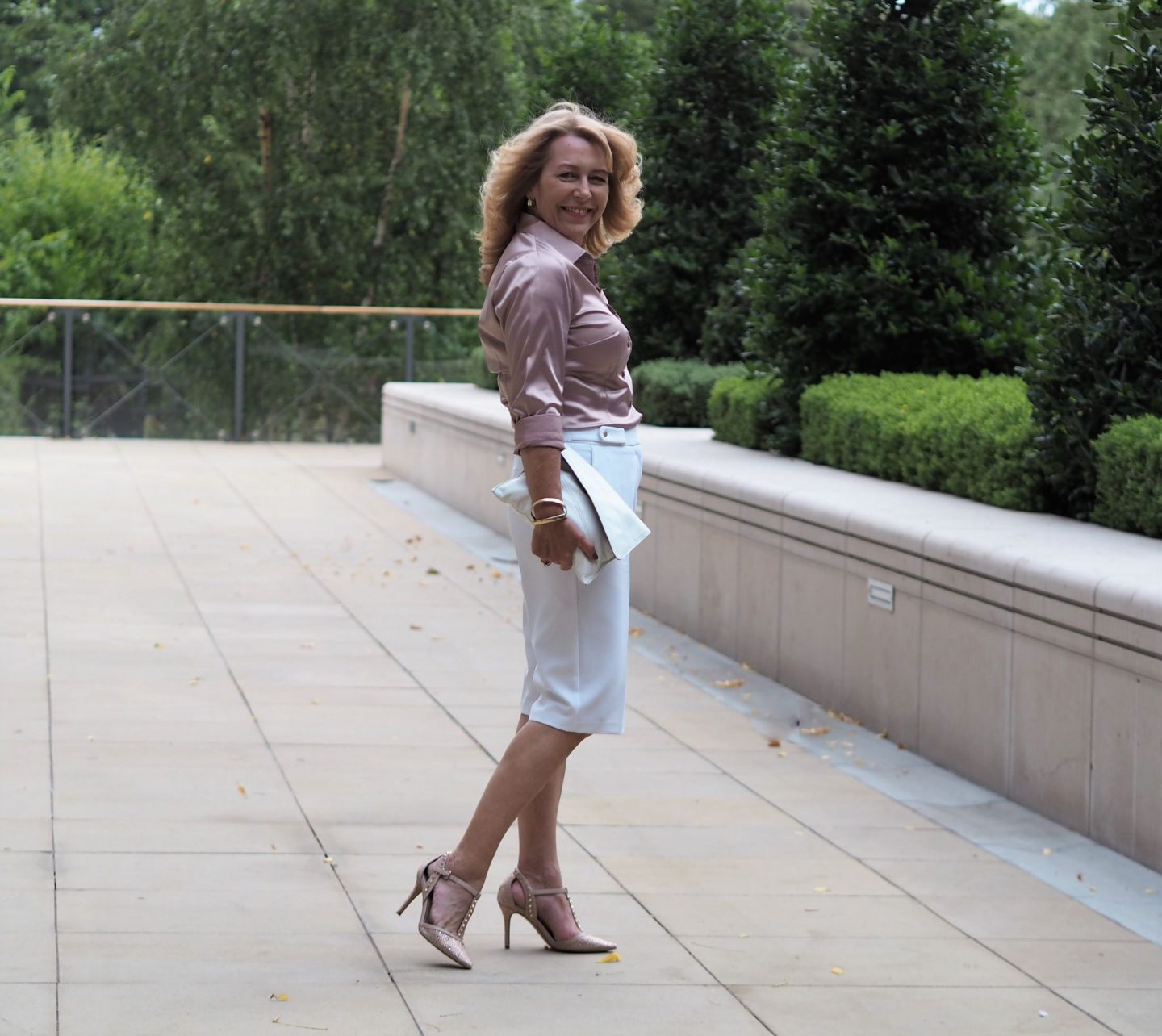 I think the shirt will work well with the Autumn Winter wardrobe too. A pair of Black evening trousers is what I have in mind. How else would you wear the shirt? I actually stayed pretty cool on our night out considering the long sleeves. The satin is very lightweight.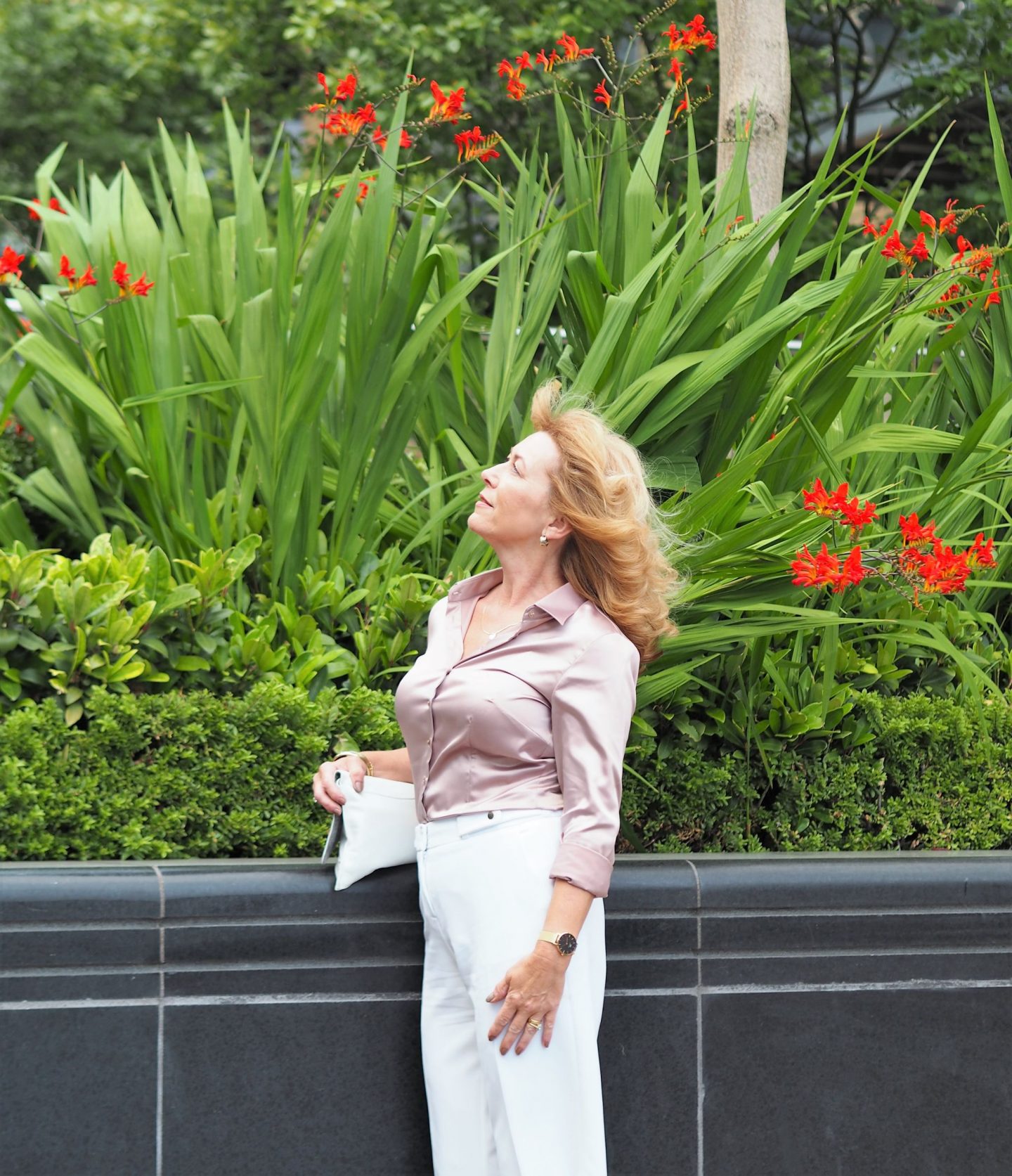 I just had to add in this photo of one of my favourite plants. Crocosmia. I have them in my garden and I love the height and colour of them. A burst of semi-cool wind, I was in the perfect spot!
Do take a look at the Hawes Curtis brand for some gorgeous shirts. There's a fantastic sale on the website!
Taupe fitted single cuff shirt CO/ Hawes Curtis
Use code VANITY10 for extra discount Of 10% off anything!
Here are the T&Cs:
10% off everything at Hawes & Curtis including sale items.
T&Cs: Offer valid online only from 16th July to the 25th August 2018. We reserve the right to amend the offer at any time and it cannot be used in conjunction with any other promotion or discount code. Only valid on the UK website.
Xo Laurie
Thank you for stopping by!
Receive every post by clicking subscribe on the right-hand side.
You May have a friend that's interested in this? Please use the share buttons
Subscribe for the latest updates!