It's been a while since I shared a skincare post with you. The last couple of months have been interesting with a few new products to share with you all. There's a lot coming your way, including a "New Beauty Items" Film. (I hate the word vlog!) I've been a busy Bee or should I say "Guinea Pig" for you lovely lot and here's the review of the first skincare range "True North"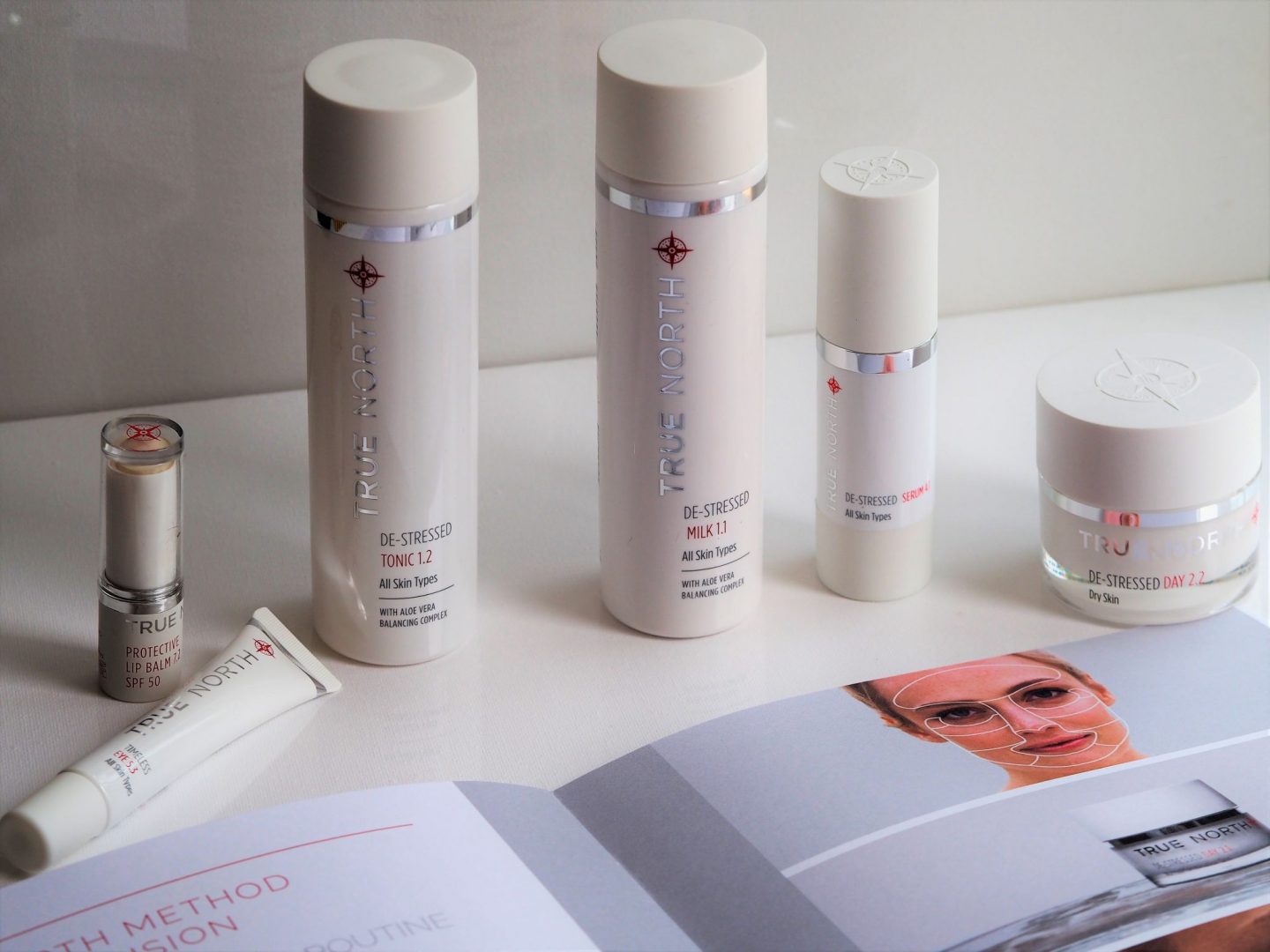 So. What's True North Skincare about?
When the package arrived containing all this skincare (there was a lot!) I couldn't wait to get started on it all. I love to try new beauty ranges but I do have to be careful because I'm so sensitive.
"Inspired by the Scandinavian culture and associated to cutting-edge research in Biometry. True North develops cosmetic products that help maintain the skin's healthy glow by restoring it's natural balance"
After reading the booklet that came with the products, I realised that there was an App that you can download. You take a photo of yourself with the App and it pops out your skin requirements. The first of its kind apparently. It told me how dehydrated my skin was and gave a skincare prescription. Interesting.
I was given three types of moisturiser. So that I could test the one most suitable for my skin type. On the App, it tells me to use 2.1 Normal/combination.
The whole range contains a lot of Aloe Vera, one of my favourite beauty ingredients known for boosting your collagen and plumping your skin.
De-Stressed Milk
I'm not a lover of cleansing milk. Mainly because they leave a sticky residue. I prefer a foaming cleanser. It's very light though and I like the fact that this is also geared towards sensitive skin. It did a good job of removing my make-up. It contains Sunflower seed oil and apparently, that's very moisturising.
De-Stressed Tonic
I'm not a fan of skincare tonics either! But because I was trialling the cleansing milk I knew I needed to go along with the plan.
One thing I liked about this is that it contains Hyaluronic Acid. (huge fan of that) After a hot day I can say this cooling tonic was very welcomed.
I've always been wary of skincare Tonics because of how they dry out your skin, but this doesn't at all. Love it!
De-Stressed Day Cream 2.1
As I mentioned above I was recommended to use the Normal/combination cream. This is quite a runny cream but it absorbs very easily.
It doesn't have SPF in it and I wouldn't normally use the cream because of this but! I did buy a children's 50% SPF cream a couple of weeks ago! I've been using this before I add my make up after using the cream.
I got so fed up with being sent skincare creams and not using them because of no SPF I found this is a way around it. You can buy high concentrate SPF at beauty counters at an extortionate price but I've chosen the cheaper avenue and I hope it works the same way.
The day cream contains Aloe Vera and enriched with Bioplasma FA Anti ageing and detoxifying microalgae extract and Shea Butter
The cream feels really cooling on the skin, lightly scented and it hasn't irritated me at all. I'm not sure that I like the smell of it but it does make my skin feel good.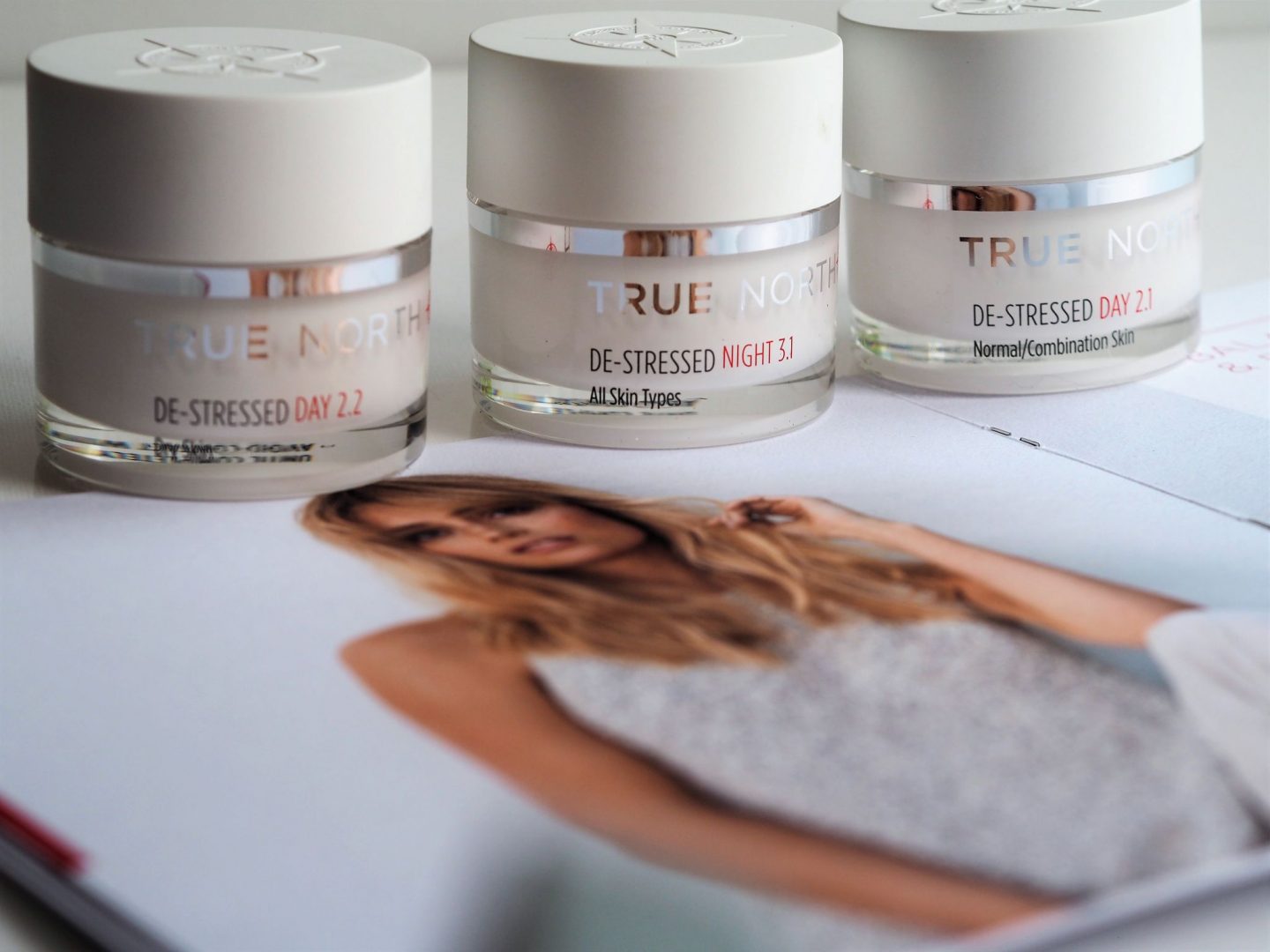 De-Streesed Night Cream
The night cream is recommended for all skin types. A much thicker cream but non-oily. I was advised to use this very sparingly with the night serum. The cream contains Ficucell Vita a blend of botanical stem cells and extracts that reinforces matrix (deep penetration) and skin cell DNA to improve dehydration.
I love anything that plumps and hydrates my skin! This seems to do a good job! This is also Aloe Vera based too.
De-Stressed Serum 4.1
Designed to provide deep hydration and help to regenerate the skin. This is normally when I find my sensitive skin will react. Serums are always the ones to give me a break-out.
It's a very rich serum and this seems to have the heaviest perfume. This contains Cell integrity an anti-irritation, anti-redness antioxidant plus DNA protecting botanical stem cells. So this would be good for someone super sensitive I guess? Personally, I just don't like the smell of it but I persevered to bring you this review.
However, my skin was good in the mornings!
I love this! Totally recommend!
Timeless Eyes 5.3
The eye cream is amazing! It is a little over perfumed for me but I really noticed a difference within a week of using this.
A light cream gel that hydrates the delicate skin, I found this really "woke my face up" in the mornings after applying.
It contains Hyaluronic Acid, Provitamin B5 and CM Glucan a protector against UV damage. Very impressed and would definitely use again.
The Body Care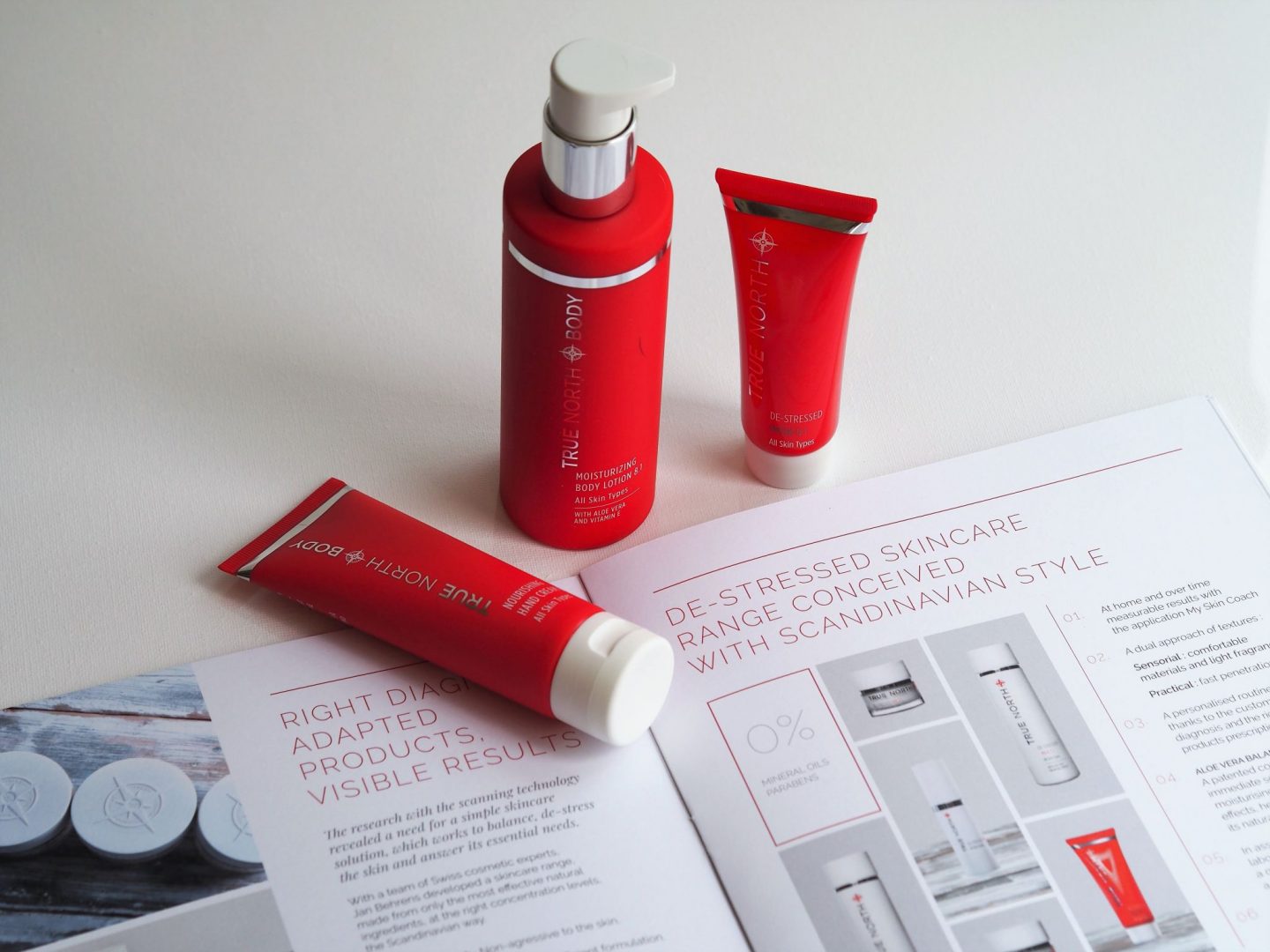 Moisturising Body Lotion 8.1
This contains Aloe Vera and feels really good on. Shea Butter and Olive oil, along with Vitamin E cream make this a good body cream with all the essential ingredients to keep your skin nice and soft plus keep that tan or fake tan good.
It's too perfumed for me though! Like deodorant and body sprays – why do we need to smell of three or four different perfumes? I want to smell my perfume only and that's it. I would have used this cream continuously if it didn't have a perfume to it.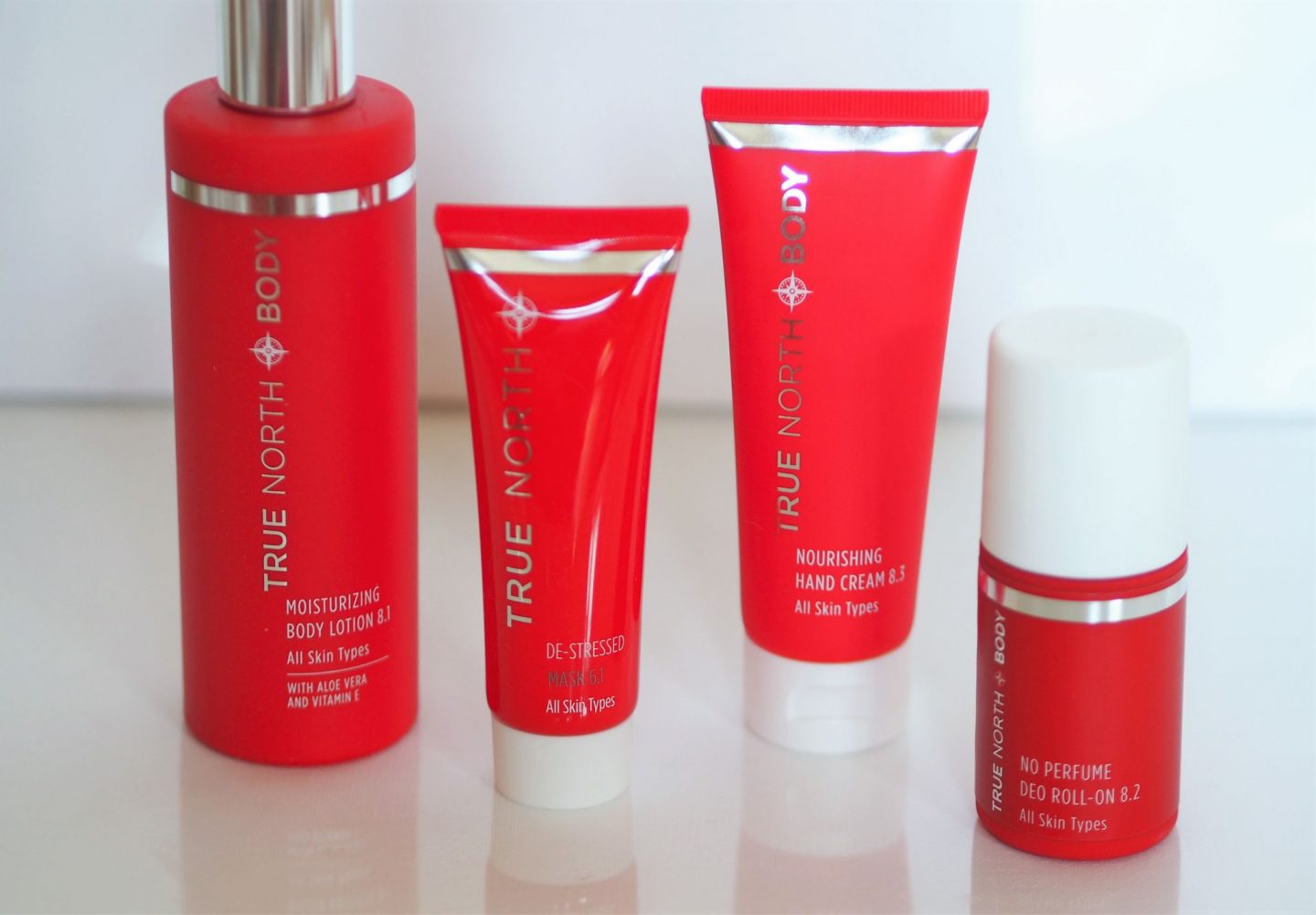 De-Stressed Face Mask
This is a very light face mask. A bit like leaving a heavy cream on your face. The main ingredients are Allantoin – healing and soothing. Vitamin A for smoothing, Vitamin E for moisturising and Hyaluronic Acid.
I really liked using this. I'm still using it. I love how refreshed and hydrated this makes my skin feel. It states to use once or twice a week but I used it once a week. Good after our hot weather.
Nourishing Hand Cream
The hand cream contains the same ingredients as the body lotion. It's a firmer cream though and I liked this. Still perfumed, so I used mainly a bedtime.
It gave good results and softened my hands up very nicely. They need all the help they can get!
It's always the little things that rock my world!
The best I've saved till last! Drum roll….
It's a deodorant! A roll-on deodorant! I can't tell you the problems I have finding a deodorant that's not perfumed or irritating to my skin.
This works. Does the job and is kind to my skin. I will be buying this in 4's for sure. If you're as sensitive as me regarding deodorants then you will know how hard it is to find the perfect one. Trust me, ladies, this is excellent.
Get your free samples
I recommend downloading the "skincoach" Ap it's quite accurate. I used a second photo last week and it actually told me I had an inflammation! A dreaded tooth abscess. I was surprised that it detected it. The Ap also told me that my skin was way more hydrated too. After using the creams it does feel good.
You can apply for free samples of the True North products when you get your skin diagnosis via the Ap. Worth a try! Let me know how you get on with the Ap if you use it.
I was gifted my True North products in return for an honest review
True North is available in all Harvey Nichols stores or via the Ap
Thank you for stopping by!
Receive every post by clicking subscribe on the right-hand side.
You May have a friend that's interested in this? Please use the share buttons
Xo Laurie
Subscribe for the latest updates!