The weather is certainly on the turn and I think I can finally decide to store the summer wardrobe away now. It's time to start wearing the cosy knitwear that's new and I've been waiting to share with you. Cashmere or Cashmere mix is always my favourite. Not too chunky, but warm enough and so super soft on the skin.
You're going to have to be forgiving with these photos. It was blowing a gale the day we shot these!
This Camel coloured Roll Neck Jumper is my first new in my wardrobe item. I'm seriously into the Camel colours this year. It will work with all my Browns or Blacks in my wardrobe. Camel is great with Denim too.
A Cashmere Jumper – Wardrobe Staple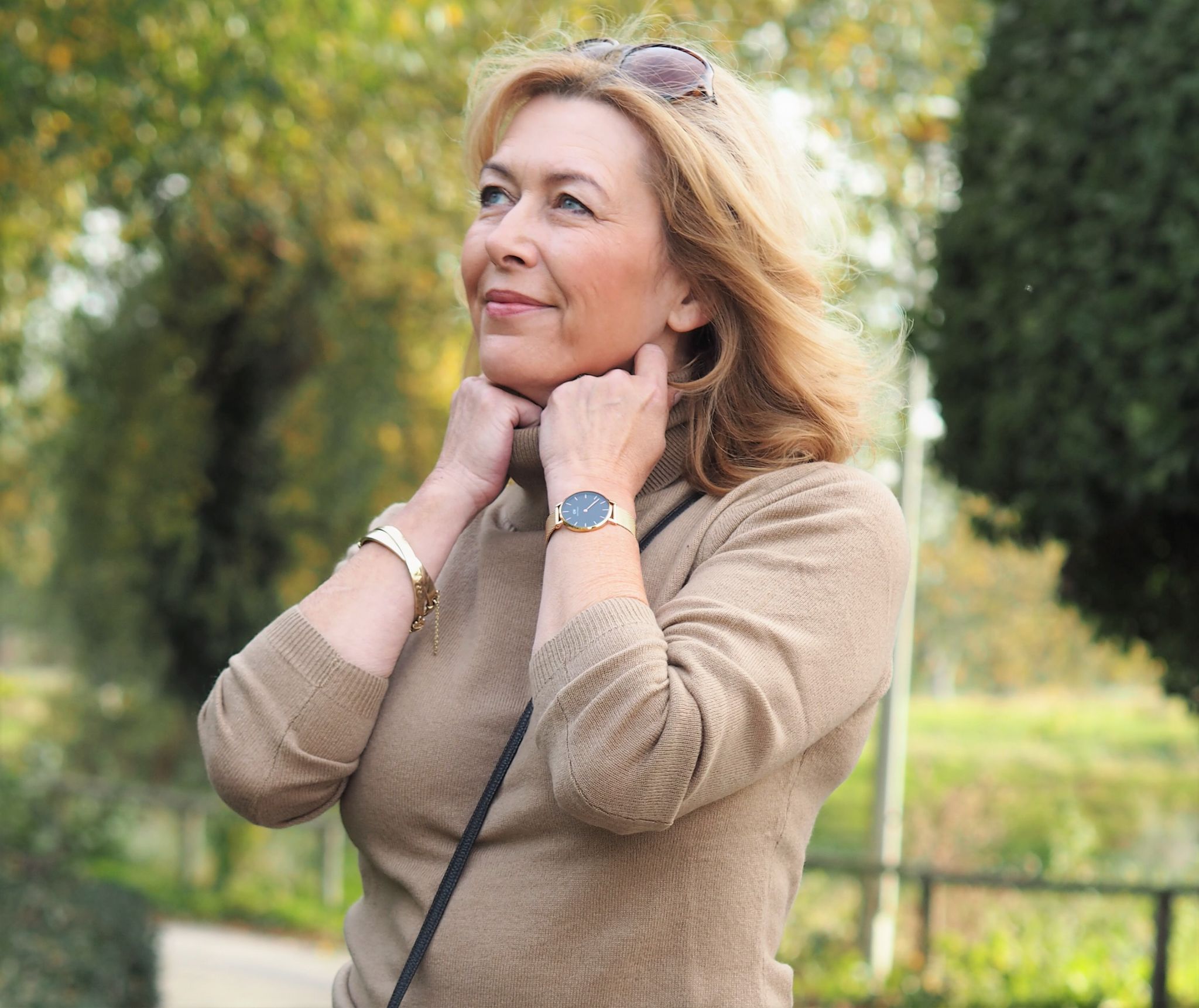 That's what I've been doing the last couple of years, collecting good quality over quantity items to keep in all the neutral tones, last year it was a cream colour ( see that post here ) and that is still as good as new. It's a no-brainer buying like this. You will always be able to mix your neutral tones with all the other colours you have.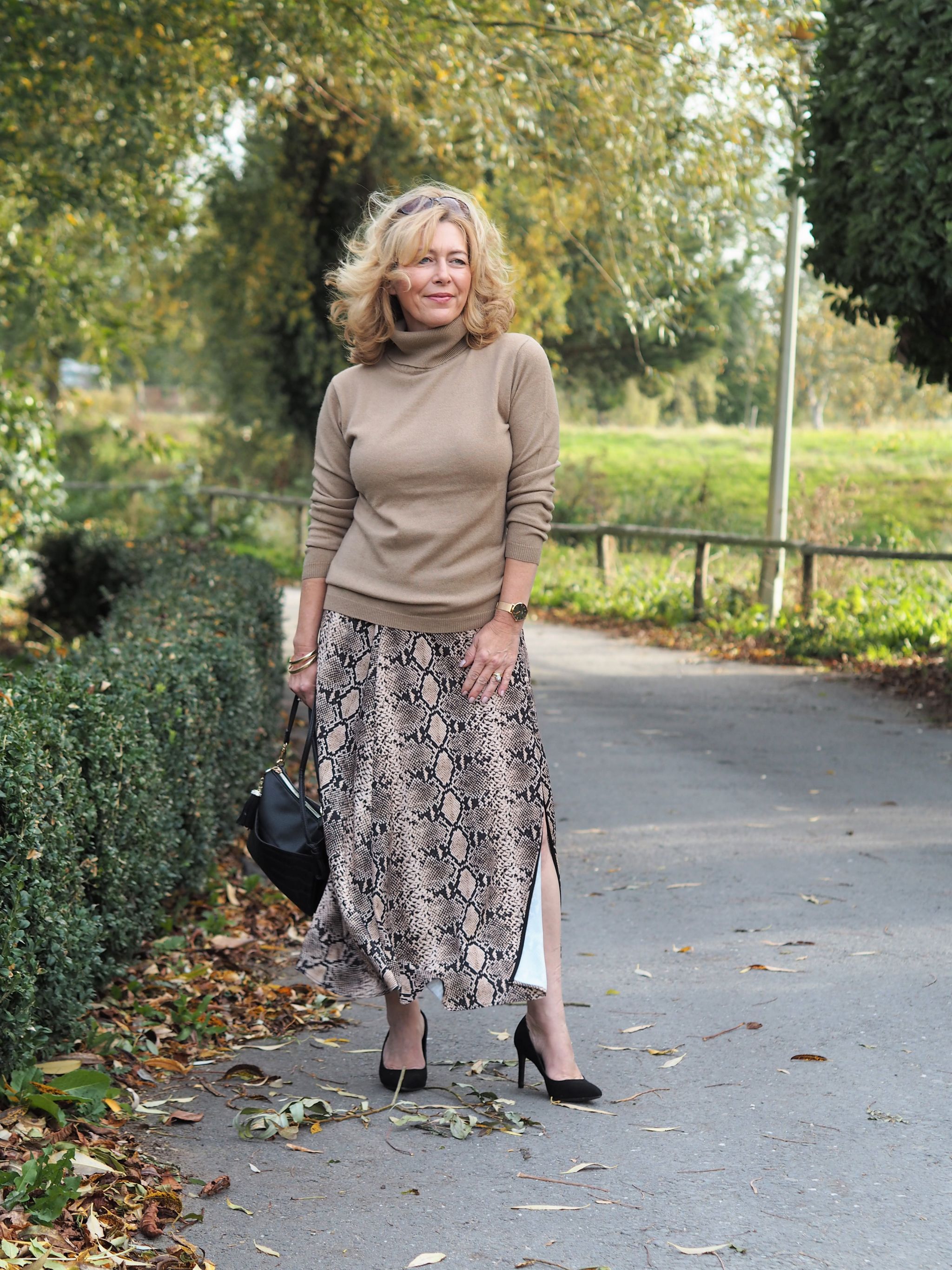 This new roll neck is 20% Cashmere 80% Merino wool What I like about it is the design of the neck, not at all tight and quite high. I'm wearing a size small here, it's not a loose fitting jumper, so if you like a more slouchy look size up.
It's available in every colour of the rainbow if you're not into the neutral tones and the reviews are very good. (take a look here)
Taking care and keeping it soft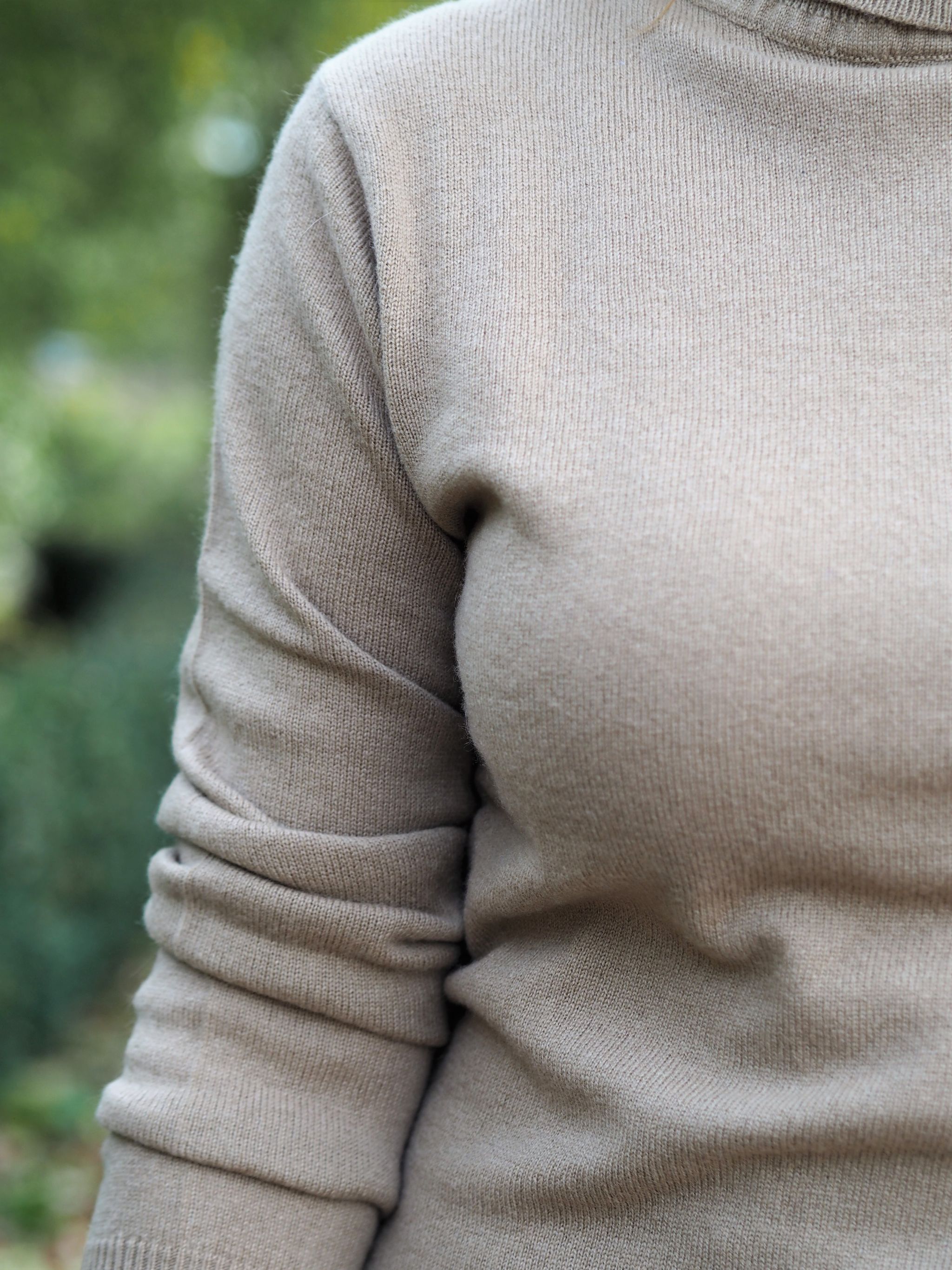 This is the third year that I've partnered with the Woolovers brand and I can say hand on heart that I've been very pleased with the quality. When you consider how much you can pay for some of the high st brand prices for Cashmere and Merino wools it's good value. (always shop savvy too, keep an eye out for the sales)
It says that this Cashmere and Merino mix can go into the washing machine washable on a 40-degree wool cycle with wool detergent. I always wash my woolovers items by putting them in a pillowcase, tied with an elastic band on a 30-degree wash and they come out fine.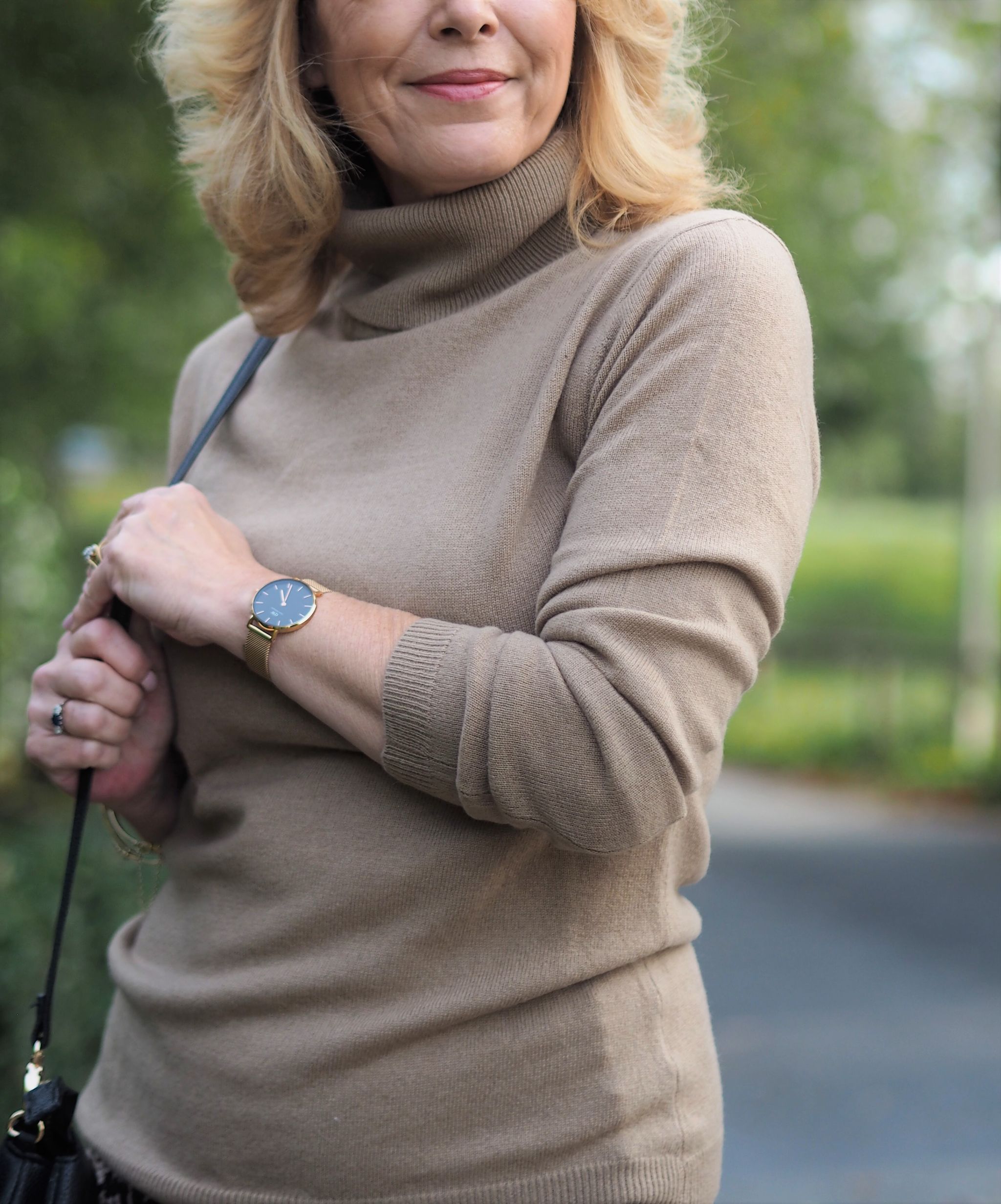 The ribbing on this jumper is thin, no need to roll up the sleeves staying away from any bulkiness plus this design is easy to tuck into clothing if you want to style it that way, again no bulkiness. I love the cosy neckline, no choking feeling!
Animal print trends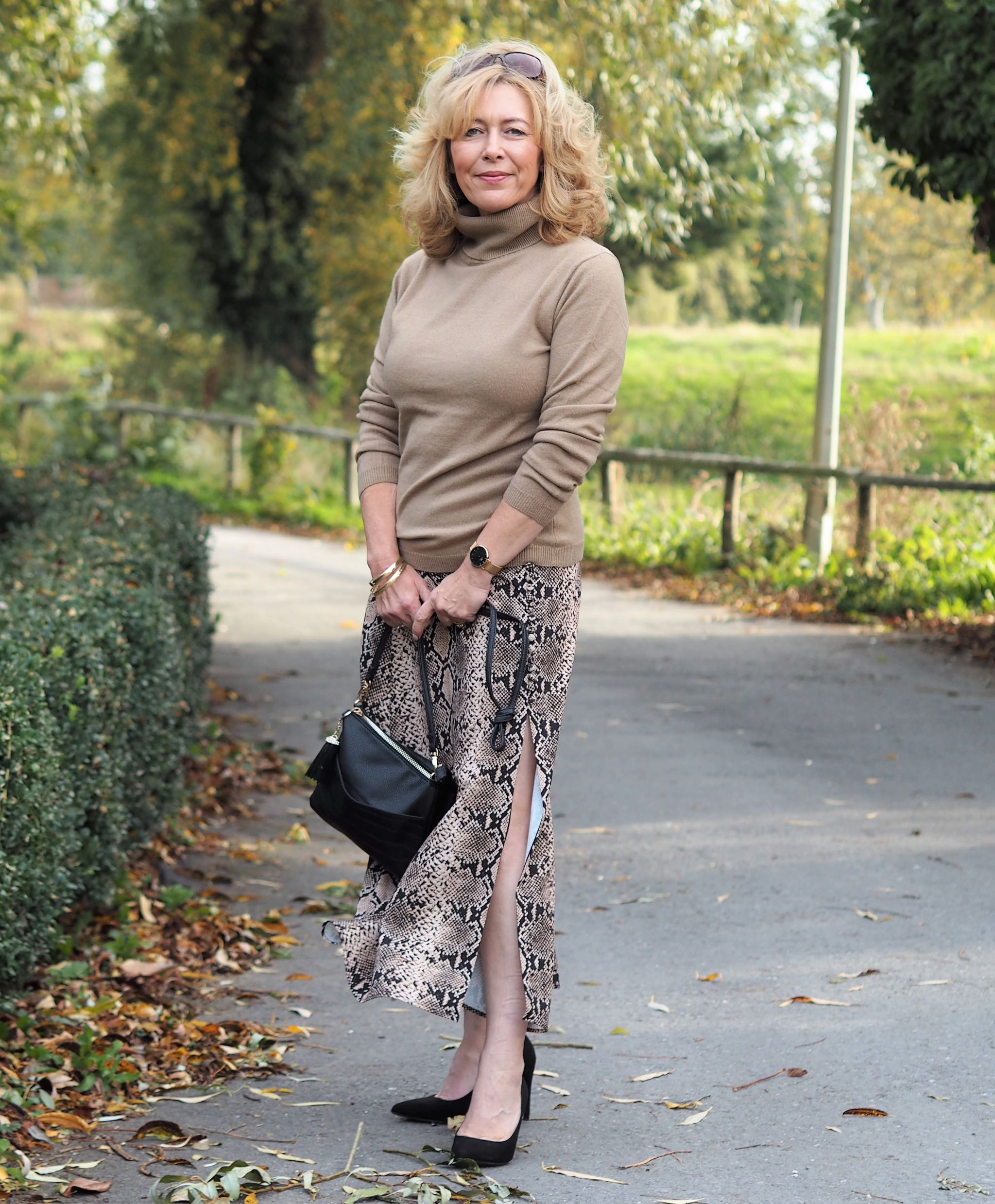 I've paired the jumper with my new Snakeskin skirt from Zara. The split is supposed to be worn at the front but I've adjusted it to the side. ( I just prefer it that way) Black courts and a Black Crossbody bag completes the look.
Looking back at these photos I'm not happy with the Black, I think it would look better with Brown tones or maybe it's the shoes? Knee high boots would have looked better I think. I would like to know your thoughts, please! Be honest!
Roll neck Co/ Woolovers
Skirt – Zara
Thank you for stopping by!
Receive every post by clicking subscribe on the right-hand side.
You May have a friend that's interested in this? Please use the share buttons
Xo Laurie
Subscribe for the latest updates!