I love a good quality Coatigan. I have a few in my wardrobe now and I find them easier than a coat sometimes but just as warm, if not warmer.
I normally go for a solid colour to pair easily with items in my wardrobe and they are just so easy to slip into your large shopper if you're out on a spree (until you need to use that bag of course!) Or drape over your arm. Not so heavy as your winter coat and so much more fluid.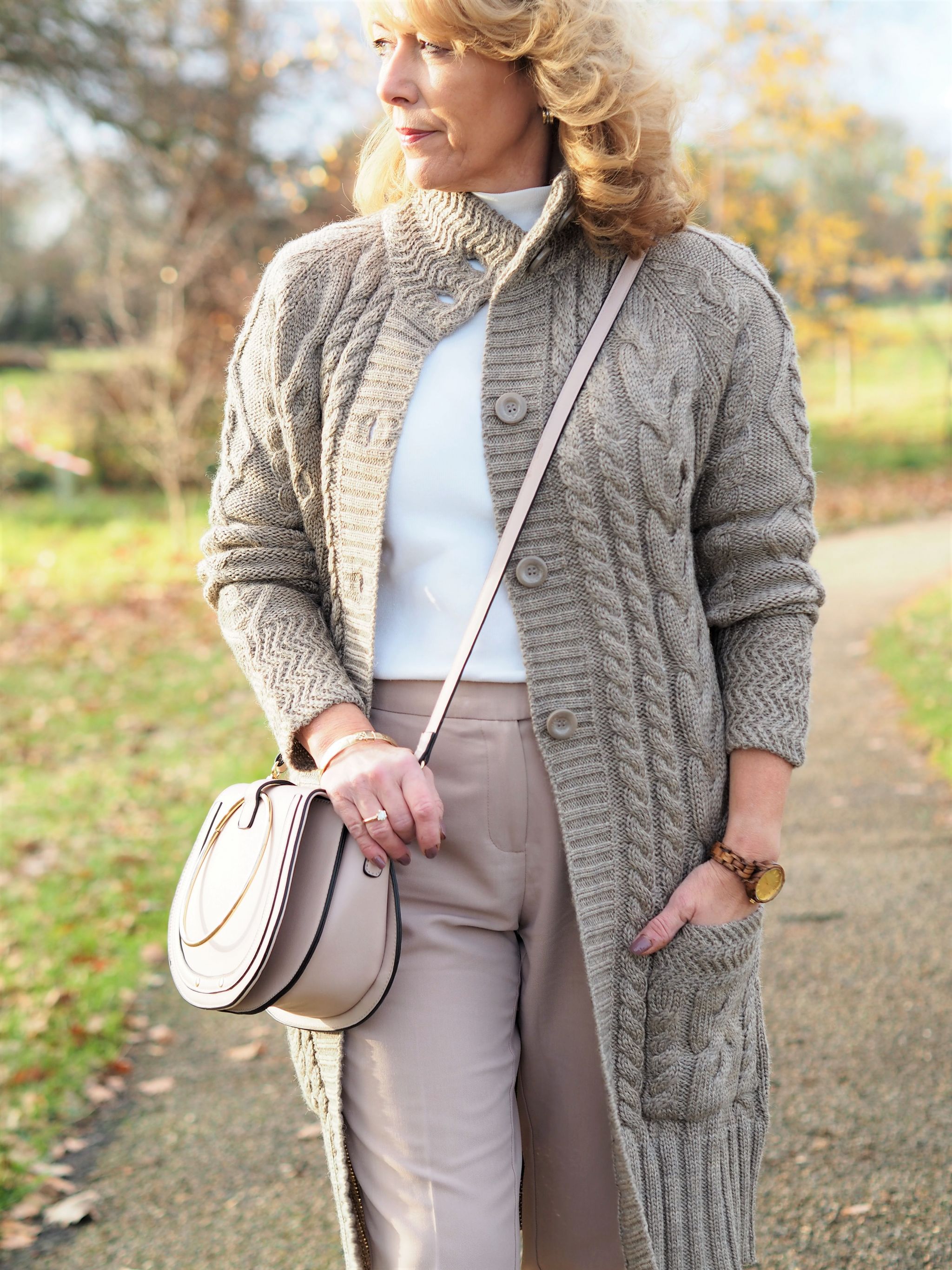 I have a few coatigans in different colours, they are so easy to wear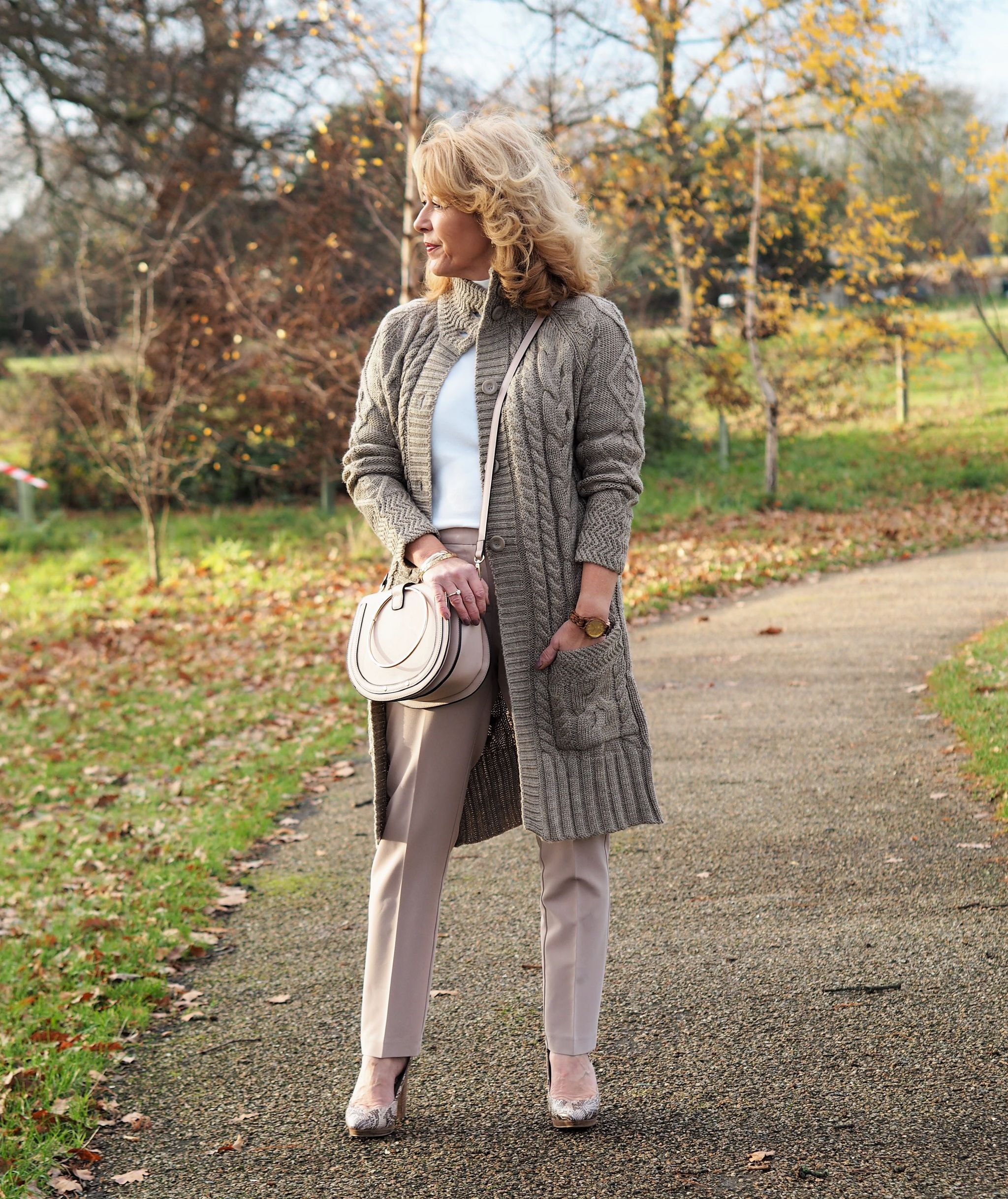 I've chosen this Coatigan from Woolovers to match my Brown and Cream tones that I like to wear throughout the colder seasons. I've been working alongside the Woolovers brand for a couple of years now and can't recommend them enough. The quality is really good, not too high at all on price and my knitwear collection has grown rather nicely.
All but my Poncho that I still wear are of plain knit and I think that's the easiest way to build a knitwear collection to keep. Classic and will pair with anything. I will leave a pic of that poncho at the end. I still love it.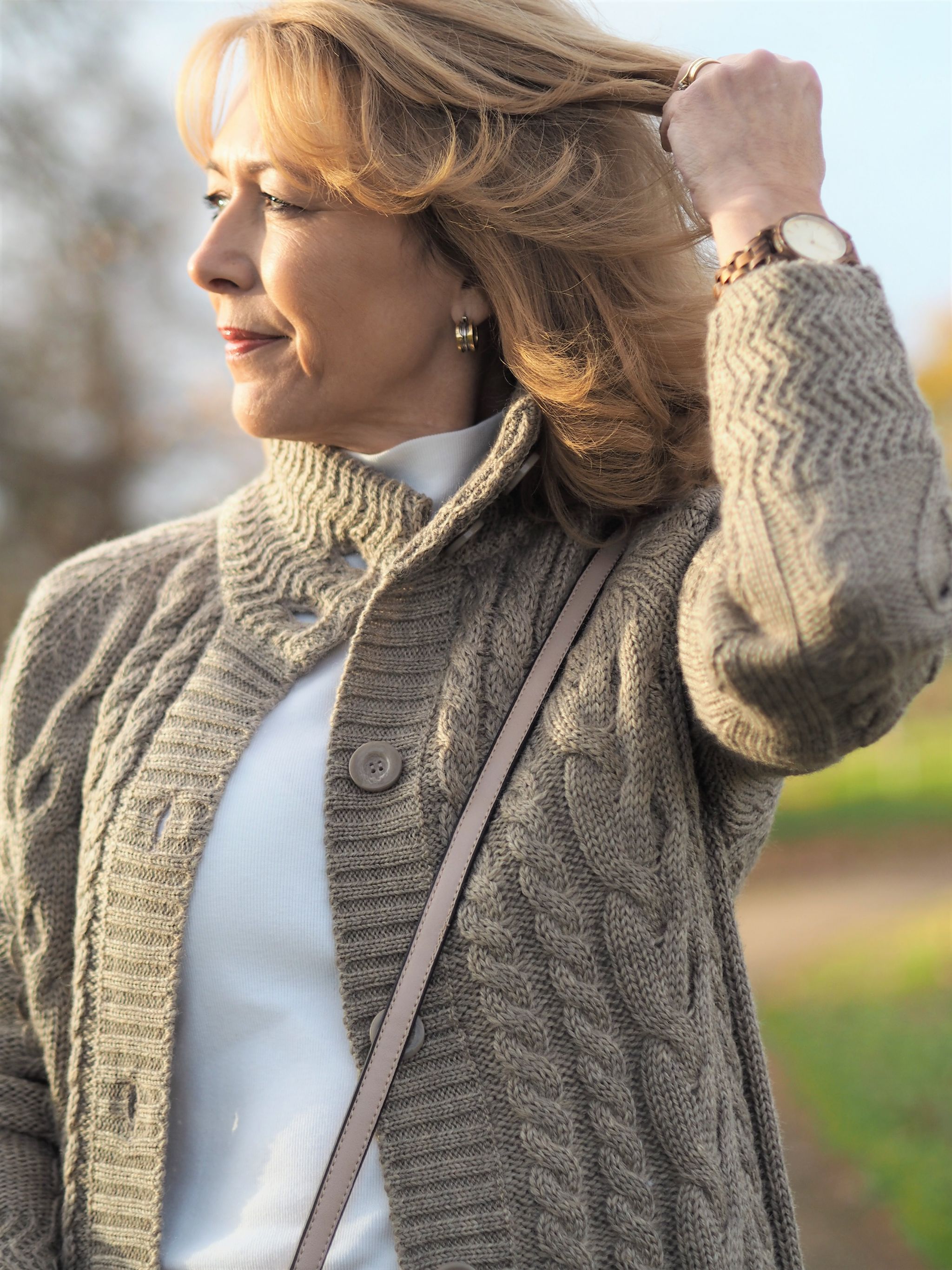 I love the chunky cable knit of this Coatigan and the oatmeal colour will go with so much. I paired it with trousers today but this will look great with jeans for a more casual look too. The finish on the cuffs is lovely too.
A White polo top and trousers with my snakeskin court shoes finish the look along with my £5 copy handbag from my local market!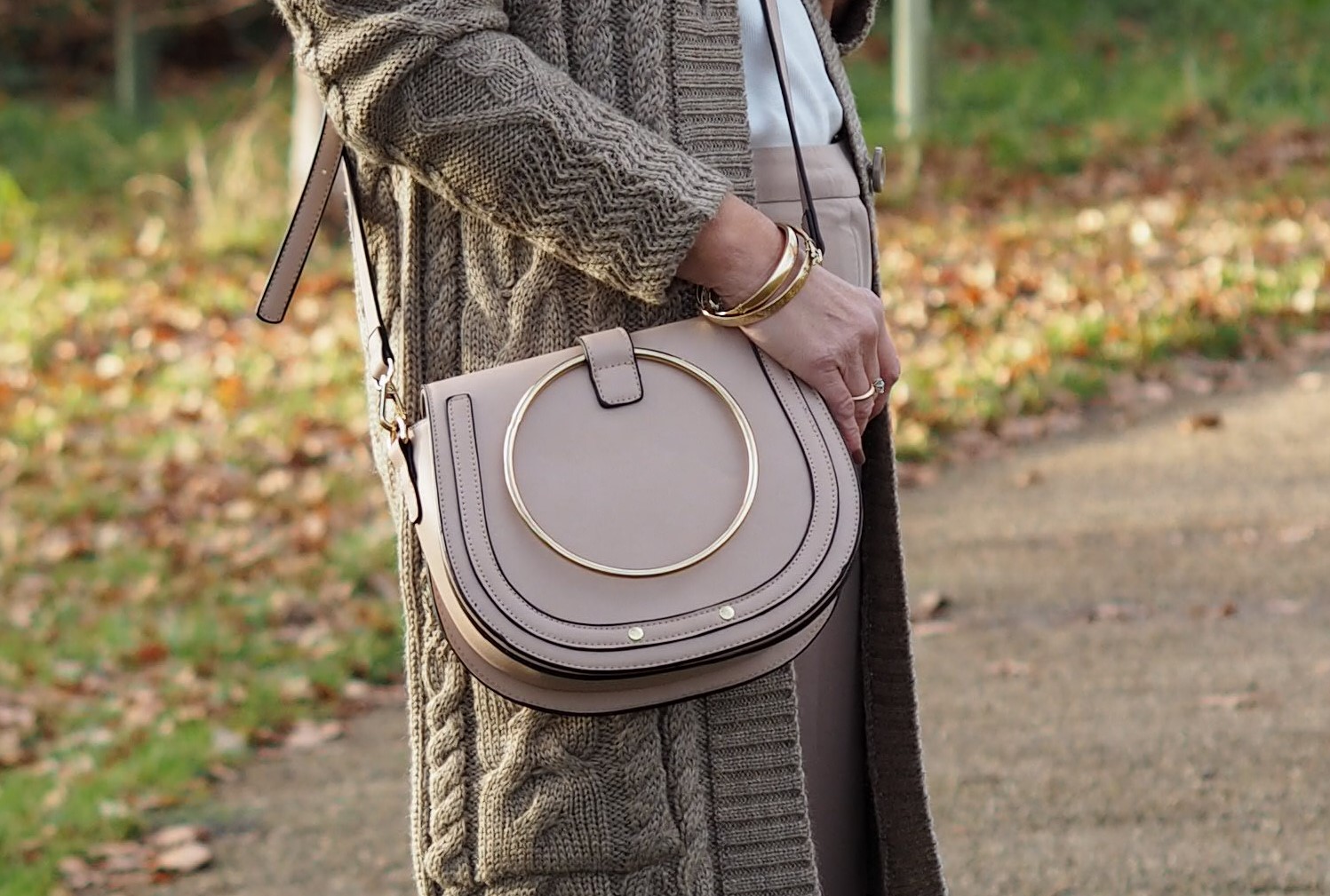 It's windy but at least it's not raining!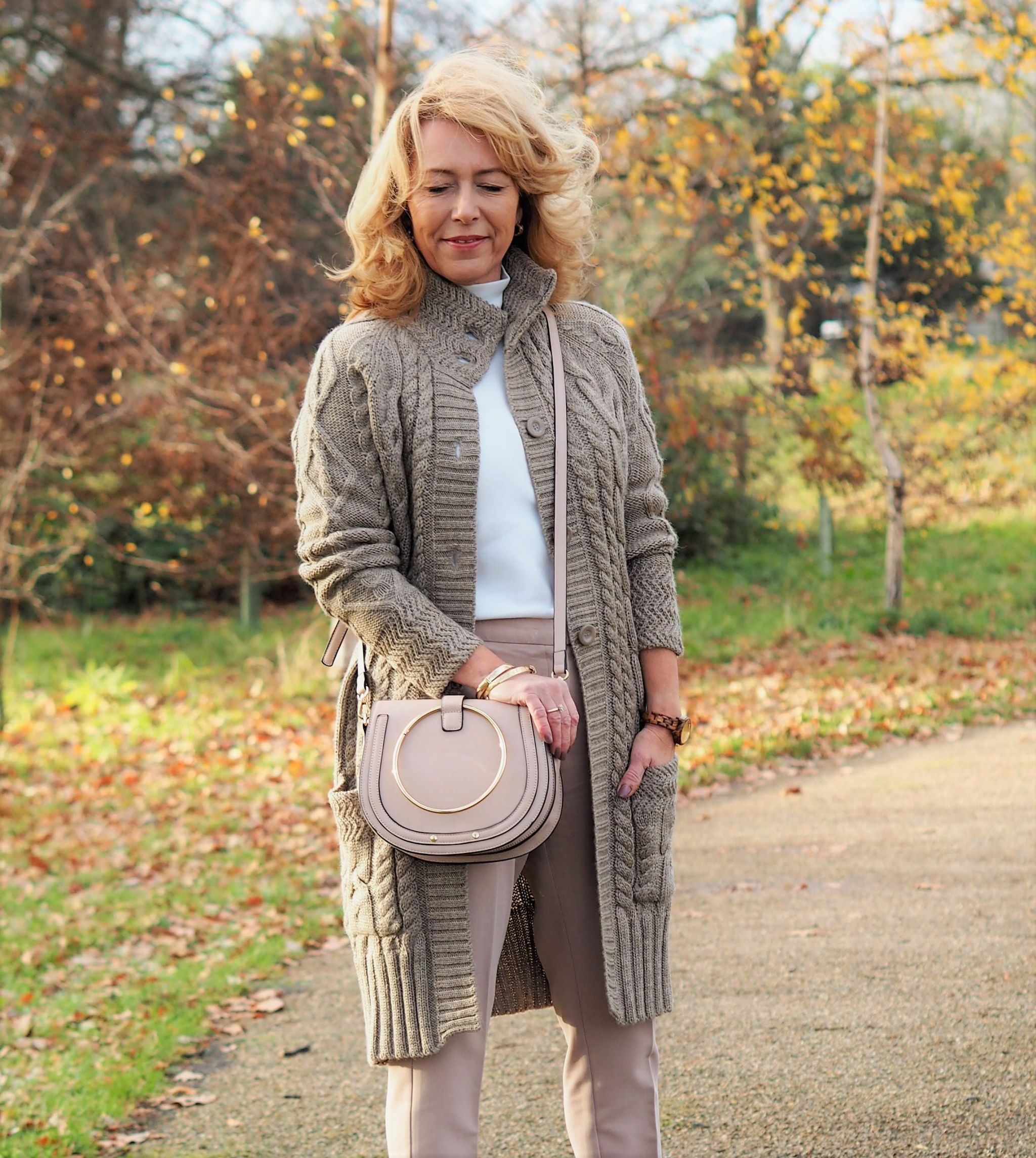 I was lucky to get these photos done. The whole week it has rained!. For once I'm not complaining about the wind messing up the hair!
The Coatigan is made of pure wool. It's quite wieghty but so cosy and soft. Most of my items from Woolovers have been Cashmere or a Merino and Cashmere mix. You may have seen my other latest Woolovers addition?. The brand has been going since 1989 bringing us stylish and affordable knitwear using all natural yarns.
Like I said I've been super impressed with the quality and I wash all my Cashmere on a thirty-degree wash with the sweater in a pillowcase that's sealed. Well worth a look I think. There are all types of wools and lots of different styles. I know this coatigan is going to come in super handy for the next few months!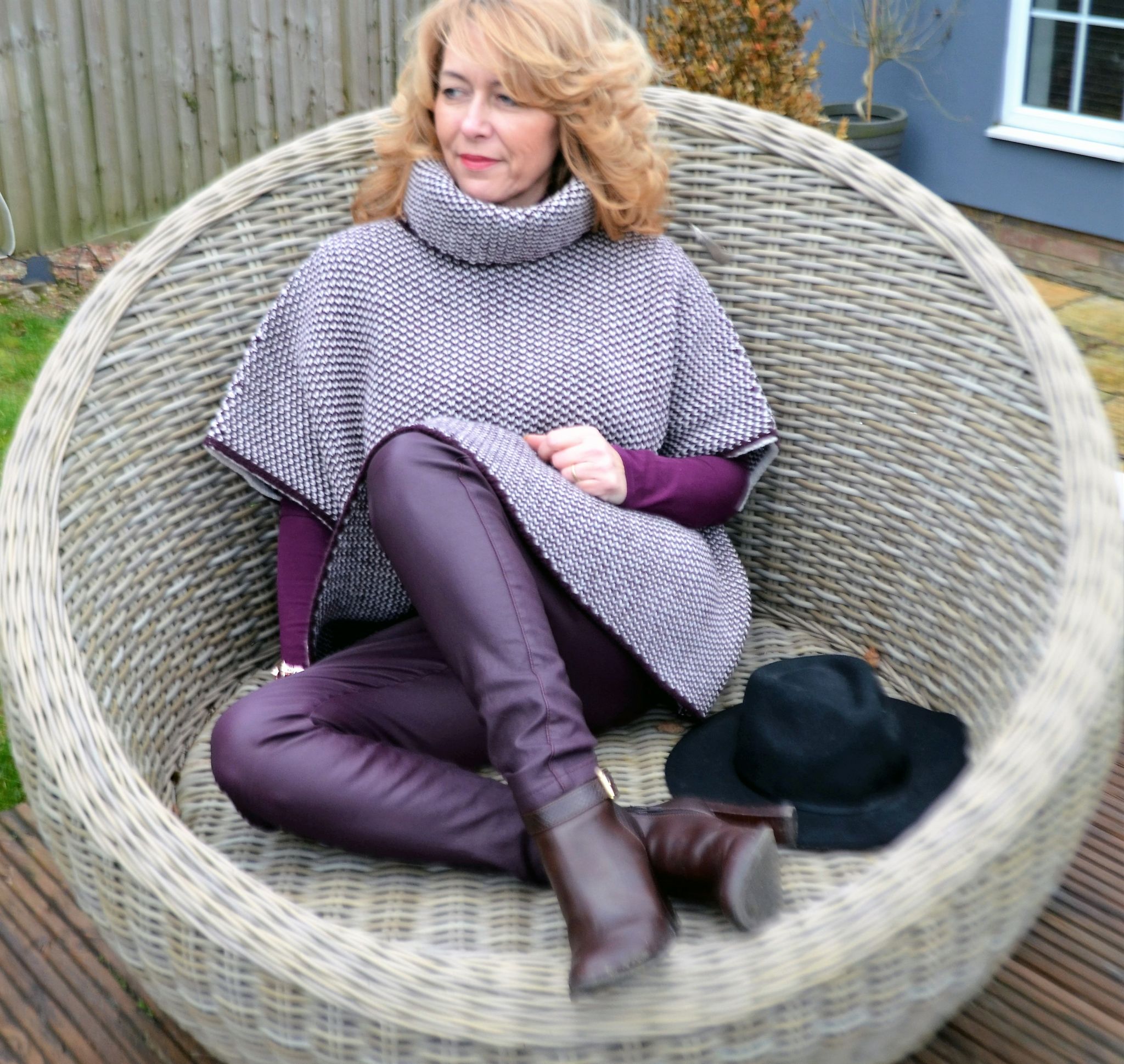 Here's the Poncho I mentioned earlier. I'm wondering if any of you remember it? There are so many styles to choose from over on the Woolovers site. I'm leaving some other Coatigan styles below for you too.
Enjoy 15% off at Woolovers until December 31st
I have a code for you my lovely readers. There's 15% off at Woolovers until 31st December using the code below
VANITYM
Thank you for stopping by!
Receive every post by clicking subscribe on the right-hand side.
You May have a friend that's interested in this? Please use the share buttons
Xo Laurie
Subscribe for the latest updates!