Another late post! Forgive me, take pity on me even. This home renovation is really taking up some of my time! It's coming together (slowly) A trip to Ikea today for returns and ordering took over four hours of my time. Arrrgh!
I did manage to get out and take some photos a couple of days ago though. I've been excited to share this new biker jacket with you, not just because I love it but because of where it's from.
I've been searching for the perfect biker for well, nearly ever!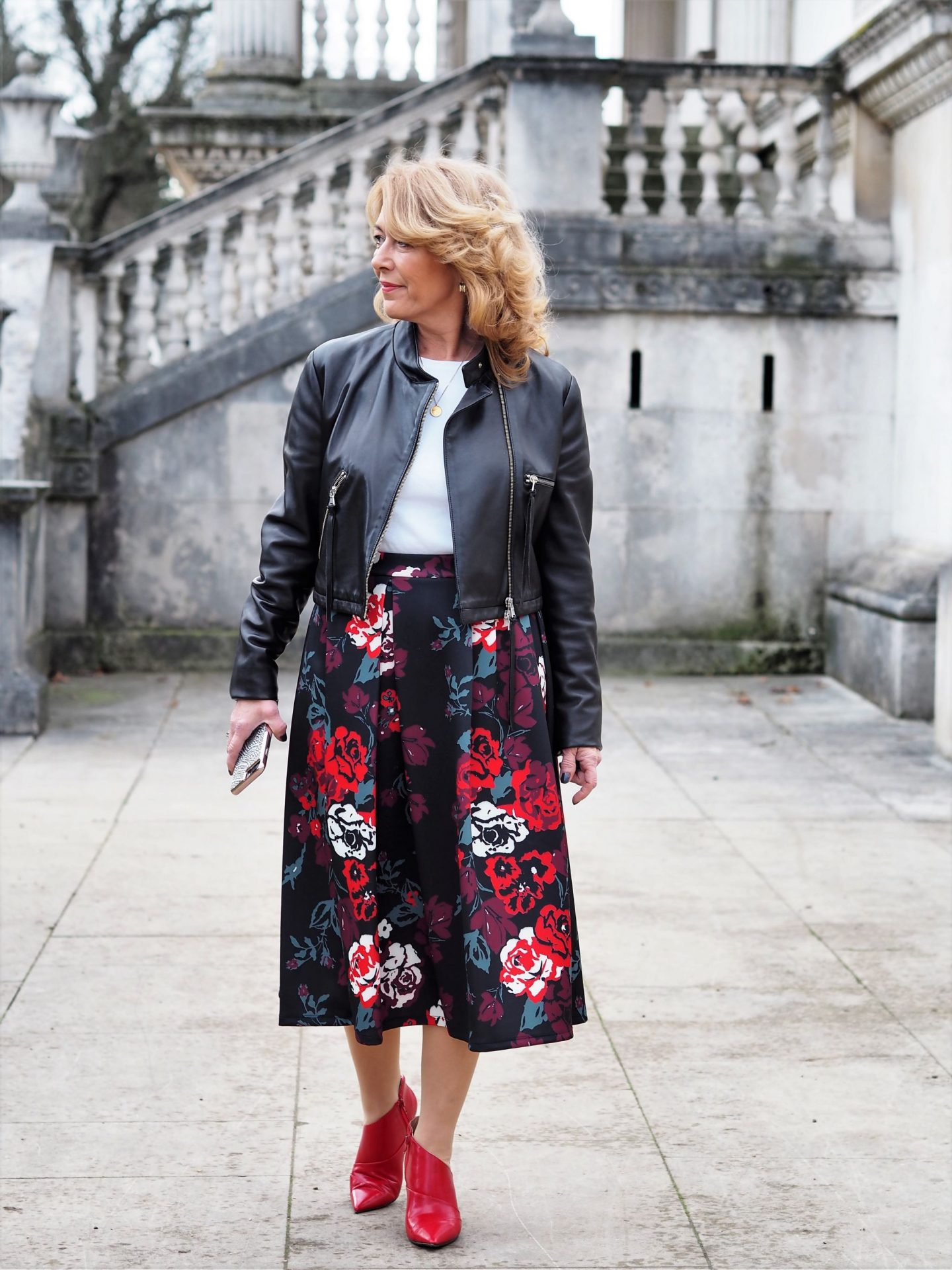 If you are new to my little blog you may not know about Mary's Living and Giving. These are charity shops created by Mary Portas for Save The Children. Not your average charity shop but more on the high-end high street right up to the most popular of designer labels.
This is the third post that I've written for Mary's Living And Giving. You can read the last one here. The charity shops started off in London but four years later they are spanning out all over the country due to popularity. Have you ever been to visit and shop?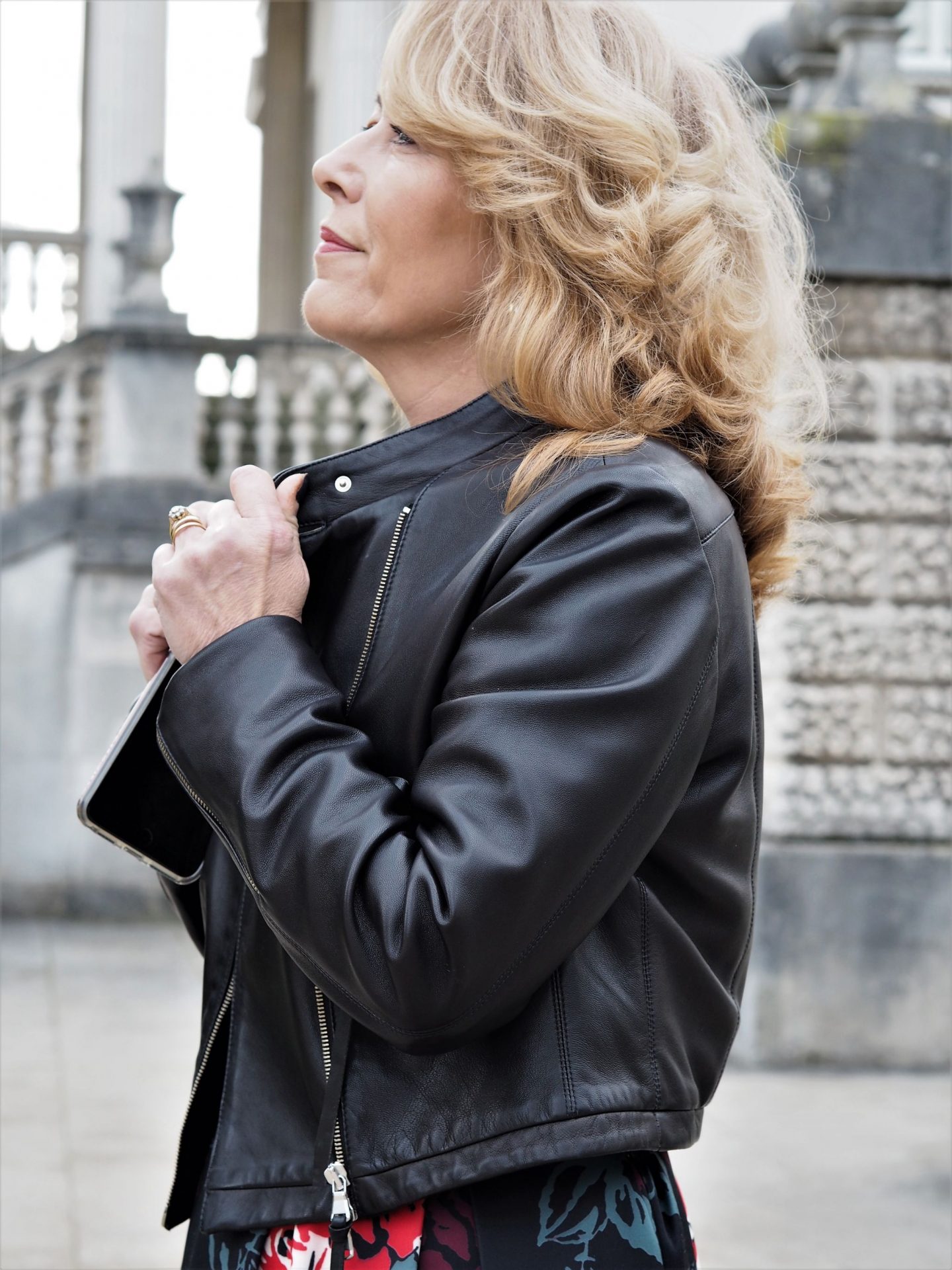 It filled my heart with joy when an email dropped with an invite to go and choose something from the charity shop and tell my readers about it. I hopped on a bus and headed down the road to my nearest store in Chiswick.
Never in a million years did I have a black biker jacket in mind to choose. On arrival, I scoured the rails in between chatting with the staff and I found this buttery soft leather biker by Joseph.
A label that wouldn't normally suit my purse strings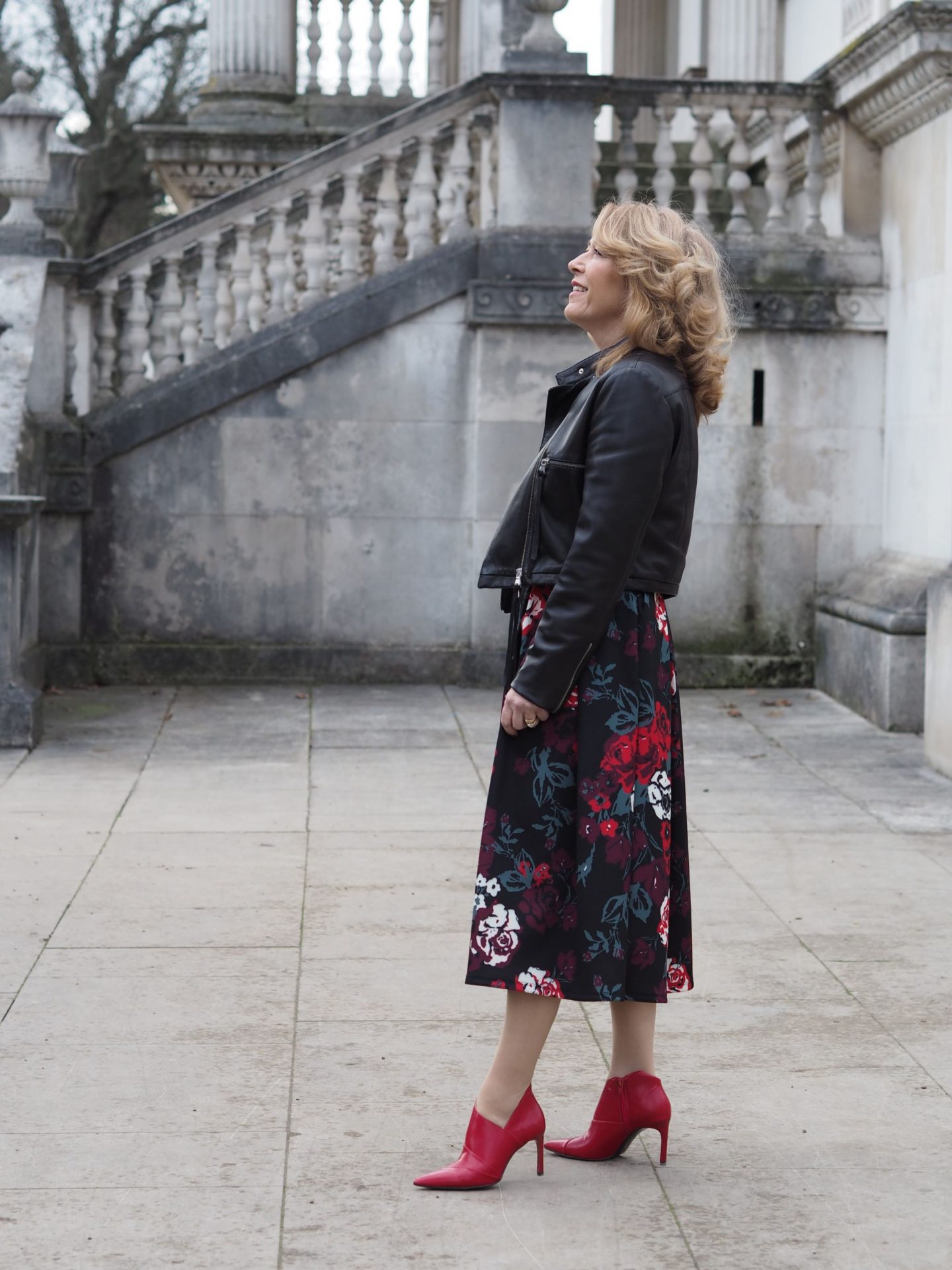 I can still remember all the items I chose to try on in the shop. A Celine Blazer in bright red. A Whistles raincoat. A pair of Rasberry suede ankle boots from Russel & Bromley And this Black biker by Joseph. All of these brands are high end and I would normally dream of shopping in these upmarket boutiques because they are not your everyday prices (unless you have money to burn!) There are cheaper well-known brands too though.
The leather of this biker is butter soft and the most impeccable quality. I don't usually wear Black. It's a love-hate relationship we have. I love it and yet it hates me!
This isn't your darkest jet black though maybe that's why? Once it was on my back I knew that this was my choice piece out of the items I was trying on. The Celine blazer came in at a close second but it was on the big side for me.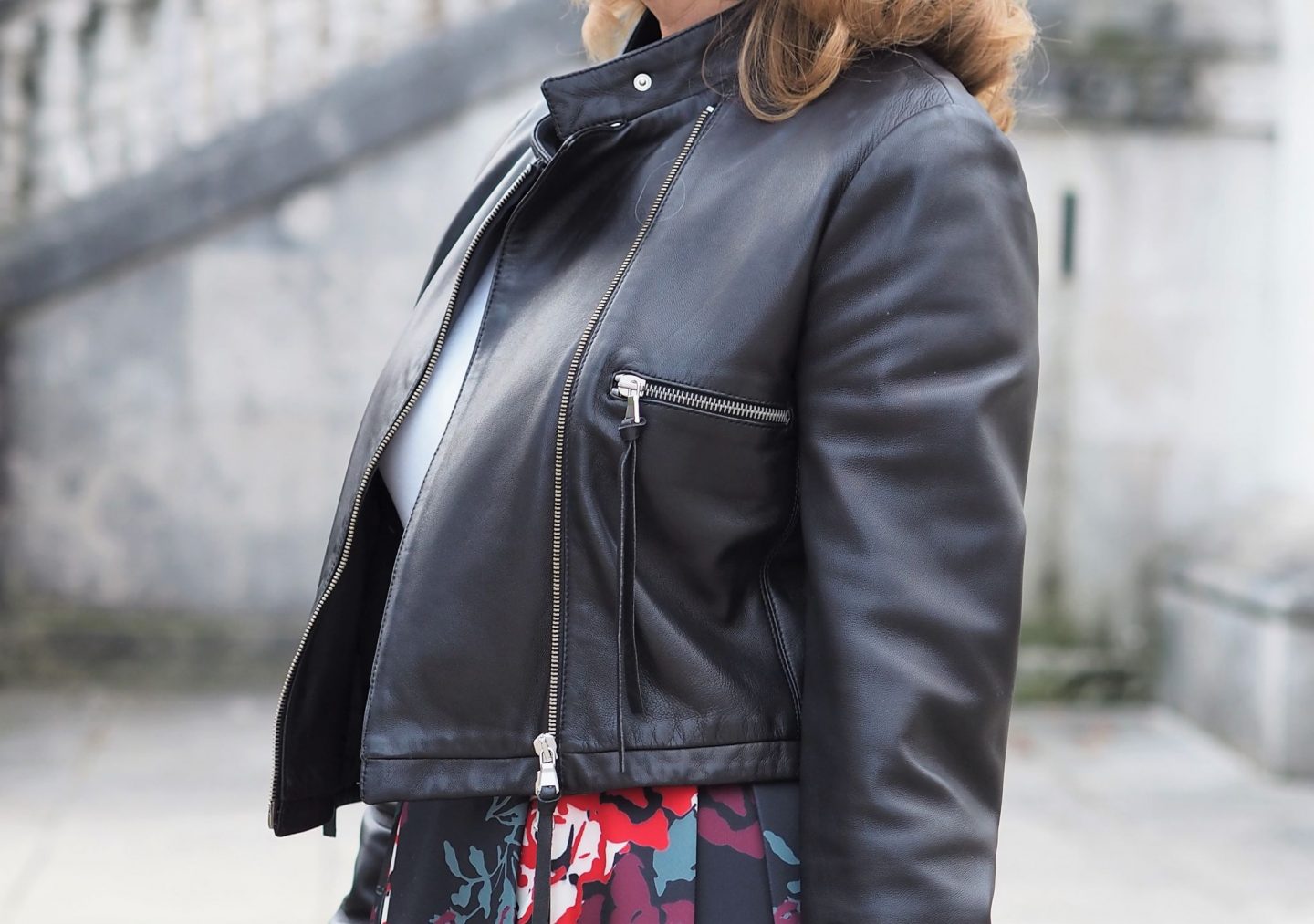 The ladies that volunteer their time for the charity chatted with me over thoughts about the items that I tried on. It's so friendly the only thing missing was a cuppa.
What sets this biker apart from the others…
The main reason I fell in love with this biker is the waistline stop. For little short me it falls in the perfect place on my waistline perfect for trousers, jeans. A lot of the biker jackets that I have tried on before literally hit my hip line and that's great for a casual jeans look but I wanted something finishing at my waistline for a good silhouette.
I have actually been searching for a perfect biker for a while. I found Mango to have one of the best quality leathers out of all of the high street and River Island very good for fit (shorter in the body) I've listed a few below.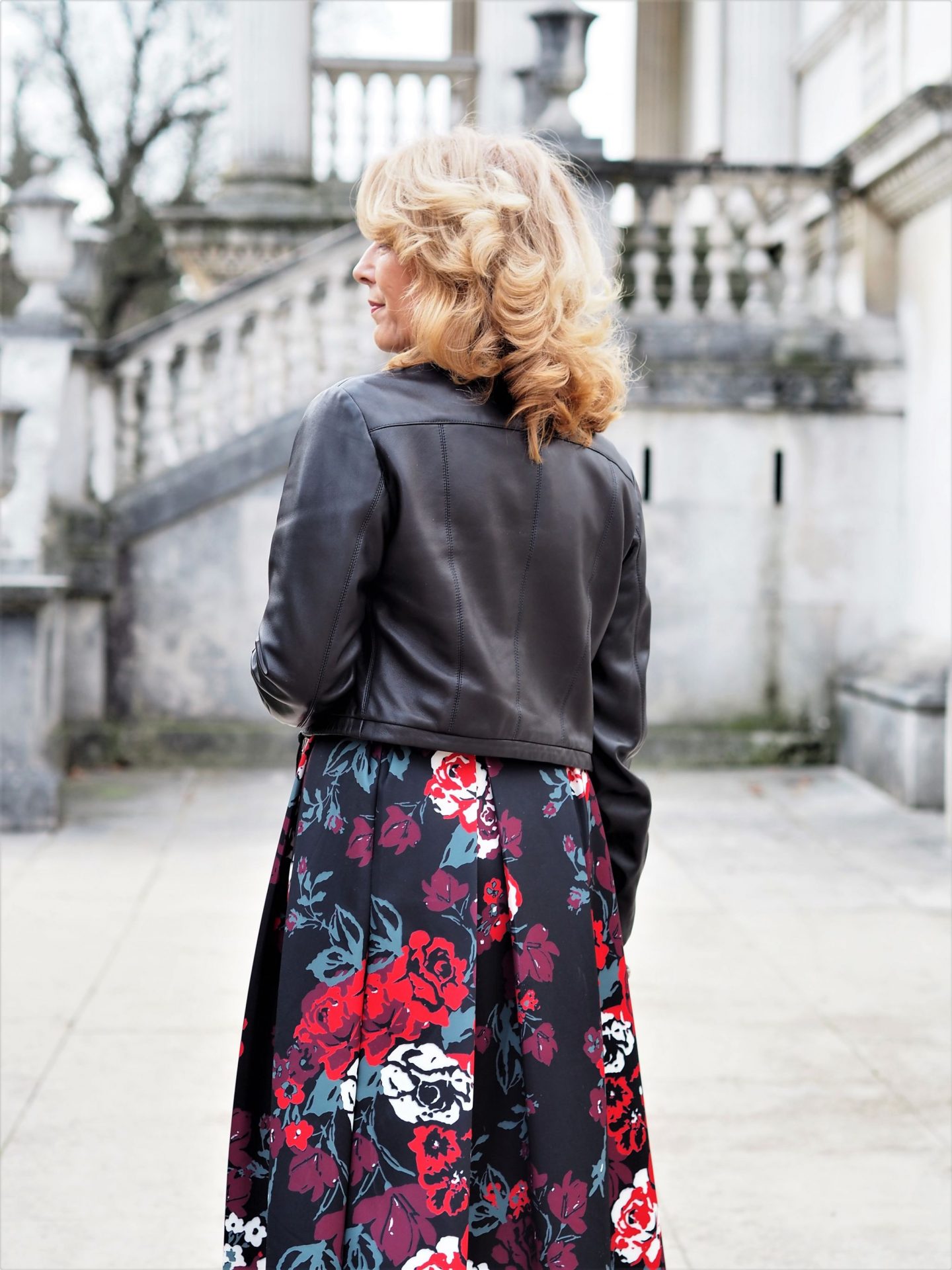 I've still had to tuck the sleeves up on this biker though, just like I do everything else! I'm thinking about seeing if I can get them professionally altered. It will be worth it I think. A biker jacket isn't ever going to go out of fashion I think.
Sustainable fashion. A word that's hitting every bloggers post at the moment, and rightly so, is what this jacket is to me. Someone with more pocket money than me has purchased this biker and done the right thing, donated it to Mary's Living And Giving. Another good reason to shop at one of these stores and find something to cherish.
Plus let's not forget that this purchase is going to help children from all parts of the world. What Mary's Living And Giving is all about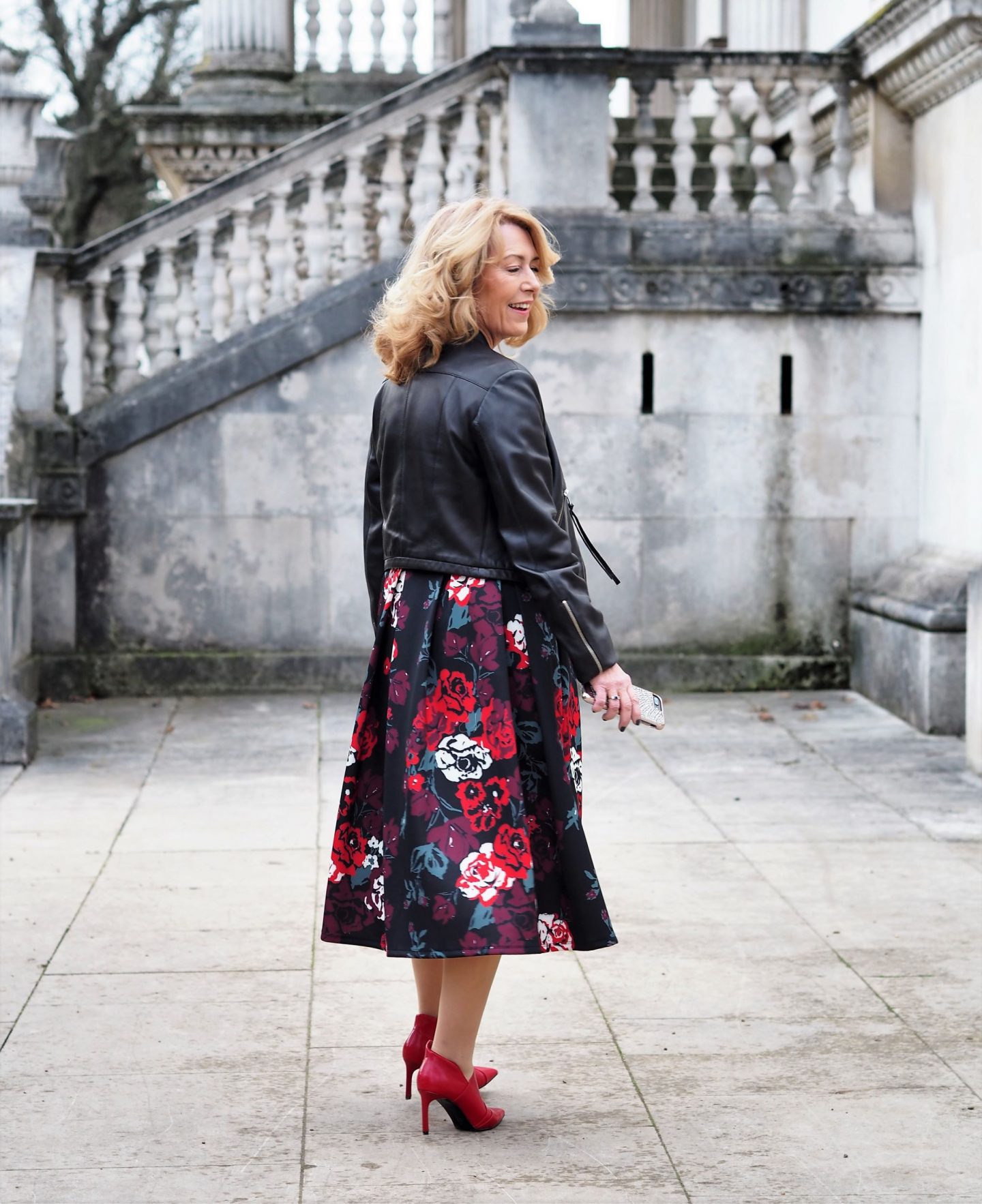 I've paired my biker with this floral skirt from Havren from last year and I'm wearing my new bargain red boots from the Zara sale (well worth a look at the moment)
Do take a look here to see if you have a Mary's Living And Giving near you. As I said Mary is taking the country by storm with these charity shops and there could be a store opening near you at any time soon. This jacket in the store was £100.00 but if I bought it new it would have set me back at least £300.00! Way past my normal budget!
Thank you for stopping by!
Receive every post by clicking subscribe on the right-hand side.
You May have a friend that's interested in this? Please use the share buttons
Xo Laurie
Subscribe for the latest updates!