It's a while ago that I said I was starting to decorate our two bedrooms, isn't it? At last, what I call "my room" is now finished. All but one item of furniture that's not arrived yet.
It's actually harder than you think too. Oh yes, a lick of paint and some new furniture won't take long, how wrong was I? A few hiccups along the way, one disaster that I'm to blame for and some re-jigging and I'm happy with how it's turned out.
I had to really put my thinking cap on for this room because it's going to serve multi purposes. Somewhere for a guest to sleep. Somewhere to store all my clothes, plus I wanted somewhere light and bright to carry on filming for my Youtube channel. All in a room around ten-foot square!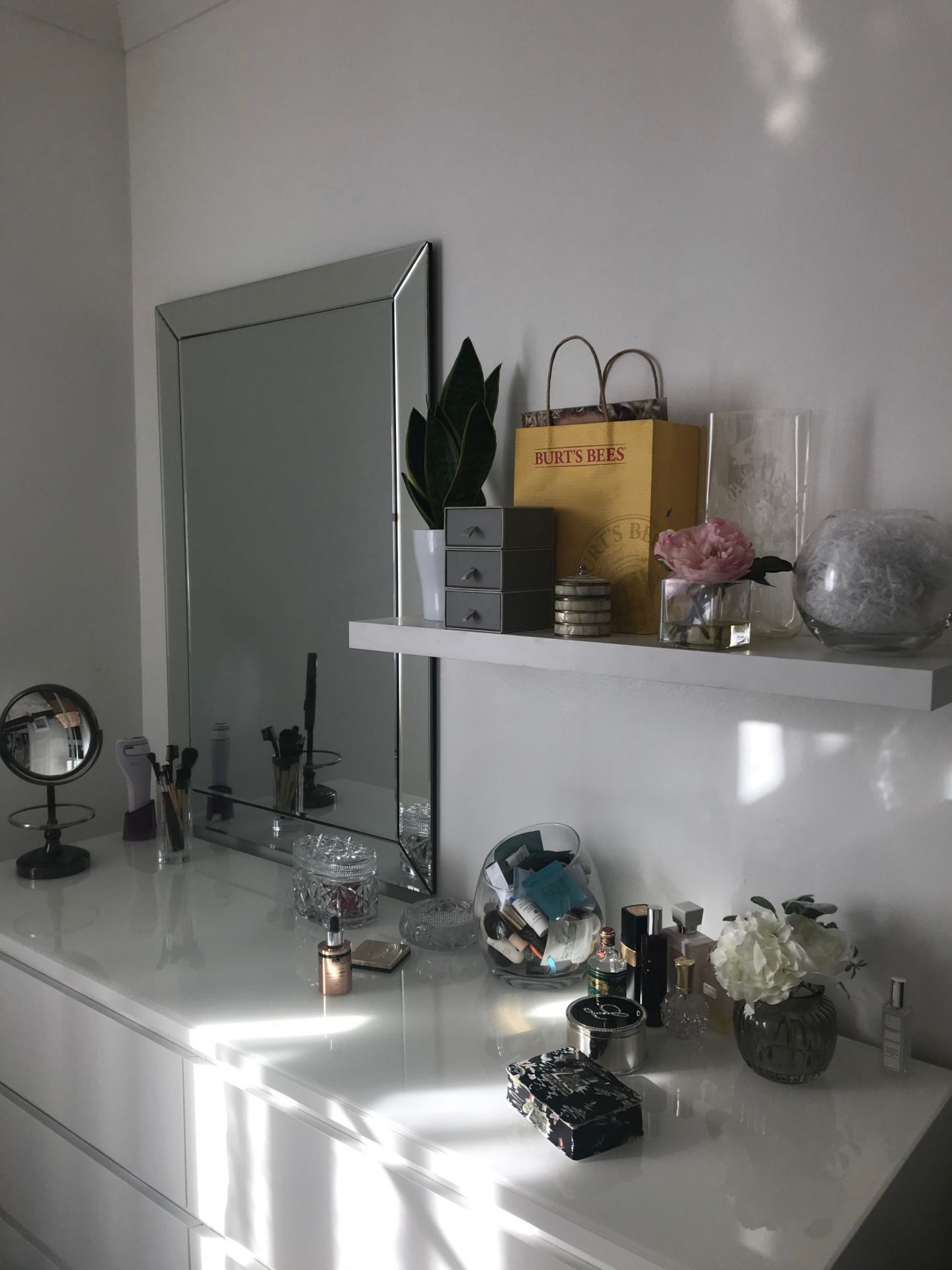 I decided on a white colour scheme for maximum brightness in the room. Before, you may have seen on video how cramped everything was. Add a single bed and wardrobes, there wasn't much room for anything else.
I've ordered a really nifty upholstered box bed but the delivery is five weeks. Yes, five weeks! It's unbelievable how long everything takes to get delivered.
Without having a bed, so much more space has been created in the room.
I bought a lot of furniture from Ikea. I have always found the tall Pax wardrobes very good for storage. I actually ordered three double wardrobes but only two of them fit! This was down to my poor measurements! They fit, but not up against the blasted pipe that was in the way! A re-gig around was needed. A single and shelves replaced the gap.
A multi-function room it all moves about easy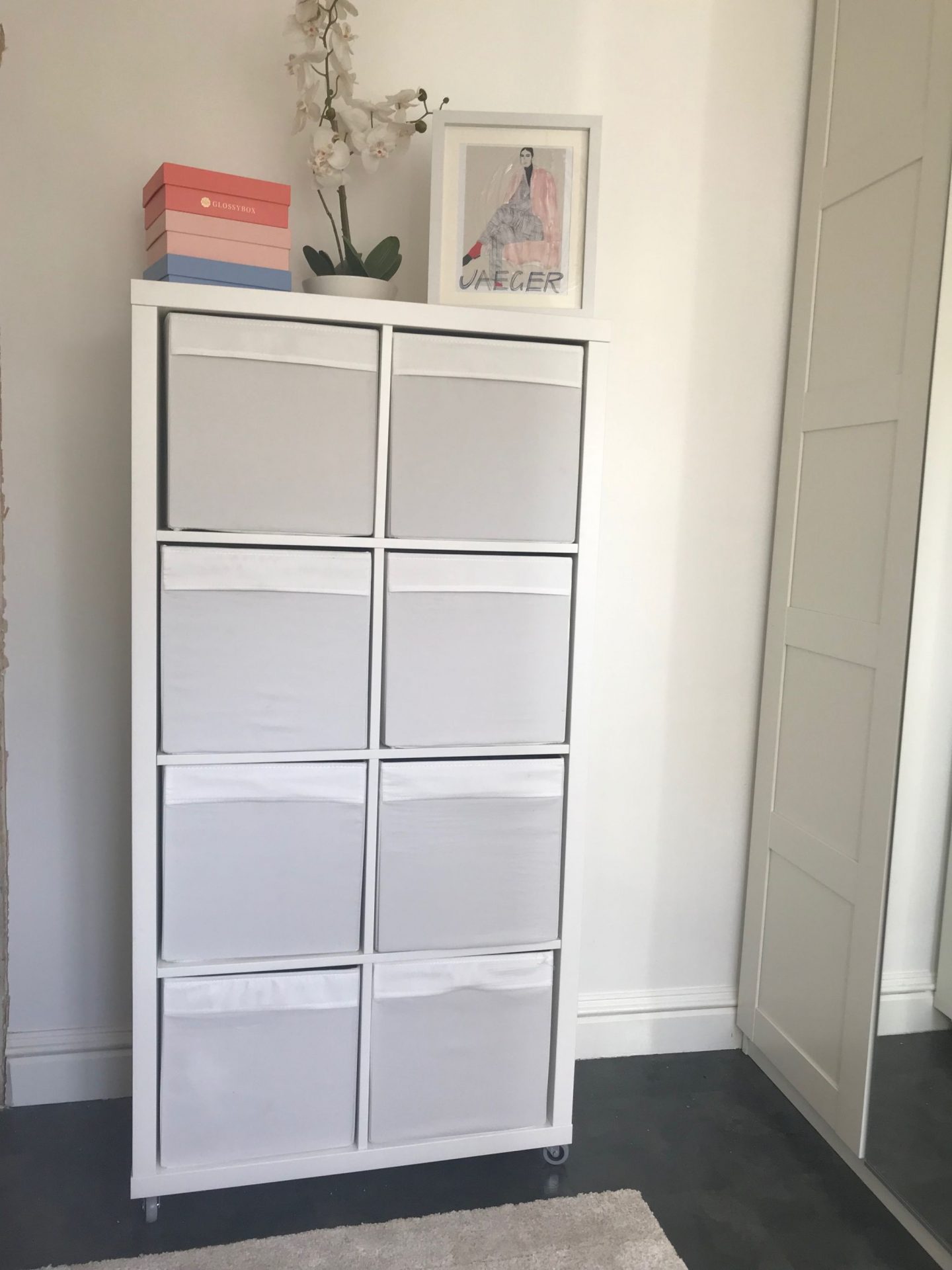 The shelving unit (Kallax) from Ikea holds a lot of stuff. I had wheels attached to it so that I can move it around the room. If I ever want a full white backdrop for a photo it's there. Plus when the new bed is laid out it will fit in the room. I like the idea that you can buy the boxes in so many different colours. Handy if I want to switch up the colour scheme.
One of mums faux orchids sits on the top. Actually, there is a lot of mums bits and pieces in the room and I like that. My Glossy Box boxes hold lots of fashion jewellery.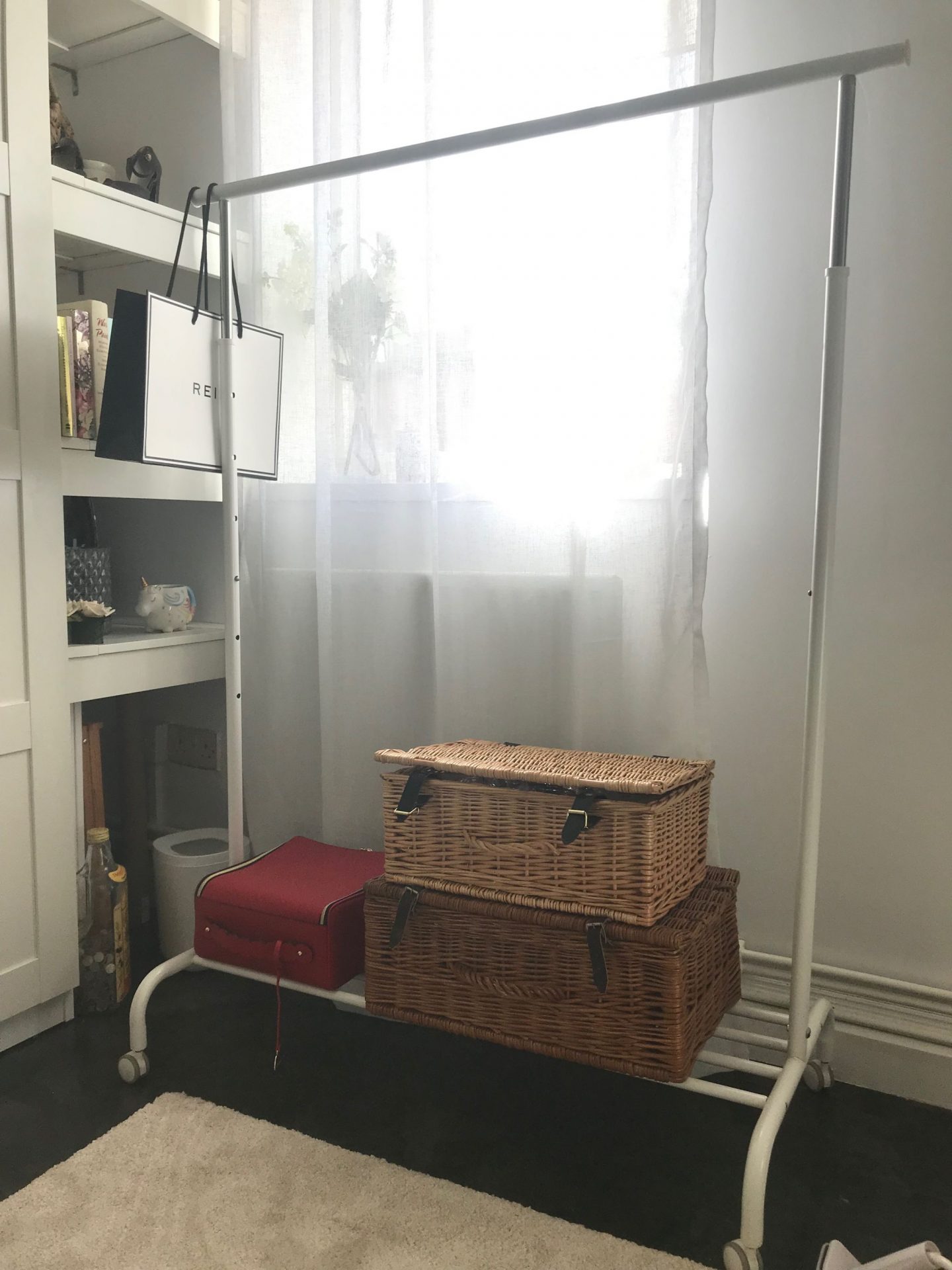 I bought some voile curtains from TK Maxx They are DKNY and I'm so pleased with them, an absolute bargain! I bought them for all over the flat and will add them as each room is finished. Yes, the whole place is being done. I have no idea how long it's going to take and I feel I'm a glutton for punishment but it will be worth the suffering in the end. The dress rail. Well, every vlogger has one, don't they? I find it handy for thinking about putting outfits together too.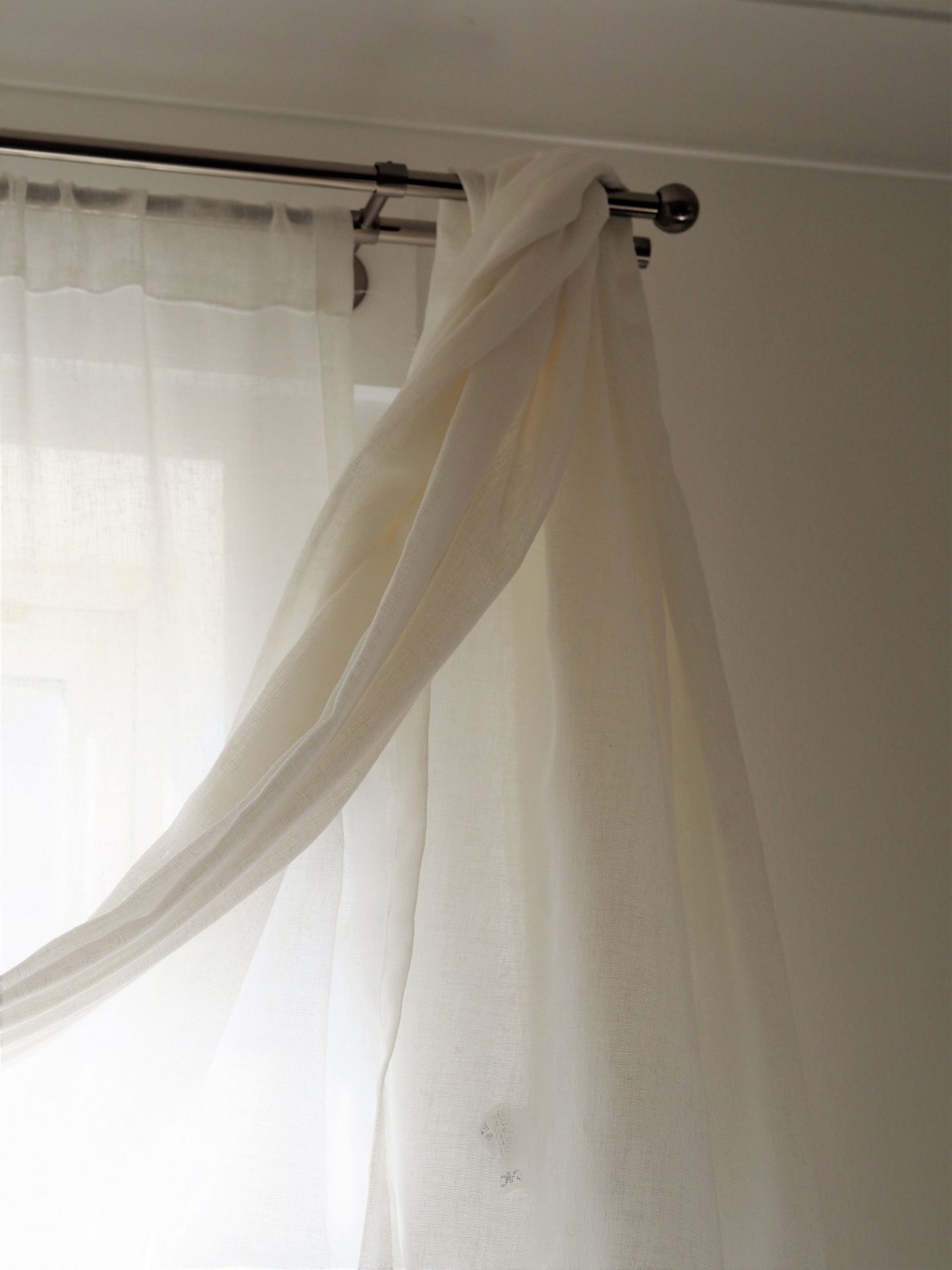 I bought a double curtain pole, but I don't think I'm going to add anything too heavy in the front. The side window doesn't let in too much light. I swish the curtain around the pole to increase the light, which will be perfect for filming.
Someone likes the new rug in the room!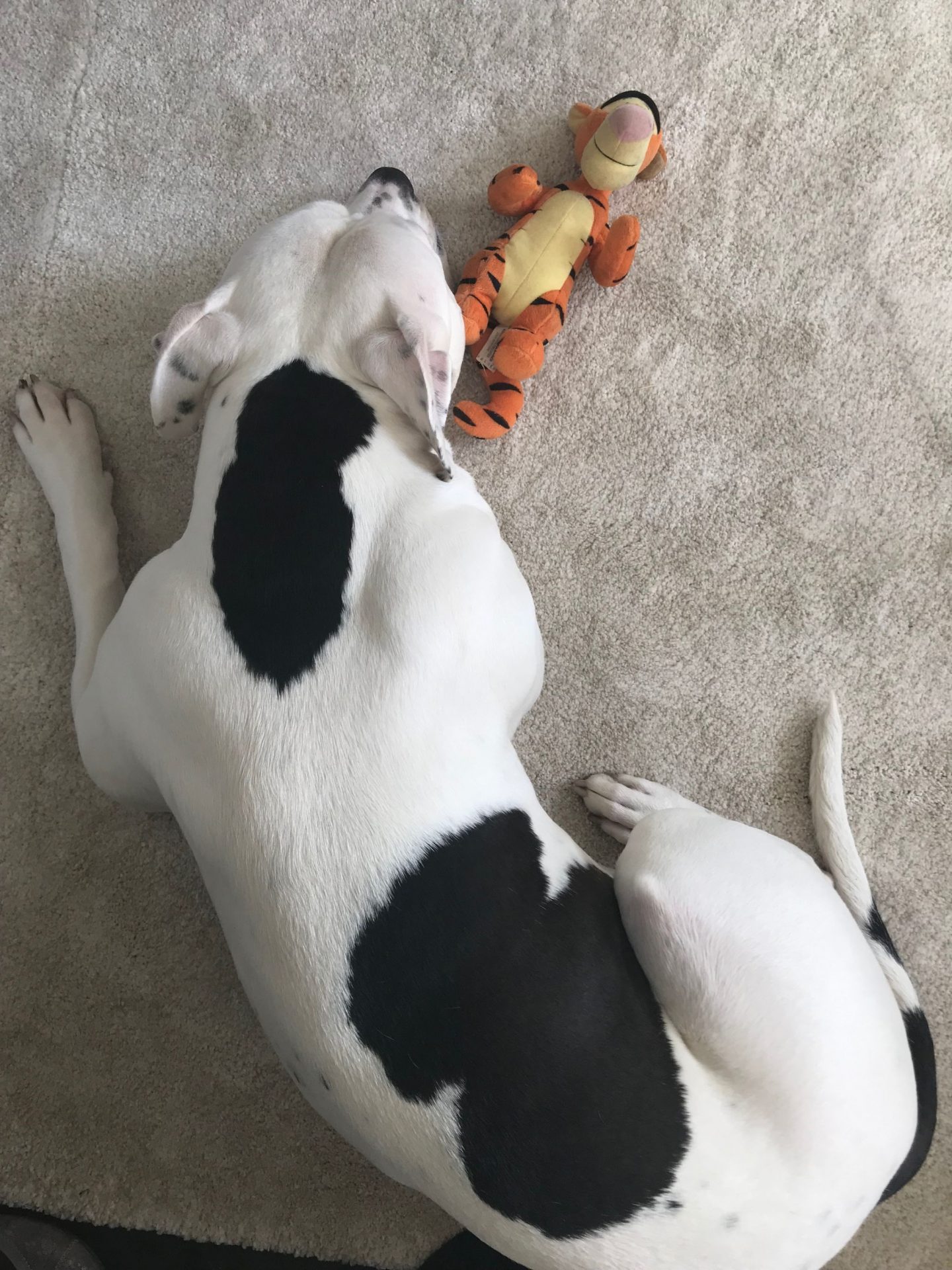 Beau follows me everywhere. I picked up five of her toys before taking these pictures. I'm sure you will see her often on film now.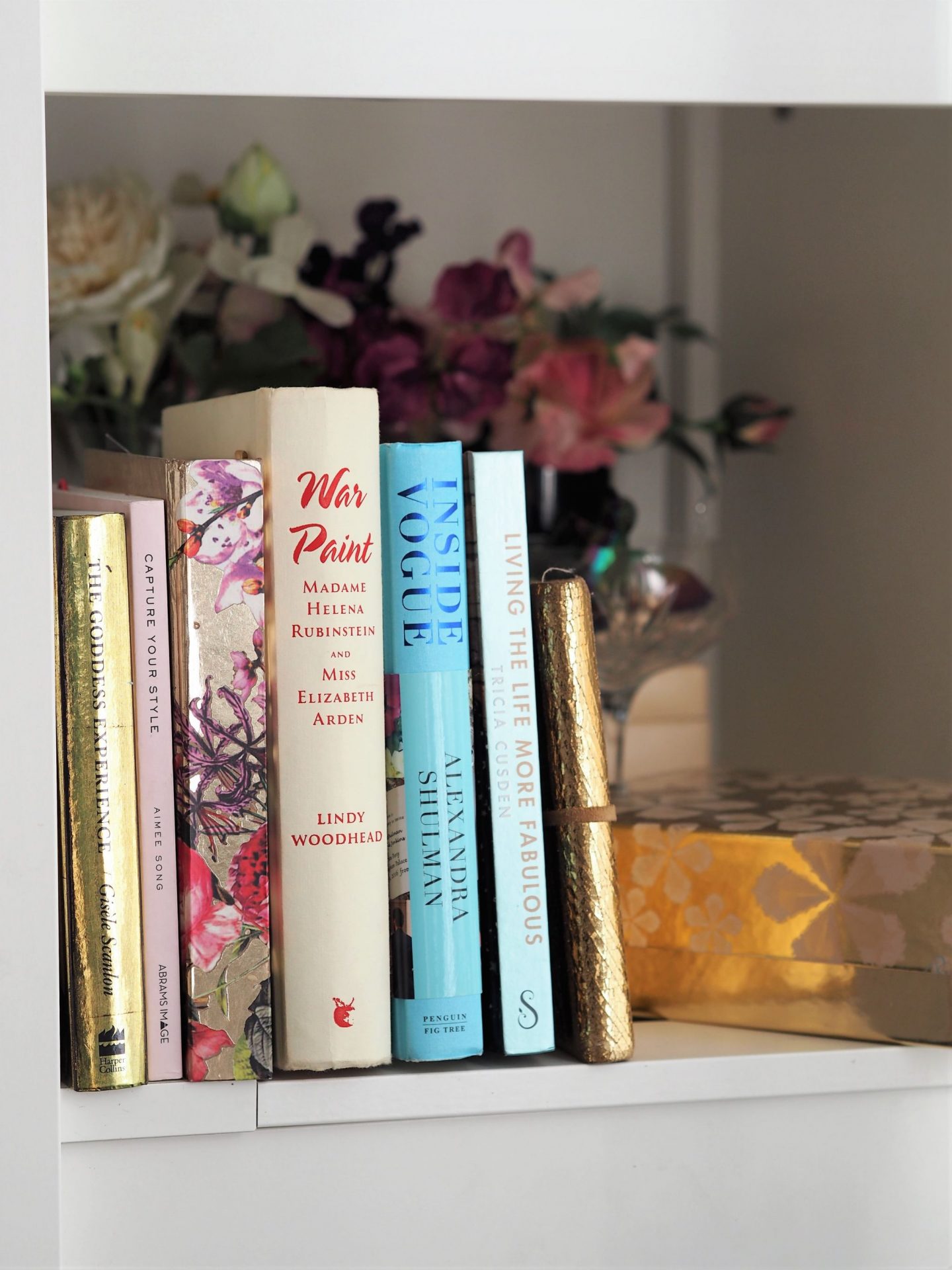 Because of my measurement hiccup, My lovely decorator friend made shelving for the end of the wardrobes. He made them out of one of the wardrobe doors so that the material matched in. I'm really pleased with what he achieved here. Making the most out of every bit of space. This shelf is home to some of my favourite books.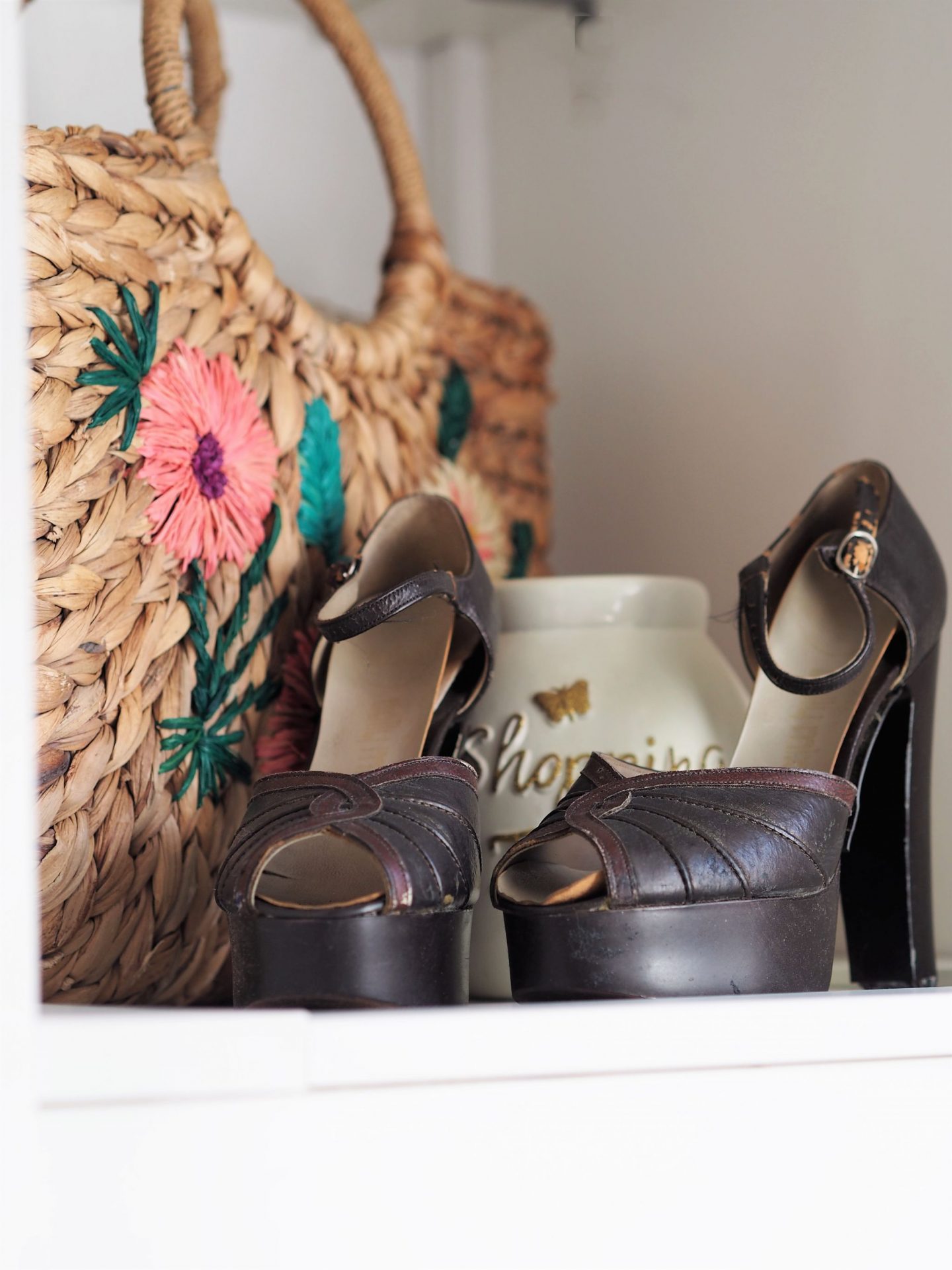 I just had to have mums old vintage platforms on another shelf. I found them in her loft when I was clearing the house. Just look at the size of them!
I've thought about every inch of space in the room for storage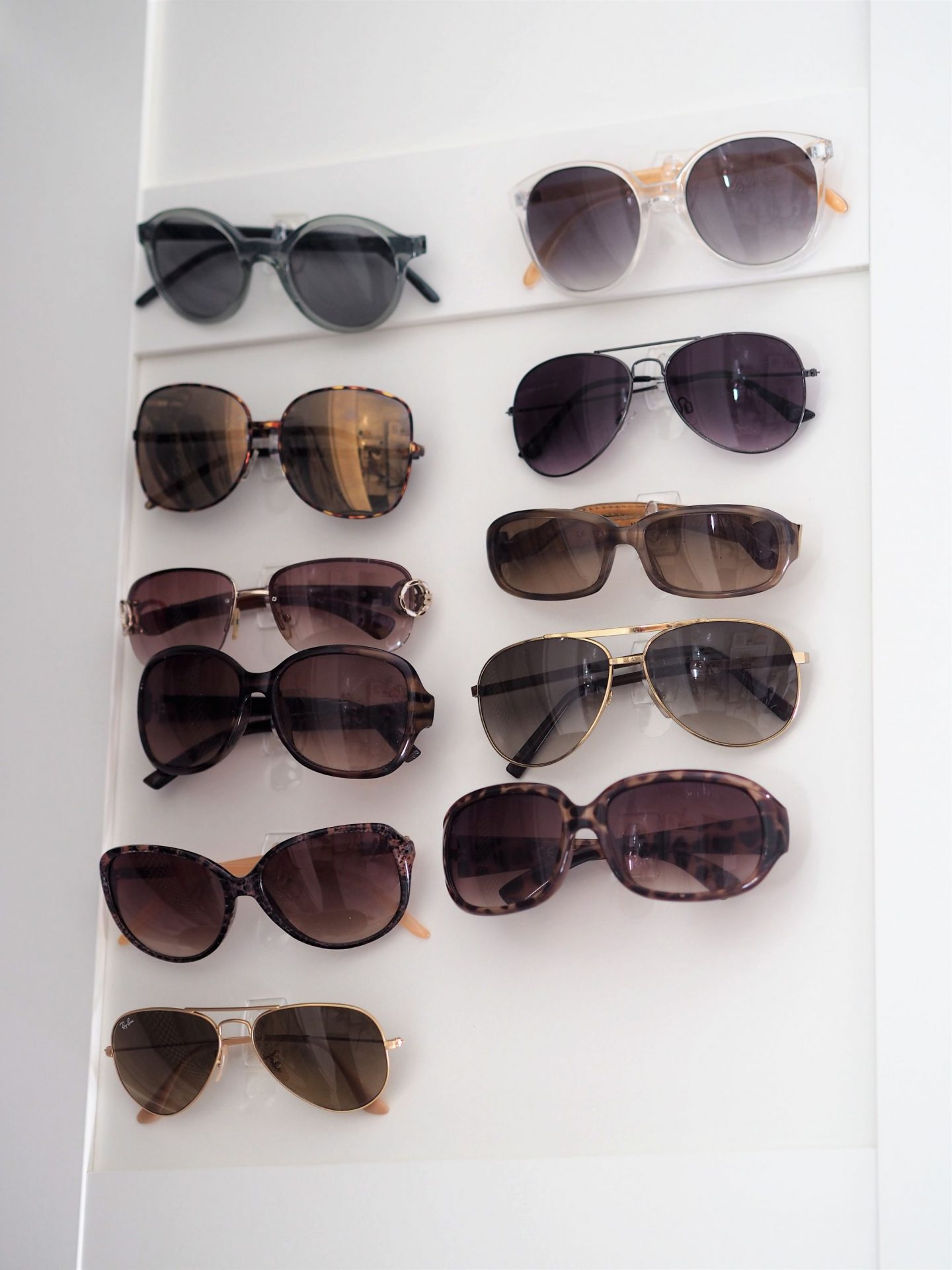 Lots of sticky hooks have come in handy. I've used the reusable Command strips and found them really good. I'm rarely without a pair of sunglasses even in winter!
Sticky Hooks. Everywhere!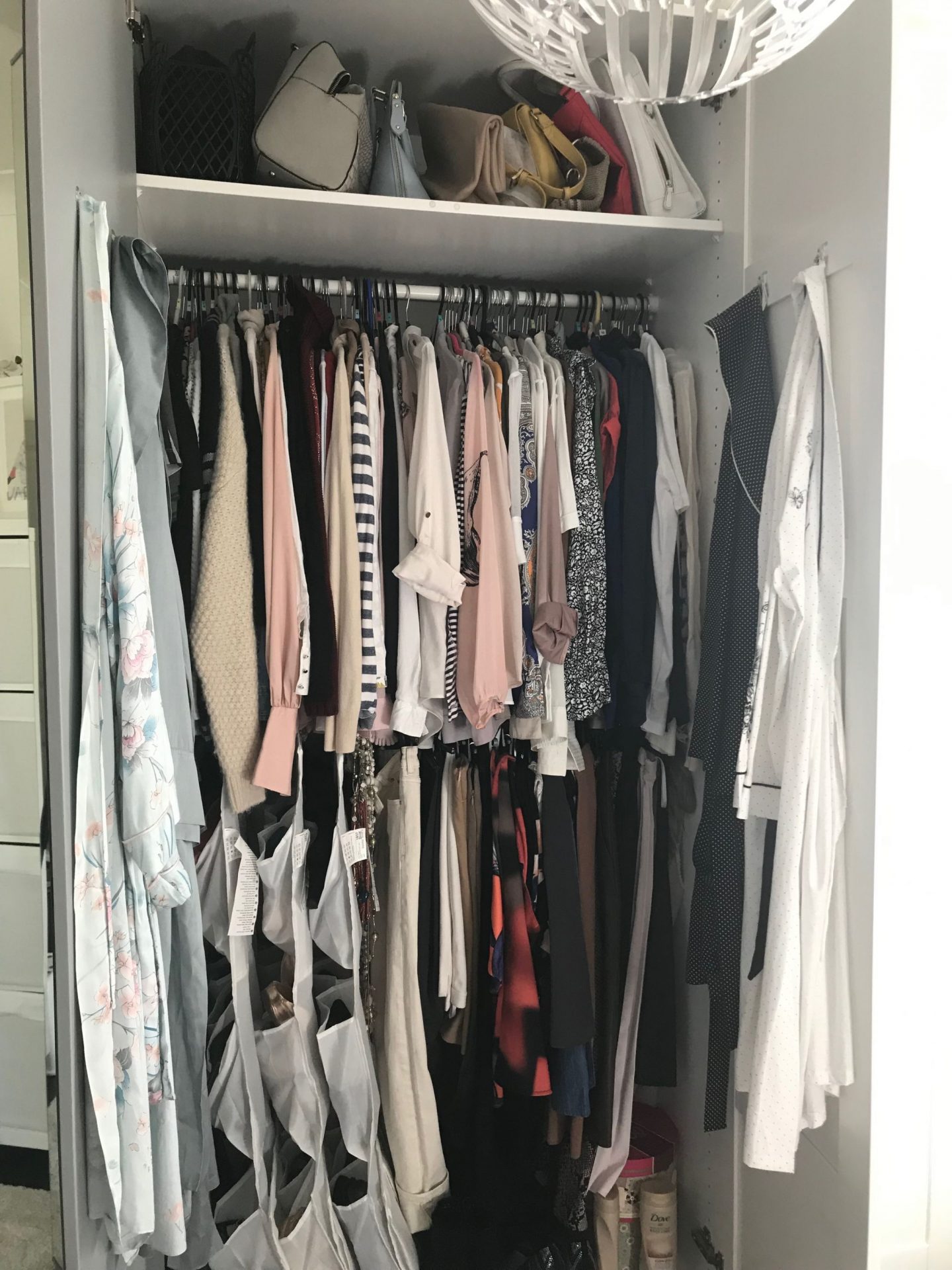 All of my summer dressing gowns are hung on the doors and I gave up on shoe boxes and bought some hanging shoe storage from Ikea. This has saved an enormous amount of space. I store my flat summer flip flops and sliders in one of the boxes held by the Kallax shelving. Bags are stored all the way along the tops of the wardrobes but my flat clutches are also stored in the Kallax unit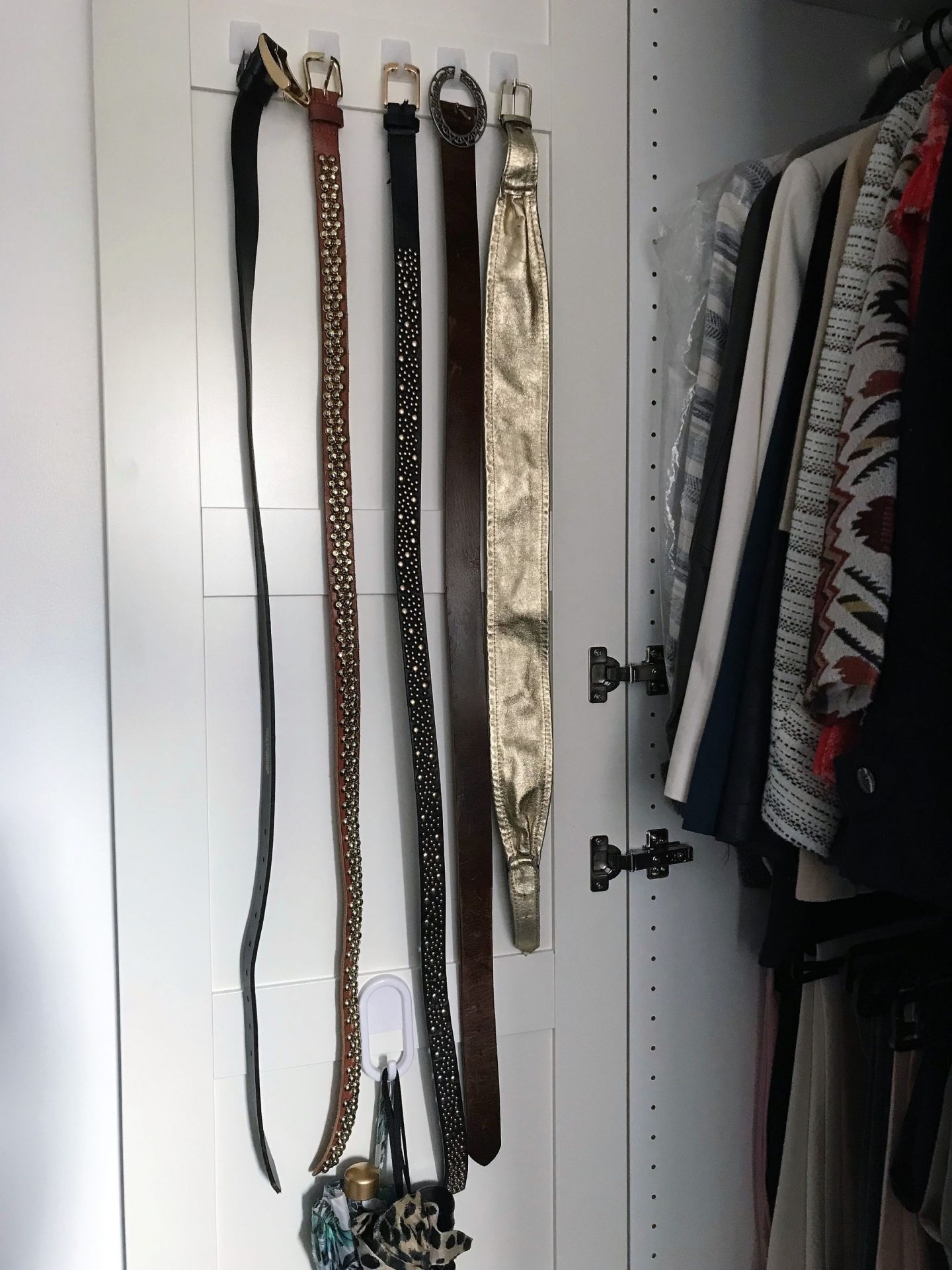 Any bit of space has something hanging from it!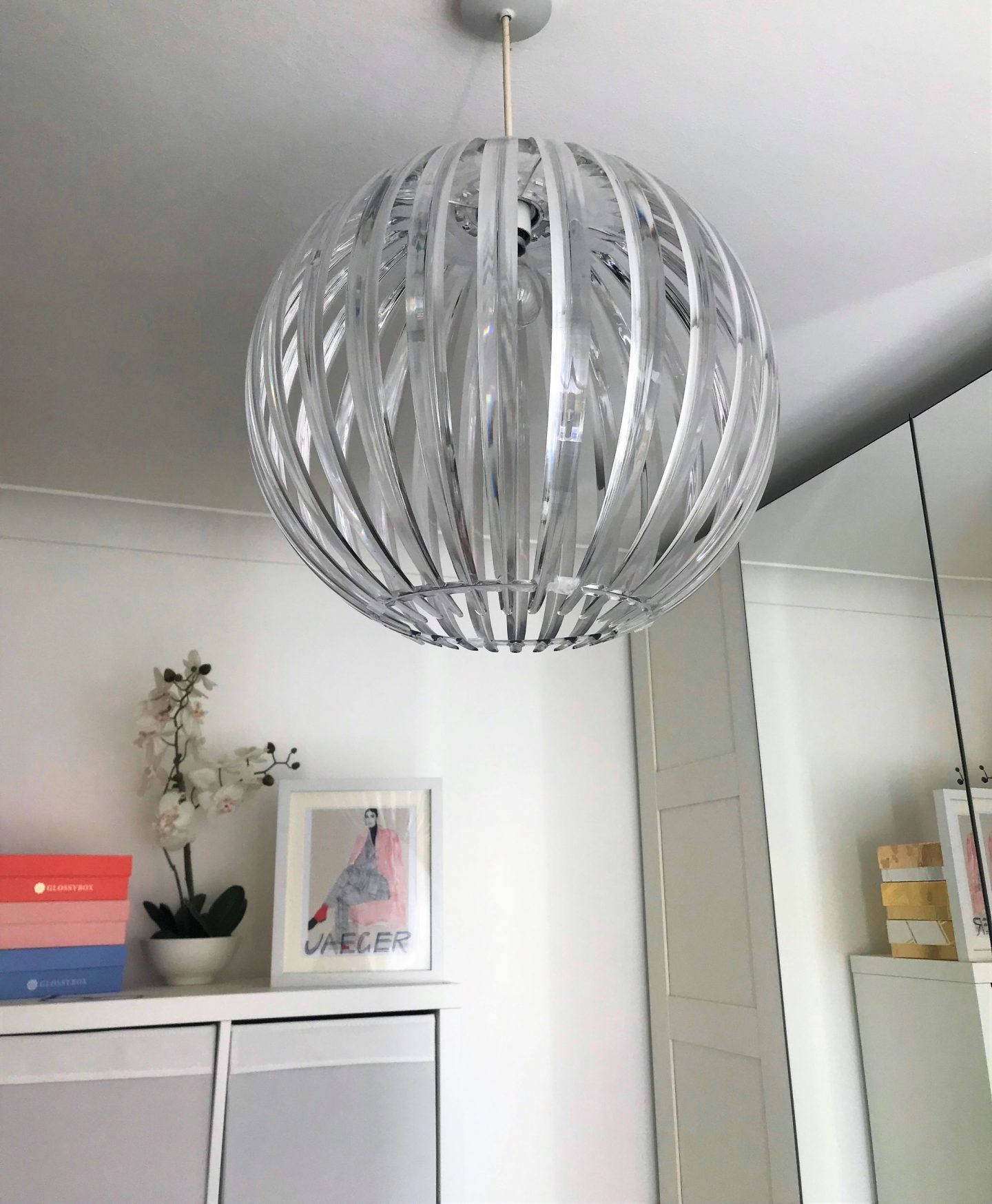 I was going to change the light but decided against it. It gives off such good light when needed and mum bought it for me. It's from The Range and it was cheap in comparison to some that I've looked at.
I decided on a large chest of drawers over a desk for the room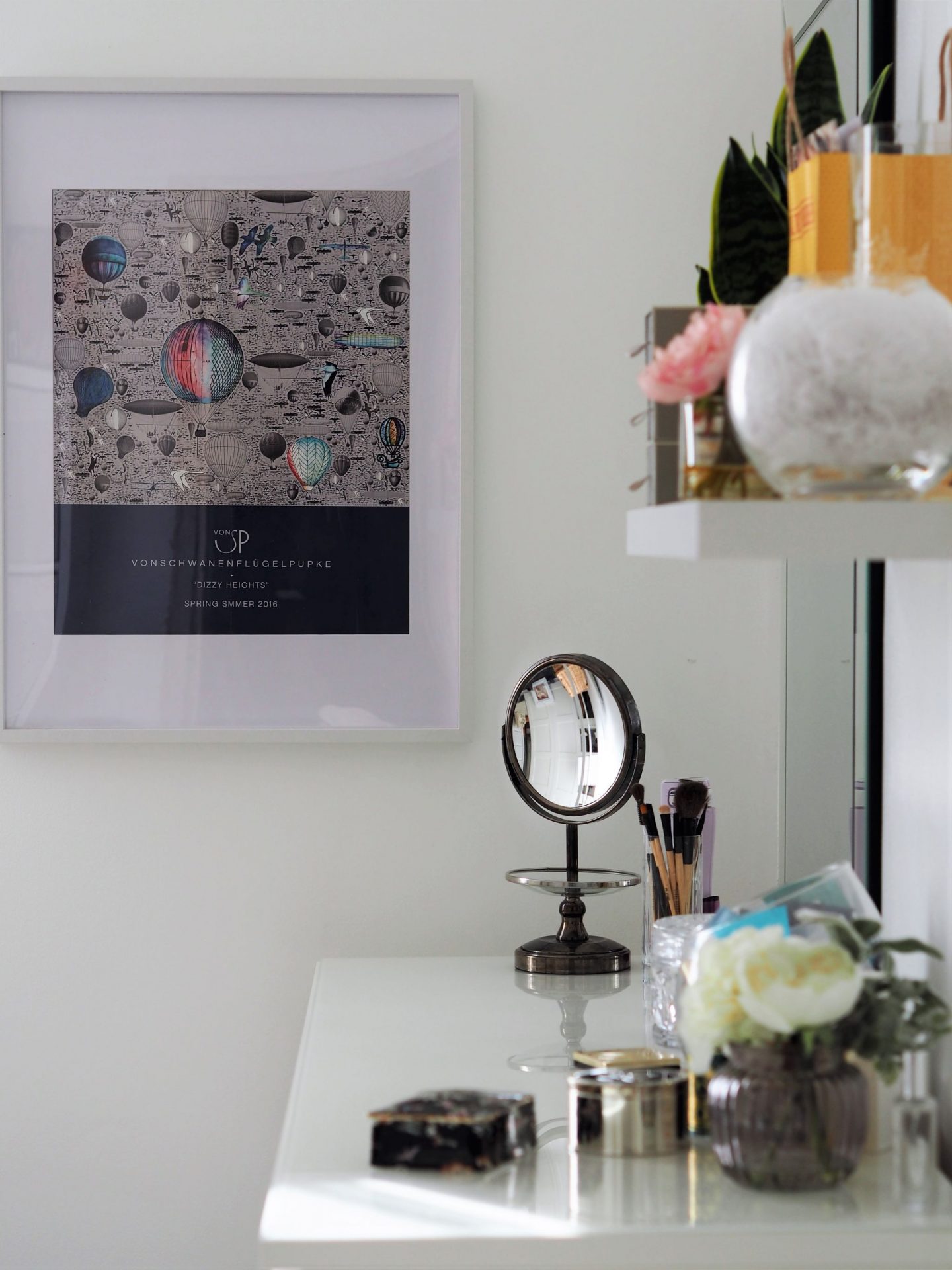 One of the ideas I had for the bedroom was to use it as an office space too. When it came round to the time of choosing I decided against it. I have written this blog from my dining room table looking out onto the garden since day one. A large mirror for makeup plus the can't be without the magnifying mirror to add my mascara! and pluck those stray hairs!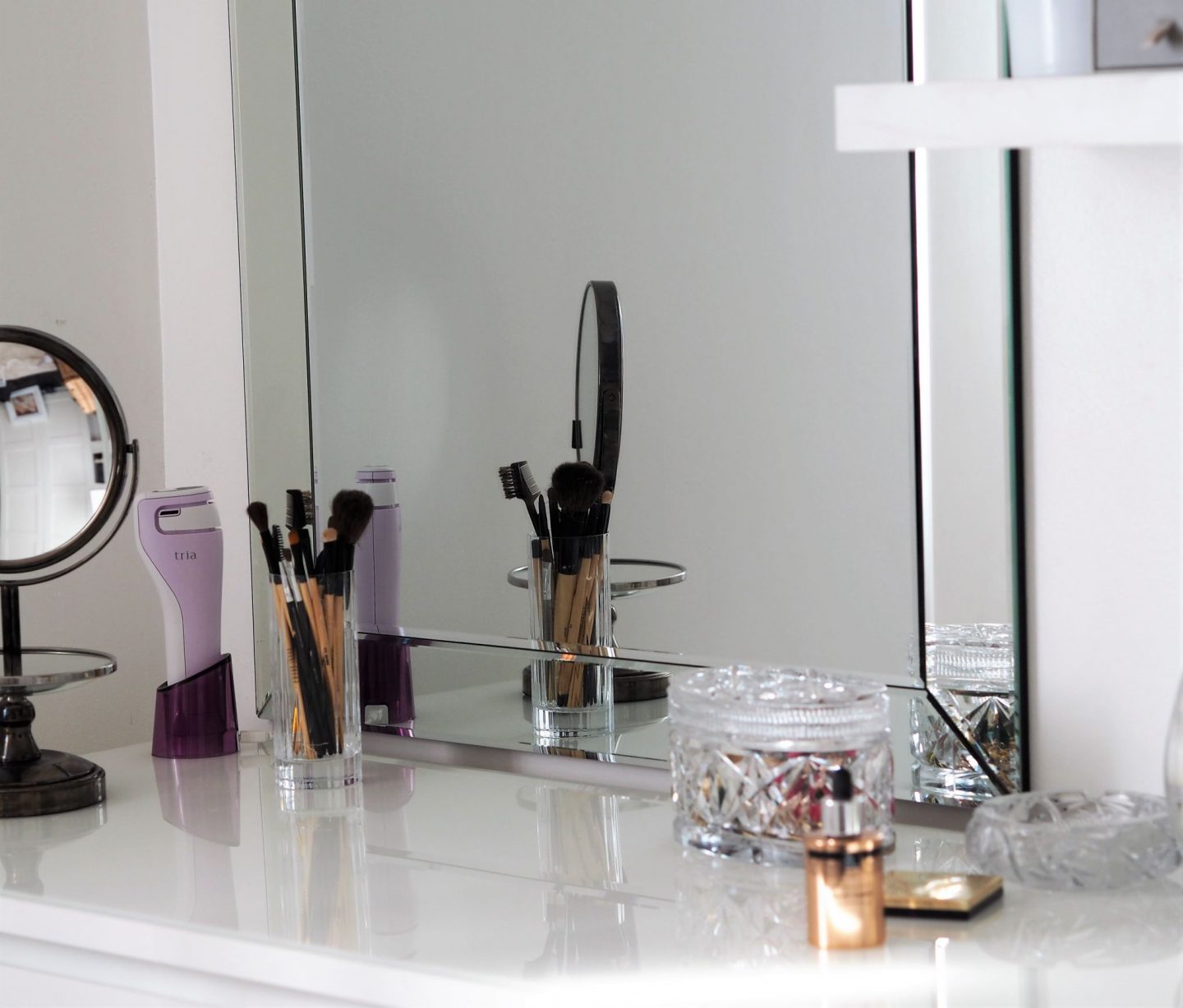 When it boiled down to the idea of moving in there to face a blank white wall I just couldn't do it. So a large chest of drawers was added instead, I'm really pleased with the Malm drawers from Ikea and I like the added glass top too. Good for light reflection. The poster on the wall was in a goody bag from the first press event I attended.
The Tria sits on the top. I'm still using it and I really think it helps with the uplift that it gives my skin. You can read about it here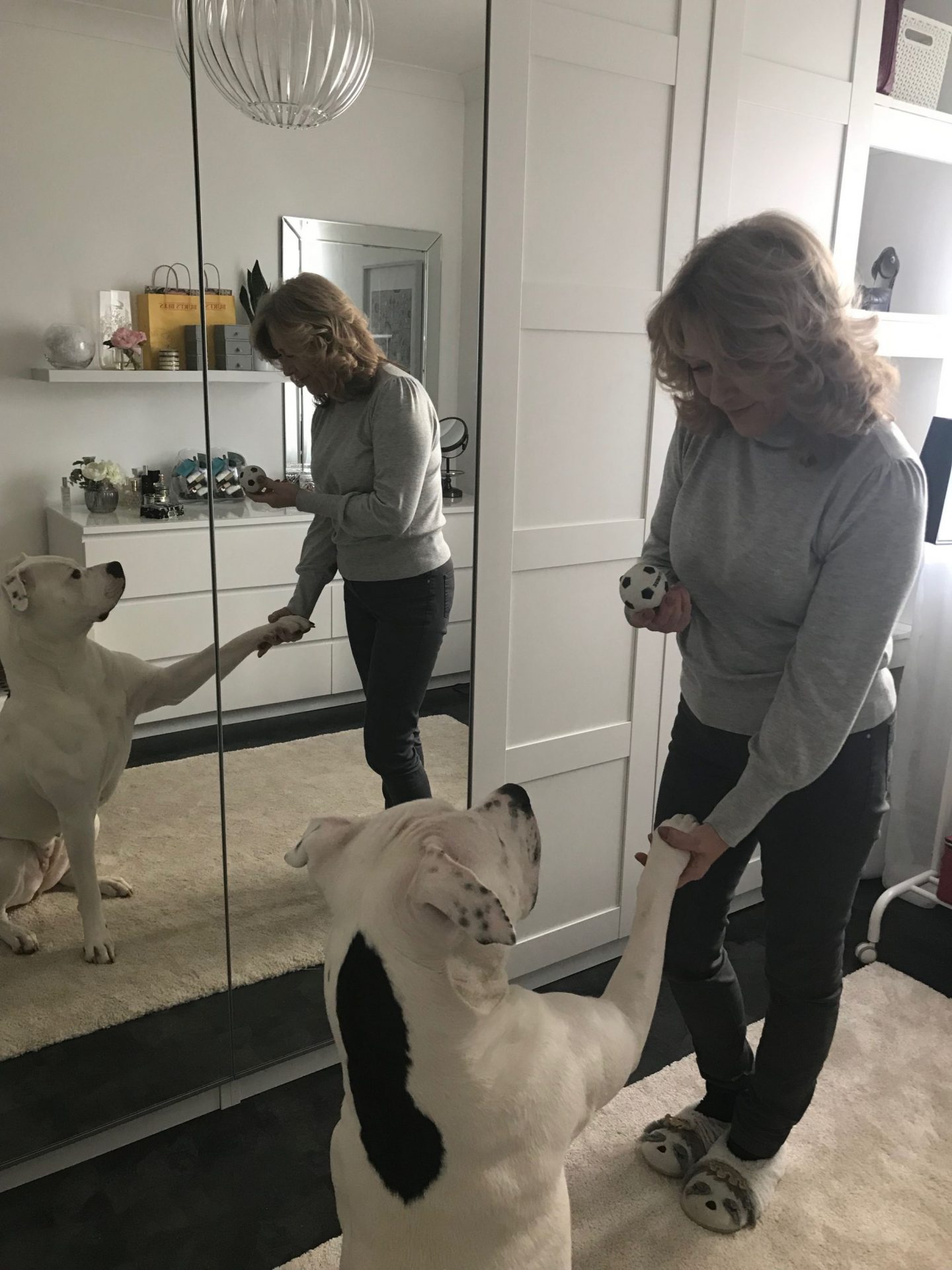 A double mirrored wardrobe provides light and makes the room seem so much bigger. Beau is desperate to get her paws on my cosy slippers! I'm offering her favourite ball instead. She likes to lick those mirrors and I'm constantly cleaning them!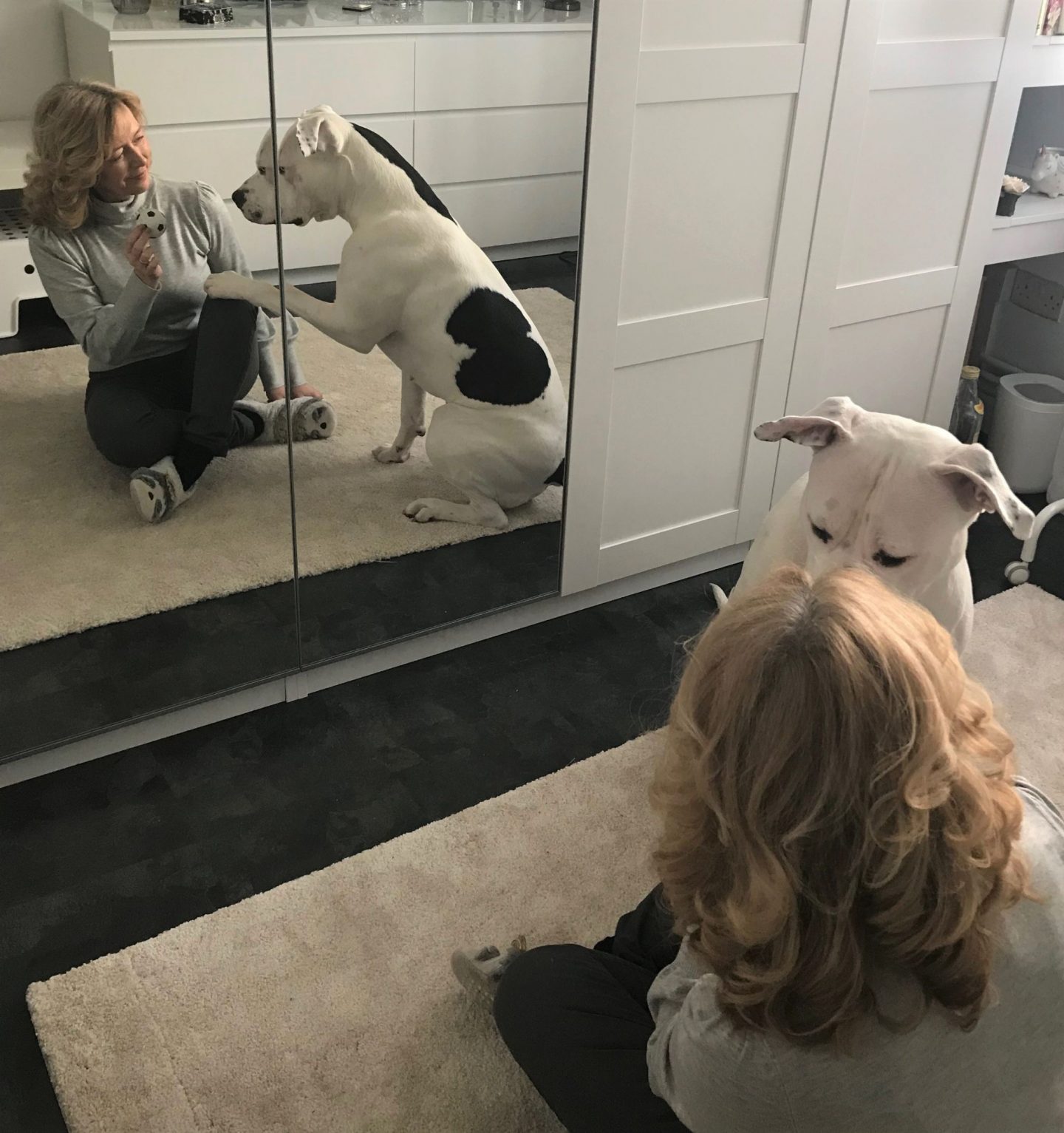 A light rug really brightened the room. My whole flat is floored with Black tiles and I'm looking forward to creating more light everywhere by adding lighter rugs.
All in all, I'm really happy with how the room turned out. I will show you the bed when it arrives. It's actually the star of the room, so trust it to be delayed. I will be sharing the main bedroom with you soon too. Nearly there!
THANK YOU FOR STOPPING BY!
Come back for more. Click on the subscribe form below
YOU MAY HAVE A FRIEND THAT'S INTERESTED IN THIS? PLEASE USE THE SHARE BUTTONS
XO LAURIE
Subscribe for the latest updates!