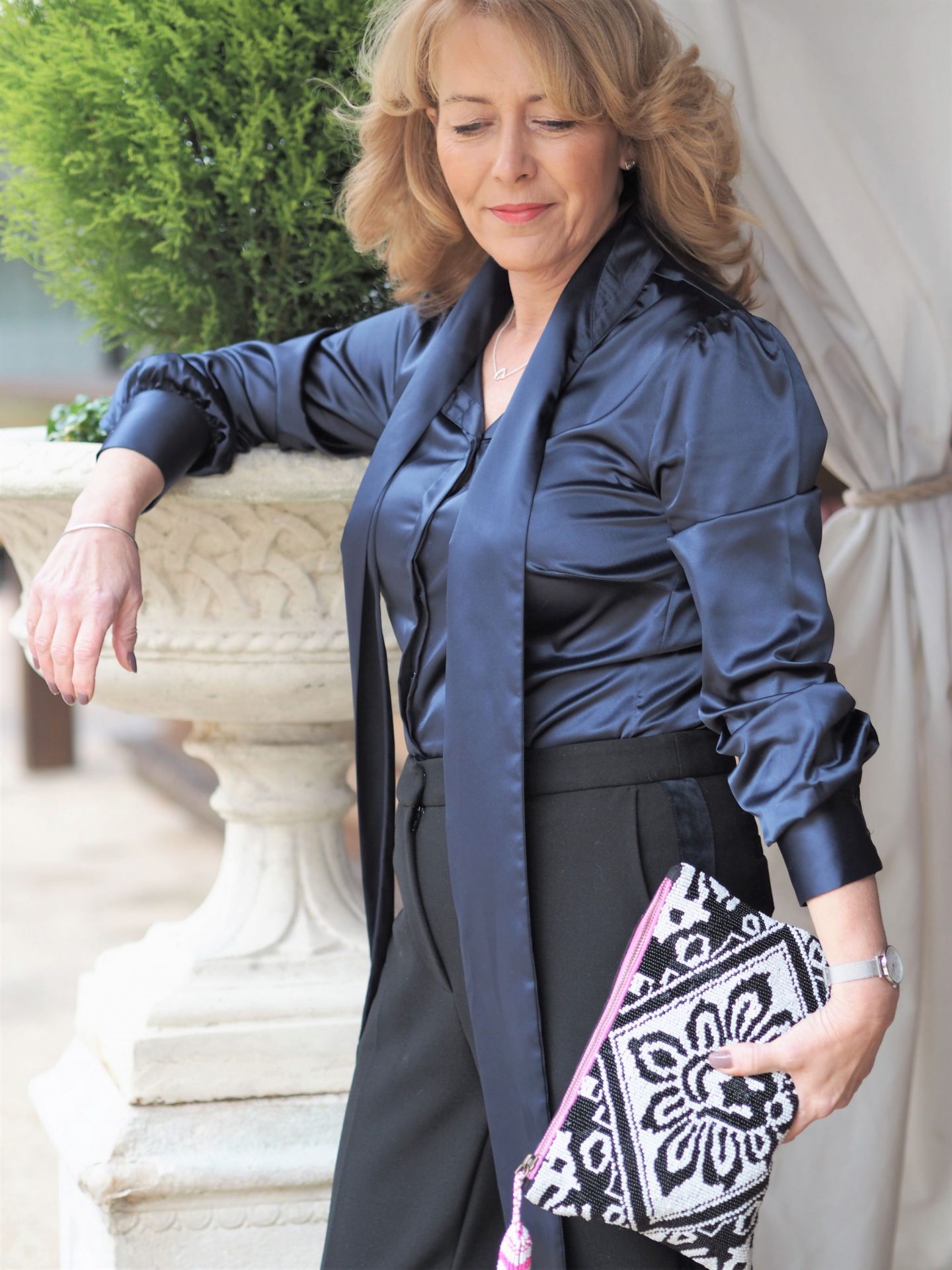 #Ad – I was gifted the products for an honest review
Have you noticed the new template yet? I installed a new look site for you so that everything's easier to find. There's a few more new little gadgets to add but all in good time. I hope you like it? You can now click on the hot spots and you will be taken straight to the product!
Do any of you watch The Crown on Netflix? I love it and I'm a sucker for any programmes and history about royalty. Hawes & Curtis a brand I'm a huge fan of launched a collection inspired by the second series and I was gifted the new DVD and a shirt from the collection. I've chosen this navy satin Pussy Bow shirt.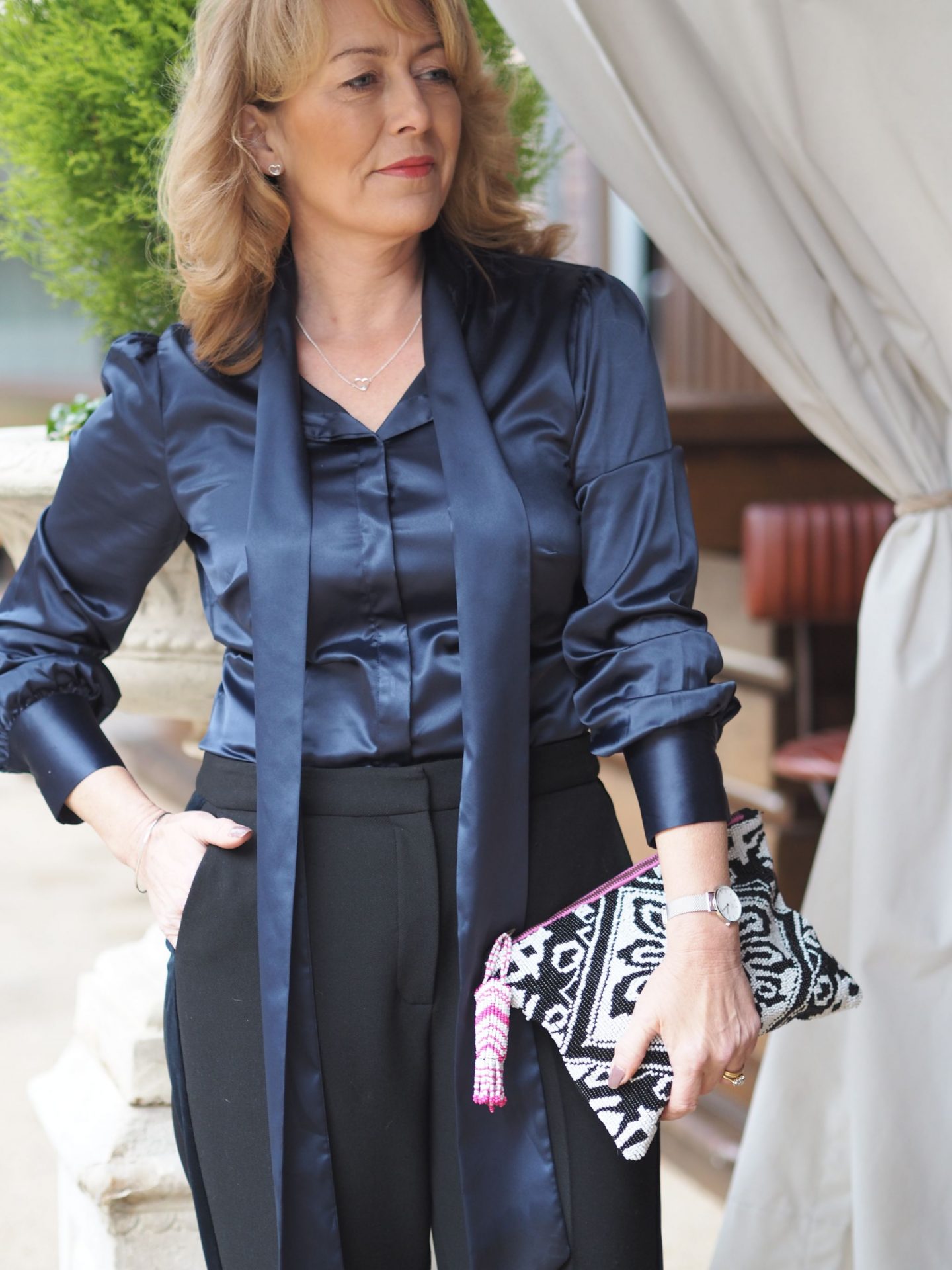 Hawes & Curtis are famed for vibrant prints and if you work in an office throughout the week then this is one site to take a look at for good fitting, smart office wear.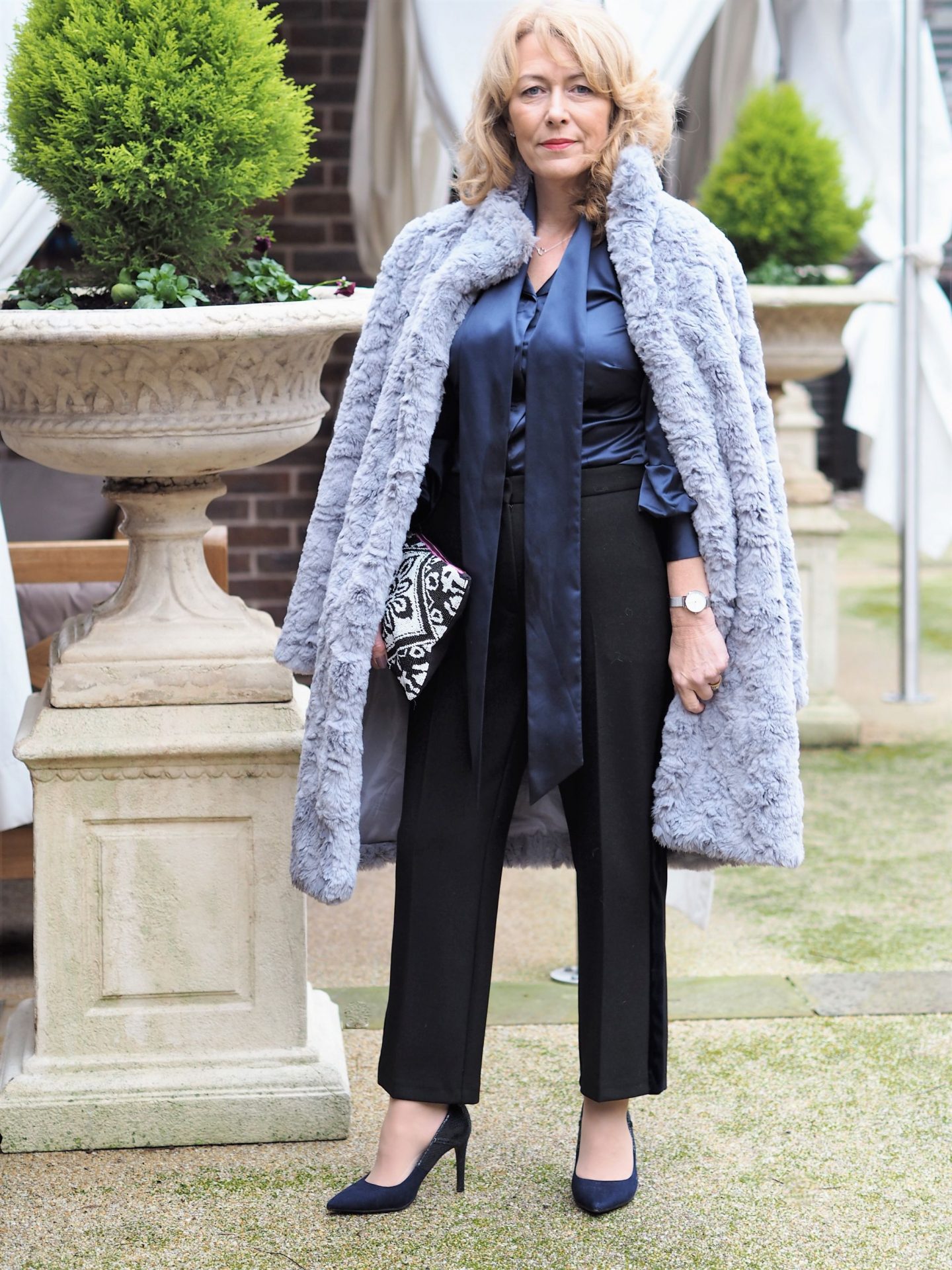 This is how I styled my navy shirt. I've popped round the corner to a nearby Hilton hotel. A place I love to have a cuppa and take some outfit shots. The garden is always quiet and it has heated seating areas which were very welcomed because it's freezing!
I don't feel too out of place or over dressed here either! I have been living in the faux fur coat from this post it's the cosiest item in my wardrobe
Navy over black is a far more softer hue on my porcelain skin!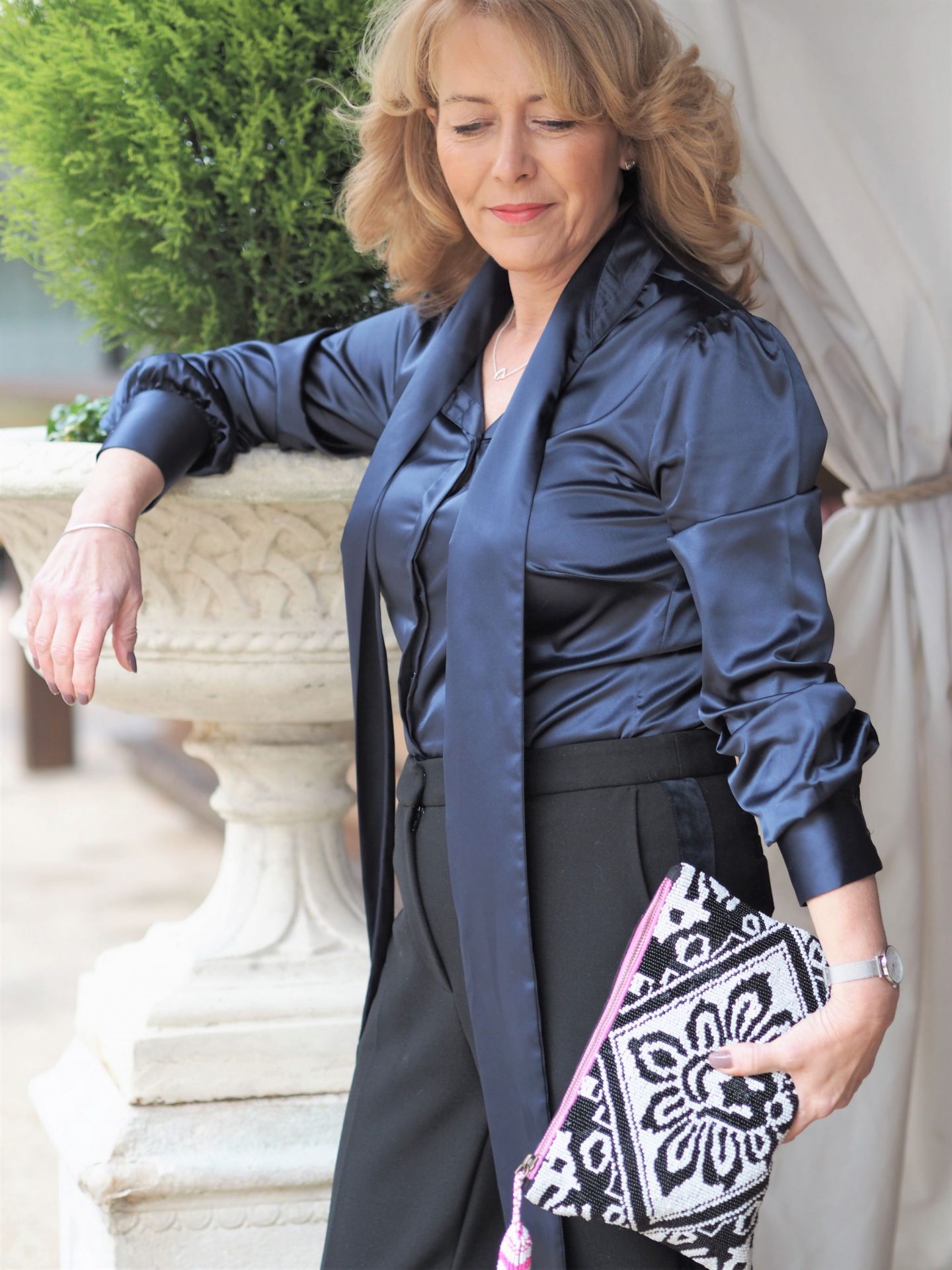 I like the deep cuff on the sleeves of the shirt. for a more casual look, I would roll these up and pair the shirt with navy or black jeans. I prefer the ties left free to do as they please. I feel the tied in a bow look a little miss Slocumbe for me. (anyone remember the programme are you being served?)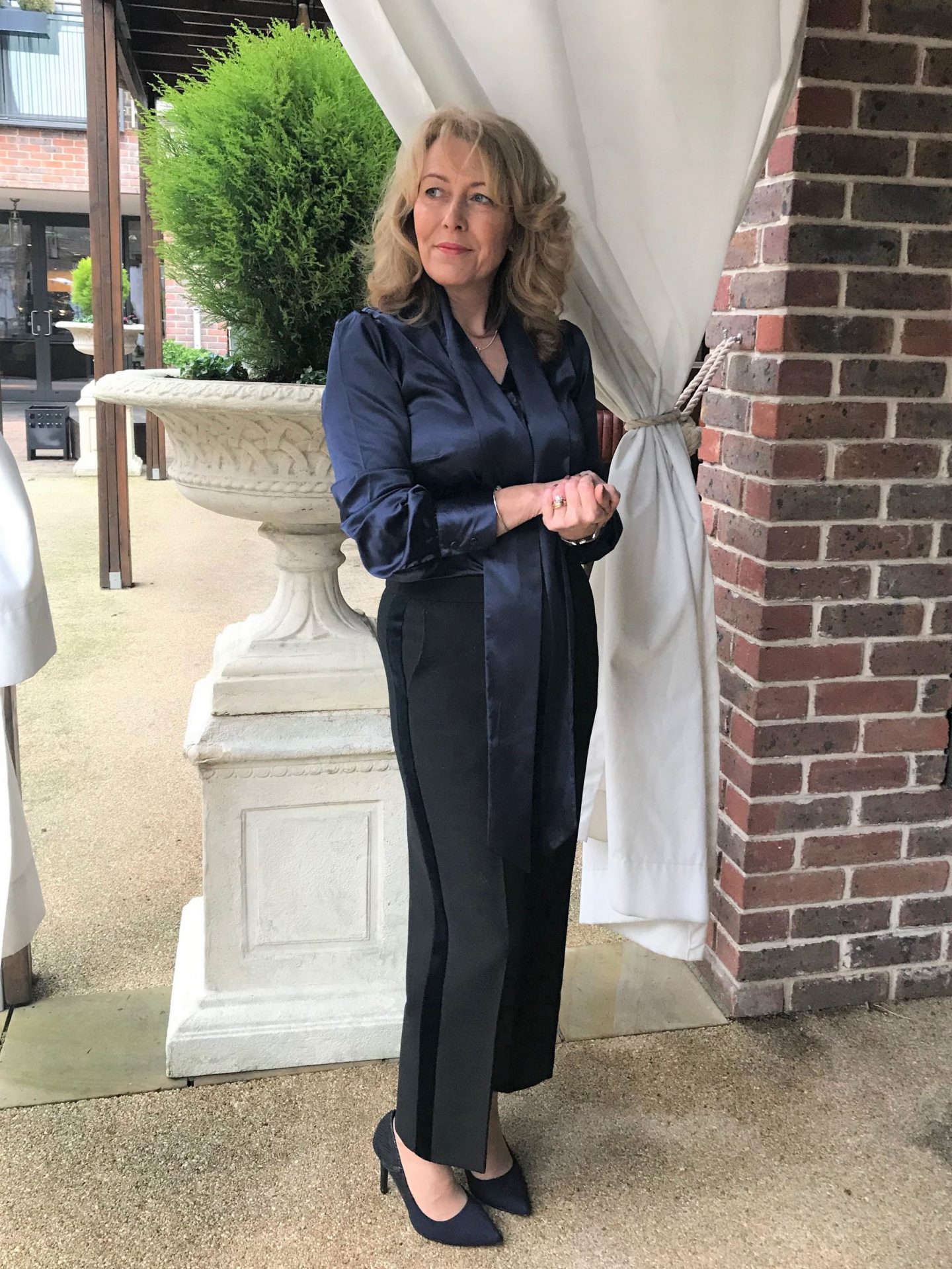 It's a pretty simple look, elegant and not too fussy. The only pattern I added to the outfit was the bag. The look could be more dressy with bolder accessories and evening shoes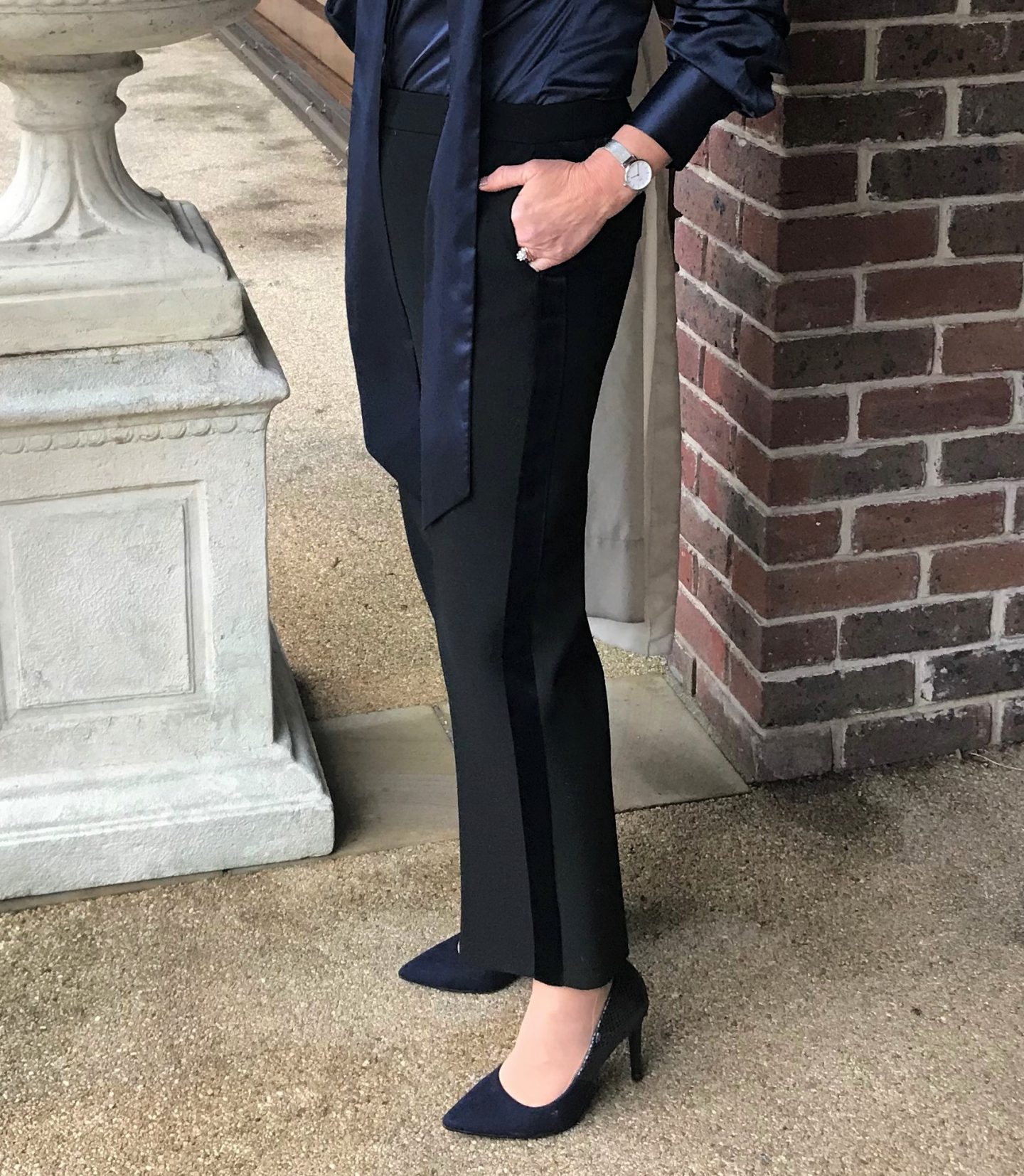 The trousers I've paired with the navy shirt are from Choice. A shop I always find a bargain in. These trousers have a navy velvet stripe down the side, a huge trend at the moment. I'm still not majorly sold on the shorter look? still debating on this style with my little legs.
Wearing the new PANDORA Valentine collection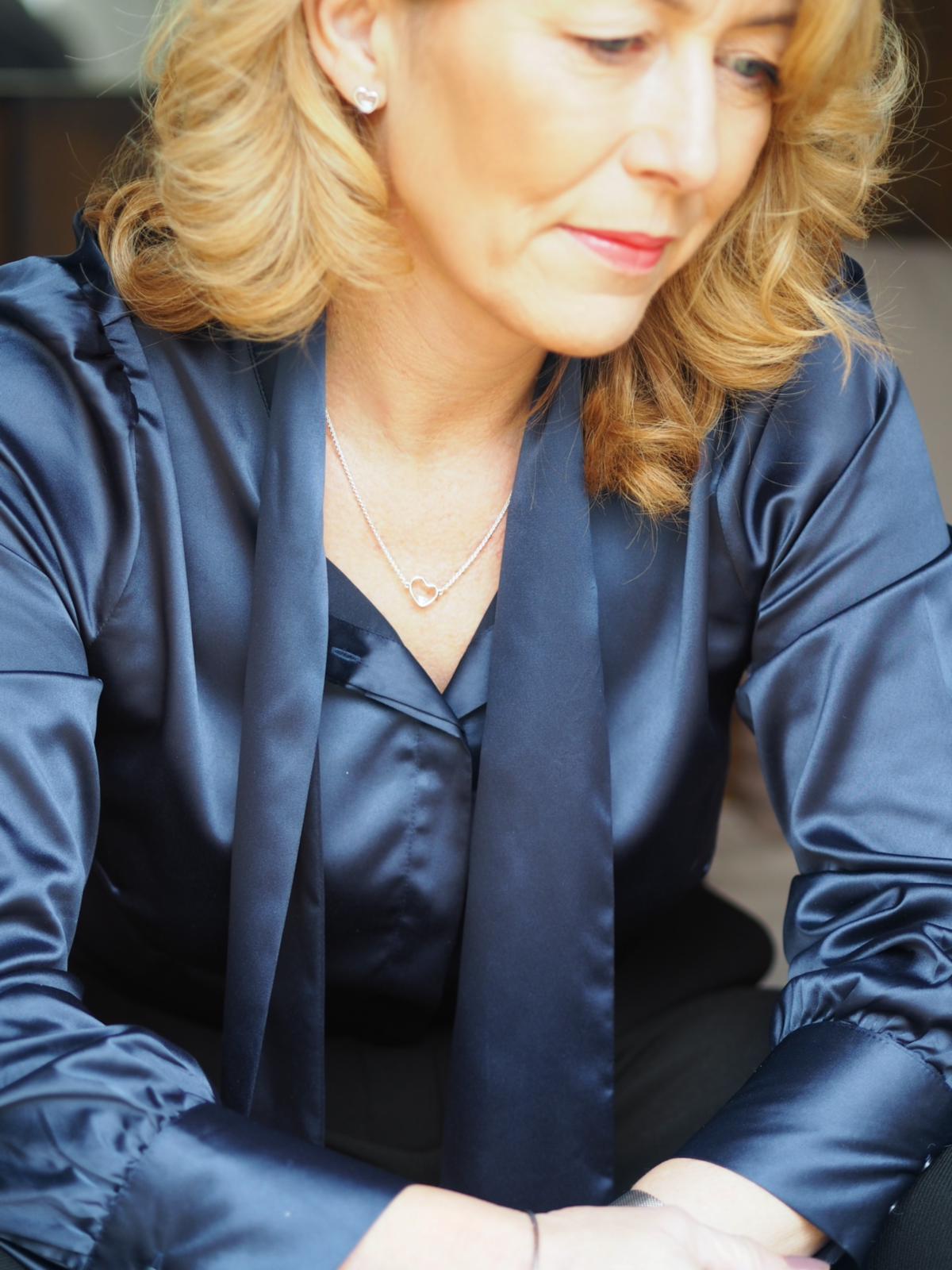 I'm showcasing this pretty PANDORA duo with the navy shirt. Have you seen the new valentines collection? These little hearts in Silver with cubic zirconias are so cute. There's a competition running on the Pandora site for a Galentines night out. For a nights stay at one of my favourite London hotels Ham yard
The new Valentines collection is gorgeous so pop over for a nose and enter. You never know your luck!
THANK YOU FOR STOPPING BY!
RECEIVE EVERY POST BY CLICKING SUBSCRIBE ON THE HOMEPAGE.
YOU MAY HAVE A FRIEND THAT'S INTERESTED IN THIS? PLEASE USE THE SHARE BUTTONS
XO LAURIE
Subscribe for the latest updates!