My week started off with a bit of excitement. I featured in the weekly Woman's Own Magazine. It's available to buy until Tuesday if you would like to have a nose? Being labeled an Instagran isn't the most flattering of titles! but hey, I was still really happy to get featured there. As far as blogging goes Instagram has to be my least loved platform. Having said that I've met some really lovely people from all parts of the world and I love that you can chat online to anyone anywhere at any time.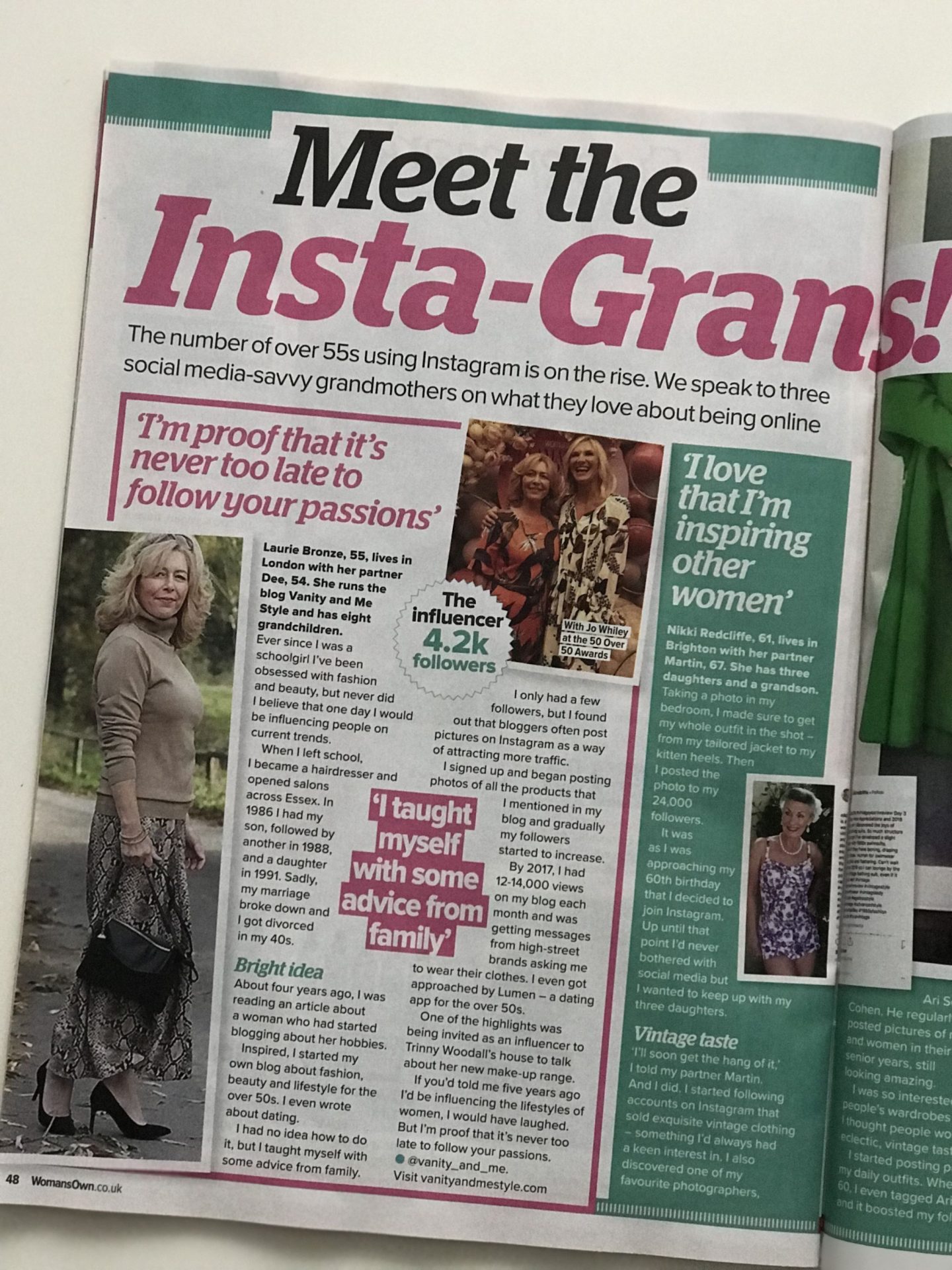 I'm surprised they chose me actually considering my account is quite small! If you want to take a look at my Instagram grid and stories, you can find me here. It was lovely to see Nikki Redcliff featured too. Nikki's account is amazing, full of vintage beauty. I did a photo shoot with Nikki a couple of years ago and she is soo beautiful and a lovely lady.
Not many ootd Instagram shots were taken this week!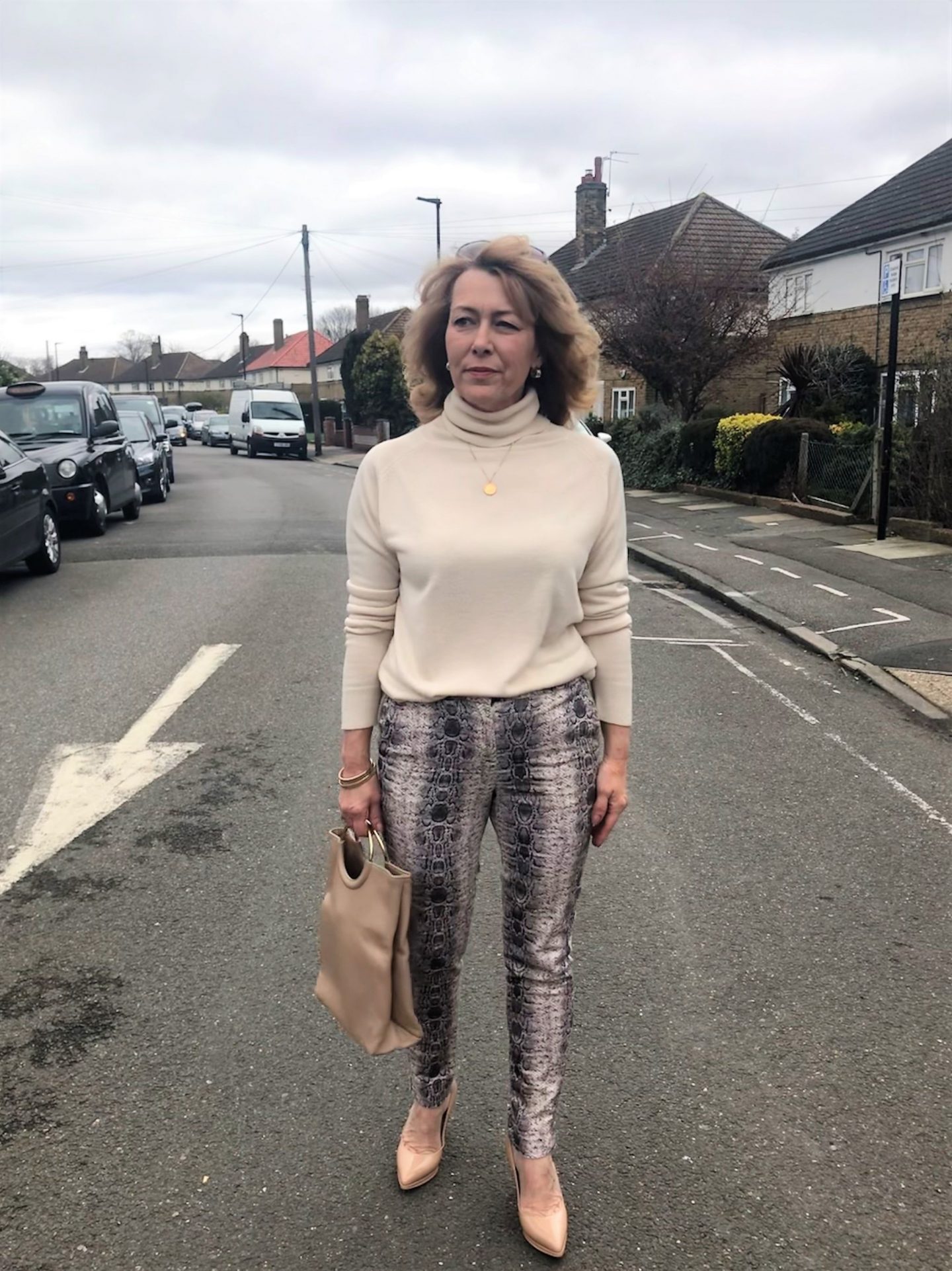 It's been so wet and windy here in London! ni-on impossible to take any outdoor shots for Instagram! I recently spotted some snakeskin trousers that I fell in love with and then I remembered that I had these ones that are very similar that I've had for years.
* There are affiliate links added to this post. It doesn't cost you anything, it just means I might earn a few pennies*
A wish list. Dreaming of sunny days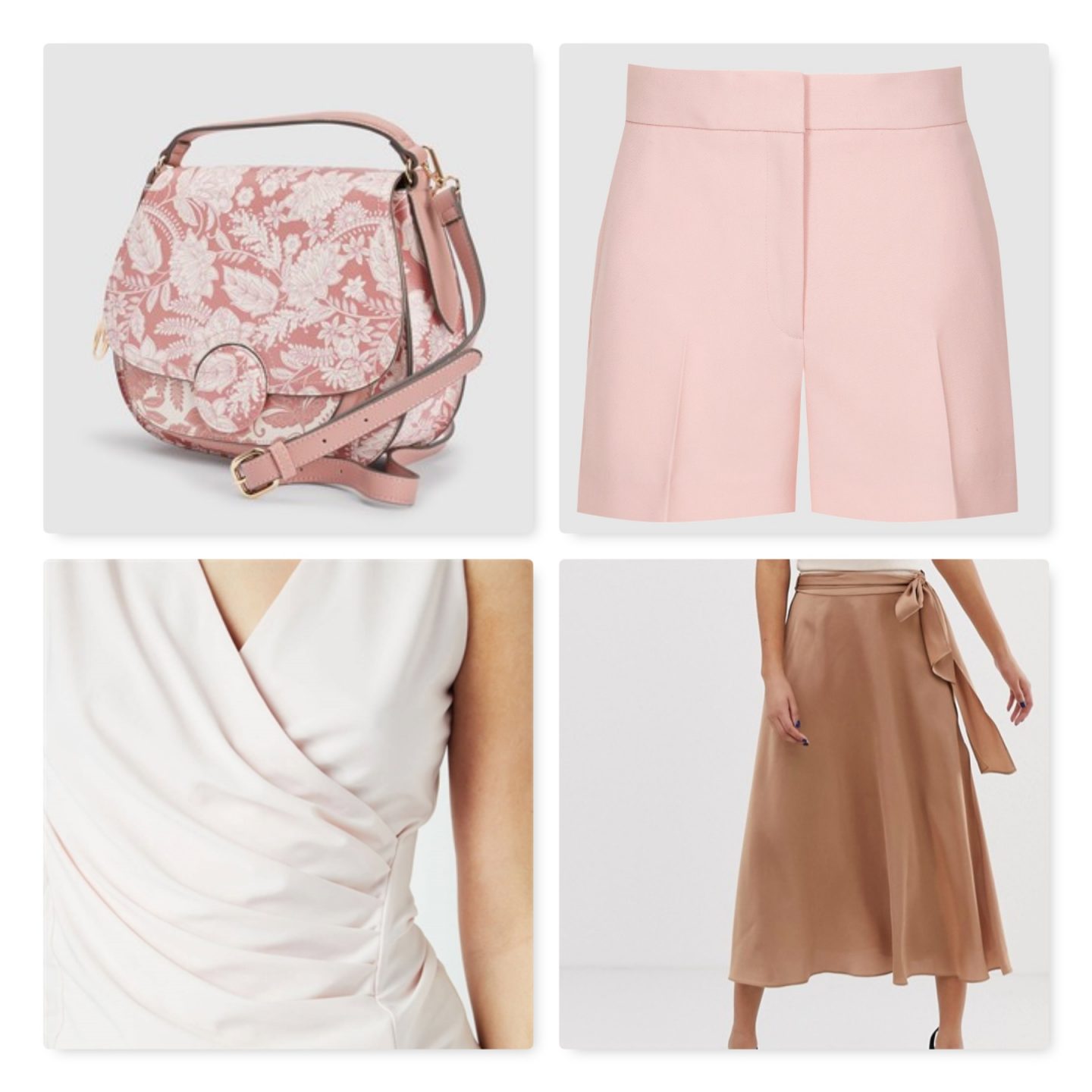 There are so many lovely pink colours in the shops. I nearly bought the tailored shorts from Reiss last year. They are still calling me! I must prefer a good pair of tailored cut shorts over casual.
The pink patterned bag ( mother's day if any of the children are reading!) It's very similar to the new Dior collection and will go great with the new Pink Blazer that I plan on wearing a lot.
I also really like the satin skirts that are on trend at the moment. They look great with a jumper and I really like the wrap design on this one over the bias cut styles that show every lump and bump!
New skincare to try and a skincare hero to replace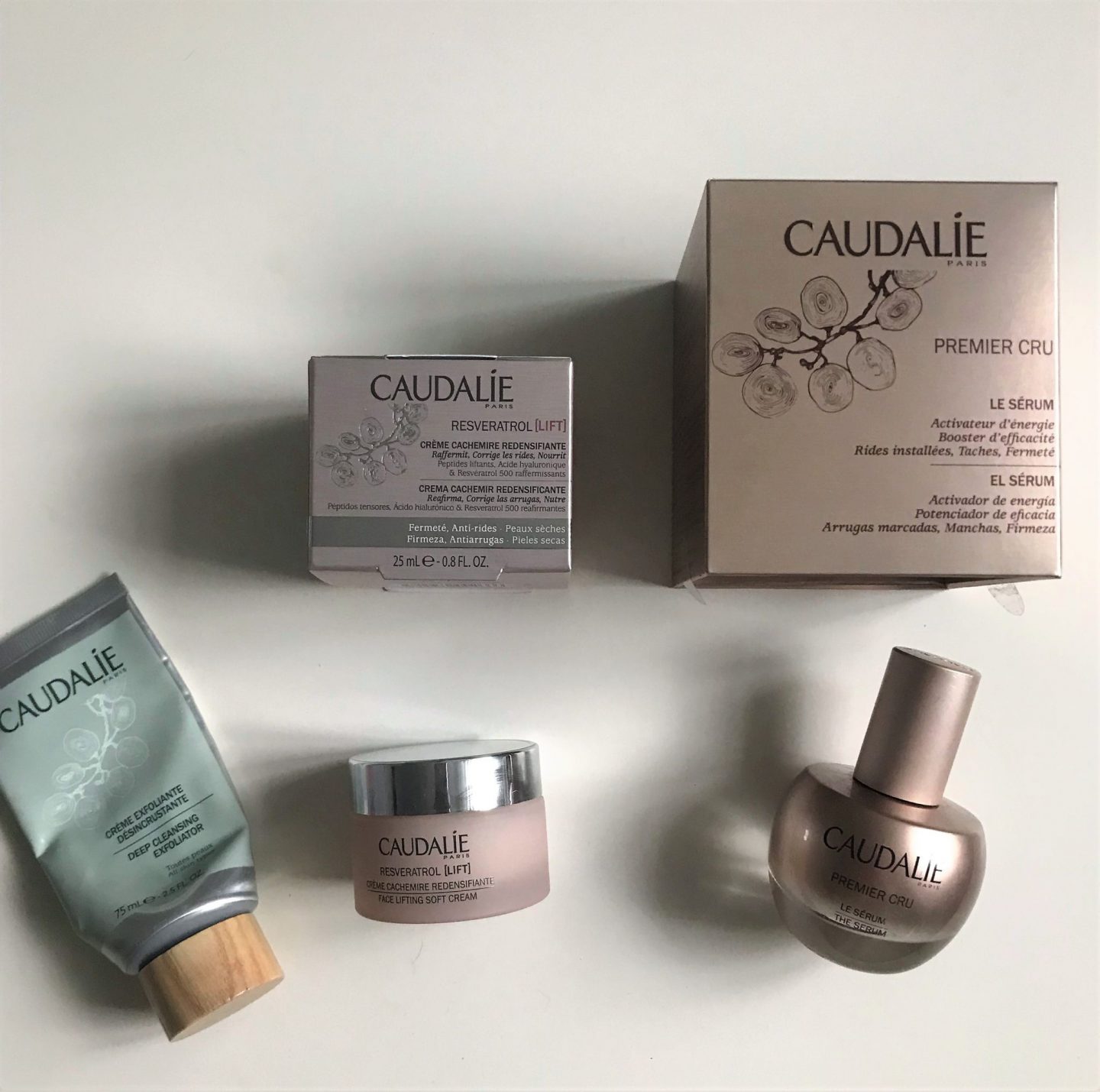 I have recently been gifted the new Caudalie Resveratrol Lifting Cream. I have just replaced my Premier Cru Serum and I'm soon to replace my favourite exfoliator. It took me a long time to find the perfect exfoliator and this one is amazing. Totally recommend! I'm looking forward to trying out the cream. I need all the lift I can get!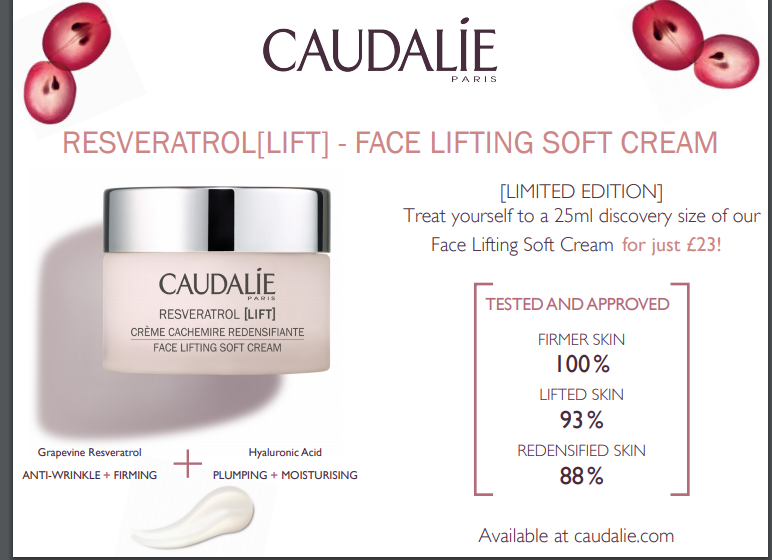 A long-awaited arrival for the new room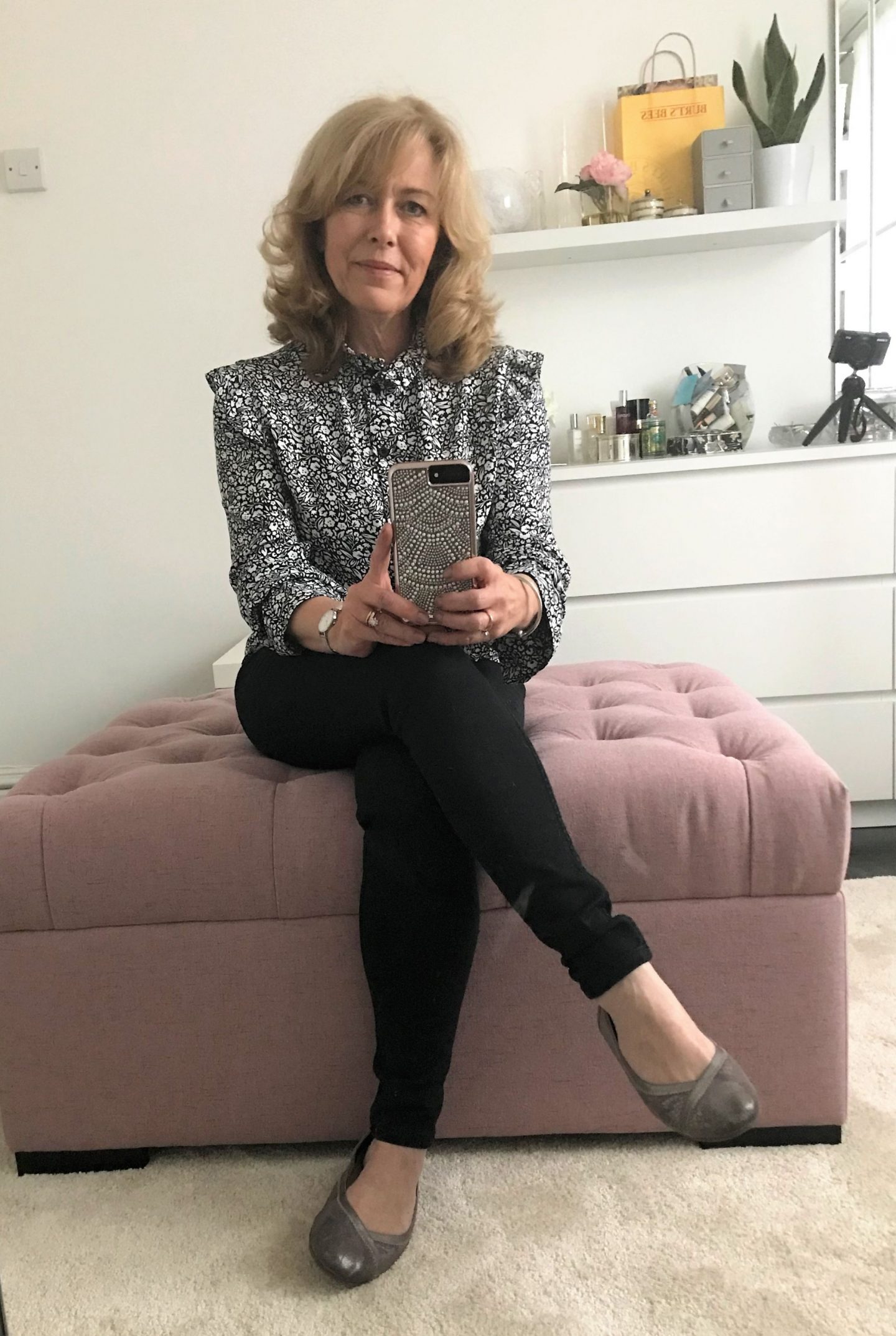 Finally, my new guest bed arrived. The final piece to finish off the first room. A bed in a box, a clever idea indeed. You lift the flap and hey presto a proper little single bed pops out!
I'm adding in my latest film that gives you a room tour of the finished room. I would love to hear your views on my ideas. Our bedroom is very nearly finished and we have progressed into the hallway adding new doors and frames. It's been so messy, I can't tell you! But I'm looking forward to sharing with you.
Subscribe for the latest updates!