With the weather being, well just unbelievable for February I took a couple of days off this week. I needed to catch up on tidying stuff around the house and garden, The renovation of my tiny London abode is coming along but boy the mess and dust! I just wanted to be outdoors and make the most of the short-lived sunshine. We even had a stroll to the river where there's a nice pub and you can sit there and watch the boats float by. I wore this balloon sleeve top that's silky soft and wasn't at all cold, even at 4 pm. This top is from the Holly Willoughby collection for Marks and Spencer. Every time I open up any of my social media platforms someone is talking about or wearing something from Holly.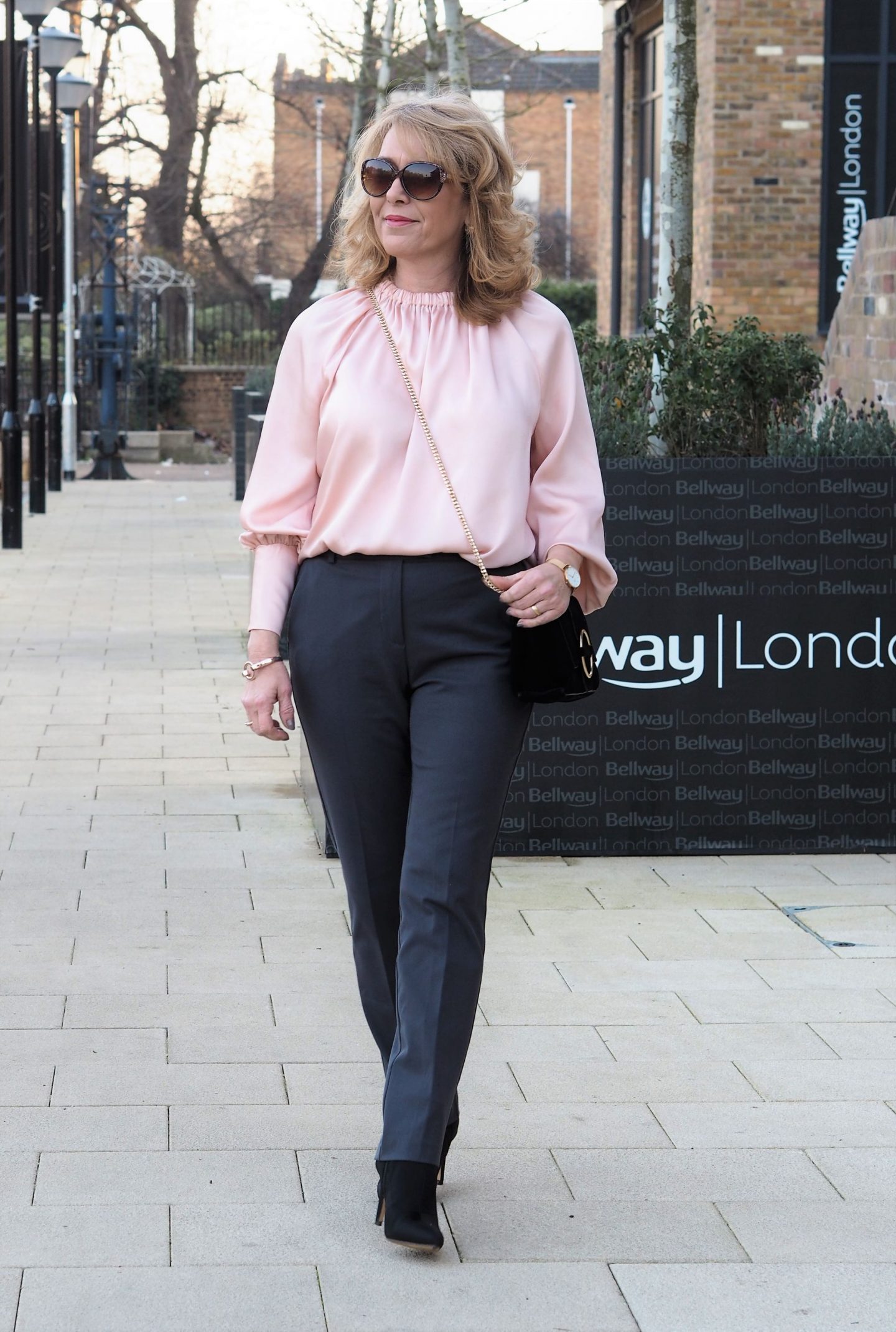 Described as the nation's favorite, the Holly Willoughby collection sold like hotcakes. There's a new denim edit that Holly has just released and I bet that will sell quickly too. You can find the collection here. I bought this balloon sleeved top a couple of weeks ago. Any new clothing that I have come in I add to my shopping bar on the homepage.
No sooner had I bought it, now sold out! But if you like the look of this top, Marks and Spencer have it available in other colors. The Khaki is also very nice.
The statement sleeve and neckline is a welcomed trend
The cuffs on the blouse are wide and zip up at the sides. A nice touch that stops the balloon of the sleeve from making my hands disappear and dangling awkwardly into my drink! I love a statement sleeve but I have to be careful with my short arms!
The bag is from Mango. I needed a smart smaller Black bag and I like this can switch from day to night time wear. I actually pondered quite a while over Black accessories or Nude for this outfit. What do you think?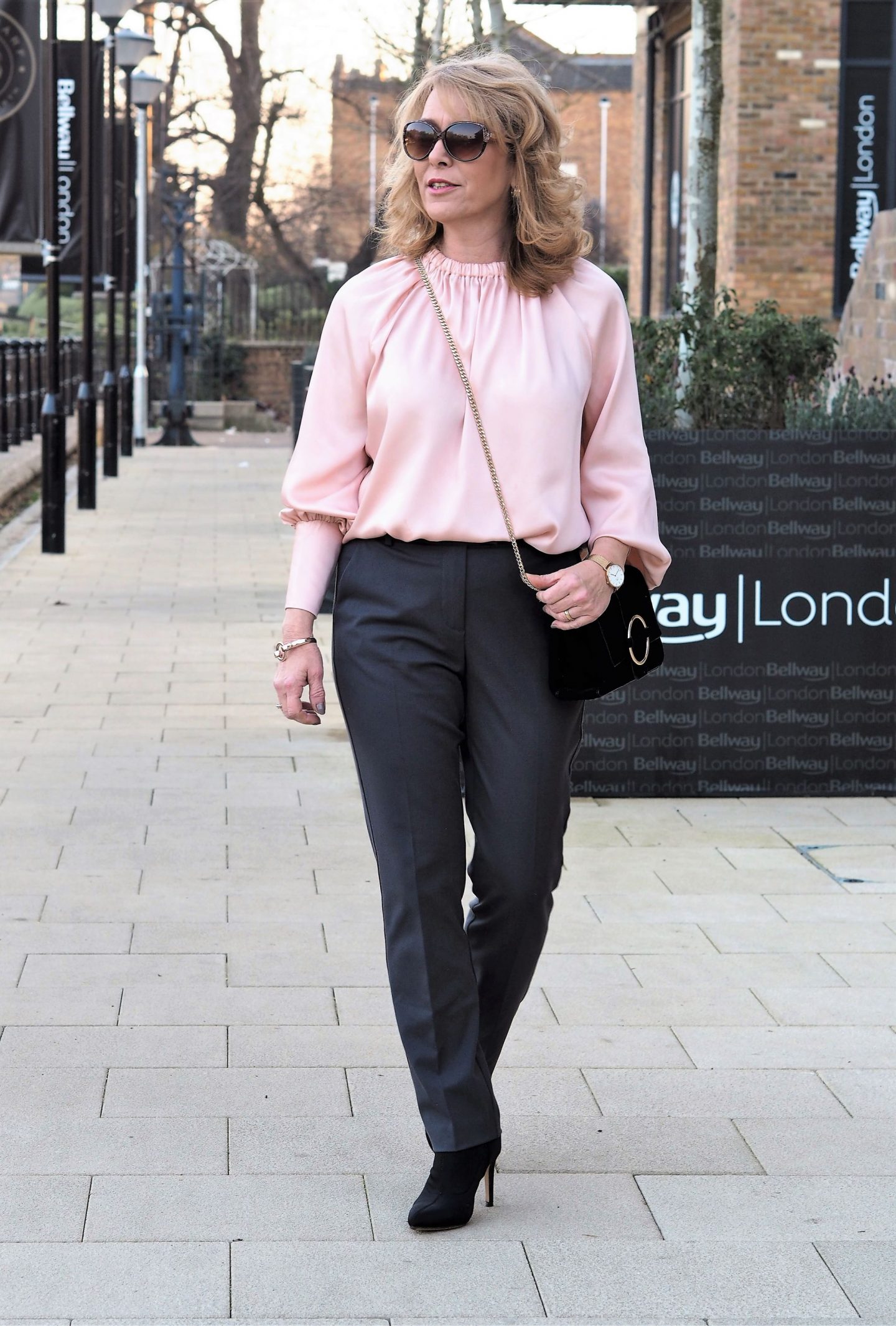 1

. High neck top
An elasticated neckline adds another lovely touch of shape to this stunning long sleeve blouse,
2

. Black Suede Bag
Small. Suede. Fine metal chain. Metallic ring. Magnetic metallic fastening.
3

. Slim Fit Trousers
tailored to a wearable slim fit with a high rise and they fasten with a hook and zip front fastening
*Please be aware that there are affiliate links here. It doesn't cost you anything, I might just earn a few pennies*
My bargain find trousers from the January sales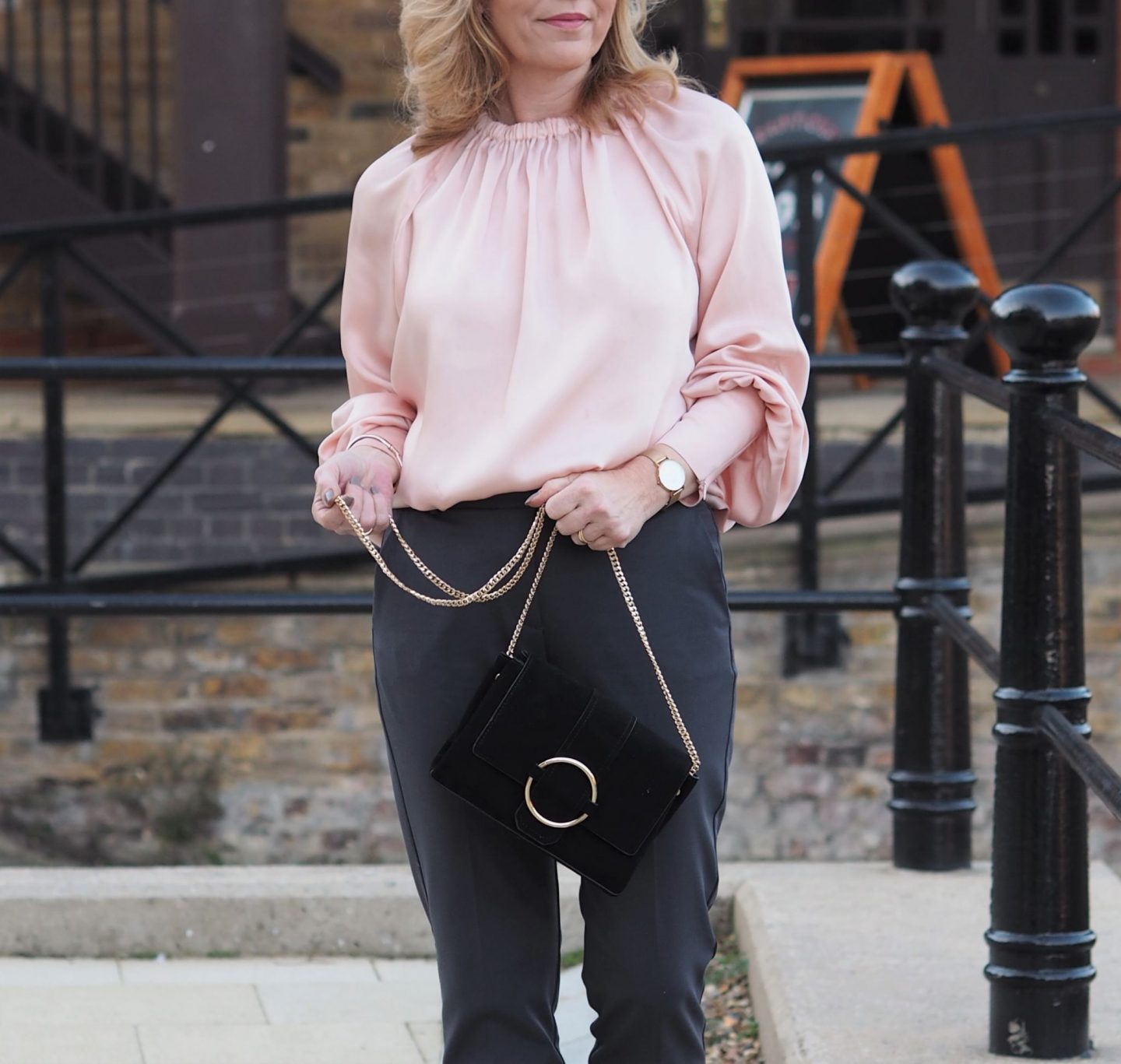 You may remember a few weeks ago, the post where I talked about holding on till the last minute to get a pair of well-tailored trousers from the Reiss sale? Not your everyday priced high street store, I love the Reiss brand and I was determined to catch myself a pair. I opted for Grey, a colour that will work hard with everything I have in my wardrobe.
The tailoring doesn't disappoint at all. I'm really impressed with them. No bulky seams, good quality material too. Reiss has these trousers on the site constantly but they just change the colours. Obviously a good seller. I'm tempted to buy the Dusky Pink too.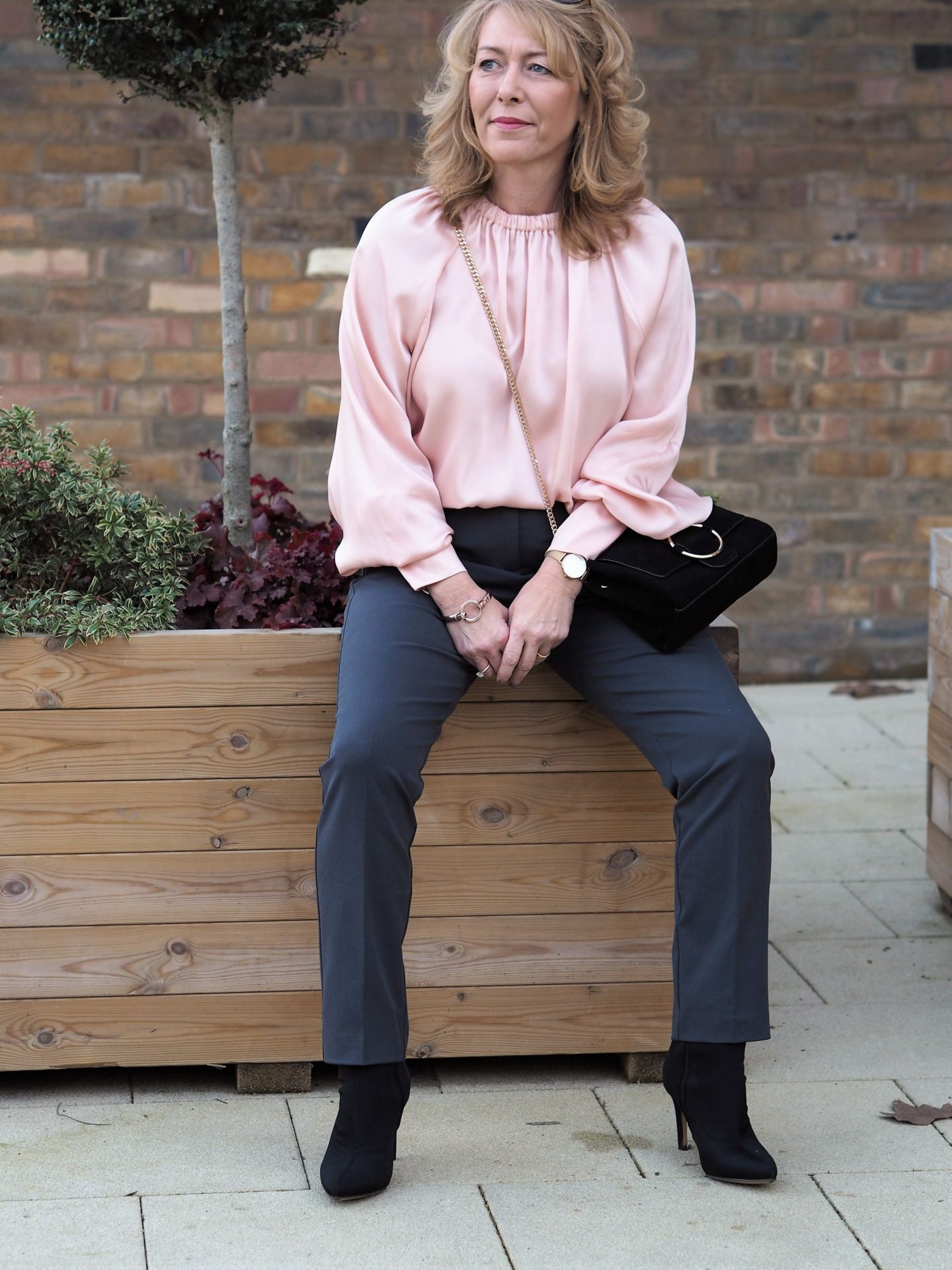 The trousers are just a classic style straight cut pair of trousers. But the quality is what makes the difference. These Dark Grey are sold out now but I have listed other colours that are available via the shopping links. After a few wears I will decide whether to invest in full price. That's how I play the game!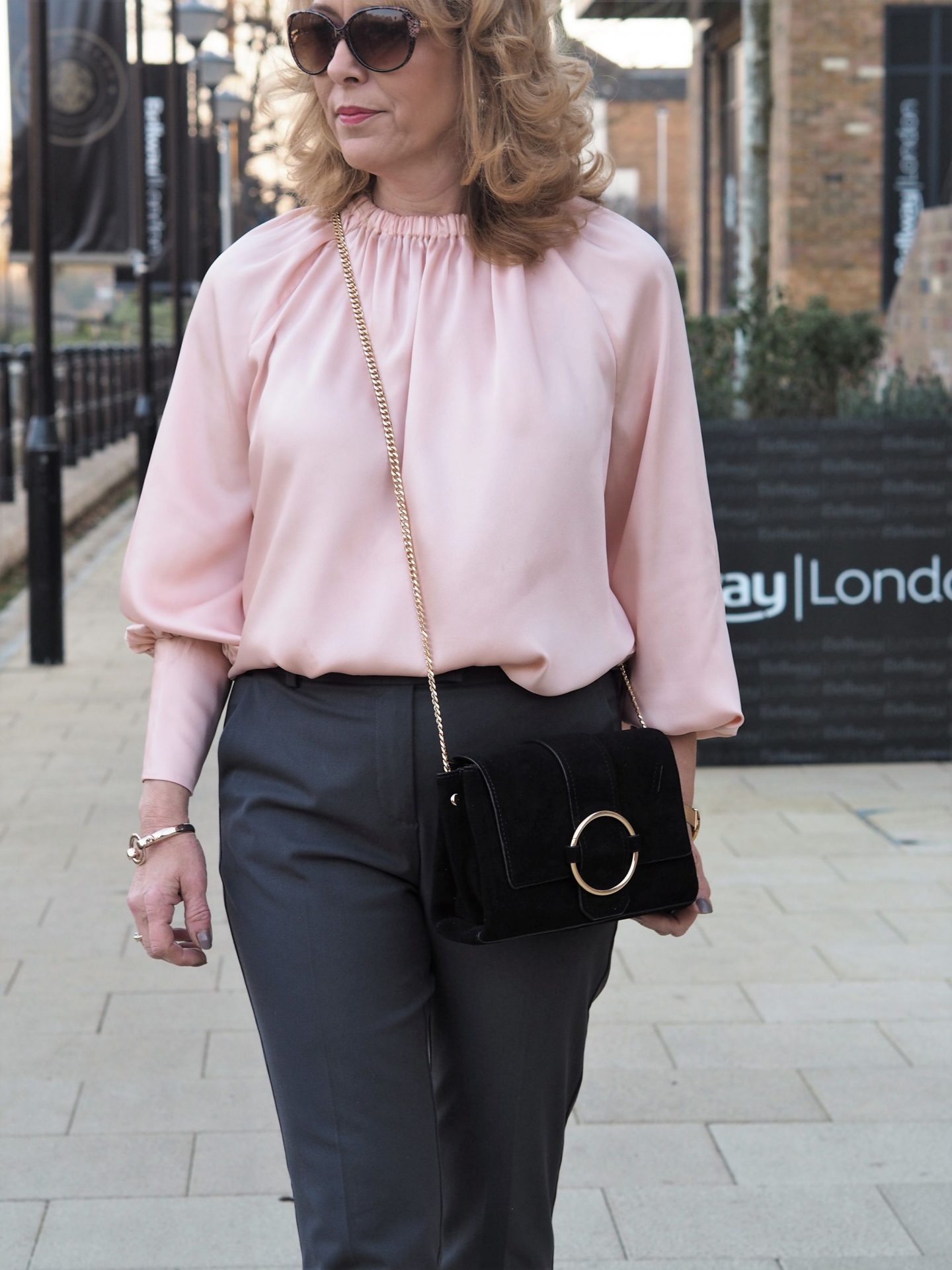 I like the neckline of the blouse. It's such an easy idea. It's elasticated and not at all tight. I hate anything tight around my neck! I didn't think there was much call for a necklace, I'm letting the top speak for itself. I found it hard to believe that I was out and about in a silky top at 4 pm in February and not at all cold! I'm intriqued to know if you have bought anything from the Holly Willoughby collection or if you have your eye on something? Let me know what you think of the collections.
THANK YOU FOR STOPPING BY!
Come back for more. Click on the subscribe form below
YOU MAY HAVE A FRIEND THAT'S INTERESTED IN THIS? PLEASE USE THE SHARE BUTTONS
XO LAURIE
Subscribe for the latest updates!