Did you know that by the time we reach our fifties, there's a chance that everything is not so clear and we need more light for our eyes? Recent research suggests that we need three times more light for reading by our sixties and even suggests that neglecting your eyes with the wrong lighting conditions could cause damage to the eye.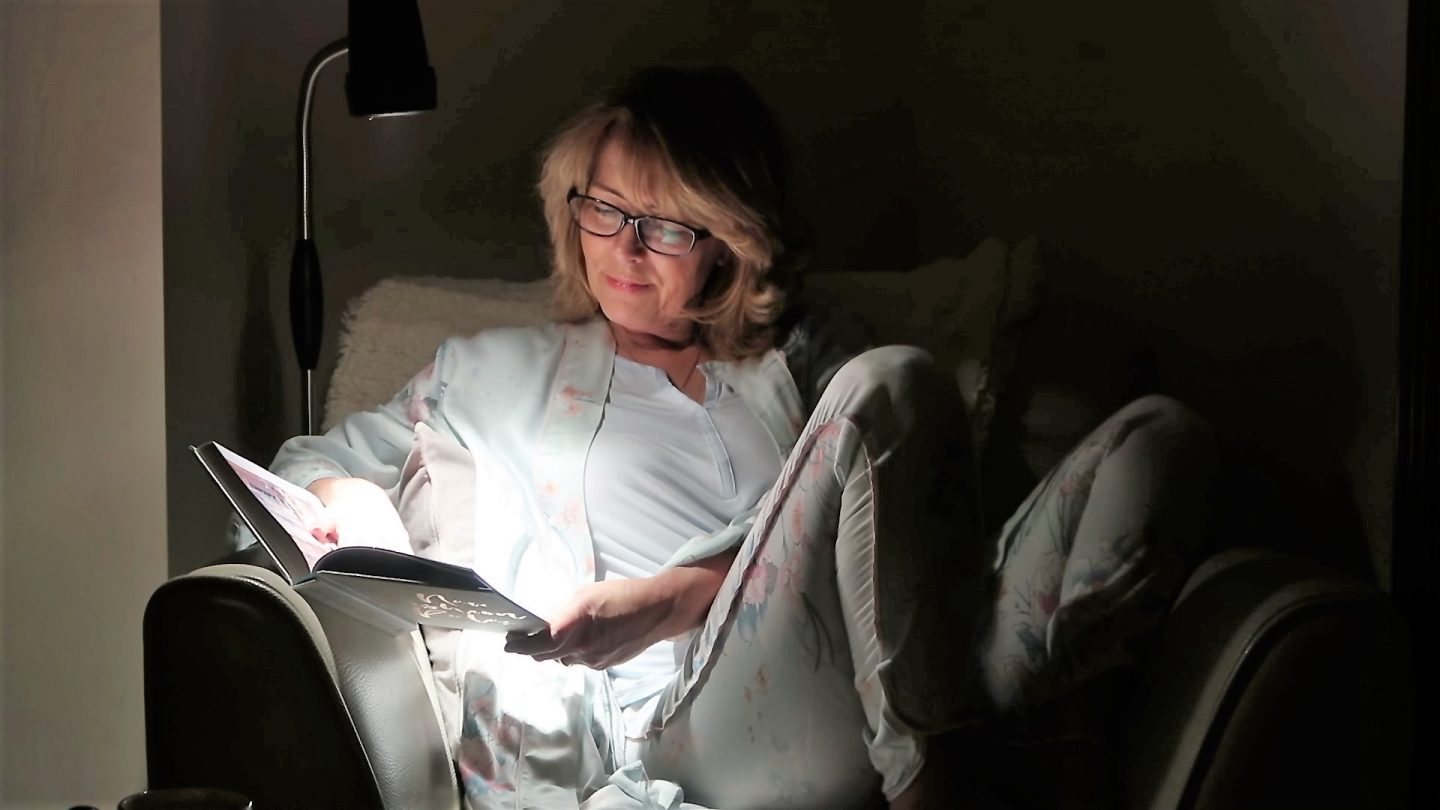 After speaking with the design team for Serious Readers about why their lights are so special (It's an interesting read by the way) I was eager to try one of their super duper lights.
Here I am above reading one of my new books and you can see how much light is being portrayed through that little bulb. Let me explain the difference.
Why choose a Serious Readers light for your eyes?
There are three different high definition lights available from Serious Readers. I've chosen the Alex and I will explain why. But the others may interest you more.
High Definition
Serious Readers most powerful light – As close to natural light as is technically possible. Recommended if you suffer from Macular Degeneration and other eye conditions.
The Alex
The latest Alex, eco-friendly LED technology delivers superb colour rending and detailed recognition. Projects a brighter wider beam than the classic light.
Classic
The original Serious Readers light is now being built in the format. The narrow beam is ideal for personal nighttime reading.
A simple classic and timeless design, lightweight and powerful light
When my light arrived, I was impressed with the sturdy packaging and that the light came all in one piece. Nothing to put together was a bonus point! I've chosen my light in the Black and Nickel finish. It's the tall version rather than tabletop versions that are available.
I decided on the tall version, it's not that heavy that I can't move it around the house and I have a specific spot in mind for this sleek designed light as I get further into my home renovation.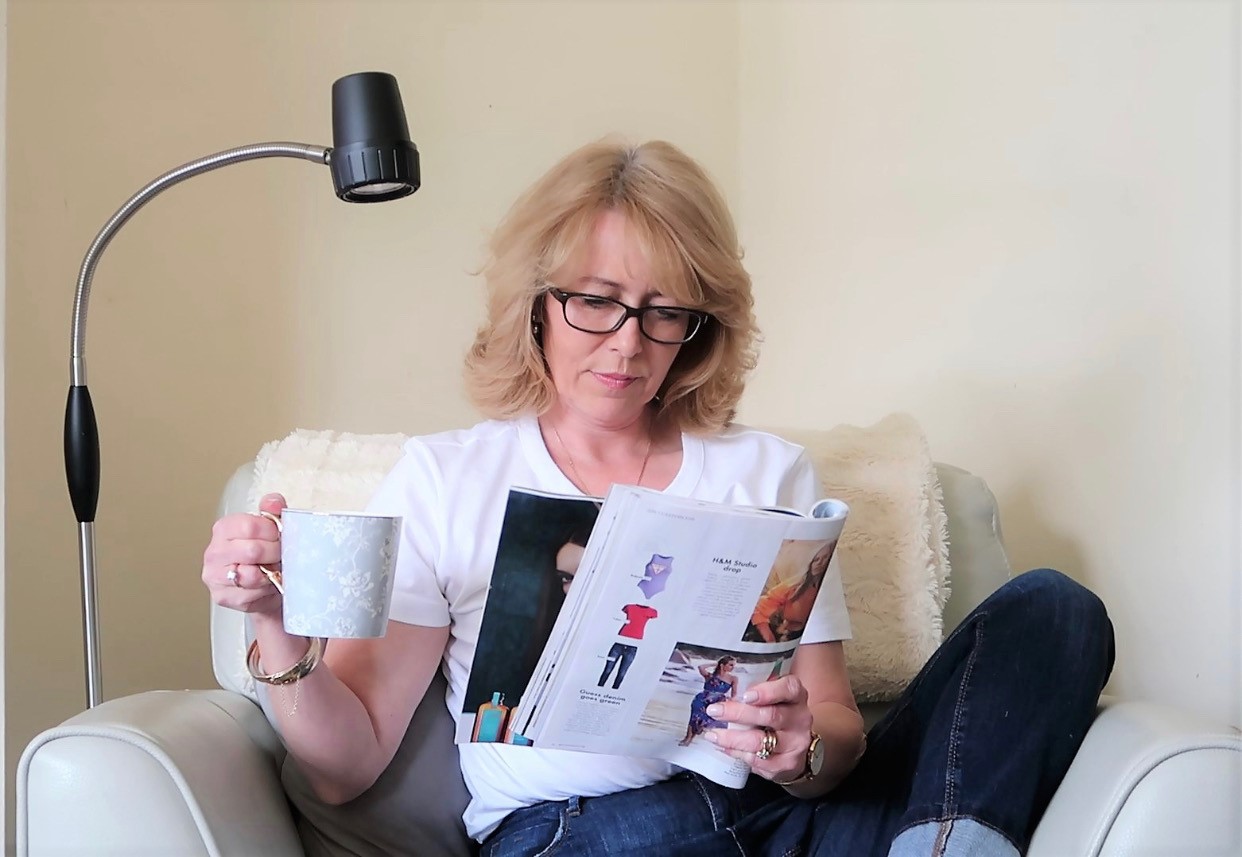 I also liked the idea of a dimmable light. Dee hates bright light in the living room when watching TV (tut, tut, not good for you) So I will be able to sit in my armchair and read from now on without the light intruding other space. It's such a bright light and obviously, I needed to bend it as pictured above.
It actually works great as an up lighter too! The movability of the light is simple to adjust exactly where I want the light and it's a simple one switch that controls the on-off and dimmer.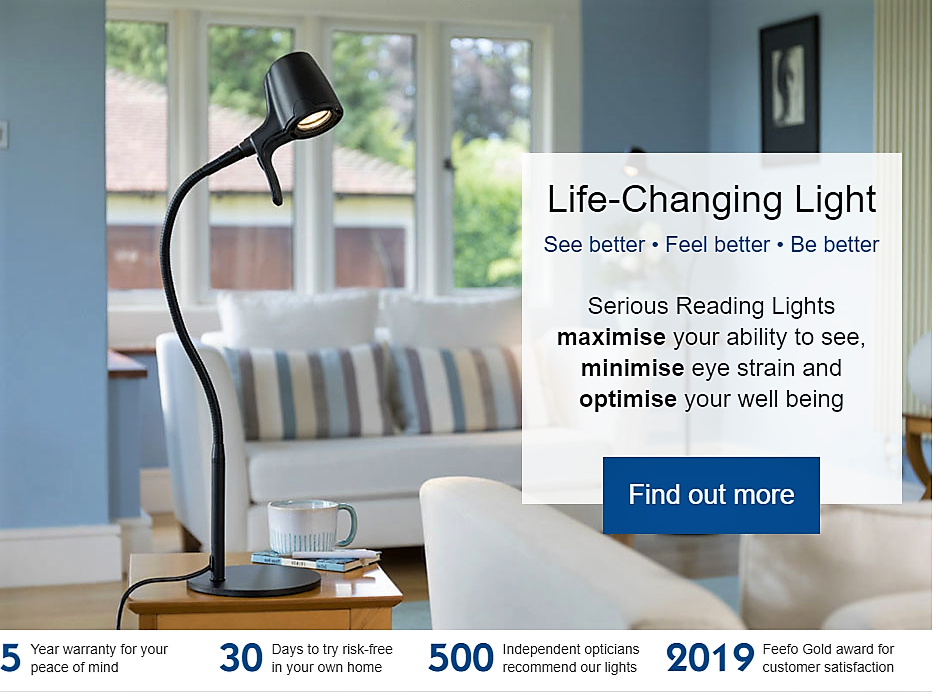 The tabletop version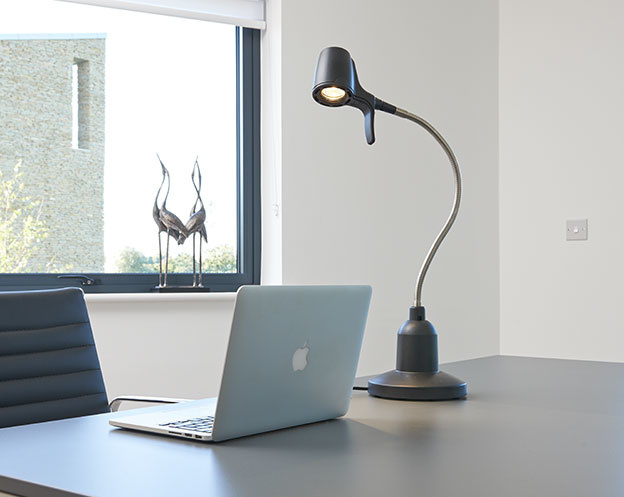 Here's the table top version that's available. The lights come in three different colours White, Black and Grey with different finishes of Black, Nikel, or Brass.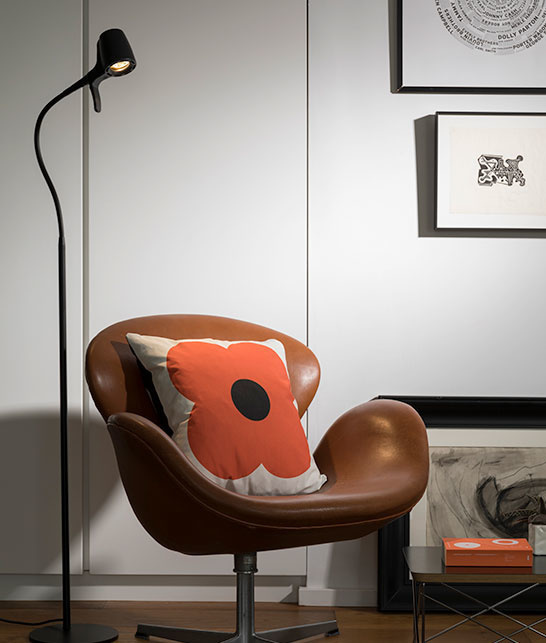 I wanted to share this picture so that you can see the base of the light. It's not overpowering at all yet the base is sturdy. One thing I wish I had shared with you is me painting my nails the other night. It was a godsend for that!
My eyesight is slowly getting worse and it won't be long before I need glasses full time I think. Both of my brothers have been diagnosed with Glaucoma the past two years and I have to have regular checks for that. So this light is good for me, and the more I look after my eyesight the better!
You can read more about the Serious Readers lights here and purchase directly from them. It's an interesting read like I said. Getting older, we need to look after our eyes.
Thank you to Serious Readers for this great light – This is a sponsored post but all thought are my own and I love it!
Thank you for stopping by!
Receive every post by clicking subscribe on the right-hand side.
You May have a friend that's interested in this? Please use the share buttons
Xo Laurie
Subscribe for the latest updates!