A bits and pieces post today. Some fashion and news that I'm dying to tell you about! I discovered a fabulous fashion brand at an event and a really good beauty quick fix I think you will like.
It's been a busy couple of weeks for me, so I'm sorry my posts are a bit delayed. One of the grandchildren has been unwell and I've been giving as much help as possible like us nans do!
The Pure Collection Event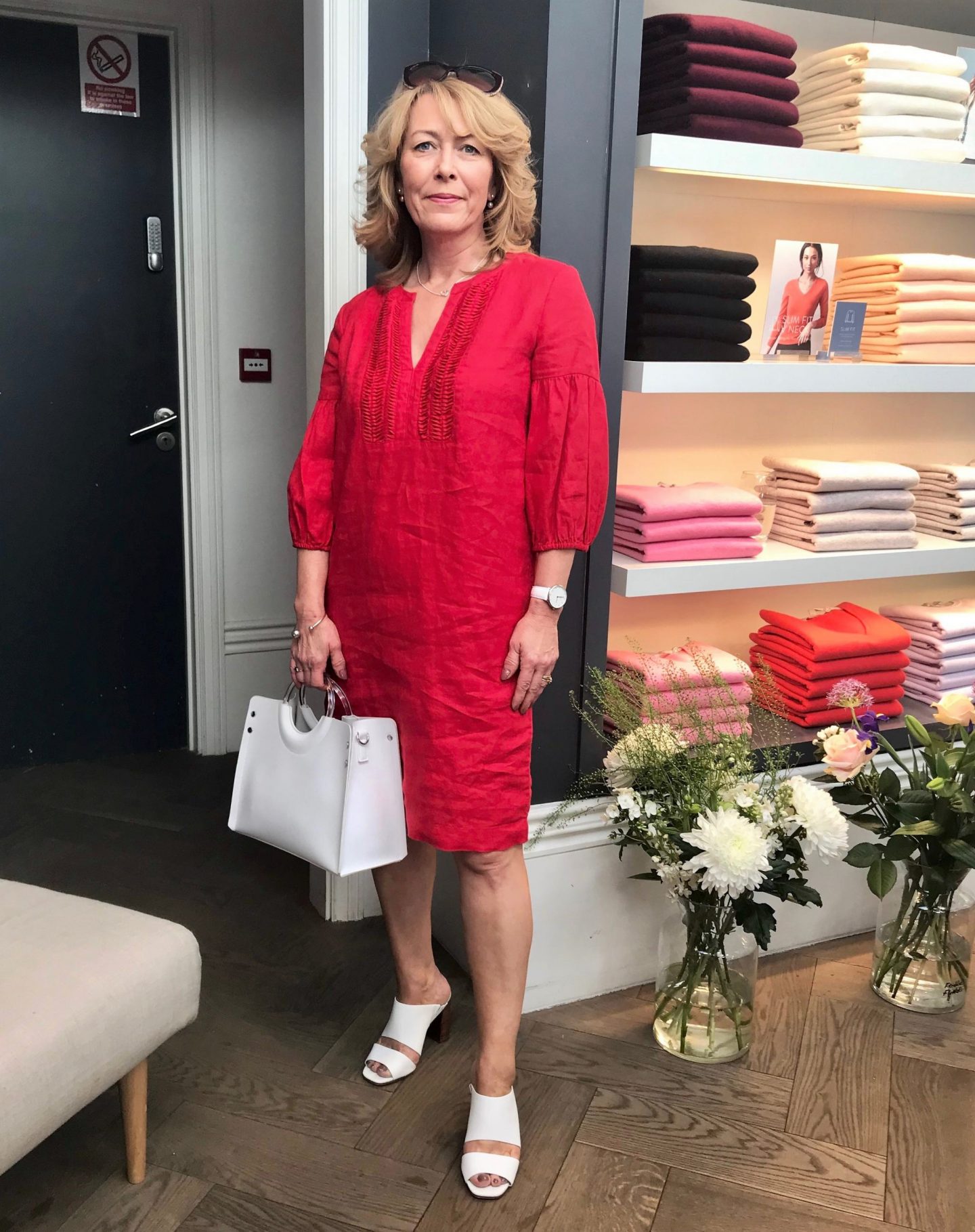 The Pure collection was a real surprise to me. I thought the Pure Collection brand was all about cashmere sweaters and cardigans! So when I attended the event I was like wow! I fell in love with a lot of items including this Red dress that I tried on. Also available in Baby Blue.
Catherine from Not Dressed As Lamb took the photo for me. And that dress has been calling me ever since! I might have to buy. There were so many items there that I fell in love with and I recommend you have a look.
---
Please be aware that there are affiliate links within the post at no cost to you
---
A bonus when attending events is bumping into blogger friends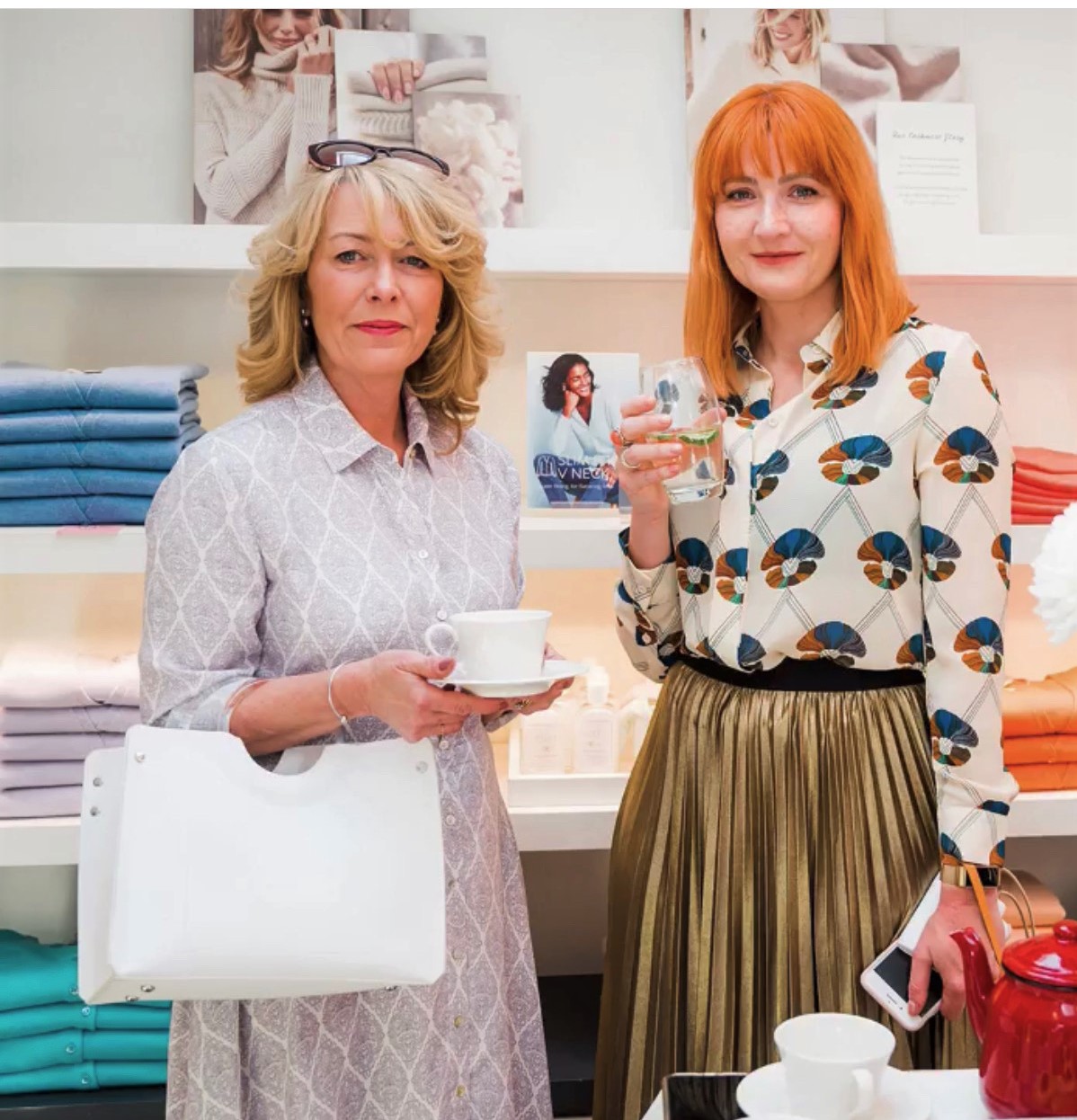 It was lovely having a catch up with Catherine. It was another lovely sunny day and I wore the shirt dress from last weeks post. The bag and shoes worked perfectly with that red dress.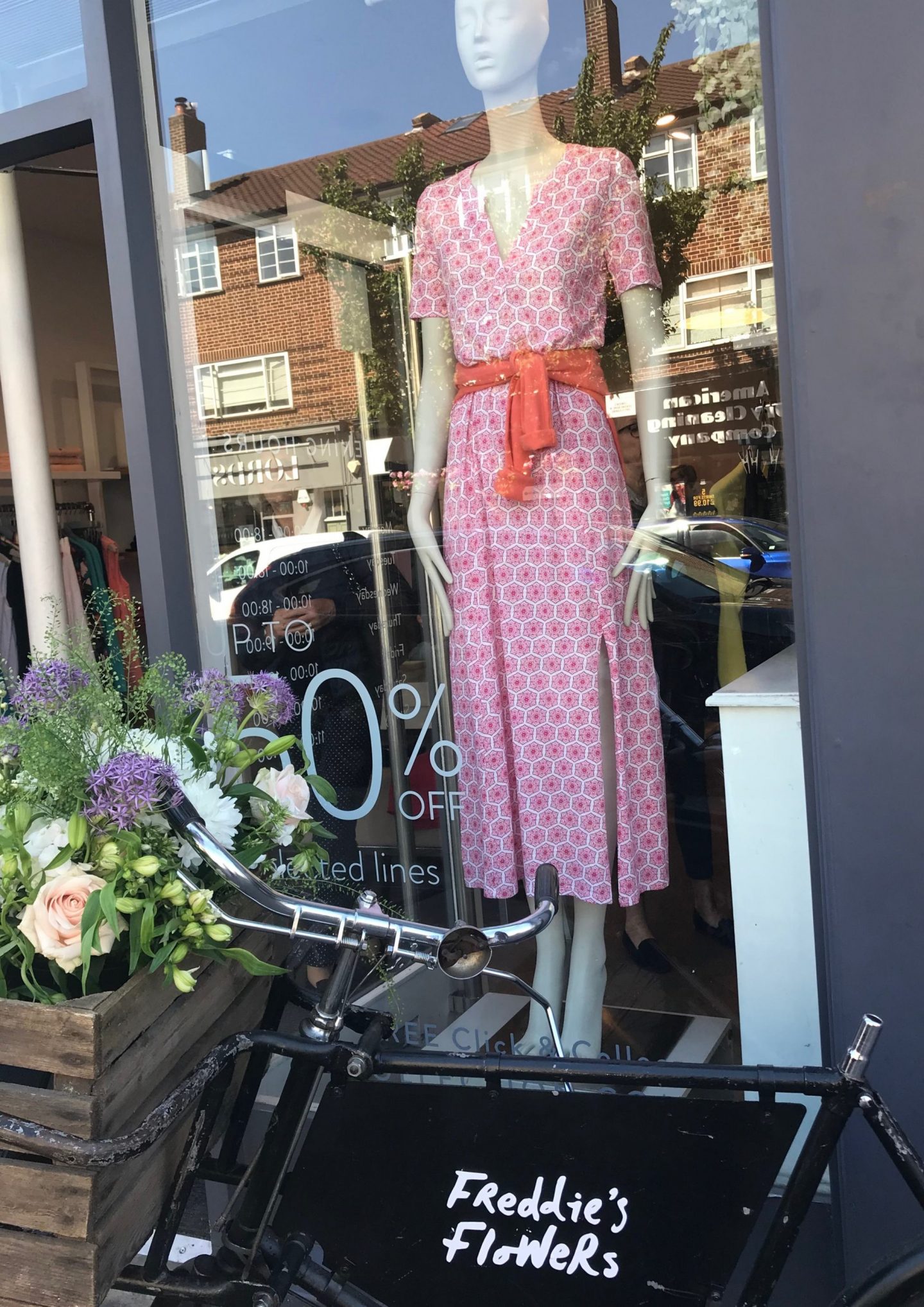 I really liked this dress too. Showcased in Pure's window it was easier to share this than a dress on a hanger. You can find the Pure Collection here There's a 50% off code at the moment too.
Wish list
The straw bag season is well and truly underway and I found the one below handy to wear with any dark summer colours. I'm saving my pennies for the gorgeous silk printed shirt!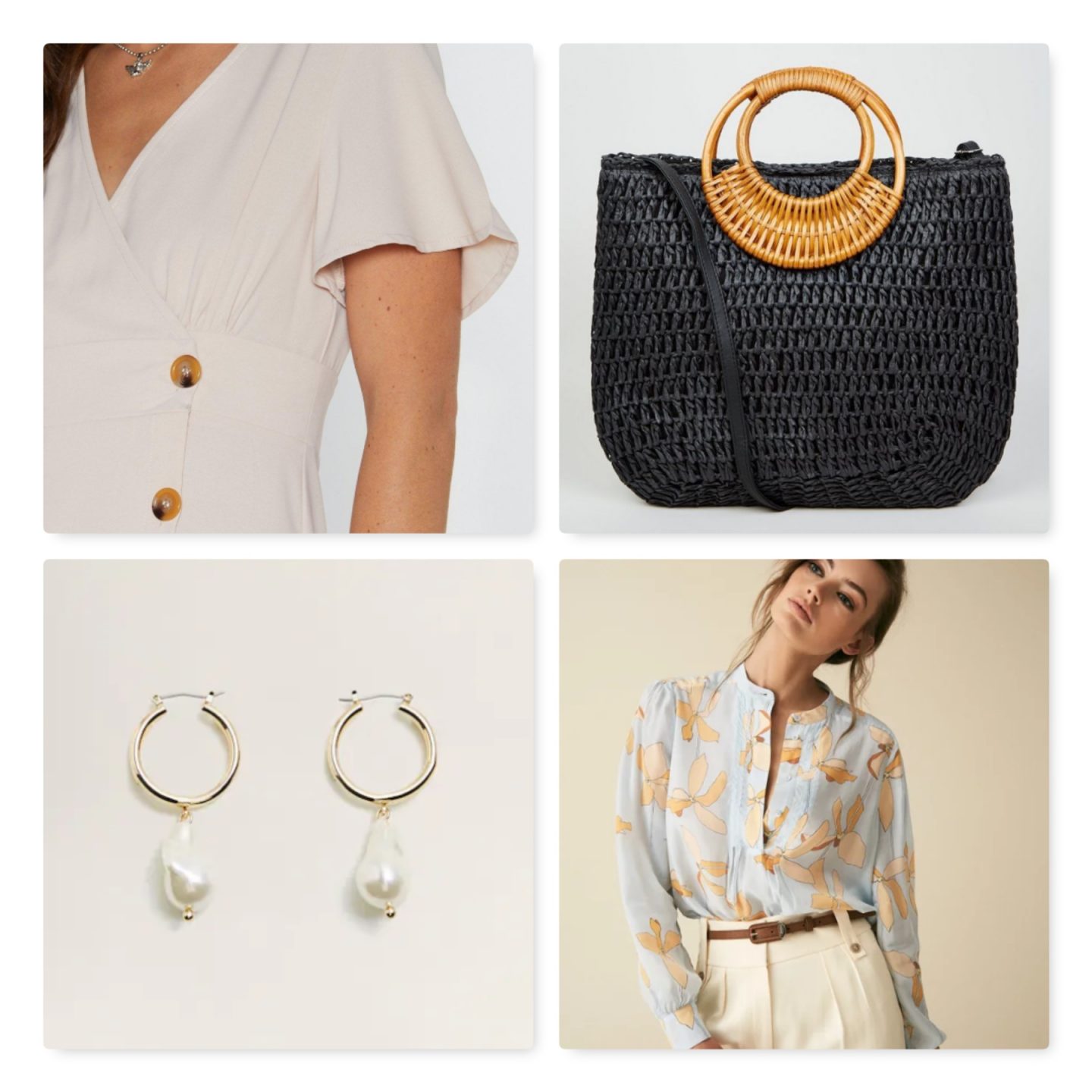 #ootd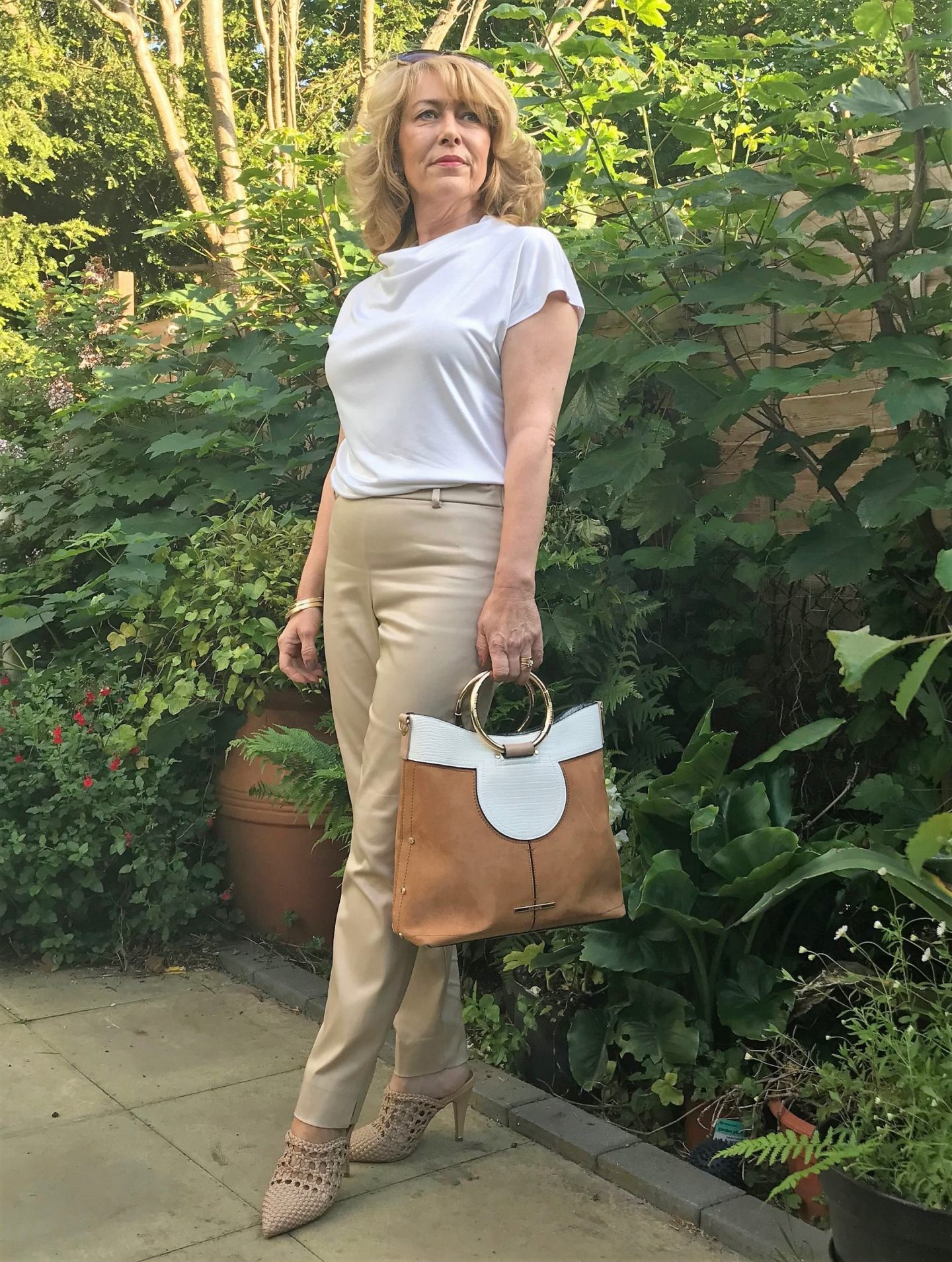 Trying to save time and taking a quick photo in the garden didn't work out as planned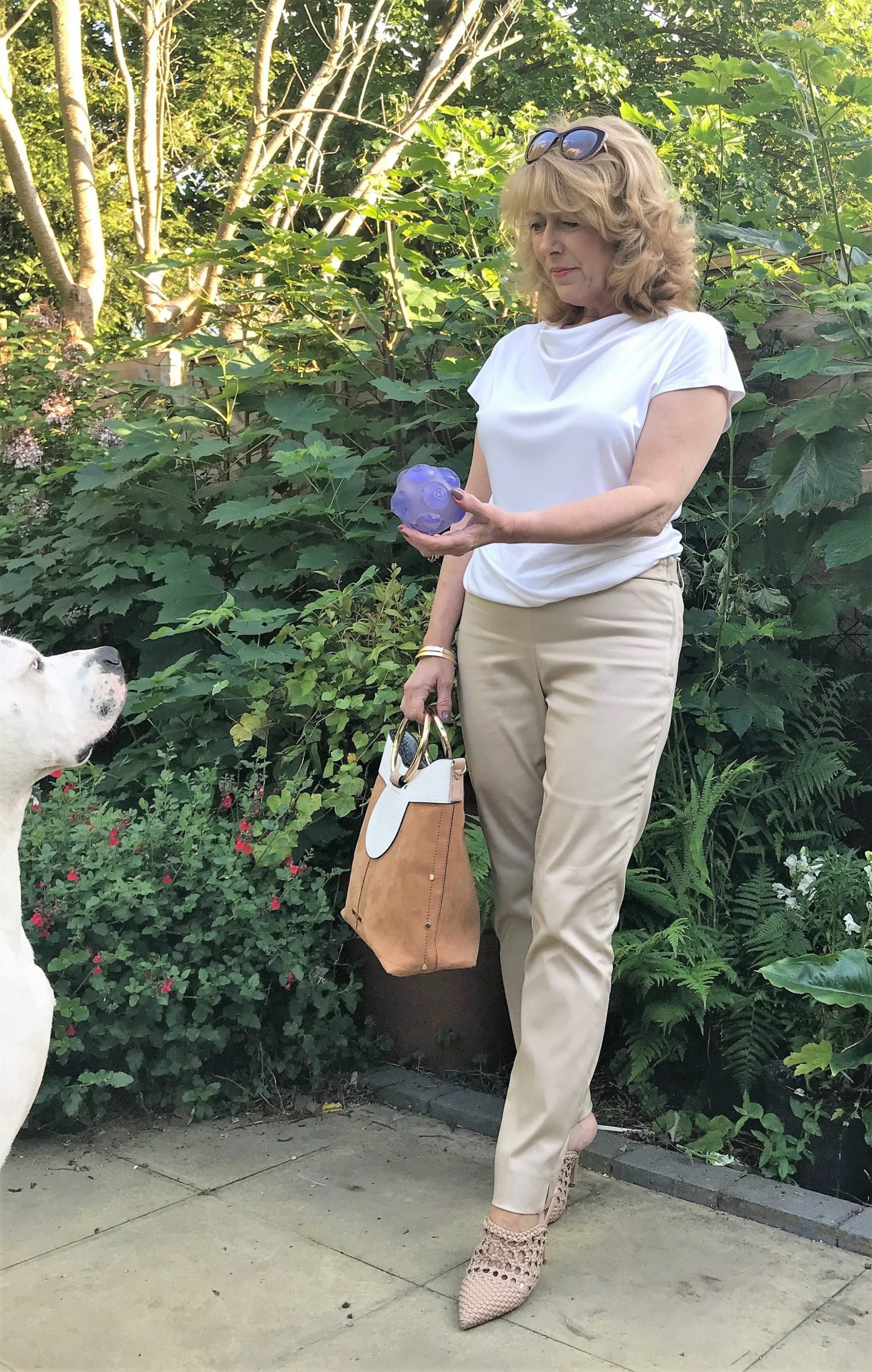 Someone thinks I've just gone out there to play. Trust me, it would have been quicker to just go out and take a photo! I wanted to share these bargain trousers that I found in H&M I found my regular size tight and the next size up may be too roomy? But a good basic pair of daytime casual trousers they are. Available in lots of colours too.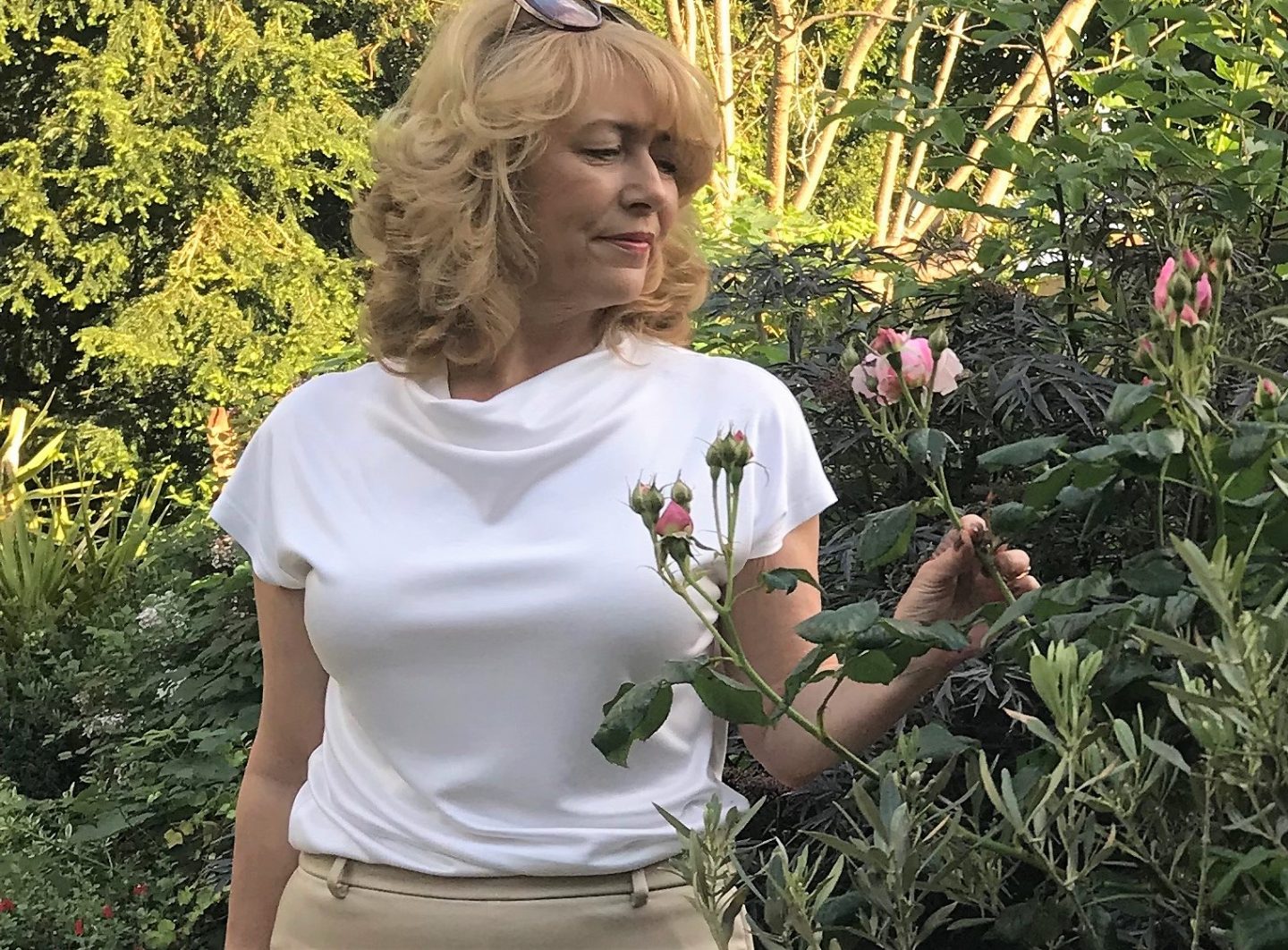 The garden has exploded and everything is in bud. After spending time in Essex you really see the difference rather than waking up daily. One minute there was nothing and on returning home the garden was like a jungle!
Sharing the love for this top
I've been getting my price per wear out of this top from Reiss. Superb quality and it works with anything I pair it with. I like the unusual neckline and just enough coverage on the arms.
Supporting my favourite charity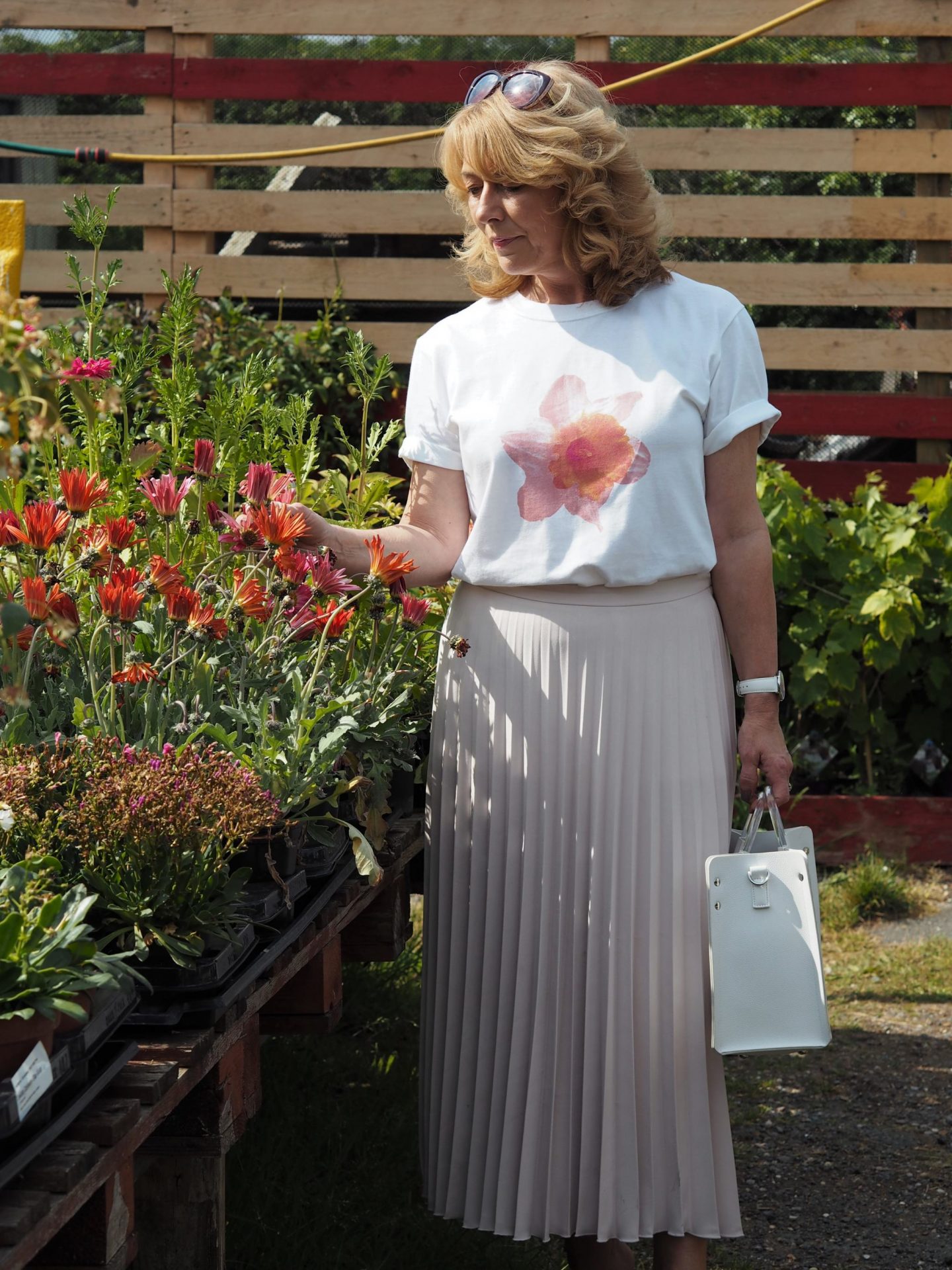 I was gifted this cute T-shirt from the famed designer of swim and beachwear Melissa Odabash. The daffodil as you may well know is the emblem for Marie Curie and I like that this one is Pink. This has been designed for the great daffodil appeal.
It will look great worn with swimwear too. It's quite long in the body. It's good to support this important charity and if you would like to purchase a T-shirt (£15.00) you can find it here. They have some lovely items on the Marie Curie site at the moment too.
Beauty Finds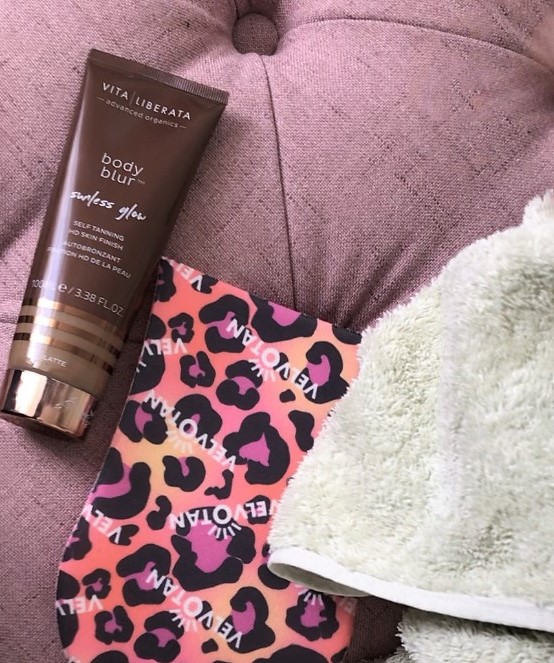 After hearing from many bloggers about how good Vita Liberata Body Blur was I just had to give it a try. Ladies, this is the easiest, fastest way of getting good colour on your legs before you head outdoors wearing a skirt or dress and not worrying about those milky white legs that don't often see the light of day.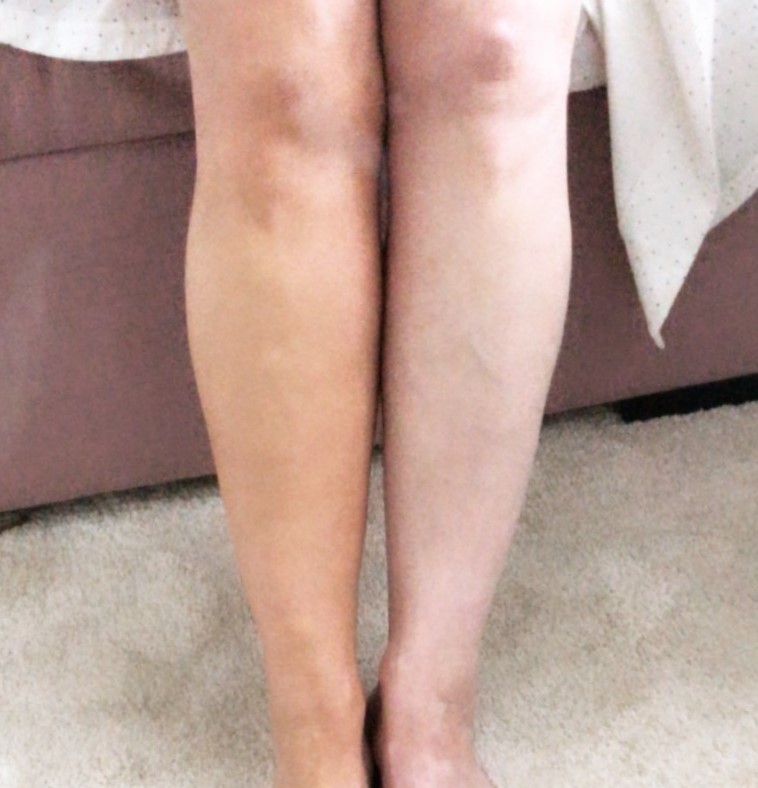 You can see above the colour difference. Sorry about the blurred photo (mirror selfie) Just a tiny pea size of this cream will tan the bottom half of your leg. I rub in with my hands and buff with a mitt after. It really is amazing stuff and I just wished it didn't wash off!
I will be sharing a film of me applying this self-tan in a couple of days on my Instagram if you'd like to have a look at how good this is. I'm actually wearing it on the first photo of this post. My legs were super white! You can find the Vita Liberata range at Boots.
News!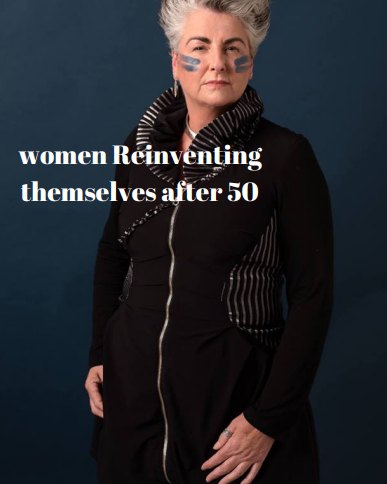 Last year I had a photo shoot at the V&A for an Exhibition about women reinventing themselves after 50. Mine obviously being blogging. I'm really excited about this and can't wait to see it and what all the other women have done since hitting their fifties.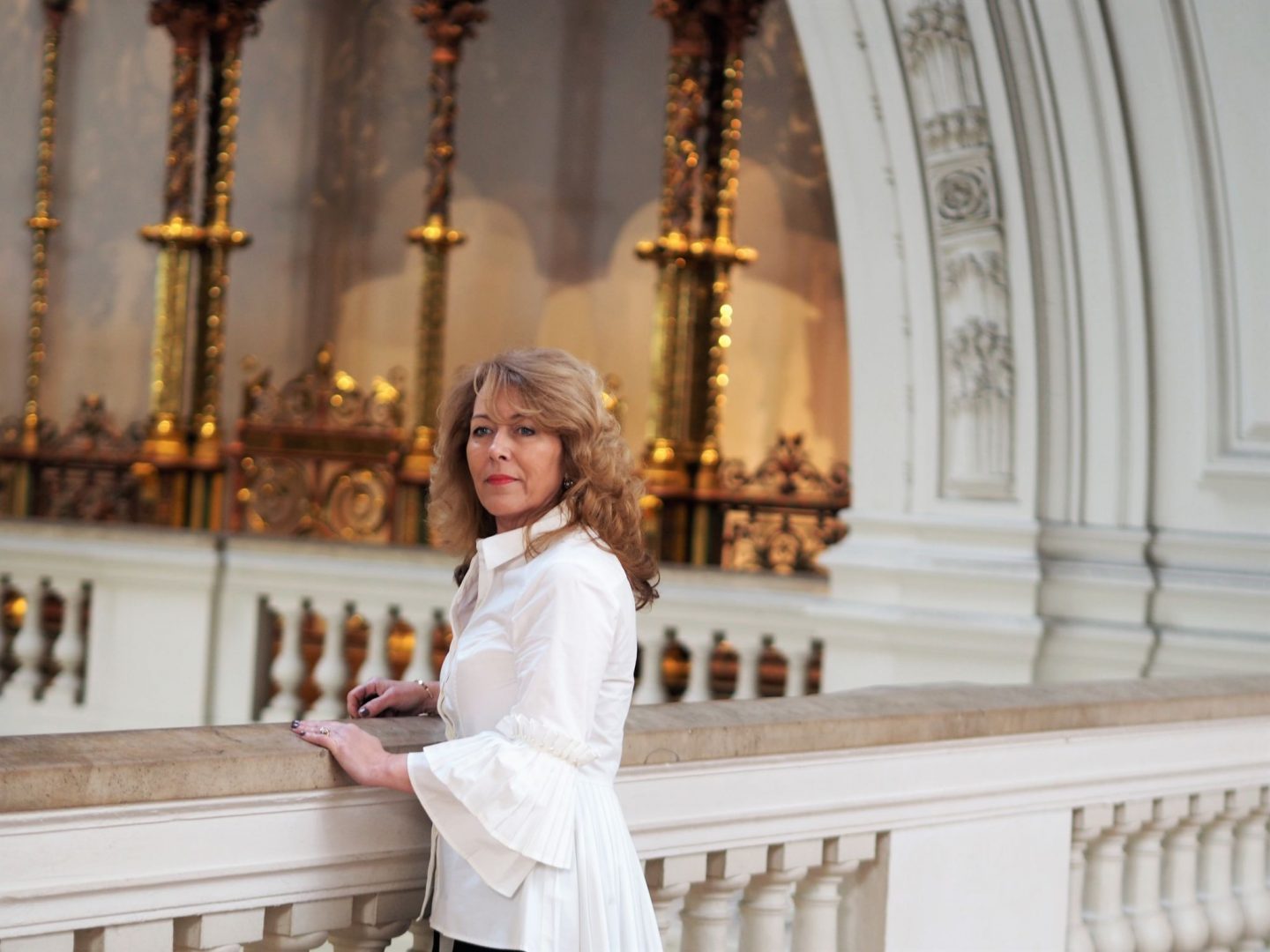 Information is available on Facebook if you would like to go to London for the day and have a browse.
On Film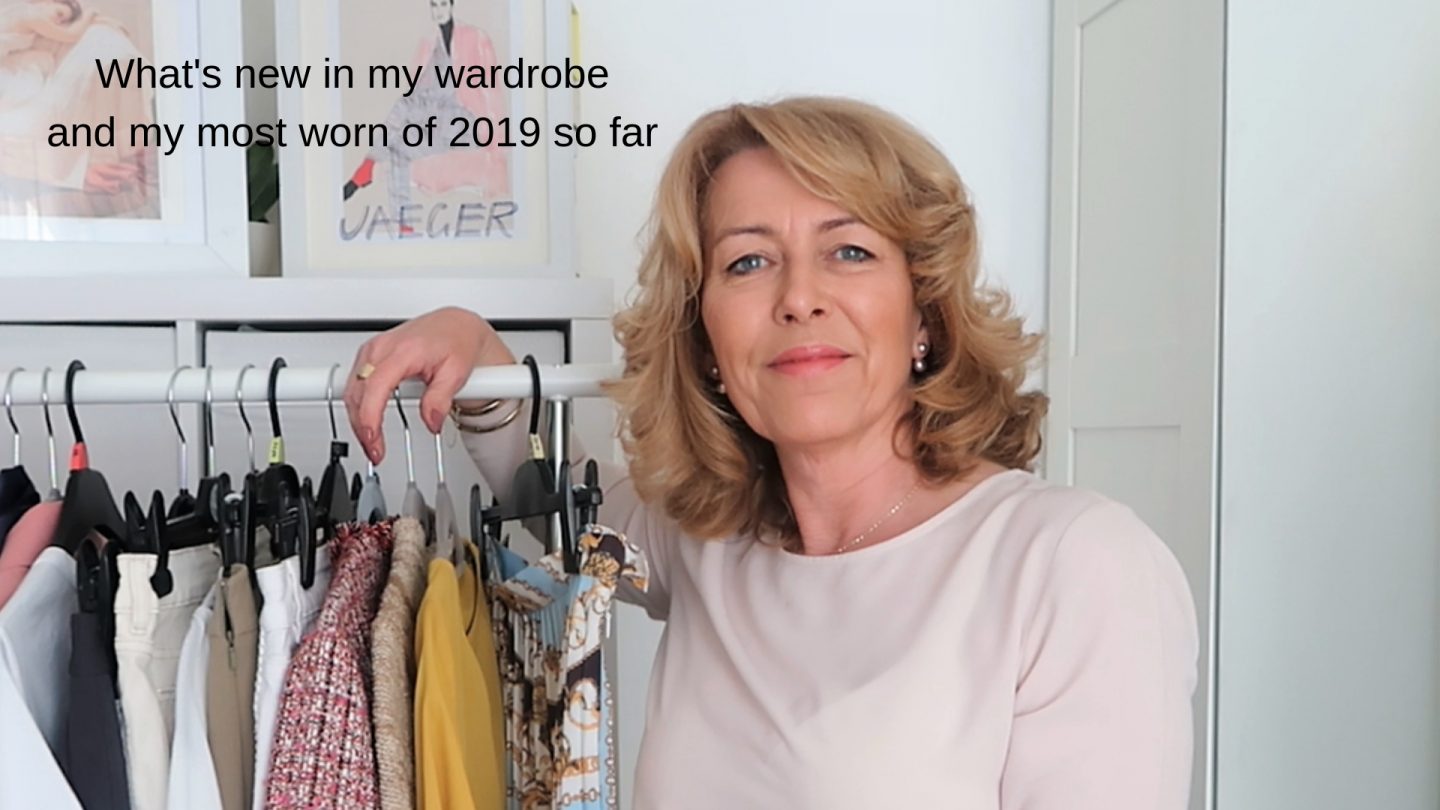 There's a new Vlog on my Youtube channel if you would like to have a look. I would love you to join me Chatting about what's new and what I've been wearing most and truly recommend. You can find me on YOUTUBE
Thank you for stopping by!
You May have a friend that's interested in this? Please use the share buttons
Xo Laurie
Subscribe for the latest updates!