This time last year I had a golden tan from the good weather we had, This year is a completely different ball game! Some days when I've headed out of the door early I've still needed a winter coat! We had that gorgeous weekend during the Easter break but that's about it. I'm sharing with you some items that I've worn the most during April. How I've been mixing my favourite brands.
---
Please note that some of the items are gifted and that there are affiliate links within the post at no cost to you
---
Most Worn – The Pleated Skirt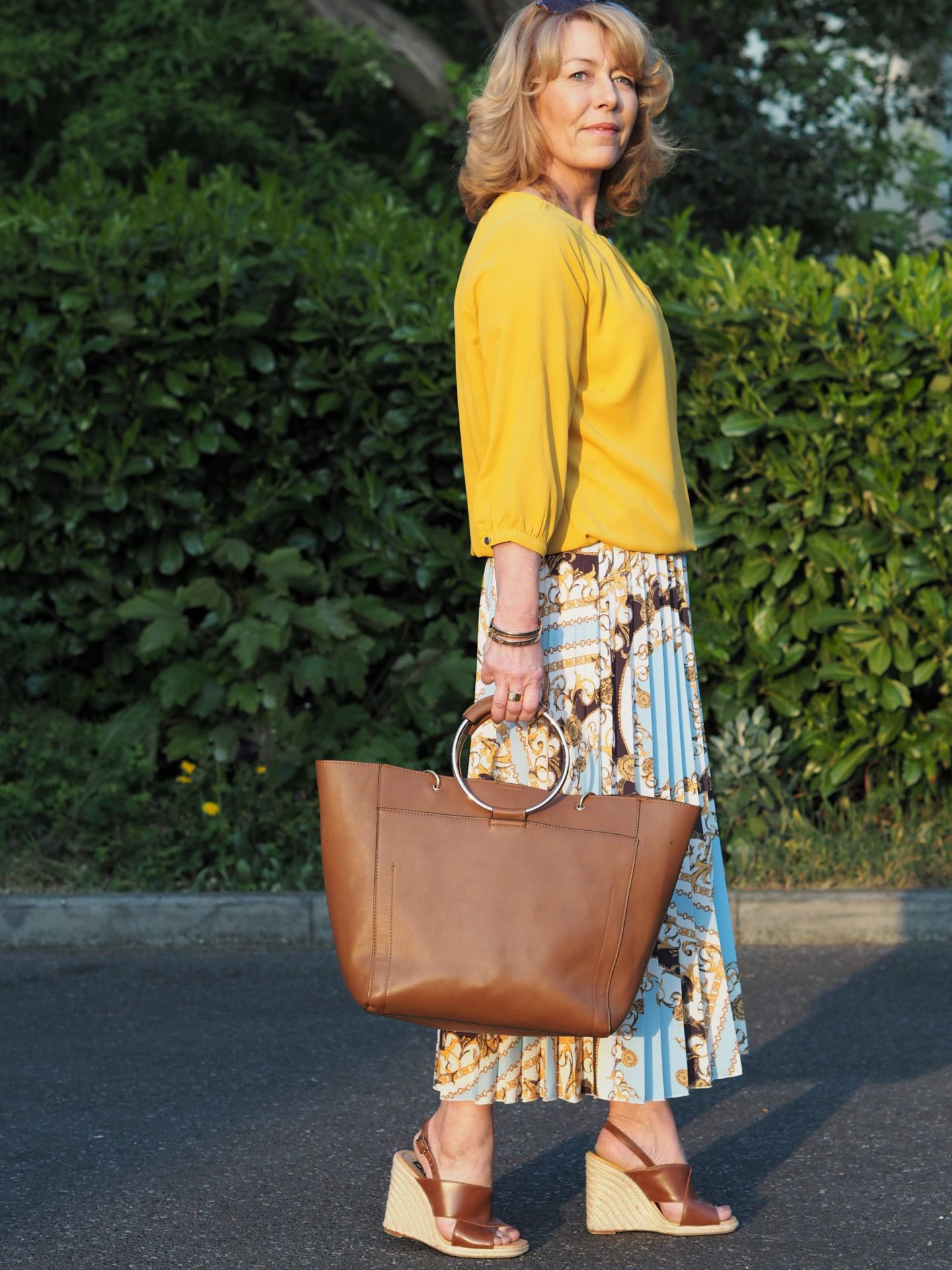 I'm getting lots of wear out of this Pleated skirt. The colourways of blue, white, mustard and chocolate make it so easy. I paired it with a mustard top that didn't make it onto a blog post even though I really like it.
It sold out really quickly and I thought it a bit pointless sharing something that wasn't available. Mustard has been a really big colour this year, I remember the shops being full of it earlier in the year.
Tan accessories to finish the look, Both bag and sandals are from last year but still have lots of wear left in them. I don't know why but tan always comes out to play more during the warm months.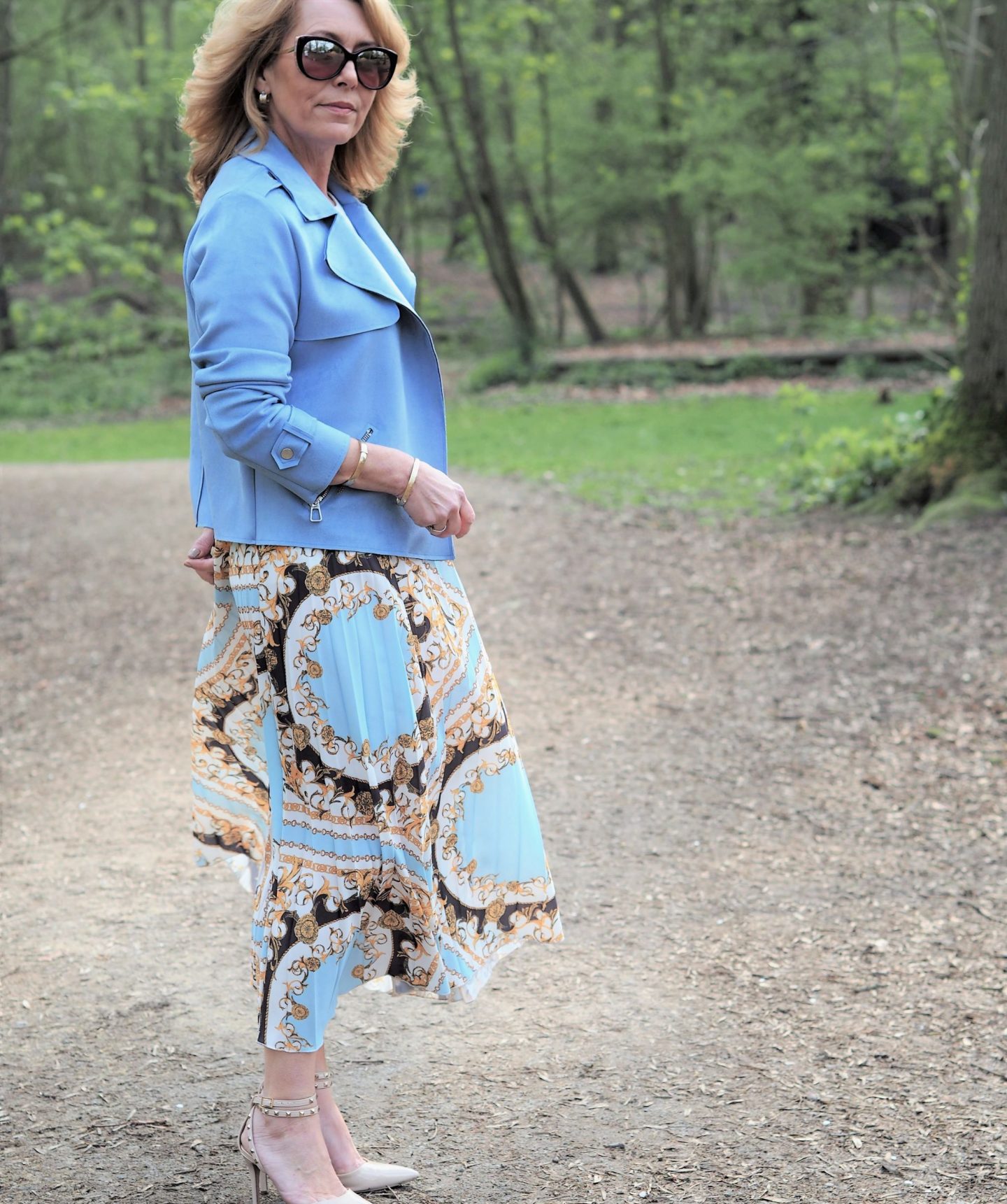 Here's the skirt worn for the sunglasses post with the blue jacket. One piece of advice that I can give you when choosing a pleated skirt is to size up. When you're trying them on, just try both sizes. I think they hang so much better if they are on the roomy side.
I think it's funny that I'm sporting sunglasses on a cold dreary day and not wearing them on a sunny evening walk home!
Most worn – The Boucle Smart Jacket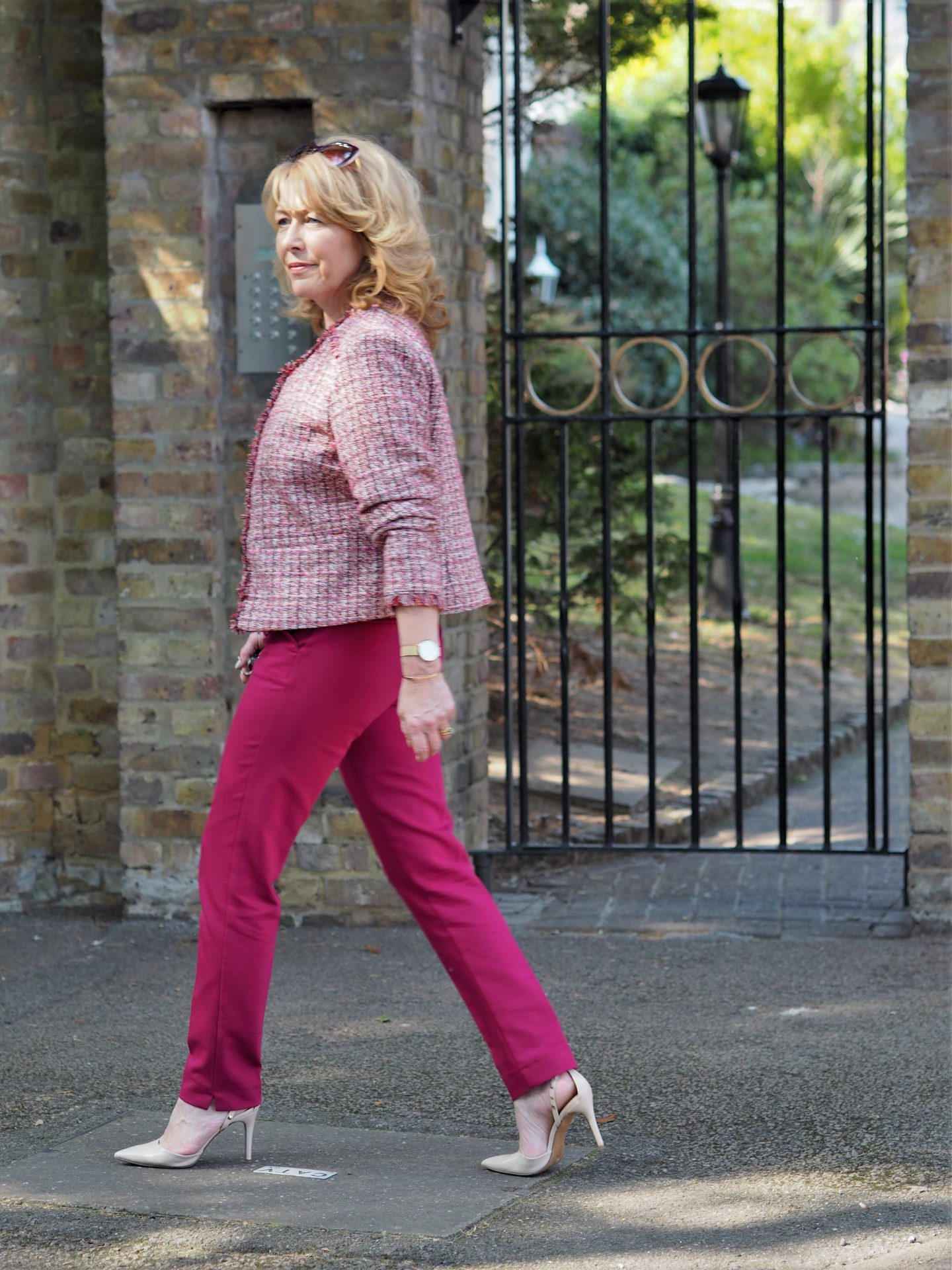 It's surprising how you can switch a look from casual to smart. This Bonmarche Boucle jacket has been worn so much. I've paired it with dark navy denim, navy trousers, and cream trousers. Again the colour mix in the jacket helps the decision making in what to pair the jacket with.
I've paired the jacket with the pink Cafe Trousers from Laura Ashley. I have these trousers in a few colours, they're a super comfortable, classic cut, good quality type of trouser and available in other colours of Black and a Herringbone pattern mix in Grey. Each year, Laura Ashley releases different colours of this trouser, or I should say they have the last few years. There's a gorgeous beige pair on there at the moment but they aren't calling them Cafe trousers this year for some reason. Worth a look.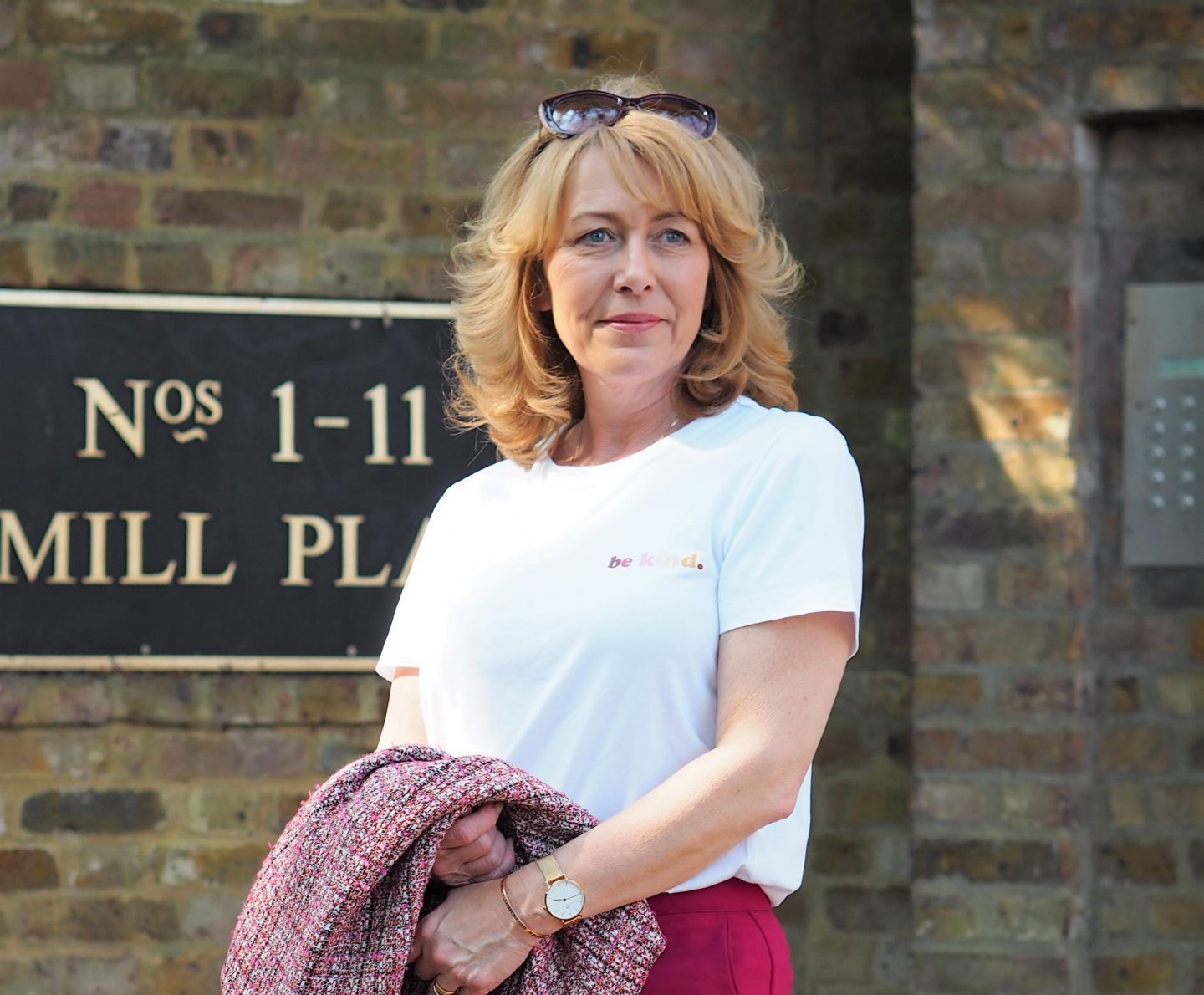 I've also been wearing Christina T-shirt a lot. I thought the pink lettering went well with the cerise trousers. It's surprising how many people have actually asked " where did you get that T-shirt?" and then I've had to tell the story about Diana's Trust Award. I have it nearly off pat now!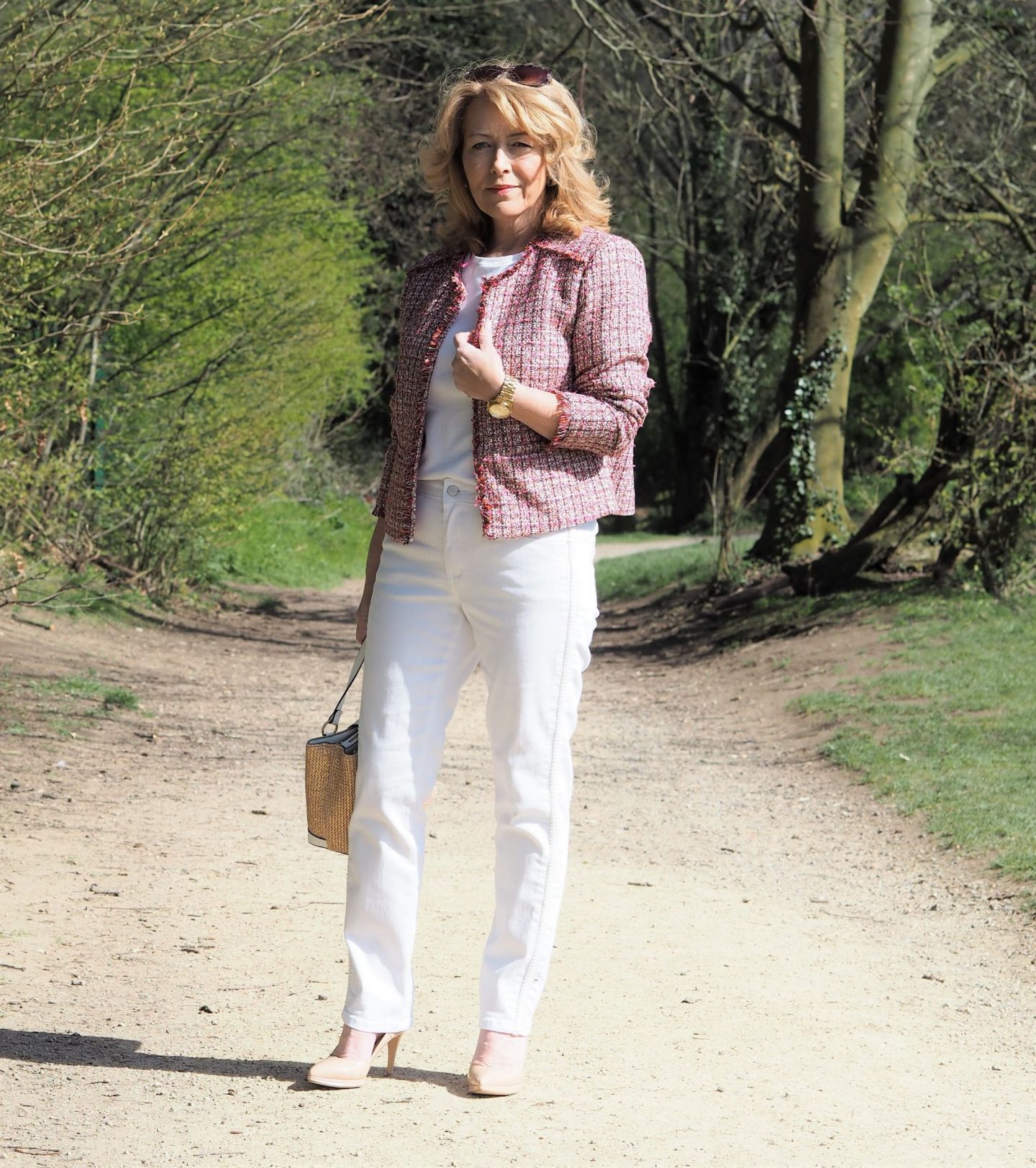 In case you missed it here's the first entry of the Boucle jacket. A most enjoyable edit when my daughter Sarah joined me, The White Bonmarce jeans have been worn a lot too. I'm actually wearing them now as I write this with a blue Breton T-shirt. The jacket is currently on sale at £25.00!!
Absolute most worn!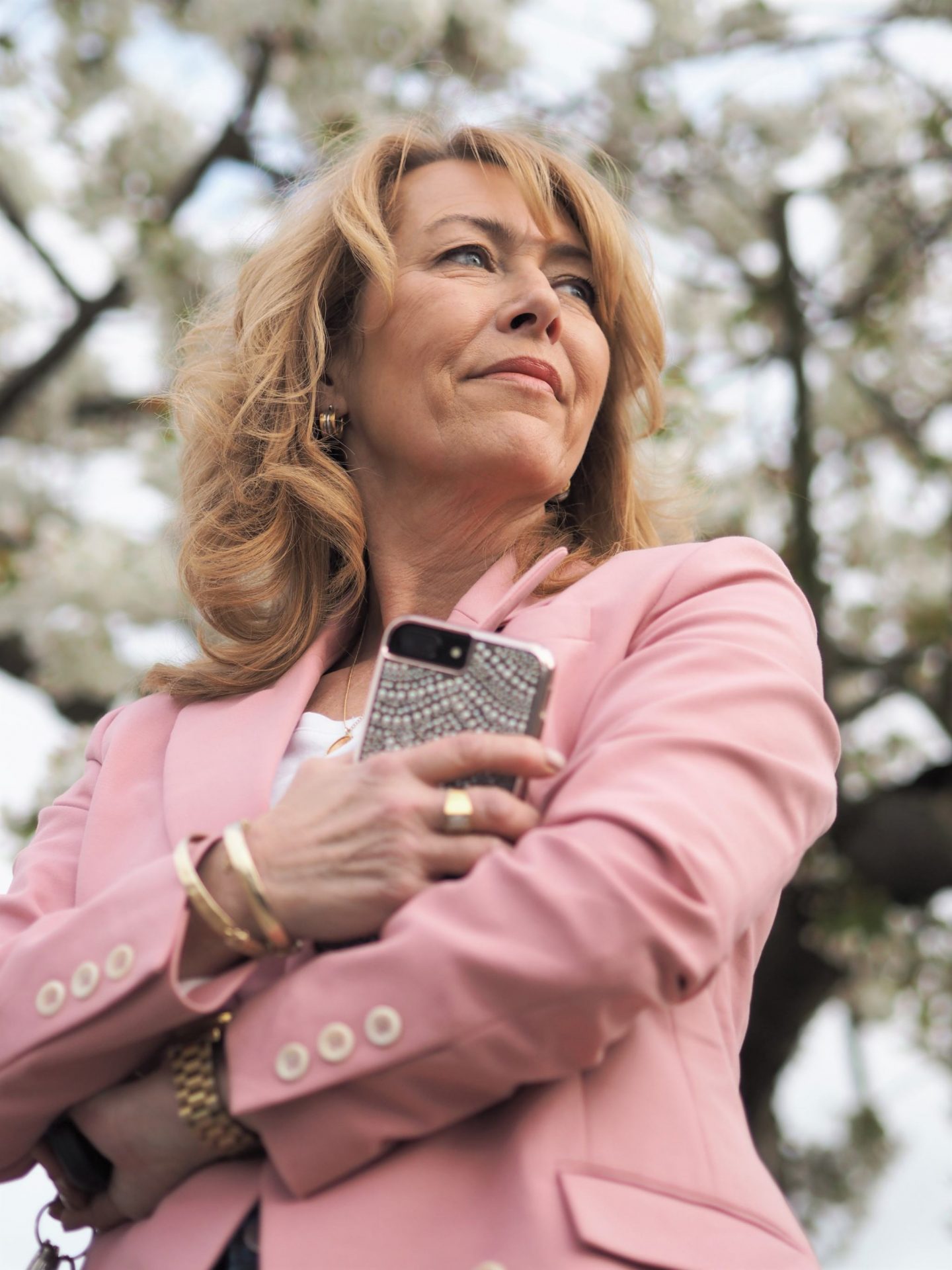 If you're a regular reader you are most probably sick of the site of this Blazer! But it really is my most worn! I can't applaud my most loved brand Baukjen enough when it comes to tailoring!
Here I am practising my photography. I'm actually picking Sarah up from a shopping trip, parked in a shopping centre car park when I spotted a lovely blossom tree. Luckily I had the tripod in the back of the car, so I whipped it out to take a shot of myself under the blossom tree.
Unluckily the blossom blurred and focused on me! So it wasn't that lucky and it goes to show I need to brush up on my photography skills!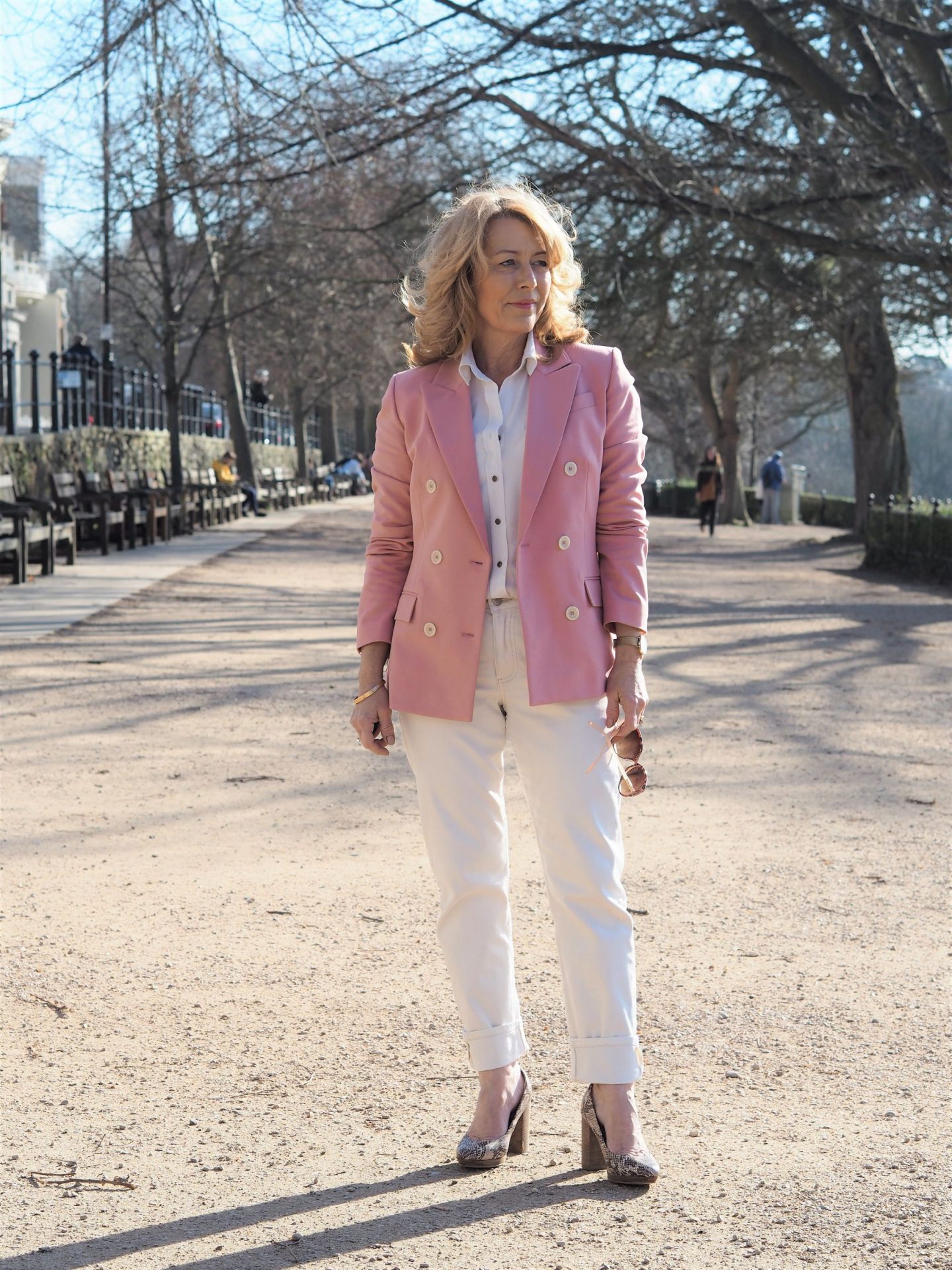 Here's the first entry of the Blazer. Who'd have thought we would have such a glorious day in February? Just to let my American readers know that yes, Baukjen can be purchased there. I've had a few of my American friends ask. The Blazer is still available on sale too.
Most worn Accessory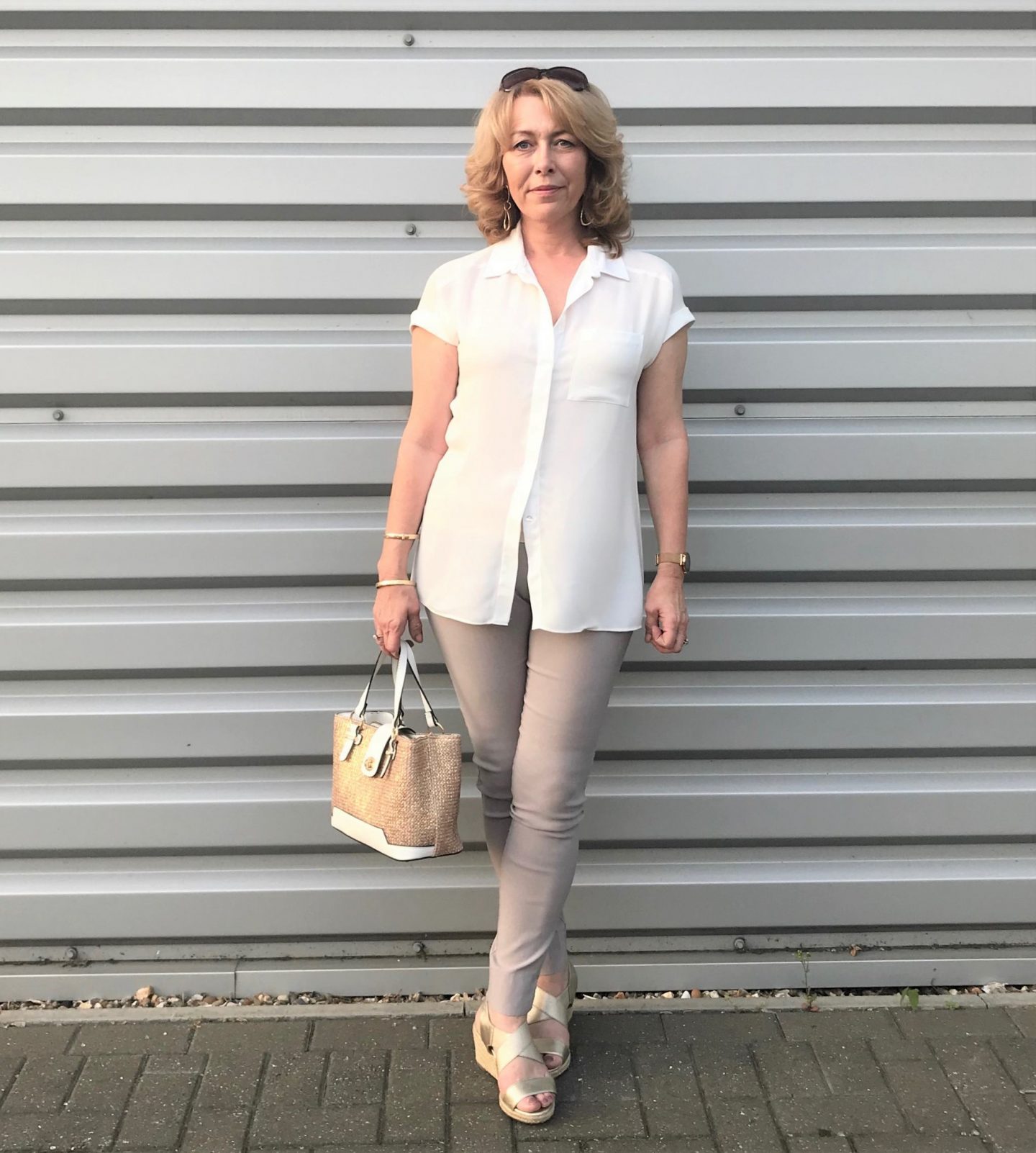 What an absolute little gem of a handbag this has turned out to be. It works with so many colours and for me, it's a perfect size. An absolute bargain at £20 at Bonmarche
Can I just mention the trousers too? Into their second year also these trousers (like stretch cotton leggings) have been amazing. I'm hoping to get a couple more colours this year.
From another favourite brand Roman Originals, the stretch and comfort that they provide make them a highly worn item in my wardrobe. Well worth a look. Sandals are from Vionic Uk.
Other than that It's been mostly loungewear! That's what I wear most if I'm not heading out the door! Let me know of any bargain finds you have spotted!
There will be a new vlog with my "new in my wardrobe" on Monday if you would like to stop by. Have you seen the latest make up vlog? You can watch it from here
Thank you for stopping by!
You May have a friend that's interested in this? Please use the share buttons
Xo Laurie
Subscribe for the latest updates!