What with our unpredictable weather of late, the Syon Park gardens that I often visit has a huge stately home on its grounds and for the last three years that I have visited the gardens, I have never been inside for a nose.
The gardens are literally a ten-minute drive from my home and I love to visit this place and it's handy for my photo shoots. So I decided to extend my season ticket this year to gain entry to the house too. I thought if the weather carry's on the way it has so far this year, at least I can take refuge there for photos and show you some lovely parts of this place too
Sharing a new outfit at Syon Park – floral/neutral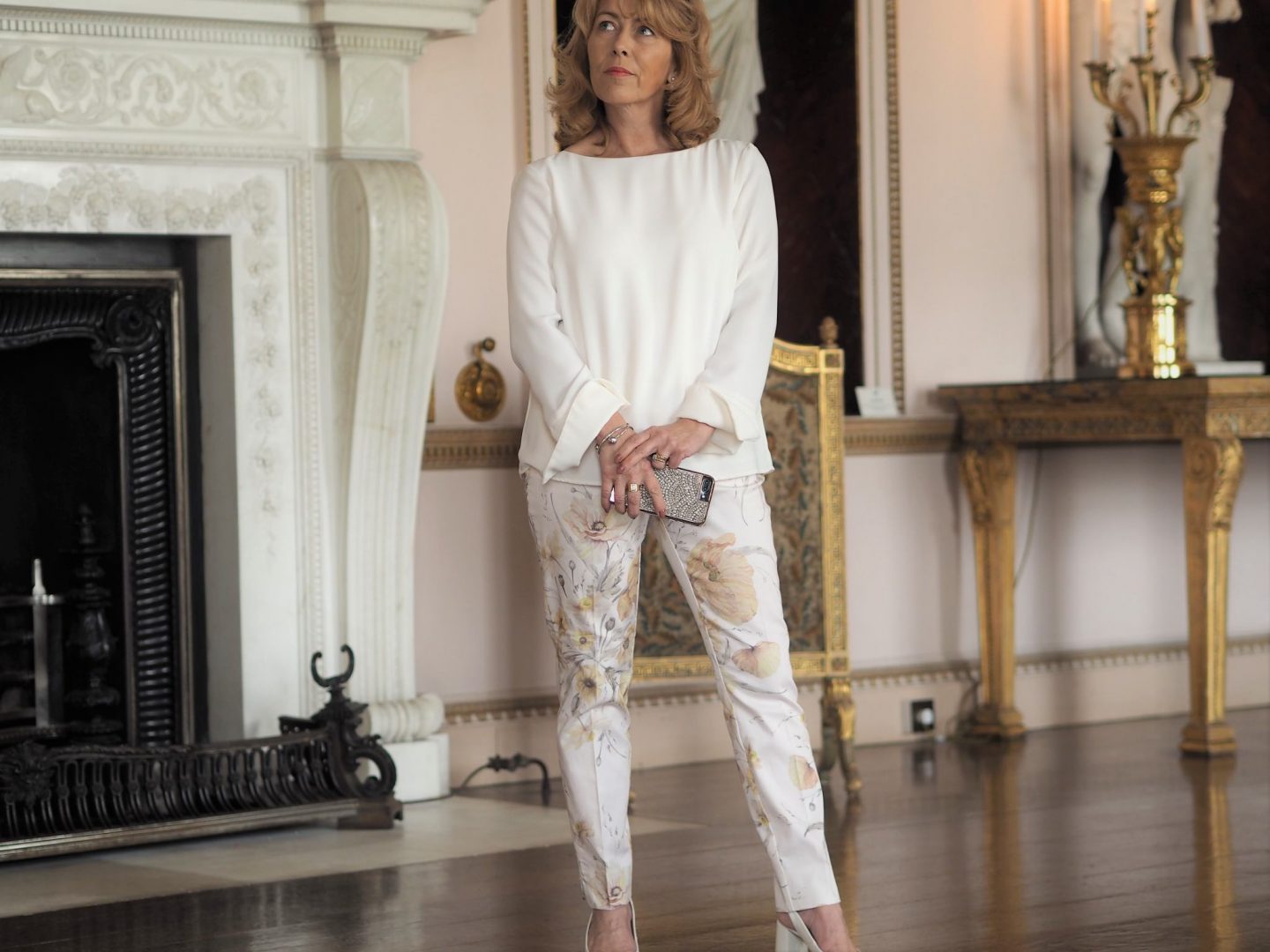 Let's talk about the outfit first. Purchased for a night out, and together these two items make the ideal pairing but I've stayed shop savvy here knowing that I can use each of these two items to create different looks.
---
Please be aware that there are affiliate links within the post at no cost to you
---
H&M has so many lovely items this season and I love so much of the Conscious collection too. You may remember the dress from a couple of weeks back. I took the photos in Syon Gardens.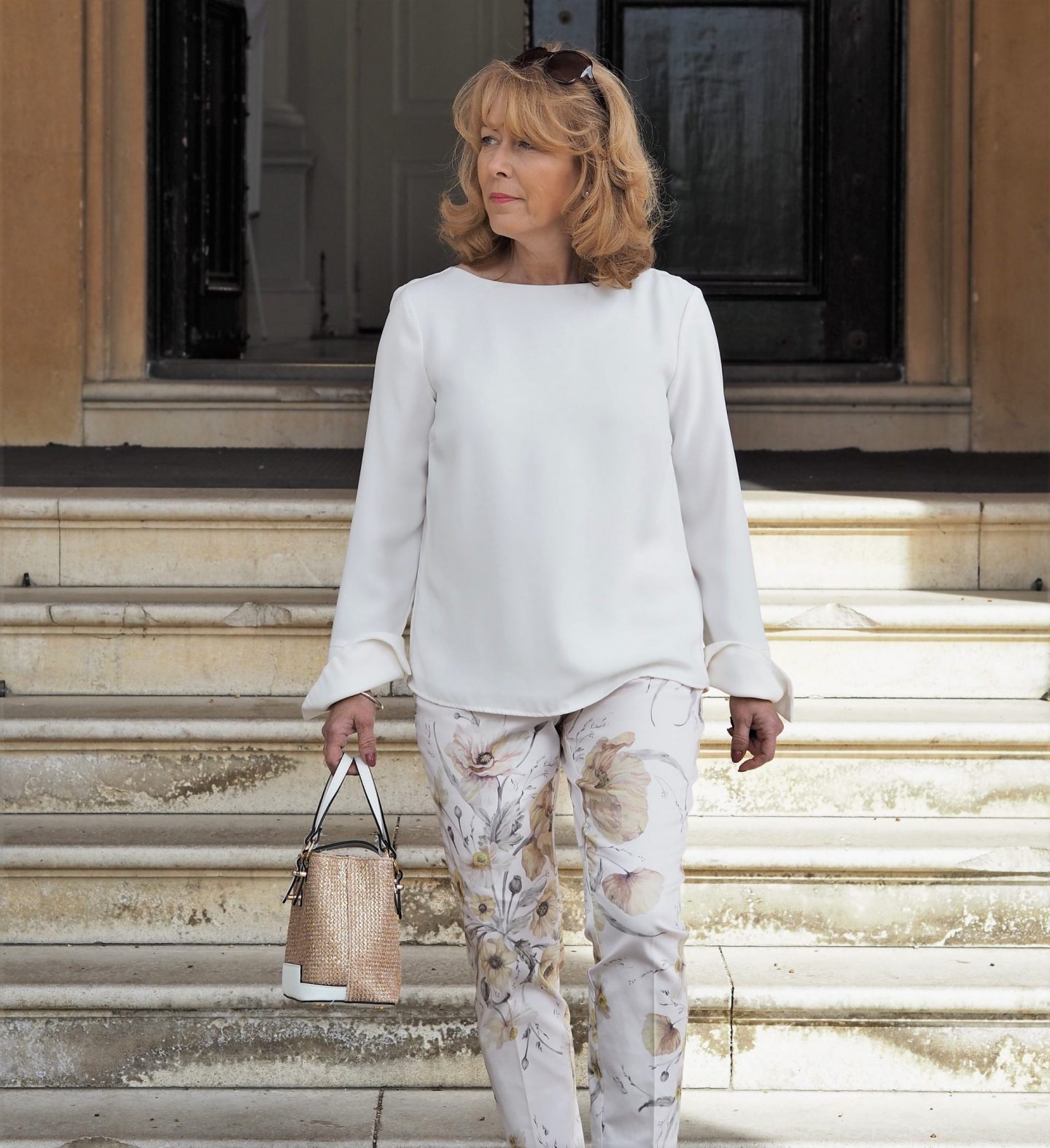 The top is not a style that I would normally go for. The sleeves are long with a double lined cuff, split at the back. For a regular sized woman, they would finish just below the wrist line I would imagine but I tried it on with the cuffs turned back and I liked how the sleeve hung.
A bargain at £19.99 it's one of those tops, neutral in colour that will work with anything. It's not at all see-through and comfortable to wear.
Floral trousers remind me of the eighties!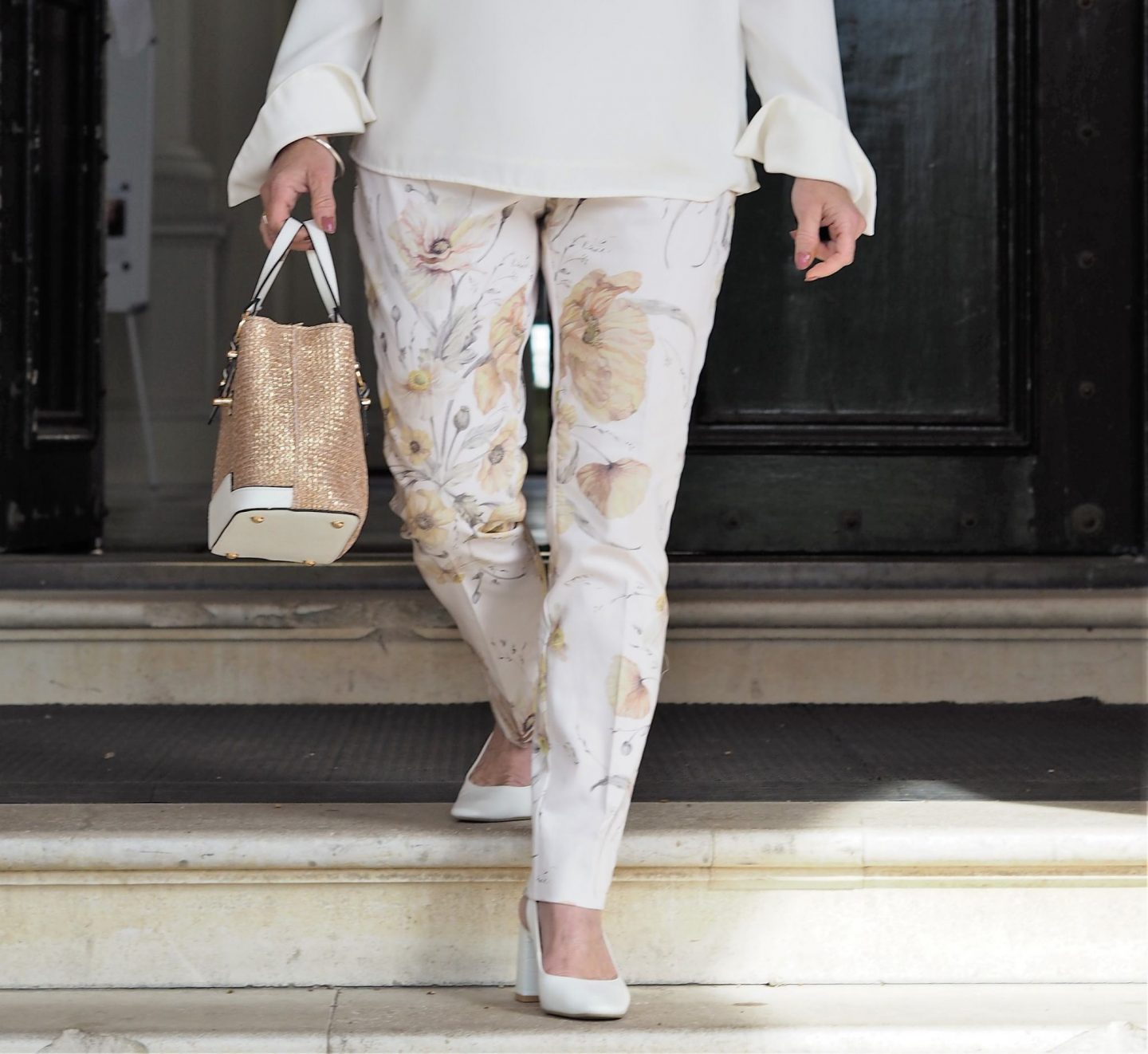 I fell in love with the trousers! I just love the pattern and how they are not too "out there" with the soft muted colour tones. The fit is really good and I can tame the look with a simple T-shirt or dress them up. H&M's cigarette trousers are worth looking at. There are plain materials in lots of different colours.
I've purchased a camel coloured pair but found I had to size up. Maybe because of the cheap price tag of £12.99? whereas the floral ones came up great in my usual size but a little bit pricier.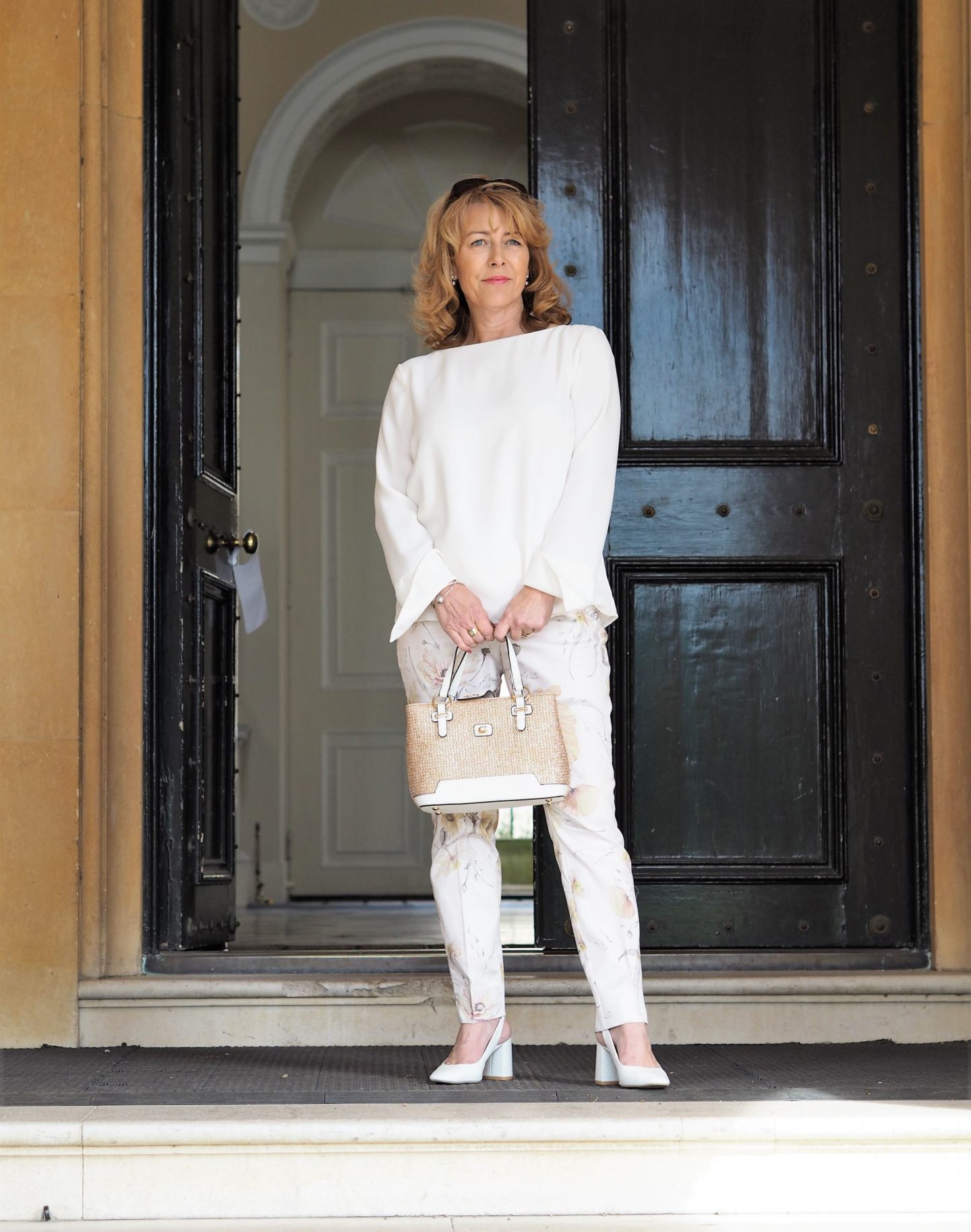 1

. Cream Split Sleeve Blouse
Straight-cut blouse in woven fabric with a slightly wider, round neckline and opening with a button at the back of the neck. Long sleeves and wide cuffs with a slit.
2

. Patterned Cigarette Trousers
Ankle-length cigarette trousers in patterned stretch cotton satin with a regular waist, concealed hook-and-eye fastener, zip fly and tapered legs with short slits at the hems.
3

. Metallic Straw Tote bAG
For a modern and sturdy everyday accessory, choose this sleek tote bag. The woven finish is strong and has a traditional texture, while smart top handles make it easy to carry.
4
. White Block Heel Sandals
F+F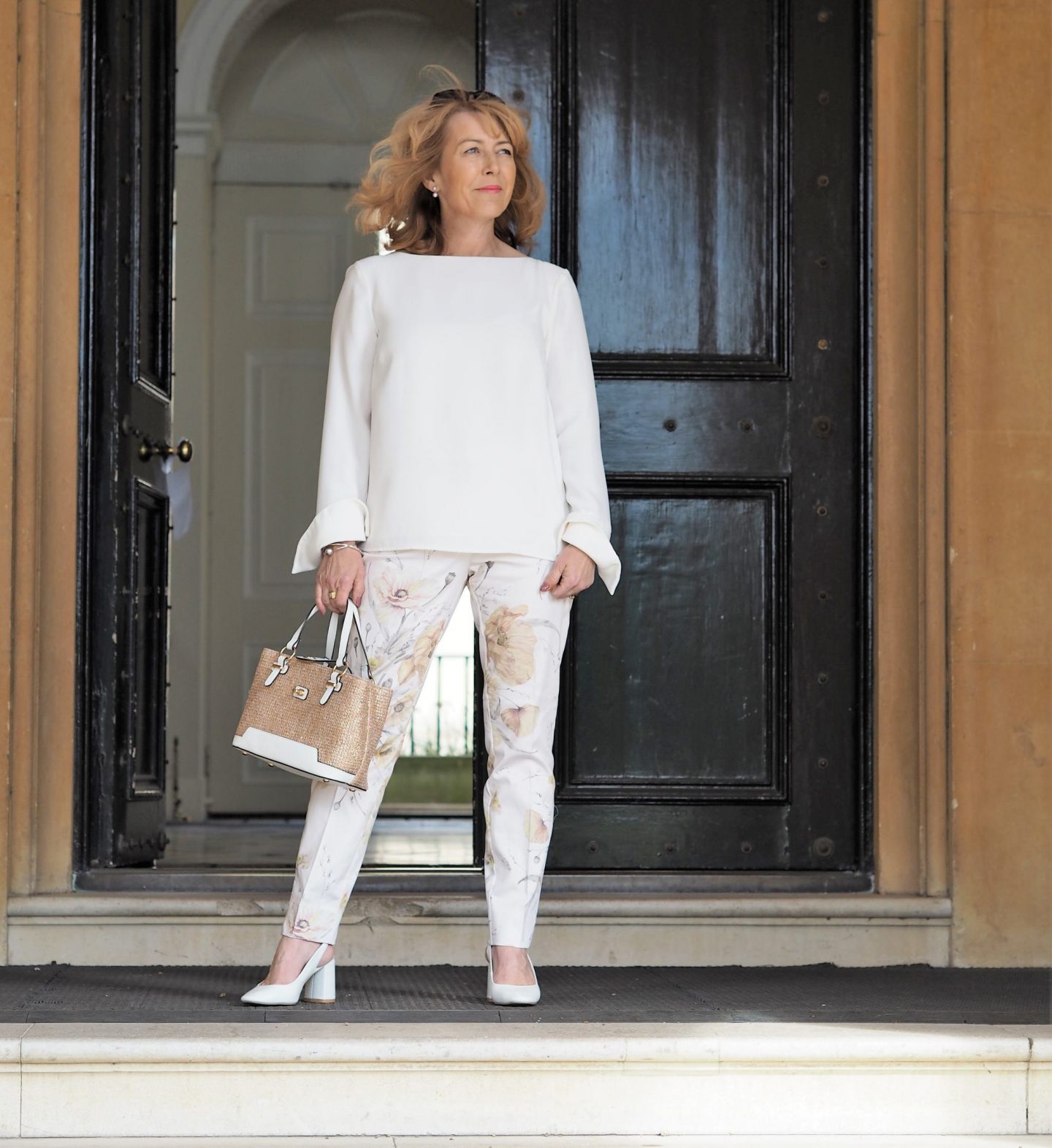 I purchased some sensible shoes for running around London in. These are from F+F and I can't provide a link I'm afraid. Super comfortable and worth a look when you're doing your shopping.
And to finish off the look – Most worn bag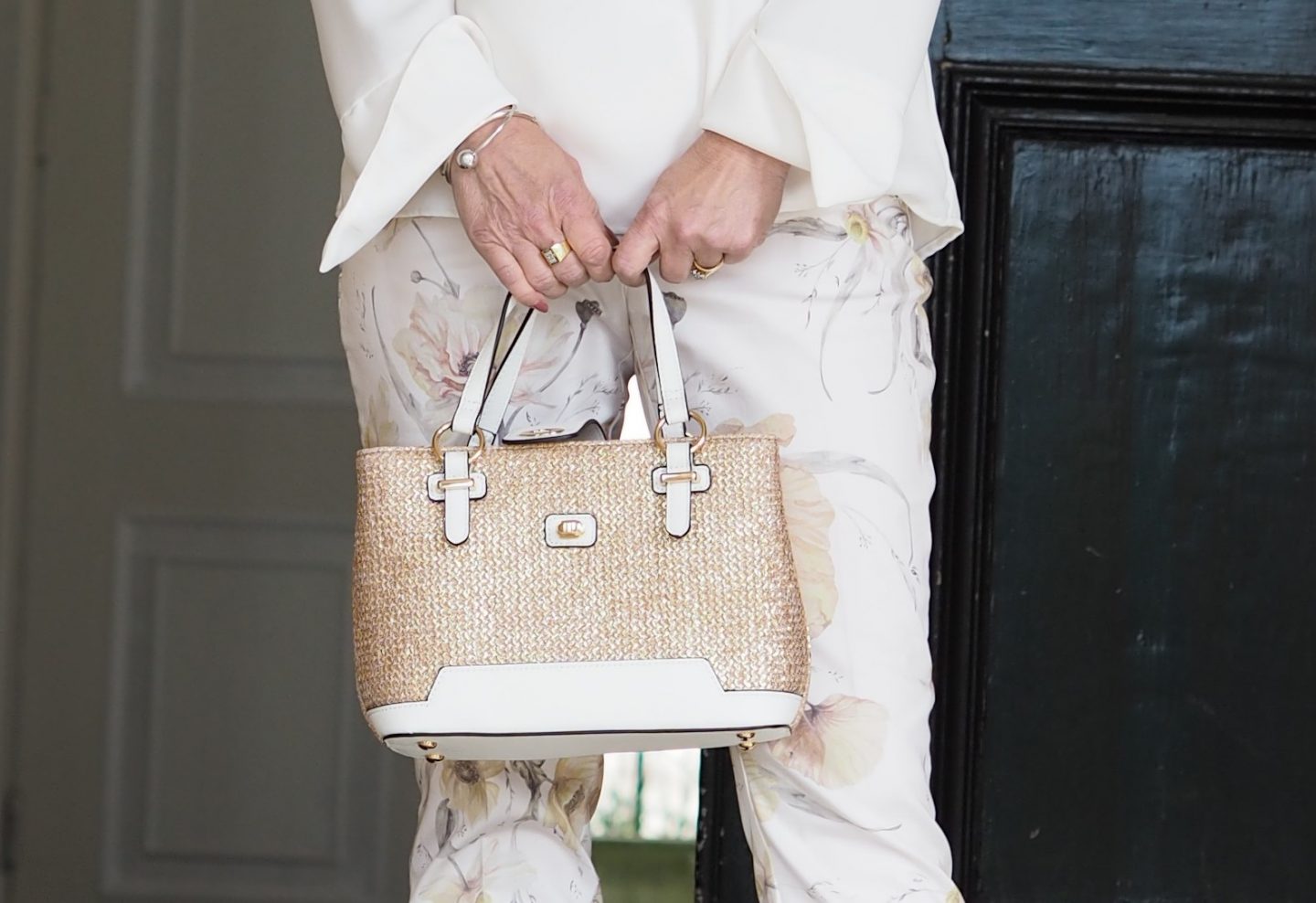 To finish off the look is the most worn of the year handbag. I literally use it on a daily basis and that's why I bought the shoes to pair with it. It seems to go well with any outfit I wear.
For an evening look, I think some party heels and a little more jewellery will do the trick, along with an evening bag. But at the same time as I say, wear these items separately to create so many looks. The top is great for day or night time wear.
Syon House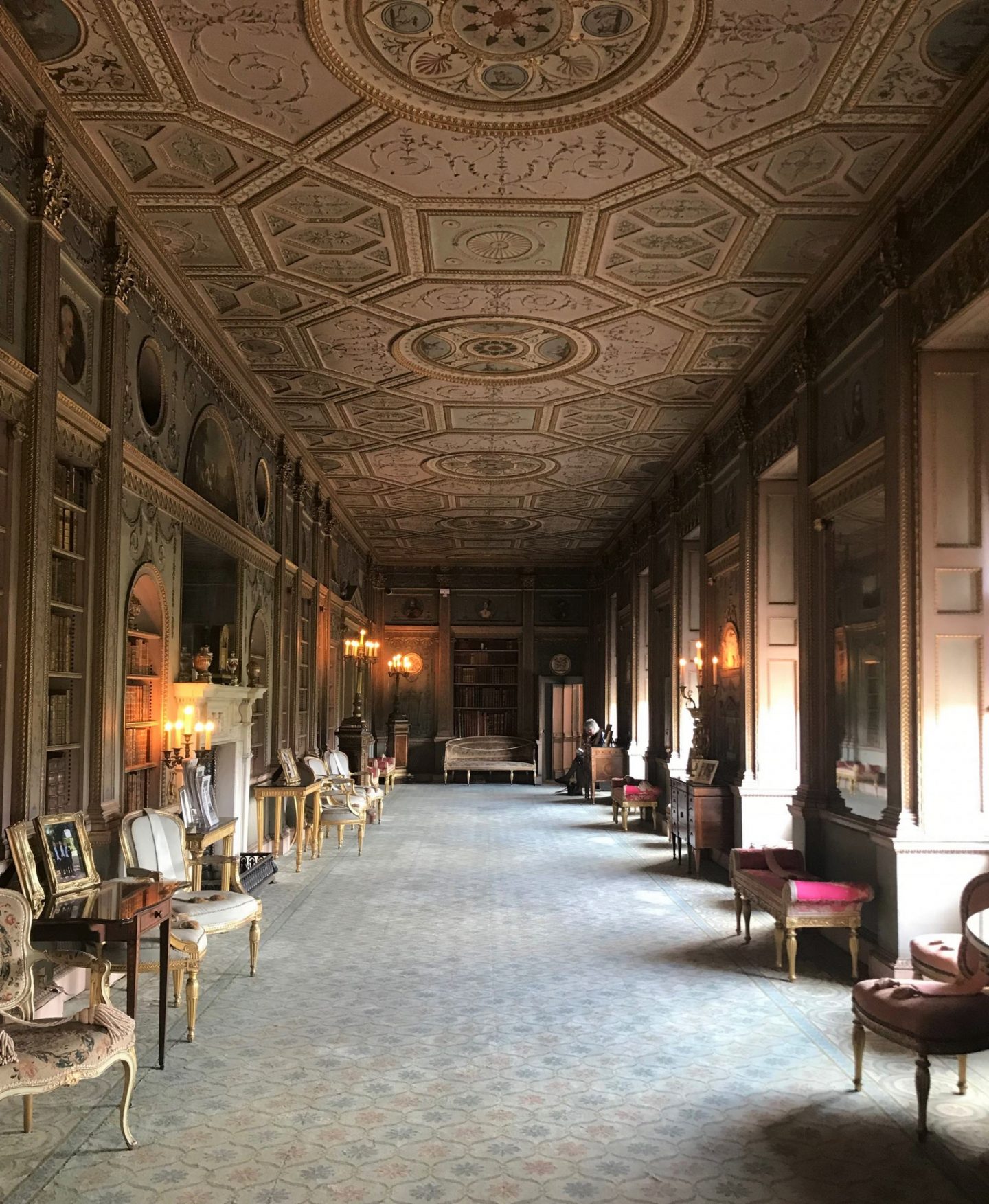 I'm leaving you with a little taster of Syon House. I will be sharing more photos on my Instagram stories and will feature photos in my end of the month post. It really is a beautiful place.
Thank you for stopping by!
You May have a friend that's interested in this? Please use the share buttons
Xo Laurie
Subscribe for the latest updates!