I feel that every woman should have a well-tailored classic blazer in their wardrobe (now I'm already wondering how many of you reading this have one or more than one in their wardrobe)
I say classic like it's old fashioned but it's clearly not. Take a look at any of the insta famous young girls out there and they are all wearing them along with fashionistas of any age group. It's an item of clothing any woman can wear, whatever height, shape, or age.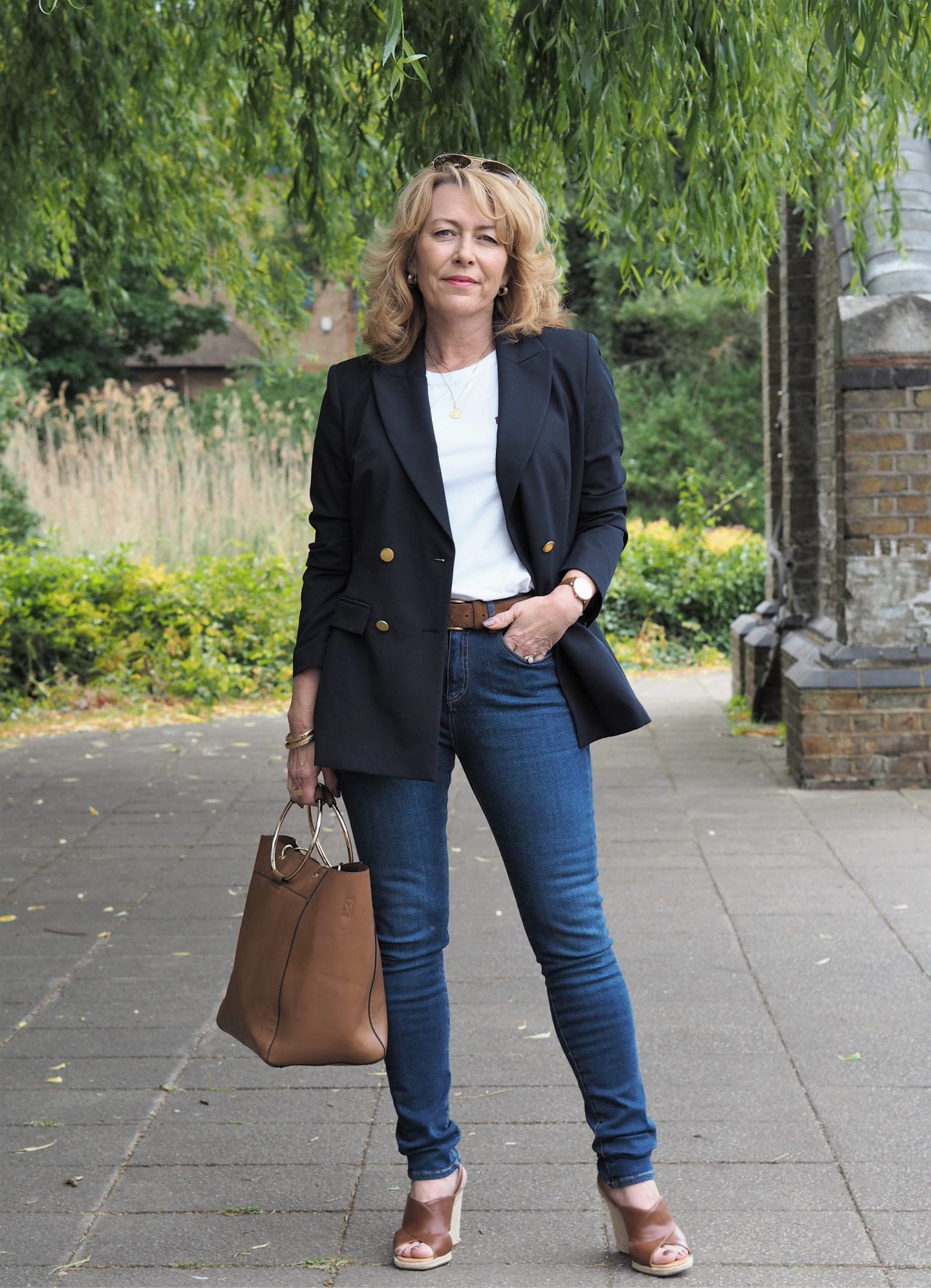 I'm introducing you to the new Wren Blazer by my loved brand Baukjen. Be warned, you may see this one in my outfit posts even more than the Emin Pink Blazer you have seen here so often!. There's also a special offer code for you my dear readers.
---
These items are gifted. I love them! But please be aware that there are affiliate links within this post at no cost to you
---
Getting back to talking about blazer trends, I find the classic cut just so much easier for me rather than wearing the overly sized box shape. I'm on the petite side, so a little waist emphasis is far more forgiving on my frame. Plus I think it gives off a far better silhouette.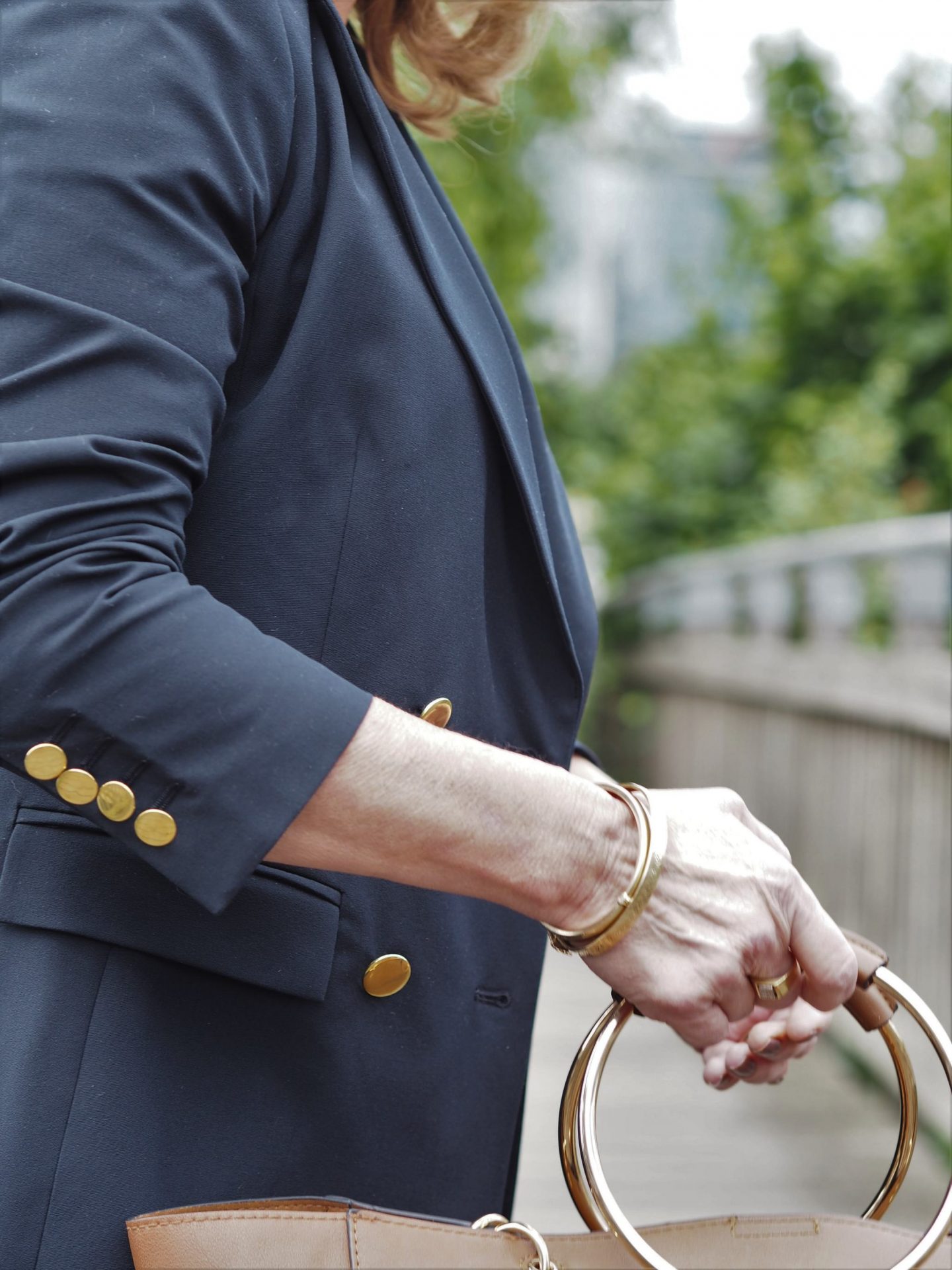 The Wren Blazer, an easy choice knowing how much I have loved the Pink Emin blazer (on sale) The cut and quality is the best I've had in years. It's the little details that count. Stitching, seams and hems etc. You know you are wearing something of good quality. The Gold buttons! So classic.
Buy a classic blazer and reap the rewards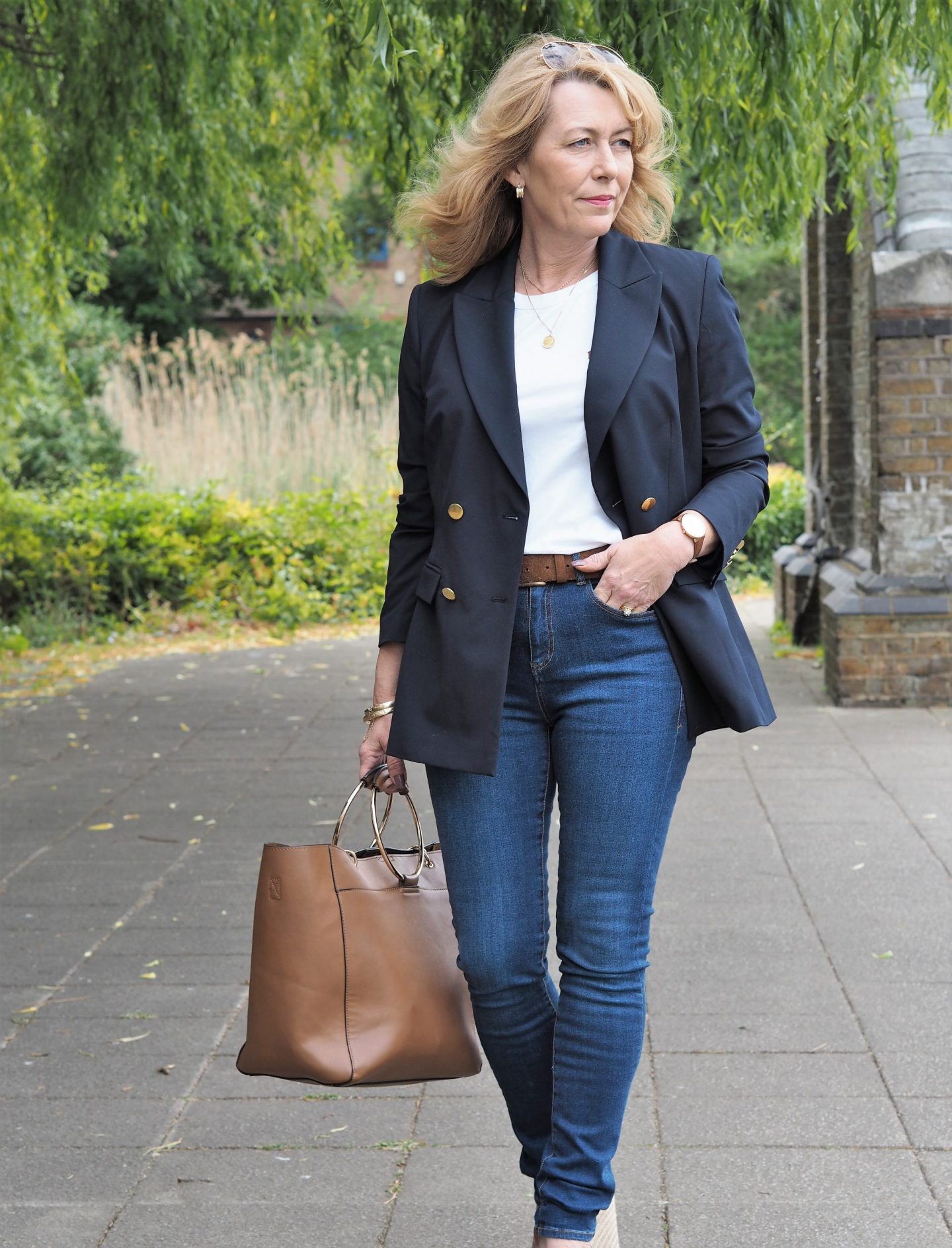 This is my favourite day to day style. A pair of jeans, a T-shirt and slippers when I'm working at home but add shoes, some accessories and a good blazer and that stay at home for the day look is instantly transformed. It's just so easy!
The blazer is such a hard worker. Wear it for work as smart separates. Wear with a maxi dress (I've already tried this blazer with a floral maxi dress and it looks great) or any length dress. The list is endless but I love the blazer most with jeans.
Anyway, enough about the blazer lets talk about denim…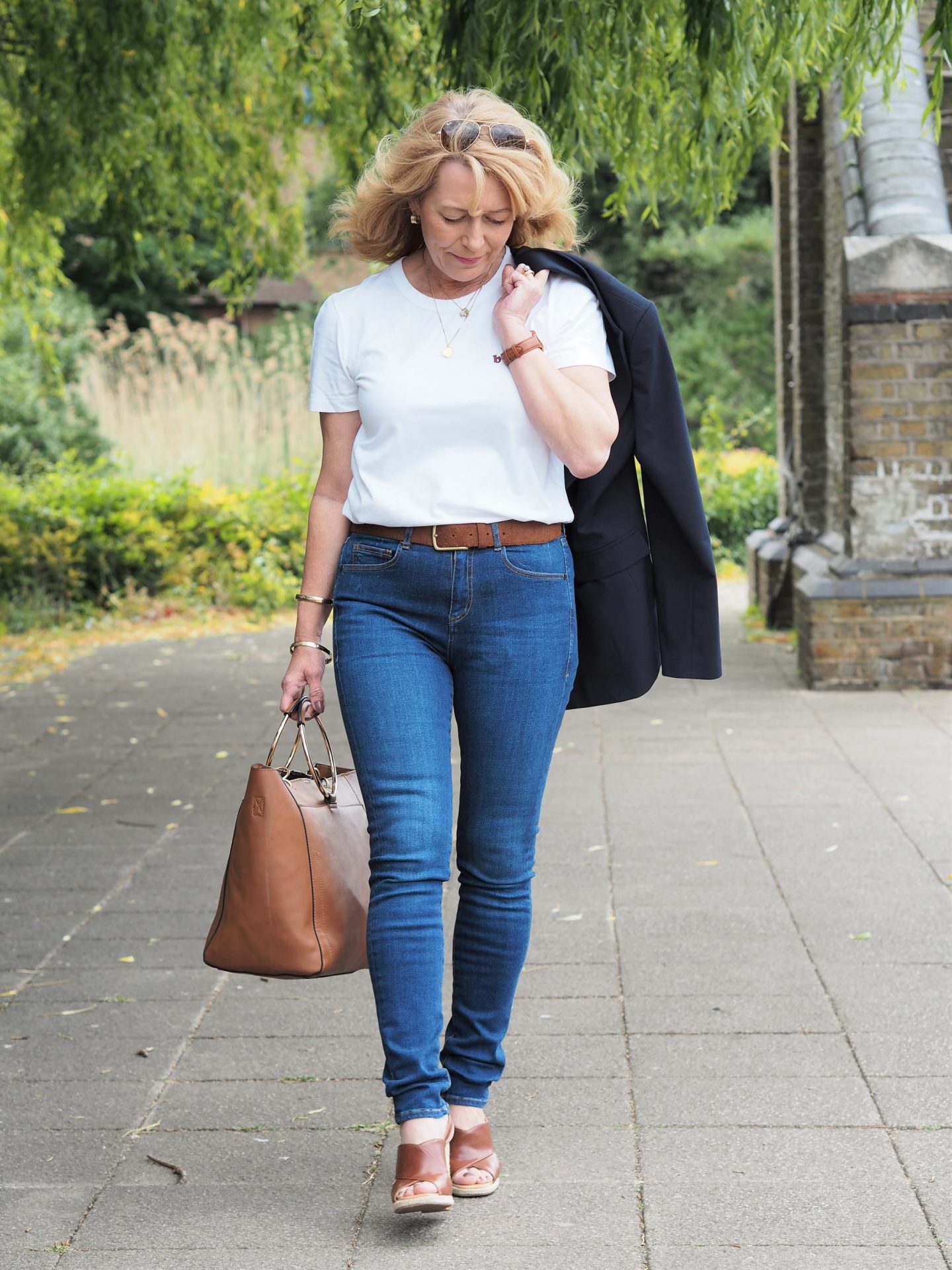 The Wren Skinny Jean that hugs in all the right places. The skinny jean is my most worn, second best would have to be boot flare. I like that these jeans hug you very nicely yet do not feel restrictive in any way. True to size I would say (I'm wearing size 8) and no muffin top The waist height covers that! Just sitting in the right place.
Good quality denim with no muffin top!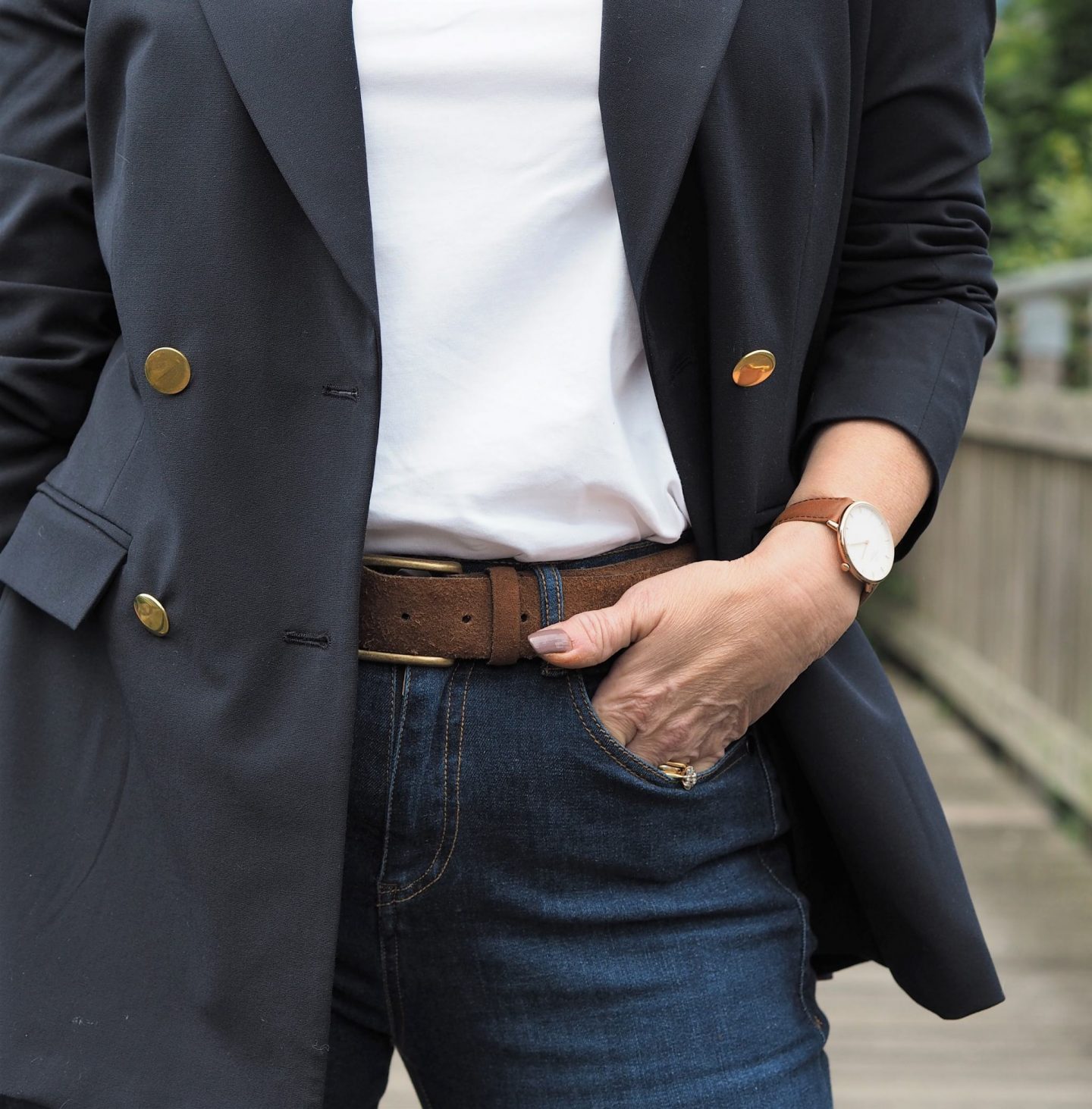 The Wren Jeans are 95.4% cotton 4.6% Elastane. When I said about working from home in these, they really are that comfortable enough to sit about in. A great everyday pair of jeans.
I debated on wearing white accessories with the T-shirt but I love that classic denim and tan mix. The length of the jeans is a little long but I'm used to that and don't mind a little ruching at the ankles.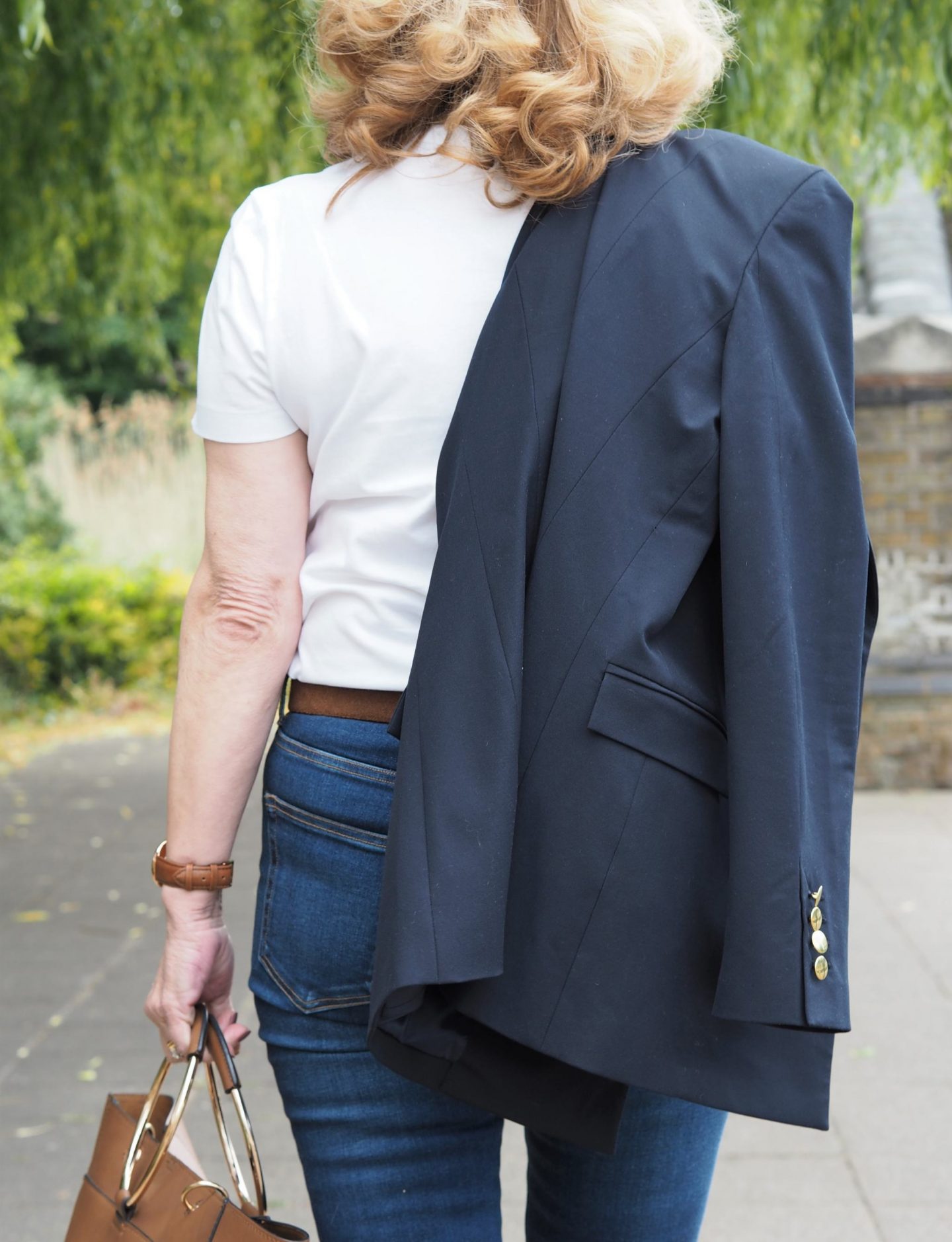 I wanted to give the pockets a mention. A small detail that can make a huge difference in the fit of your jeans. Now, I've had my fair share of cheap jeans and something that riles me is how shallow the front pockets are.
Wear those jeans hugging the body and those pockets seem to spew out. Have you ever found that? The Wren jeans have really deep pockets and that has impressed me.
The Christina T-Shirt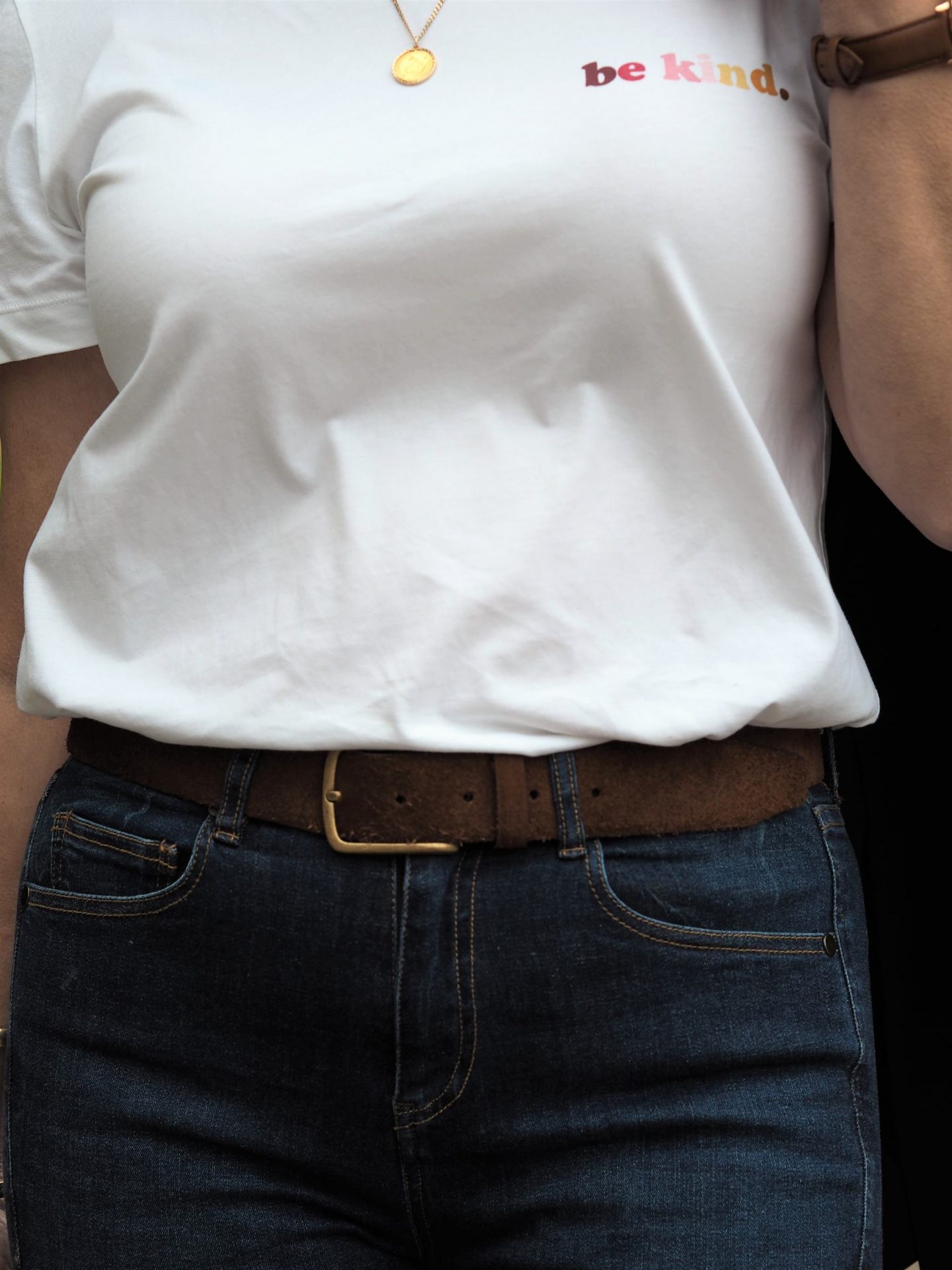 I featured the Christina T-shirt a while back. I love the message. Be Kind. This is Baukjen's charity T-shirt marking the anniversary for the Diana Award. 50% of net proceeds are donated to the Diana Award.
Get 20% off at Baukjen – Use the code VAM20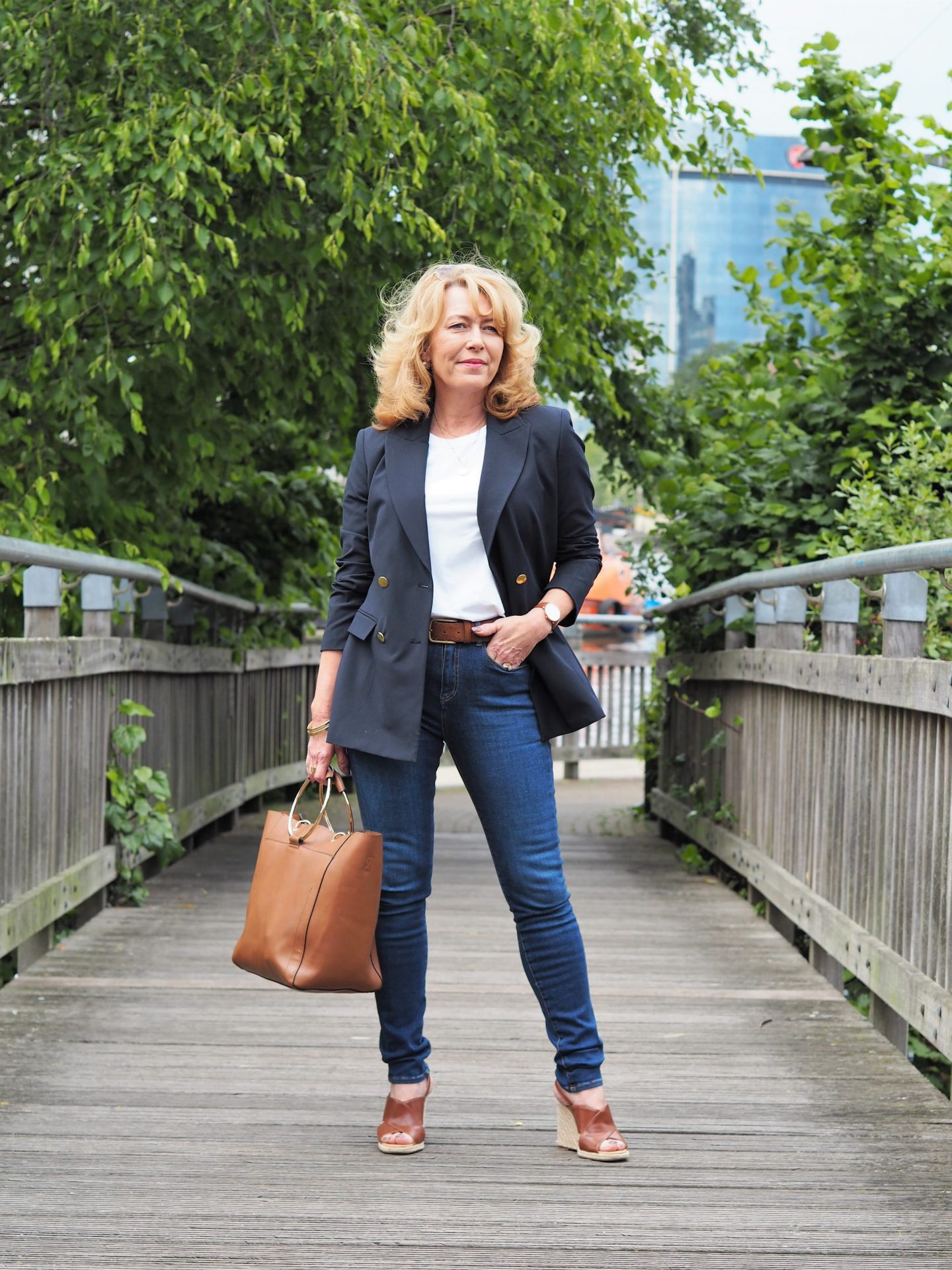 There's also a link here for my readers across the pond. I was asked a fair few times if Baukjen ship to America and yes they do! Here
Terms & Conditions
This code will offer your followers a 20% discount on all full-priced items from the SS19 Baukjen collection from the 16th of May 2019 until the 30th of June 2019. This offer is not valid in conjunction with any other Baukjen offer, internet offer or delivery offer unless specifically stated. Outlet, Sale items and Gift vouchers are excluded from the offer. All orders are subject to acceptance under Baukjen's promotional terms and conditions.
Thank you for stopping by!
You May have a friend that's interested in this? Please use the share buttons
Xo Laurie
Subscribe for the latest updates!