One of the best parts of blogging is when that email drops with an invite to a super event. I had the pleasure of attending Royal Ascot Ladies Day on behalf of Roman Originals.
I'd never been to Royal Ascott before either, so choosing a lovely dress and getting "done up" for the day was exciting. I really loved my outfit and that's what I'm sharing with you this week.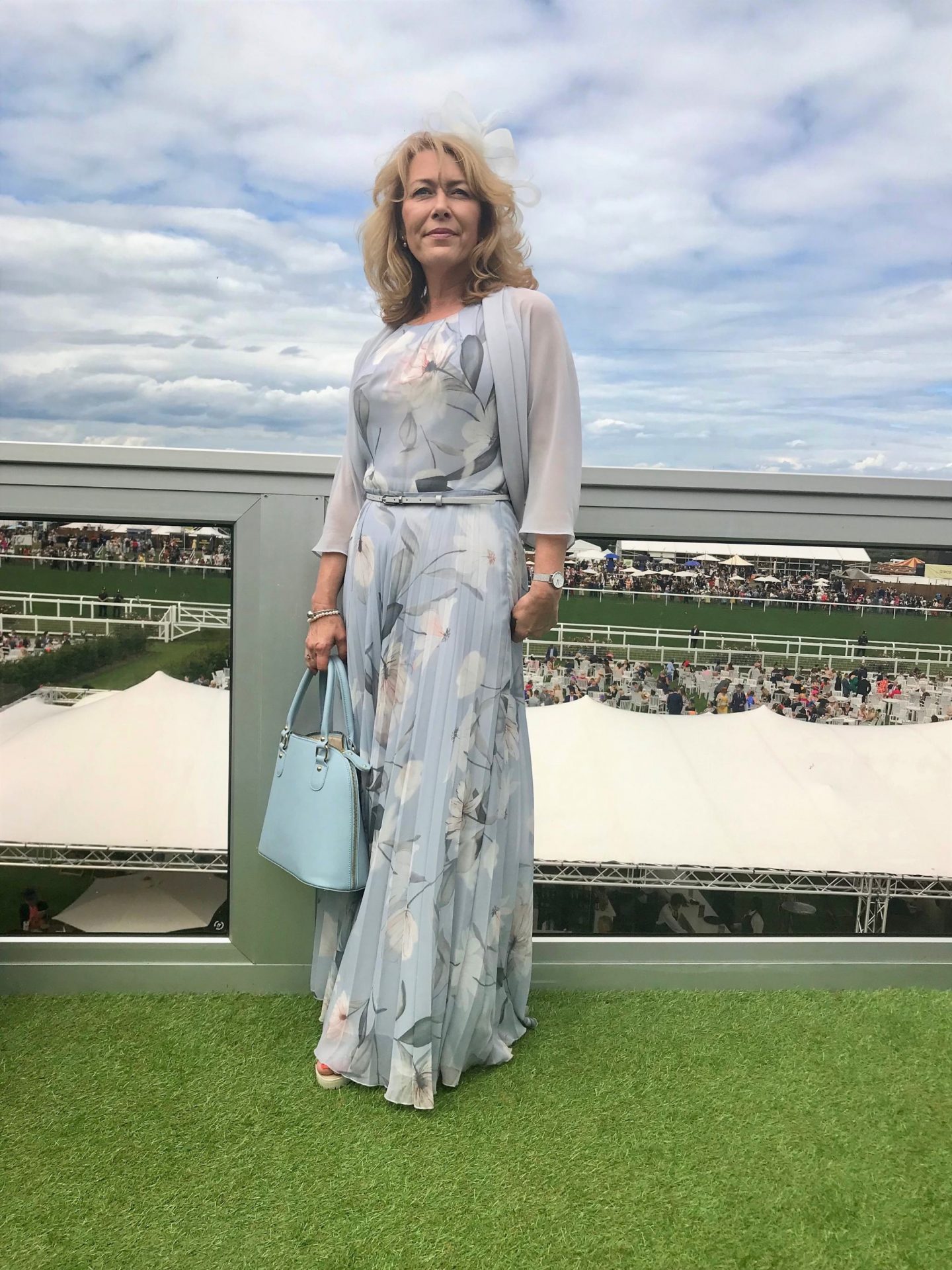 Of course, I had to choose some headgear for this even. I went for the barely there fascinator. A hat of any kind is rarely seen on me because hats really don't suit me but I was really quite pleased with this one I ordered.
The dress is absolutely stunning. Sleeveless with a fitted body, there's a side zip for ease of putting on. Subtle pleating at the neckline and a neck fastening at the back.
The dress was really as light as a feather and I love the soft pleats. It really is a lovely floaty dress, the belt that comes with the dress finishes the look perfectly.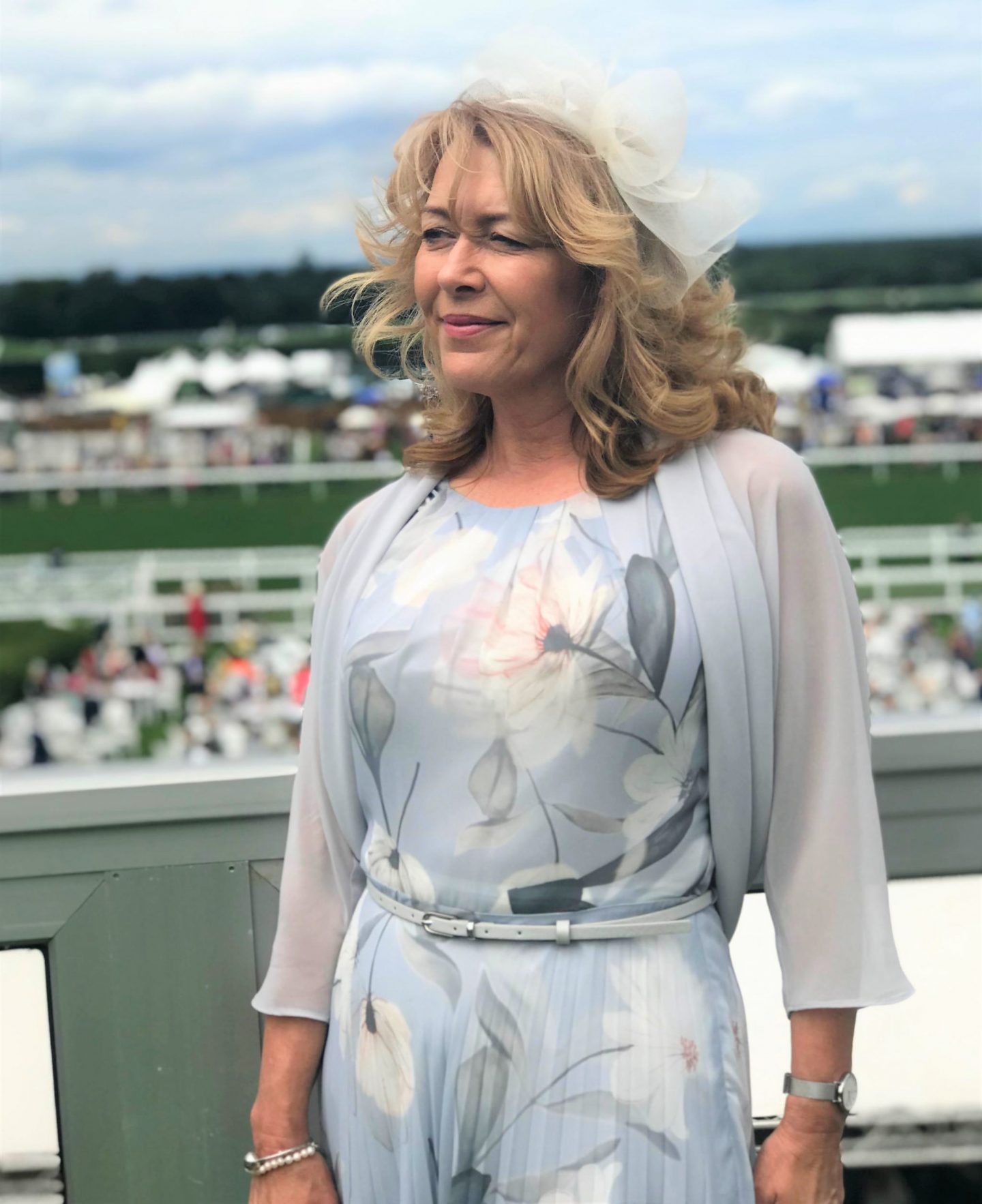 The little Bolero is an absolute godsend. I hate the tops of my arms on show! Pleated at the shoulder and so lightweight but just enough of a cover-up. These little boleros are available in several colours on the website, enough to compliment many an outfit.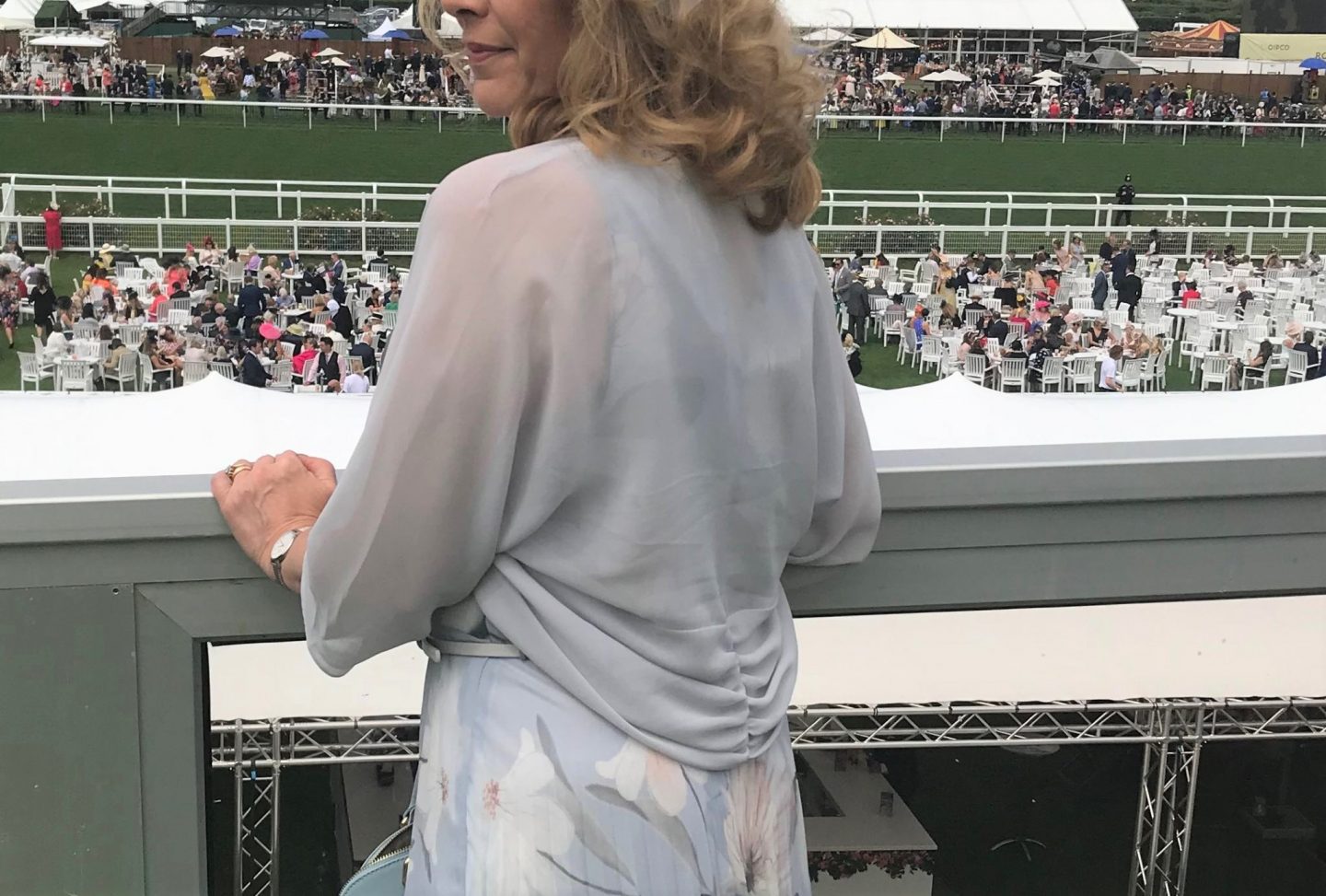 I think the ruched band at the back is a lovely detail. Very cleverly designed so it drapes under the arms so you can see all of the dress from the front.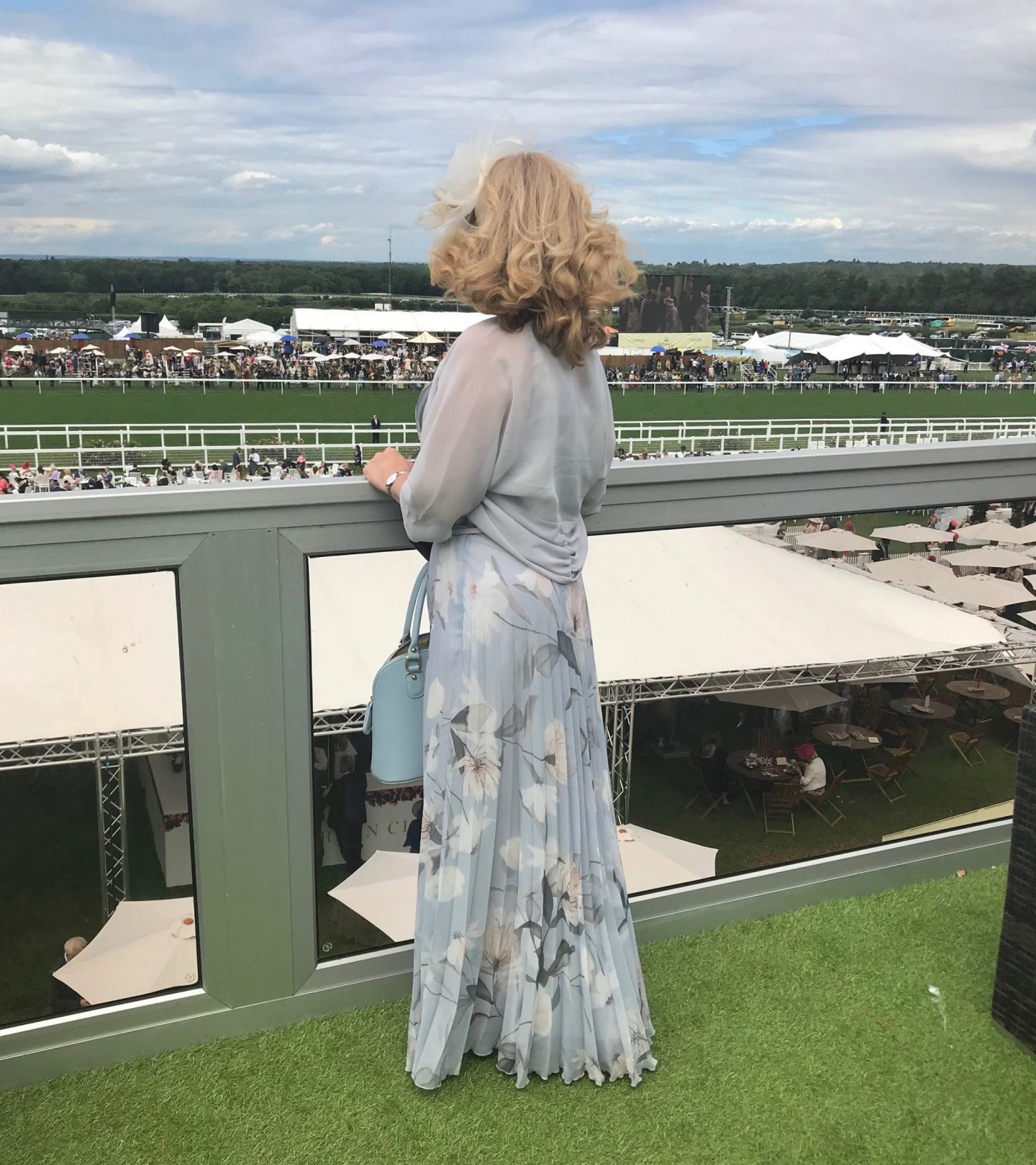 I felt really comfortable all day in the dress and I think it would make a great wedding guest outfit. I had a job choosing which handbag to take because of items needed throughout the day. One of those items being an umbrella, but luckily I didn't need it. I kept accessories simple, a silver bangle and a pearl bracelet, my silver Daniel Wellington watch and my new Claudia Bradby earrings completed the look.
Arriving at Royal Ascot and being nosey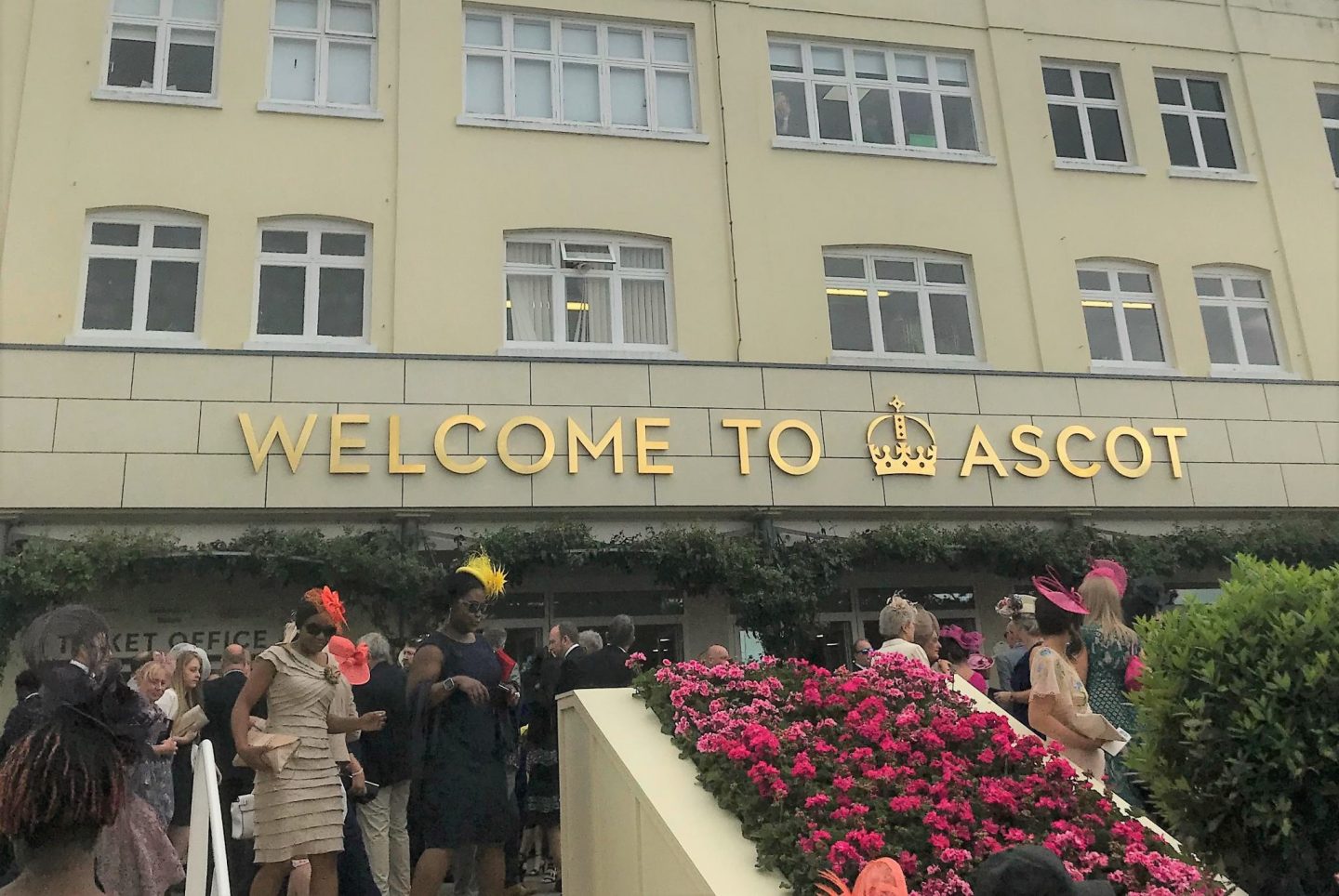 There was a coach arranged to meet in Victoria for this special day out. Everyone was meeting to get on the coach at Victoria in London. It was easier for me and quicker to take the drive to Ascot.
I arrived well ahead of everyone else excited for my first time at Royal Ascot. Another blogger Lauren from The Little Lo Down also arrived at the same time and we headed to the entrance.
We had a little chat, an introduction to each other and from then on our eyes gazed over the sea of dresses and hats that were heading inside. I can honestly say that I would have been more than happy to have spent my day on a chair people watching, outfit watching the whole day.
What to wear at Royal Ascot Ladies Day
The dress code is quite simple to adhere to. Just look up the dress code online. Apart from the village enclosure, all codes are quite the same.
• A hat, headpiece or fascinator should
be worn at all times.
• Strapless and sheer dresses and tops are
not permitted. Please note our definition
of strapless necklines include off-the-shoulder, Bardot and one shoulder.
• Trouser suits must be full-length, and
jumpsuits should fall below the knee.
Both must adhere to the neckline
regulations above.
• Midriffs must be covered.
• Shorts are not permitted.
I was gobsmacked at a couple of ladies being turned away at the entrance because they had Bardot style dresses! Imagine all that preparation and money to be turned away!
Your hats or fascinators are to be worn at all times. I spotted ladies being told politely that that was the policy. I hold my hands up to the ladies that wore such grand decorated masterpieces that looked exceptionally heavy!
I waved at the queen!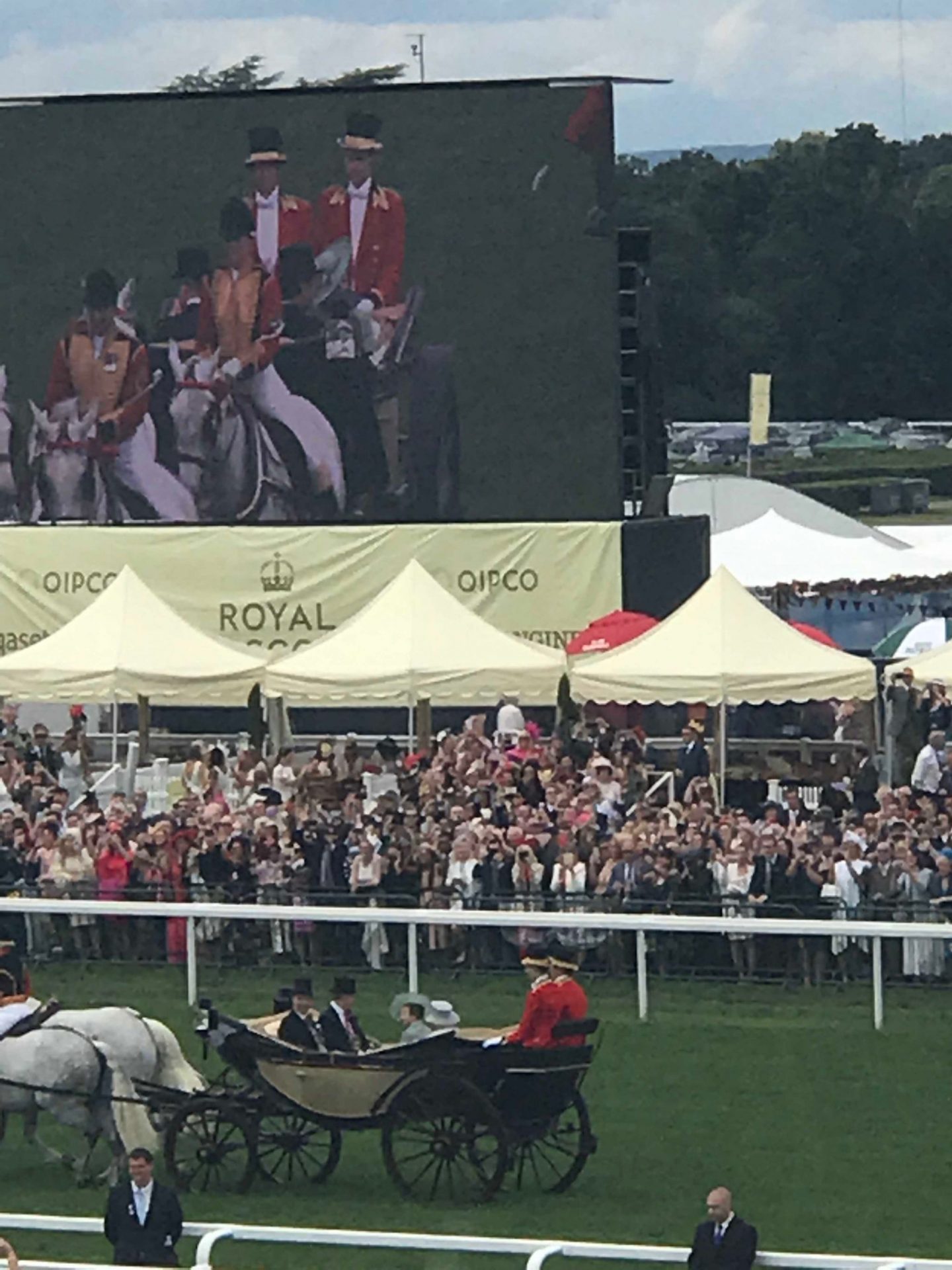 Being in the Queen Ann enclosure was a real treat. The view was amazing out on the balcony. Watching the royals go by in their carriages.
lunch with blogger friends & Roman Originals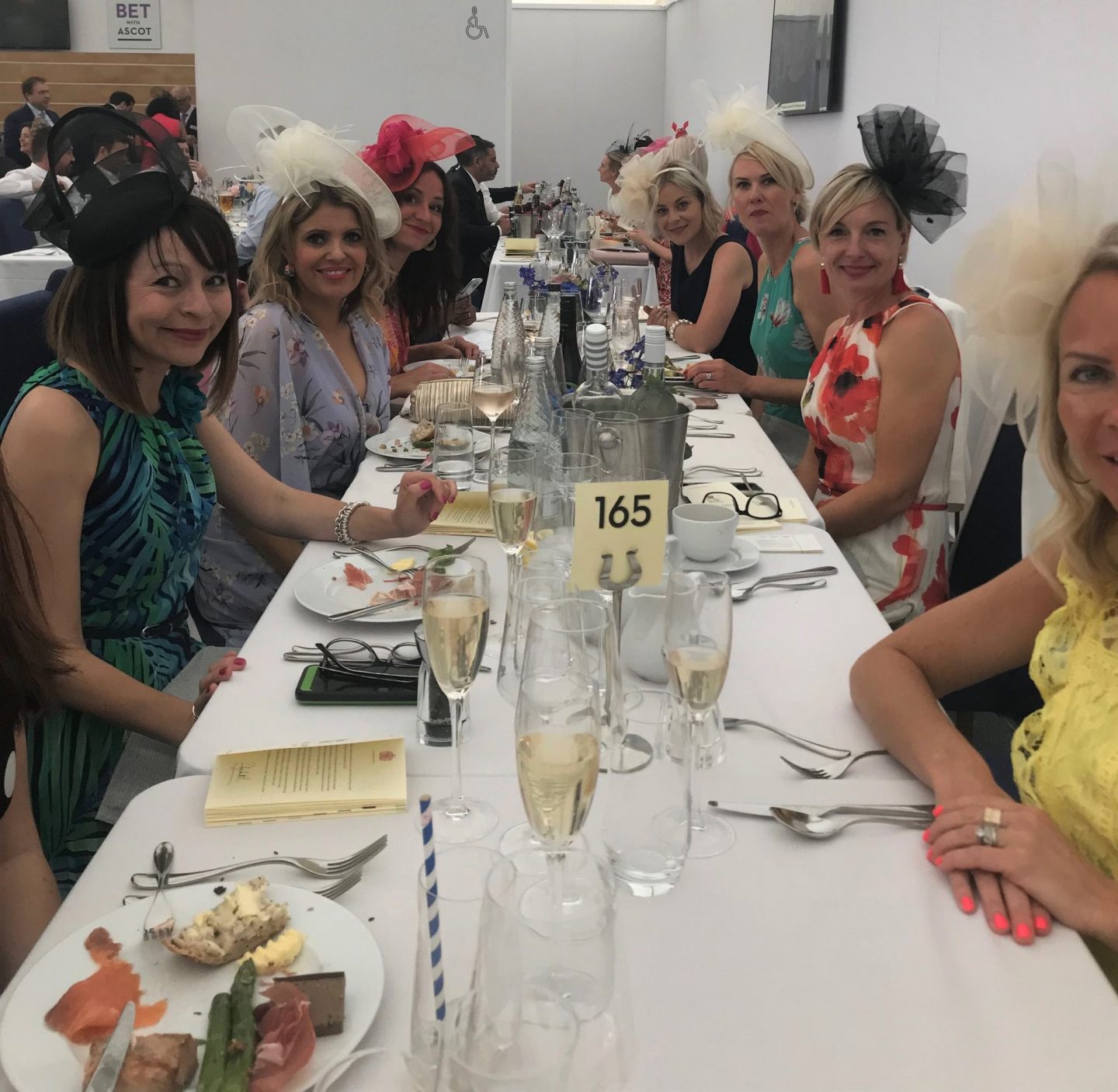 It was lovely catching up with virtual friends that I know from Instagram. And meeting the lovely ladies that are some of the workforce behind Roman Originals. A four-course meal was had and an afternoon tea followed.
Winners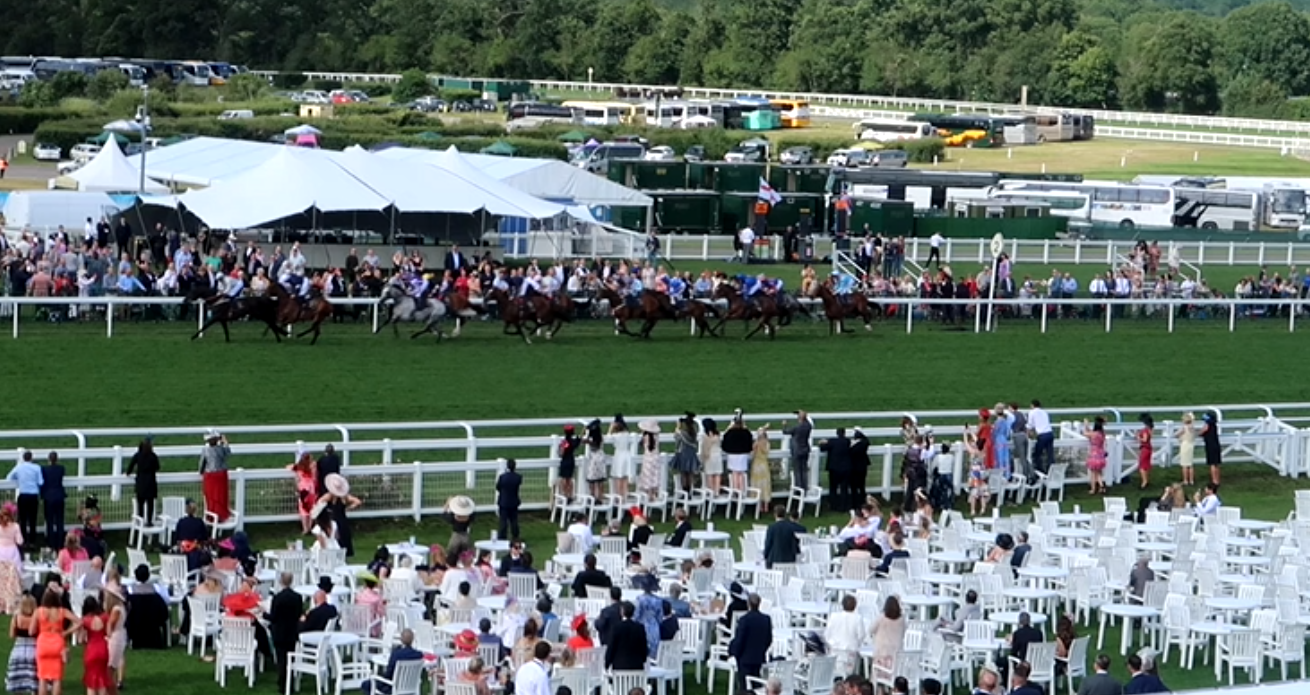 A few of the girls had bets on the horses and won. The crowds cheering and the excitement was great. I didn't bet. I was happy just watching everything going on around me, still eyeing up fabulous outfits and hats. And talking about fabulous outfits….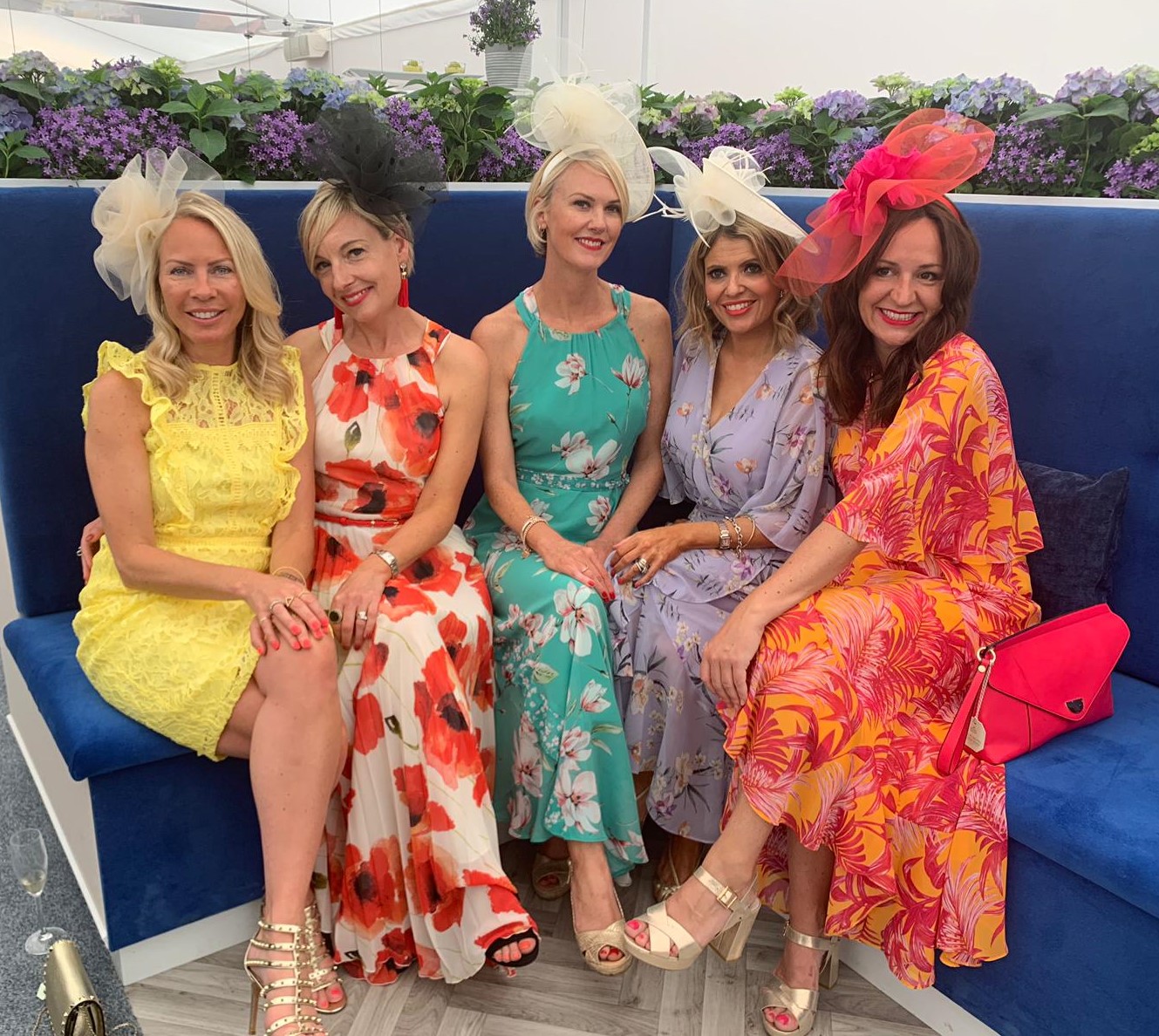 Here are some more gorgeous dresses from Roman Originals, all perfect for our Royal Ascot day. I think my outfit would make great wedding guest attire and all of the outfits above would too. I'm also leaving here the Instagram accounts to these ladies left to right.
@clubfortyClaire @stripeycoral @carolembeauty @Voguishandcalamity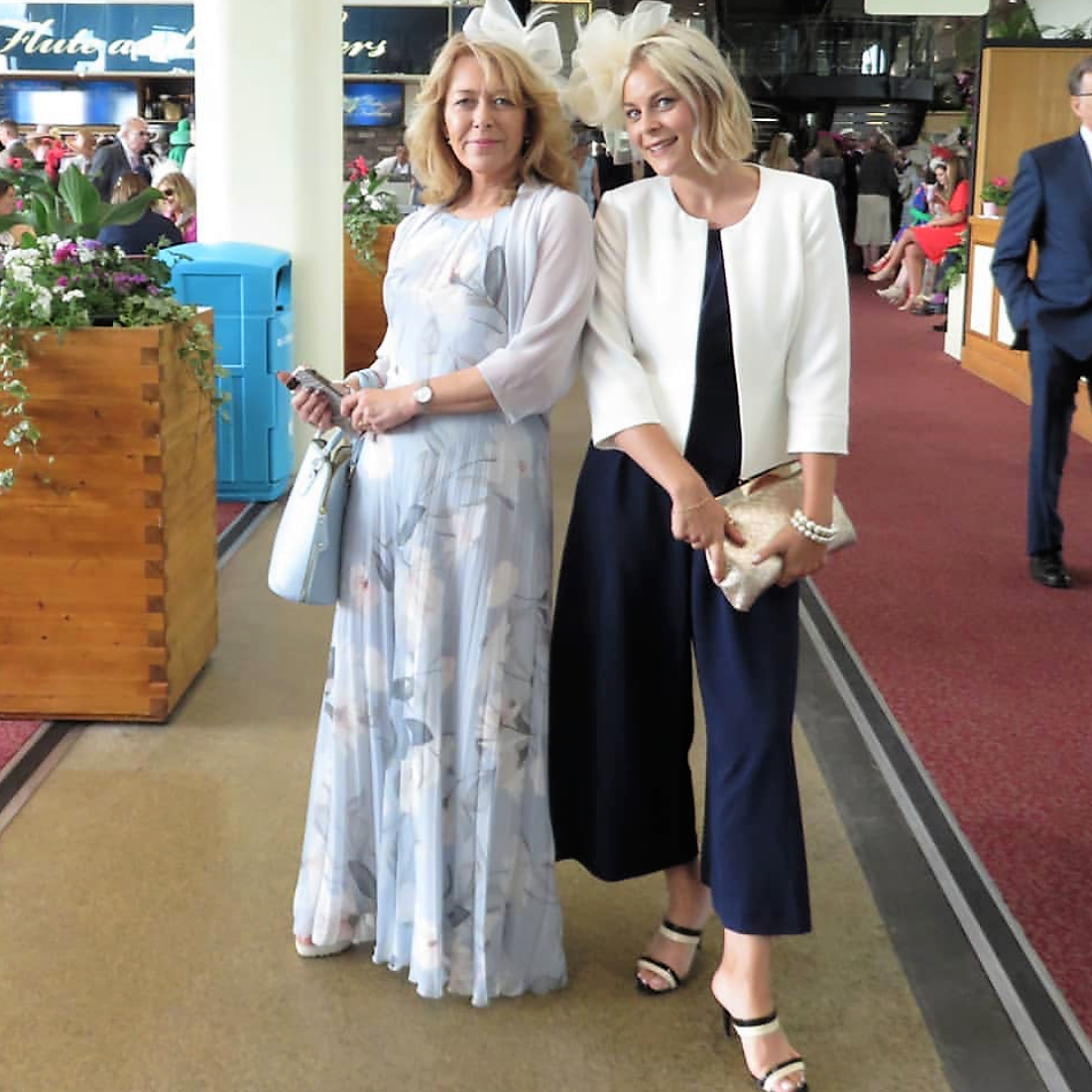 I really liked Lauren's outfit. This would work for so many looks worn separately too. I'm going to have to get one of those white jackets and I loved the smart jumpsuit.
It was a great day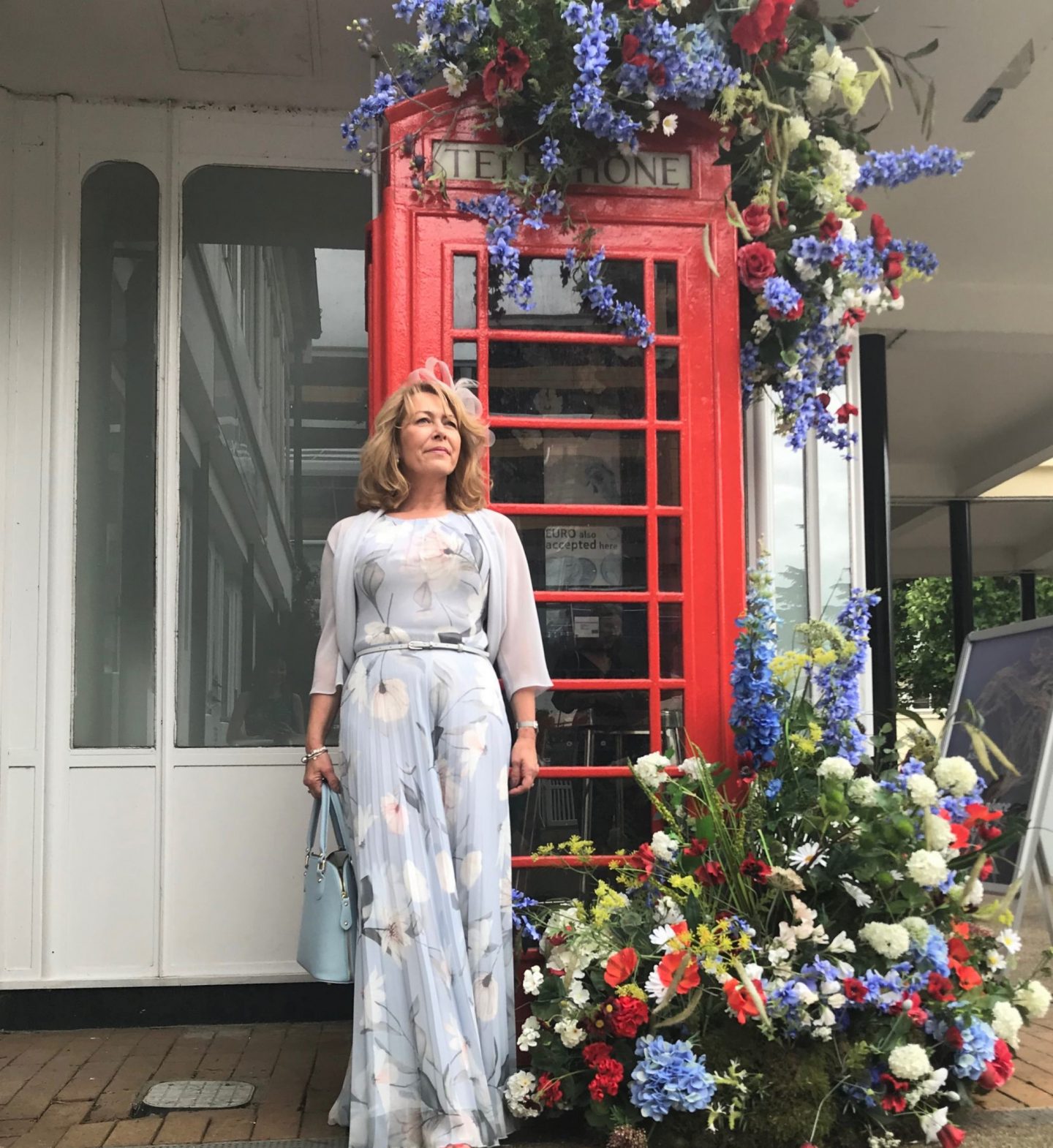 Just giving the chauffeur a call to come get me! I couldn't resist a picture by this well dressed old London telephone box. I had the most fabulous time at Royal Ascot. The whole experience was lovely. A huge thank you to Roman Originals for a special day out.
There's 20% off at Roman when you sign up and 15% off when you spend £60 – use code HEY15
Thank you for stopping by!
Come back for more. Click on the subscribe form below
YOU MAY HAVE A FRIEND THAT'S INTERESTED IN THIS? PLEASE USE THE SHARE BUTTONS
XO LAURIE
Subscribe for the latest updates!