Boy has this Reiss top worked hard for me. I've worn it so many ways, and the neutral colour makes it so easy to pair with literally anything too. It was a little pricier than the average top/T-shirt but I'm definitely getting my price per wear.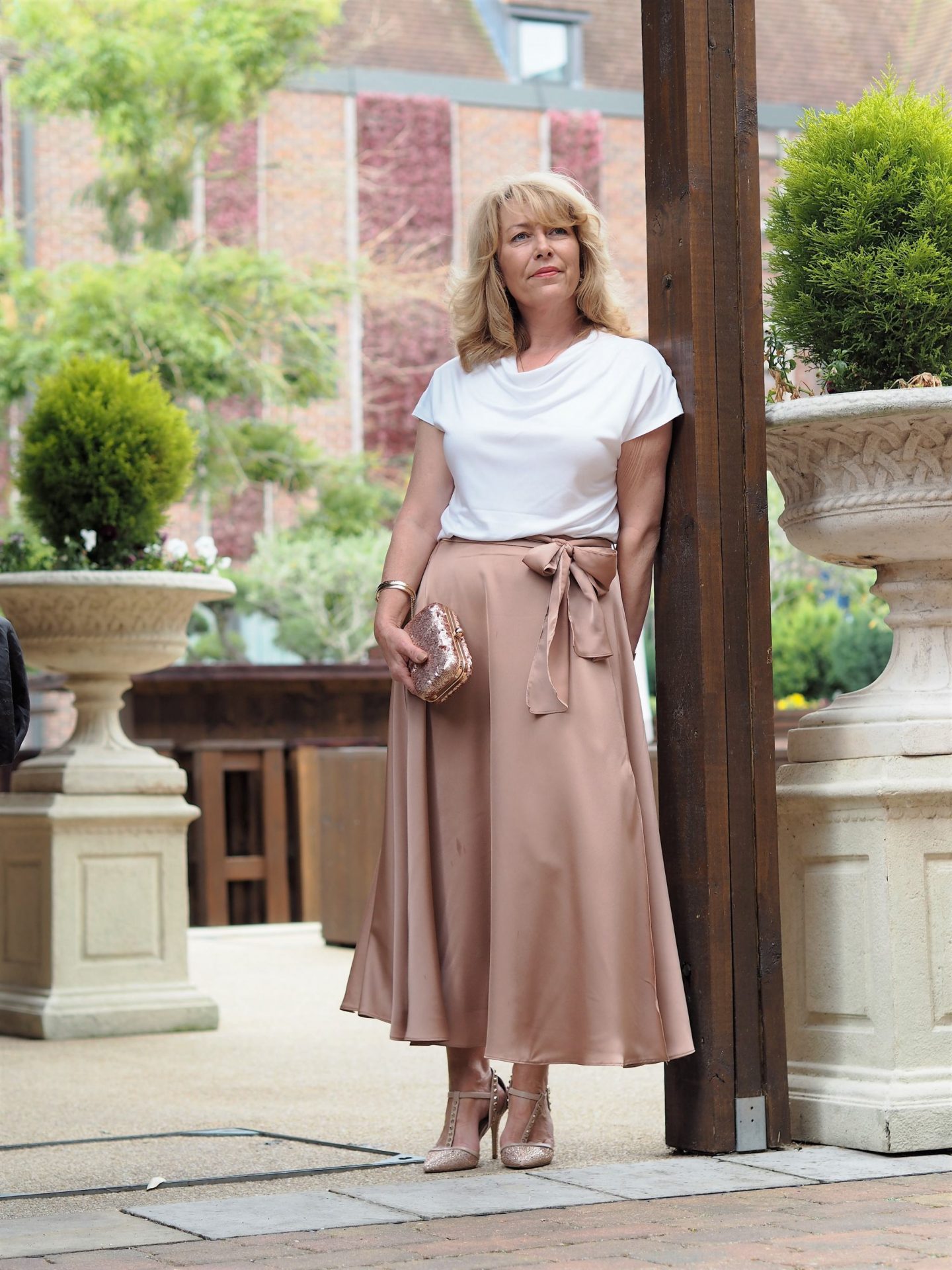 This time I'm styling the Reiss top with a floaty skirt for a night out. I bought the skirt from Asos a while ago. And as per usual, the skirt sold out really quickly and I hate sharing something on here that's not available to my readers. I couldn't find anything similar to point you in another direction, so I put it on the back burner. This skirt is also available in petite for a shorter length but even though I'm petite I'm wearing the regular length that I preferred.
It has since been re-stocked on the Asos site here. I realise flicking through my blog posts that I don't feature a lot of evening/going out outfits here on the blog and I'm interested in your thoughts about that. Would you like to see more? In fact, I'd like to know of anything you'd like to see more of. Give me a challenge! Do post your thoughts in the comment box below.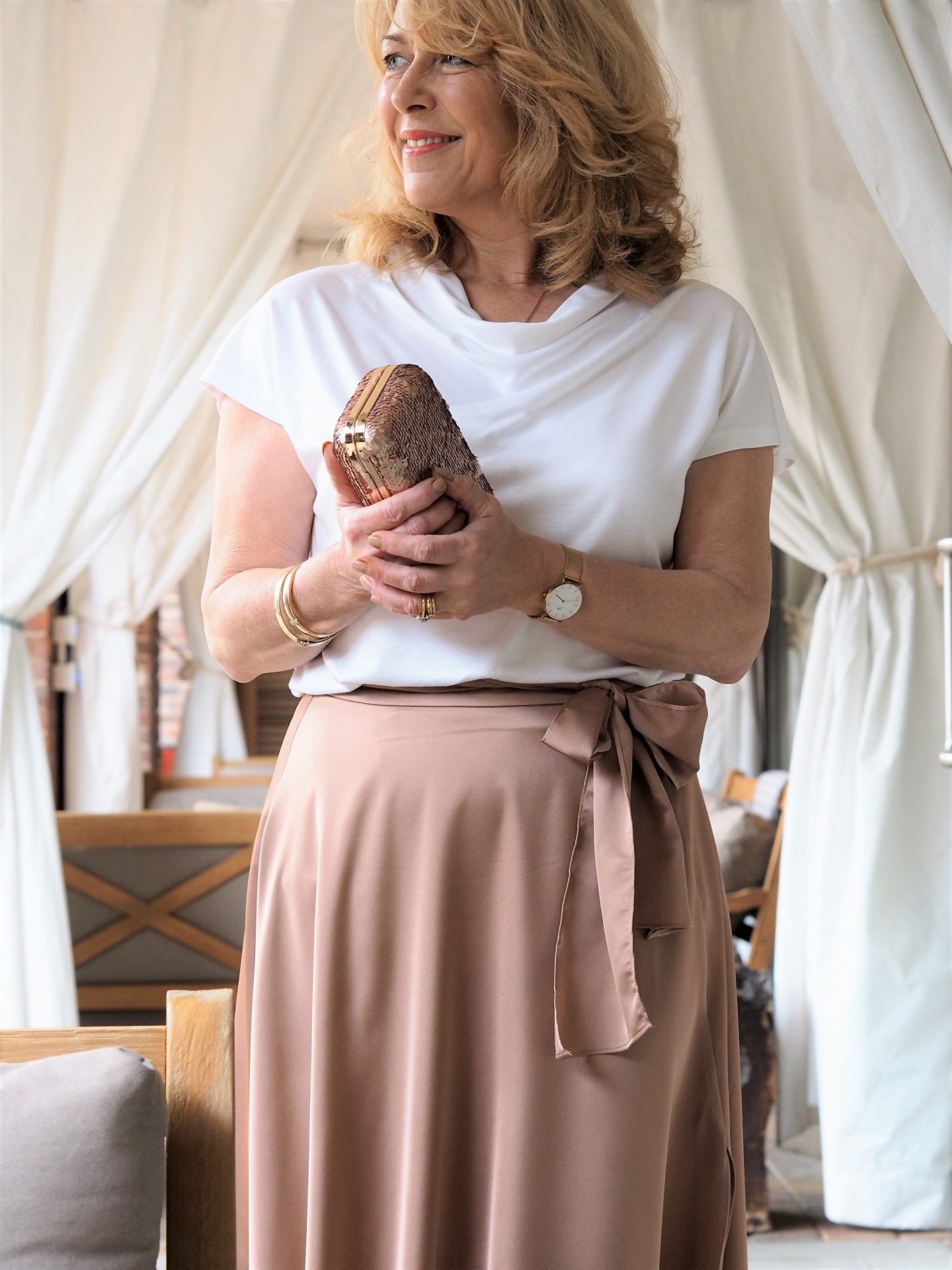 I love the pleated neckline on the top, softly draping ( the material is a jersey fabrication) and the sleeves are a good length. slightly longer than capped sleeves. It's been washed in the machine at 40 degrees and launders really well.
The body of the Reiss top is quite long, so there's plenty of movement without becoming un-tucked. On the website the neckline sits straight across the model's neckline?, Maybe I should have sized down because it drapes down on me but I quite like that effect.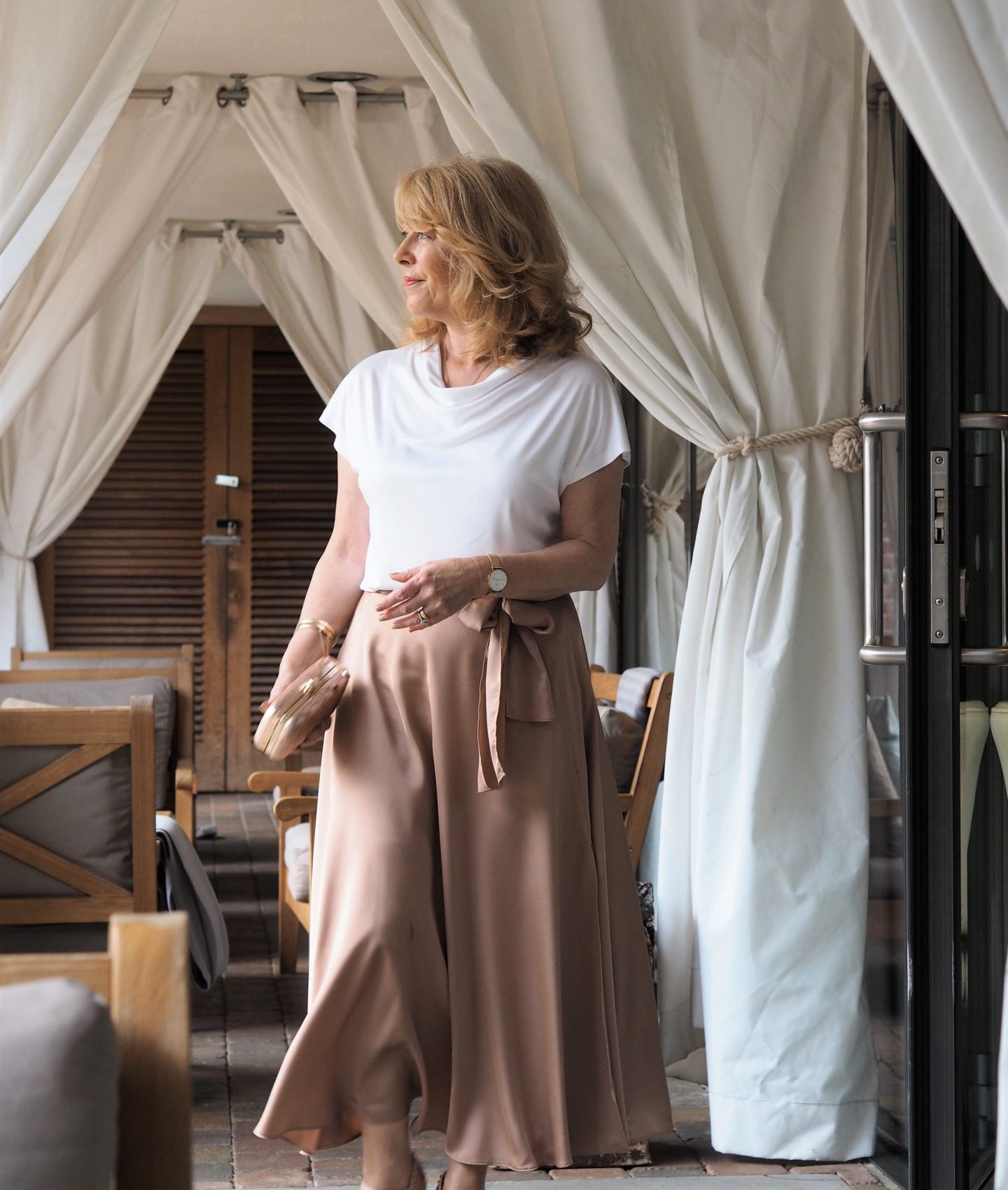 The skirt is really lovely to wear. It's floaty and really lightweight. It was the colour that drew me in and the price was good too! I've been eyeing up the satin bis cut skirts that are on trend at the moment but this one caught my eye and the trend idea went out the window.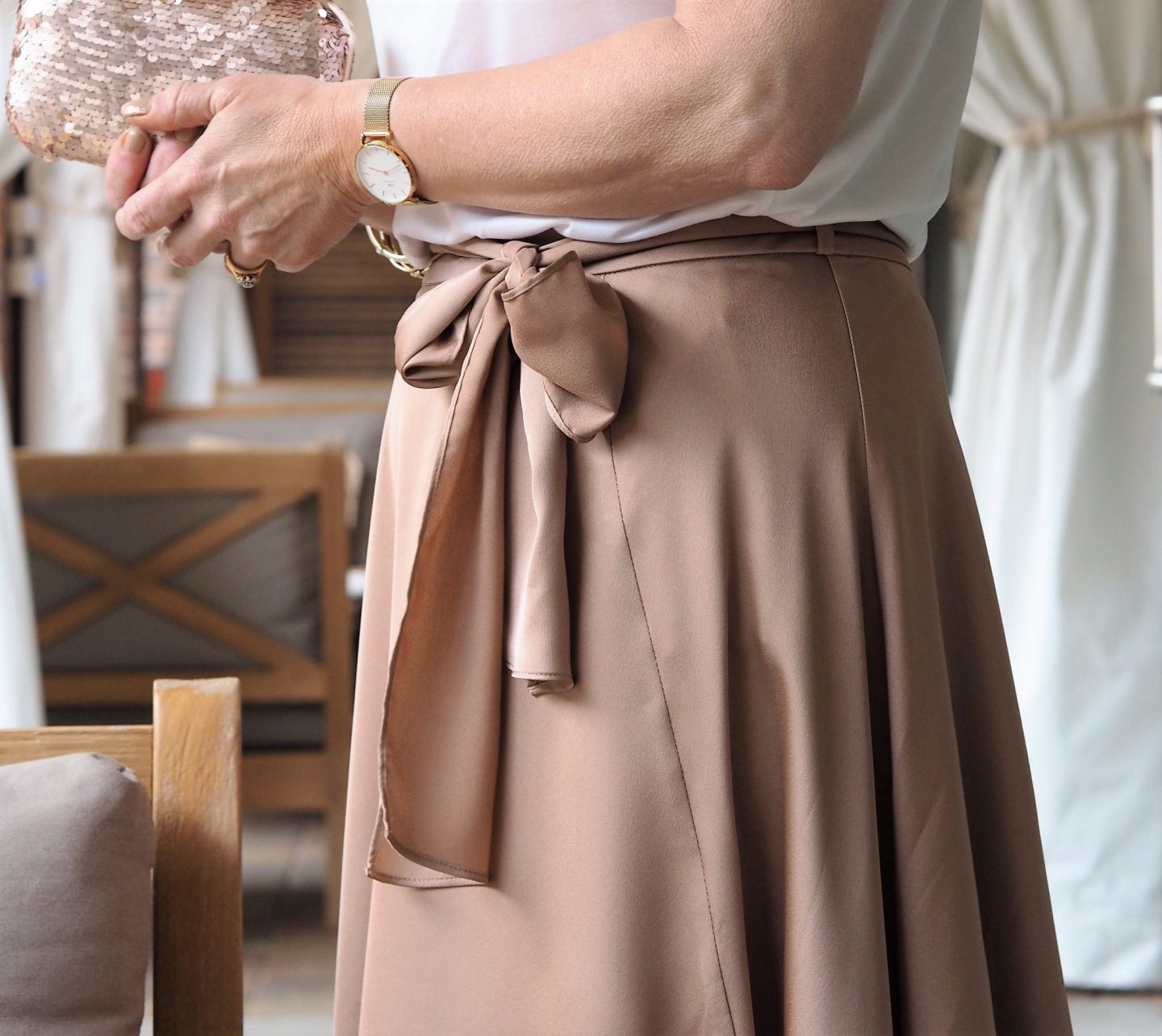 I like the cute tie detail, a nice little touch. A few Gold accents were all that was needed for this outfit I thought. A gold sequin purse and my everyday gold watch. Simple earrings that I wear every day. I didn't want to look too "overdone"
I travelled in the car and made sure that the skirt was as flat as possible when I sat on it. Avoiding the back of the skirt looking like a screwed paper bag! Yes, this material does crease if you're not careful. It was easy to iron though.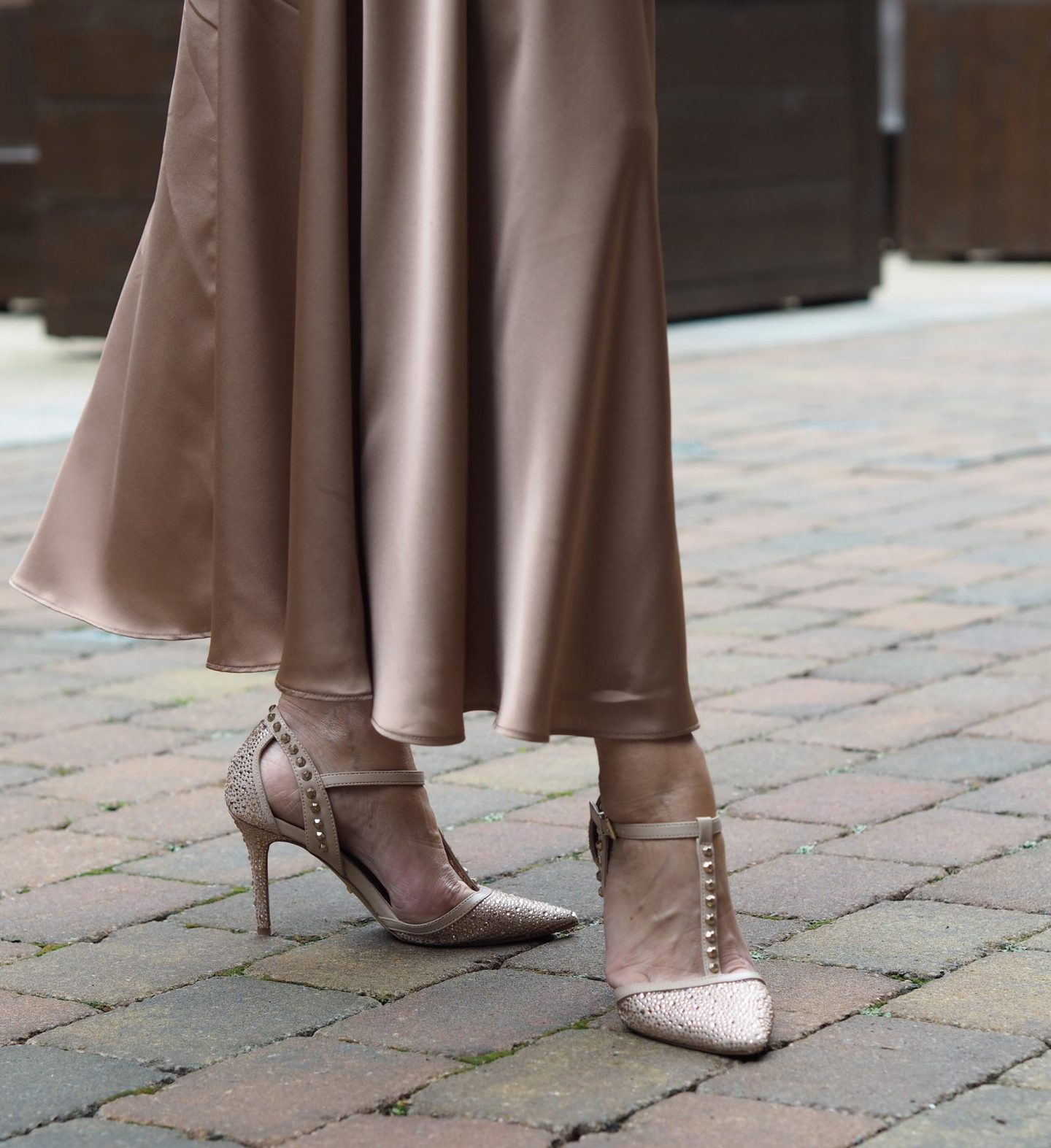 The KanKan shoes from Kurt Gieger finished the look perfectly. I can't recommend these shoes enough ladies. They are my all time pair of going out shoes that I reach for.
Super comfortable, not too high, these shoes will dress up any outfit. They're like a muted gold rather than too bling, They are listed as Nude on the website, and the heel height is just the perfect balance.
These KanKan shoes are also available in other shades too, including Black and Silver, and plain leather shades or animal print. Matching bags are available too.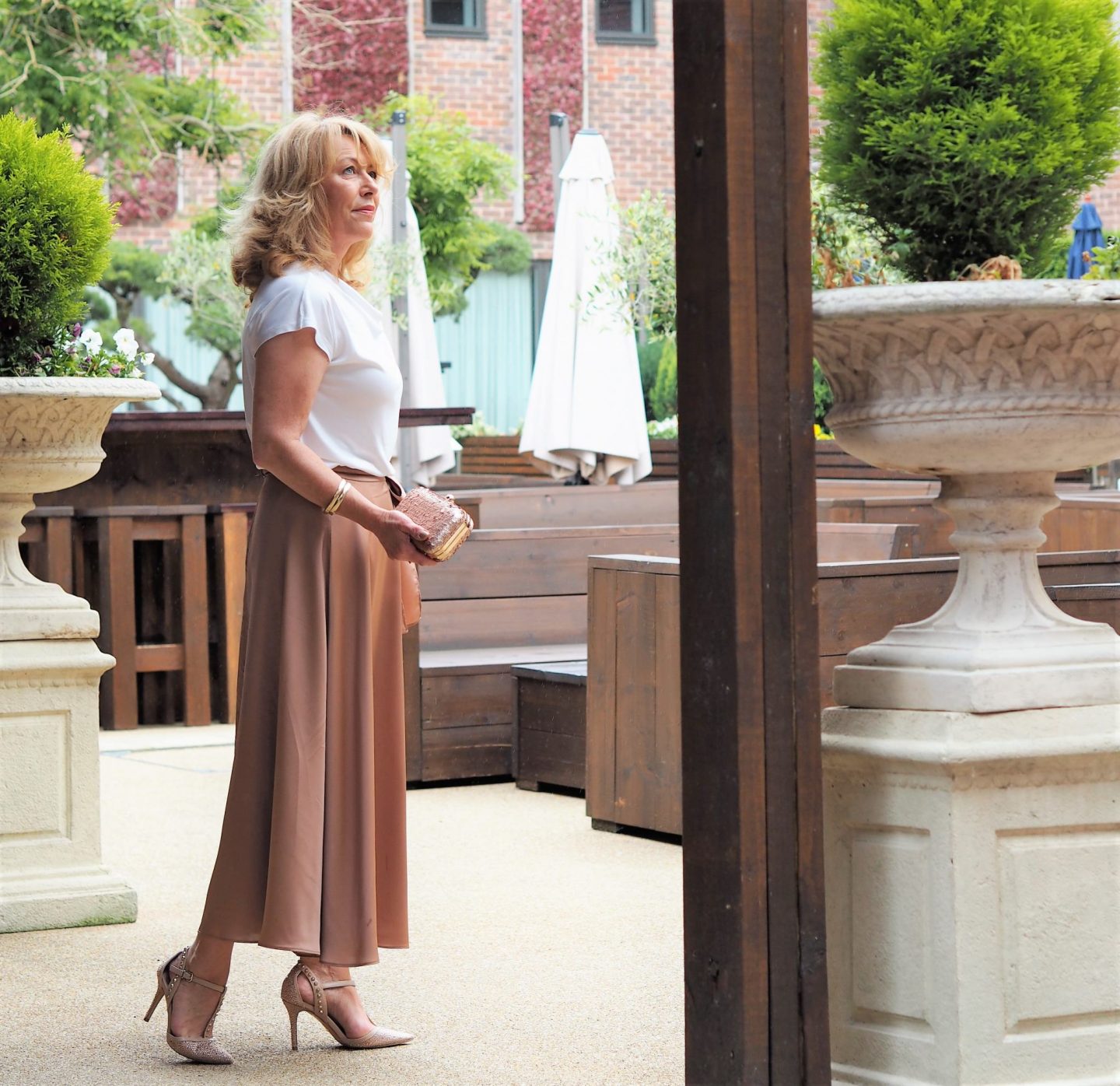 Before I go, I just wanted to let you know that the Reiss Summer sale has just begun with 50% off a lot of items. This is how I add good sustainable items to my wardrobe without spending too much money!
You may remember I wrote about stalking trousers on the Reiss website and got them at a fraction of the original price? You have to be quick though because items go really quickly.
You can see other ways that I've worn the Reiss top here and here
THANK YOU FOR STOPPING BY!
Come back for more. Click on the subscribe form below
YOU MAY HAVE A FRIEND THAT'S INTERESTED IN THIS? PLEASE USE THE SHARE BUTTONS
XO LAURIE
Subscribe for the latest updates!