I can't believe I've been blogging for five years! So here's a colourful outfit for you today. A rarity for me.
I was chatting with my daughter Sara about this the other day. I did say that I don't know how much longer I will blog for. Who wants to see someone nearing there sixties prancing about in fashions?
But we came to the conclusion that my readers will be growing older with me. Time moves for us all. And I'd love to grow older with you lovely lot. My statistics will tell I guess!
Colour – A very unlike me outfit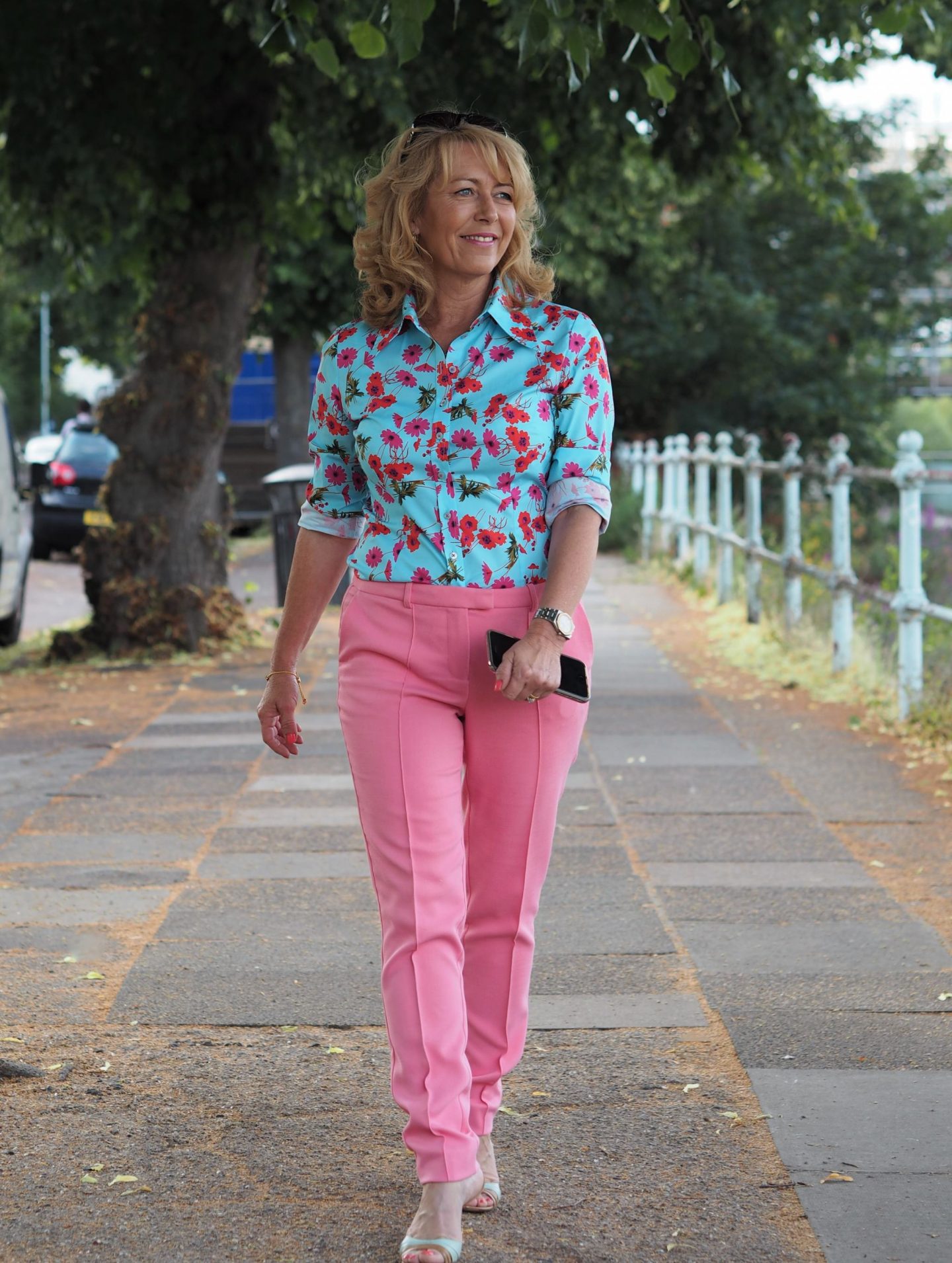 I'm a neutrals girl at heart but every now and then I crave colour. I normally go for a block of bright colour but this floral patterned shirt screamed at me on the Hawes Curtis website. One of my favourite brands for women (and men) shirts.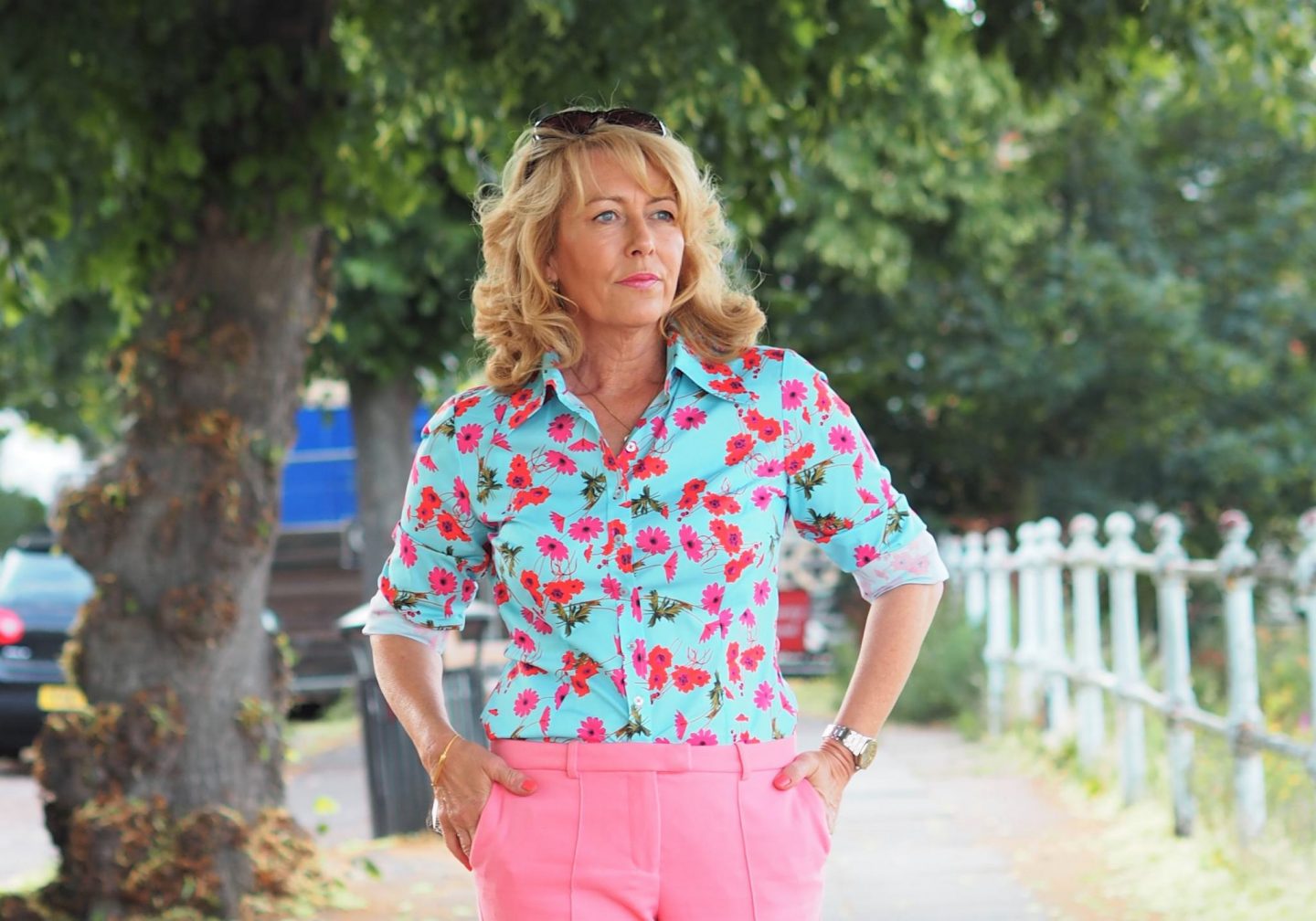 I initially chose the shirt (gifted) to wear with jeans and I would probably go with white but I paired my last Hawes Curtis shirt post with jeans and I wanted to switch it up a bit. The beauty of the shirts is that they are great for work, but they work just as well worn casual.
And being as it's my blogversary I decided to wear a pair of trousers that I wore for one of my very first blogposts. These trousers were from Next and I love the colour.I found some near-identical trousers from Marks And Spencer that I've listed in the "shop the look" below for you.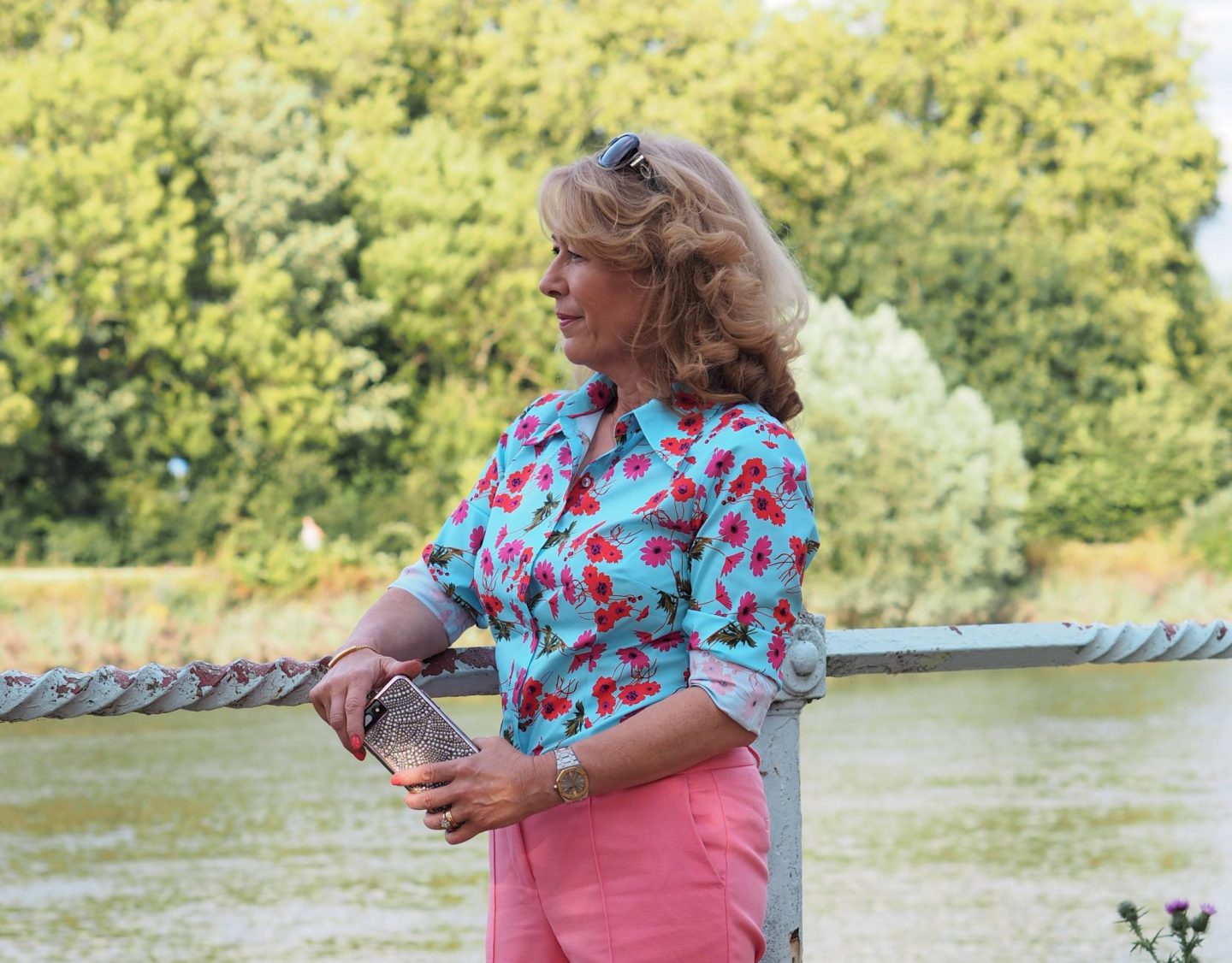 This is a fitted shirt with stretch added to the material. The sleeves are long with a smart stiff cuff but it's way to warm to wear them down, so I folded them. I also like the larger collar on this shirt. It has a seventies vibe to it.
One of the things I like about the Hawes Curtis brand is that they have the most unusual patterns. You will always find something different. Shirts are very reasonable too, starting at £17.99
Celebrating my fifth year I treated myself!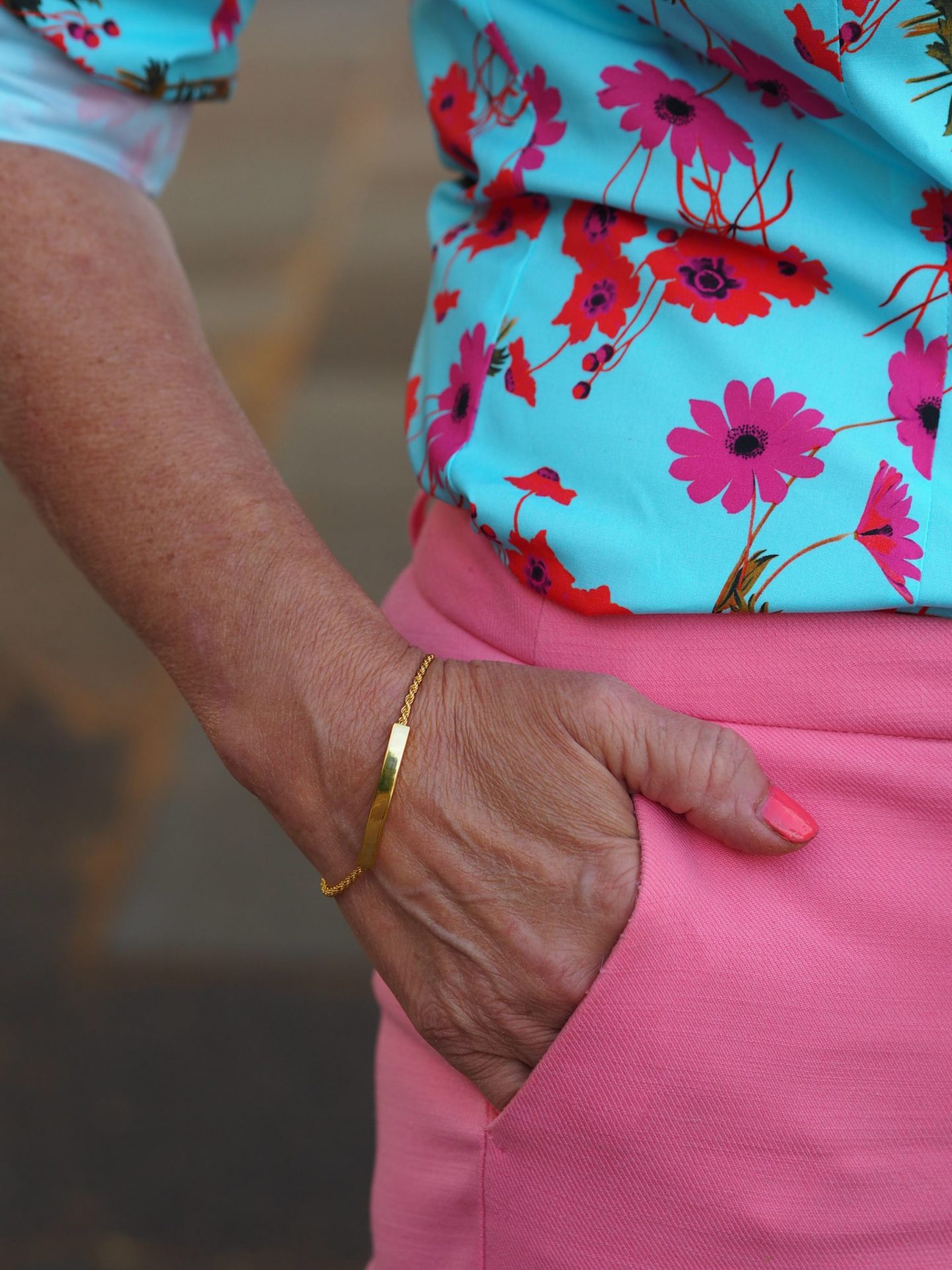 I have long been a huge fan of the Monica Vinader brand. It's pricey for accessories but the designs are so beautiful.
I waited for the sale, signed up to emails for an added extra 10% off and hit the buy button. I felt guilty for the first half-hour but then thought about how hard I've worked on this little blog. I deserve it.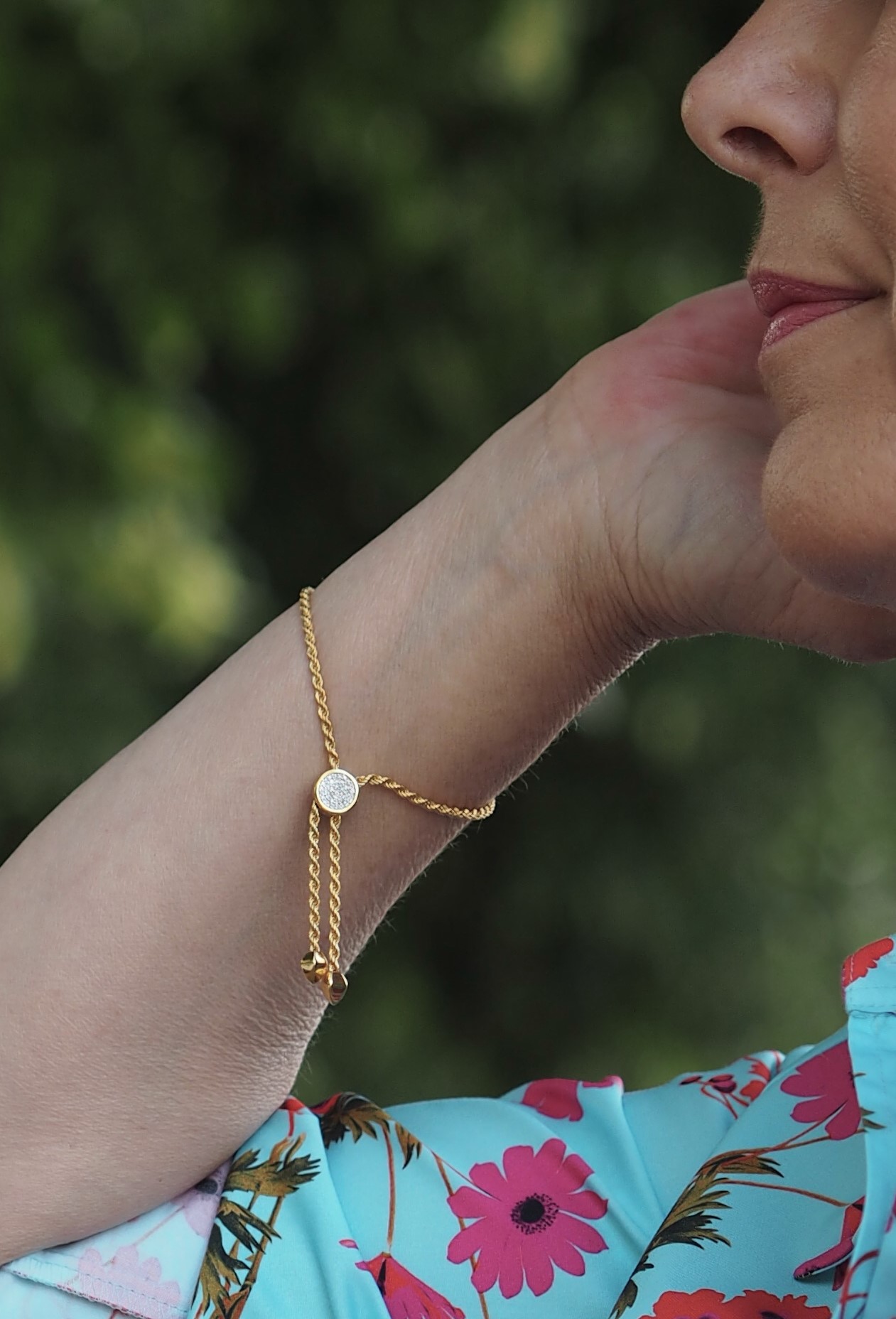 It's a friendship style bracelet. Gold colour vermeil on silver and the toggle is embedded with diamond chips. I love it! I was tempted to have the date of my first published post engraved on it. They provide free engraving, but I decided not to.
I'm really happy with the quality and I hope to collect more from the Monica Vinader brand. The rings are beautiful and I love the new Alta Capture range. Very cleverly thought out. I know what to add to my birthday and Christmas list now!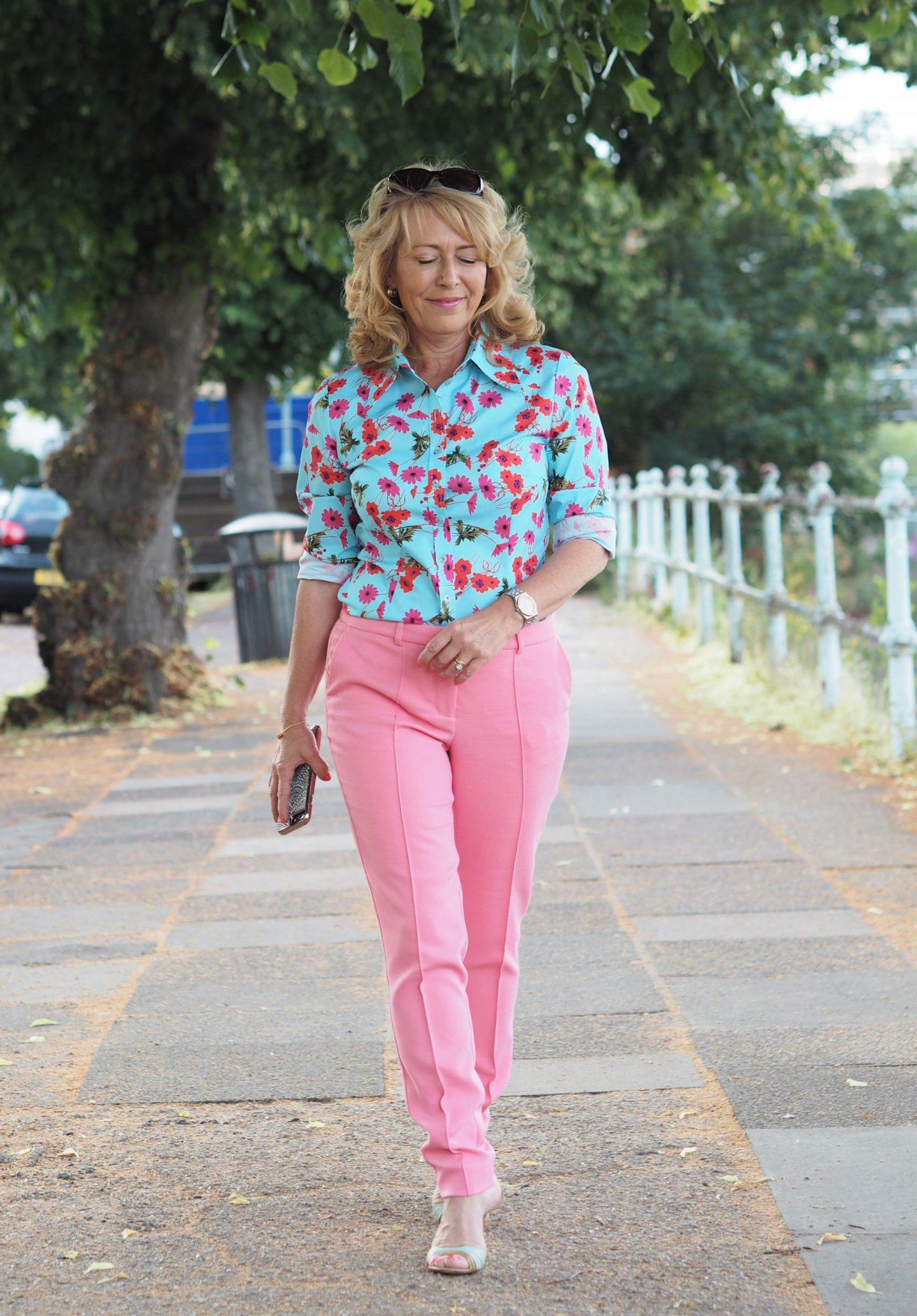 So. I'm a happy bunny. I made it to five years. The time has absolutely flown by and I still have a lot to learn, I don't think you ever stop learning new things blog-wise. I'm amazed at the opportunities that I've had, the different things I've done.
And most of all, the fact that my little blog actually gets read! I want to say the hugest of thank you's to my readers. I wouldn't be carrying on if it weren't for you.
Thank you for stopping by!
Come back for more. Click on the subscribe form below
YOU MAY HAVE A FRIEND THAT'S INTERESTED IN THIS? PLEASE USE THE SHARE BUTTONS
XO LAURIE
Subscribe for the latest updates!