I had a lovely day out last week. A day at the V&A last week. I booked a few months back to see the Dior Exhibition I was really excited about seeing all the glamour, I've seen so many pictures of the Dior exhibition on Instagram. On arrival, I spotted the Mary Quant Exhibition and decided to buy a ticket for that too.
I'm sharing with you today the Mary Quant exhibition first and next week the Dior exhibition, so don't forget to pop back for that! I thought both exhibitions were amazing.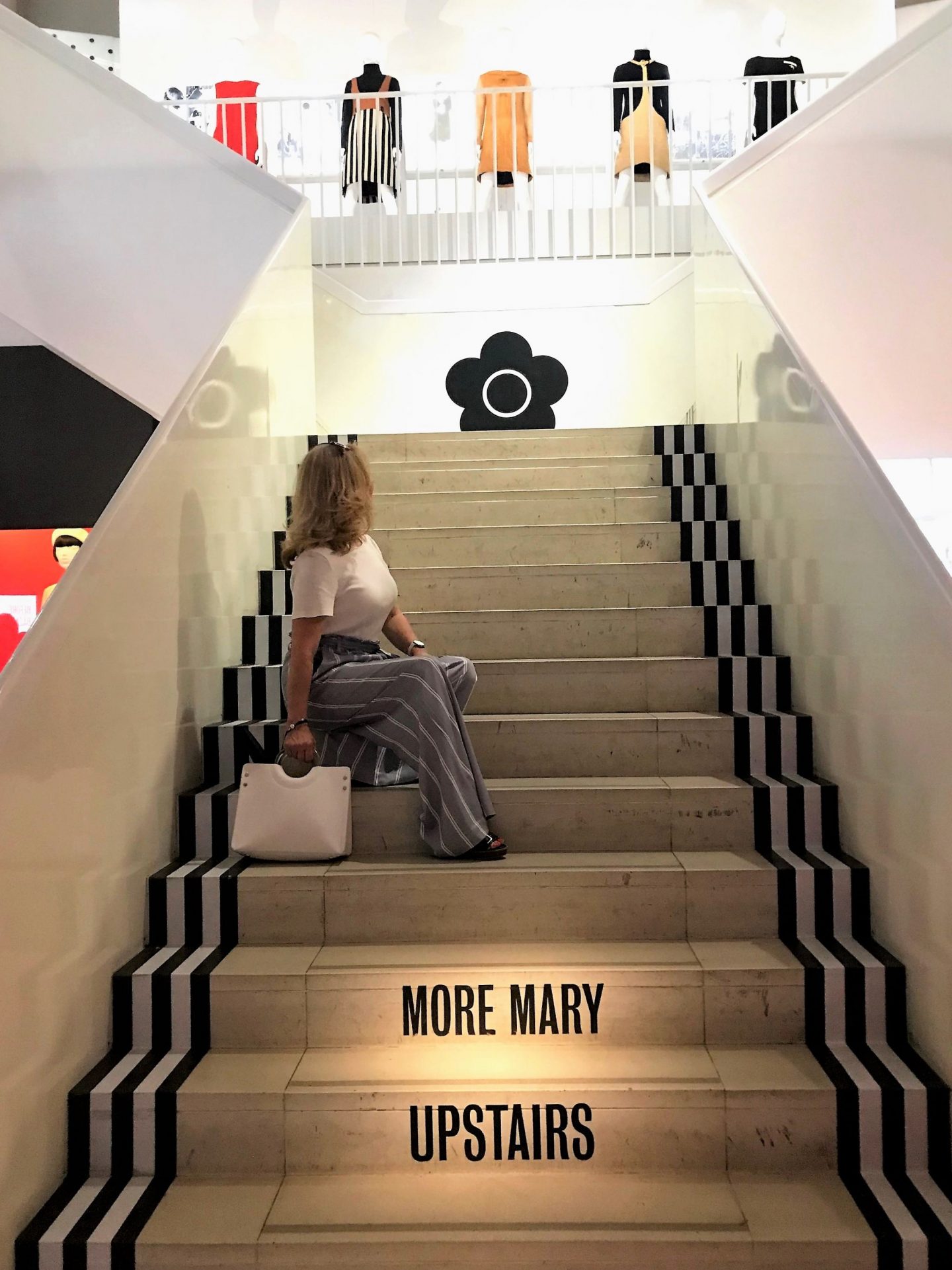 Don't ask how I managed to get that shot totally on my own. It was super busy. I just got lucky, or should I say my cousin that I went to the exhibition with was!.
The Mary Quant exhibition was two floors high. The lower part featured lots of films all about the history of this woman that changed fashion in the sixties. I remember fashion in the late sixties, mum was a real fashionista but Mary Quant was born literally the year that I was in 1963.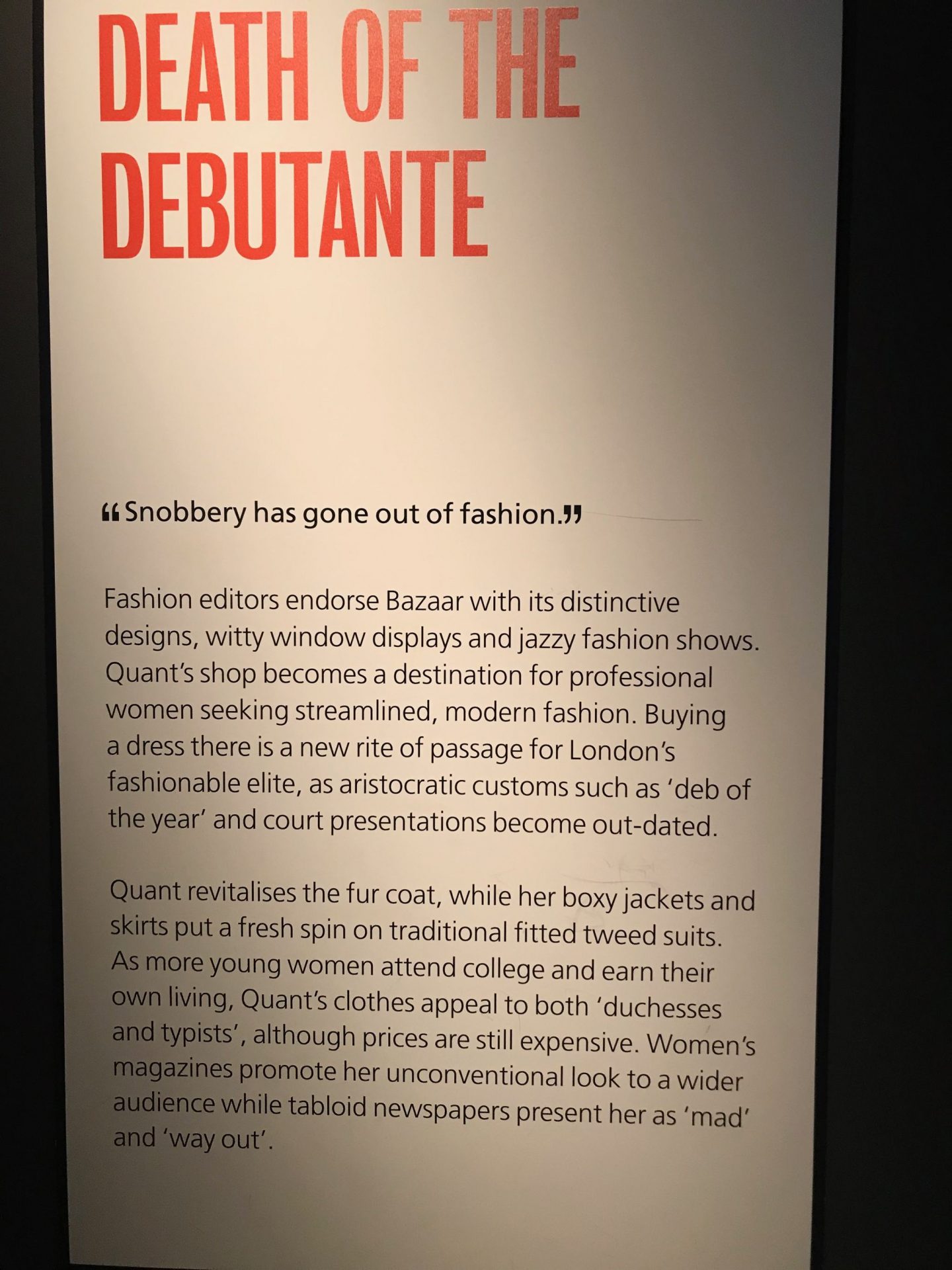 "The whole point of fashion is to make fashionable clothes available to everyone." – Mary Quant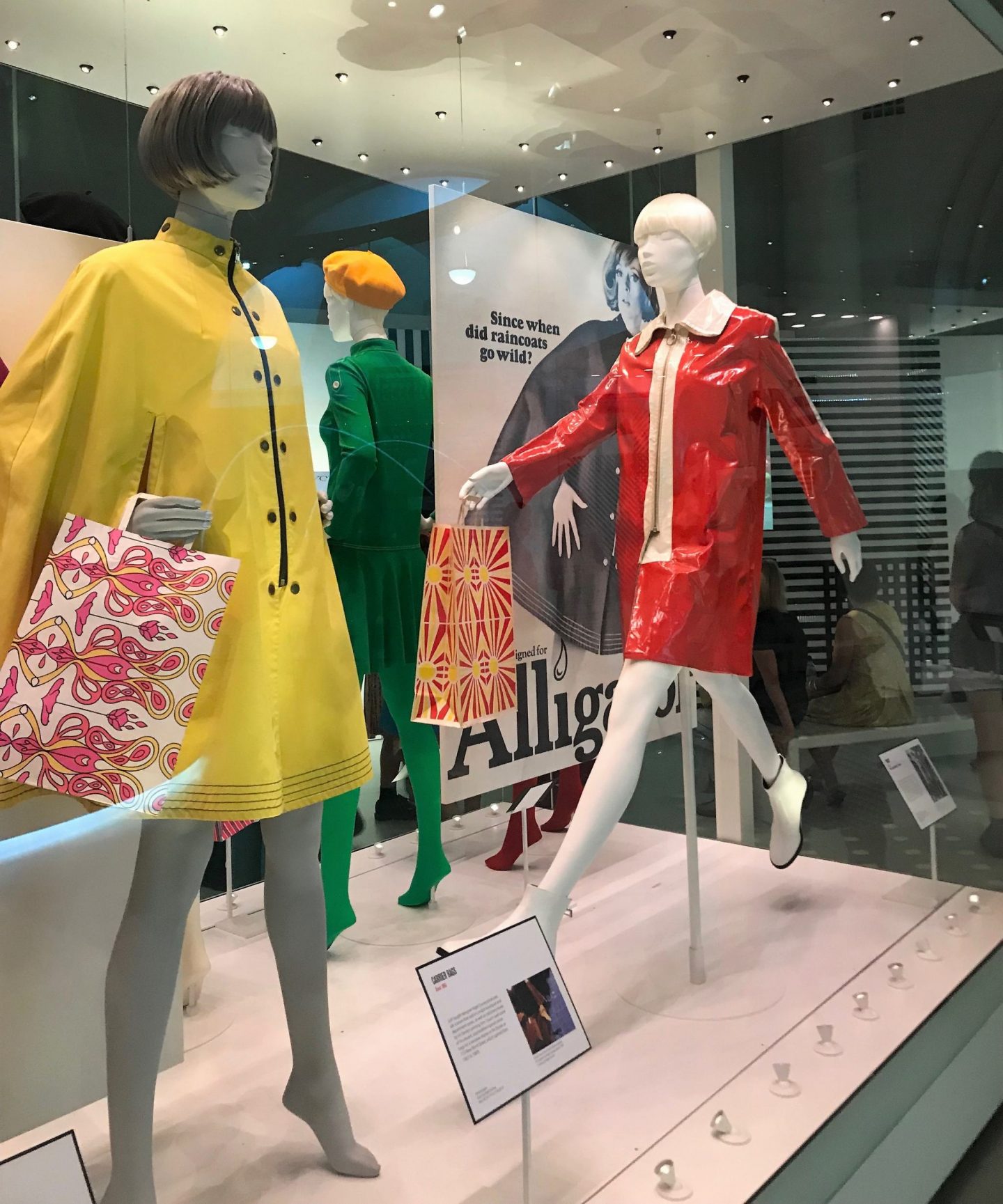 Mary Quant and Biba, both located on the Kings Road in London were brands targetting young teenage girls and the young working woman. It was all very new. There was a real shift in the late fifties regarding fashion, and the Mary Quant label was frowned upon quite a bit in the media.
The mini skirt and hotpants were her claim to fame. Maybe just the change in direction, giving teenagers and young women new choice is really what made the fame? Can you imagine all the arguments between parents and child if you were a teenager!
Mary Quant was one of the first mass producers of clothing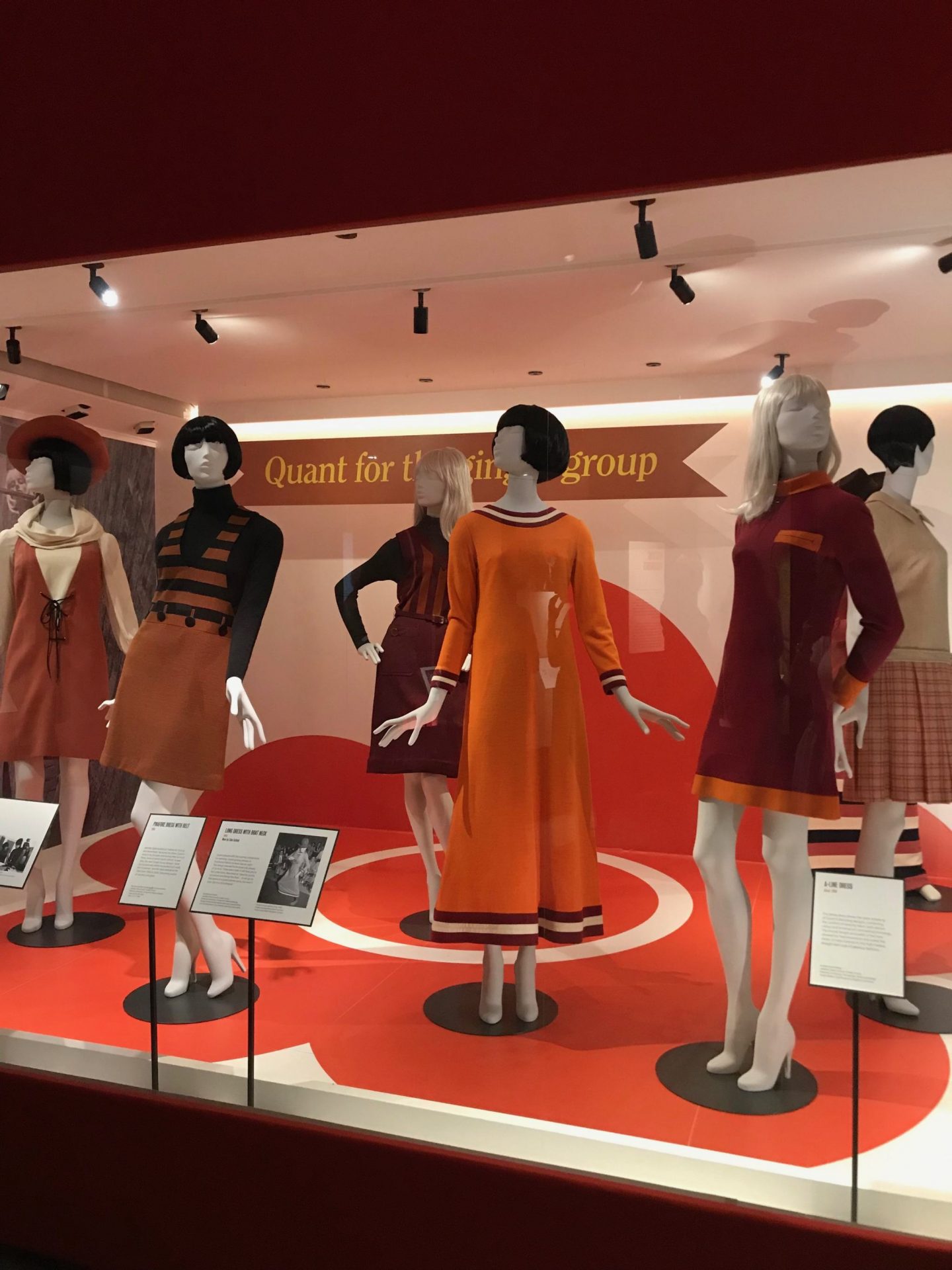 After not being able to find inspiring items to buy and sell from her boutique, Mary set about designing her own clothing. Starting off with a few seamstresses, this rapidly grew into an empire, selling all over the world.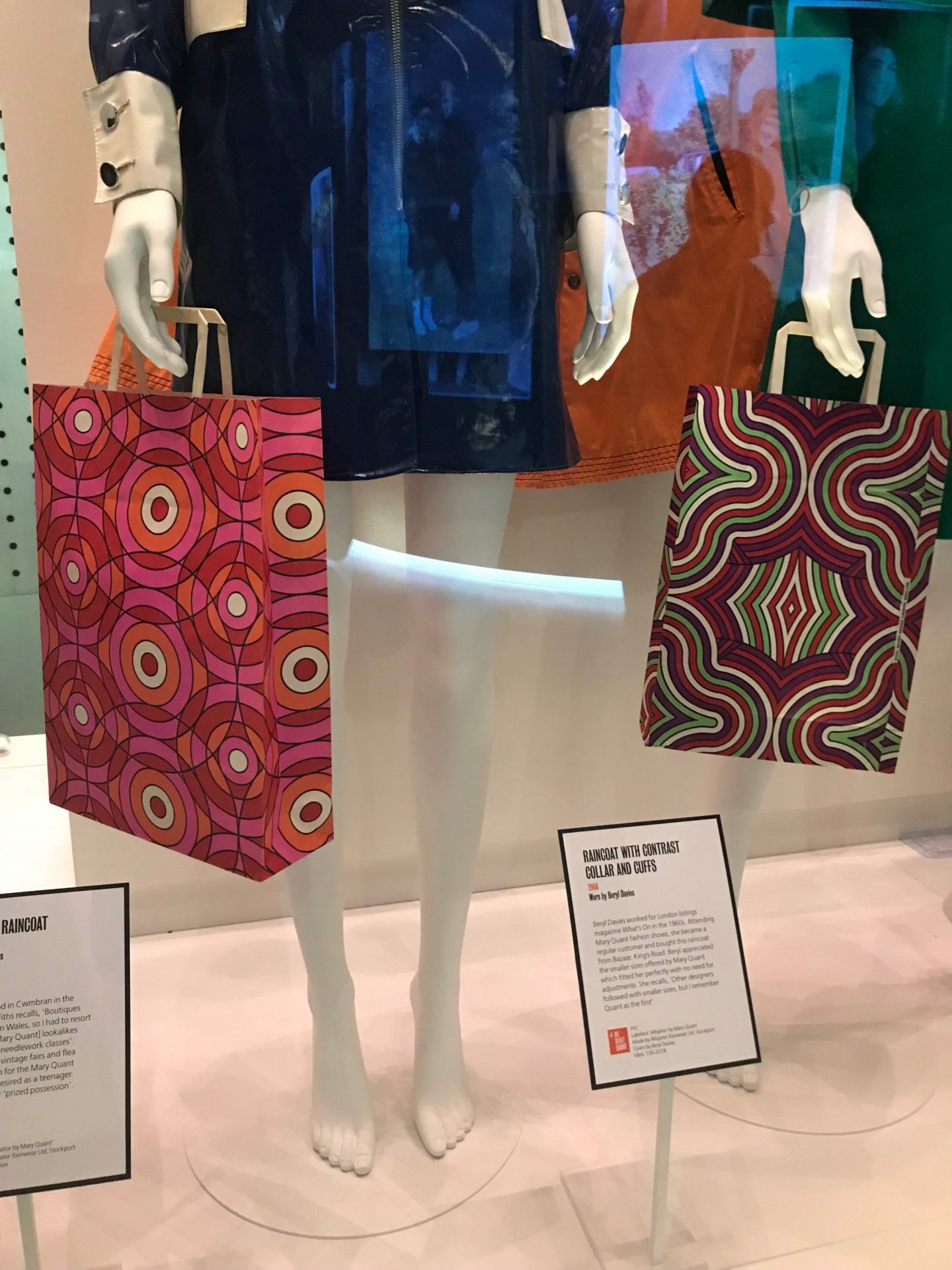 I loved browsing all the clothes but other things caught my eye like the paper carrier bags with such vibrant designs on them. Why can't stores do that now? So much better than plastic.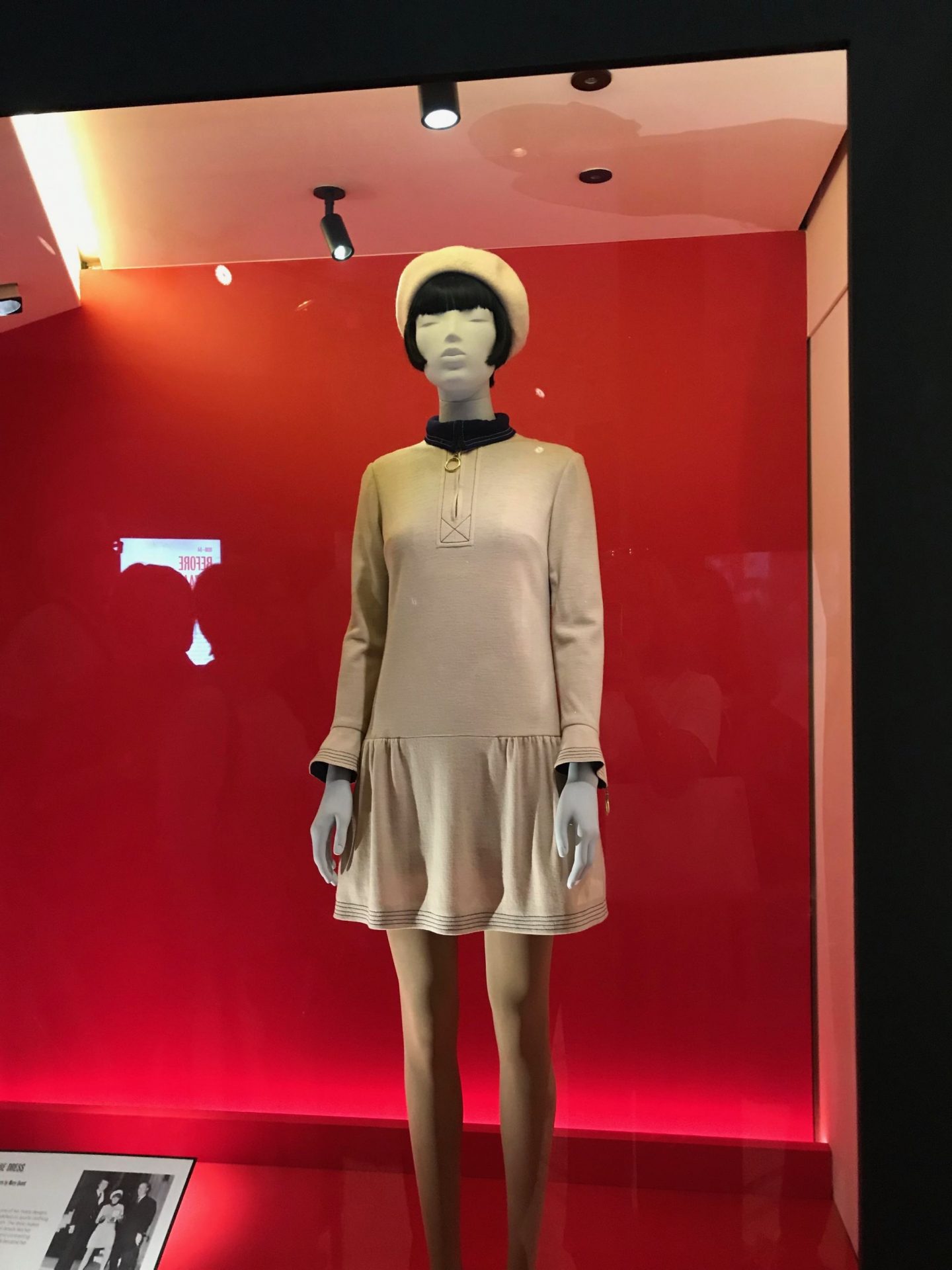 I have a photo of me when I was a little girl sitting next to the Christmas tree in a near-identical dress to this. I wish I could find it and share it with you.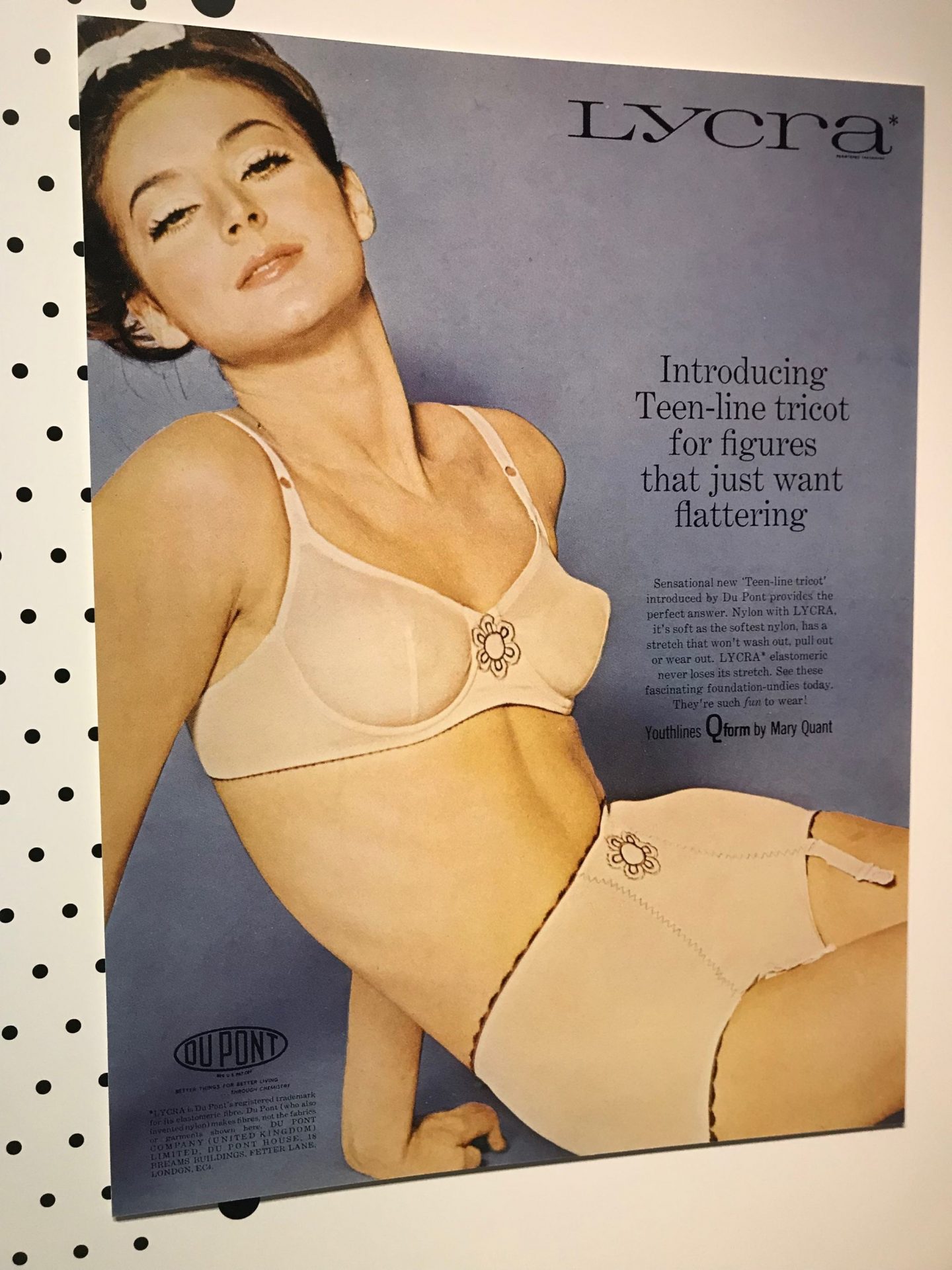 I didn't know that Mary designed underwear too. The whole exhibition was really interesting and I later found out that it was Mary quant who re-designed the continental quilt that we all have on our beds today instead of blankets and bedspreads.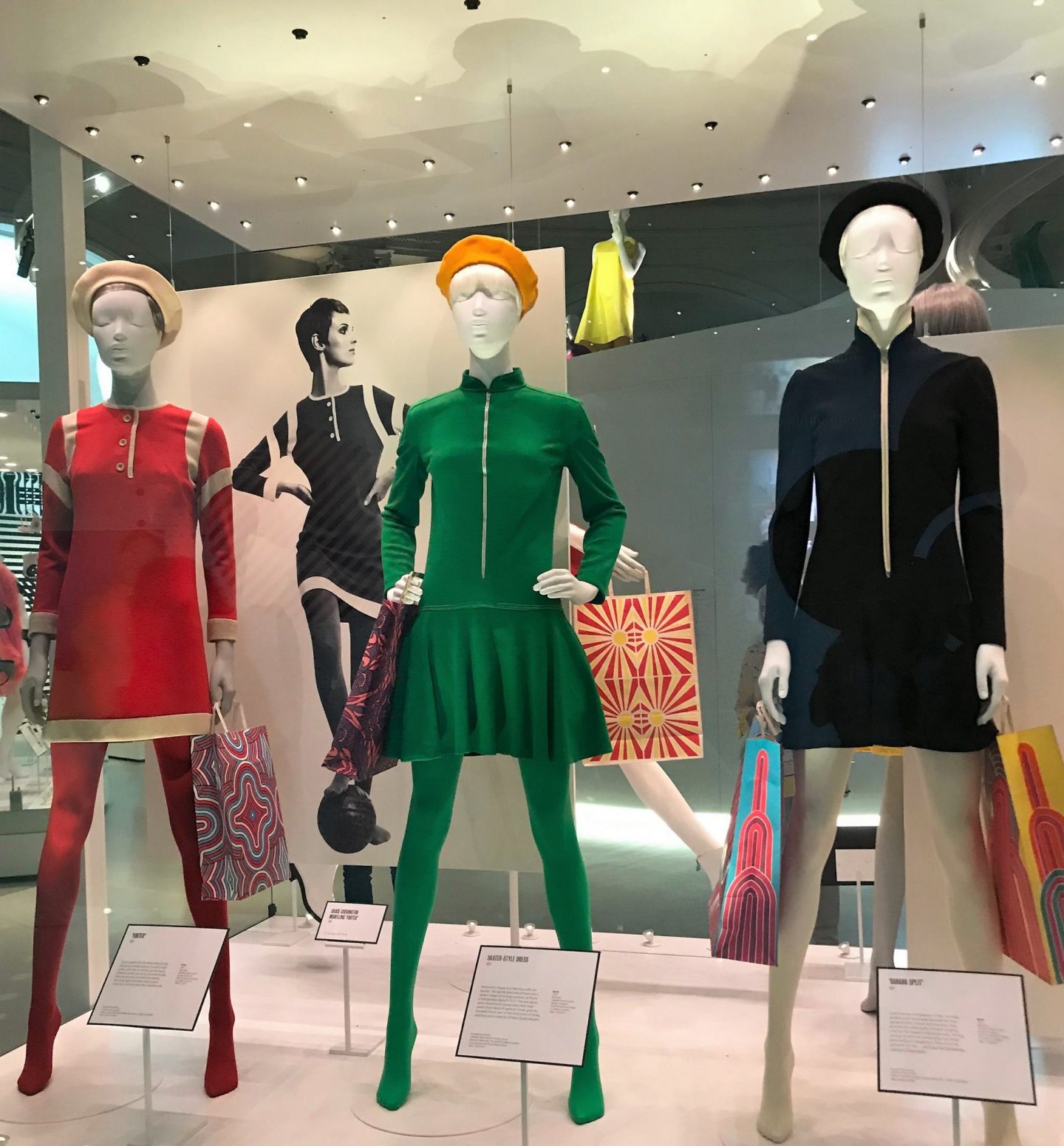 It was Mary who made bright coloured tights so fashionable including the lurex variety. Everything is so colourful. Can you imagine being a young woman during this era? or were you even? I'd like to hear what you thought of it. It must have been so exciting and like a breath of fresh air.
Mary Quant make up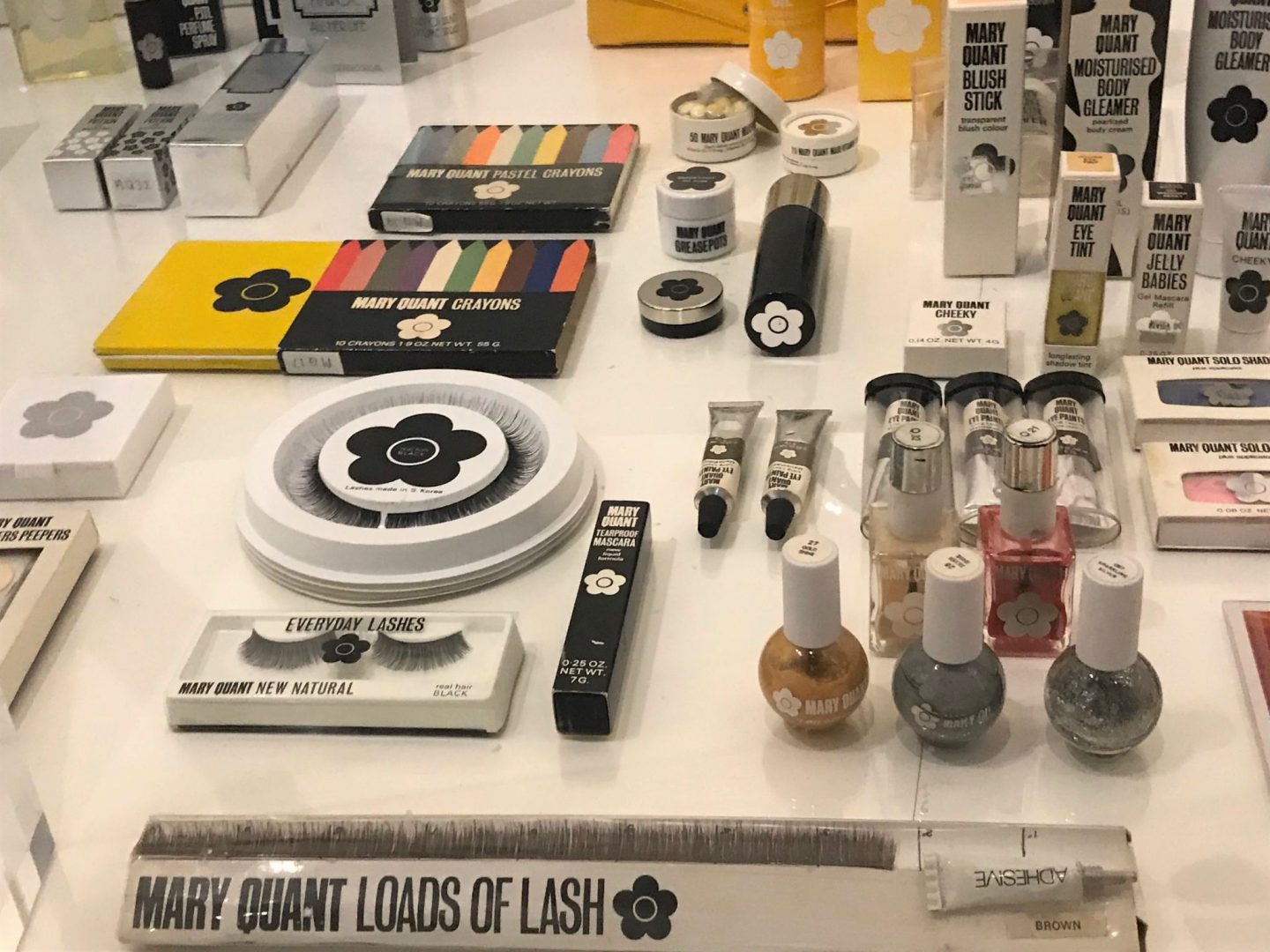 I do remember the makeup. I remember my brother's girlfriend giving me her cast-offs of nail varnish and eye shadows. It was like being given the crown jewels!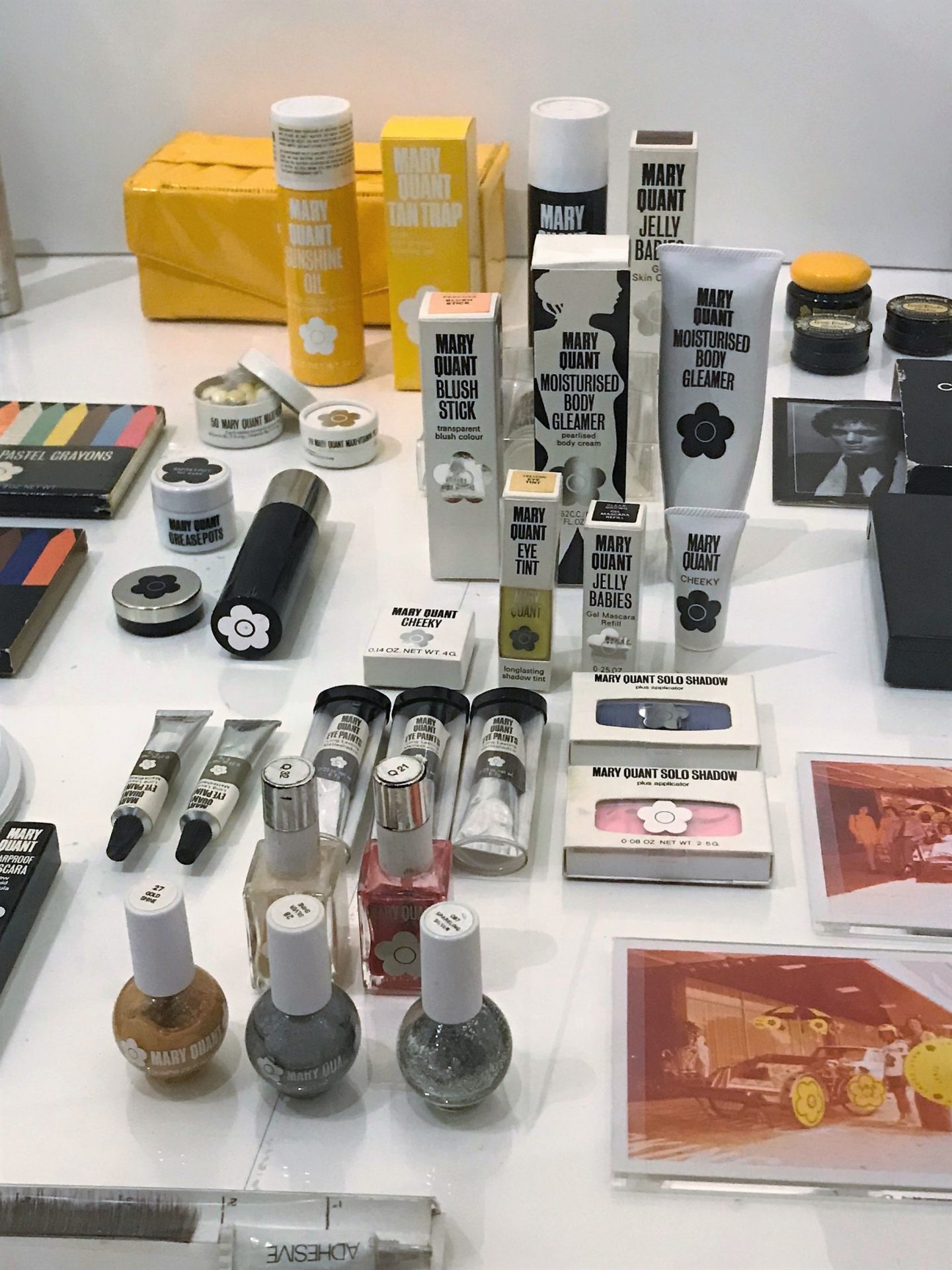 The long strip of lashes caught my eye. I'm surprised we can't buy them like that now. Or maybe we can and I've just not seen them. I'm wondering what the tan was like. I wonder how bad it smelt!
The Mary Quant Daisy Doll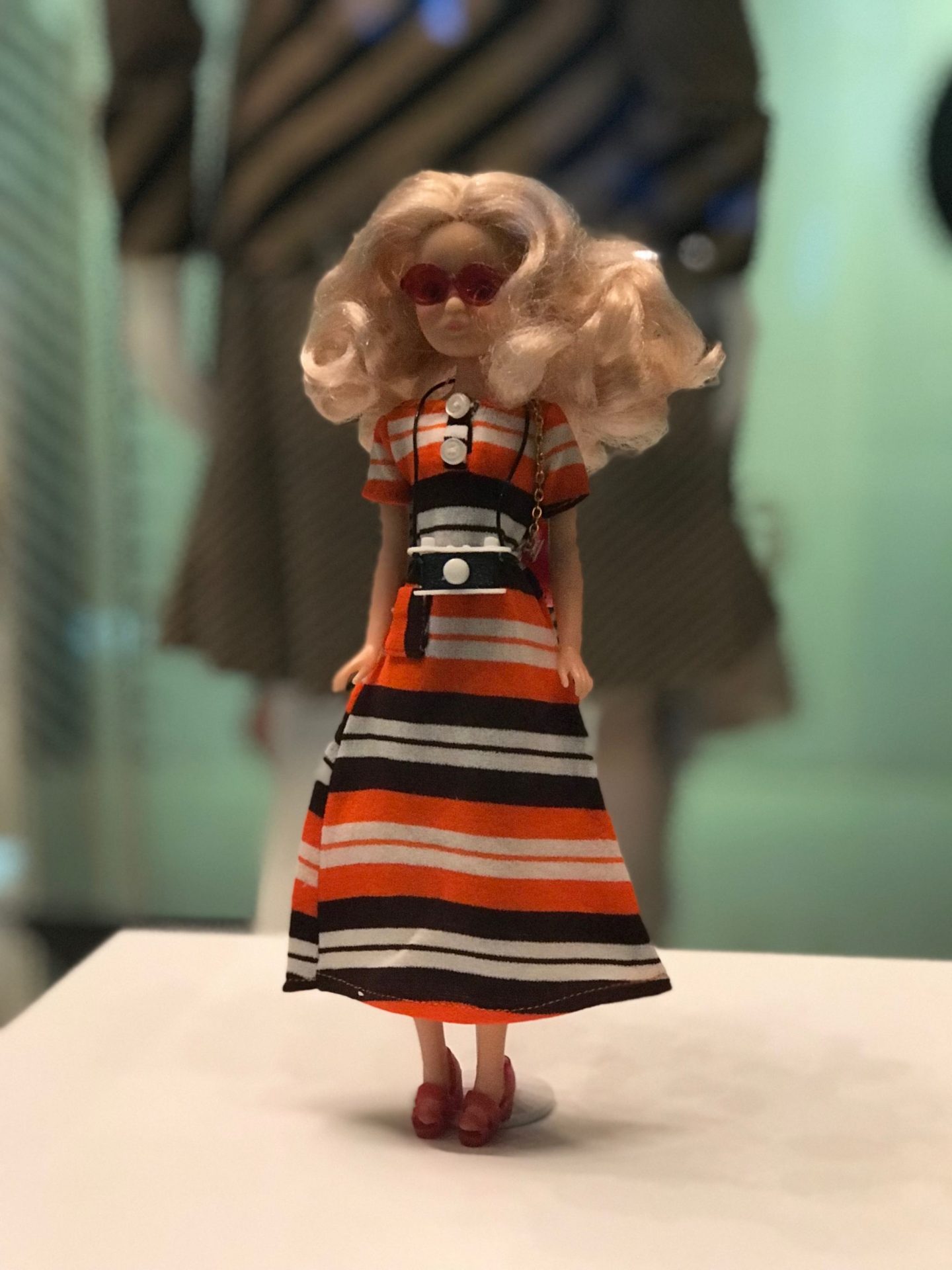 Now, this brought memories flooding back! I still have my original Daisy doll stored away. Minus any hair, I must add. None of my dolls kept their hair very long after being adopted by me!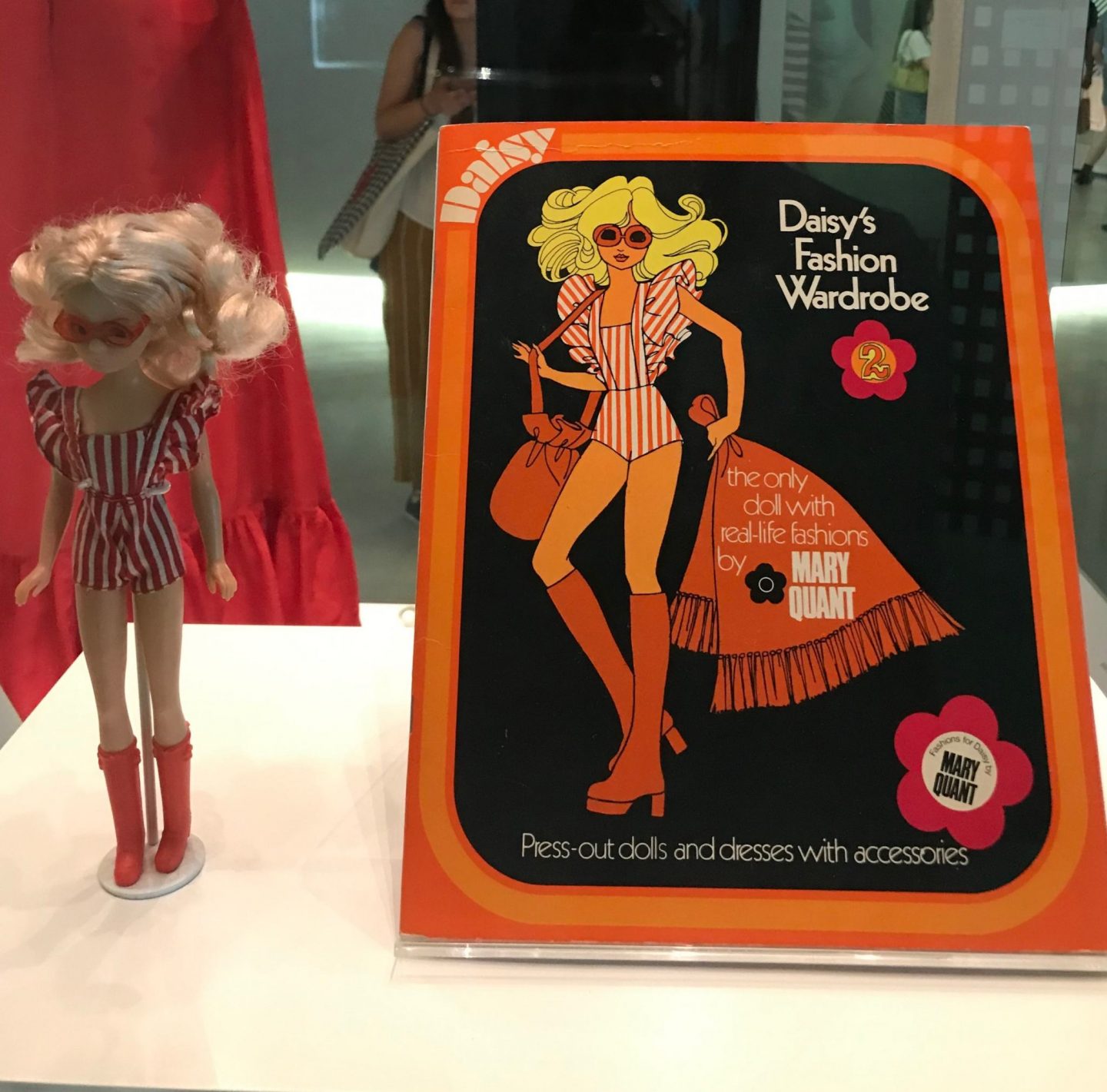 I also remember having this book. Did any of you have it? The Daisy doll was by far my favourite doll, hence why I couldn't part with mine.
Clothes were copied from real fashion collections and Daisy was just sooo cool. I liked her more because she was smaller than the Cindy or Barbie dolls like me I guess!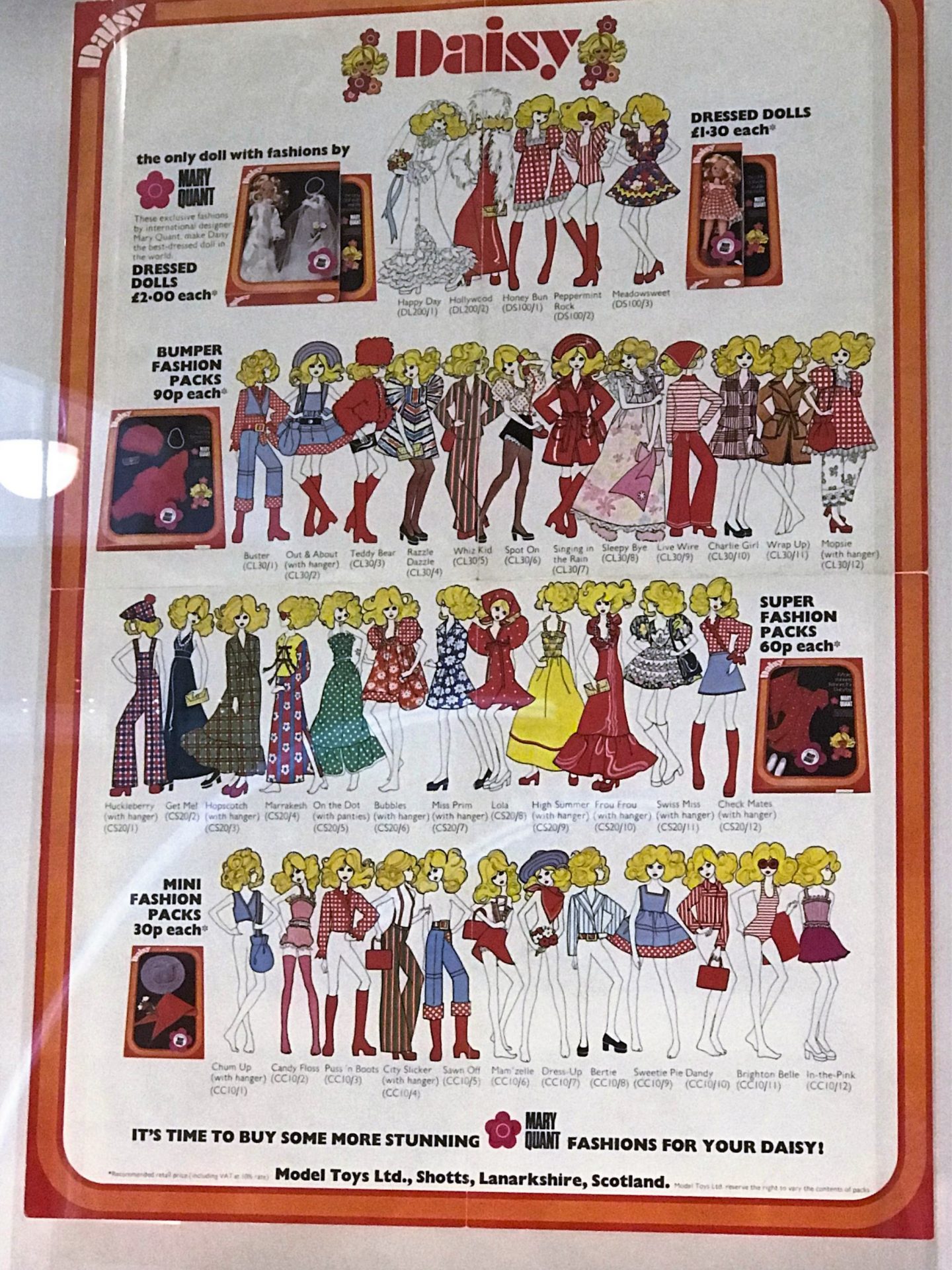 Each boxed doll came with a folded small poster. I remember making my wishlist, which outfit I would like to put my Daisy into next. £1.30 per doll! The one I had is the one in the Gingham red dress on the right.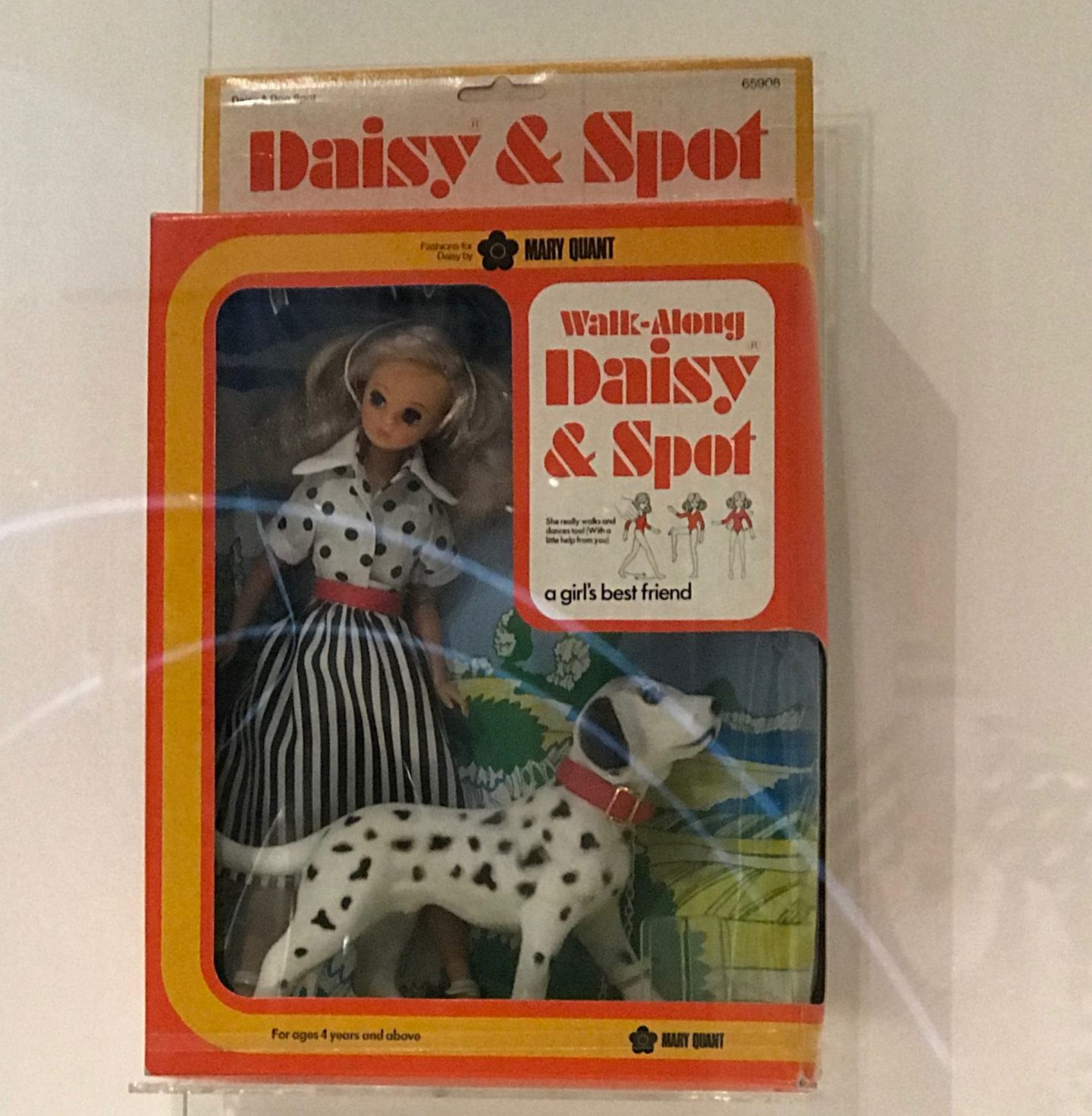 My cousin made a joke that the photo above was just like me and Beau! The dimensions are pretty spot on! I have since browsed eBay for a good condition Daisy doll but they're really expensive! I'm so tempted to collect it all again.
It was a fabulous trip down memory lane looking at everything. There will be a film soon on my YouTube channel where so much more can be seen. The exhibition is on until February 2020 so you have plenty of time to visit.
Thank you for stopping by!
Come back for more. Click on the subscribe form below
YOU MAY HAVE A FRIEND THAT'S INTERESTED IN THIS? PLEASE USE THE SHARE BUTTONS
XO LAURIE
Subscribe for the latest updates!