Phew! I'm quite pleased with myself today. I shot out to take these photos today and load up the post all in a space of a few hours. What with our bad weather of late, I wanted to catch a sunny couple of hours so that I could share this spotty dress with you. Not only did I manage to get ready super quick, but I also shot all of these photos myself. Something I don't normally do.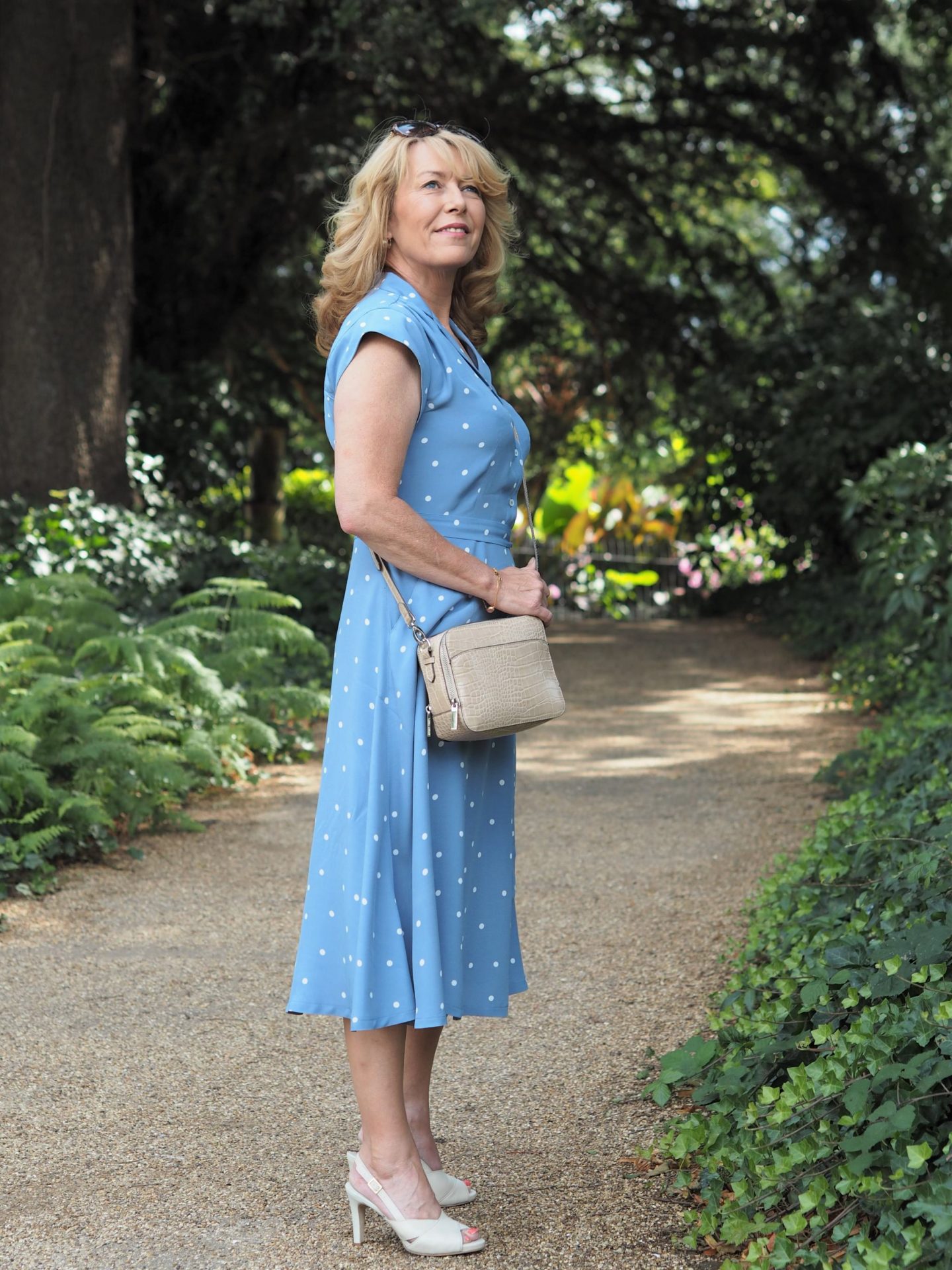 The "Pretty Woman spotty dress" as we now call it is never going to date is it? This year I have seen some beauties through my Instagram feed and I've been pondering about getting myself one for a while.
As soon as I saw this blue spotty dress on the Laura Ashley website I knew that this would be my chosen gifted outfit. I just love the colour and I know this suits me more than the darker version in the film.
I've chosen my pretty woman spotty dress in blue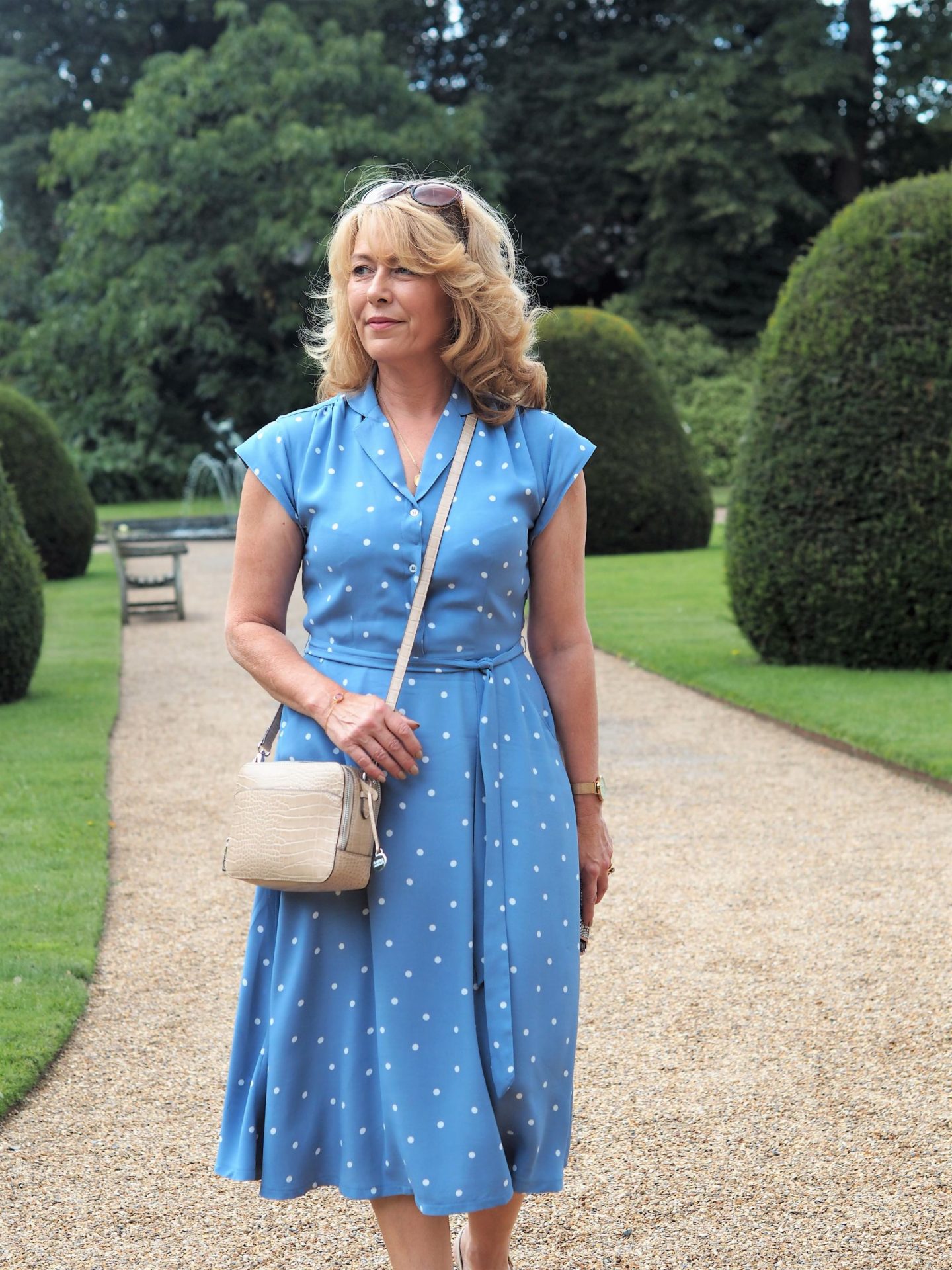 This is a simple design. Fit and flare dress with a side zip and cap sleeves. The material is 100% viscose and will wash in the machine too. It feels lovely and silky and light on and has a nice swoosh in the skirt.
---
Please be aware that there are affiliate links within this post at no cost to you.
---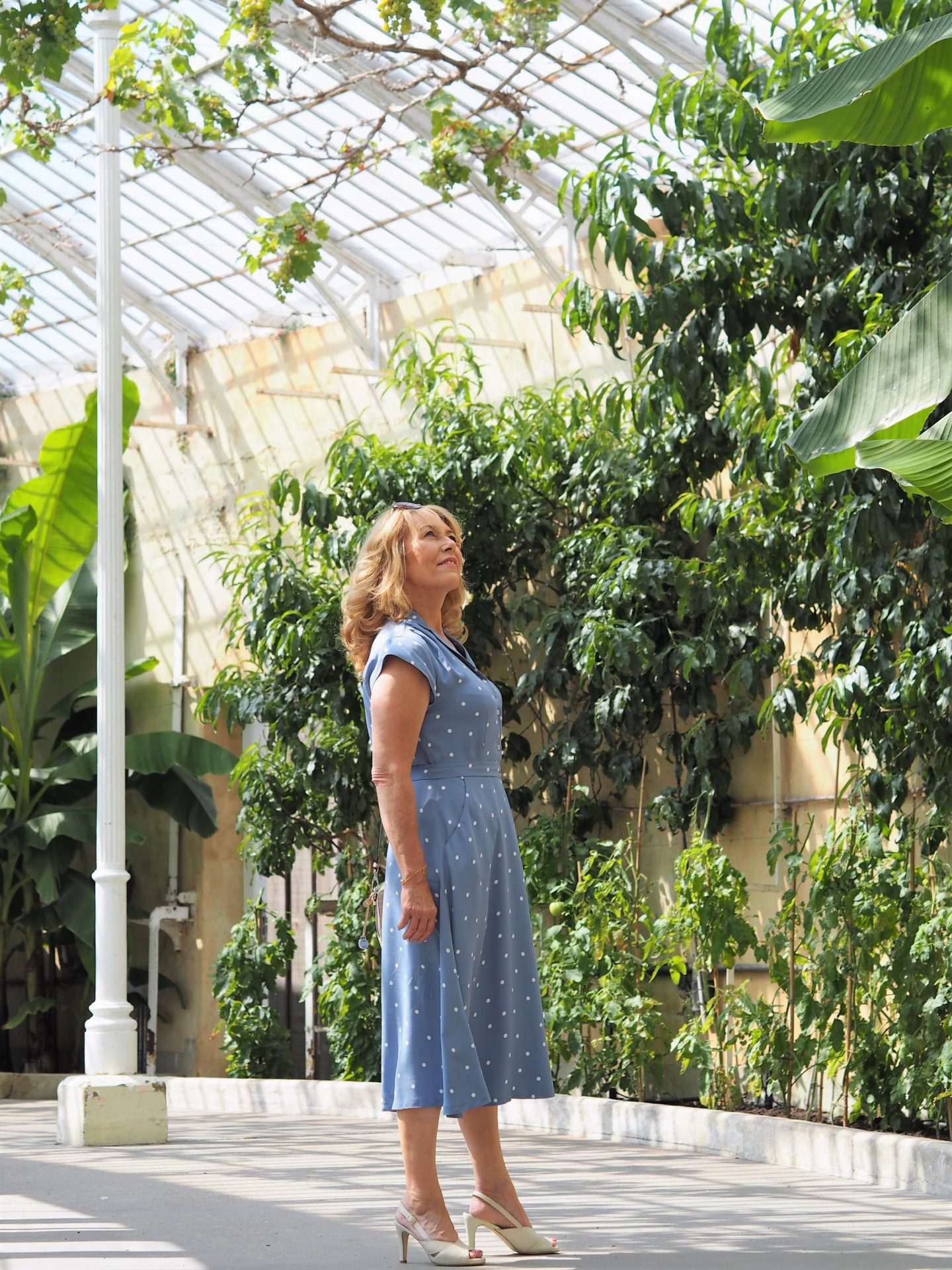 I've come to my favourite place Syon park to take photos. I thought at least I can escape any rain by going into the orangery. It's so beautiful in there too. I was admiring all the grapes growing above and I love looking at all the exotic plants.
I've chosen cream classic slingbacks to wear with the dress. I've had these for a couple of years now. Calla make shoes for women with bunions. Specially designed for style and comfort. I like the court shoes on the website.
A spotty dress with pockets!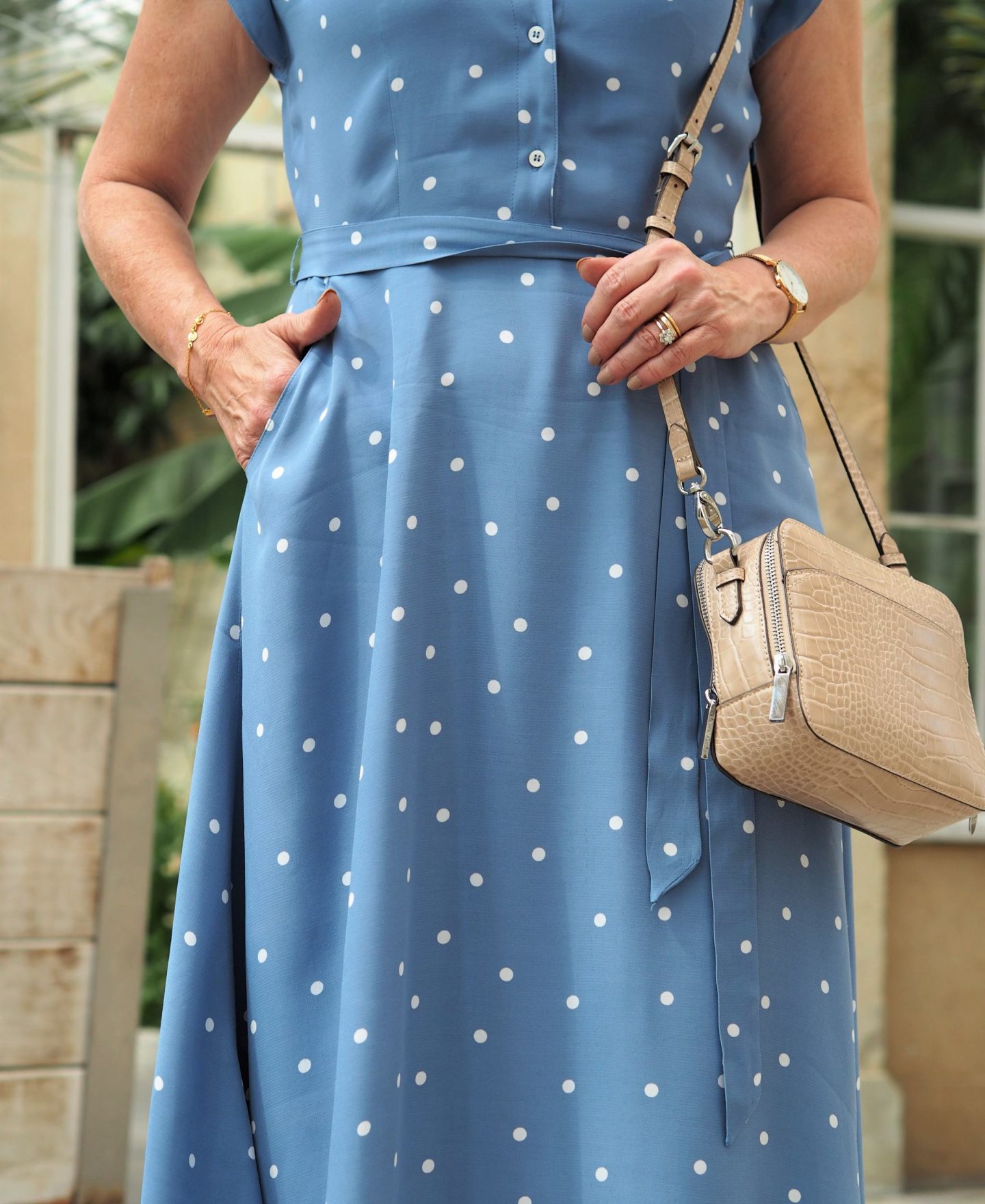 I forgot to mention that the dress has pockets. A very important piece of information. We all love a pocket or two! The cross body bag is also from Laura Ashley and I know this will see me into the winter months too.
I have this bag in last years colourway of Dark Green ( see how I styled it here) and I used it a lot. It's a perfectly sized bag and if you're into nude colourways like myself then I really recommend this one. The bag is still available in a green shade and also Navy.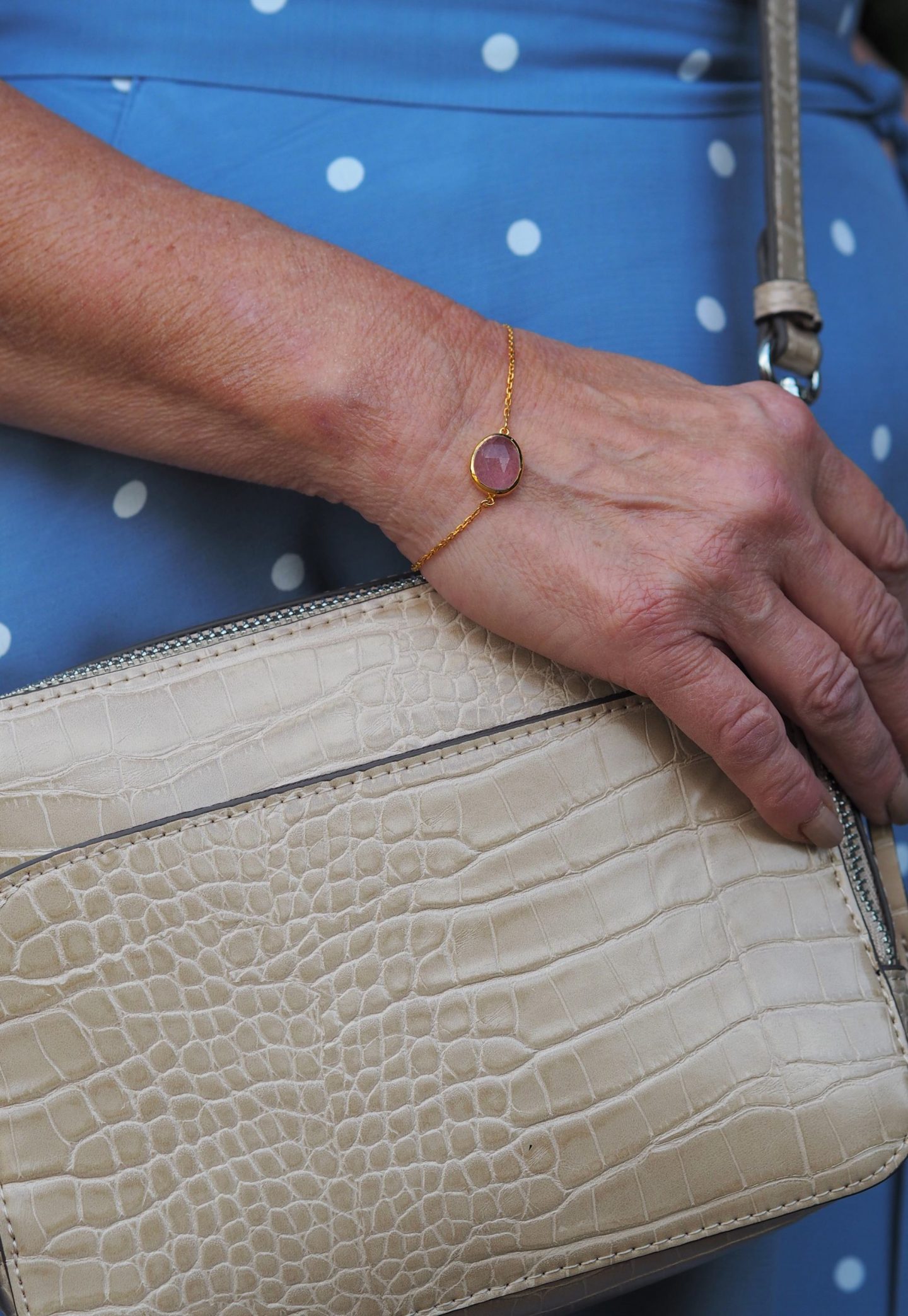 I've kept accessories minimal but I wanted to mention this new bracelet that was gifted to me from Carrie Elizabeth jewellery. I love Rose Quartz and I really like the dainty style. I'm thinking about getting a moonstone ring too. They have some beauties on the website.
It's the little details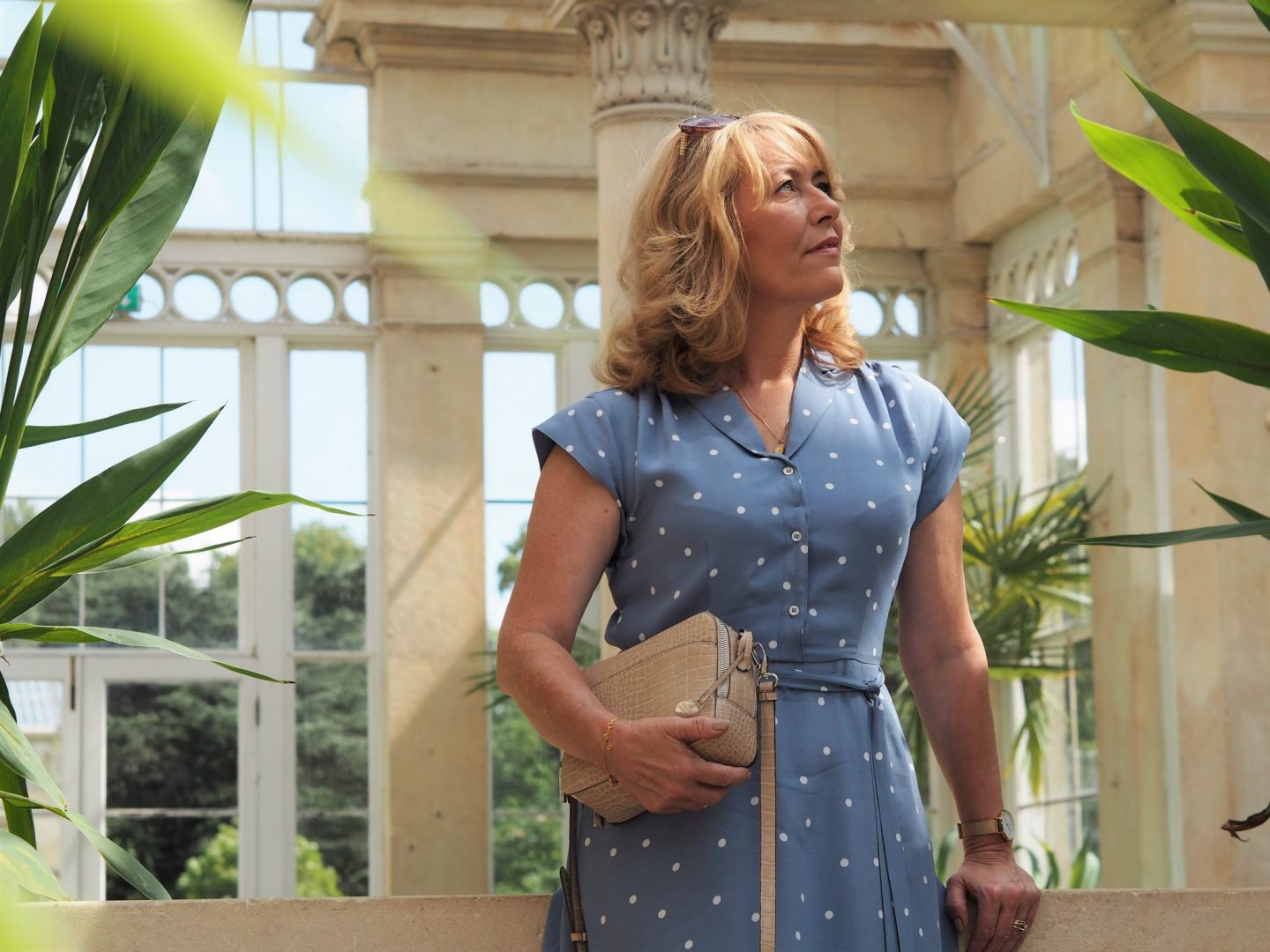 There are a few points to add here on the style of the spotty dress. I like the ruched detail on the shoulders, the self-tie belt. And I like the cap sleeves and the fact that when you lift your arms at all there's a strip of material so your bras not on show. It's a well-designed dress.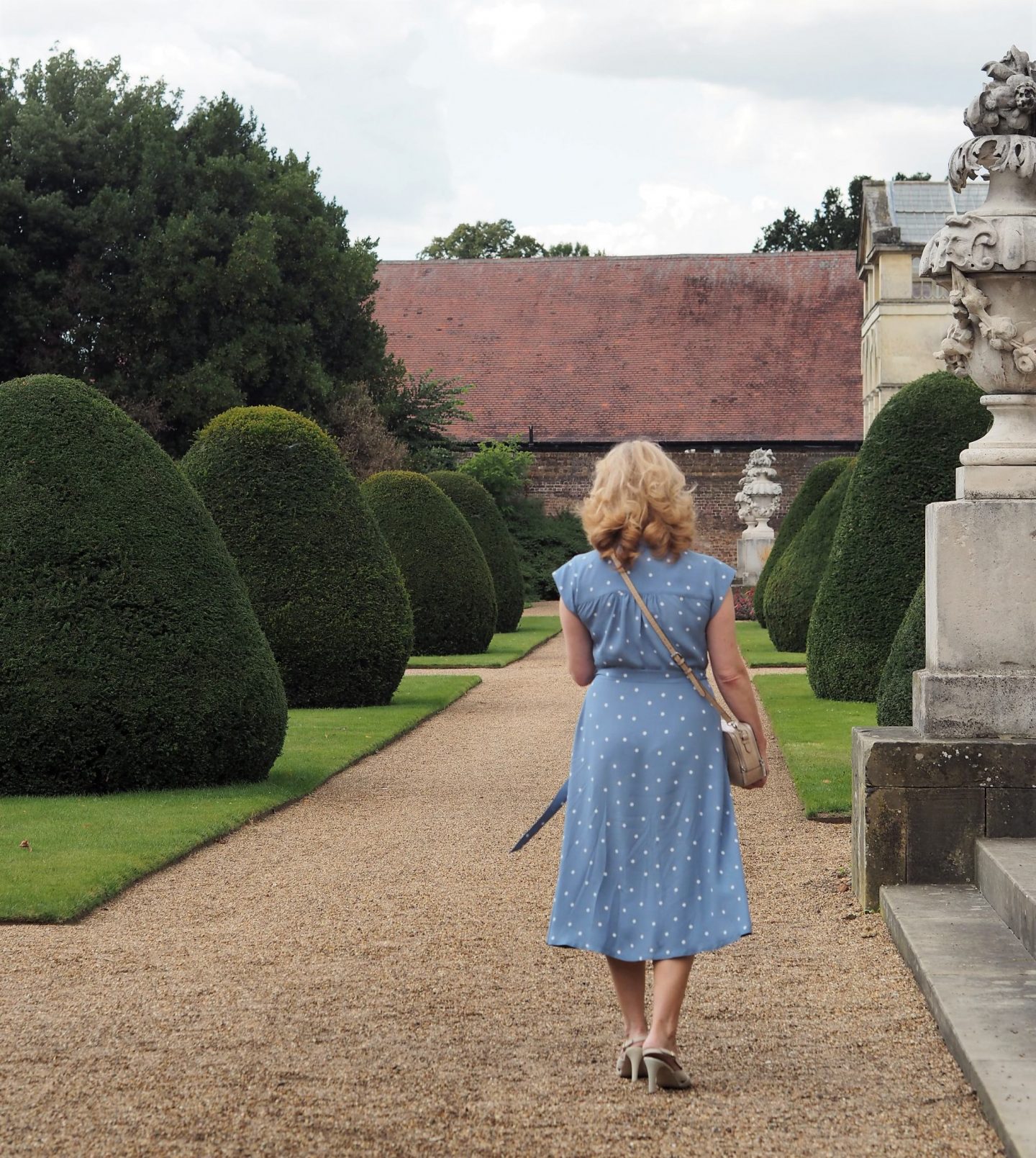 The back of the dress is lovely too. Gathered at the shoulders for ease of movement. I notice that there are limited sizes online due to the popularity of this dress but I have been advised that more stock is arriving very soon, so do pop back.
I had a lovely little breather at Syon Park. My packing to move is well underway and it all gets a bit stressful, doesn't it? So it was good to escape for a bit. I will miss having this park around the corner but I'm sure it's au revoir and not goodbye. I will be visiting London plenty.
Thank you for stopping by!
Receive every post by clicking subscribe on the right-hand side.
You May have a friend that's interested in this? Please use the share buttons
Xo Laurie
Subscribe for the latest updates!