I really recommend this brand full stop. As the title states, two casual summer looks featured with this footwear brand when really it should state three because on thinking about editing this post I really should be adding the pair I received last year because I wear them just as much. I have worn them so many times, so I will sift through photos and try to add that third pair because they are still available to buy.
Summer style one – The Ditton in midnight blue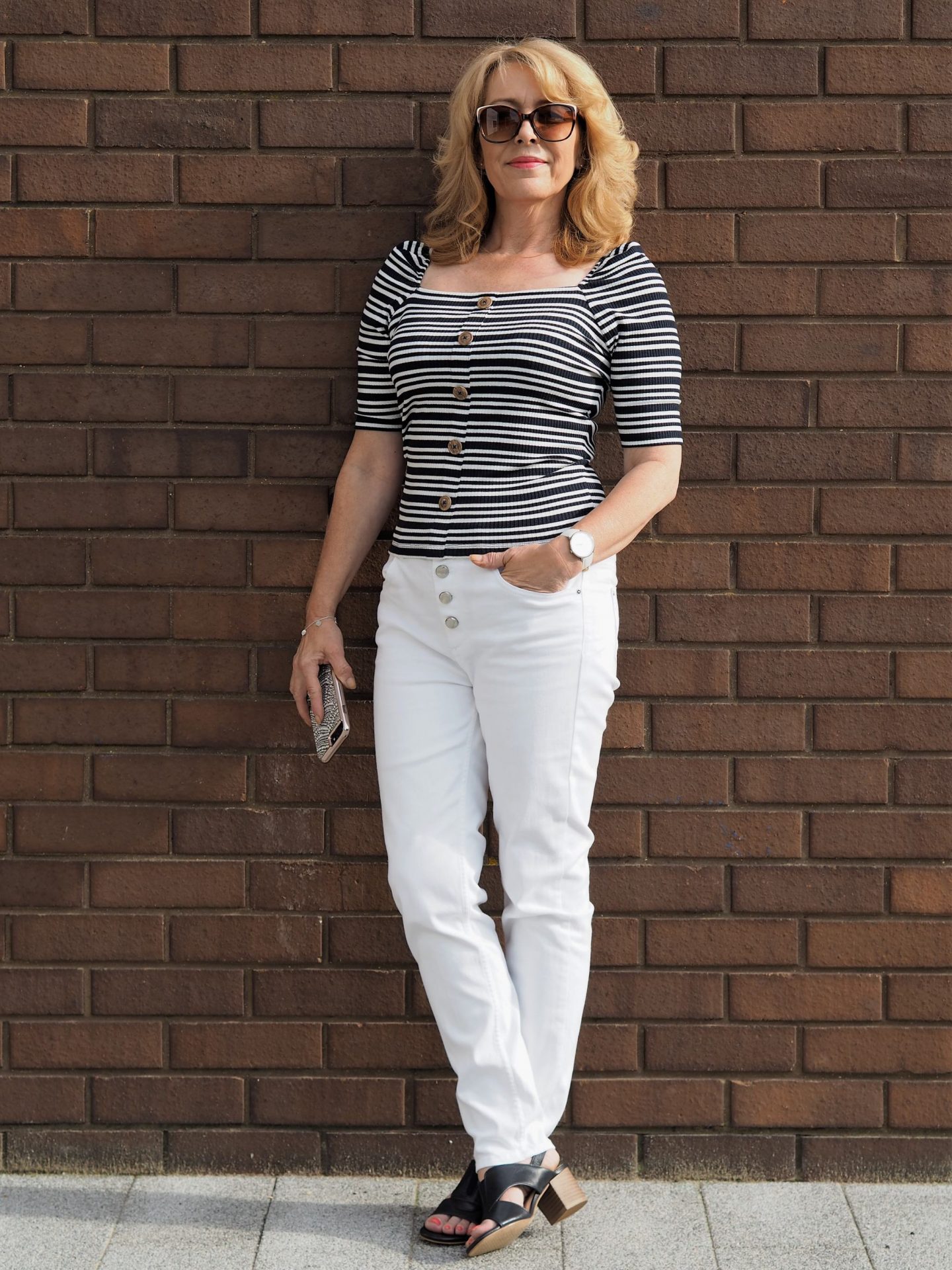 I chose the Ditton sandals because I didn't have a Navy pair of sandals to my name. I wear quite a lot of navy and white through the summer months normally with white sandals but I liked the look of these and I liked the look of the wide design. Although my feet are small they are nearly just as wide!
One thing I must point out is that Van-Dal shoes provide extra width sizing. If you have overly wide feet then it's worth taking a look on their site for that too.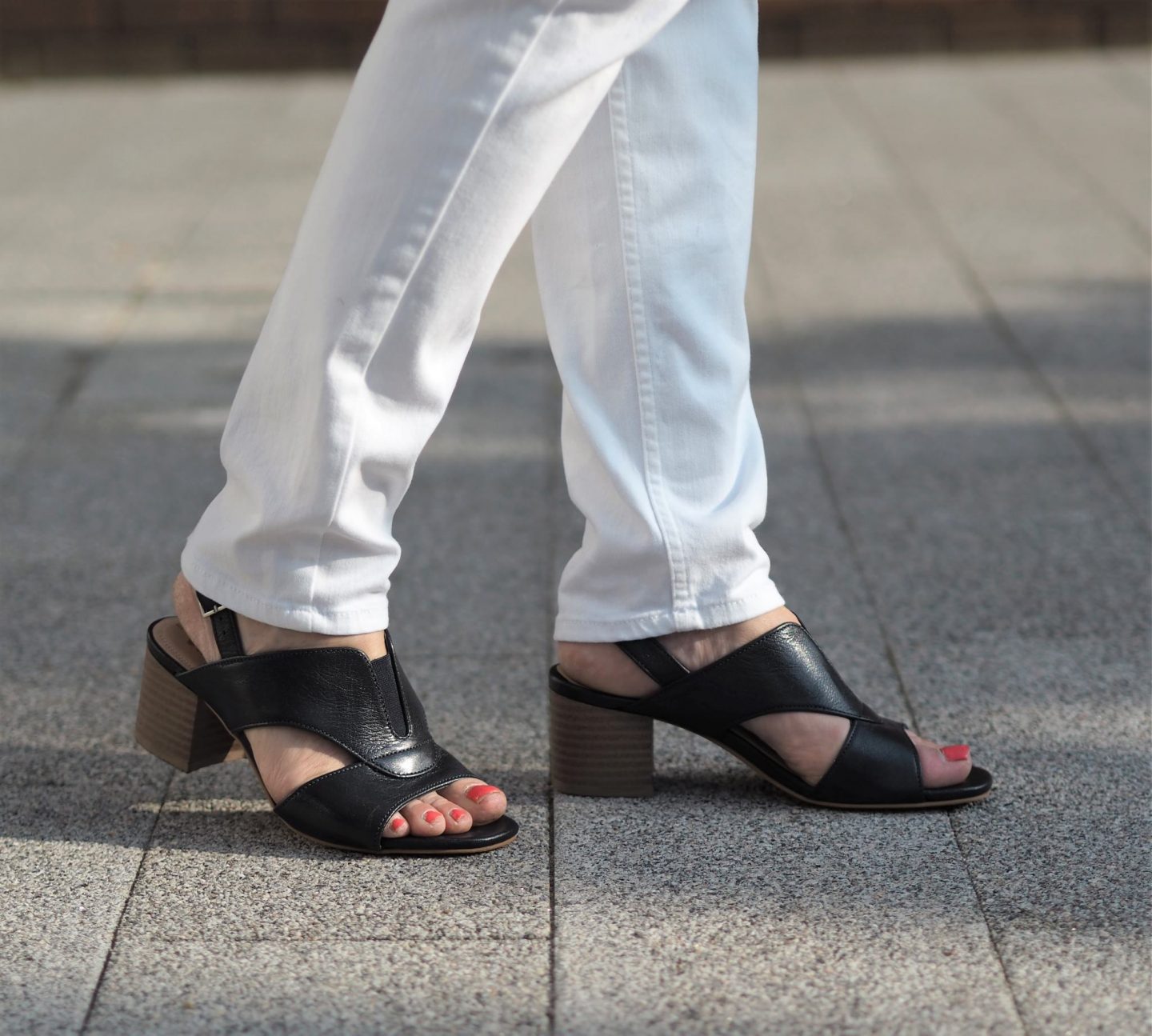 I also wondered if my sandals from last year was a fluke when it came down to comfort but the latest two pairs are just as good. The Ditton sandals are now on sale reduced to £49.00 and I think that's a very good price for these. I like that little elasticated bit added at the front of the sandal, so they give a little as you walk.
Navy & White casual Summer style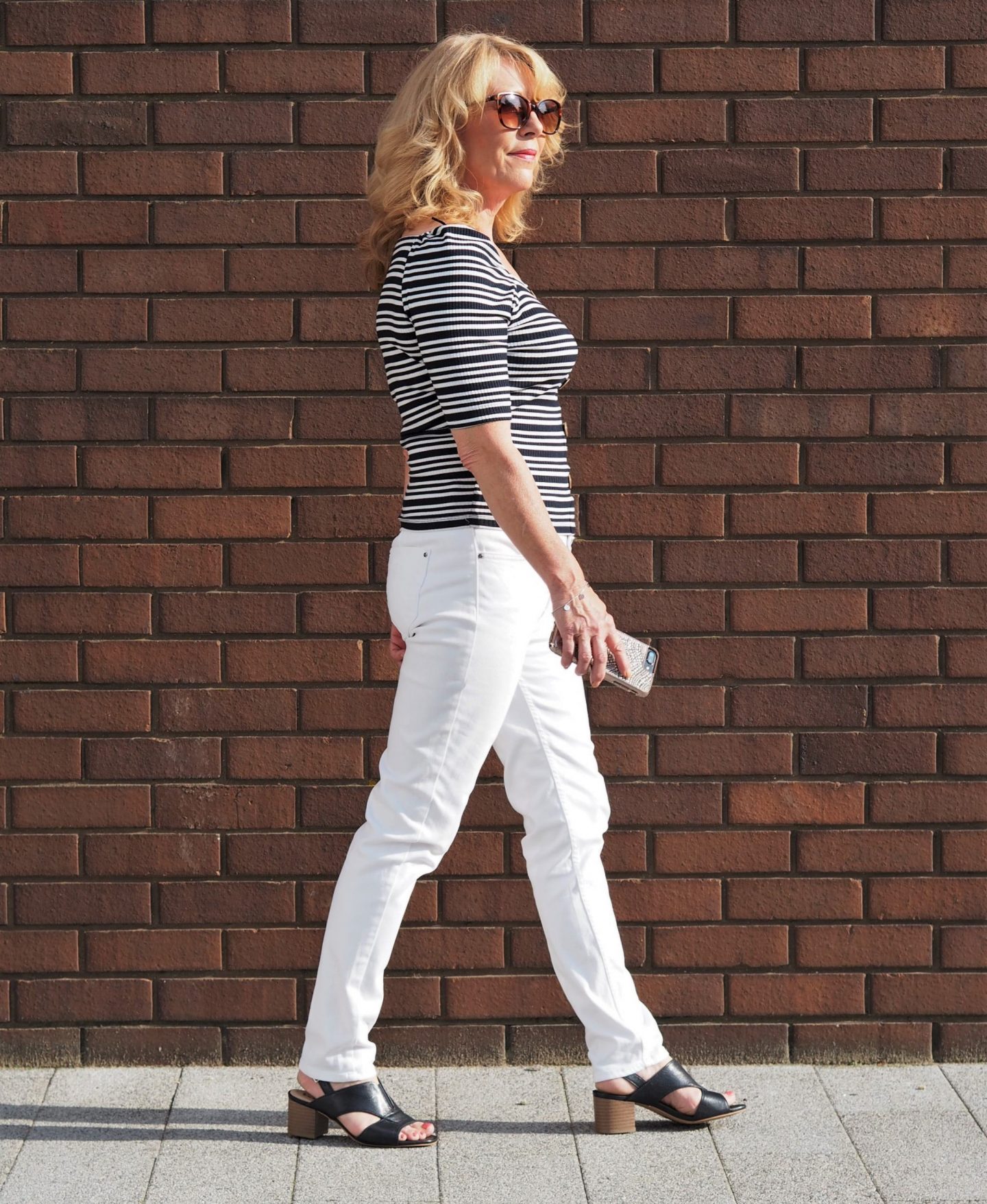 The Navy and white top was a bargain find from Next. It's actually the F&F brand and I'm glad to see Next stocking so many other brands on their website. It's an easy to wear no iron top and I liked the square neckline that's on trend this year.
I like the length of the sleeves too. Just the right amount of arm coverage for me. I did wonder if the shoulders would slip with the wide neckline but they stay in place nicely.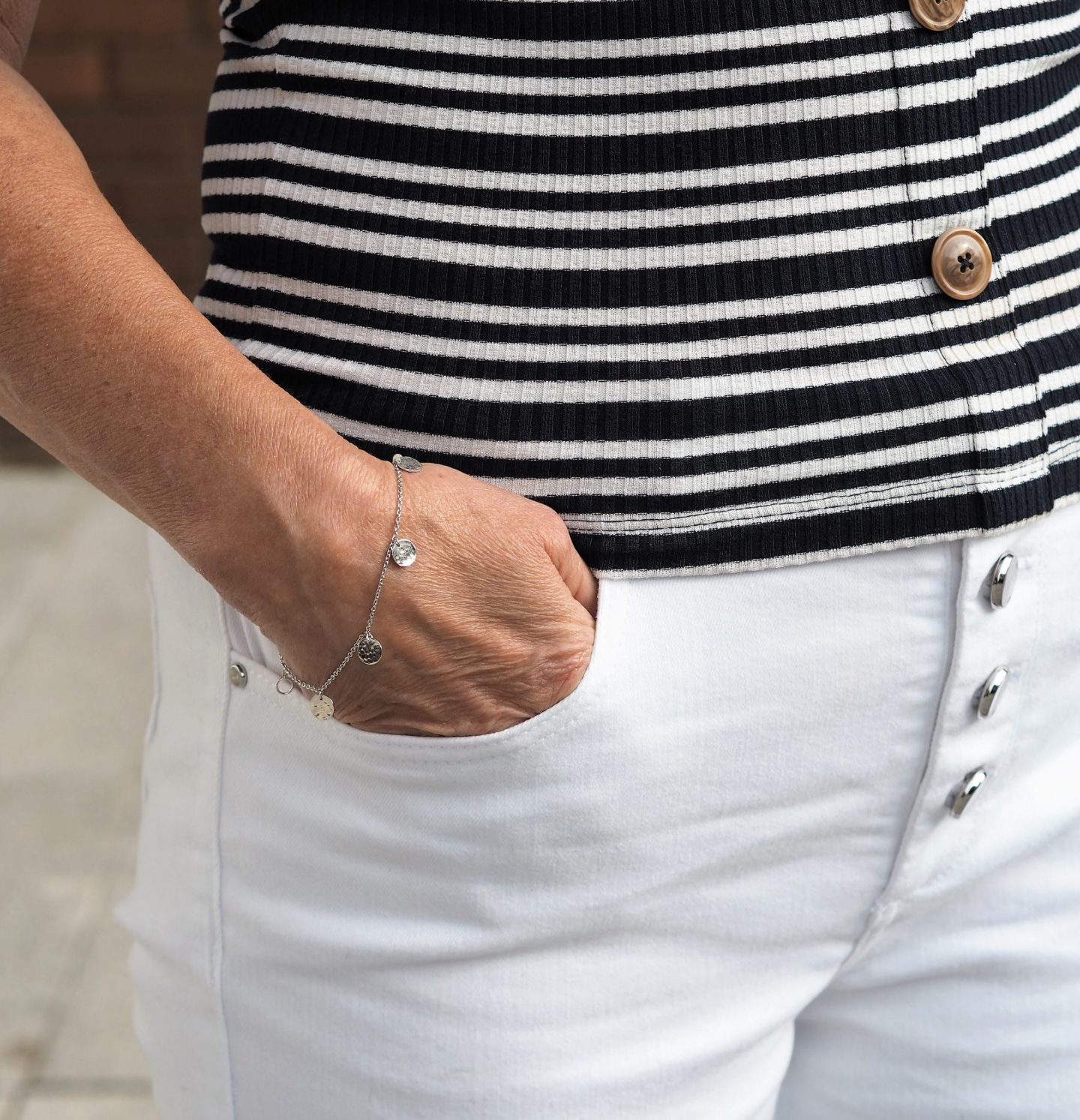 The button detail jeans were a sale purchase from Karen Millen. I wanted a pair of new white jeans this summer and I think you need to invest in good quality when it comes to choosing a good pair of white jeans. I've tried on so many that are literally see-through. The silver bracelet is from Claudia Bradby's new Seascape collection. The little silver discs are cute and I really like it.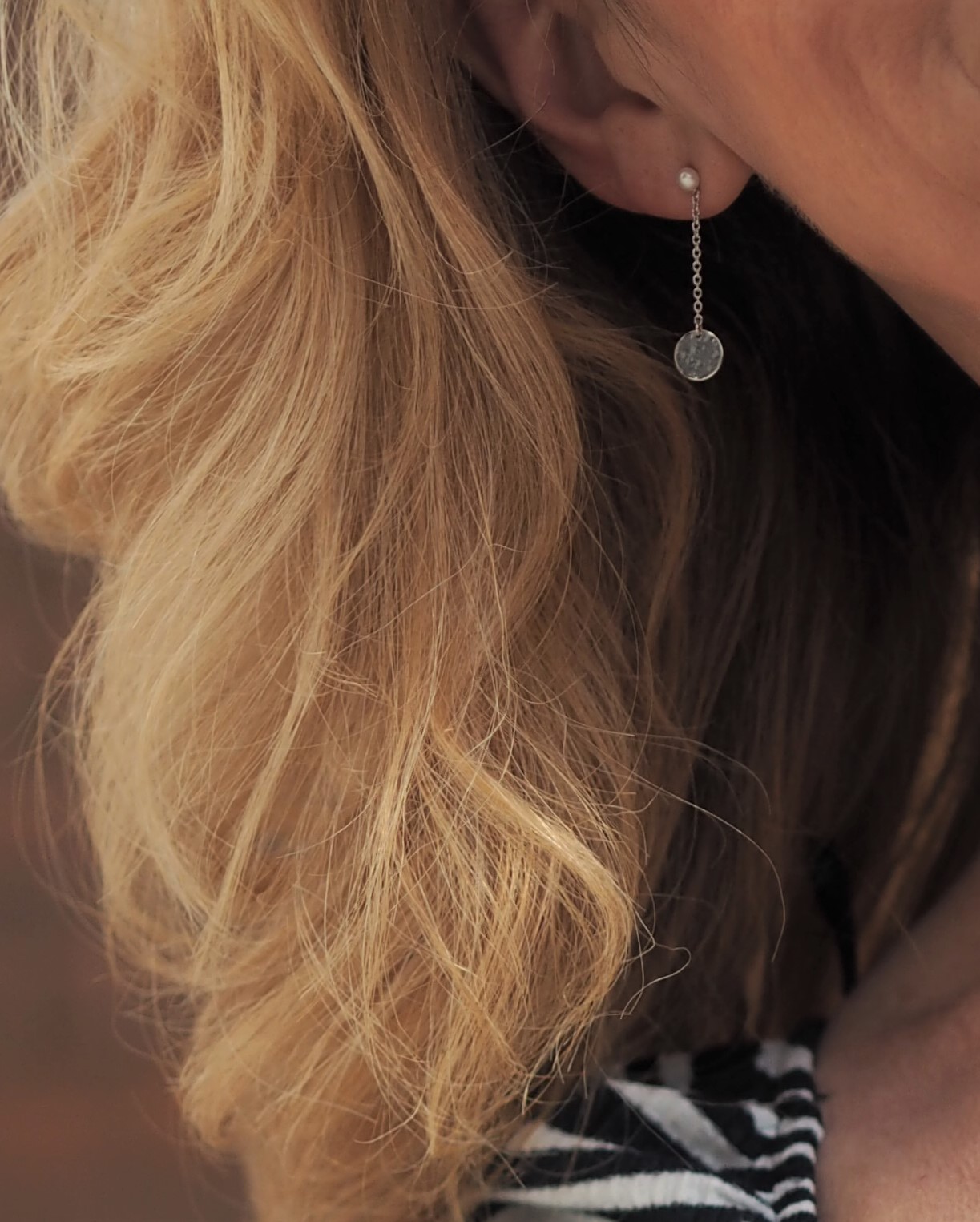 The little pearl and silver earrings from the same collection make a lovely little set, although they are hard to see in amongst my unruly mop of hair! I wanted to share them with you though. They are so dainty and the chain comes off, so you can just wear the studs on their own.
Summer Look No.2 The Burnham Tan Suede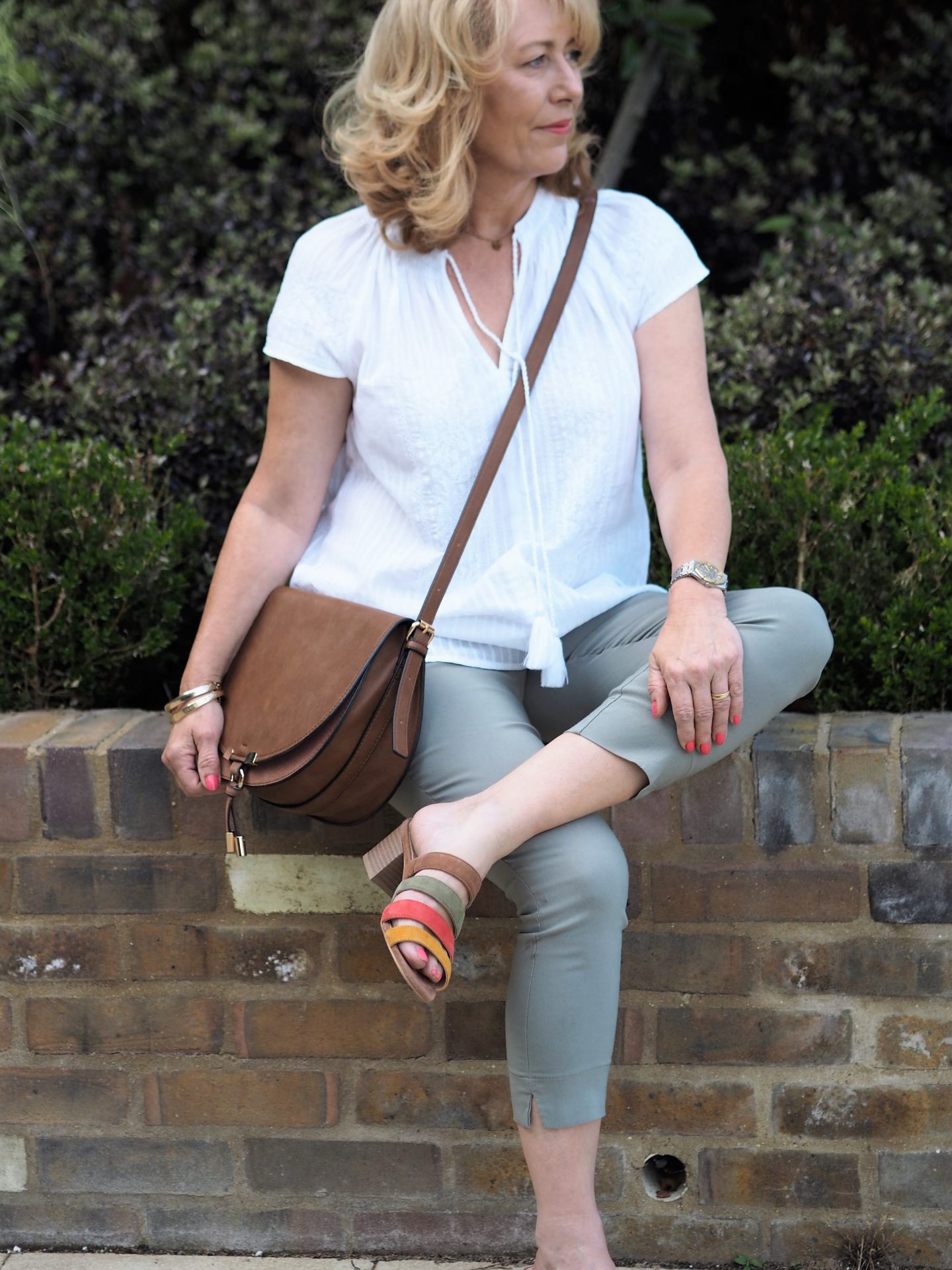 Tan is one of my favourite accessory colours for the summer months. These Burnham tan mules have the added orange and mustard hues within the stripes and they really caught my eye online. The same block heel for comfort, just that little bit of height added, these mules are gorgeous. Also on sale at £49.00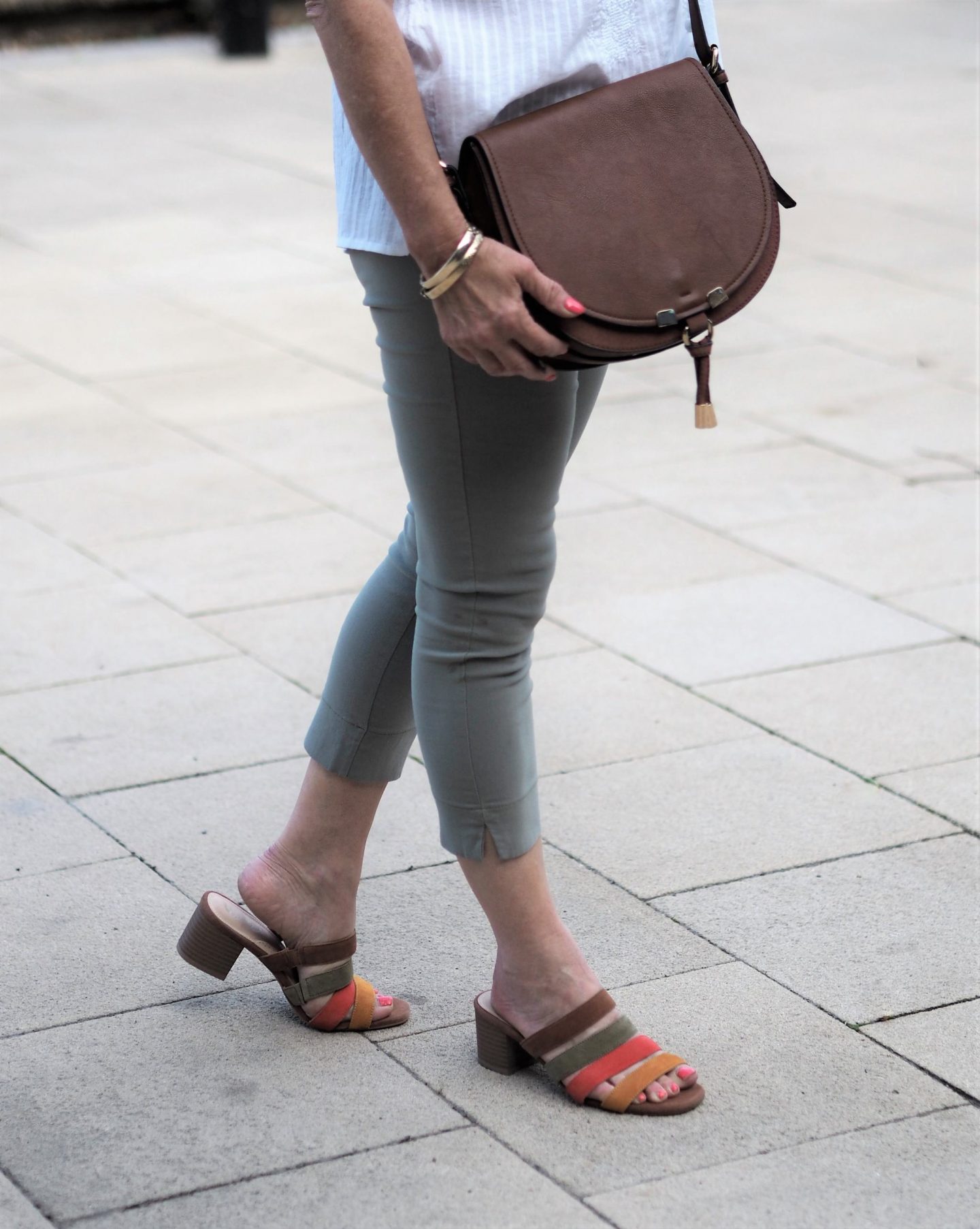 I just love the colourways in these mules. I've paired my Roman Originals three quarter Kahki stretch trousers with them this time and they match perfectly. I wear these stretch trousers so much. I have them in the longer length too and they are available in every colour-way you can think of.
Summer casual style – white, khaki & tan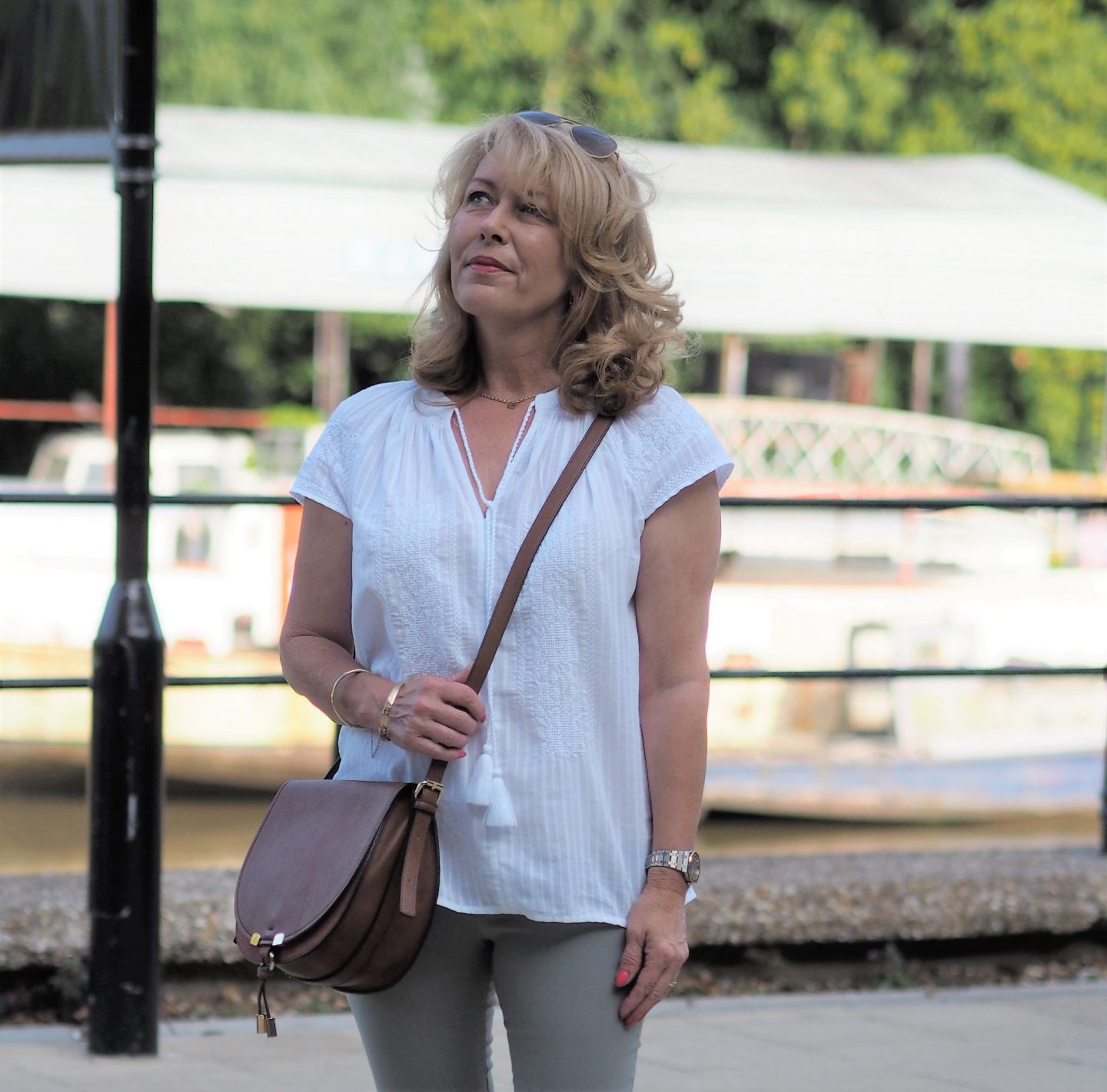 The pretty blouse is from Bonmarche. It's been great for those hot days we've had. I like the detail on the front with the little tassels. Made of 100% cotton and as light as a feather to wear.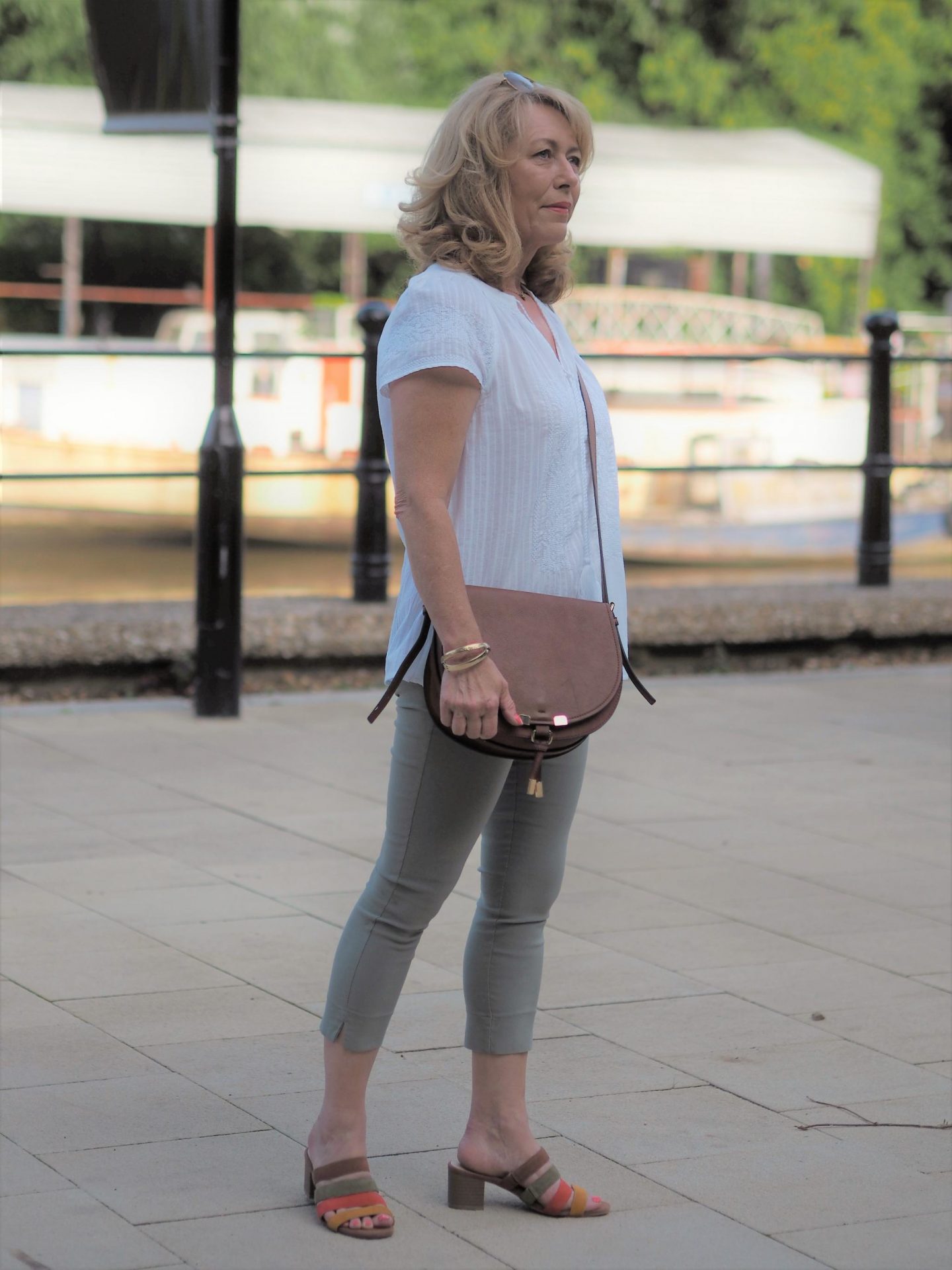 The Tan saddlebag is also on sale if you want to grab a bargain. reduced from £48.00 to £15.00 Bargain! I just added up the cost of this look including accessories and it comes to £110 Not bad!
I found the photo!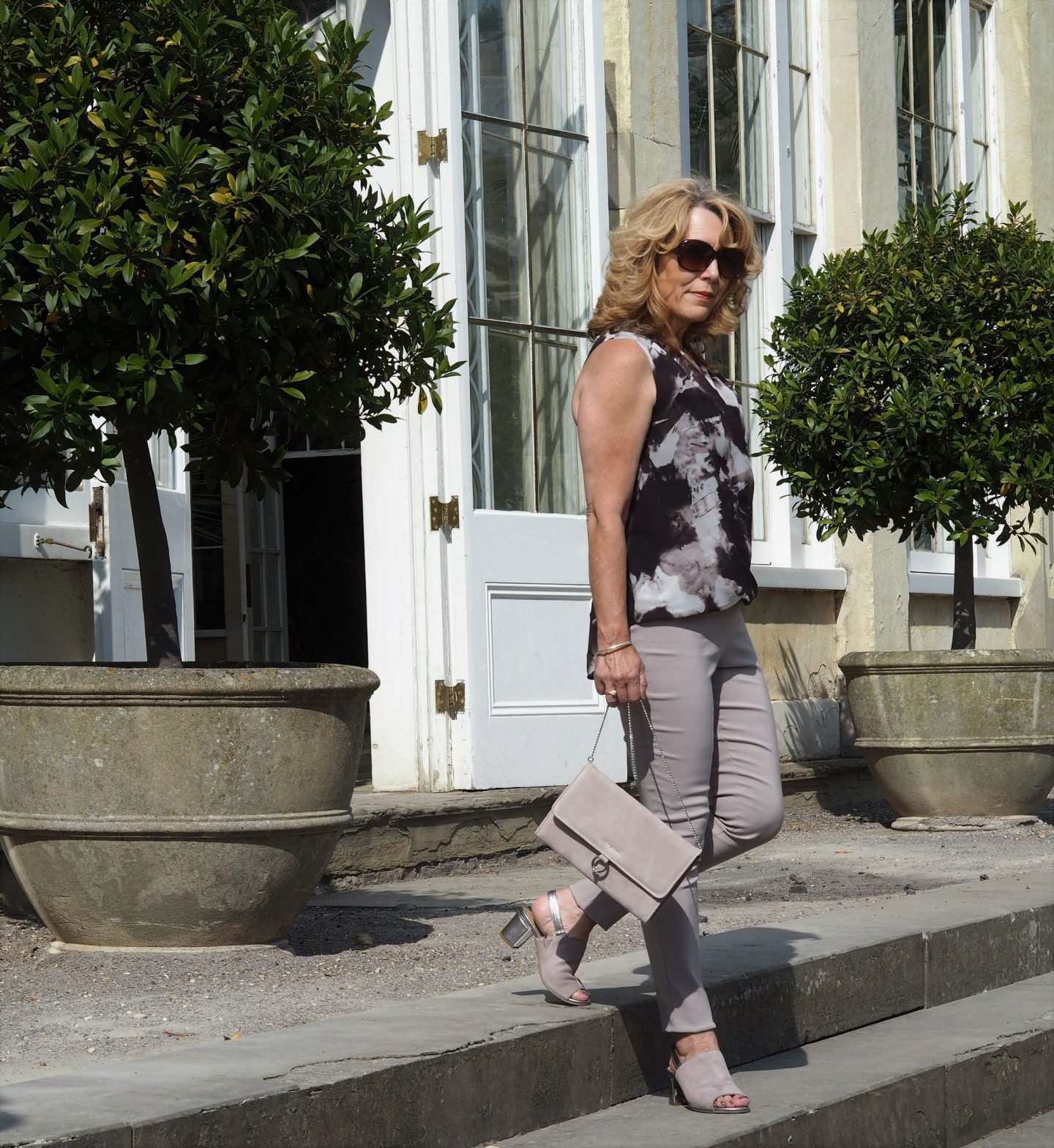 Here's the photo from last year featuring the Hay mules that I have worn so much. If you follow my Instagram you will have seen on my stories where I add my daily looks that they have been added on there loads!
I don't really wear the removable straps. I mainly wear them as mules but I couldn't recommend these enough. Again I'm wearing the full-length stretch trousers from Roman Originals.
So that should have titled three looks instead of two! Let me know your favourite!
Thank you for stopping by!
Come back for more. Click on the subscribe form below
YOU MAY HAVE A FRIEND THAT'S INTERESTED IN THIS? PLEASE USE THE SHARE BUTTONS
XO LAURIE
Subscribe for the latest updates!