I think it's officially over. Summer has gone and it's time for the wardrobe changeover. Considering all my autumn/winter clothes are mixed in a pile with my spring-summer in my spare room because I have no wardrobes and my loft has yet to be insulated and boarded (yes, there's lots to do) I already have everything, well, sort of to hand!
Don't even ask where my boots are though, Luckily I found one pair and the rest are most probably in the last box of the tall pile! When this sweater arrived via post from Woolovers I kept it in a safe place ready for that first chill.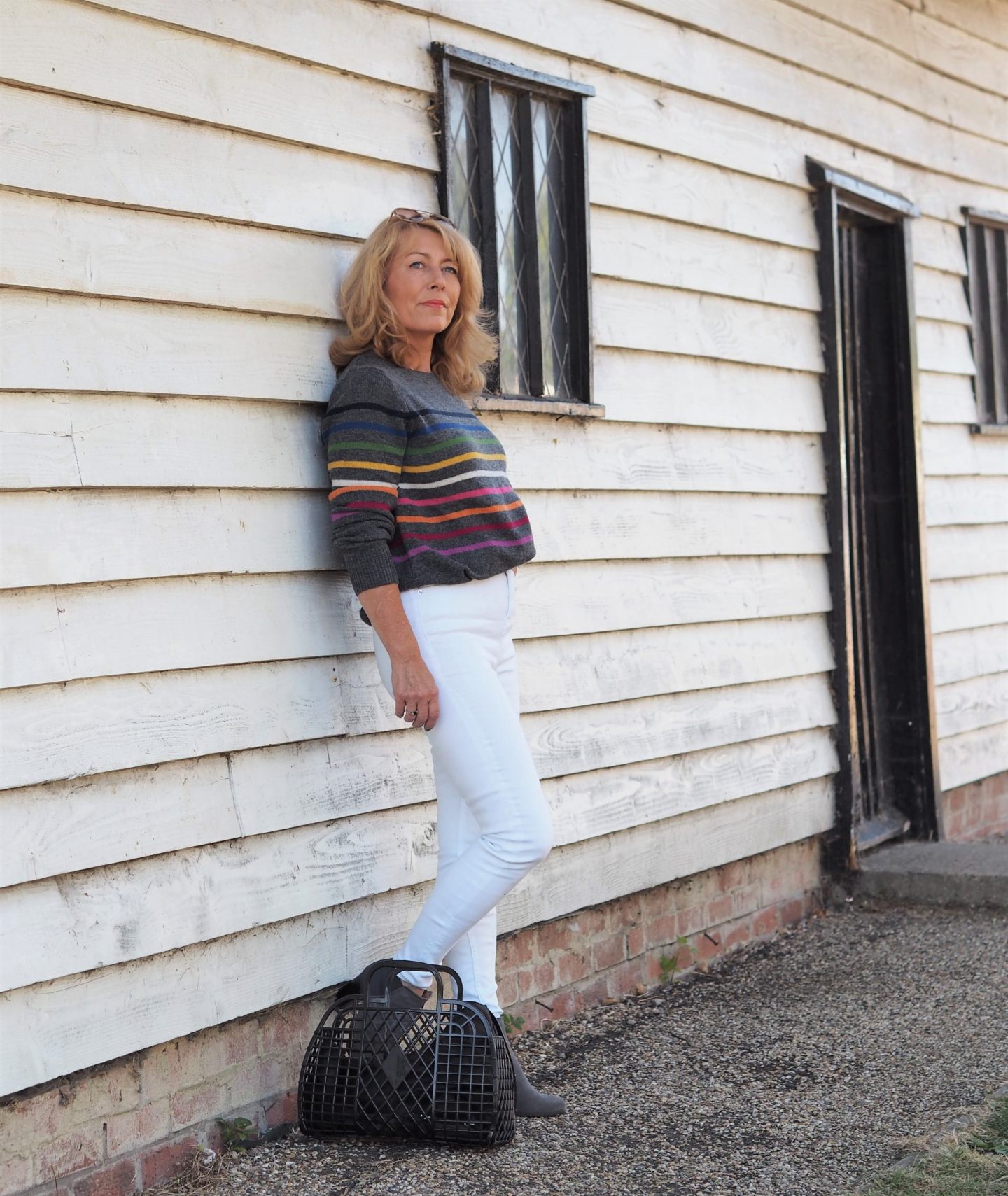 Time for some autumn cosiness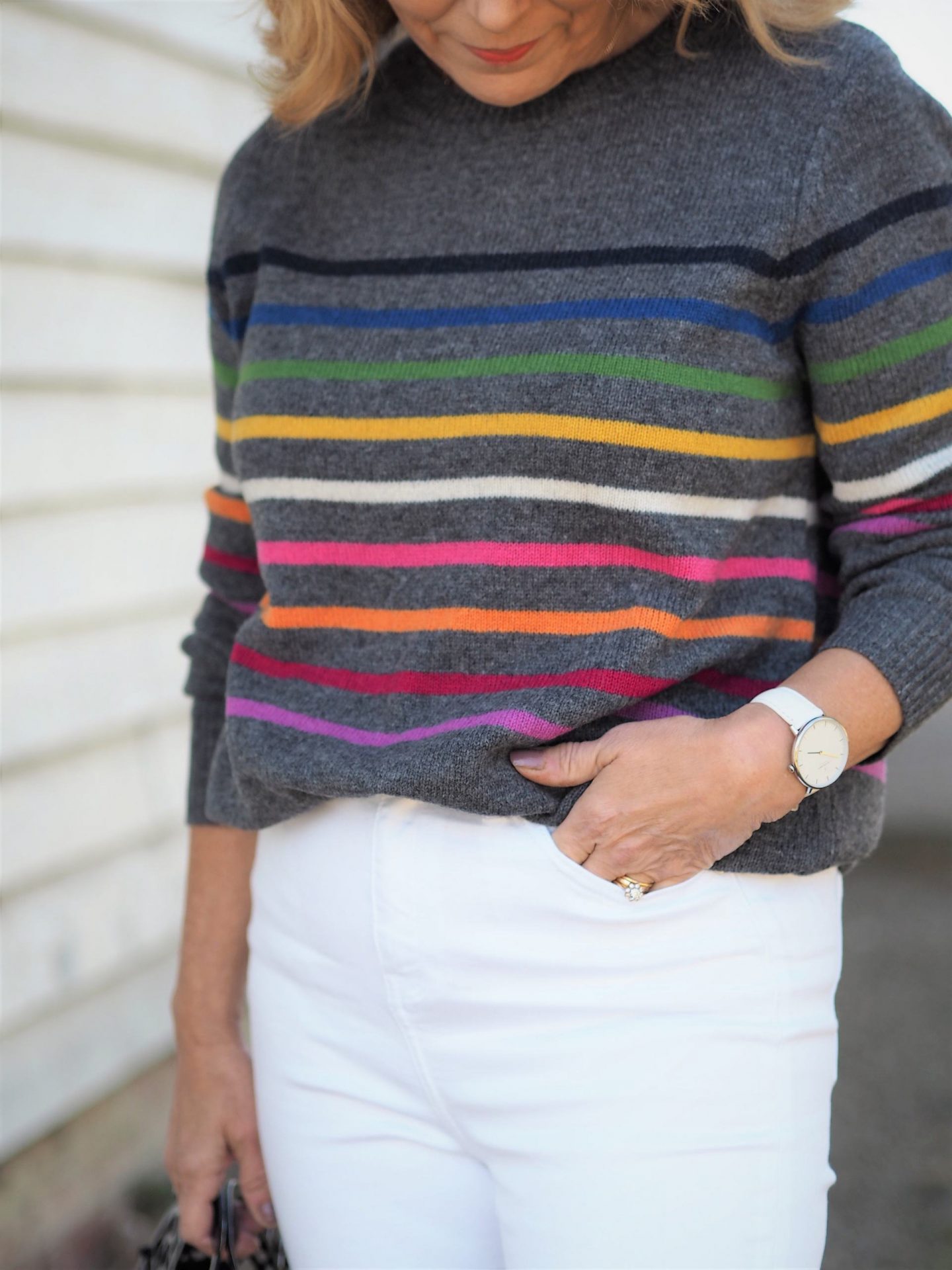 This is my fourth year working alongside Woolovers through the autumn-winter months. I'm a huge fan and my wardrobe has now been built of lots of wardrobe staples from this brand. Long cardigans, cashmere jumpers and of course I love a roll neck. This year I'm happy to tell you, my lovely readers, that there's a 20% discount off full-priced items at the bottom of this post for you!
I'm looking forward to wearing my Coatigan from last year and this year it's available in this years trend colour Rust. Very tempting. This stripe pure merino crew neck jumper stood out from the catalogue. I love all the colours going on here and I up-sized for extra cosiness.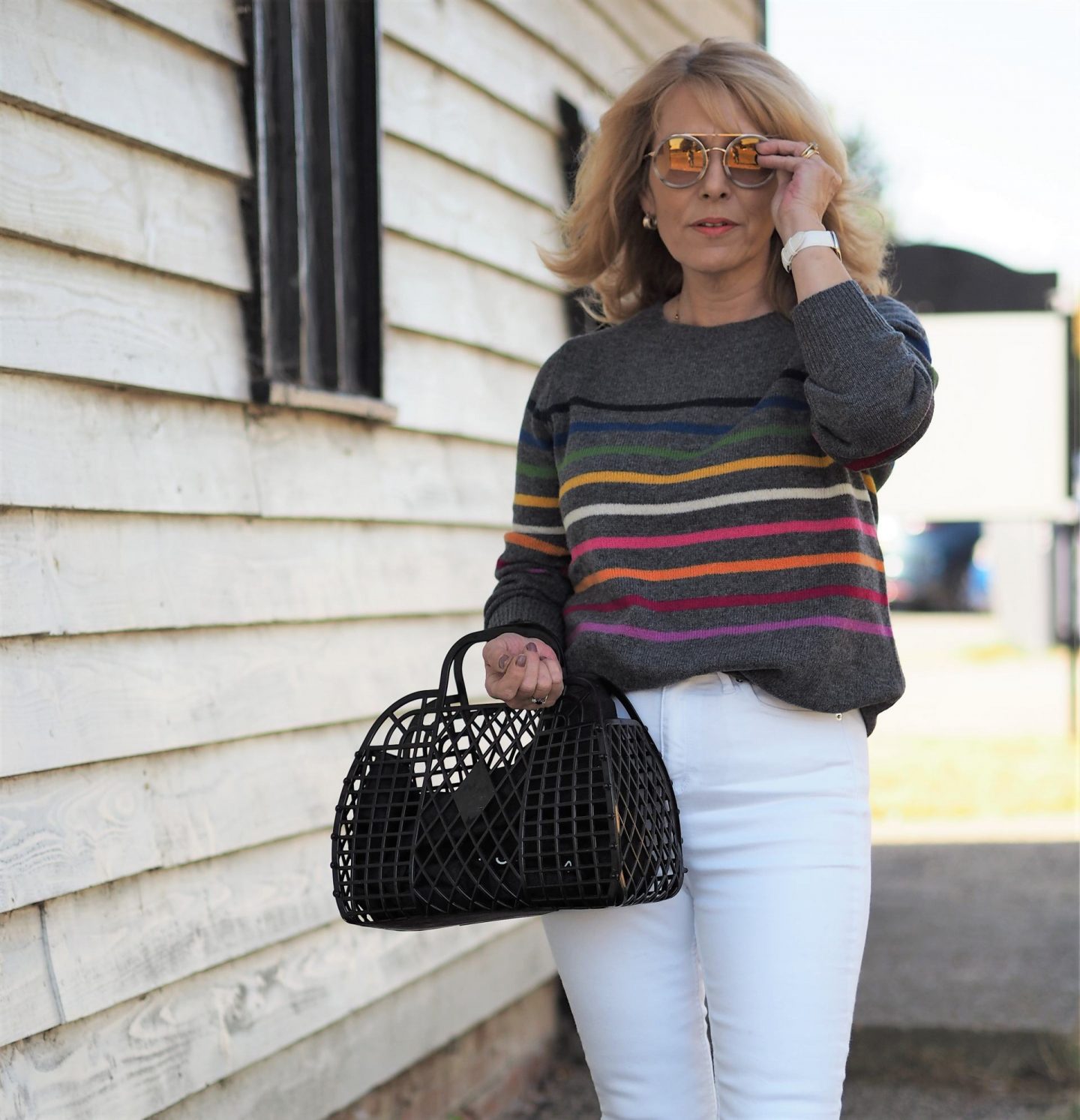 I'm not quite ready to put my white jeans away yet and I thought they worked well with the contrasting stripe. This jumper will also work with my smart grey or cerise trousers from last year.
I'm impressed with Woolovers quality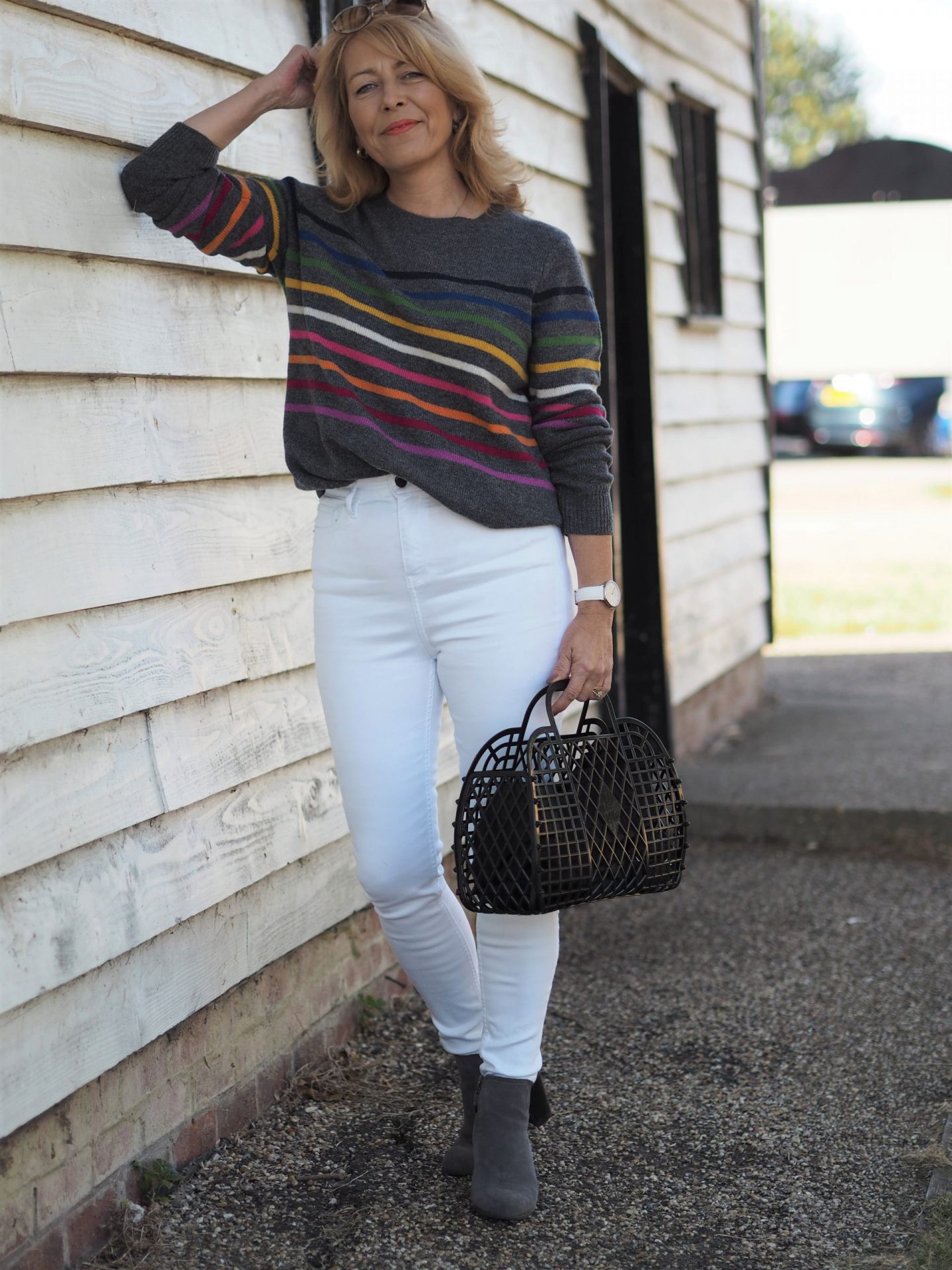 All of my items from woolovers are still very wearable. There's been some slight bobbling on my cashmere jumpers but that's to be expected right? I have one of those De- bobble gadgets that takes care of that.
Some I hand wash (you can buy a good wash from Woolovers) and some I wash in the machine on 30 degrees and they are fine. I've just noticed that there are Cedar balls available to keep those pesky moths at bay. I've been inundated with moths in the new house at night.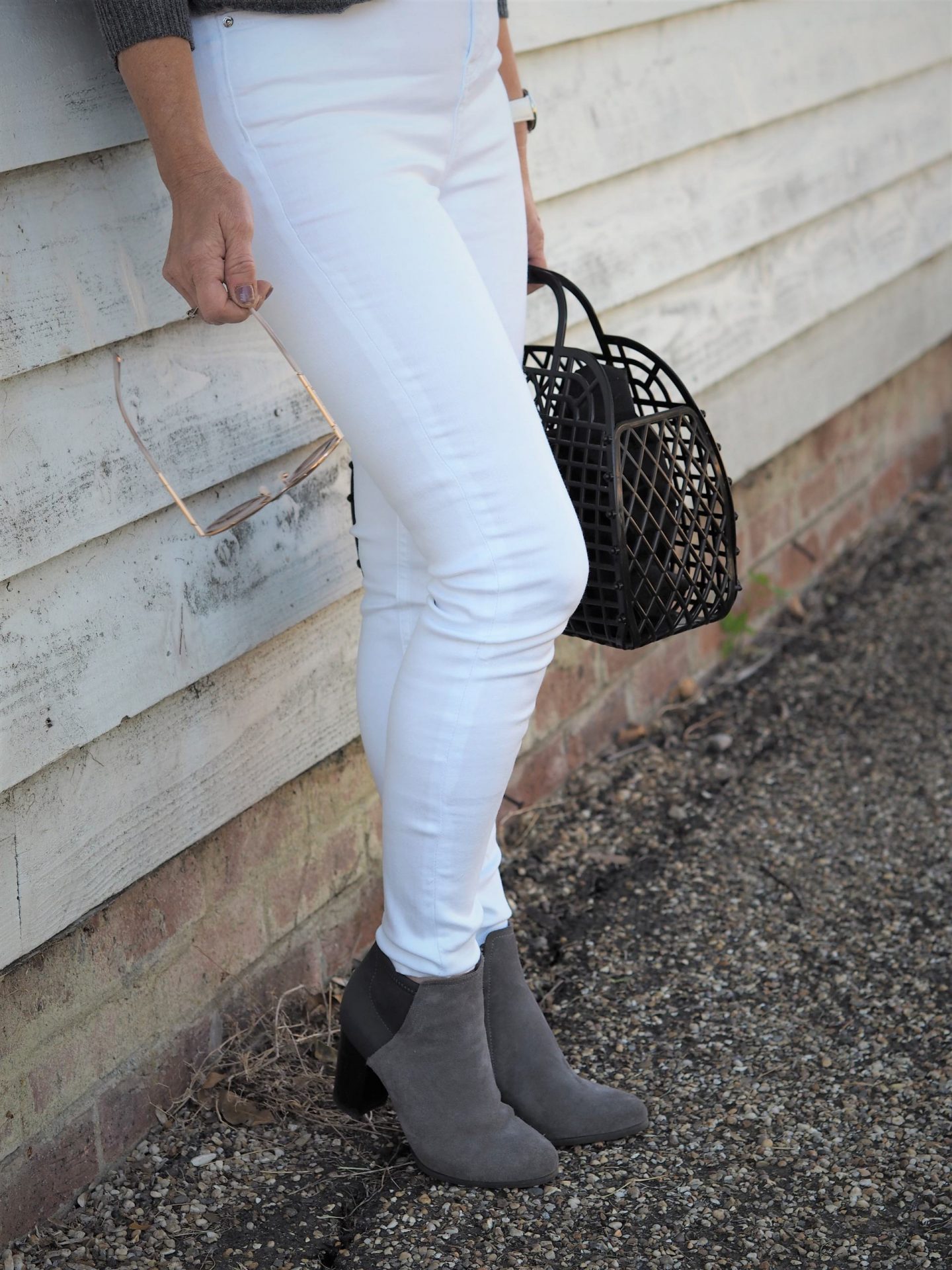 My grey boots from the last autumn-winter have stood the test of time. I will be wearing these again this year – a lot. Super comfortable. A white watch and my cute little black basket bag finished off the look. A good casual weekend outfit I think? Or I could swap for smart cream trousers maybe?
What's your favourite autumn-winter wool blend?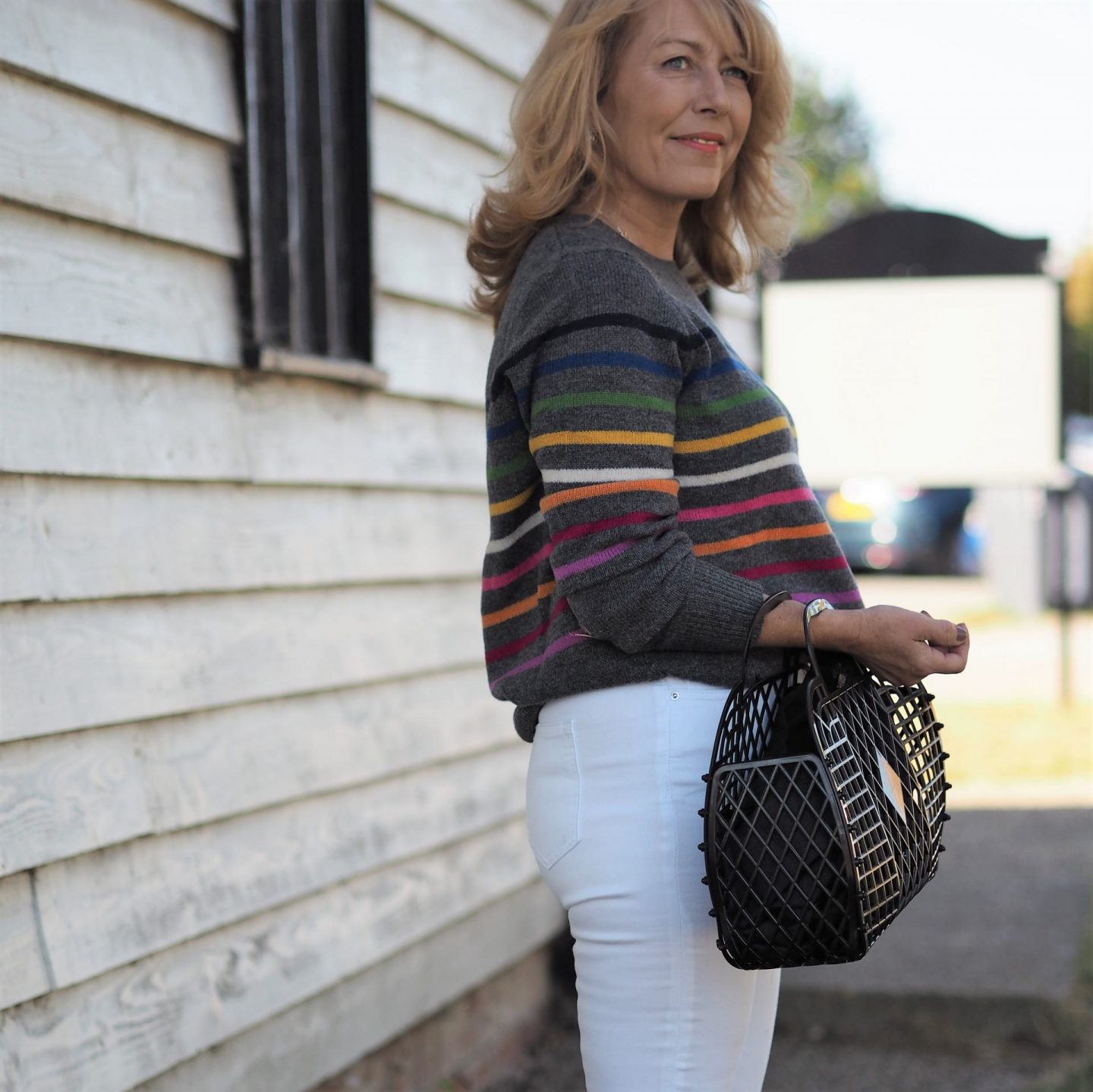 This Merino wool jumper is super soft and I can't say that I've been irritated by any of the woollen items from the brand. I don't get that itchy feeling and I know that's important to some of you that are sensitive.
Cashmere is by far my favourite wool of them all, so soft and cosy. And I really recommend that you take a look at some of the cashmere available at Woolovers. Sometimes for extra warmth, I wear a silky camisole under my jumpers. It feels lovely the two swishing together and adds quite a difference in keeping out the cold.
Do you need to stock up on your knitwear this year? What's your favourite yarn? And what colours are you going for? I'm interested in hearing what you're into this year
Get 20% off full-priced items using Vanity20
Woolovers is available to my American friends too! And so many other countries. Click here to shop
*This is a sponsored post on behalf of Woolovers. I love this brand and totally recommend*
Thank you for stopping by!
Receive every post by clicking subscribe on the right-hand side.
You May have a friend that's interested in this? Please use the share buttons
Xo Laurie
Subscribe for the latest updates!