I'm on way to a blogger meet when these photos were taken. Obviously I tried to look my best and I was dying to wear this new pleated skirt. The blogger meet was great, there will be more chat about that in one of my weekly edits.
Everything was going smoothly catching the train into Fenchurch Street, but in around two minutes flat walking from the station to Tower Hill the hair took a swift nose dive! And there was me hoping to turn up looking reasonably decent!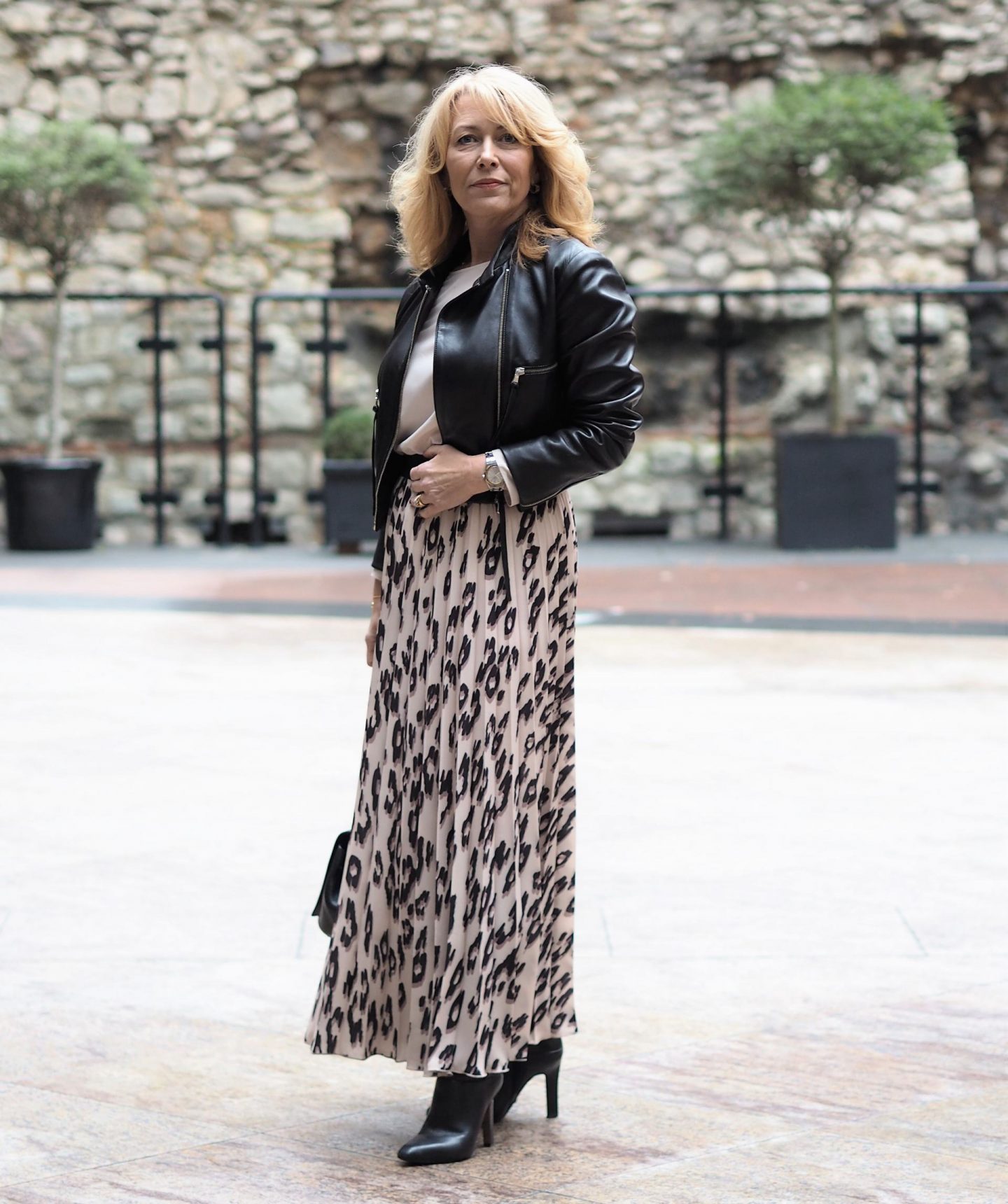 As soon as I spotted this pleated skirt from Roman Originals – (kindly gifted) I knew it was my first choice. Roman never fails to please me. Quality, fit and it sits within so many age brackets. It's not old but not young either and it's all so easy to wear.
Styling the pleated skirt for day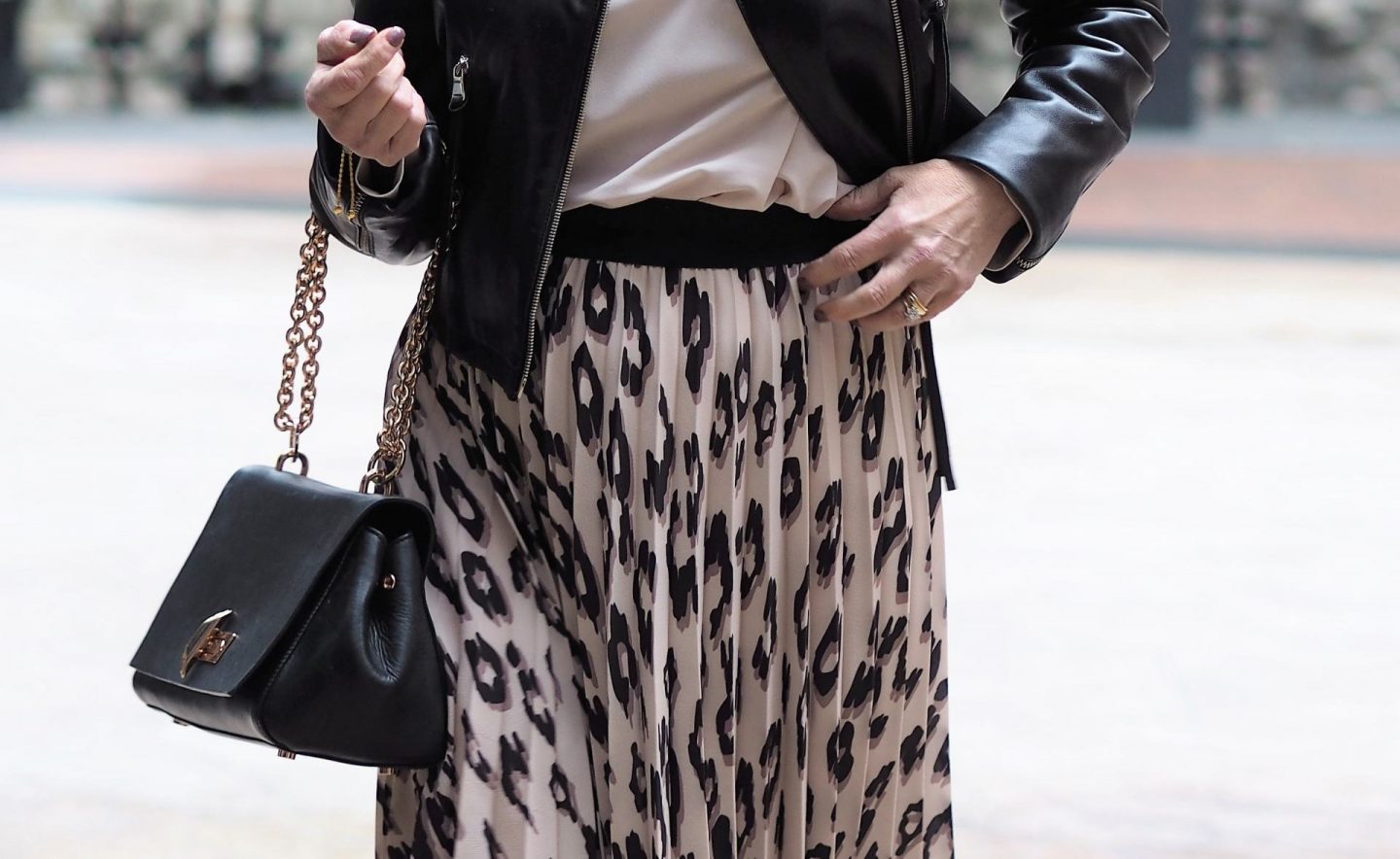 Along with the drizzle comes milder temperatures and I decided to wear My favourite biker jacket to tie the black in with the skirt. Knee-length boots (with tights to keep warm)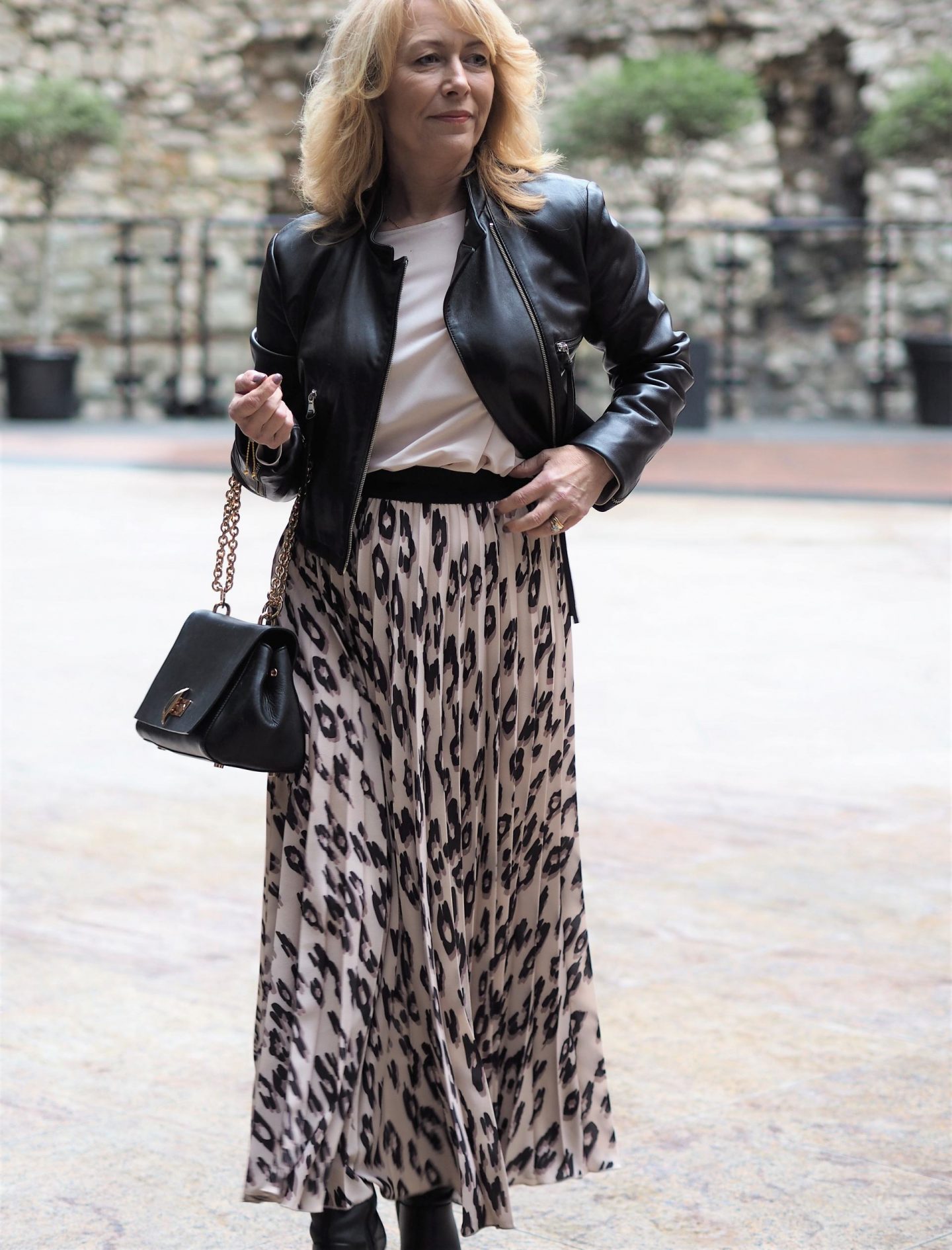 A plain pinkish coloured silk long-sleeved top finished off the look. I like the deep black elasticated waistband. It didn't ruche throughout the day and I was happy about that.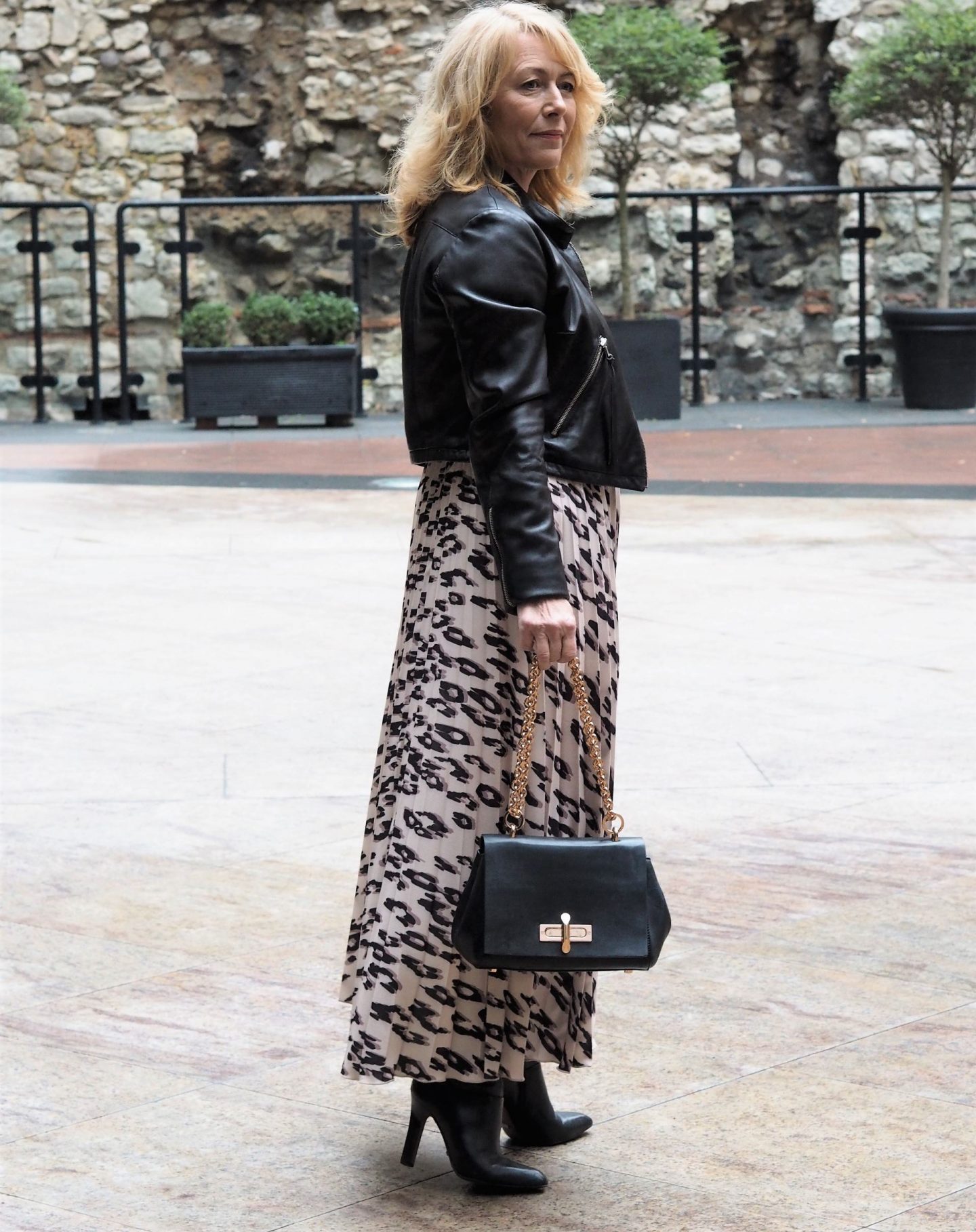 As I always say. When you're trying on a pleated skirt, take the next size up with you to the fitting room. I always size up one size with pleated skirts, I think they just hang on the body so much better. The pleats don't splay out at all. I love how floaty this one is.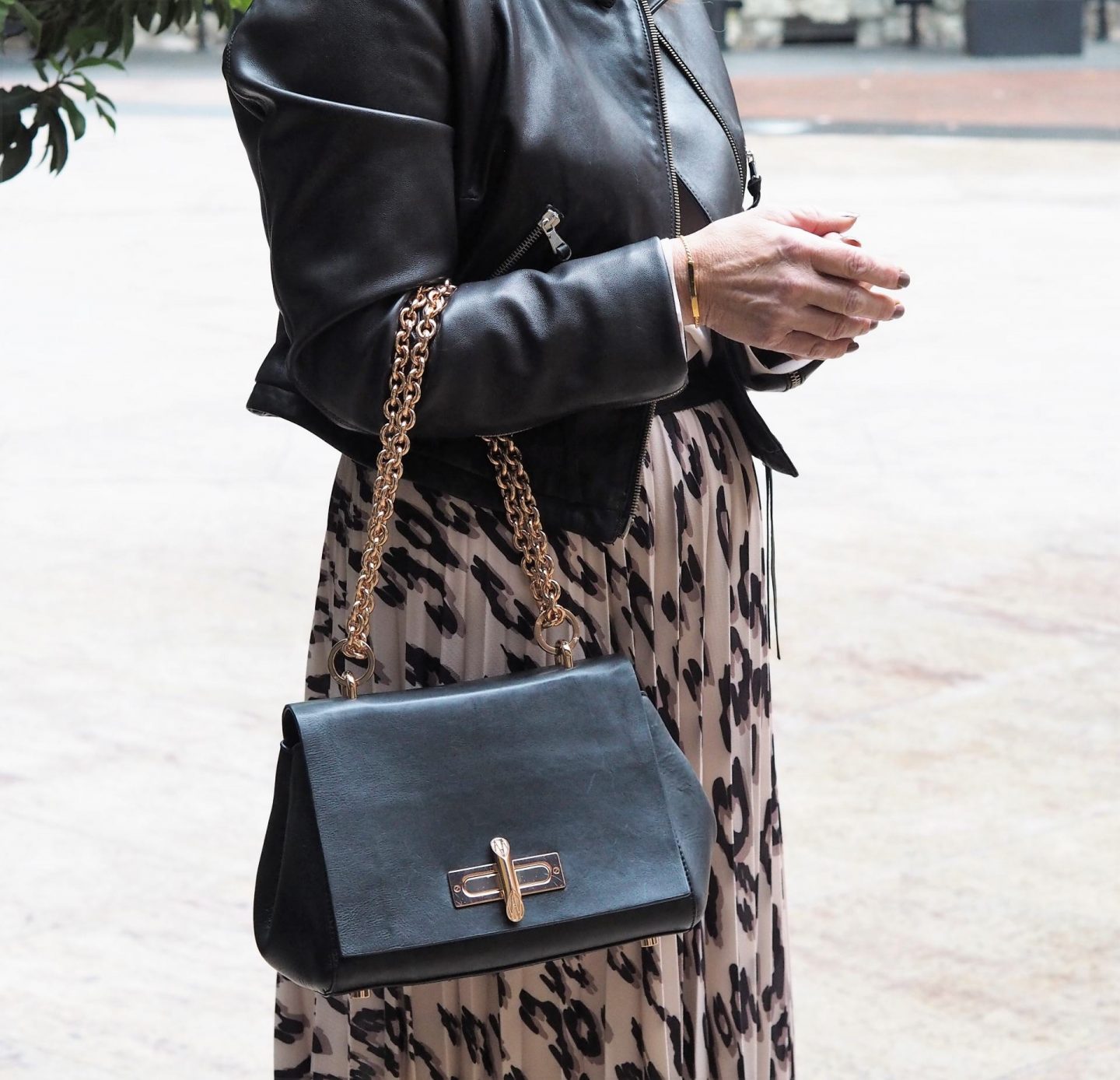 I've accessorised with my Amanda Wakely bag that I won in a competition. You can read about that here It seems to work well with everything.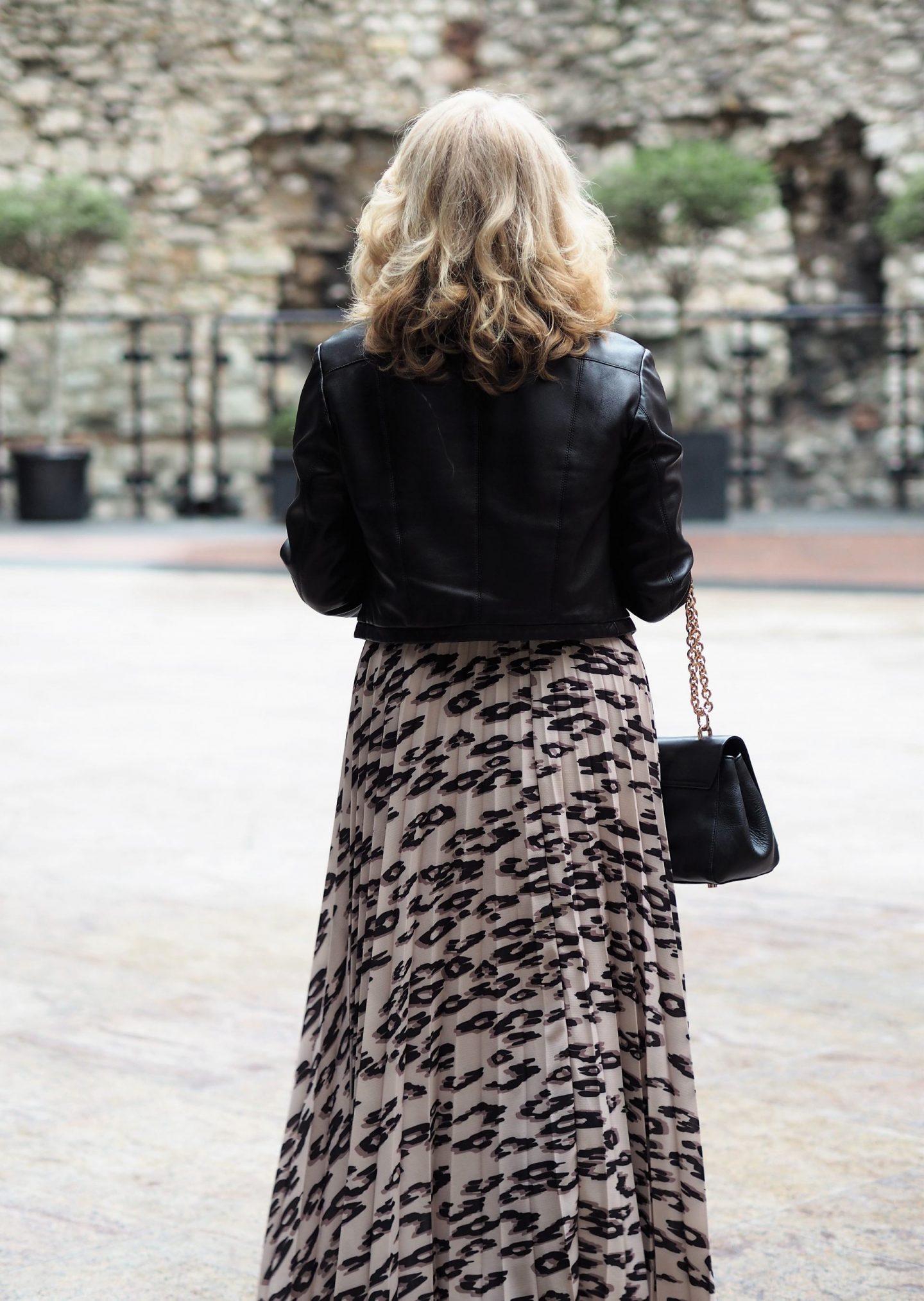 Leopard print isn't going to go out of fashion, is it? If anything it's more popular now than ever! These colour tones are right up my street. I love the pink mix and it will work well with my neutral jumpers and tops.
One of the reasons I love pleated skirts is the ability to roll them into a long sausage, so easy for packing. And the pleats stay in place. This will be a perfect outfit for when I stay in London on a visit.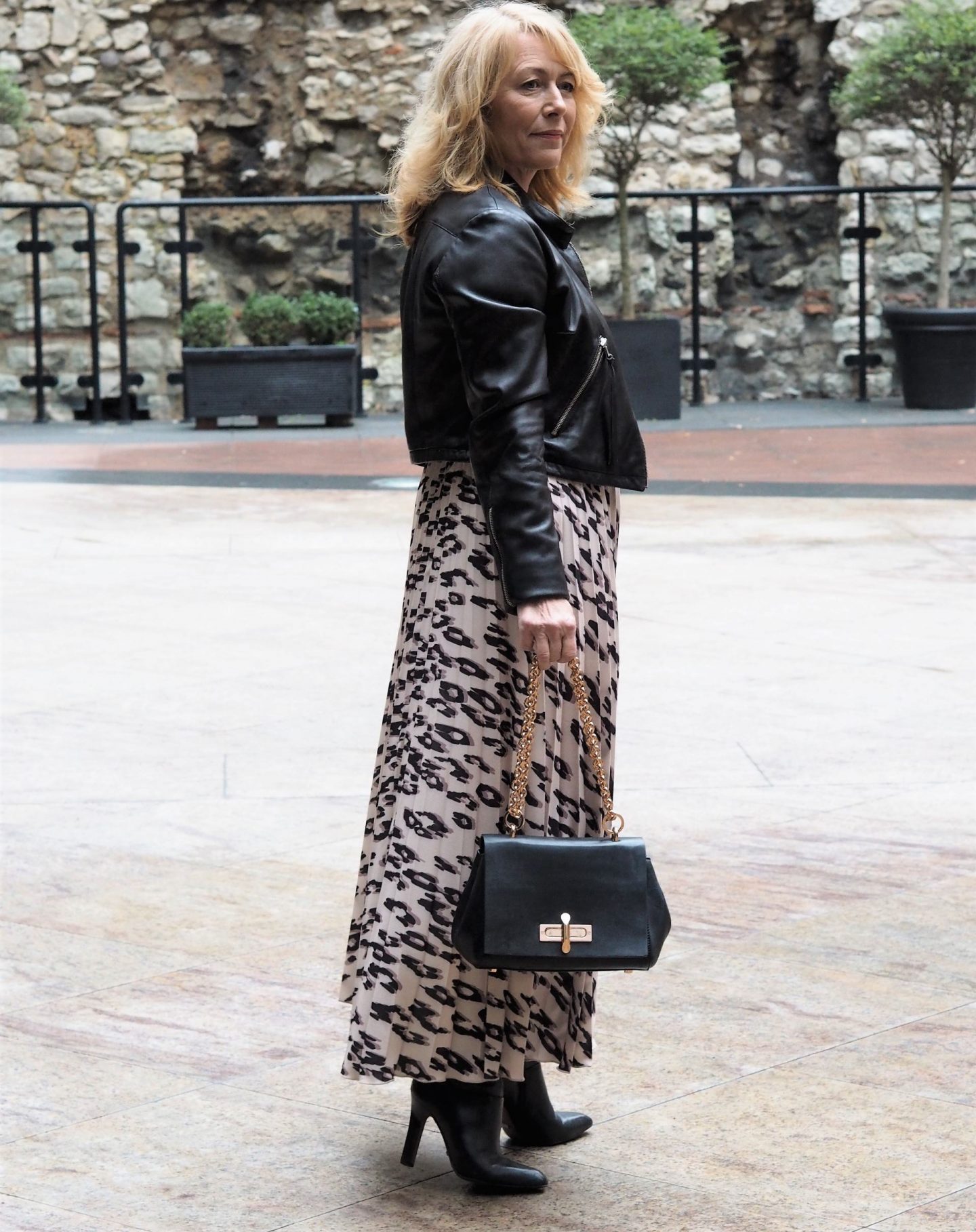 This pleated skirt will switch into a great evening or party look too. Just add different accessories and a little sparkle and you're good to go for the Christmas party season. I have a new silk cream roll neck in mind and my Kurt Geiger sparkly shoes. (currently half price) Add a gold bag and I'm done.
It's very well priced I think at £35.00 but a little birdie tells me it's worth looking at Roman on Black Friday! The coat that was so popular last year has been re-launched again this year and I'm so tempted to get it in the Pink colour.
So the hair really did get a soaking in the fine mist. We all have to have a bad hair day right? I just want to thank Kerry from Kerrylifeandloves for taking these shots for me Mwah!
Shop the look
---
Please be aware that there are affiliate links included in this post at no cost to you if they are clicked on
---
Thank you for stopping by!
Come back for more. Click on the subscribe form below
YOU MAY HAVE A FRIEND THAT'S INTERESTED IN THIS? PLEASE USE THE SHARE BUTTONS
XO LAURIE
Subscribe for the latest updates!