Hi all! I hope you've had a lovely Christmas? I am rested and ready to go! I spent lots of time with family and lazed about a fair bit and it's done me the world of good.
Deciding on what I'm wearing for new year's eve as we're still unsure of how we're celebrating but this is the one time of year to push the boat out isn't it?
Having said that I hate to be dressed up and uncomfortable, so depending on where we are going to end up I know I will be wearing this gorgeous jacket gifted from Roman Originals.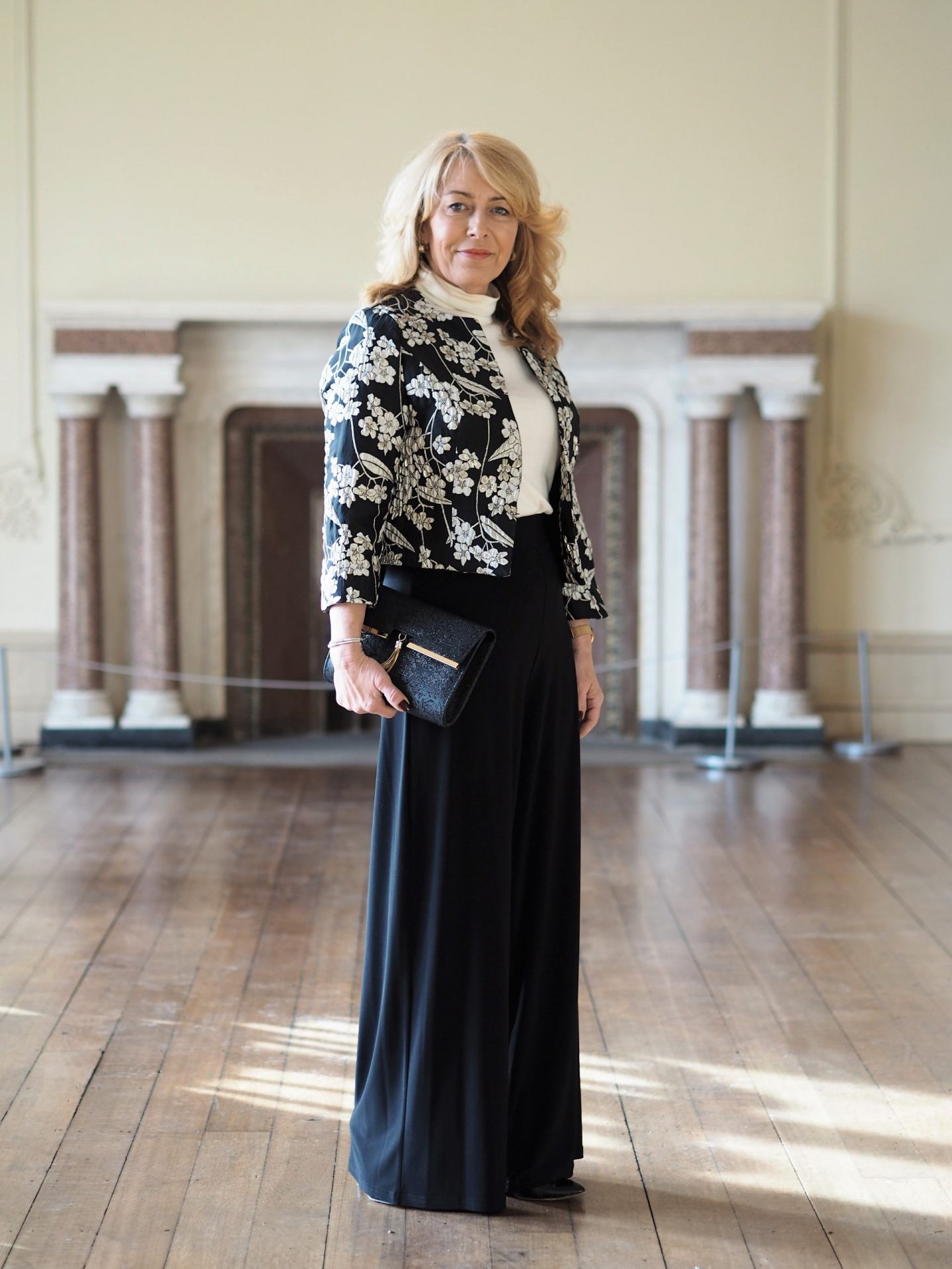 As soon as I spotted this jacket I had all the thoughts running through my head of how it can be worn.
I love the three-quarter sleeves, the nipped-in waist ( I so could kick myself for not taking a shot of this jacket fastened with the hidden hook and eye) and I just love the pattern with the threads of gold running through it.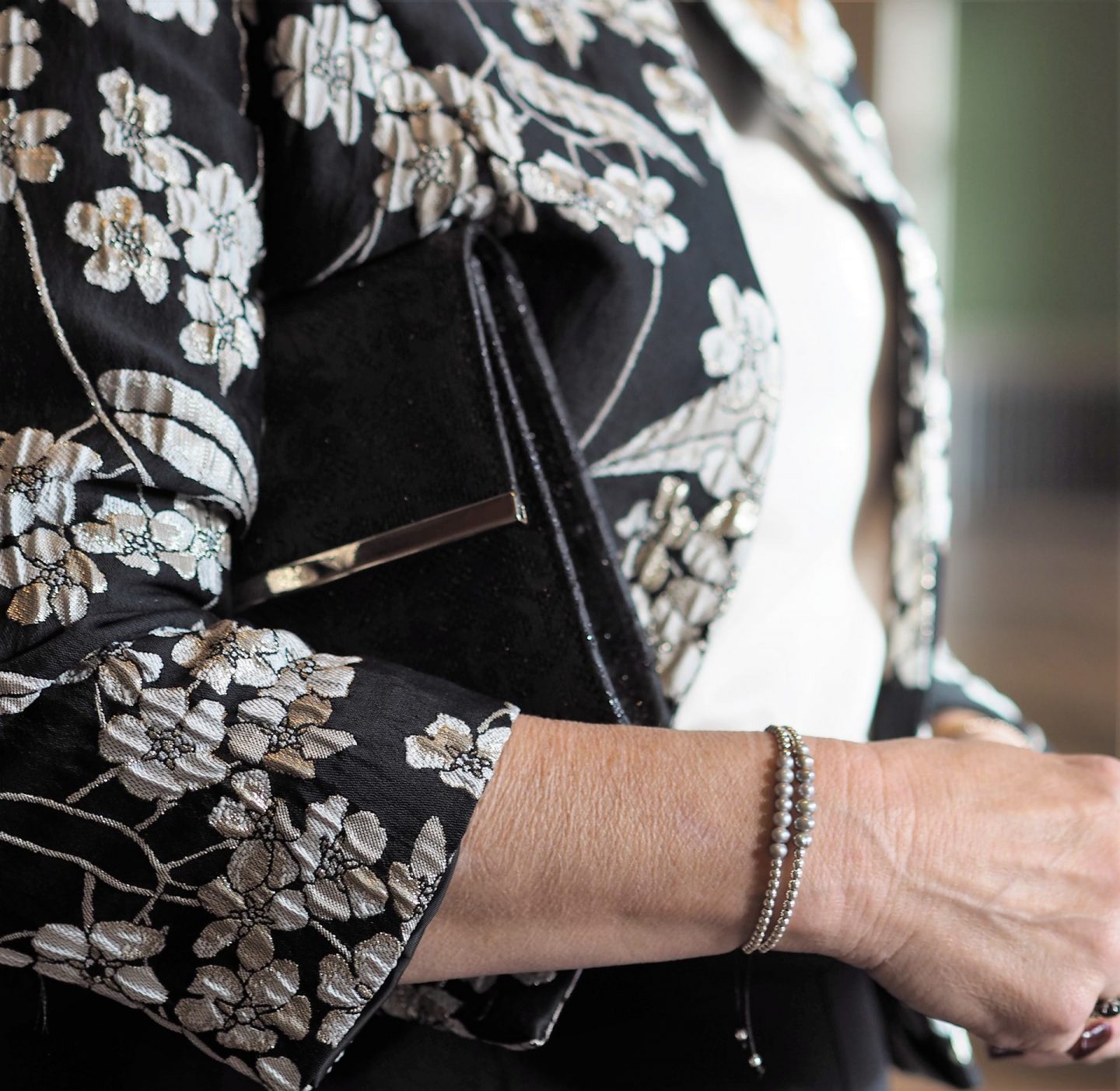 I just love the oriental like blossom print and I can never get on with wearing black but because of the print, I can get away with this. An absolute snip in the sales at £30.00 it looks far more expensive than it is.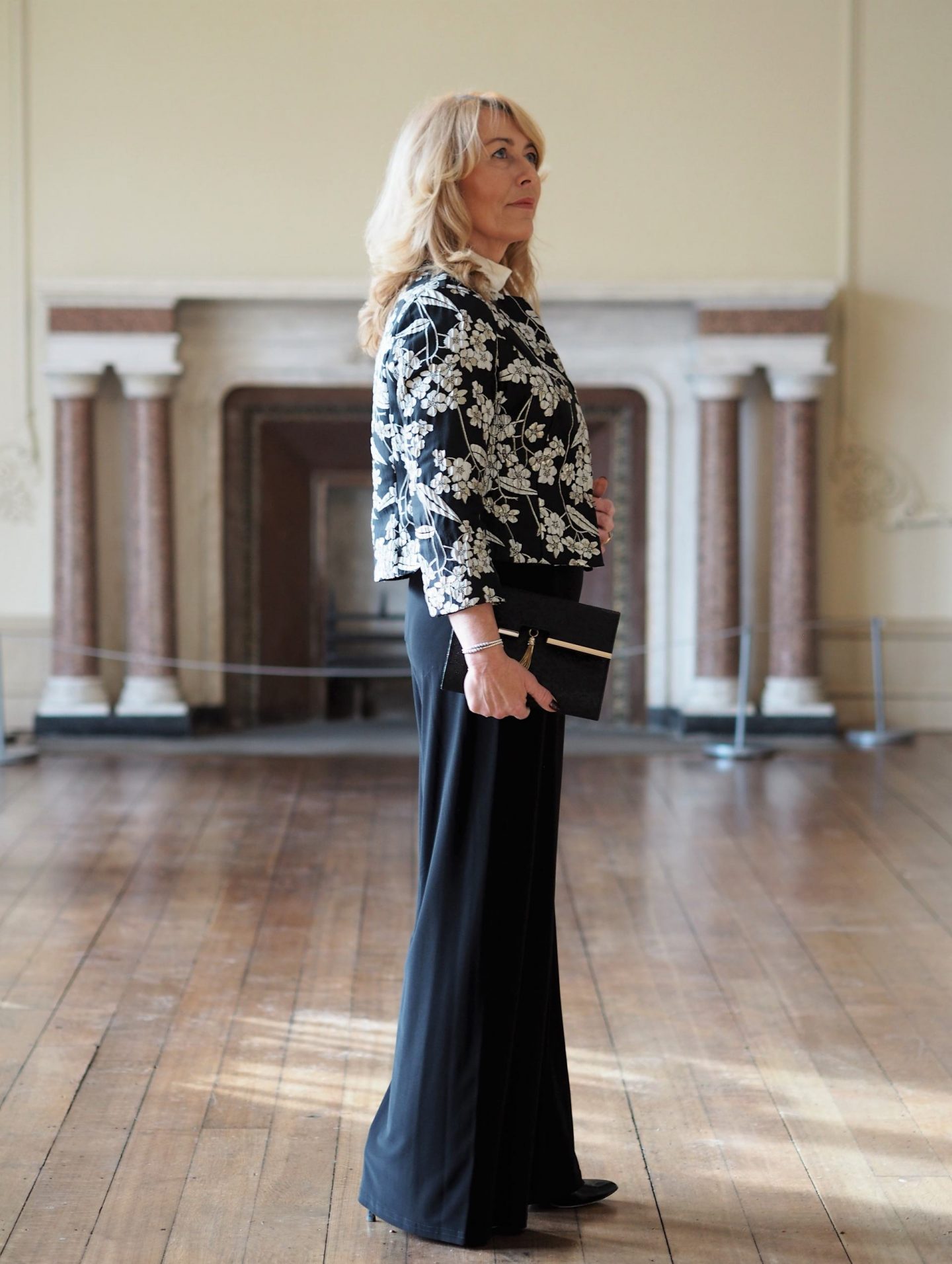 Wearing black, gold and cream on top but what to wear on the bottom half?
Depending on where we end up spending our new years eve celebrations are going to determine what I'm wearing on the bottom half. It could be a party and if so then I will wear the trousers pictured above, also from Roman Originals. If it's just a pub outing then I might just add my faux leather trousers. I think they will look good with the jacket too.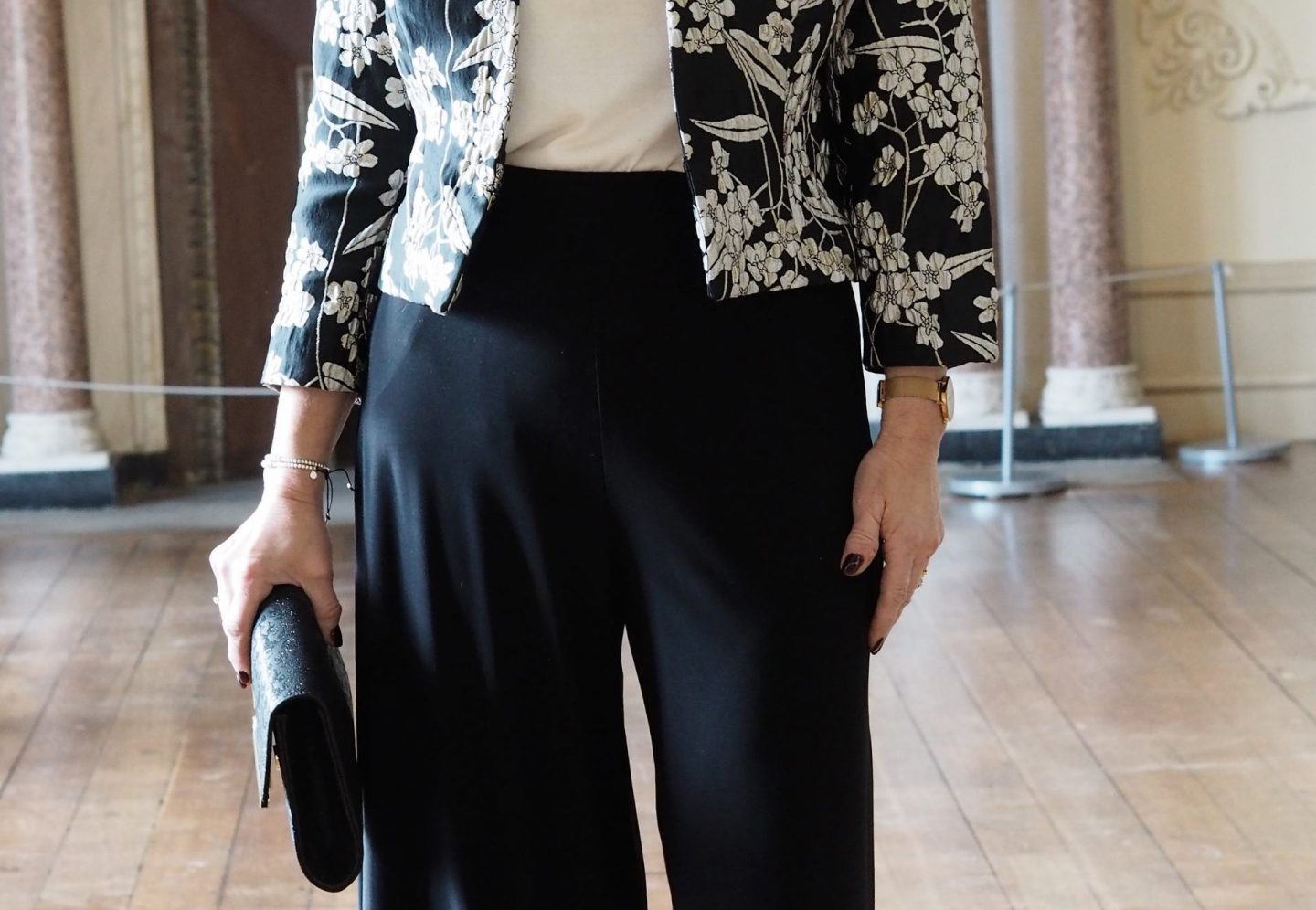 The flared trousers are super comfortable, a bit like going out in your pyjama bottoms with heels! A grown on elasticated waistband and a floaty material that's non-crease, plus these make my legs look longer just skimming the floor.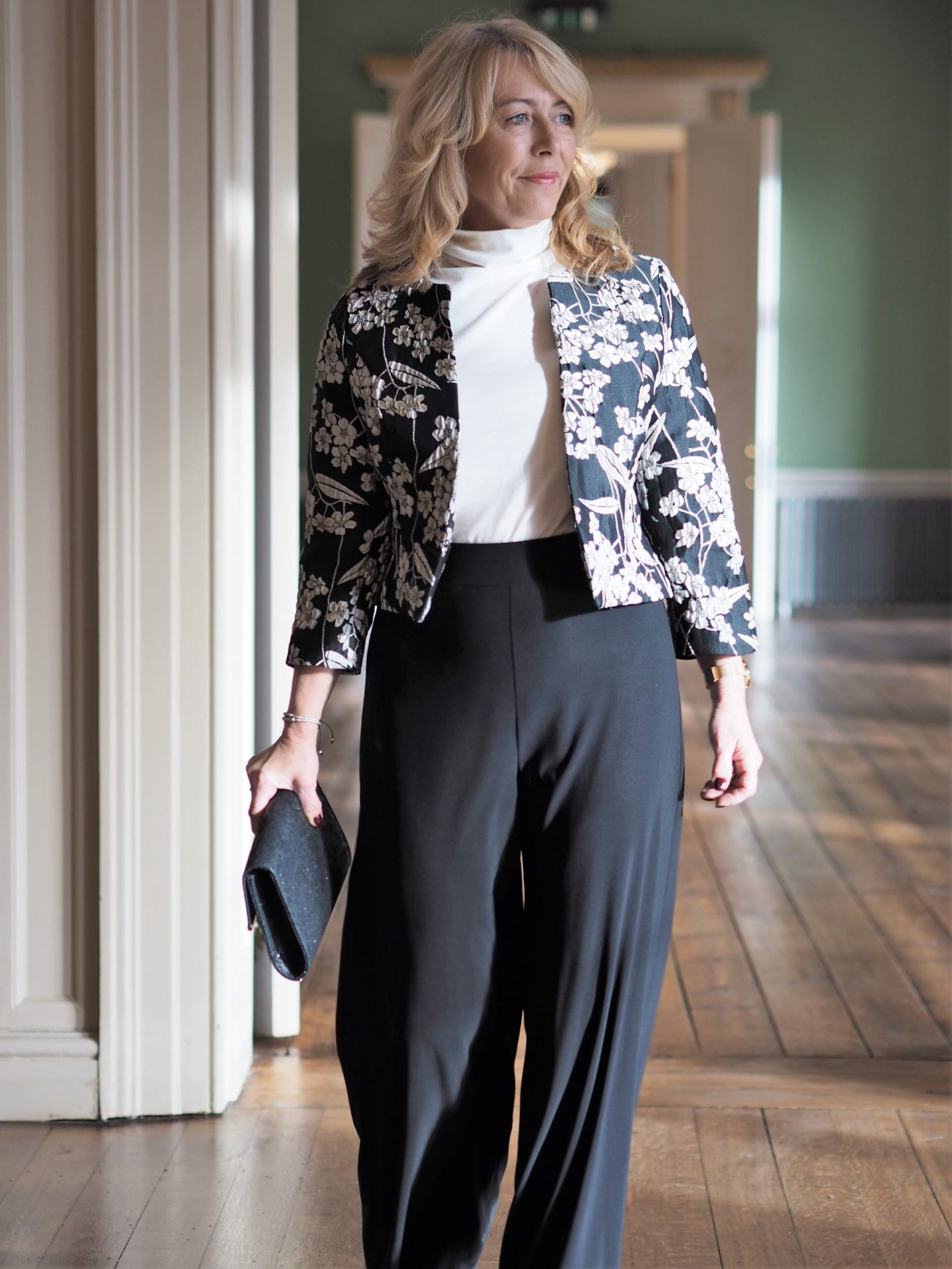 I've paired the trousers and jacket with my new silk roll-neck from Lilysilk that I featured in last weeks post. It was really cold when I went out to take photos! I think it works ok but for more evening glamour I think I will be wearing a cream or white silky vest/shell top.
Wearing the jacket in other ways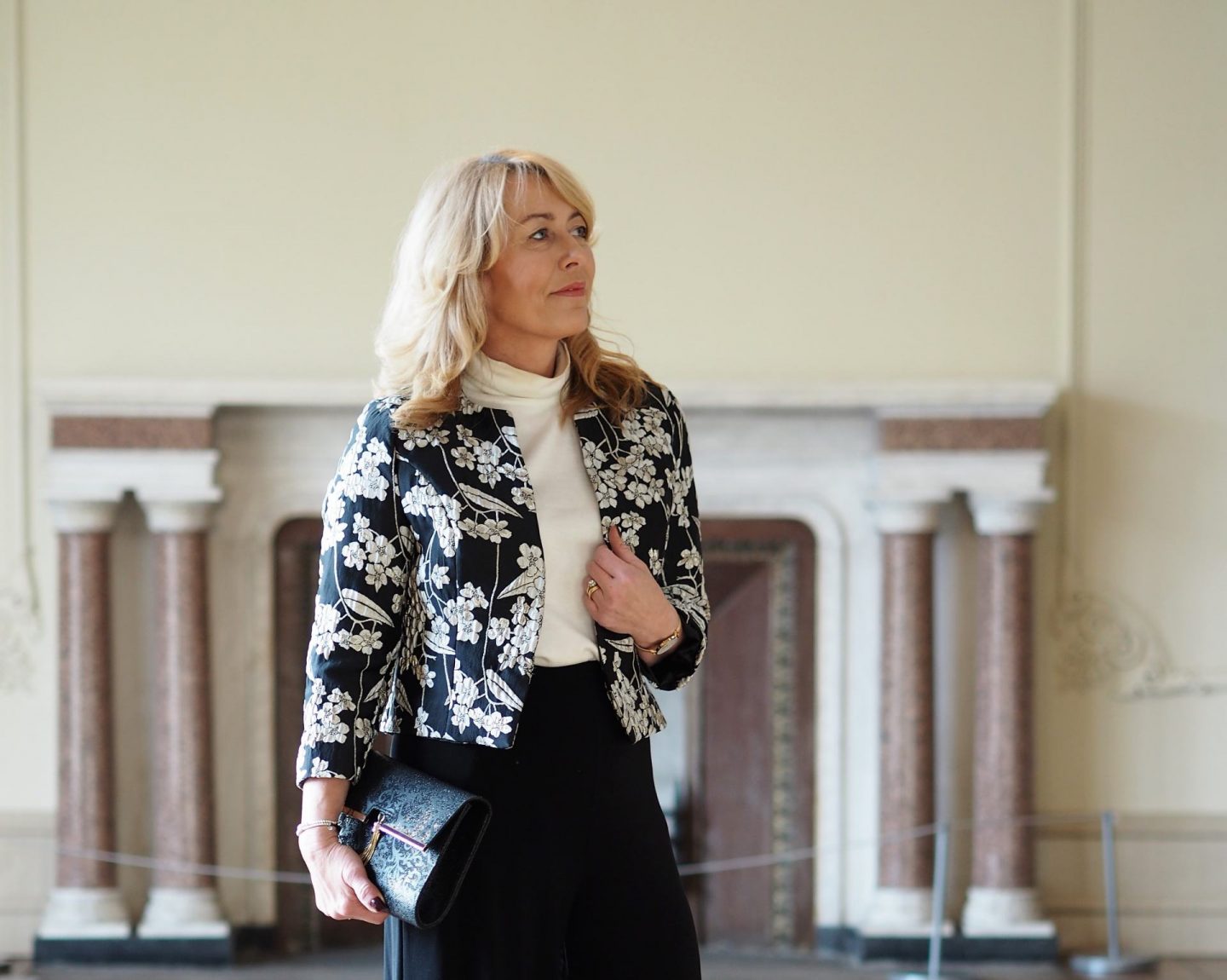 I think this jacket could be worn for so many occasions. It would look great with smart cream trousers or a skirt. Perfect for a posh day out or a wedding guest outfit. Thinking about it, if it's not wet and raining, I might just wear my cream trousers with the jacket.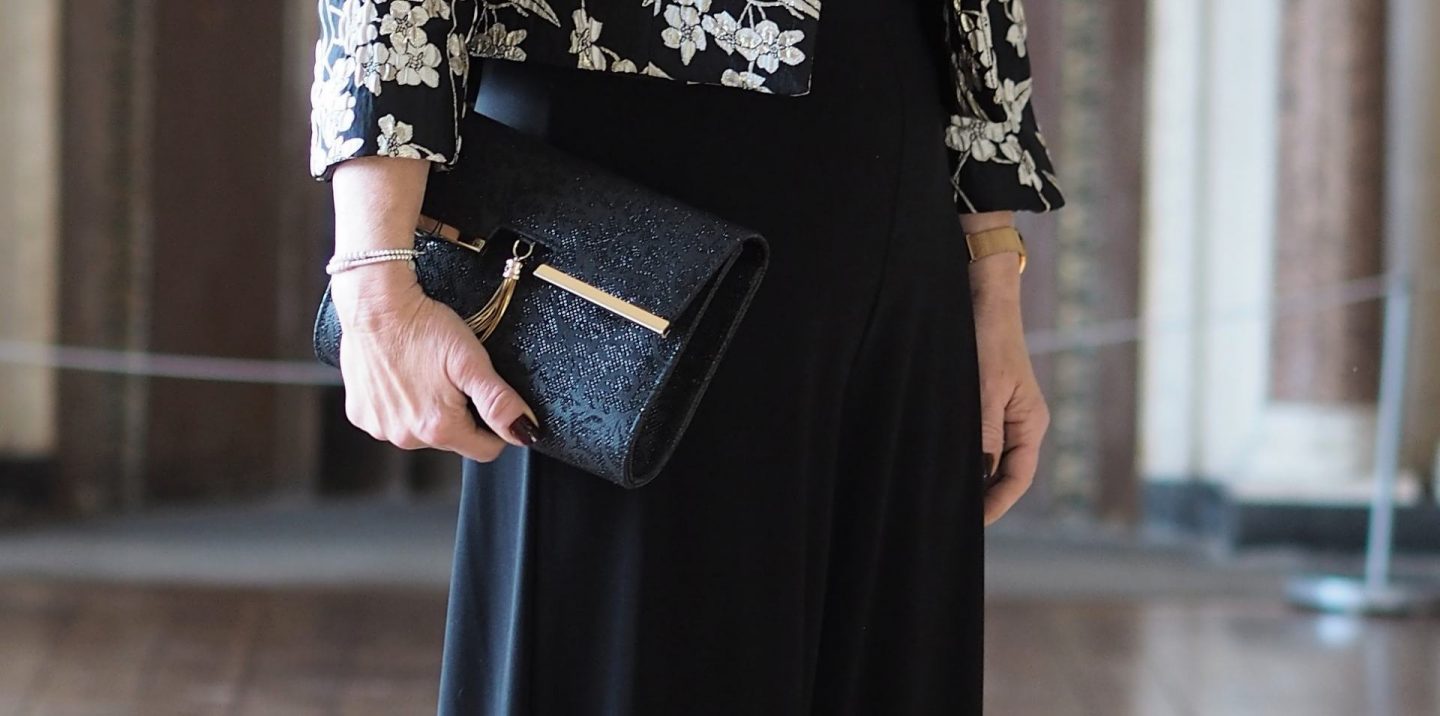 I've kept accessories minimal, a sparkly black clutch bag from Lotus and my new pearl friendship bracelets from Claudia Bradby. My usual watch from Danial Wellington.
I will be adding what I'm wearing to stories for the final look if you want to catch me on Instagram. And don't forget to take a look at the Roman Originals sale! Do you agree with what a great bargain this jacket is? I'm over the moon with it.
I'm sending you all the best wishes for the new year. See you in 2020!
---
Please be aware that there are affiliate links included in this post at no cost to you if they are clicked on
---
Thank you for stopping by!
Come back for more. Click on the subscribe form below
YOU MAY HAVE A FRIEND THAT'S INTERESTED IN THIS? PLEASE USE THE SHARE BUTTONS
XO LAURIE
Subscribe for the latest updates!