I debated for a while how to take photos of this new Cotton traders blazer. Should I go to one of my remote country spots and take shots? Then I thought I might not be setting a good example by not staying home? But then again I could count it as daily exercise?
I decided on staying home, not taking any risks, and shoot them in the garden. And being as I was at home, I could share three ways of how I would wear this blazer and it gives you a little more reading. We all have a bit of extra time on our hands, don't we!
look one – Camel and Cream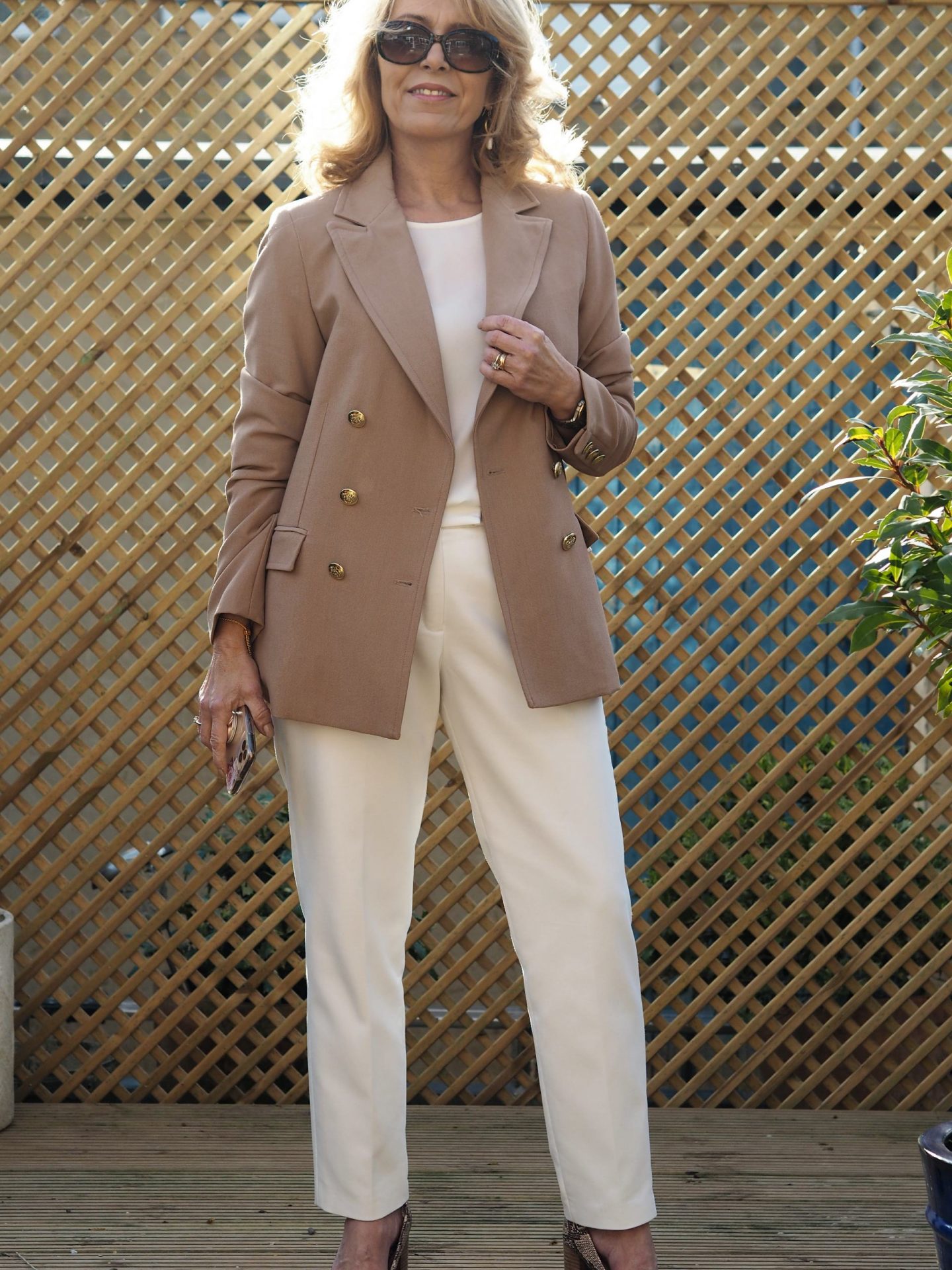 And here I am with a halo! It was god damn hard taking the photos because the sun covers the entire garden! Anyway, here's the new blazer. I'm so pleased with it. It's called the Friday Blazer from Cotton Traders.
I was invited to attend the SS20 press day just before Christmas and as soon as I spotted this blazer I wanted it. This will work well with all the neutral shades I have collected the past few years.
The first look is simple. Cream top and trousers. I kept the accessories pretty simple so that the blazer didn't look too overdressed. The pearl earrings made a good pairing with this outfit. I wear these ones a lot.
I kept wondering if any of the neighbours could see me. I bet they thought I had gone mad parading around the garden in different outfits!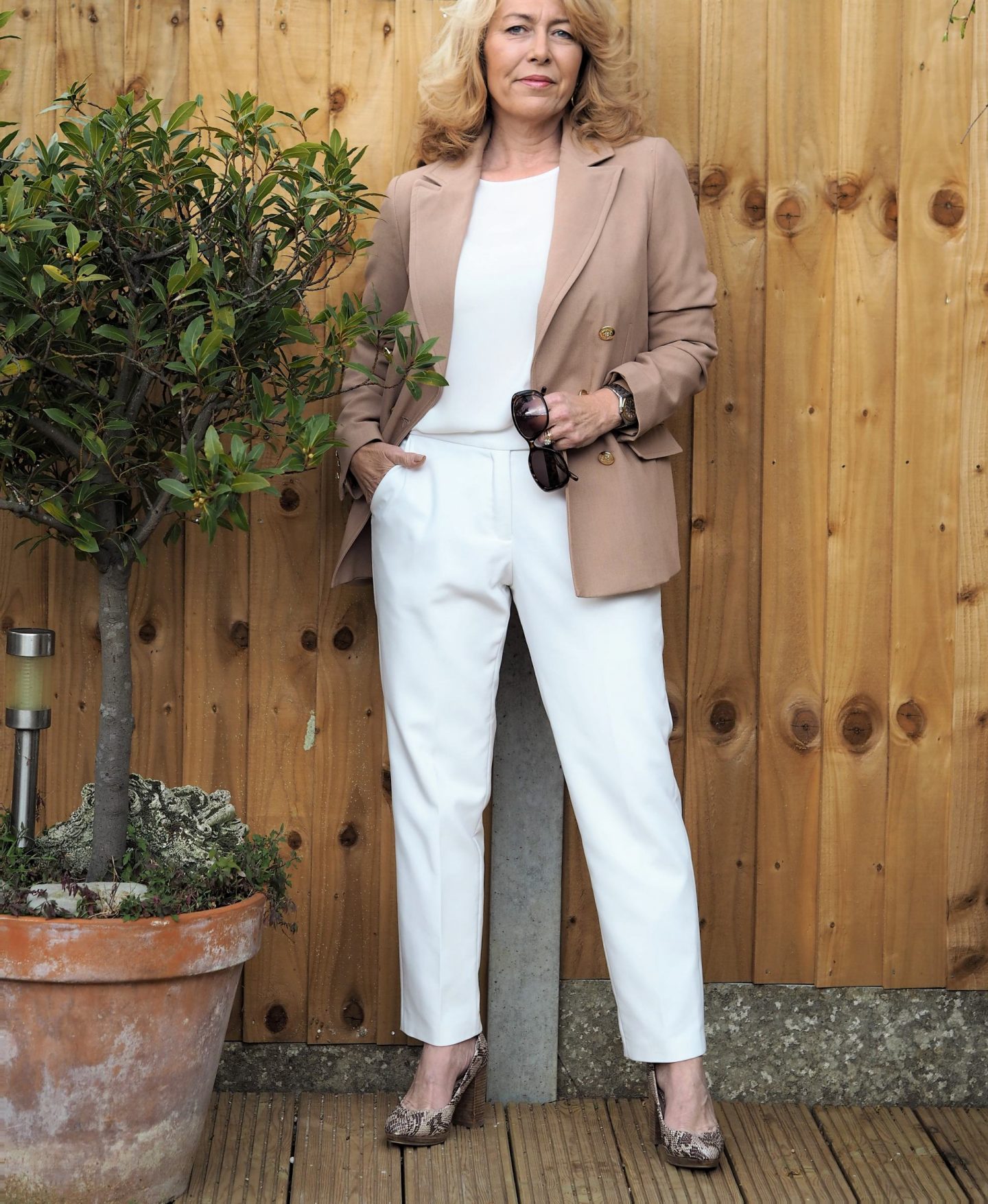 The trousers are last years favourites (now on sale) I love them so much I didn't put them away with the rest of my summer stuff. I've even worn these with thick chunky jumpers and they've looked great. You can see them worn in other posts here and here
Look two – camel and denim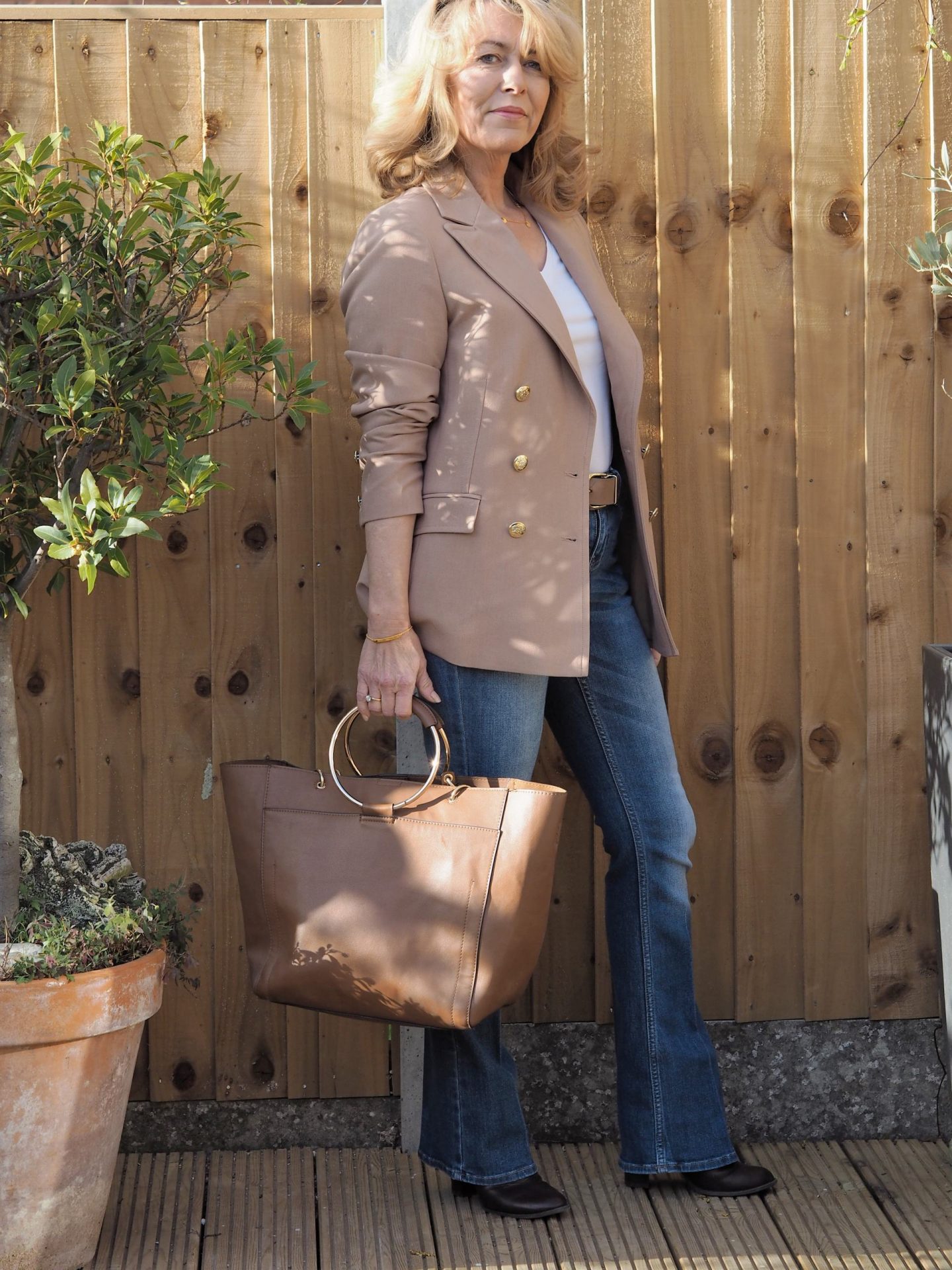 Classic camel and denim. The casual weekend wear style that I love. Am I the only one who loves boot-cut jeans over any style of jean? These jeans are a good few years old now and they are still my favourite pair of jeans to date. They make my legs look longer! I'm just wearing a simple plain white T-shirt underneath to keep the look casual.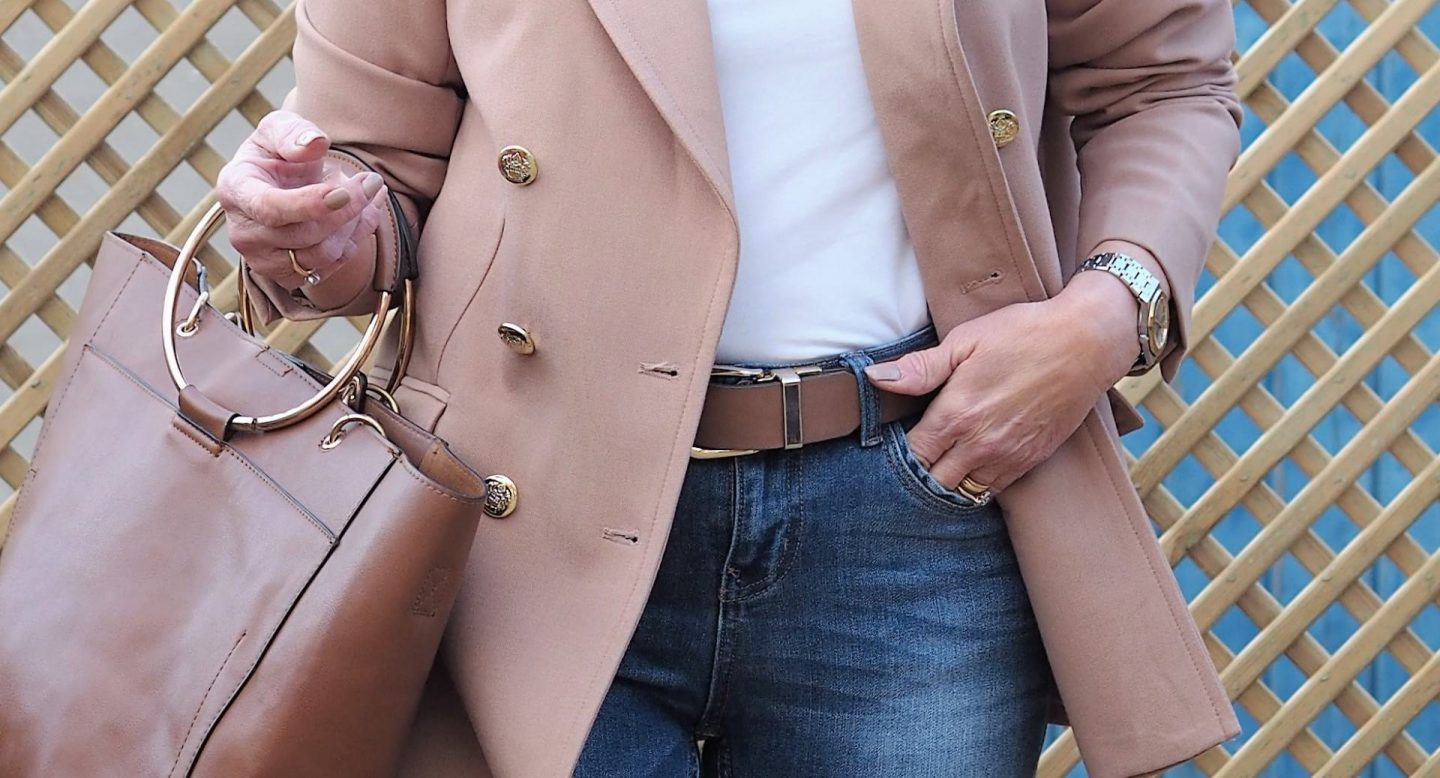 Accessories are key with this look I think. I love the gold buttons on the cuffs and the front of the blazer. The gold on the belt buckle, I wear this reversible belt on a near-daily basis. The bag and jewellery all tie the look together.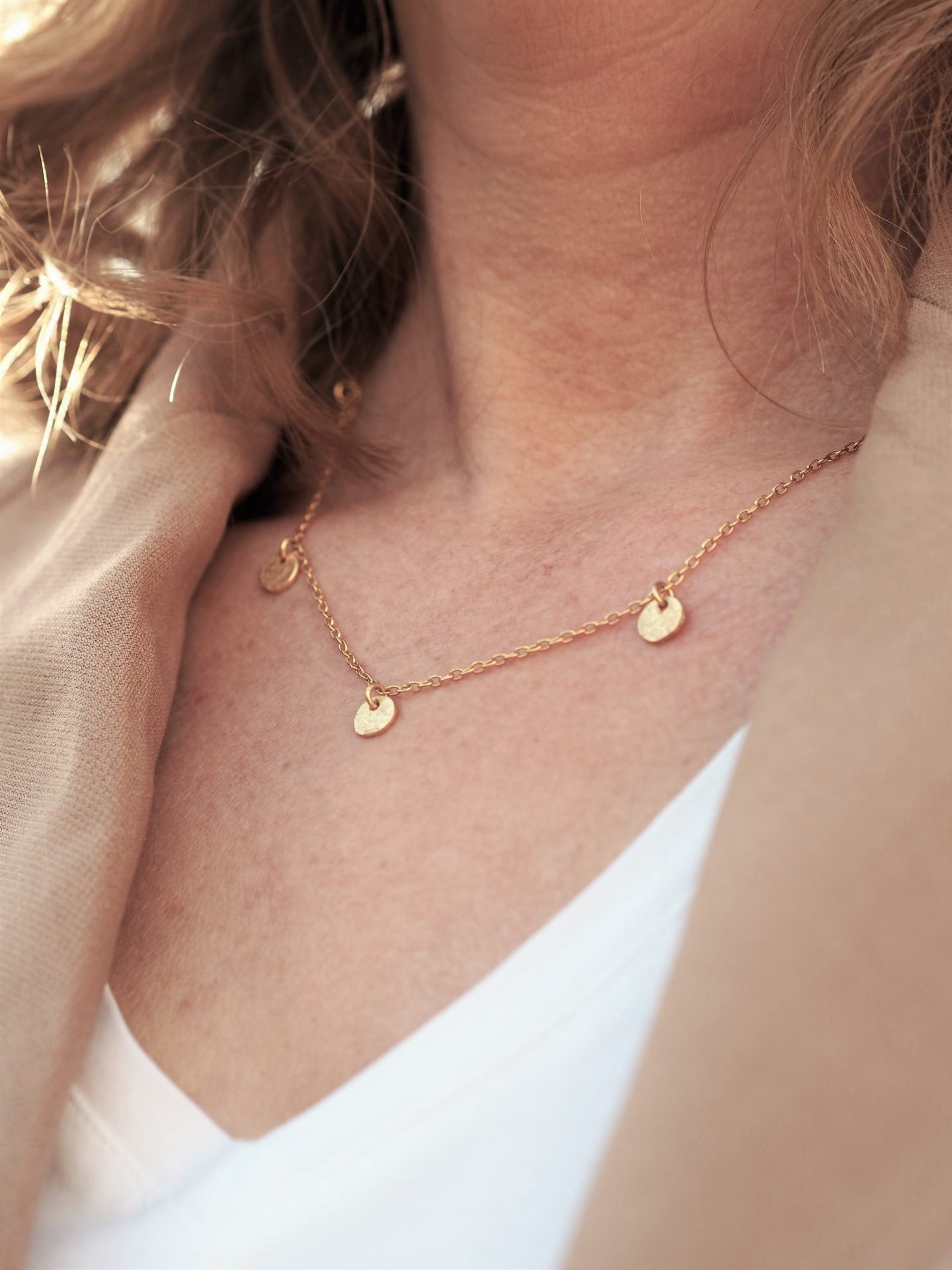 A simple but effective necklace from Baukjen that I wear a lot I thought worthy of a mention!
The blazer isn't fitted at all. It's quite a boxy shape and great for casual styling or a more dressed up look like my first chosen styling. This is the first item I've had from Cotton Traders and I'm pretty impressed. The pricing is good.
at the moment and I think the quality is good for the price. It's also available in a gorgeous Cobalt Blue
Look three with the Cotton Traders Blazer- camel and leopard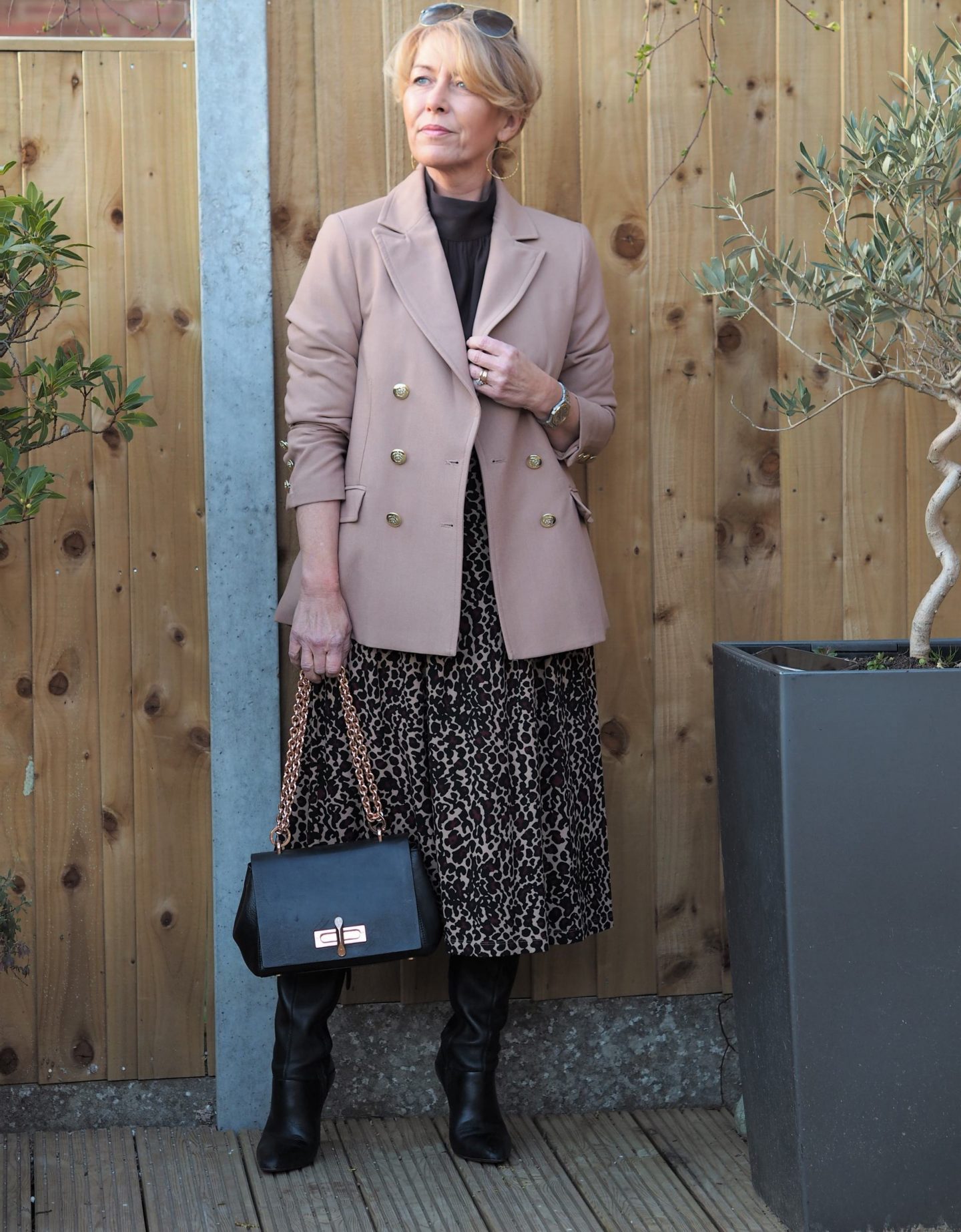 I decided to add one look with dark colours but I have to say, it's my least favourite look. Maybe a cream top would have been better? If you are a regular here you will already know that I shy away from anything too dark. But I wanted to show that the camel works with both light and dark. Very versatile indeed.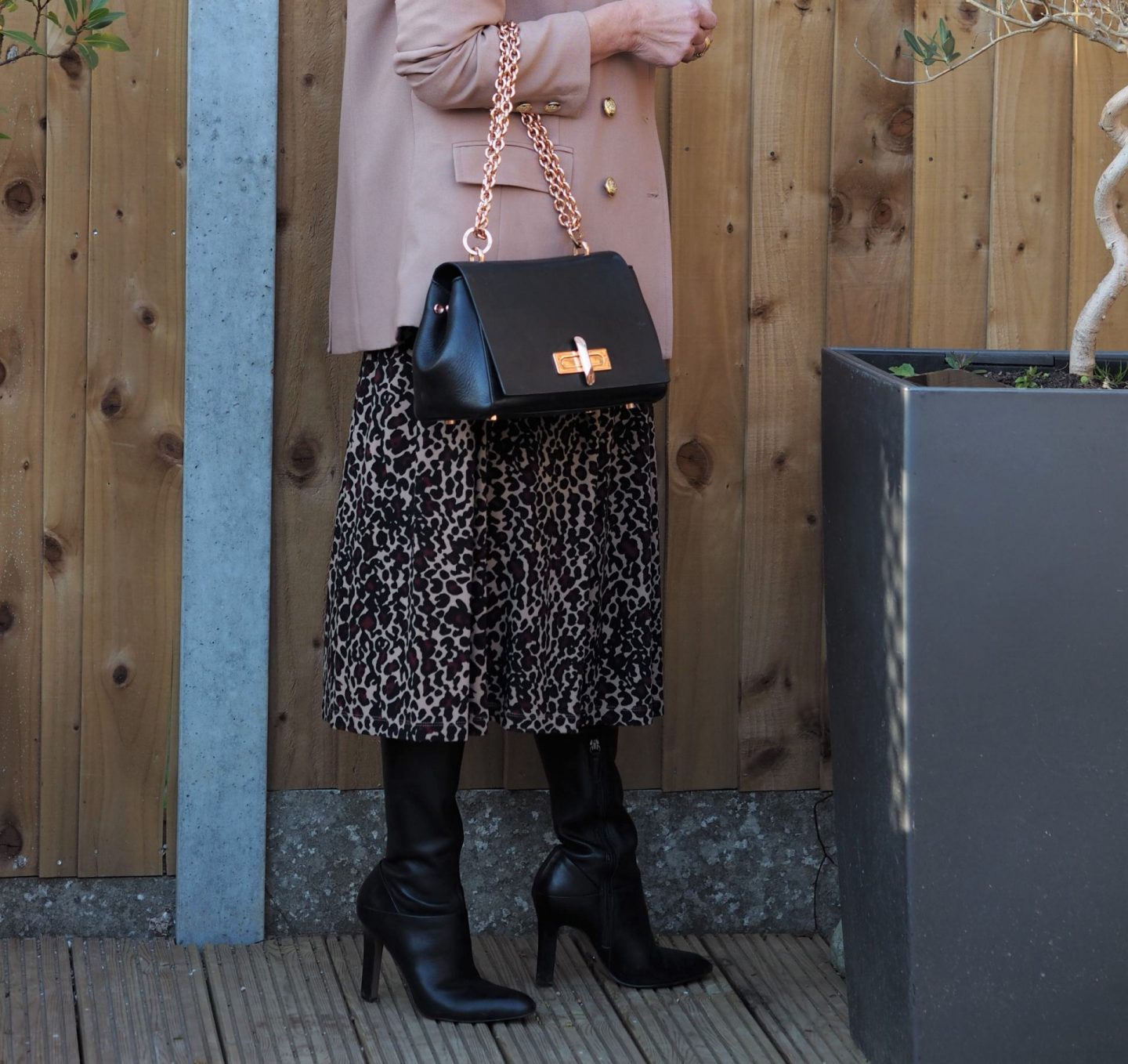 I'm still getting a lot of wear out of my boots. I think they are the most expensive item in my wardrobe! I'm determined to get my price per wear out of them. To be fair, they have stayed in great condition and I'm hoping they will go in the loft soon to make way for the spring-summer items to come out.
There's plenty of wear left in them and I have no regrets spending the extra money I wouldn't normally. The skirt I have worn many times. It's one of my most worn items of last winter. Now on sale and most sizes available.
Which style is your favourite? Let me know!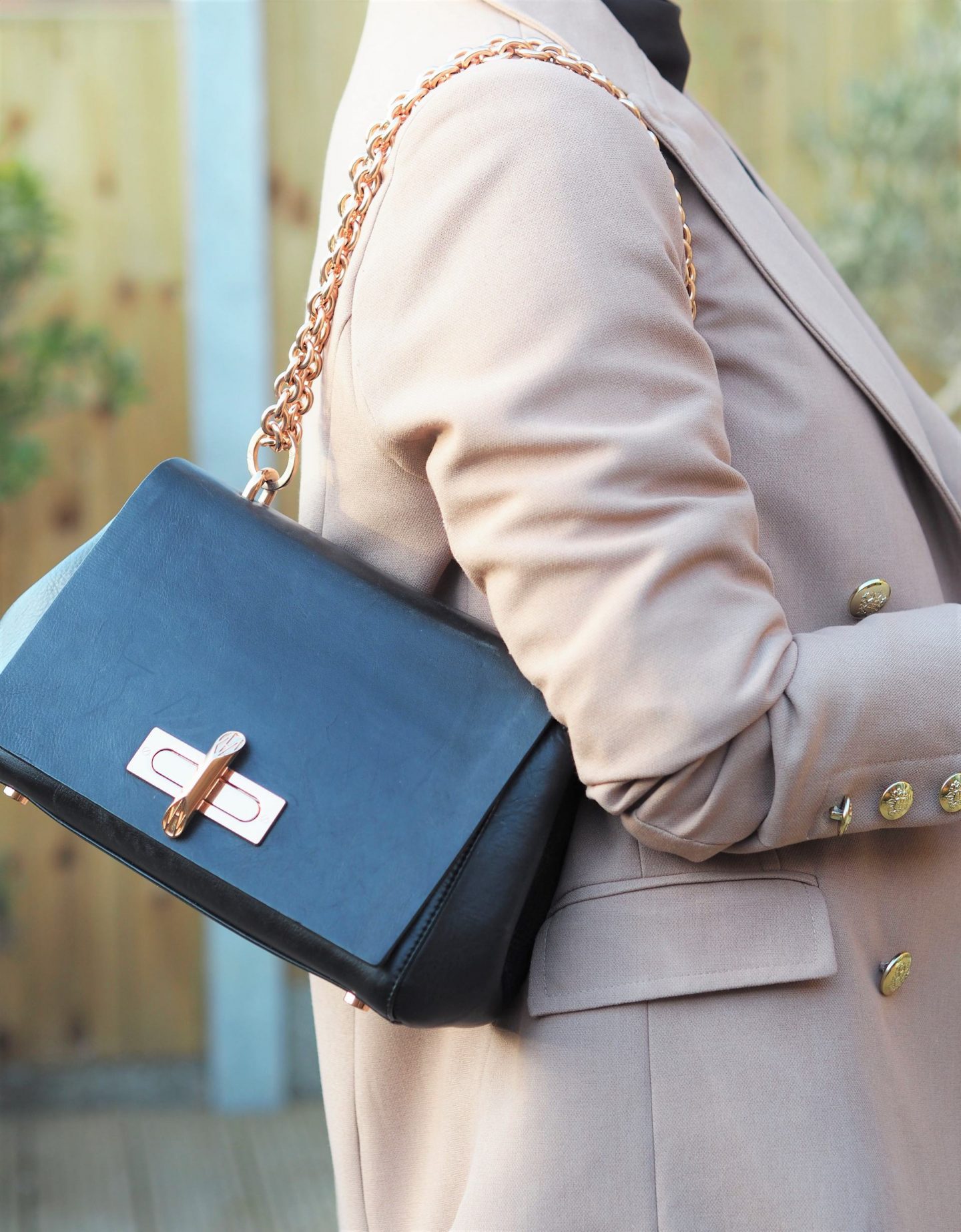 I've enjoyed wearing this Amanda Wakeley bag too. Won in an Instagram competition. I couldn't believe it when I won. I've always shied away from buying expensive designer accessories but the quality definitely stands out and I feel a little extra special each time I use it.
If you were to buy a designer accessory, what would you go for? Do you have an expensive designer item on a wish list?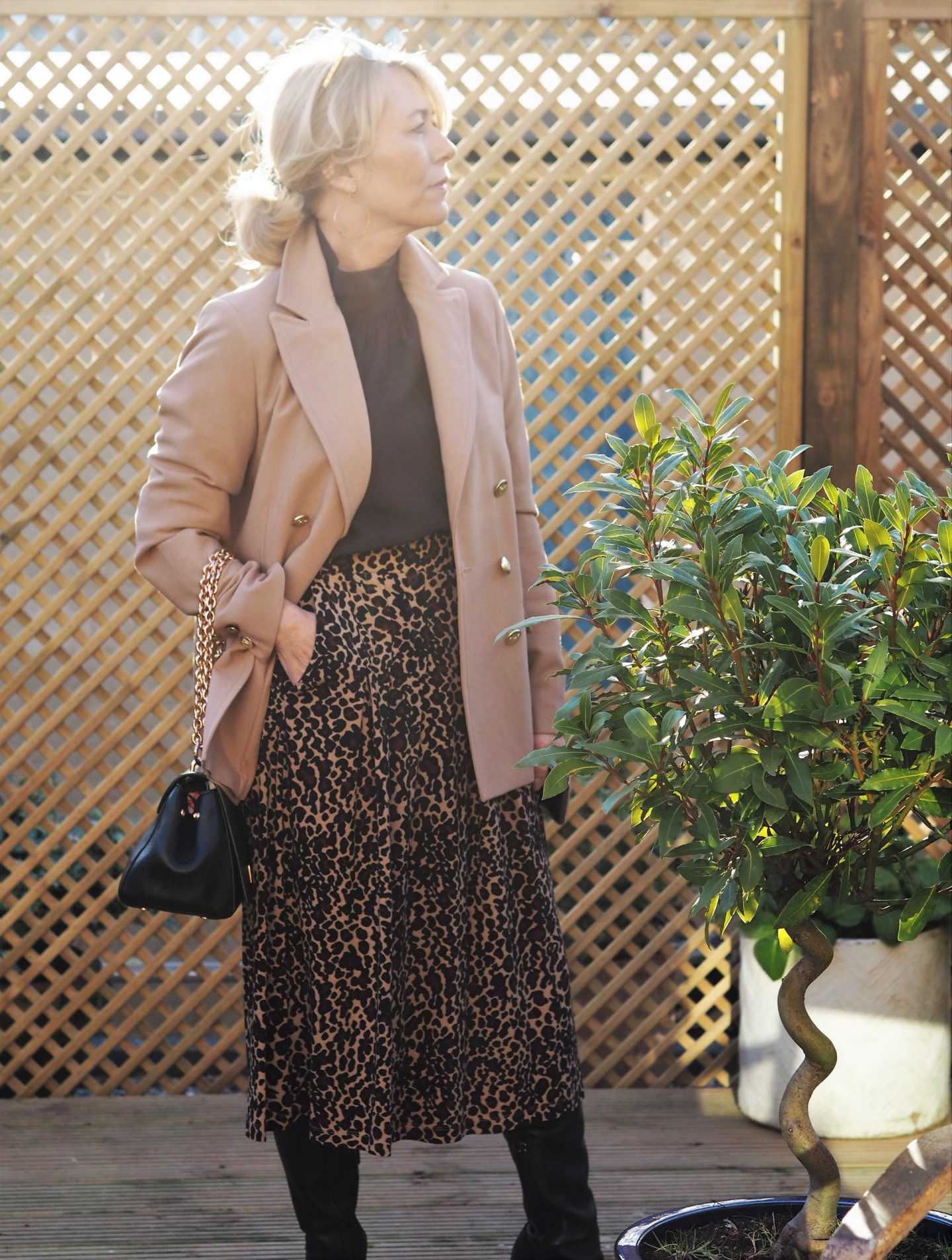 Keep you and yours safe and well xx
Please be aware that there are affiliate links included in this post at no cost to you if they are clicked on
---
Thank you for stopping by!
Come back for more. Click on the subscribe form below
YOU MAY HAVE A FRIEND THAT'S INTERESTED IN THIS? PLEASE USE THE SHARE BUTTONS
XO LAURIE
Subscribe for the latest updates!