I've been thinking about the cropped jeans featured in this post for some time. Every time I've seen them on Instagram I've really liked them. Worried about my short legs I wondered if my frame could carry off wearing them.
When I went to the Baukjen press day I grabbed the chance of trying them on and I loved them. I thought if the worse came to the worse I could always have them turned up, but I actually quite like this length.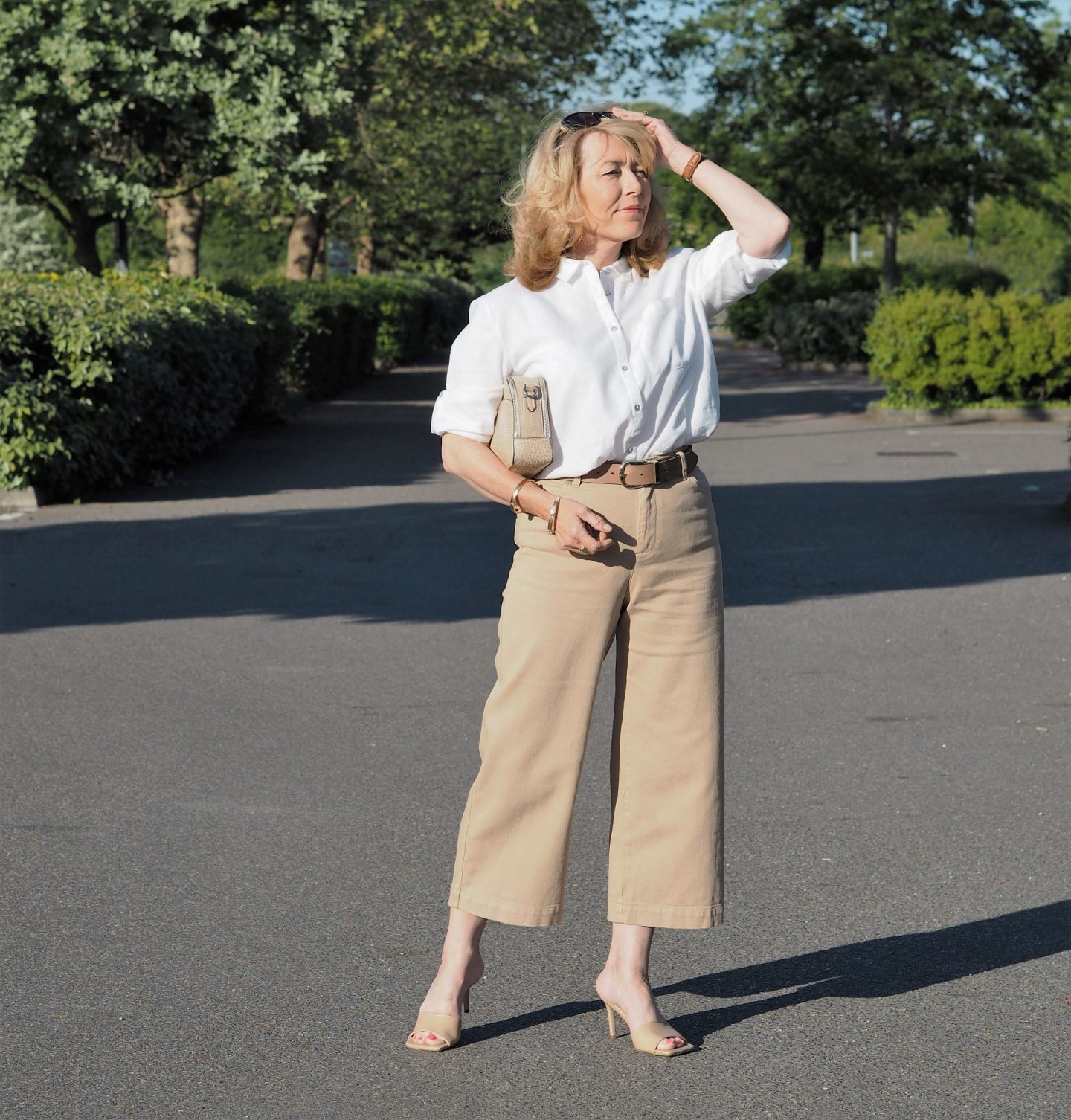 I'm not sure I could carry off wearing flats or trainers with these cropped jeans like the cool girls do but I'm really pleased I took the plunge for them. High waisted, very comfortable to wear, the Gail Cropped jeans are available in blue denim, off white, dark khaki or the colour I'm wearing caramel.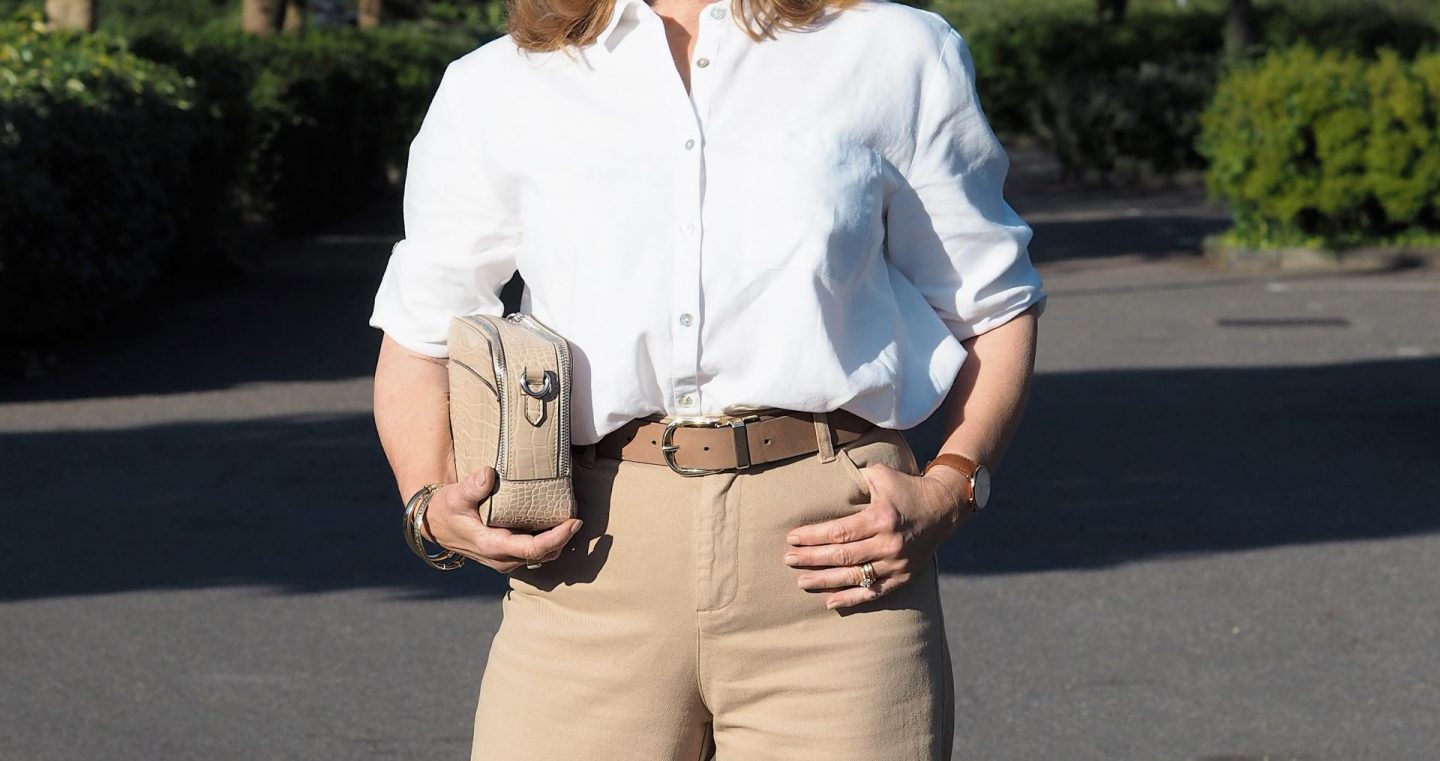 I've paired the cropped jeans with a white linen shirt. It's a bit of a girl on safari look! The neutral tones that I love.
Are you fed up with seeing the reversible belt yet? On looking back through my posts I've worn this belt in nearly every edit! It works well with my neutral style but the black is available on the other side if I need it. Price per wear is definitely won.
These cropped jeans are going to work well through all the seasons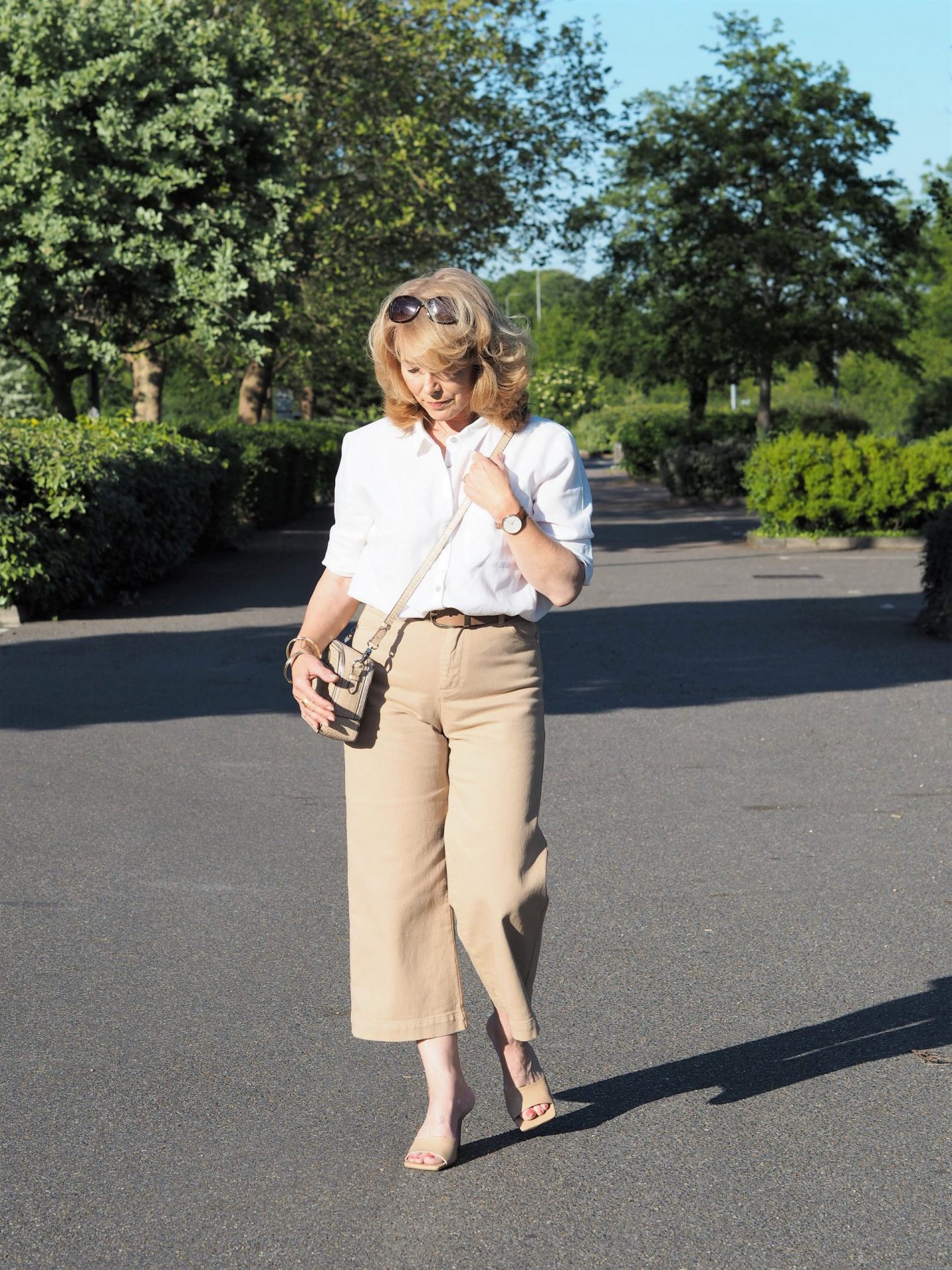 I will most probably feature these cropped jeans with a jumper or some form of warmer wear as our weather plays like a yoyo in the coming days. We've been spoilt again this year. Temperatures of 25 this week of May I'm happy about that! But in a couple of days, we are forecast hail or even snow showers! It's so much easier to go for a country walk when it's so nice out there.
I think the jeans will look great with knitwear and knee-high boots during the winter too. Another add-on to my neutral capsule wardrobe post that I must update! As I'm always stating, all my Baukjen items seem to mingle so well together, the cropped jeans will work great with the Luna jumper I wear so much.
The white linen shirt is actually long sleeved. I've tucked the cuffs under loose hair ties to keep them in place. The shirt is oversized but I think it works well tucked in.
I'm a huge fan of linen during good weather and I don't worry about creases. You just have to embrace them! I'm definitely going to invest in more linen this year.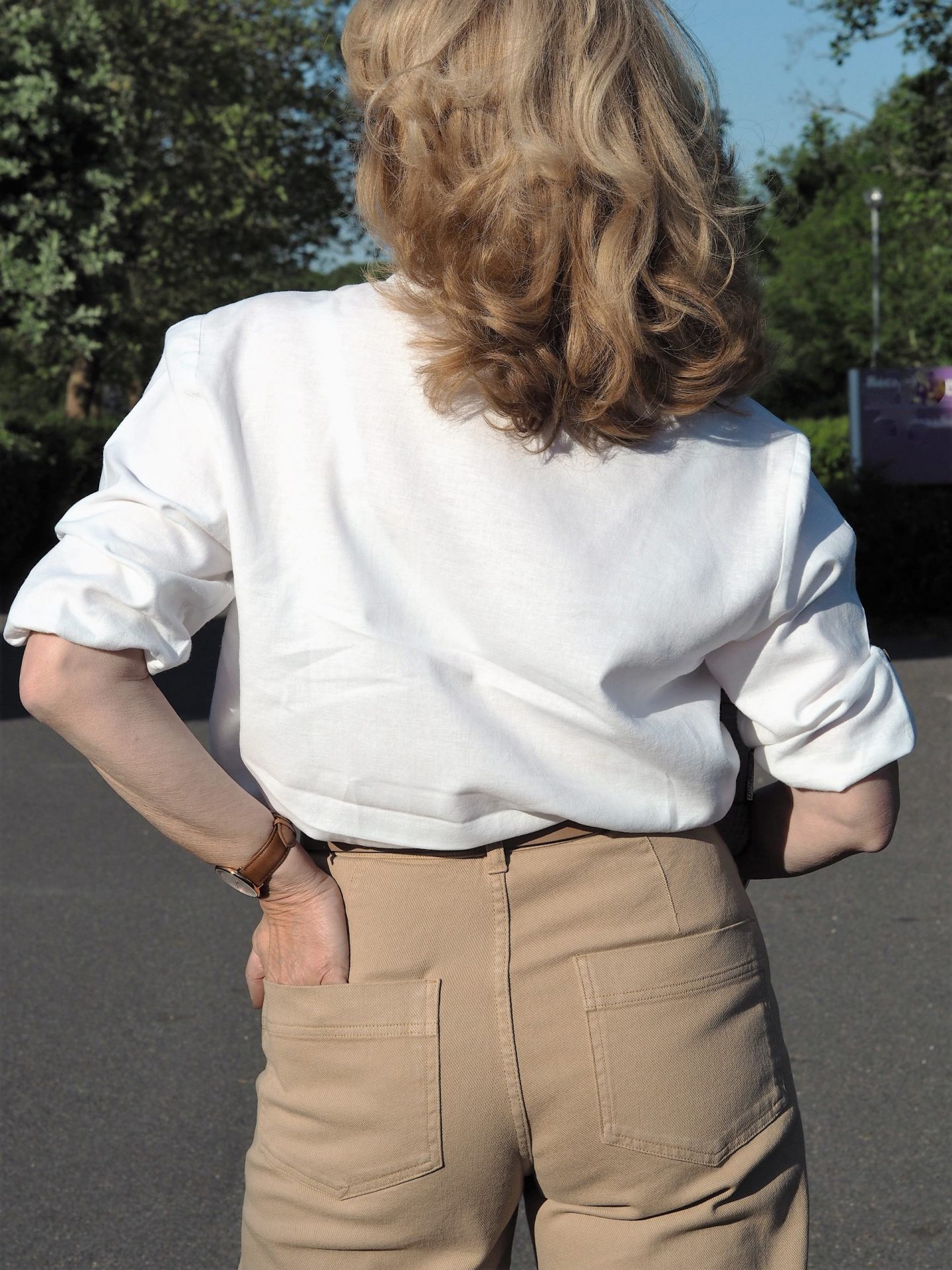 It's so good to get out and take some photos! Even if it is an empty car park so that we don't bump into everyone. There are so many beautiful country parks surrounding Essex but every time I arrive at our nearest it's unbelievably busy. It surprises me every time. And no one seems to take the social distancing seriously!
How I've accessorized the cropped jeans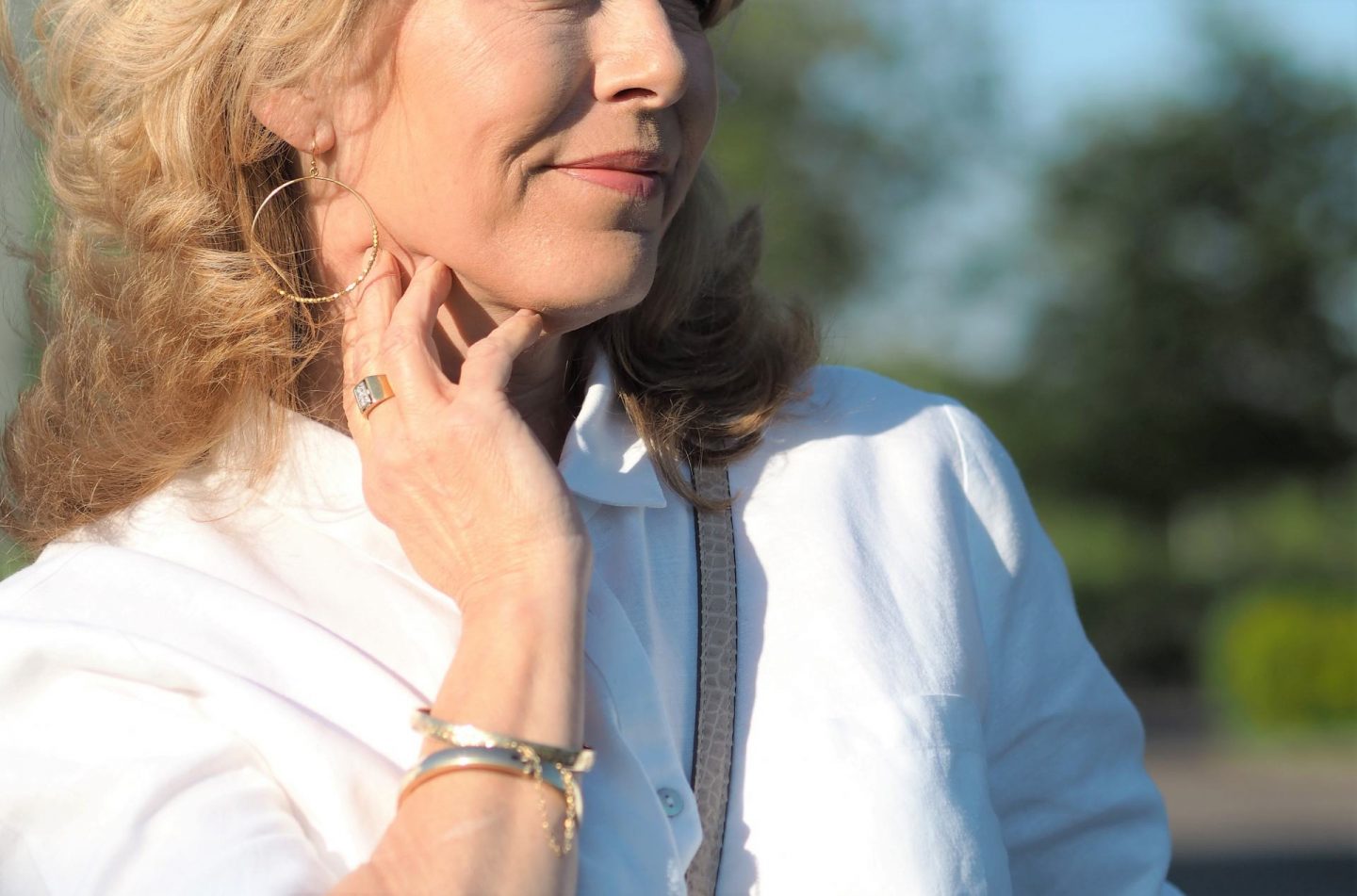 I've kept all the accessories neutral as you can see in the photos above. A tan strap watch (my Nordgreen watches are changeable) These Baukjen gold plated Vivienne hoop earrings are gorgeous and they give no irritation at all.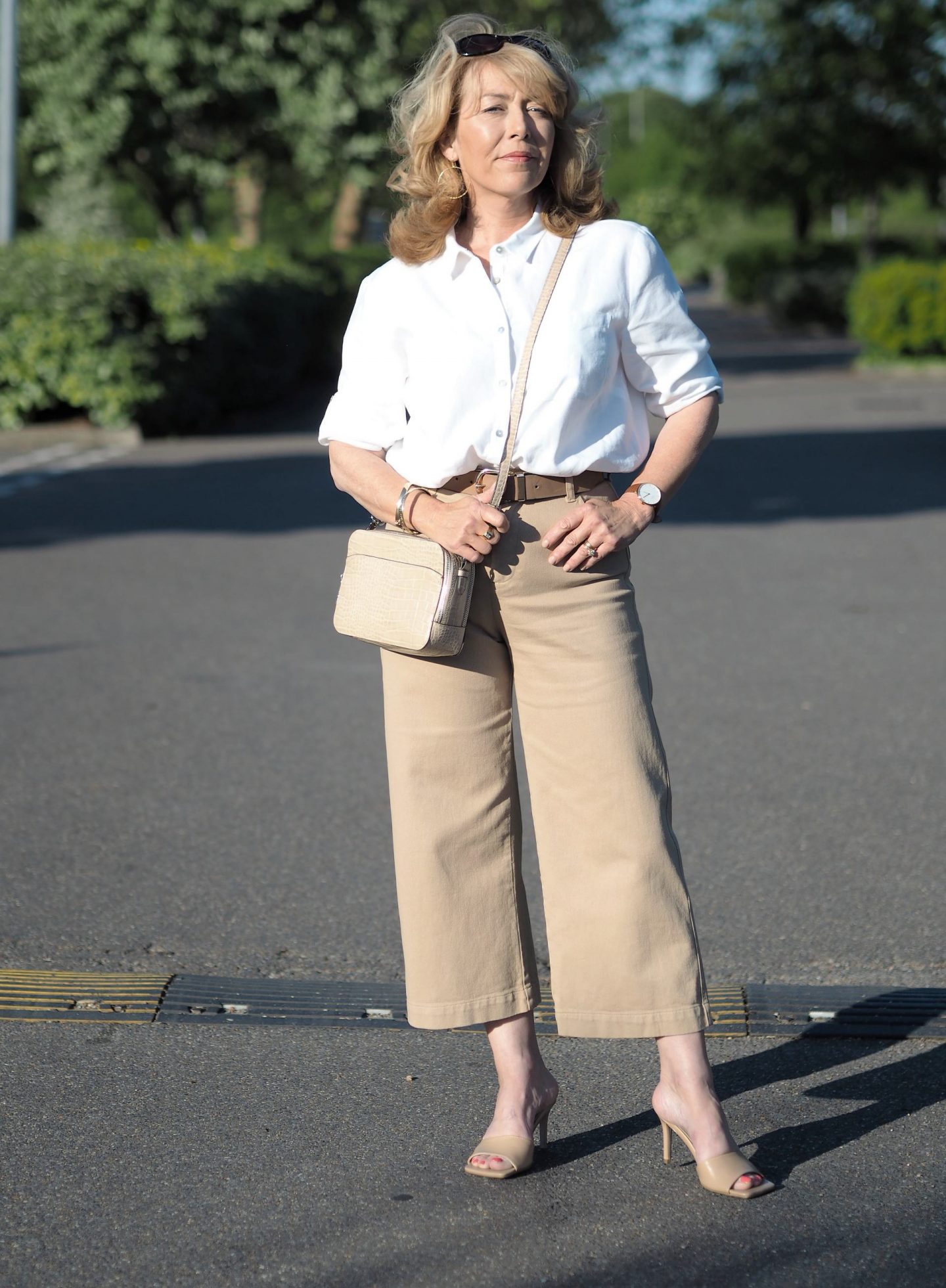 The cross body bag from Laura Ashley has been a firm favourite of mine, just the perfect size and colour. I have listed similar below. I'm sad about them going under. I hope a buyer comes forward but who knows in these difficult times?
The mules are new. I love the new trend square front to them, very much a dupe for the popular Bottega Veneta mules that are so popular. I can't justify paying that sort of money! How do you feel about designer accessories? Do you prefer the real thing or dupes?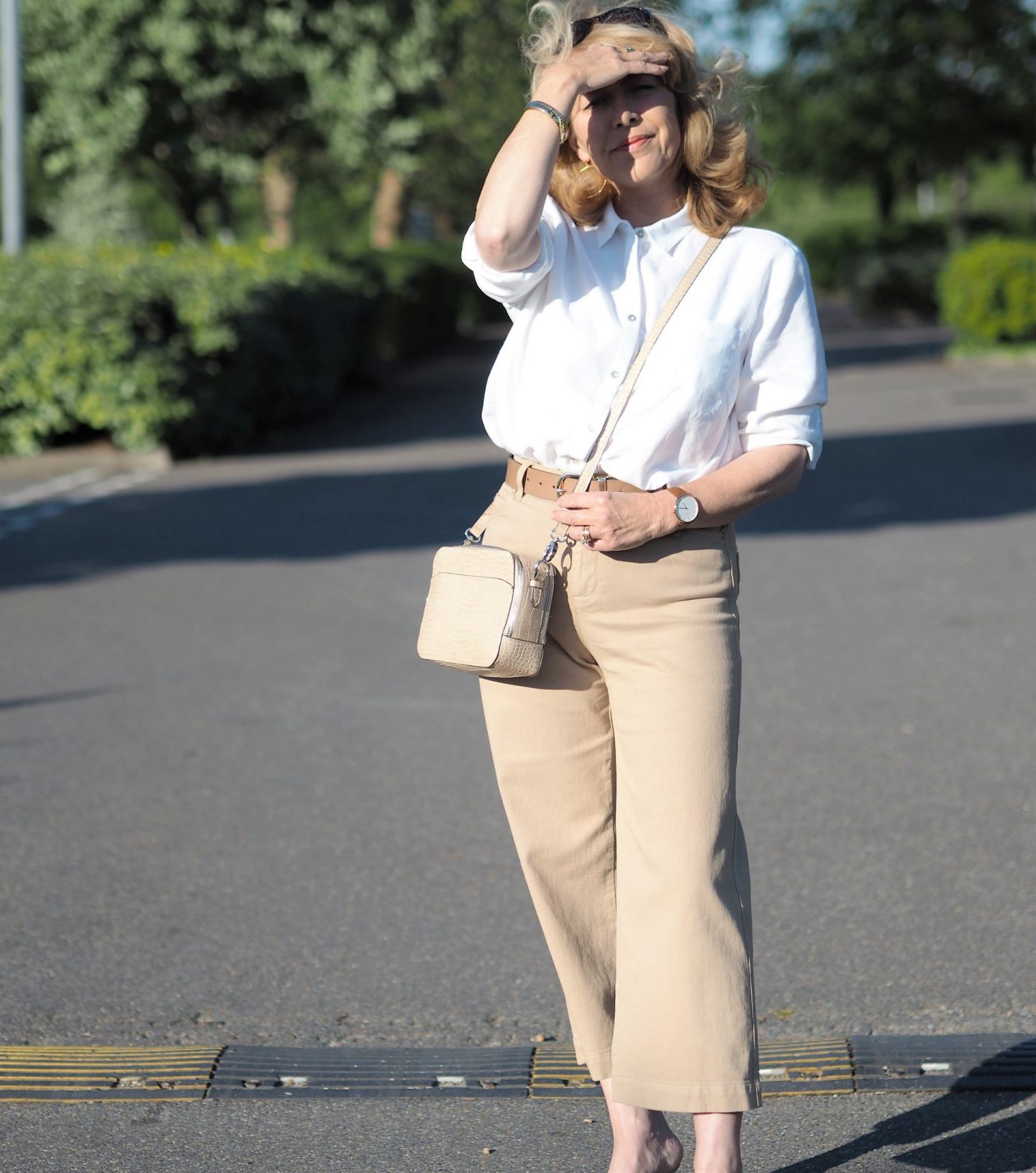 I pondered over these cropped jeans for so long, or any style of crop trouser for that matter. I'm so glad I tried them. It just goes to show that you have to try. I'm making a mental note of that. Items are so easy to return nowadays, it's always worth trying something new that really catches your eye but are unsure about it suiting you. Take the plunge.
Shop The Look
Keep you and yours safe and well xx
Please be aware that there are affiliate links included in this post at no cost to you if they are clicked on
---
Thank you for stopping by!
Come back for more. Click on the subscribe form below
YOU MAY HAVE A FRIEND THAT'S INTERESTED IN THIS? PLEASE USE THE SHARE BUTTONS
XO LAURIE
Subscribe for the latest updates!