Spoilt by the weather, all the summer dresses lined up from previous years are at the ready. It's my favourite time for dressing up. This year its the easiest to wear non-crease dresses that have been my choice to wear being as I'm not going anywhere and I want to be comfortable indoors.
Are we all just used to being comfortable? Used to too much lounging around in our homes? This past couple of months has to be my scruffiest of my life! But I really haven't cared that much. I've got into a habit of dressing late, enjoyed at first but now I'm ready to get out of that habit.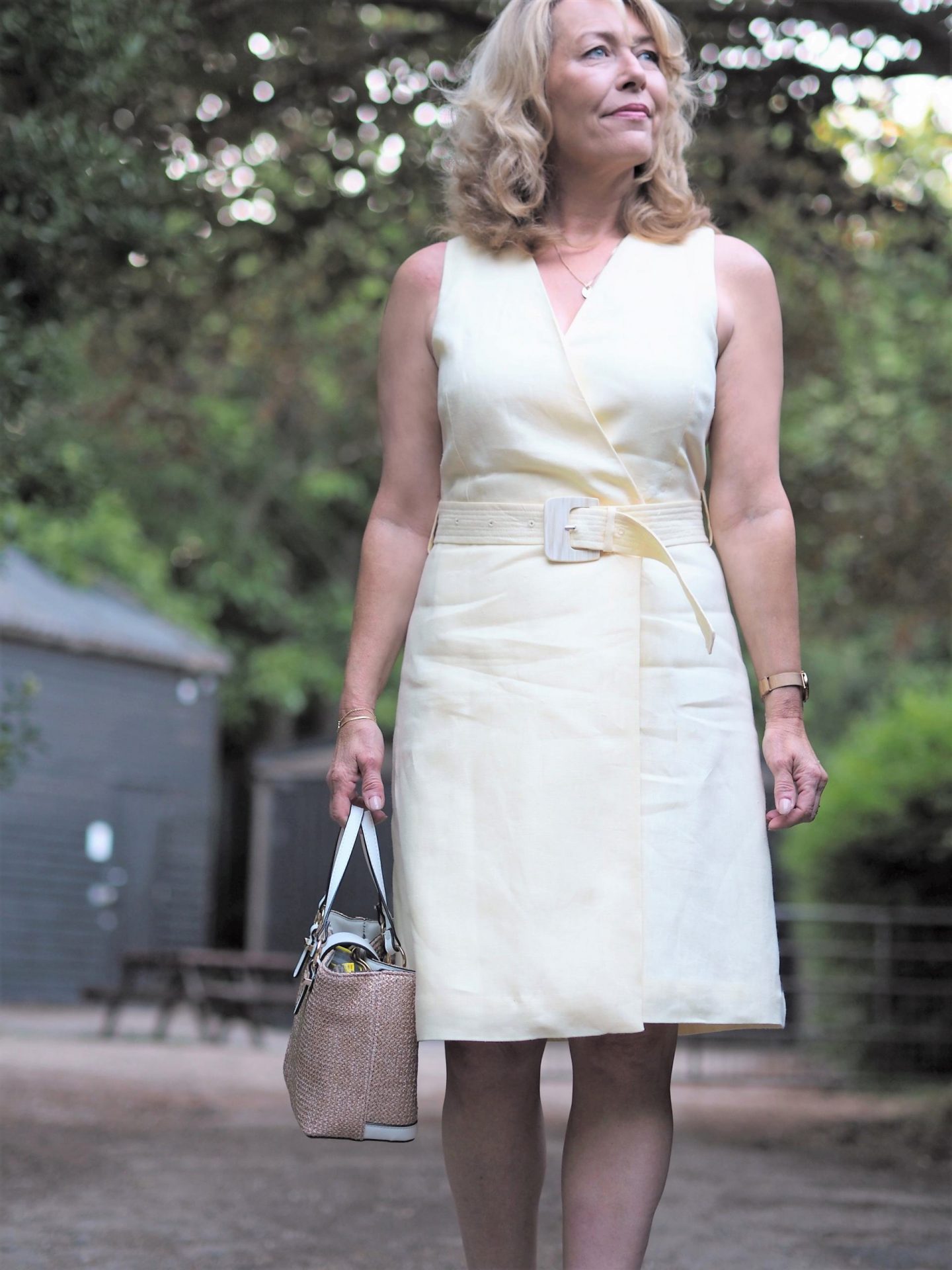 I'm having a real linen obsession at the moment. There are some gorgeous summer dresses to be found online at the moment. (anyone else having to restrict themselves from browsing)
I spotted this lemon dress on the Mango website, added it to my shopping basket and refrained from continuing to checkout.I've refrained myself quite a bit of late! but this dress just wouldn't get out of my head and I caved.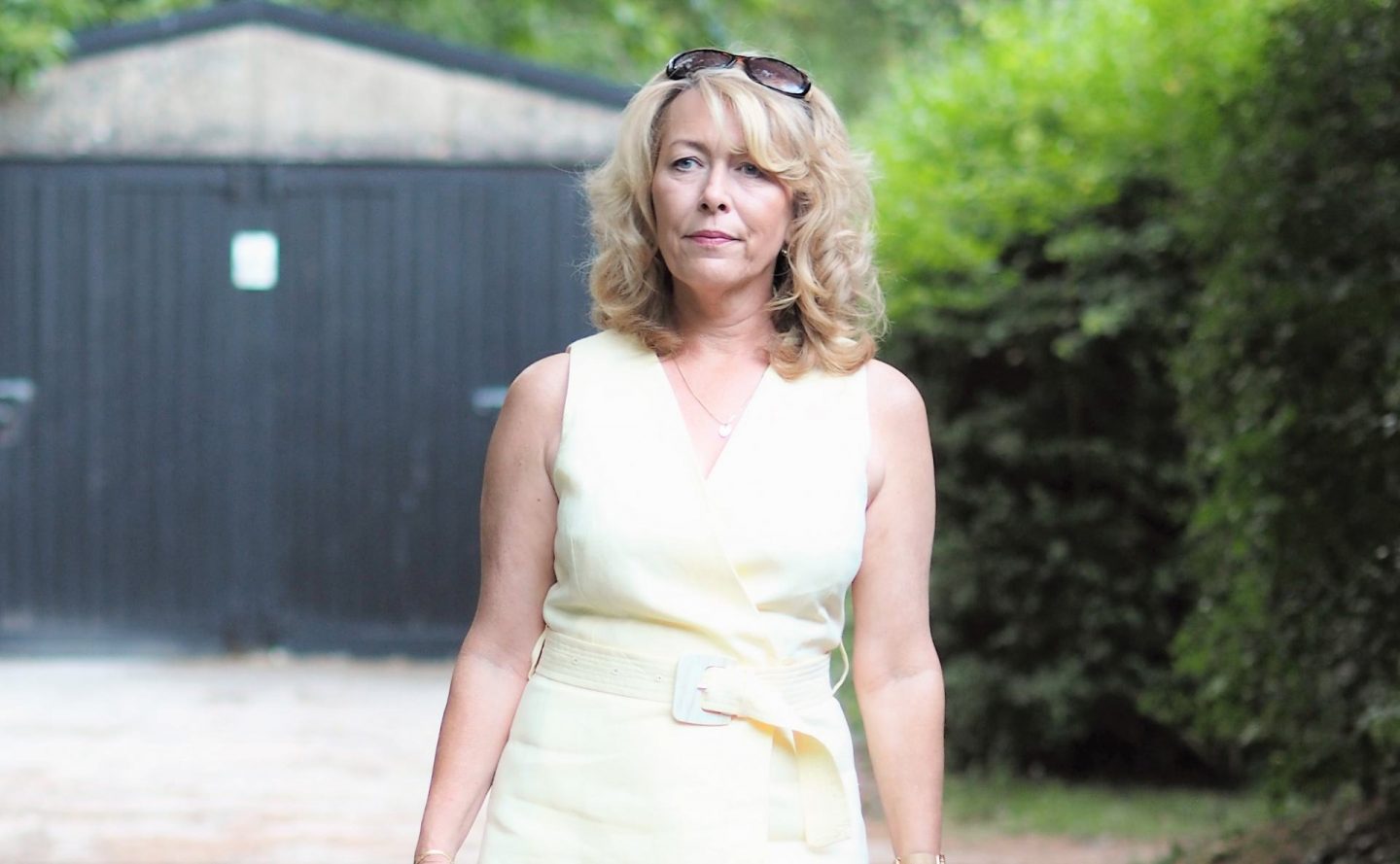 There's a lot that I like about this summer linen dress. It's a classic smart shape and it won't date. The colour is gorgeous, and for the money, this is really good quality 100% linen.
I love lemon in summer. It's just so simple and classic, also available in white but I feel the lemon shade is softer and more forgiving on my ageing skin.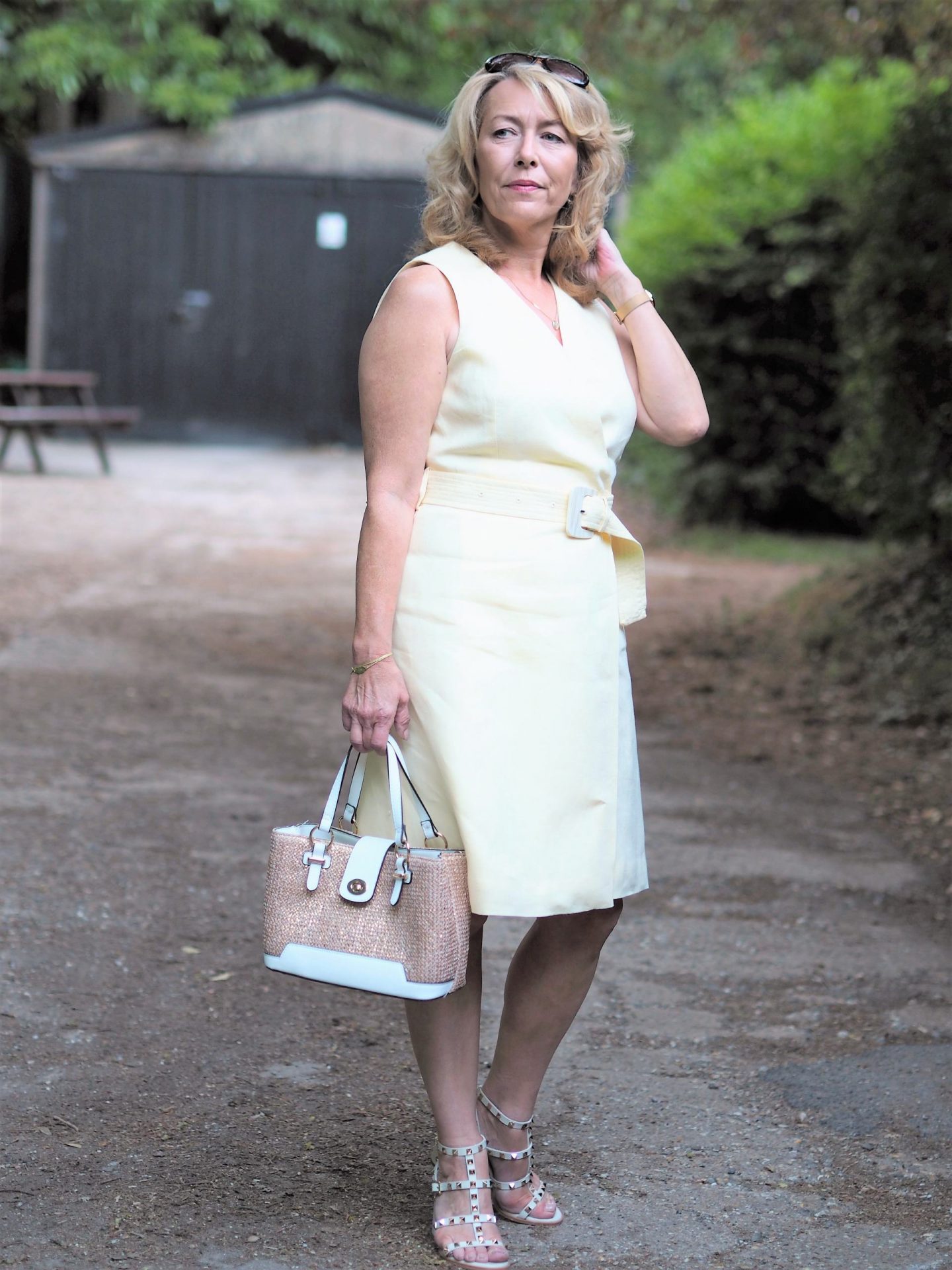 The dress is fully lined and fastens at the front via two buttons at the waist. It's unusual for me to go for a sleeveless dress because I hate my arms! I would also state that the dress is true to size.
I'm having such a linen love moment. There are some beautiful items out there at the moment. I will gradually collect some key pieces for my wardrobe. I wear the pink shirt from Hawes Curtis so much, I have my eye on a stripe linen shirt too. Hawes And Curtis have a brilliant sale on at the moment.
And my wide-leg trousers from Bonmarche. They have been excellent quality. This year they have a tapered linen trouser that's very appealing. I will be sharing another summer dress very soon.
This summer dress will crease. You have to embrace that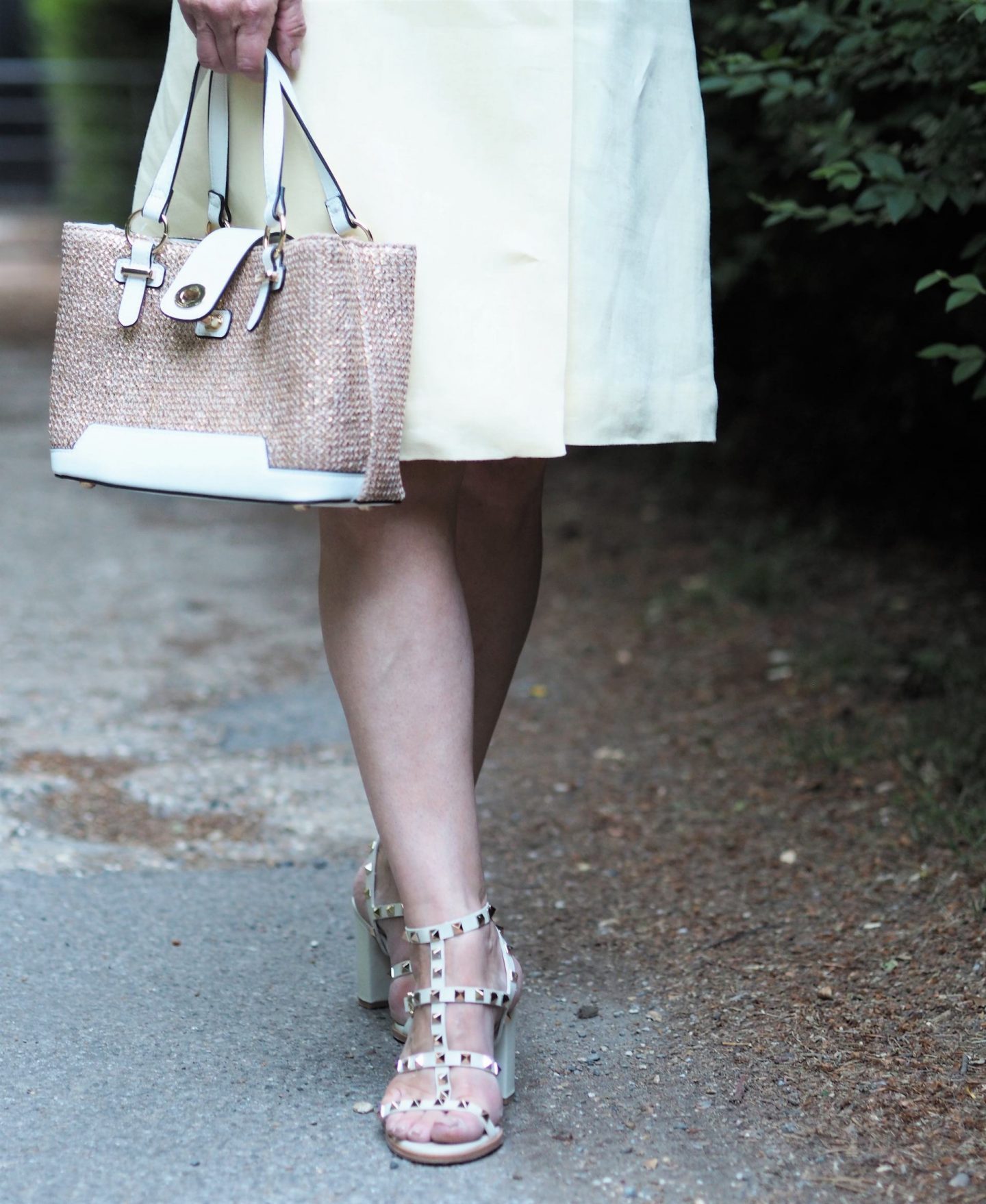 Another find online. These shoes were a gift from Dee. I wanted them so much but had given her my bank card to stop me from shopping anymore. I might have to try that trick again haha!
A really good dupe of the Valentino Rockstud sandals I found them via Daniel Shoes and I'm over the moon with them.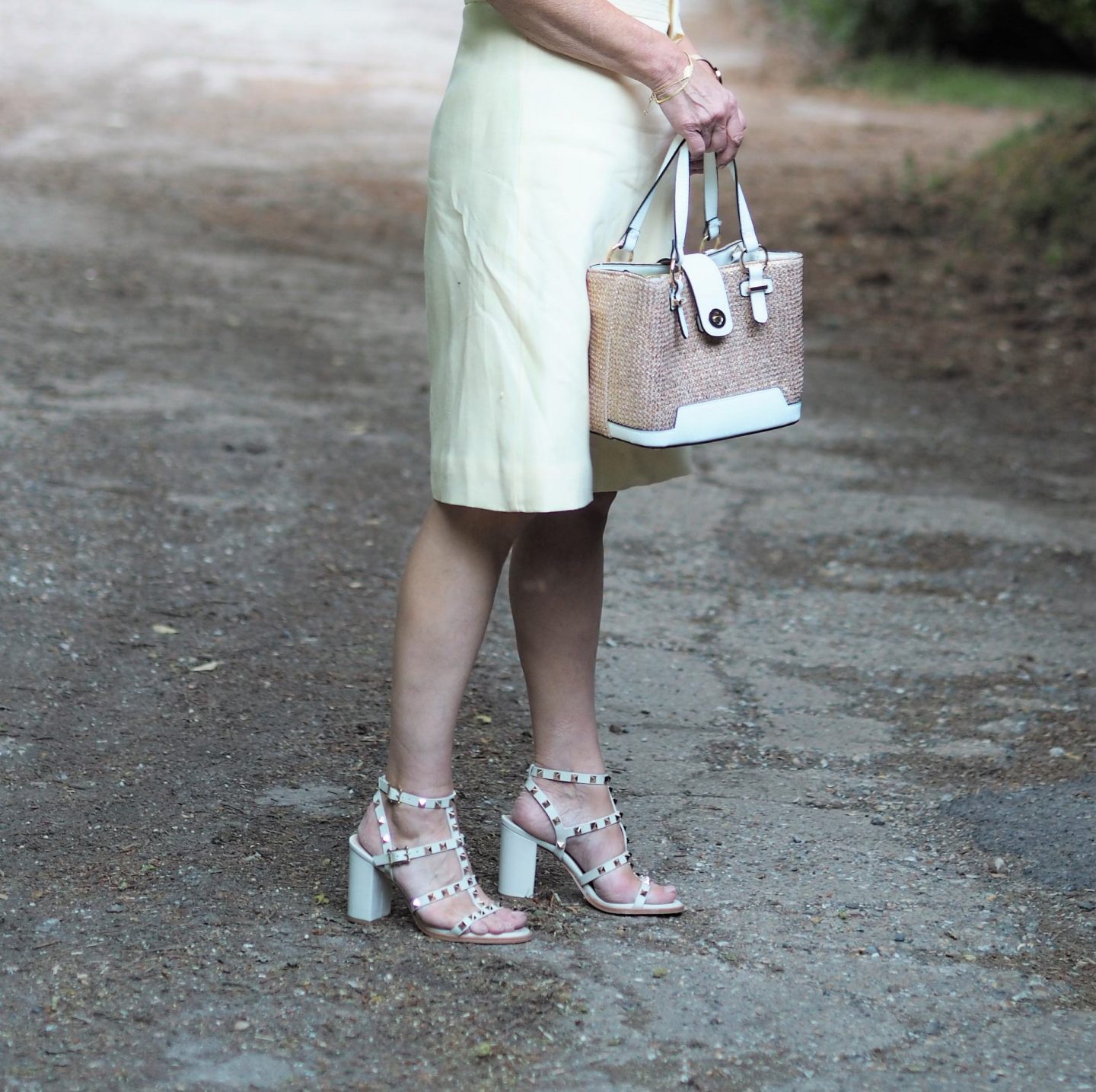 I do love a good dupe. You may have seen my post about Tissardi? a brand that makes high-end good quality dupes. Their bags are perfection and it amazes me that they get away with such good copying.
You will notice the creases in the linen dress. There is no getting away from that with linen. I love the material enough to embrace them. Getting back to the sandals, the block heel and the height is just perfect. These are called the Pitter Beige Leather Studded Block Heel Sandals Also available in a multicolour that I was tempted to go for.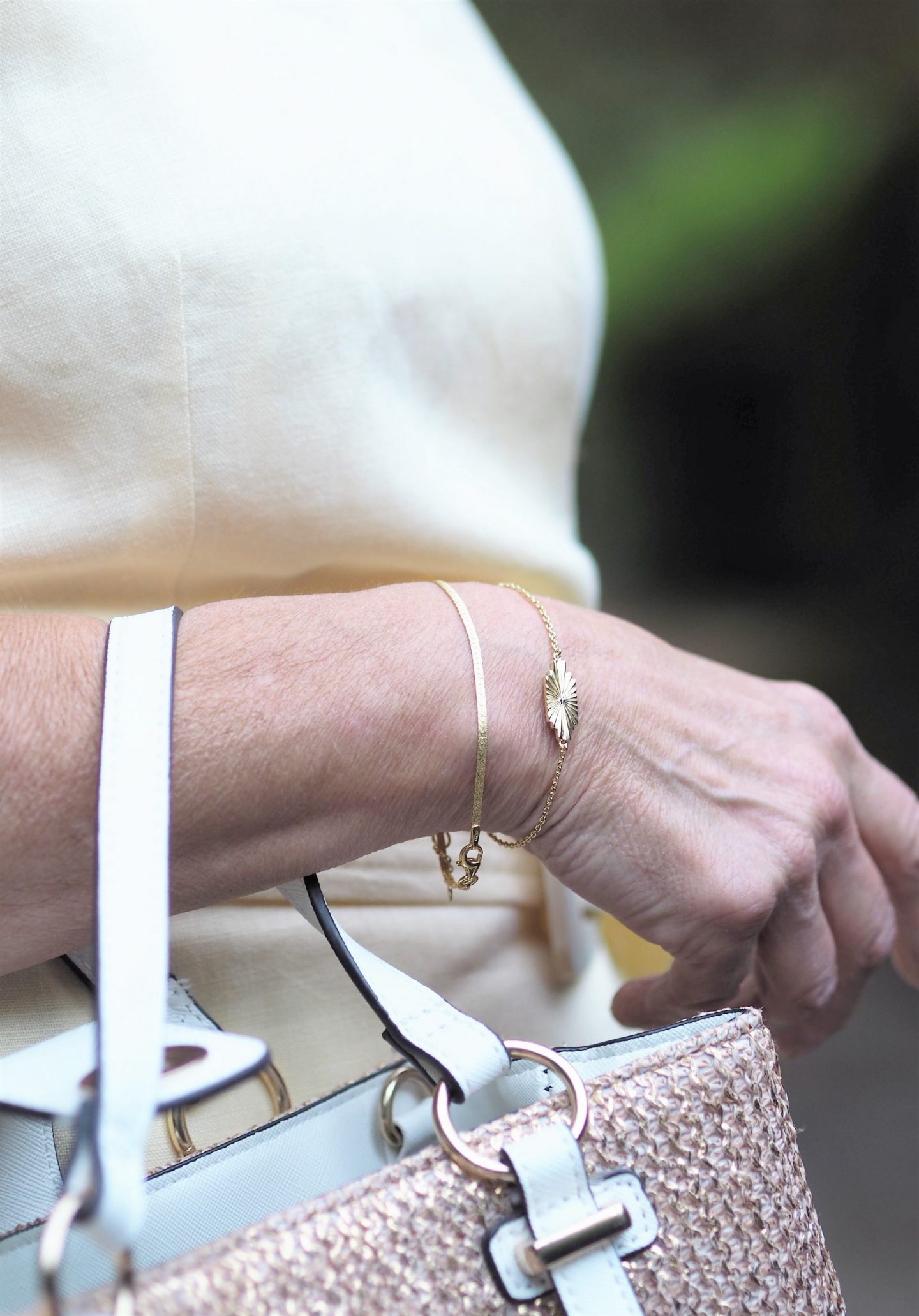 I've kept the other accessories fairly minimal because the bag and the sandals are doing all the talking alongside this summer dress. But I wanted to mention this delicate duo by Daisy London, a brand that sells good quality gold plated on-trend jewellery.
The gold and white bag is from Bonmarche and is no longer available I'm afraid. I've tried to find the best nearest copy and added to the shop below.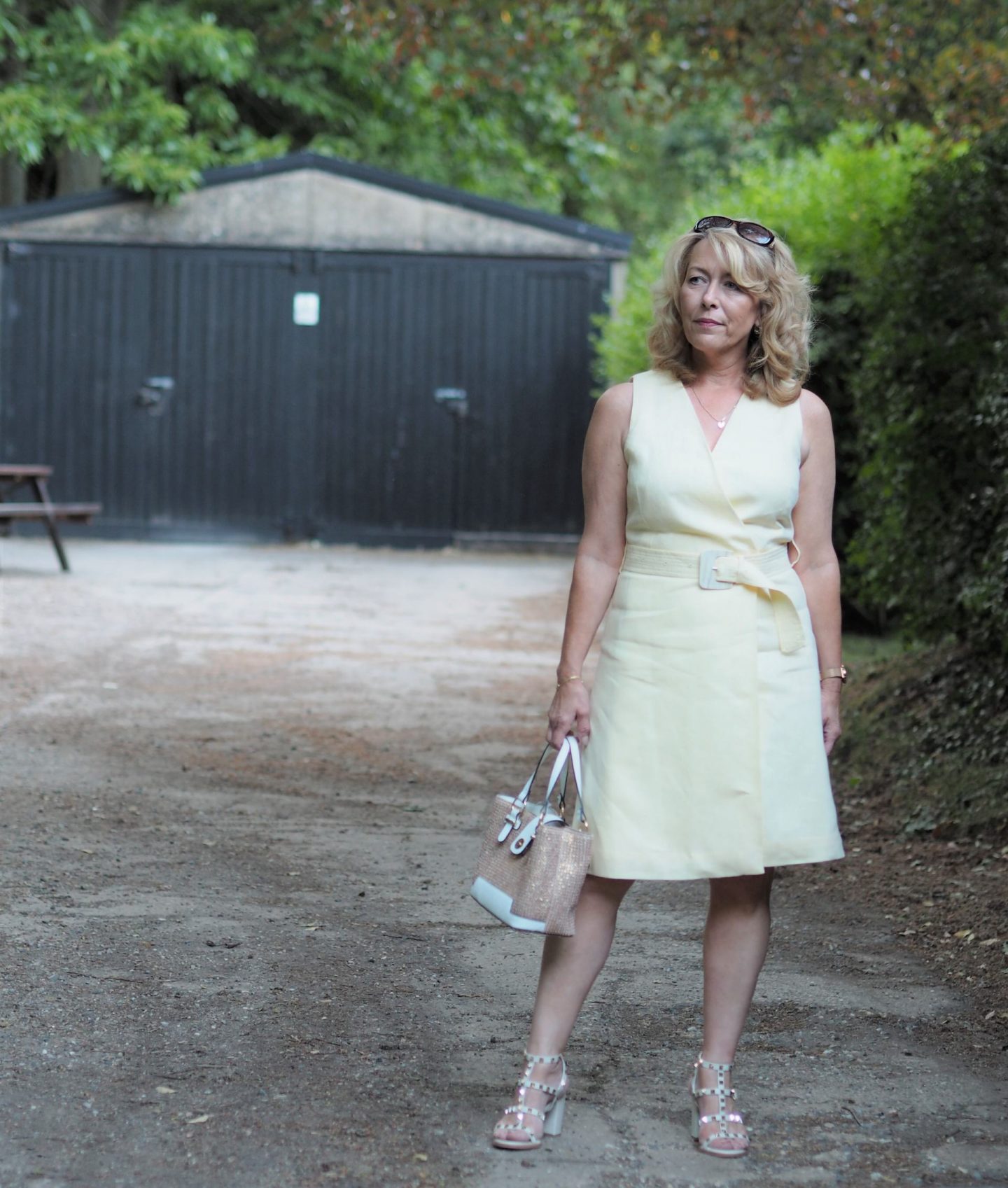 I left it until as late as possible to go for my country walk and take photos. It was so hot on this day, the thought of going out earlier didn't appeal at all. But I suffered in another way taking them late by receiving around ten gnat bites! I can't win! Still itching now.
Shop The Look
Keep you and yours safe and well xx
Please be aware that there are affiliate links included in this post at no cost to you if they are clicked on
---
Thank you for stopping by!
Come back for more. Click on the subscribe form below
YOU MAY HAVE A FRIEND THAT'S INTERESTED IN THIS? PLEASE USE THE SHARE BUTTONS
XO LAURIE
Subscribe for the latest updates!