This is definitely my favourite time of the year and I think we have all been so blessed by the weather this year. It's marked firmly in my head that this is time for dresses. I spotted this Baukjen Issey dress at the Spring-Summer press day and knew it had to be mine.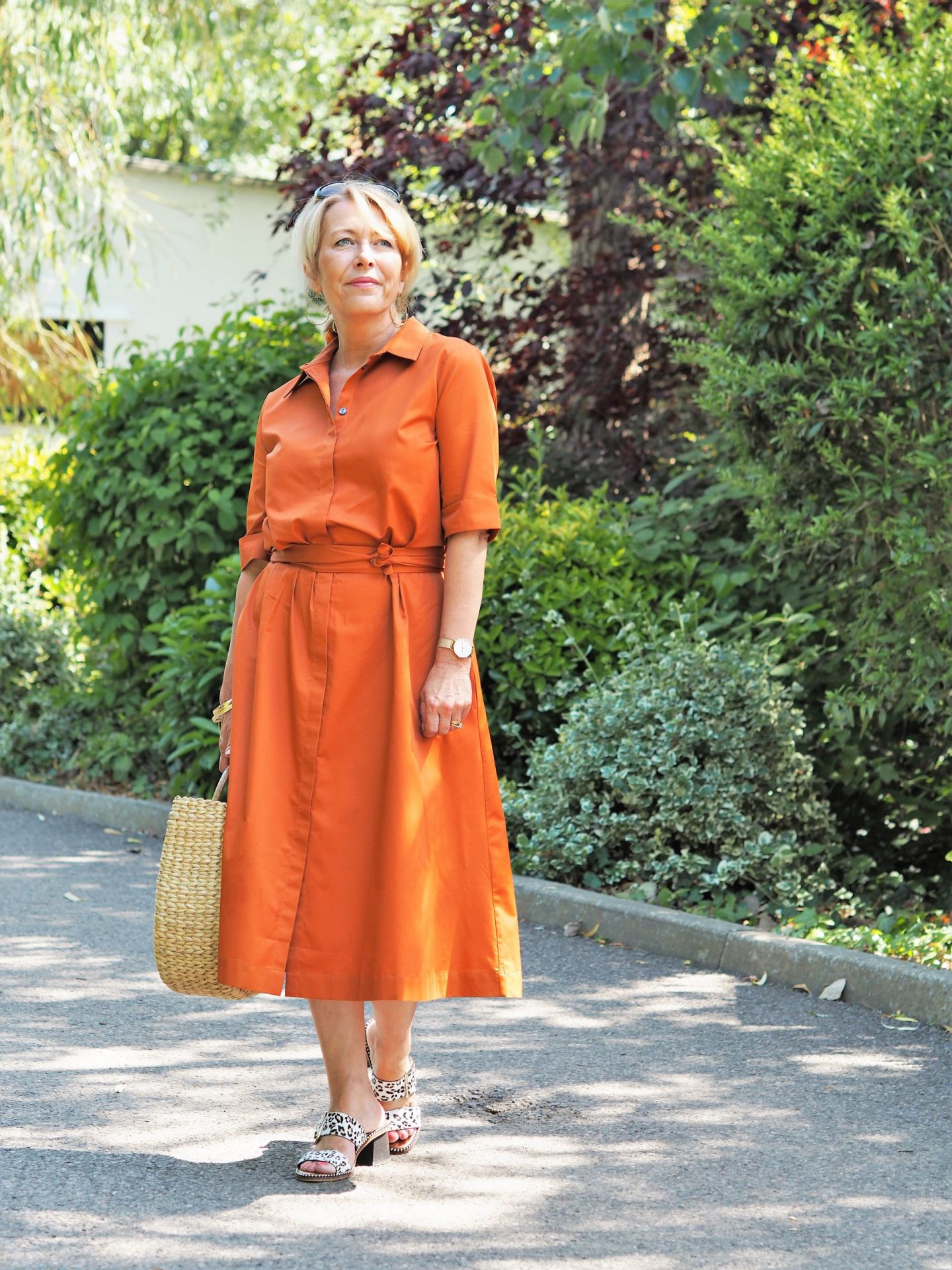 I tried this dress on at the event on a really wet wintry day. It was hard to imagine wearing it during warm breezy air and sunshine. You can read about my visit to the Baukjen studio here. The Issey dress made of cotton sateen is just perfect for now. I love how simple and timeless it is.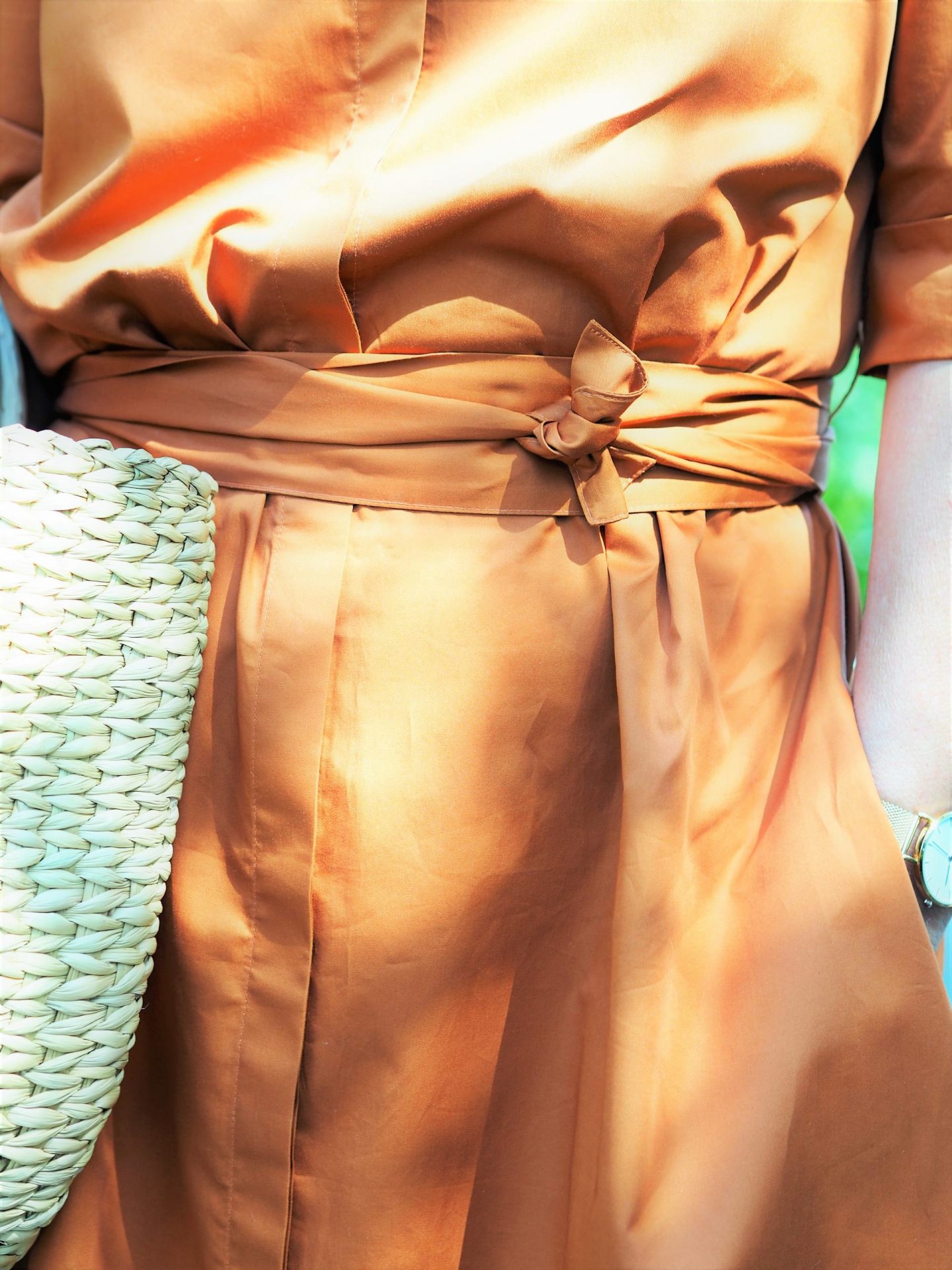 A simple button through dress with a self-tie belt. I've doubled mine around the waist with just enough left to tie! Who hasn't put on a few pounds during lock-down?
I absolutely love the colour of this Issey dress and the material is so soft. When hit by the sun it has a glorious sheen to it.
On the hanger, it looks like a lot of material and I wondered if I had chosen the wrong size (I'm wearing a size 10) but it's the skirt end of the dress that has the volume and it fits perfectly for movement on top.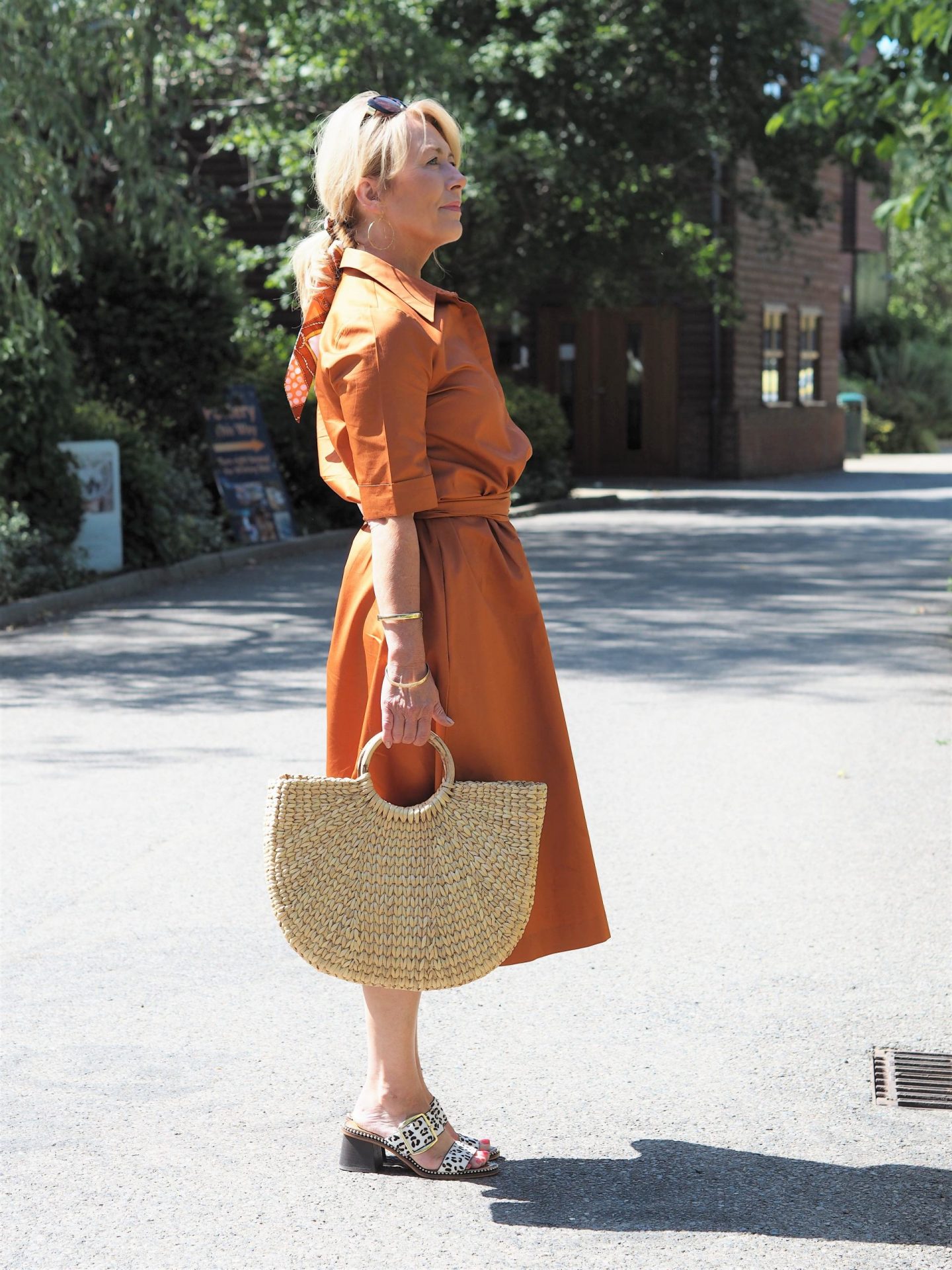 I've kept styling the Issey dress simple. Flat mules and a basket bag. I've been wearing my hair tied a lot lately, simple and lazy! I wasn't sure about the length of the sleeves and was tempted to give another fold over. They finish just at my elbow joint and decided to run with the three-quarter length. Oh and pockets! These are deep ones too!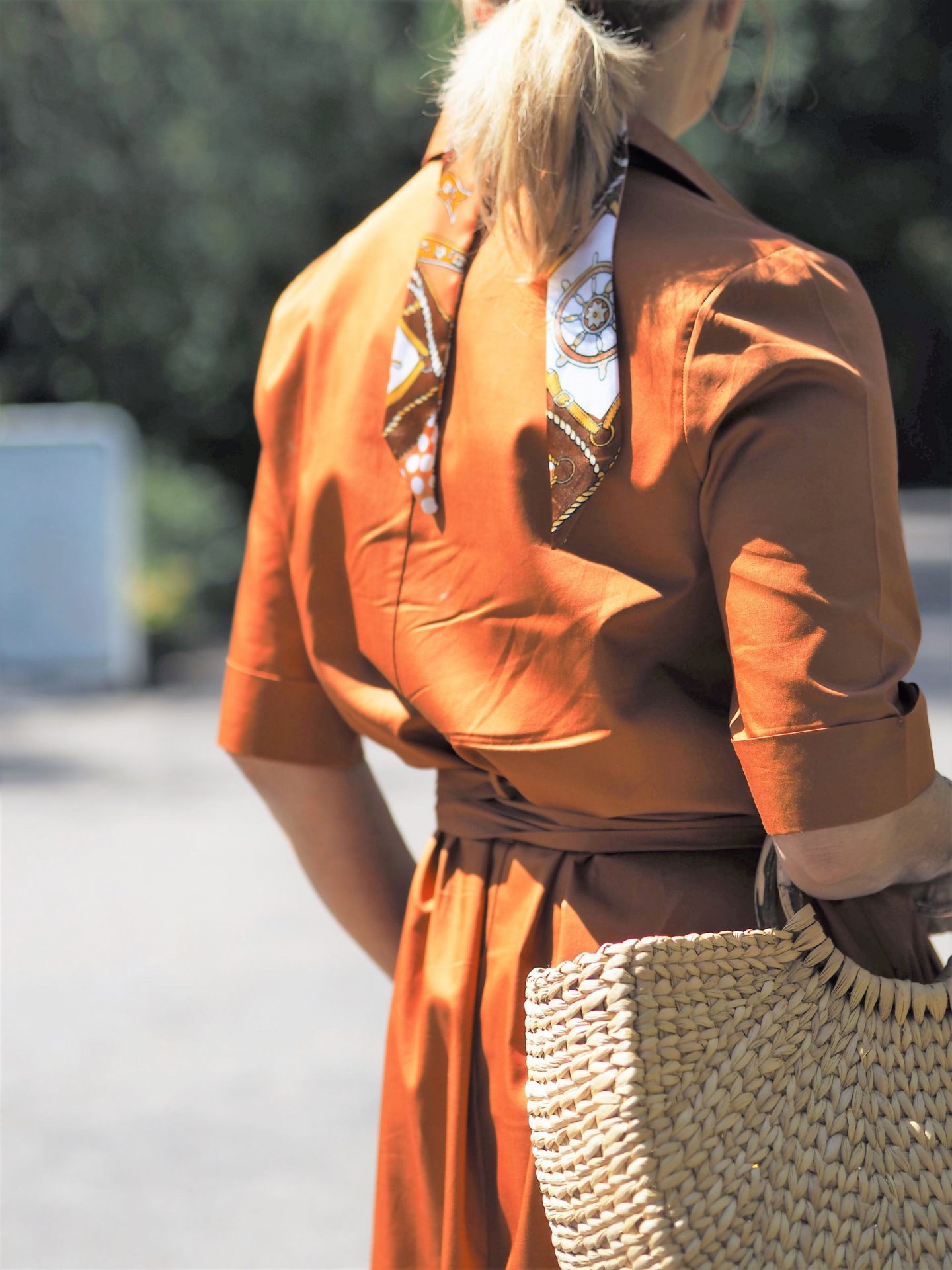 I found a spare piece of material in my drawer. I think its one of those that you would wrap around a handbag handle. I couldn't believe my luck at how well it matched this gorgeous copper colour.
I have four basket bags now, quite a collection growing. I use them so much throughout the warmer months. they're so handy and work well with for a relaxed look.
Perfect tailoring, within the Issey dress, just as I would expect from Baukjen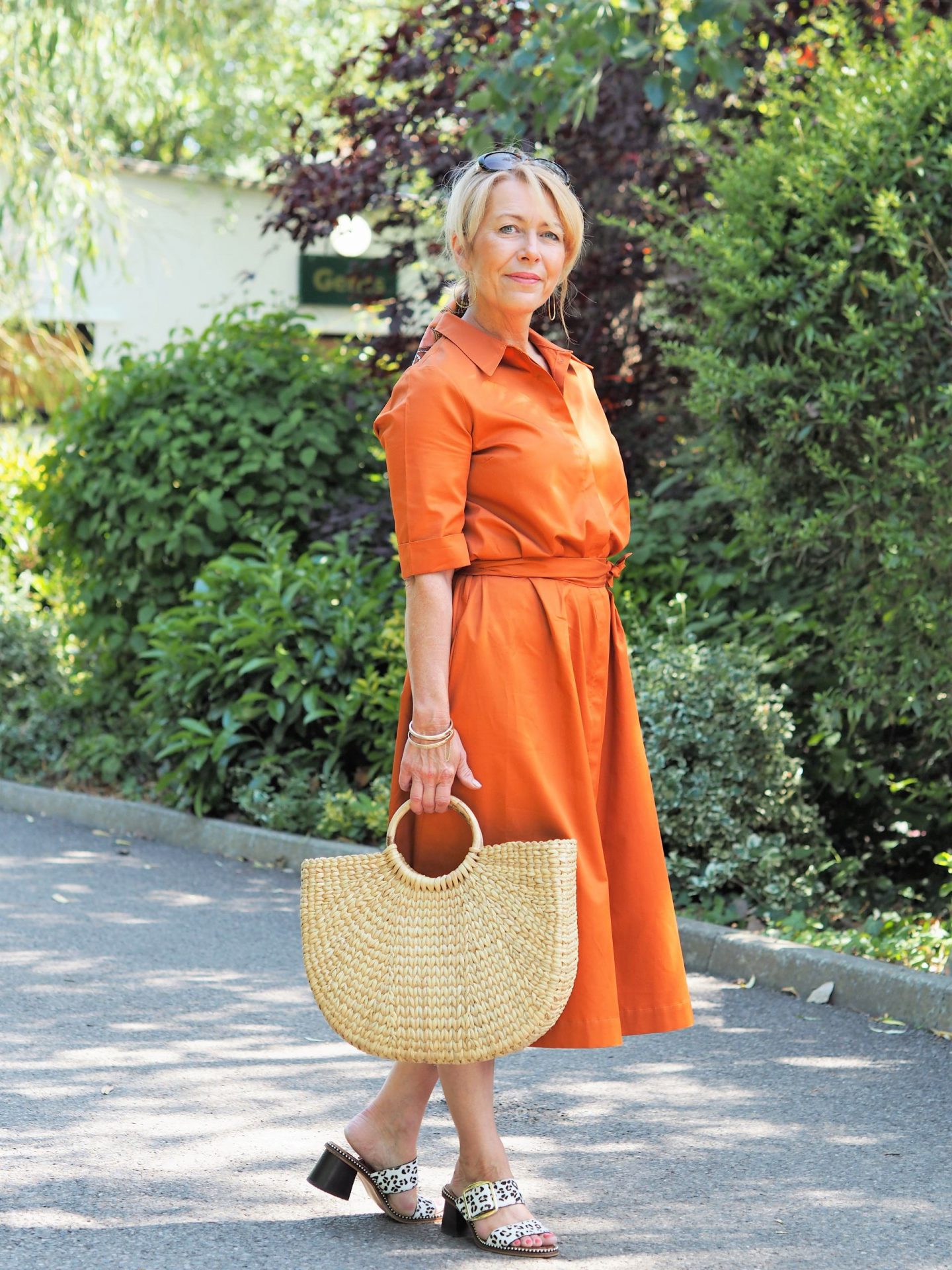 The finish, cut and detail are apparent just as I would expect from Baukjen. This brand that I love so much. You can read Baukjen's brand ethics here. They have done incredibly well throughout lockdown, supporting NHS staff with large discounts and making masks from pretty materials to give to people that needed them most. Just look up #MASKS4ALL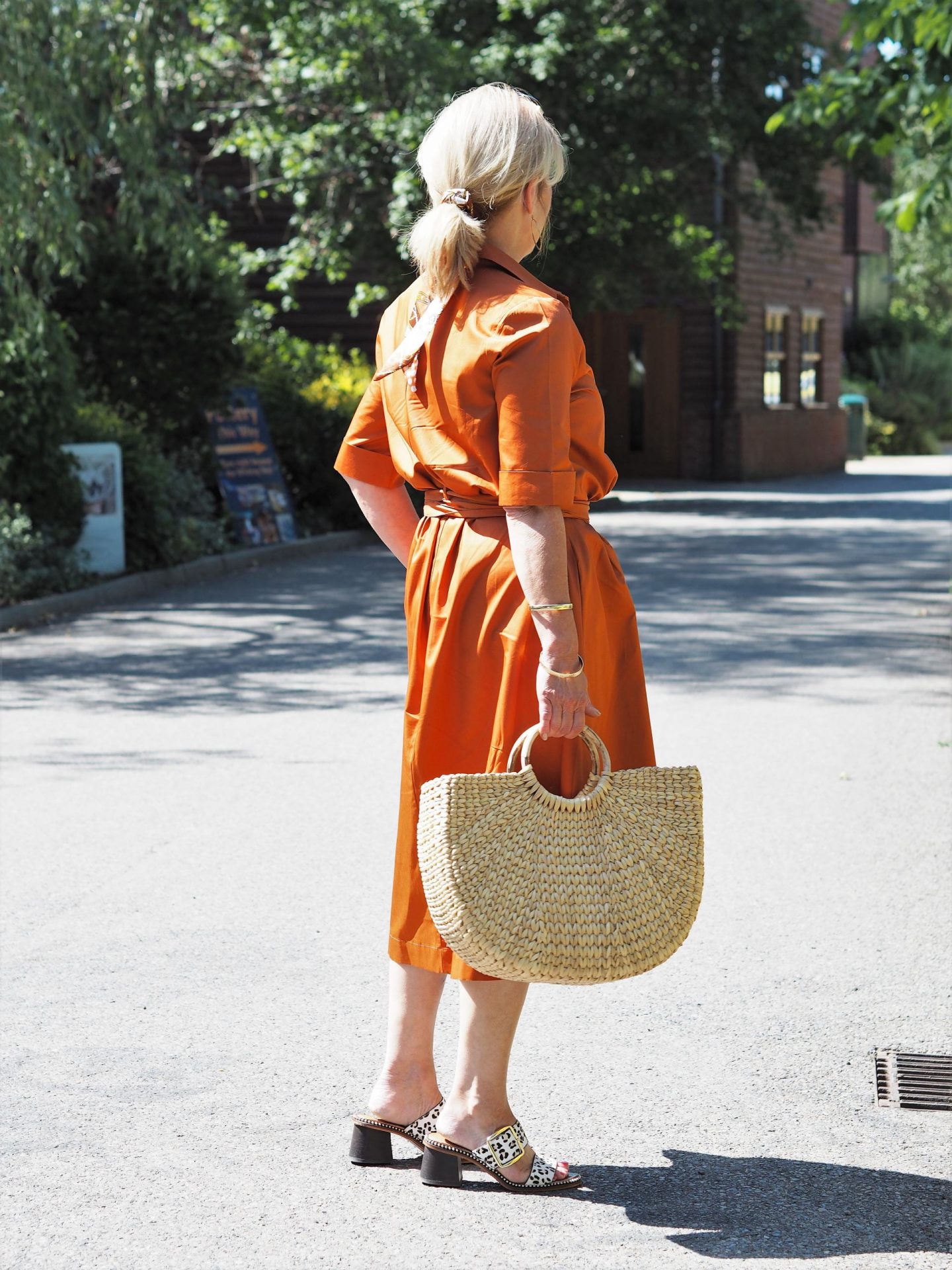 Tailoring and finish from Baukjen is what drew me in to love this brand. I have created a classic staple wardrobe of items that all mix and match together just using the Baukjen brand. The new Gail jeans that I featured here have been worn and worn. You can see my daily outfits on Instagram stories to see how I style the items differently.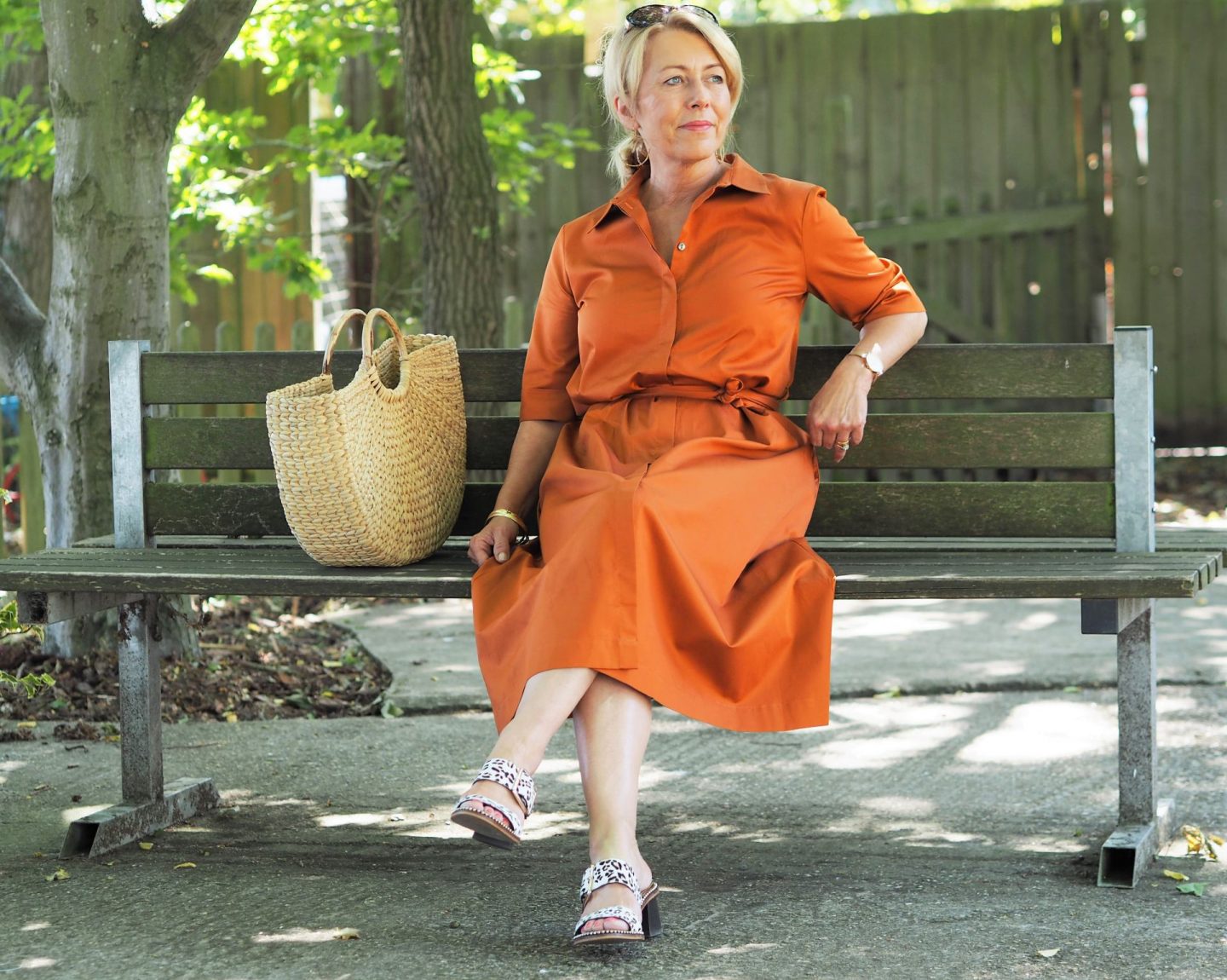 I'm waffling on about how much I love this dress and I forgot a very important bit of info! That the Issey dress is currently cut in price too. There are actually some good sale items at the moment.
I can't help thinking this dress will look good during the colder months with a polo-neck and knee high boots underneath. We will see!
Shop The Look – Click On The Pics
I'd like to hear your thoughts on the Baukjen brand. Do you wear it? Thoughts on fit and quality? I'm thinking about adding a style film to my YouTube channel just featuring the Baukjen brand. Would this be of interest?
Update! You can now get 20% off any full-priced item from Baukjen using the code VM20
Keep you and yours safe and well xx
Please be aware that there are affiliate links included in this post at no cost to you if they are clicked on
---
Thank you for stopping by!
Come back for more. Click on the subscribe form below
YOU MAY HAVE A FRIEND THAT'S INTERESTED IN THIS? PLEASE USE THE SHARE BUTTONS
XO LAURIE
Subscribe for the latest updates!